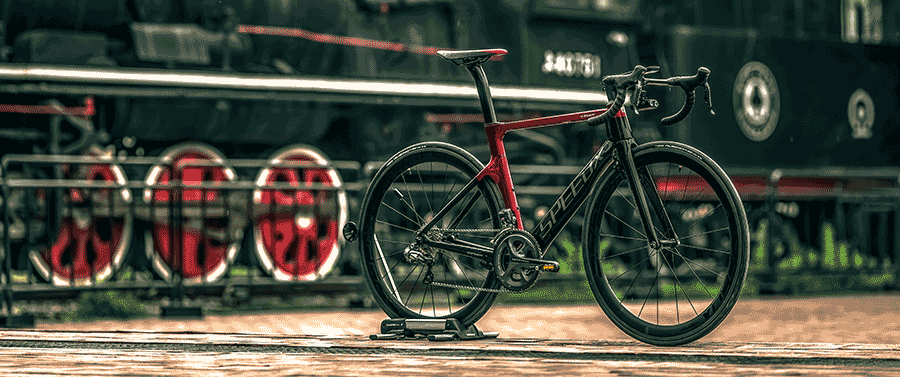 Start Here:
---
Road Bike Best-of Reviews
---
---
Road Bike Reviews
---
---
Health
---
No posts for this criteria. No posts for this criteria.
---
Guides
---
---
Training
---
---
Travel & Gear
---
---
Carbon
---
---
Safety
---
No posts for this criteria.
---
History of Road Bikes
The roots of road cycling can be traced back to when bicycles were first invented in the 19th century. Back then, the first verified claim of a bicycle was used by the German, Baron Karl von Drais. His bicycle was called a "running machine" which was a steerable, two-wheeled, human-propelled machine made from wood.
From the 1820s to the 1850s, three and four-wheelers became quite popular. The idea that riders would have to keep their own balance was something new entirely and was viewed as dangerous.
After the "boneshakers" and high-wheel bicycle eras, we arrived at the time of safety bicycles. This played the most important role in cycling history. Safety bicycles replaced the high-wheeler in Western Europe and North America in the 1890s. These bikes also received tires, invented by John Dunlop. They made the ride much smoother. Brakes were added in 1892 by Svea Bicycle with a vertical pedal arrangement and locking hubs.
Developing Road Biking And Racing
There were already races taking place on high-wheelers, but when bicycles got two of the same sized wheels, racing became much more popular after. The first so-called modern bicycle race where tires, where added, took place in 1889. Special velodromes were built to let spectators enjoy the sport.
Bikes remained the same basic design with some minor changes. The first long-distance race of 795 miles took place at the end of the 1800s. Paris-Roubaix and Liege-Bastogne-Liege were the most popular road bike races until Tour de France was devised in 1903.
Bicycle frames produced prewar were made of lightweight butted tubing using lugged constructions. Before aluminum rims became standard for road bike racing, wooden rims were used.
Derailleurs were introduced in 1937 at the Tour de France where speed increased dramatically.
After that, upgrade after upgrade, race by race, road bike racing developed into the sport it is today. The frame designs have been pretty similar to small changes to suit different types of riding such as time-trial, endurance, and more.
That was a brief overview of road bike history to date.
Let's now see what you need to know when buying a modern road bike.
---
#1 – How to Choose The Right Road Bike Type
What is the right road bike type for me?
Sport / Endurance – If you are looking for a bike for exercise, or to take your first steps into the road biking world, then this should be your pick. Also, choose this if you plan to make longer trips. Components on these bikes are made to last long and the riding position is comfortable.
Recreational or Fitness bikes – The most comfortable road bike type. They are the road bikes that are most similar to hybrid bikes. These are suitable for commuting around cities.
Race bikes – feature a lower riding position and are meant for racing and performance-oriented training. They aren't suitable for long comfortable rides or commuting around the city.
Aero bikes – are designed to be as aerodynamic as possible. If you plan to take part in races, then you should look into something aerodynamic.
Time-Trial (TT) / Triathlon –features an aerodynamic frame and lower riding position –optimized for speed!
Gravel or adventure bikes – are excellent for longer rides both on and off-road. The frame geometry is slightly different thanks to a higher bottom bracket and wider tires.
Cyclo-cross (CX) bikes – are somewhere between hybrid and road bikes, meant for aggressive riding on off-road trails. The geometry features the best aspects of road bikes.
---
#2 – Familiarize Yourself with the Best Bike Brands
Not all that glitters is gold.
There are many road bikes on the market that we should not even call road bikes. They are made by people who cut corners so that they can sell something cheaply.
Don't get me wrong, buying cheap if done wisely is a great idea. However, buying cheap with poor quality is an awful idea.
We all know known brands like Specialized, Giant, and Schwinn, etc. However, there are many lesser-known brands, both old and new, that also make superb bikes. That's why we'd suggest looking for those brands too.
We'd like to point out some brands, which in our opinion are less known, but they are totally worth the glory: Diamondback, Nashbar, Kestrel, and many more can be read about in our brands' category.
So to wrap it up, don't just look at the price and name, but the components, history, and reviews as well.
---
#3 – Pick The Right Road Bike Size
You can find information about road bike sizes as well. Road bikes are measured from the bottom to the top of the seat tube. To determine the right size, you can use several different methods. We're going to show the easiest here – frame size graph:
Rider Parameters
Suggested Road Bike Frame Parameters
Feet & Inches
Centimeters
Inseam Length (in.)
Centimeters
Inches
(Frame Size)*
4'10" – 5'0″
148cm – 152cm
28" – 29"
47 – 48
13″ – 14″
(XXS)
5'0″ – 5'3″
152cm – 160cm
29″ – 30″
49 – 50
15″ – 16″
(XS)
5'3″ – 5′ 6″
160cm – 168cm
30″ – 31″
51 – 53
17″ – 18″
(S)
5'6″ – 5'9″
168cm – 175cm
32″ – 33″
54 – 55
19″ – 20″
(M)
5'9″ – 6′
175cm – 183cm
33″ – 34″
56 – 58
21″ – 22″
(L)
6′ – 6'3″
183cm – 191cm
34″- 36″
58 – 61
23″ – 24″
(XL)
6'3" – 6'6"
191 cm – 198 cm
36" – 37"
61 – 63
25" – 26"
(XXL)
This sizing chart should fit every road bike type but always check each bike brands' recommendations.
Now you know the right type of road bike, the right size road bike, and you are willing to buy, so let's go ahead!
---
#4 – Shop for a New Road Bike Safely
From A to Z.
We give you an in-depth overview of how to choose a road bike. It starts with choosing the right type and ends up with you picking the right models.
Not everything that glitters is gold.
You can always head to the closest local bike shop and ask for their opinion. They will probably choose the best bike for your needs from their selection. However, will it be the best available pick for your money? I mean, they represent some brands, but will they compare with all of the bikes across the internet? My guess is probably not.
That is the reason why we believe that today, it's much better to choose a bike online.
---
#5 – Read Reviews & Best Picks
There are thousands of bikes available and a ton of reviews as well. Some are very brief, others are in-depth road bike tests. What is a subjective bicycle review? I mean, there are bigger sites which only review bikes priced over $3,000, and rarely a few cheaper bikes. Does this mean that those cheaper bikes aren't worth buying?
Well, we have a vision that we take in mind.
No matter what the bike costs, there is always an audience for it. Even a $300 cheap road bikes have its users.
However, we also believe that a large percentage of bikes in the market are crap. They even don't deserve the name "bicycle". The reason those bikes are made is simple, we live in a society based on consumerism, and those bikes are meant to last a short term so then you have to buy another. That's why we think there are too many bikes, most of which don't deserve the reviews they get.
Ideally, we would try to write reviews on every bike to sort the good from bad, but we never can do that. There are just too many bikes.