Best Cheap Gravel Bikes of 2022 – Under $2,000
The mighty gravel bike – one of the latest trending sub-categories in the cycling industry besides electric and fat-tire bikes.
Cycling in essence is quite convenient already as you can follow paths that are not accessible by a car, and comfortable enough for distances that might take too long to walk.
One bike to rule them all—mud, gravel, trails, bikepacking, and fast city commutes.
Riding a gravel road or light trail with a mountain bike is truly fun, don't get us wrong, but if you'd like to travel long distances with better speed by not losing the momentum that the MTB suspension swallows, you might want to consider looking into gravel bikes!
The selection of gravel bikes in 2022 is quite diverse as most large bike brands have produced their own series of gravel bikes. Starting as low as $800, there is a quite good selection of bikes for all skill levels and riding preferences.
Gravel bike riding features light trails, long bikepacking trips, and fast sections on gravel roads.
Is $1,000 to $2,000 enough for a gravel bike?
Depending on your preferred field of use, a $1,000 price tag gets you a nice gravel bike with a steel frame & steel fork with mechanical disc brakes front and rear.
Best suited for recreational commuters, these bikes have quite entry-level components in terms of gravel riding but stand the test of time for the purposed field of use.
Although, a $2,000 and $1,500 budget can get you a decent bang for the buck!
---
---
Best Gravel Bikes Under $2,000
Co-op Cycles – ADV 2.2
Cannondale– CAADX 1
NS Bikes – RAG+ 2
VAAST – A/1
Diamondback – HAANJO 4
Surly – Disc Tucker
---
Co-op Cycles – ADV 2.2
Best Value Gravel Bike series!
Price: $1,599
Shimano GRX Drivetrain & Crankset
700c x 40mm WTB Nano Comp
Tektro MD-C550 cable mechanical Disc brakes
Aluminum frame & carbon fork
REI's gravel bike selection is best-suited for those who are looking at the best value bicycle on the market without losing on quality components. They offer a fine selection of well-known gravel bikes by known brands such as Salsa and Cannondale, plus they have their own line of bikes known as the Co-op Cycles.
Most other Co-op Bikes selection has been selling out really well, and the ADV series is no different from that! The ADV-series gravel bikes are equipped with essential components you'd expect from bikes with a slightly higher price tag.
Co-op Cycles ADV Series – Comparison Chart
| | | | | | | |
| --- | --- | --- | --- | --- | --- | --- |
| Co-op Cycles | MSRP | Wheels | Frame | Gears | Group | Brakes – Disc |
| ADV 1.1 | $1,399 | 700c | Steel | 3×10 | Deore | Hydraulic |
| ADV 2.1 | $1,099 | 700c | Aluminum | 2×8 | Claris | Mechanical |
| ADV 2.2 | $1,499 | 700c | Aluminum | 2×10 | GRX | Mechanical |
| ADV 2.3 | $2,199 | 700c | Aluminum | 1×11 | GRX | Hydraulic |
| ADV 3.1 | $1,399 | 650b | Steel | 2×10 | Deore | Mechanical |
| ADV 3.2 | $1,799 | 650b | Aluminum | 2×10 | Deore XT | Hydraulic |
| ADV 4.2 | $2,099 | 27.5″ | Aluminum | 2×11 | SLX | Hydraulic |
The ADV-, also known as the Adventure series has a great variation of set-ups and designs to choose from, and the ADV 2.2 has the best feedback on the list (4.6/5). Co-op Cycles is also well known for its production of bike frames for men, women, kids and a large number of unisex frames which makes it most likely the best selection of gravel bikes for women in this list.
---
Cannondale – CAADX 1
Price: $1,600
Aluminum frame & carbon fork
2x10speed – Shimano GRX 400
700c x 35mm
Hydraulic disc brakes by Shimano GRX 400
Anyone coming from a road bike background will find this as a superb gravel bike appealing at an affordable rate. It has more race-ready capabilities than a standard gravel bike but is perfectly adapted to off-road terrain with its OutFront Steering Geometry and vibration-absorbing SAVE micro-suspension.
This is a great bike for those who are looking for a more capable and faster roundabout bicycle than you'd get from a standard gravel bike.
Designed for CX racing, the Cannondale CAADX bike is equipped with parts that are equal to mid-range component durability level that is focused on speed, stability, and performance, rather than pure comfort like many gravel bikes. However, this bike is loaded with mounts for all your gravel, touring, adventure, and commuter needs.
---
NS Bikes – RAG+ 2
SRAM Apex 1×11-speed
Price: $1,799
Aluminum frame and carbon fork
700x40c WTB Nano
1x11speed SRAM Apex
Sun Race CSMS7 11-42t
Tubeless-compatible Alex Draw 2.1P rims
When it comes to gravel gravel grinders, NS Bikes is definitely a name to consider. Their RAG+ 2 boasts an awesome set of components that are hard to see below the $2,000 line. It is also the only single front chainring and carbon fork bike on this list. The wide-range cassette and wide tire clearance are ideal for both gravel and adventure riding.
Although we can't overlook the stylish design, paint finish, the most important feature of this bike is the super light build of just 22.5lbs. This weight will allow you to mount a 28mm road tire and easily keep up with any road ride.
---
VAAST – A/1
2x gravel bike perfect for light touring
MSRP: $1,899
Shimano GRX RX400 2×10-speed drivetrain
WTB Riddler 700 x 37mm
Aluminum frame & carbon fork
The VAAST A/1 is an affordable gravel and all-road bike with high-quality components including a Shimano GRX groupset and tubeless-ready WTB wheelset.
Although its main function is as a gravel bike, it's a highly versatile bike with multiple uses, including commuting, touring, and bikepacking. The components that support this include a wide 2×10-speed drivetrain, WTB Riddler 700 x 37mm tires with the ability to go tubeless for fewer punctures, Shimano GRX hydraulic disc brakes, and a stiff yet comfortable carbon fork.
Finally, the A/1 is highly-customizable, with mounts for a rack and fender ready to transform it into a daily commuter or light touring and the ability to fit a dropper post for more extreme off-road riding.
---
Diamondback – HAANJO 4
A super-stable gravel bike
Price: $1,600
TRP Spyre-C Flat Mount mechanical disc brakes
WTB Riddler 700x37c tires
Aluminum frame & carbon fork
The Diamondback HAANJO 4 is a 2×10-speed gravel bike designed specifically to handle extreme terrain. Its aluminum frame and carbon fork benefit from the brand's own Endurance Geometry which makes riding all day a breeze.
The HAANJO 4 is ideal for gravel and touring rides thanks to its HED Tomcat tubeless-ready rims and reliable mechanical disc brakes. With WTB Riddler Dual DNA Compound 700x37c tires, this is clearly a bike aimed at some serious off-road exploring.
---
Surly – Disc Trucker
Equals durability & character
Price: $1,749
Cane Creek 40 1-1/8″ headset
KMC X9 chain
WTB Volt Sport saddle
What a legend, the disc ducker is one funky gravel machine, built for long-distance touring. We have always been amazed to see price tags on Surly bikes as they borrow high-end components from performance bikes.
On the Disc Tucker, you'll see a 3×9 Shimano drivetrain (Shimano Alivio on the rear and Shimano Sora on the front) which by means is not high tech, but they last as long and well as some higher-end models.
As comfort plays a huge role riding a road bike on gravel roads, this is where Surly truly shines – you got the legendary 4130 ChroMoly Steel frame and fork, and Alex Adventurer 2 Rims on Novatech Hubs.
Mechanical disc brakes are chosen for this bike as they are easy to maintain on a long haul, and Surly's own ExtraTerrestial 700x41mm tires definitely something to rely on.
Add that retro light-green color (Pea Soup Green) and you've got a modern bike to tackle any bikepacking trip. Getting a bike made by Surly is like stepping into a cult, a decision to prefer something out of the ordinary, and all that in a good way!
---
Best Gravel Bikes Under $1,500
Co-op Cycles – ADV 2.1
Marin – Nicasio+
State Bicycle Co. – 6061 Black Label All-Road
Tommaso Bikes – Illimitate Disc 40C
Co-op Cycles – ADV 2.1
---
Co-op Cycles – ADV 2.1
MSRP: $1,299
Aluminum frame & carbon fork
2x8speed Shimano Claris
Promax DSK-718R mechanical disc brakes
Kenda Flintridge 700c x 35mm tires
WTB ST i19 TCS 2.0 tubeless ready rims
Co-op Cycles' ADV 2.1 is a cheap gravel bike with excellent components for the price. You have a standard aluminum frame paired with a carbon fork which helps keep weight down and improve front-end stiffness.
The wheelset is comprised of grippy Kenda Flintridge 35mm tires on a WTB ST i19 tubeless-ready wheelset which greatly reduces punctures and improves comfort through the ability to run a lower tire pressure.
At just 23.5lbs, you will be comfortable taking this bike on long rides across varied terrain. The ADV 2.1 also includes mounts for a rear rack and handlebar bags to open up the world of bicycle touring. Finally, Co-op included a set of reliable mechanical disc brakes to ensure all-weather stopping power.
---
Marin – Nicasio+ 2022
Price: $1,179
At under $1,200, the all-new Marin Nicasio+ gravel bike is worth exploring.
Equipped with an interesting choice of 1×9 microSHIFT advent shifters & derailleur, steel frame & fork, Tektro mechanical road brakes, this bike doesn't lack anything at its price category. The SunRace cassette has a great range of 11-46T which makes it an ideal all-around commuter bike.
The 650b x 47mm tires are fitted on double-wall aluminum rims, steel is obviously proved among bikepackers, tourers, and gravel riders alike.
---
State Bicycle Co. – 6061 Black Label All-Road
Price: $1,399
State Bicycle Co. All-Road 1 1×11 drivetrain
6061 alloy frame & carbon fork
700x38c Vittoria Terreno Zero or 650bx47c Vittoria Terreno Dry tires
Plenty of quality at a low price tag – the 6061 Black Label is as good as it looks, inside out. Although you can use this for light performance rides, trail riding, and as an everyday commuter, the 6061 Black Label is a dual road/gravel bike due to its carbon fork in the front and versatile tire clearance.
Mechanical disc brakes are more than enough for uneven paths as you don't need as strong stopping power as you'd need on gravel bikes and the 1×11 drivetrain is lightweight and easy to maintain. State Bicycle Co. has produced a large number of bikes, and the Black Label series is definitely to consider.
---
Tommaso Bikes – Illimitate Disc 40C
Best Gravel Bike Under $1,500
Price: $1,175
Shimano Tiagra Derailleurs
700x40c CST Tirent All-terrain
Avid BB5 Mechanical Disc Brakes
Aluminum frame & carbon fork
If you want a quality budget gravel bike with a carbon fork and decent gears, you'll struggle to beat the Tommaso Illimitate. It offers excellent value for money, considering it hosts a full Shimano Tiagra 20-speed drivetrain along with Avid BB5 disc brakes.
Admittedly, the 6061 aluminum frame is fairly stock standard and Tommaso uses their own brand for the wheelset as well as many other small parts. However, it rolls very nicely on the fat CST Tirent 700x40c tires, and at only 25 lbs (11.3kg) is comparatively lightweight for a bike in its price range.
---
Co-op Cycles – ADV 2.1
Road-focused bikepacking bike with a carbon fiber fork
Price: $1,249
2×8 speed Shimano Claris
700c x 35mm
Alloy frame & carbon fork
WTB Silverado Comp Saddle
Promax DSK-718R mechanical brakes
This aluminum & carbon mixture Co-op gravel bike will appeal to traditionalists looking for a strong, dedicated touring or bikepacking bike. It features lightweight materials and aggressive race geometry of some top gravel bikes but makes up for this in strength and durability at a decent price tag.
Unfortunately, the lack of mount points on the carbon fork (for obvious reasons!) stops this bike from being a full-scale, long-distance expedition bike. But, as it is a road-focused bikepacking bike, it offers a more comfortable upright seating position and the 16-speed Shimano drivetrain will ensure you never struggle up steep ascents.
Some components like the Promax mechanical disc brakes and alloy rims could be better, but overall, everything fits well in the price bracket.
---
Best Gravel Bikes Under $1,000
State Bicycles – 4130 All-Road
Marin – Nicasio 700c
State Bicycle Co. – 4130 All-Road
Tommaso – Sterrata Disc
---
State Bicycle CO 4130 All-Road
X NATIONAL PARK FOUNDATION – JOSHUA TREE EDITION
MSRP: $990
4130 Steel frame & fork, Thru-axle dropouts
ProMax DSK-300R flat-mount mechanical disc brakes, 160mm rotors
11-42t cassette
700c / 650b
The 4130 All-Road – Joshua Tree Edition State gravel bike is an entry-level choice for any riders who want to try their hand at gravel riding.
To perform rough terrain, this bike uses wide and grippy Vittoria tires, Promax DSK-300R Flat Mount mechanical disc brakes, and a shock-absorbent, durable 4130 Chromoly steel frame and fork.
The bicycle is also highly compatible with the various components that would facilitate bikepacking or bicycle touring. These include mounts for extra water bottles, accessories, fenders, bike bags, or racks.
Finally, the 4130 all-road gravel bike has a wide gear range 11-speed State Bicycle Co in-house cassette. All-Road drivetrain which allows riders to tackle tough gradients.
Size Recommendations
XS – 5'1″ – 5'6″
S – 5'5″ – 5'10"
M – 5'9″ – 6'2″
L – 6'1″ – 6'5″
---
Marin – Nicasio 700c
Best Budget Gravel Bike
Price: $989
2×8 speed Shimano Claris
700x30c tires
Steel frame & steel fork
It's hard to believe that you can get such a good-value gravel bike at this kind of price level. Believe it or not but it is true, and it is up for grabs!
Best for beginners, the new Marin Nicasio will definitely be a bike for many recreational cyclists who are looking for a bicycle to be used as a fast everyday commuter or get into mild gravel riding. Mechanical disc brakes and 30mm tires are a great choice to be used as an all-rounder bike, and the Shimano Claris drivetrain will definitely satisfy the needs of a recreational cyclist for sure.
Steel gravel bikes are preferred due to their vibration-reducing qualities and also the affordable price is something that can't be overlooked!
---
State Bicycle Co. – 4130 All-Road
Best first gravel bike under $1,000!
Price: $899
4130 Steel frame and fork
State Bicycle Co. All-Road 1 11-speed drivetrain
Tektro Mechanical Disc Brakes
700x38c Vittoria Terreno Zero or 650bx2.1″ Vittoria Barzo tires
Best for leisurely rides and gravel commutes, this State Bicycle Co. bike deal is hard to pass by.
Equipped with a Shimano Claris drivetrain, steel frame & fork, and mechanical disc brakes – there's plenty to explore all sorts of trails. Nine hundred dollars for a gravel-specific commuter bike is something we'd like to see more in the future.
Ideal first gravel bike for anyone who hasn't had the change to try one out before.
It doesn't matter whether you come from a mountain- or road background, this bike can get you from A to B with style and speed. Follow those alternative roads you always wanted to explore! The bike is lightweight and versatile, great for backcountry roads and bumpy city streets due to the vibration-reducing handlebar tape. 650b x 2.1″ combination is perfect for technical off-roading while the 700x38c is best for road riding.
---
Tommaso – Sterrata Disc
Best Cheap Gravel Bike
Price: $999
3×8 speed Shimano Claris
Alloy frame & Carbon fork
Cable-actuated mechanical disc brakes
Another Tommaso on the more affordable price range – this time under $1,000 for the Sterrata Disc (Sterrata=Gravel in Italian).
This model is built on an alloy frame, runs 700x40c CST Tirent All-Terrain tires, it's got the Shimano Claris 3x8speed drivetrain. The overall weight of the bike is just 25.4 lb! You'll also find the Avis BB5 mechanical disc brakes and a carbon fork on the frame.
The saddle is the one most riders can't go wrong with – the WTB Volt. At this date and time, it's unlikely to get such a good deal for this amount of money.
---
Gravel Bikes 101
---
Main Features and Characteristics of Gravel Bikes

Road bike geometry with wide clearance – Position on a gravel bike resembles riding a road bike, there's a lot of torque output from the right body position. Add a rigid fork and you've got the fastest off-road bicycle on the market.
Wide Clearance – This is where the geometry moves from the road towards the trails. Wider clearances allow running 650b and 700c wheels with wide and knobby tires.
Single or double front chainring – Again, this is where the latest of the mountain and traditional road bike drivetrain preferences meet. If you are looking for a performance gravel bike to start competing, a single front chainring is well represented among high-end bikes
Drop bar handlebar – Thanks to the wide tires, the drop bar is super comfortable for a wide variety of uses. Three main positions to choose for each occasion – for fast and flat sections, technical trails, or light gravel cruising – switch to the right position to give your hands a rest.
650b vs. 700c wheels on a gravel grinder?
Wheel size preference is a main concern when choosing a gravel bike.
650b rim diameter = 584mm (27.5″)
700c rim diameter = 622mm (29″)
*650b tires are often more volumic, which means they can often be larger than 700c wheels & tires
650b gravel wheels
Allows fitting larger volume tires which are more suitable for technical riding.
Tire width goes up to 40mm (650bx40mm (650b x 2.1″)
700c gravel wheels
Narrower contact path which rolls faster on hardpack. Keeps the momentum better than the 650b. For those who prefer speed over technical riding.
Average tire width = 35 to 42mm (Marked as 700x35c / 700x42c)
---
Gravel Bike Groupset Hierarchy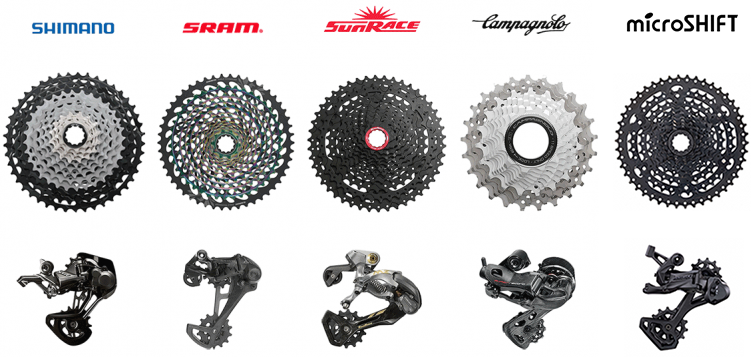 A bicycle drivetrain is one of the most important factors when it comes to price & durability ratio. Gravel-specific drivetrains are a mixture of road and mountain and since they have to provide a wide variety of gears and stand the test of time offroading, they do cost slightly more than your average road or mountain bike drivetrains.
The mountain biking industry is dominated by SRAM, while Shimano dominates the gravel bike groupset market
| | | |
| --- | --- | --- |
| SHIMANO Gravel – GRX | SHIMANO Road | SRAM |
| Pro – RX800 (Ultegra equivalent) | Entry/Mid – Claris, Sora, Tiagra | Mid – Rival, Force, Force eTap AXS |
| Mid – RX600 (105 equivalent) | Mid – Ultegra, 105 | Pro – RED, RED eTap, RED eTap AXS |
| Entry – RX400 (Tiagra equivalent) | Pro – Dura-Ace | Entry – Apex |
---
Brakes – Hydraulic vs. Mechanical Disc
The hydraulic disc brakes have better performance compared to mechanical (cable-actuated) disc brakes. The good news is that some cyclocross and gravel riders prefer mechanical disc brakes as you don't need to entirely 'block the wheel' on uneven paths, and bikepackers prefer the mechanical brakes as they are easier to maintain on the road.
---
Frame – Steel vs. Alloy
Steel is believed to be real, especially among gravel bikes' closely related cousin community – touring bikes. Steel is affordable, great strength-to-weight ratio, and with rather good bump-absorption qualities.
Aluminum on the other hand is known to be quite light, and also durable. Those two main frame materials have quite similar prices although the feel to the ride is completely different.
Gravel Bike Forks – At this price range, most gravel bikes rock steel or carbon fork. Carbon is more advanced, but the lacks the availability to add pannier bags on it.