Shimano SPD vs. SPD-SL Pedals — Which Ones to Choose?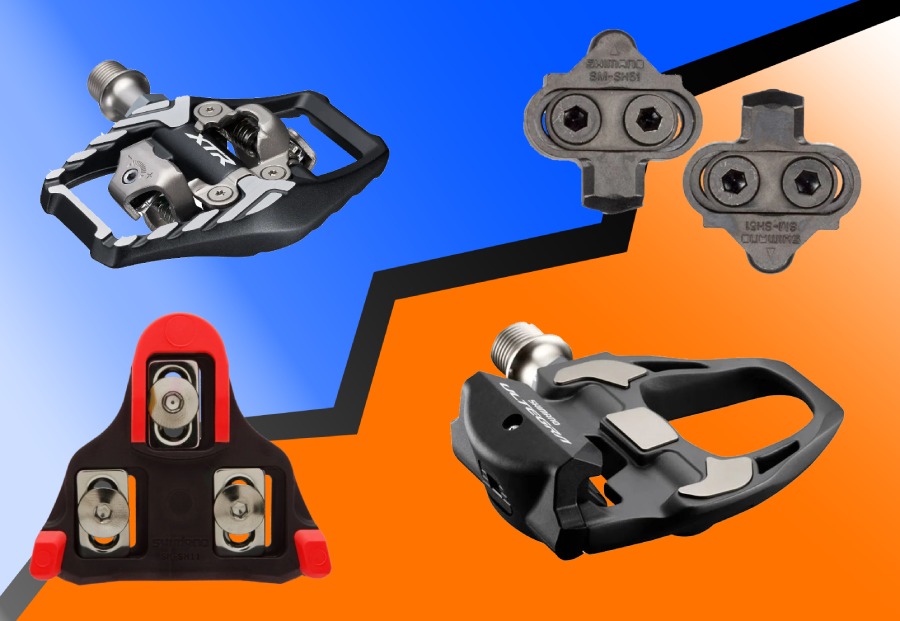 If you're a cyclist making the switch to clipless pedals for the first time, it helps to compare SPD vs. SPD SL pedals.
Choosing between the two popular designs depends mainly on your preferred cycling style: road or off-road biking.
SPD pedals are primarily for off-road styles, including gravel, cyclocross, and mountain biking. Conversely, SPD-SL pedals are almost exclusively used for road biking.
The "SPD" acronym stands for Shimano Pedaling Dynamics, "SL" represents SuperLight. This terminology refers to Shimano products, but the other popular brands (Look, Time, Speedplay, Crankbrothers) work similarly but aren't interchangeable.
This article will cover the two Shimano designs, their characteristics, and their unique pros, cons, and applications.
Shimano SPD vs. SPD-SL Pedals: The Basics
The first road clipless pedals were created as far back as 1895. However, these pedals were popularized by the French brand Look in 1984, when they released the first version similar to those we use today.
In 1990, Shimano released the first off-road clipless pedals: the Shimano SPDs. They have since followed up with SPD-SL road pedals.
As mentioned above, the Shimano SPD vs. SPD SL difference is pretty straightforward. One style is for road cycling, and the other is for off-road disciplines. Each pedal works with a corresponding cleat and shoe. The cleat is the mechanism fixed to a cycling shoe, allowing you to clip into the pedal.
SPD Pedals
Shimano SPD pedals are designed specifically for off-road riding. Most SPDs are dual-sided, which means you can clip in on either side of the pedal. This attribute is essential for off-road riding because riders must repeatedly clip in and out of the shoes.
These pedals only work with metal two-bolt SPD cleats (MTB cleats). Two-bolt cleats screw into an indented hole in the sole. The recessed design allows riders to walk or run while wearing Shimano SPD shoes. In addition, it's easier to clip into the pedals (compared to road three-bolt cleats).
SPD pedals are a popular choice for commuters and tourers, but some beginner road riders prefer them as well due to the increased ease of use they provide.
There are two different types that you can choose from:
SH56 – A multi-point release that allows you to clip out by pulling the heel up or turning it out
SH51 – This more popular single-point release allows you to clip out by turning your heel out
SPD-SL Pedals
SPD-SL Shimano clipless pedals are for road cycling. They combine with a plastic three-bolt cleat that screws directly onto the bottom of your road shoes, protruding from the sole.
This design makes it difficult to walk in the shoes; however, these cleats provide a wider surface area and greater adjustability, benefitting road riding.
There are three different Shimano SPD SL cleats: red, blue, and yellow. Each color allows a specific degree of side-to-side movement while staying clipped in (also called float).
Red – Fixed position, no movement
Blue – 2-degree float
Yellow – 6-degree float
Pros & Cons of SPD Pedals
Pro: Easy Clip-In
Off-road pedals are easier to clip into for two reasons: they are double-sided, and the recessed placement of Shimano SPD cleats helps guide the shoe onto the pedal.
This design benefits off-road riding because riders frequently clip one foot out to dismount or balance. Additionally, beginner cyclists prefer this setup because it is easier and safer to use.
Pro: Walkability
The recessed cleat described above provides an additional benefit, walkability. Walking in cycling shoes is essential for the off-road disciplines where you often dismount to walk with or carry your bike. MTB shoes are designed with grippy and flexible soles to make walking (or running) easier.
Pro: Durability
Durability is relevant when comparing SPD SL cleats vs. SPD. The off-road Shimano bike cleats are made with metal, which boosts their lifespan compared to plastic road cleats.
Pro: Mud Clearance
A fundamental characteristic of this system is the ability to clear the mud that inevitably finds its way onto your shoes when biking off-road.
Shimano MTB cleats are recessed into a hole, reducing the likelihood of becoming clogged and preventing clip-in. Additionally, the pedals have a smaller surface area which slows the accumulation of debris.
Bike cleaning is an essential component of a regular bicycle maintenance routine. A clean bike looks better, ...
Con: Lower Pedaling Efficiency
The flexibility of the sole and small platform surface area means the SPDs are not as energy-efficient as Shimano road bike pedals. However, they are superior to just using regular shoes and platform pedals.
Con: Heavier System
The metal cleats and rubber soles used for off-road shoes are significantly heavier than the road bike setup. In addition, the pedals themselves weigh more as they are double-sided and made almost entirely from metal.
Pros & Cons of SPD SL Pedals
Pro: Excellent Pedaling Efficiency
The large platform made by Shimano road cleats and pedals provides better stability and power transfer, increasing pedaling efficiency. Similarly, manufacturers maximize sole stiffness by using carbon fiber or special alloys. The higher the stiffness, the less energy wasted on each pedal stroke.
Pro: Adjustability
While you can adjust the tension on both pedals, the SPD-SL system is more adjustable. The exterior position of the cleat on road shoes allows greater adjustability. You can position the cleat forward or backward on the track and change its angle to suit your preferences and biomechanics. Additionally, each cleat color allows riders to choose a specific float. Finally, you can also move the shoe mount up and down the sole.
Pro: Weight
SPD road pedals have the name "SuperLight" for a reason. The single-sided build, plastic cleat, and lightweight road shoes mean this system is much lighter. Low weight is essential for competitive road cycling as power-to-weight ratios play a significant factor in climbing advantage.
Con: Poor for Walking
The protruding cleat and stiff sole mean it is challenging to walk in road cycling shoes, making them essentially useless off the bike. That's unless you don't mind waddling around like a penguin.
Due to the plastic cleats that SPD-SL pedals use, road shoes also offer little traction and are very slippery on cobbles and wet asphalt. So if you frequently walk more than a few steps on your rides, the SPD variation is a much better choice.
Con: Fast Wear
SPD-SL cleats are plastic, and they come in direct contact with the ground when you walk. Unfortunately, this makes them wear down quickly, requiring replacement more often.
SPD-SL cleats should be replaced when any of the three colored pads are worn, which will happen sooner or later, depending on how you ride and how much you walk in your cycling shoes. On the contrary, SPD cleats are metal and practically indestructible, so you don't need to think about swapping them ever.
Con: Harder to Clip Into
The single-sided clip and protruding cleat make clipping into road pedals more difficult than off-road pedals. However, road cycling necessitates fewer clip-outs than mountain biking, making this a minor issue.
What Type Should You Go For?
The pedal system you choose depends mainly on the discipline you prefer, although rider experience also affects the decision. As you'll see below, SPD clip systems have a broader appeal.
SPD-SL is typically used for:
Road biking – Experienced road cyclists want low weight and efficiency
Gravel – Road-heavy gravel bikers may prefer the efficiency of these pedals if they don't need to walk during their rides
Bicycle touring – A select few bicycle tourers appreciate the efficiency of road pedals for long-distance riding
SPD is typically used for:
Mountain biking – These are the only option other than traditional shoes as road pedals are unsuitable for use off-road
Cyclocross – Mud, snow, and sand require regular dismounting and walking, making SPDs the only option
Gravel – MTB shoes allow you to dismount and walk when needed, and they stop dirt and debris clogging the system. That's why the best gravel bike pedals are SPD-style.
Road biking – Beginner road bikers enjoy SPD systems because they're easy to use and comfortable
Commuters – Navigating traffic requires lots of clipping in and out. Additionally, you may need to walk from a bike rack to your destination when commuting, making SPDs the best choice
Bicycle touring – Most bicycle tourers enjoy the freedom to dismount and walk periodically, making these shoes ideal
Gravel bikes have seen massive growth in popularity over the past decade, to the point that most bicycle ...
SPD vs. SPD-SL Pedals: Main Factors to Consider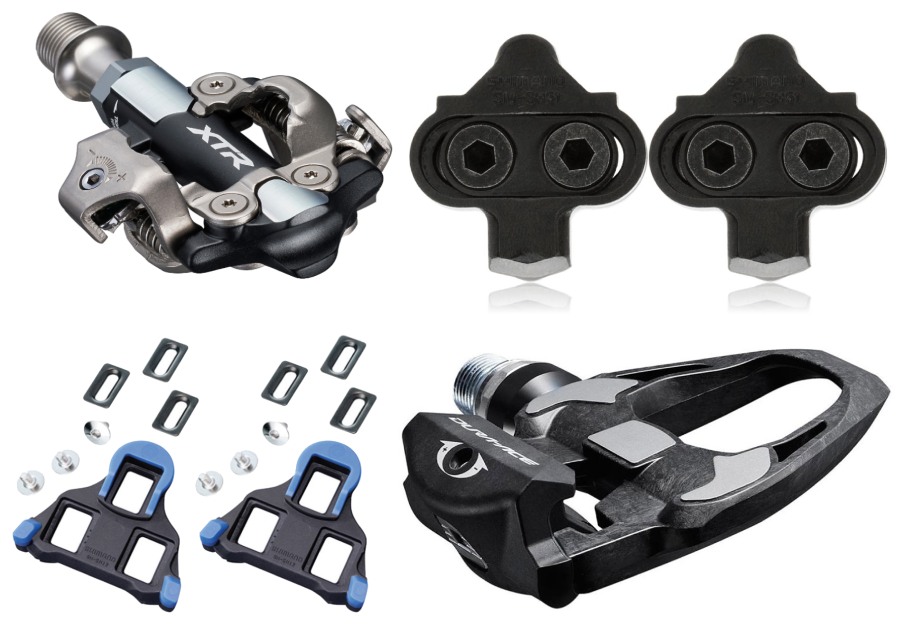 Weight
SPD pedals weigh more which can be a deal-breaker for weight weenies. If you're a commuter or a beginner cyclist, a few hundred grams up or down won't make a big difference in your riding experience. However, if you're a racer or an avid roadie, going for SPD-SL pedals is a good way to shed a lot of weight without spending too much money.
Here's the typical weight difference between basic and premium Shimano SPD and SPD-SL pedals:
Basic SPD = 380g / Basic SL = 320g
Premium SPD = 310g / Premium SL = 228g
Ease of Use
SPD pedals are easier to use. The recessed cleat helps guide the shoe onto the pedal to clip in, and you can clip in on both sides. SLs aren't too hard to use, but you must flip the pedal over a half turn with your shoe so you can clip in as the pedal rests face-down.
Pressure Points
The small platform of SPD systems can result in "hot spots." These happen when there is a lot of pressure on a single part of your foot, causing discomfort or numbness. Shimano and other manufacturers sell large-platform off-road pedals, which can help with this. Otherwise, stiffer shoes or insoles can help.
Durability
SPD systems last much longer. The cleat is recessed into the shoe and made of metal, meaning it wears very slowly compared to the exposed plastic of Shimano blue cleats, for example. Most riders who use SPD pedals don't need to change the cleats ever, which saves money and time in the long run.
Price
Prices are similar across the board, although SPD-SL pedals are slightly more expensive and require more frequent cleat changes.
SPD-SL: $65 – $280
SPD: $50 – $200
Power Transfer
Road cycling systems deliver better power transfer. For example, Shimano SPD SL cleats and shoes create a large, stiff platform, which helps riders maintain efficient pedaling and minimize power loss. Comparatively, SPD systems are smaller, and they allow more flexibility for walking, reducing the total percentage of power transferred.
Therefore, SPD SL pedals are much better for racers and those who want to maximize the gains from structured training.
FAQ
What's the difference between SPD-SL vs. Look?
The difference between SPD-SL vs. Look is that the Shimano cleats and pedals are slightly wider than Look's design, creating an even bigger platform for power transfer and stability but slightly increasing the total weight. In addition, look's premium model ($400) is significantly more expensive than Shimano's ($280).
Which is easier, SPD or SPD-SL?
SPD is easier than SPD-SL. As described above, off-road pedals typically allow you to clip in on both sides of the pedal, instead of having to flip it over with your foot to clip in, as with road pedals. Additionally, the recessed cleat helps guide the pedal onto it.
What's the difference between SPD and SPD-SL?
The difference between SPD and SPD-SL is the former is designed primarily for off-road biking and the latter for road biking. However, some road cyclists prefer the ease of use, durability, and comfort of the mountain biking system, making them more popular.
Can I use SPD-SL cleats on SPD pedals?
No, you can not use SPD-SL cleats on SPD pedals. None of the three components of each system are interchangeable. The shoes, pedals, and cleats are all designed uniquely and must be used together to function. SPD has a two-bolt recessed cleat, SPD-SL has a three-bolt cleat.
Do all SPD shoes fit all SPD pedals?
Yes, all SPD shoes fit SPD pedals, as long as Shimano makes them. Nevertheless, the term "SPD" is used widely in the cycling community to mean off-road pedals, but the different manufacturers aren't interchangeable. Each one requires shoes, cleats, and pedals from the same company to work.
Why is it called a clipless pedal?
It is called a clipless pedal because it doesn't have a toe clip or foot strap. Most bikes used toe clips and straps before the cleat-mounted pedal system arrived. As a result, upon their introduction, they became known as clipless pedals as they quickly replaced clips in professional and casual cycling.