Gravel vs. Cyclocross vs. Touring Bikes — Differences Explained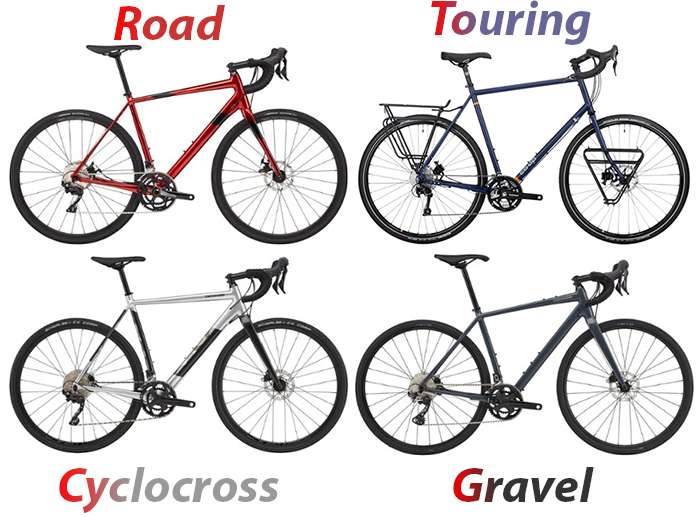 Road bikes and mountain bikes may dominate the cycling scene but in between these two extremes, you'll find several disciplines that straddle the gap between on-road and offroad riding. The most notable types of multi-terrain bikes are gravel, cyclocross, and touring bikes.
Each of these bikes uses road-style frames built from tough materials, with tires that range from 32mm to 50mm thick. They usually have drop-bar handlebars but lack the same aerodynamic geometry as true road racing bikes. While they don't normally come with front suspension like MTBs, they provide better comfort and absorption when offroad riding.
Gravel Bikes
Gravel cycling is one of the newest disciplines in the cycling world and the bikes are often criticized as being nothing more than road bikes with thicker tires. However, riding at speed over loose, rough terrain requires very specific geometry that a typical road bike would struggle with. Bicycle manufacturers designed gravel bikes to meet the demands of a growing number of cyclists who wish to spend more time off-road while maintaining the lightweight, aerodynamic feel of a road bike.
Image source: Cannondale.com The question "what is a gravel bike?" regularly arises in cycling circles as it is a ...
As the name implies, gravel bikes are intended for riding over gravel, dirt track, or any other rough but mostly flat surface. Naturally, they can't handle extremely rocky or mountainous terrain but comfortably absorb small vibrations over long distances. They commonly use 700c wheels and you can fit 28-40mm tires depending on how rough the conditions you intend to cycle are. In some rare cases, you may find a gravel bike with 650b size wheels to accommodate smaller riders or provide more stability.
Over the past few years, gravel bicycles have experienced massive growth in popularity. Although they look like ...
Gravel bikes usually have between 12 to 18 gears and often use only a single front crank for simplicity and reduced weight. Since they aren't built to carry the heavy loads of touring bikes, they don't need an extremely wide gear ratio. You'll commonly find gravel bikes with an 11-42 cassette or similar and a 38 or 42 tooth crank. Their drivetrains are often very similar to modern road bikes, although with slightly cheaper components.
Like touring bikes, gravel bikes typically have a long wheelbase and low bottom bracket for better stability. They have longer chainstays and a taller stack height than cyclocross bikes to put the rider in a more comfortable, upright position. This means they aren't as agile as cyclocross bikes because they don't need to take sharp corners at high speeds. Since they also roll relatively well on pavement, gravel bikes make an ideal all-rounder for city commutes and short weekend trips. The cost of gravel bikes varies greatly, from cheap $500 bikes to top-range $5000 bikes.
Cyclocross Bikes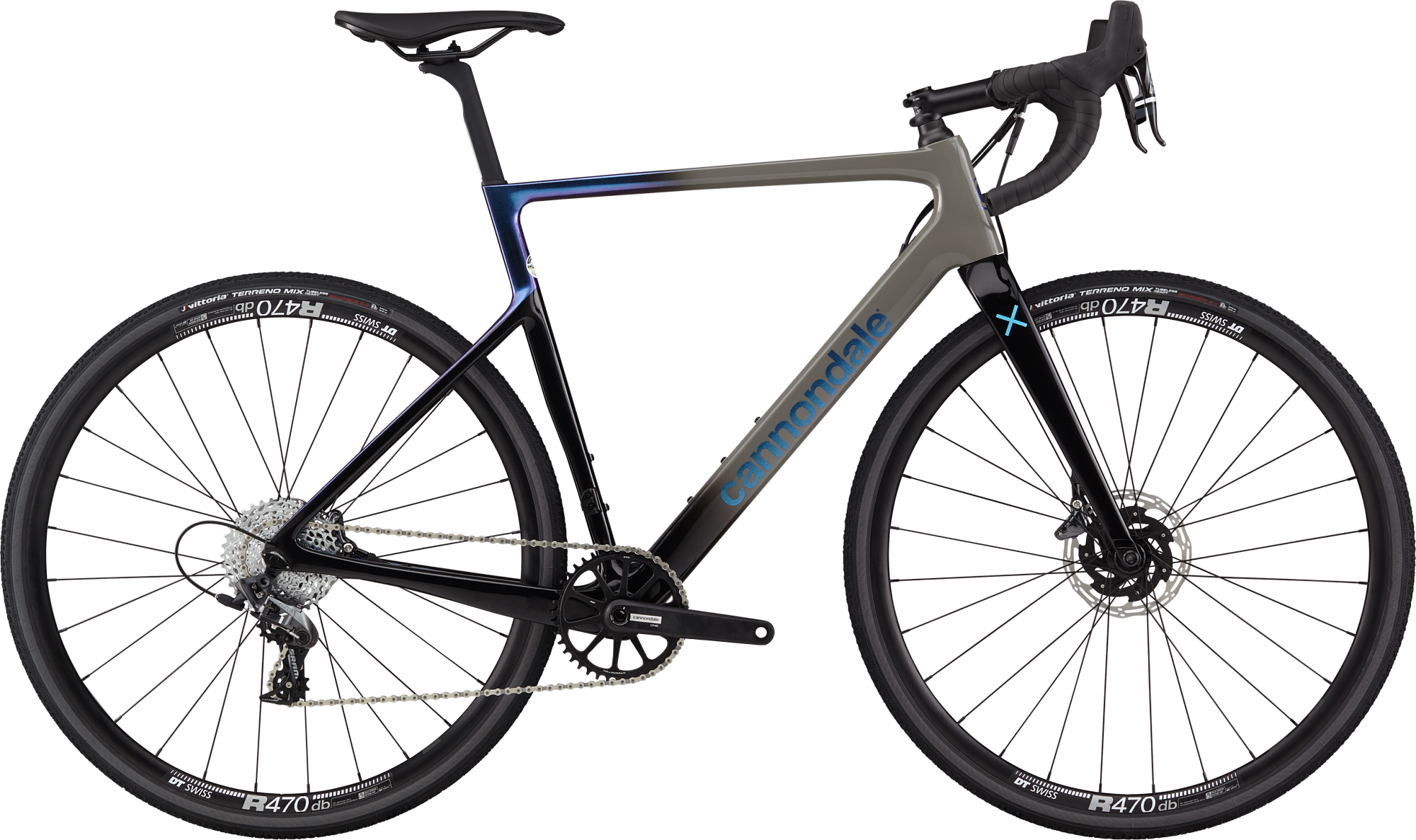 Cyclocross, thought of as the steeplechase of cycling, is a type of cycle race that takes place on an outdoor track similar to an obstacle course. It typically involves varied terrain like mud, stairs, water, and gravel, with competitors often required to dismount and carry their bicycles over obstacles. The races are high intensity, lasting between 30 to 90 minutes, and usually involve completing multiple loops of a cordoned-off track.
Like gravel bikes, cyclocross bikes have treaded tires designed for better grip in offroad conditions but are usually thinner due to UCI race regulations that limit sizes to 33mm. However, the geometry and gearing are different, designed for quick, short races rather than long, comfortable rides. They typically have a tight gear ratio with a 46/36 chainring and 11-36 cassette. This provides excellent acceleration over short distances but less top-speed than gravel bikes because cyclocross courses don't have long, flat sections. To avoid mud build-up, cyclocross bikes are fitted with cantilever brakes which provide more clearance than caliper brakes.
Unlike gravel bikes, cyclocross bikes don't make good commuters or touring bikes because they aren't as comfortable and don't have mount points for racks or fenders. They can be used as tough road bikes if you plan to ride on varied terrain but outside of cyclocross, they aren't very versatile. Manufacturers don't usually make cheap cyclocross bikes because they're aimed at professional racers, so price-wise you're looking at $1,000 upwards.
Touring Bikes
Historically, most touring cyclists rode on simple steel road bikes with basic racks and bags. Nowadays you find a broad range of purpose-built touring bikes, from MTB-style bikepacking bikes to lightweight racers. Although some touring bikes have straight handlebars, drop bars are more popular as they offer a wider variety of hand positions. Many bicycle tourists upgrade their handlebars to butterfly bars or similarly complex bar designs for added comfort.
Adventure bikes, a.k.a Touring bikes usually have an even more upright seating position than gravel bikes, allowing the rider maximum comfort for long days in the saddle. Since touring bike frames need to be strong to carry heavy loads, they are usually made of steel but some lightweight tourers use aluminum or even carbon. Many people now use gravel bikes as touring bikes due to their similarities, such as drop bars, rack mount points, and thick tires.
If you plan to do a long-distance tour that covers multiple countries, it's best to get a purpose-built touring bike from a manufacturer like Surly, Trek, or Salsa. They are built from extremely tough materials and use components that are easy to fix or are widely available for replacement. However, the tough design does mean touring bikes are usually heavier than most other bikes so they aren't as fast as gravel or cyclocross bikes.
When touring, cyclists often find they have to climb long, steep ascents while carrying all their luggage. This means the bikes require the highest possible range of gears, often with a triple front cog and a 7 to 10-speed cassette on the rear. Most touring bikes come with mechanical disc brakes which provide sufficient stopping power and are easier to maintain than hydraulic brakes. Cheap touring bikes are uncommon and don't provide good value, so look at spending at least $1,000 for something decent that will last a long time.
---