Best Bike Speedometers / Computers
A bicycle computer gives great insight into your performance and improvement. Those little gadgets are most likely the only electrical devices you want to carry around with you whether you are a recreational cyclist training for your first 100-mile race, or a professional training 6-days a week.
---
Bike Computer Functionality
Most cyclists use speedometers to judge either their speed in racing or mileage if attempting to cover a specific distance. Bike computers usually feature a display mounted on the handlebars and a sensor mounted on the front fork to calculate speed and distance. They come in many forms, from simply wired speedometers to advanced, wireless data trackers with GPS and other functionalities. 
Brief History of Speedometers
Bicycle speedometers, or CycloComputers, have been around since 1895 when inventor Curtis Veeder built the first mechanical device that measured the rotations of a bike wheel. Since then cycle computers have advanced greatly and now come with digital displays that provide a variety of statistics including speed, mileage, and cadence.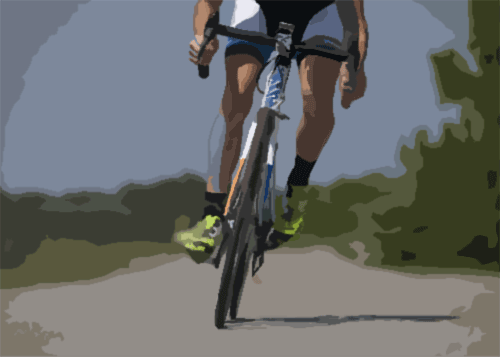 ---
table of contents
Under $100 Speedometers / Bike computers
FAQ
---
🏆
TOP PICKS
Cheapest Speedometer – CATEYE Velo 7 – $25
Best Basic Speedometer –  BONTRAGER RideTime Elite – $70
Best Bike Computer for City Commuting –  GARMIN Edge Explore – $250
Best Bike Computer – WAHOO – ELEMNT BOLT GPS – $230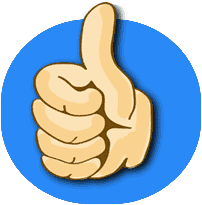 ---
Best Under $50 Speedometers
MAIN FEATURES: Time / Speed / Distance
---
CATEYE – CC-VL520 Velo 7
Cheapest bike speedometer by a known brand
MSRP: $25
REI Co-op
CatEye is a well-known Japanese brand that manufactures bicycle accessories such as speedometers, bike lights, bottle-cages, reflectors, toe clips, etc. Cateye has a wide variety of bike speedometers for each occasion – and the CC-VL520 is by far one of the cheapest options when you'd like to track only the basics – which is often all that is asked for. When you are looking to buy a bike speedometer to know the total distance traveled, Velo 7 is cheap and convenient.
Speed – Current/Maximum/Average
Odometer – Overall distance traveled
Trip distance – Selected distance
Auto start/stop function – Saves battery life
Clock
Wired
4/5 out of 35+ ratings
REI.com/
---
CATEYE – Strada Cadence
Cadence / Dual Bike Memory / Speeds + Odo
MSRP: $50
REI Co-op
Most likely the cheapest way to track your cadence! There's a lot of wiring to do when setting up the computer, but you are going to get an accurate reading on the cheap. The Cateye Strada Cadence sensors connect to the pedal and rear wheel, unlike most cheaper speedometers that collect the data from the front wheel. Other than that, it's got a great value for the price!
Score – 3.5/5 out of 40+ ratings
Essential functions of the Strada plus pedal cadence (without the GPS)
Wired
Auto start-stop
Dual tire size memory
CR-1620 Battery powered
ClickTec® interface – 8 modes at to be chosen the bottom of the computer face
Current speed is always shown on the display
Pace arrow indicators – Riding above/below your average speed
Slim design with universal, tool-free handlebar/stem bracket and speed sensor mounting
Programmable odometer lets you program your mileage back into computer after a battery change
REI.com/
---
Best Under $100

Bike Computers
---
BONTRAGER – RIDEtime Elite
MSRP: $70
Trek bikes
This discrete little wireless cycling computer fits snugly in the exact center of the handlebars, directly below the eye line. It slips in and out of its holder with ease, allowing you to quickly remove it for safety when leaving the bike. Compatible with ANT+ wireless sensors like DuoTrap S or Interchange Combo.
Weight: 40g
CR2032 Battery-powered
Large, 2″ easy-to-read screen
Programmable backlight
Customizable tri-field display – Speed, HR, Cadence, Power

AUTO

start/stop, auto clear, and auto light control with customizable hands-free scan modes
Distance – Trip/total
Time (clock, timer)
Calories burned
Speed
Heart rate (Requires ANT+ compatible sensors such as DuoTrap S or Interchange Combo Sensor for heart rate)
Power
Cadence – Current, average, max
REI.com/
---
CATEYE – Padrone
MSRP: $55
REI Co-op
The Cateye Padrone has a larger than average display for easy visibility and connects conveniently to any style of handlebars via the FlexTight universal bracket. For connectivity, the simple analog wireless sensor can be strapped onto any part of the fork or frame with two included zip ties.
3.5/5 out of 35+ratings on REI
22% thinner and 85% larger for easy viewing when compared to CatEye Urban Wireless
SPEEDS – Current, average and maximum speed
TRIP – Distance, odometer, elapsed time, clock and automatic start/stop
2.65″ x 1.7″ display
ClickTec button interface offers easy navigation between the screens
Flextight universal mounting bracket fits virtually all handlebars
Includes a CR2032 battery
REI.com/
---
LEZYNE – Macro Plus GPS
MSRP: $99
Jenson USA
Runtime: Up to 28h / Stores: Up to 200h ride data / GPS / Micro USB rechargeable / Weather-resistant / Temperature / Weight: 60g
The tiny Lezyne Macro Plus is great for riders who like to save space on their handlebars. The waterproof cycle computer can be twisted for both horizontal and vertical orientation and includes GPS mapping. Pair it with your phone to track your cycles or provide turn-by-turn audio navigation. It's action-packed for something so small!
Durable, composite construction
Bluetooth Smart connectivity
Best Sync – Strava, TrainingPeaks, Today's Plan
Multiple real-time features when paired to the Lezyne Ally app
Import .tcx & gpx. files
Trainer Mode
Multiple bike profiles
Full navigation
Custom route building
Four-button operation
The lithium-polymer battery
Customizable fields and page count (up to 8 fields)
Custom alerts and auto presets
Includes X-Lock Standard Mount
Calories
GPS signal strength
Battery life indicator for device and paired devices
Connected devices icons
Bread crumb trail page
CONNECTIVITY
via LEZYNE
Sync Rides via Bluetooth
Smart Connect compatible – Text, email's, phone calls, messages
Plug-and-play flash drive technology (Windows/Mac) and upload directly to GPS Root website for ride analysis (download ride files .fit files)
Auto-sync to Strava, TrainingPeaks, and Today's Plan
Pairs with Bluetooth Smart enabled heart rate monitors, cadence/speed sensors, and power meters
Connects with compatible electronic drivetrains
Turn-by-turn navigation
Lezyne Track (live tracking),
Lezyne's "Smart Connect" LED system.
Off-line rerouting
Lezyne's GPS platform when paired with Lezyne's GPS Ally phone app.
Follow starred Strava segments and routes
Follow structured workouts from Today's Plan and TrainingPeaks
Strava Live Segments, training integration, and it can pair with external Bluetooth sensors.
JensonUSA.com/
---
Best Under $300

Bike Computers
---
GARMIN – Edge Explore
Best GPS Bike Computer for city use
MSRP: $250
REI Co-op
The Garmin Edge Explore is more of a navigation unit than a cycle computer, although it tracks all your necessary statistics too. Get full-color maps on the large, high-res display unit and pair it with iOS and Android phones so you can connect with other riders via Garmin apps. It's also ANT+ compatible so you can use it with a range of speed, heart rate, or cadence sensors. Garmin is by far one of the most known GPS device manufacturers on the market.
GPS computer with a high-resolution touchscreen that works with gloves or in rain
Preloaded Garmin Cycle Map turn-by-turn navigation with Trendline popularity routing
Compatible with Garmin's Varia devices
Features LiveTrack and GroupTrack
Up to 12 hours of battery life
Customize with free apps and widgets from Connect IQ store
Weight: 300g
REI.com/
---
WAHOO Fitness – ELEMNT BOLT GPS
Best ratings & feedback over time! B&W screen
MSRP: $230
REI Co-op
Score – 4.75/5 rating on REI / 15hour battery life / Wireless / Cadence / Temperature / Full speedometer / GPS
The Wahoo Elemnt BOLT is an advanced yet compact bike computer with a sleek and attractive design. It slots nicely into the center of the handlebars for easy access and connects wirelessly with modern ANT+ devices like rear radar detectors. Use it for turn-by-turn GPS navigation or retracing your ride with its Back-to-Start feature. 
Use Bluetooth to sync the Elemnt BOLT with your phone and get special training rides, shared routes, and on-screen Strava Live segments. This powerful, feature-rich little device may be the last cycle computer you ever need to buy!
FOR RACING – Lap Timer / Cadence / High-low target heart rate / Excercise log / Target zone indicator / Stopwatch / Distance
FUNCTIONS – Auto start-stop / Altimeter / Temperature / Low-battery indicator / Wireless / Clock / GPS!
SPEED – Current / Maximum / Average / Comparator
Dual Bluetooth and ANT+ connectivity pairs with your smartphone and optional sensors including – Power, speed, cadence, heart rate, and more(Sensors not included)
Complete wireless functionality lets you sync ride data, upload routes, and update software
Integrated GPS with preloaded global maps
Optimized routes with turn-by-turn navigation using Route Me Anywhere feature in the ELEMNT app
View trails on your handlebars – MTB Project To-Do List and Singletracks Wishlist trails can be viewed as routes on the map page
Over 150 customizable data fields – Select, prioritize and view the metrics that are most important to you
Perfect View buttons allow riders to zoom in to enlarge two data fields
Tactile smart buttons make it easy to start, stop or pause ride and toggle between pages
Quicklook LED indicators can be programmed to display the status of your speed, heart rate, or power pace
Pair ANT+ rearview radar (not included) to ELEMNT BOLT for real-time proximity of vehicles approaching from behind; vehicles are represented directly on the computer's screen.

Back to Start navigation

provides a breadcrumb trail to allow you to retrace your route
Live tracking enables riders to share their location with friends or family
On-screen Strava Live Segments integration with LED and pop-up alerts
Syncs with TrainerRoad for easy access to indoor and outdoor workouts
Control Kickr Bike, Kickr, Kickr Core, and Kickr Snap smart trainers in level, erg, route and ride history mode with ANT+ FE-C control
LED and pop-up alerts for calls, texts, and emails
Compatible with leading electronic gear shifters (Shimano Di2, SRAM eTap, Campagnolo EPS, FSA WE)
Sync routes on the go with Bluetooth connection
Includes: ELEMNT BOLT GPS bike computer plus an aero mount and a stem mount
REI.com/
---
LEZYNE – Mega XL GPS
TRAINING ON THE BIG SCREEN
MSRP: $250
Jenson USA
The rotational Lezyne Mega XL plus has a large display unit with enhanced GPS connectivity for clear mapping and visuals. It has dual connectivity so you can connect it simultaneously with your smartphone via Bluetooth and any ANT+ enabled bike-mounted sensors for data monitoring. View calls, texts, and app notifications while cycling and get a turn-by-turn navigation.
Large screen with clear, high-resolution graphics.
Fully integrated with TrainingPeaks and Today's Plan.
Dual metrics on one screen keeps it easy to follow.
Import and follow personalized structured workouts get the most from your training.
A full complement of essential training data fields all in one place.
Custom screen layouts have it your way.
Indoor training mode for when you can't get outside.
JensonUSA.com/
---
Best Under $500

Bike Computers
---
WAHOO – Fitness ELEMNT ROAM GPS Bike Computer
Best high-end performance bike monitor
MSRP: $380
REI Co-op
Score: 4.5/5 out of 180+ reviews / Wireless / 17-hour battery life / GPS / Cadence
The Wahoo Elemnt ROAM is a larger, full–color version of the smaller BOLT device, with clear and precise mapping for excellent navigation. It makes important mapping easy with its onboard panning and zooming controls, which is great for adventurous rides through unchartered territory. The dual-band connectivity allows simultaneous Bluetooth and ANT+ wireless pairing.
FOR FITNESS – Lap timer, Cadence, Dual Bike Memory, Target Zone Indicator, High/Low target heartrate, Excercise log
FOR TOURING – GPS, Altimeter (Pressure based), Temperature
SPEED – Current, Maximum, Average, Comparator
FUNCTIONS – Odometer, Distance, Auto start-stop, Stopwatch, Clock, Backlight, Smart Device Notifications, Low-battery indicator
2.7in LED Gorilla Glass Screen
Ambient light sensor
Syncs with TrainerRoad – indoor/outdoor workouts
Dual-band ANT+™ and Bluetooth® connections
KICKR compatible
Includes: Stem mount / Aerodynamic out-front mount
REI.com/
---
GARMIN – Edge 830 Bundle
The most advanced set to get
MSRP: $400
REI Co-op
GPS / 20h+ extended battery life / Altimeter / Cadence / 4.25 / 5 out of 200+ ratings on REI
This convenient bundle includes a speed, cadence, and heart rate sensor along with the Edge 830 touch-screen cycle computer and mount. Get detailed information on your performance and vital statistics, including VO2 max, heat, altitude acclimation, hydration, and more. It includes a vibration-detecting bike alarm for extra safety and pairs wirelessly with multiple sensors.
SPEED – Current, Maximum, Average
FUNCTIONS – Auto Start/Stop, Clock, Alarm, Dual Bike Memory, Backlight
FOR FITNESS – Odometer, Trip Distance, StopWatch, Lap timer, Cadence, Target-Zone indicator, High-low Target heart rate, Excercise log,
FOR TOURING – GPS, Altimeter
PIN-protected bike alarm will notify you on your smartphone if your bike is moved while you are inside getting water or making a pit stop
Can be customized with free apps via Connect IQ Store
MTB functions: Track Jump count, distance and hang times. GRIT & FLOW – Measures the ride difficulty, smoothness, and descent.
Get maps for mountain biking by downloading the free Trailforks app from the Connect IQ™ store to unlock maps, trail conditions, and more. Provides insights on your VO2 max, recovery, training balance, heat and altitude acclimation, nutrition, hydration, and more—when paired with compatible sensors (not included)
REI.com/
---
$500+ Bike Computers
---
GARMIN – Edge 1030 Plus
Best bike computer for touring!
MSRP: $700
Jenson USA
Complete GPS Package / Battery charge: Up to 20 hours / Cadence / Garmin Varia compatible
This Garmin bundle comes with both speed and cadence sensors plus a chest strap for heart rate monitoring. They all connect wirelessly with the Garmin Edge 1030 cycle computer to provide real-time statistics as you cycle. Smart Connectivity functionality allows you to interact with your smartphone directly from the touch screen display.
3.5″ screen
GPS
Altimeter – How far, fast, and how high you've climbed
Navigation with turn prompts and even shows you how to get back to the start
Garmin Varia Compatible for enhanced awareness
Cadence sensor
Speed sensor
INCLUDED IN THE BOX
Edge 1030

Standard / Flush-out

mounts

HRM-Dual™
Cadence sensor
Speed sensor
Temperature
Garmin connect
Tether
USB Cable
Manuals
IPX7 Waterproof rating
200 waypoints/favorites/locations
History: 200hours
JensonUSA.com/
---
FAQ
---
What is a Bike Computer and why use one?
The bike computer is an electrical device to monitor speed, distance, location, cadence, calories burned, etc. Also known as the:
Bike Computer = Bike Speedometer = Cyclocomputer
Cycle Computer = Cycling Computer = Cyclometer = Head unit
The main purpose of the bike computer:
Keep track of training
Explore new trail using GPS
What to expect:
Quick set-up
Easy-to-use menu
Accurate & clear screen
Start-stop function
---
Wired vs wireless bike computer
Wired speedometer
PROs
Cheaper
Longer battery life
Better accuracy
CONS:
Limited capabilities such as GPS tracking
Can be used on one bike only
Wiring to do
Wireless speedometer
PRO's
Needs no wires to route
Accurate readings via GPS
Can be used on different bikes
CON's
---
What are the best bike speedometer brands?
The best bike speedometer and bike computer brands are known to be Garmin, Wahoo, CatEye, Lezyne, Polar, Specialized, Bontrager, etc.
All of those brands are widely used among professional athletes and recreational users due to their ease of use and performance-orientated set-up.
Wahoo – Training equipment for cyclists
CatEye – Specializes in bicycle electronics and optics
Lezyne – Specializes in bicycle accessories
Garmin – One of the leading GPS brands in the world
Specialized – A leading performance-bicycle brand
Bontrager – Produces a wide variety of apparel, accessories, and components
---
Best apps to monitor cycling stats?
The best applications to monitor cycling stats are known to be Endomondo, Strava, RidewithGPS, Komoot, Garmin, Today's Plan, Trainingpeaks.
Endomondo – Great for cycling and most 'silent' sports. FREE app
Strava – Running and cycling app. FREE app
RidewithGPS – Route planning app for cyclists
Komoot – Great app for bicycle touring
Garmin Connect/Express – Sync your Garmin device with the application for detailed route planning and much more
Today's Plan – An application for triathletes
Trainingpeaks – Performance sports app for triathletes, cyclists, and runners. Free sign-up
---
Can I use my SmartWatch to track cycling stats?
Smartwatches can be used for any type of sport out there, although cyclists prefer to use the least limiting devices.
Bike computer PROs over a smartwatch:
Accurate measures – Starts and stops exactly when in use
It's built for one thing only, and it does it well
Clean screen to track current data
SmartWatch PROs over a bike computer:
No need for expensive equipment
Can be used on any bike
---
What are the main types of bicycles to use a bike computer?
Any type of bike is fine to track the speed and overall distances. Most cyclists use bikes computers on road-, touring-, mountain- and hybrid bikes.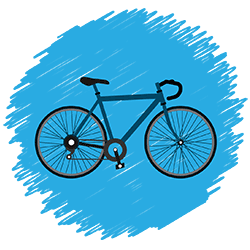 ---
Speedometer for kids' bikes?
Getting a bike speedometer for kids is a great way to get them interested in cycling. Once the speedometer is installed on the bike, it's a great way-point to know how much they've spent on the saddle. You'll be surprised by the total amount of miles they've pedaled by the end of the summer! Speedometers are a priceless device to get the young hooked on cycling!
---
Using a Smartphone as a Bike computer a good idea?
A topic that's gotten a lot of debate – should you use your smartphone to track cycling stats? The point of the bike computer is to show the stats in a convenient way while using the bulky Smartphone (Android, iPhone) on a rigid bicycle handlebar that can damage the smartphone in the long run. There are decent smartphone mounts for handlebars on the market though!
Constant vibration and weather conditions might not make the smartphone a great alternative to real bike computers.
---
Can I use a speedometer on any bicycle?
Bike computers and speedometers can be used on most bicycles as long as you get the correct reading from the wheel.
---
Are bicycle speedometers accurate?
Once you've followed the set-up instructions correctly, bike computers are accurately showing the statistics of your bike rides. After all, that's what they were designed to do. In this list, you'll find speedometers by the most known bike computer brands that can be trusted. If you'd still like to be sure – you can use any cycling app such as Endomondo or Strava to get a second opinion!
---
All Bike Computers & Speedometers on – REI
 All Bike Computer & Speedometers on – JensonUSA
---
RELATED
Wahoo Fitness – Brand overview