19+ Best Gravel Bikes of 2020
Gravel bike riding has exploded in popularity over the past few years, particularly in central US states with long stretches of dirt tracks. Recently, more and more commuters are moving towards using gravel bikes as an alternative to hybrids or road bikes due to the versatility they offer. The main advantage of gravel bike riding is being able to ride fast in areas with less vehicle traffic and more natural beauty. Many gravel enthusiasts find it more fun that MTB riding due to the bikes being lighter and quicker.
---
What is a Gravel Bike? Gravel riding comprises anything from smooth single-track to rocky jeep tracks, hardpack dirt, or forest paths. These days many bike manufacturers make gravel-specific bikes that are tailored to operate best on dirt and single-track. Gravel bikes combine elements of road bike racing with mountain biking and involve race-style drop-bar bikes with thicker-treaded tires to handle off-road conditions.
Drop-bar
Slack geometry
Comfortable stance
Increased tire clearance
Multi-surface performance
Must-have components. Many gravel bikes have internal cable routing and components that are designed to better resist dirt and grime. Usually, the frames will come with extra mount points for water bottles, racks, or other bikepacking-related gear.
Gravel Bike = Gravel Grinder = Gravel Bicycle
Great for every day commuting? Gravel bikes make excellent everyday commuters and touring bikes, particularly for cyclists who need to cross varied terrain and have a fair bit cycling background. They are quicker on tarmac than mountain bikes but can handle dirt track far better than traditional road bikes. For this reason, they make good all-rounders but are not ideal for specific tasks like road racing or downhill mountain biking.
Gravel vs Cyclocross – See the comparison down below
---
In this article
Best Gravel Bikes of 2020
Under $2,000
Under $1,500
Under $1,000
↓    ↓    ↓
---
🏆
Top Picks
– Best Gravel Bike With Suspension – Niner MCR 9 RDO
– Best Titanium Gravel Bike – Alchemy Ronin TI
– Best Value Gravel bike series – Co-op Cycles ADV
– Best Gravel Race bike – Salsa Warbird GRX
– Best Gravel Bike Deal – Tommaso Illimitate
---
Best Gravel Bikes

of 2020
---
🏆
Niner – MCR 9 RDO
Full-Suspension gravel bike
Shimano GRX800 – Shifters, Rear Derailleur & Brakes / Carbon frame / X-Fusion 50mm rear shock & Fox 32 SC 40mm front fork
MSRP from $4,700 JensonUSA
The MCR 9 RDO by Niner bikes is a gravel bike with Shimano GRX groupset and a full-suspension frame. As most gravel bikes in this list feature a rigid fork for the fastest riding experience, the MCR 9 RDO-series is among the most innovative of them all.
MCR stands for Magic Carpet Ride, suggesting a ride so smooth it feels like a magic carpet.
This is due to the inclusion of both front and rear suspension, laying the claim for the "first-ever full-suspension gravel bike". It's an interesting concept and probably the first drop-bar bike we've seen with rear suspension.
So isn't it just an MTB with drop bars? Not exactly. Just from looking at it, you can see this Niner full suspension gravel bike is a different beast altogether. It has dedicated gravel-specific frame geometry designed to handle well at speed, with the suspension tuned to swallow vibrations rather than high-gravity drops. This means you get a far more rigid ride with full power-transference out of each stroke of the pedals. Clearly, a simple gravel bike with front suspension is no longer enough – full suspension gravel bikes are the future.
Rather than the wave-like bounce of a mountain bike, the Niner MCR simply glides over rough surfaces like a hoverboard, reducing fatigue on the rider and allowing for faster speeds. Unlike a standard gravel bike with front suspension, the Niner doesn't need to rely solely on frame flex to absorb high-pressure cornering or sketchy descents. This allows you to ride more aggressively with the knowledge that you'll stay on track.
MCR 9 RDO Builds
The MCR 9 RDO is available in two different SRAM builds, the Rival 22 and SRAM Force ETAP AXS which are $5,400 and $8,200 respectively. There are also five Shimano builds including the GRX 400 for $4,200 and variations of GRX 800 with 1x and 2x gearing from $5,900 to $7,000. All builds come with Niner's patented CVA full-suspension system, Fox 32 SC Float front suspension, Stands NoTubes Grail S1 wheels, and Schwalbe G-One Evo tires.
> Full Specifications & Availability
---
Alchemy Bicycles – Ronin TI
Best Titanium Gravel Bike
MSRP from $6,499 Alchemy Bicycles
Titanium-framed bikes are something of a niche market due to the high cost of the material. However, for those dedicated to the cause, Alchemy has created a titanium gravel bike, the Ronin TI. Handcrafted in Colorado, the Ronin TI has increased tire clearance up to 2.1″ / 45mm and specially welded and tapered frame tubes for extra rider comfort.
This beast of a bike comes in several different builds, including Shimano GRX, Ultegra, and Dura-Ace groupsets plus SRAM Force and Red Etap. Riders can also choose from mechanical and hydraulic disc brakes, depending on the budget. The bikes all use Teravail Cannonball 700×42 tires and either HED Ardennes or ENVE rims.
---
Niner – RLT 9 3-star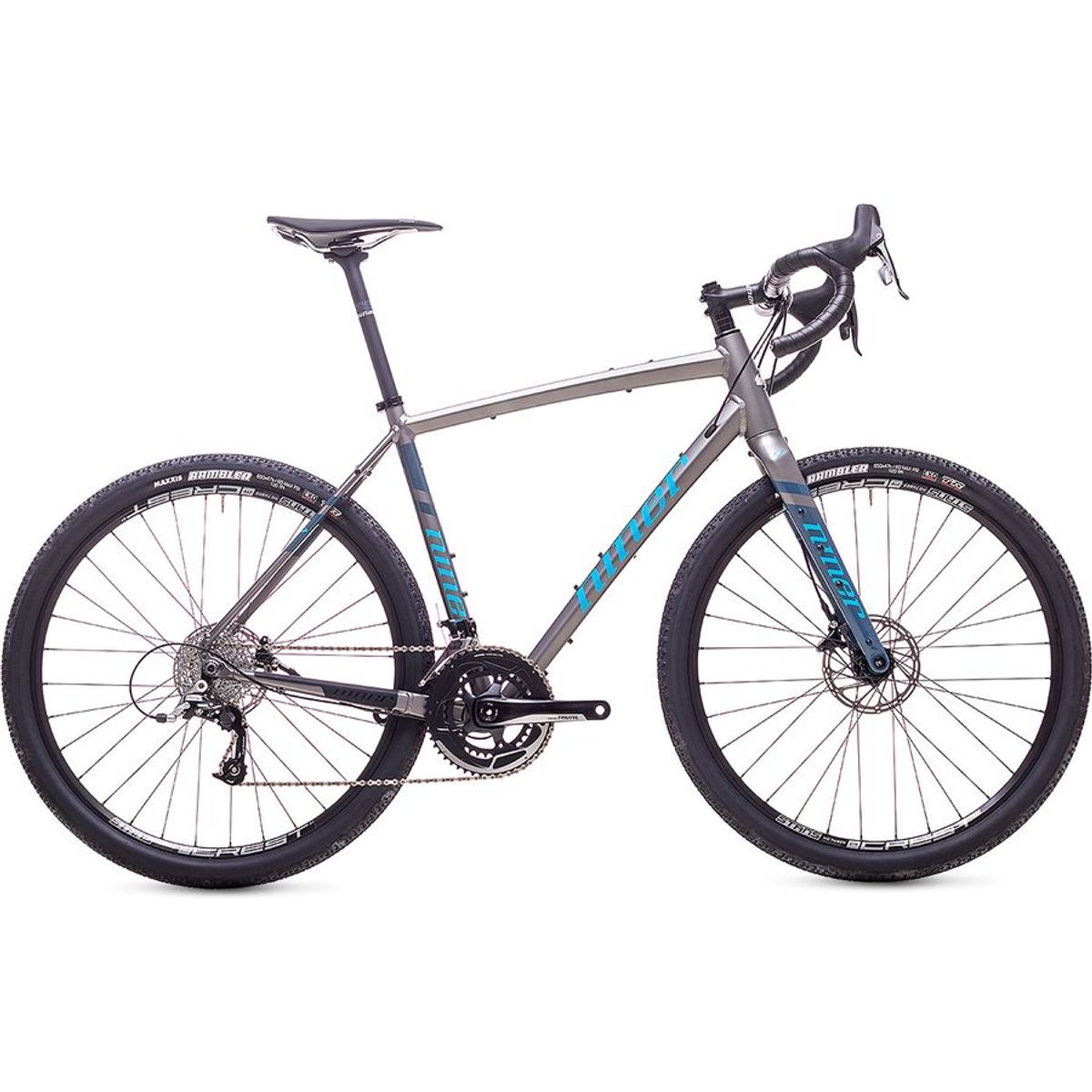 SRAM Rival Derailleurs & Brakes / 650 x 47mm Maxxis Rambler TLR EXO / 6061 Aluminum frame & Niner RDO carbon fork
MSRP $2,900 CompetitiveCyclist.com
This impressive Niner gravel bike doesn't come cheap but does it live up to its price tag? The SRAM Rival drivetrain combined with a Shimano Ultegra HG800 cassette is certainly a good start, especially with the integrated SRAM flat mount hydraulic disc brakes.
Keeping our interest piqued, the Stan's NoTubes tubeless rims with the ever-popular Maxxis Rambler TLR EXO tires are a clear winner. The choice of aluminum over carbon for the frame is questionable but Niner has included both a Niner RDO carbon fork, stem, AND Seatpost. These, combined with the well-formed RLT 9 endurance geometry, make for a surprisingly smooth ride.
> Check Availability – Competetive Cyclist
---
Trek – Checkpoint ALR 5 2021′
Best-value gravel bike out of the Trek Checkpoint-series
11-speed Shimano GRX600 drivetrain / 700c x 40c Bontrager GR1 Comp / Aluminum frame & carbon fork
MSRP $2,100 Trek bikes
The Checkpoint ALR 5 is a mid-level aluminum Trek gravel bike that offers some impressive features for the price. Notably, the lightweight frame with a carbon fork, front and rear rack and fender mounts plus internal cable routing and horizontal sliding dropouts.
The drivetrain uses a combination of an excellent 11-speed Shimano 105 cassette with Shimano GRX shifters and derailleurs plus a 2-cog front crank to provide 22 gears. The grouping works well together and integrates perfectly with flat-mount Shimano RX400 hydraulic disc brakes.
The wheelset utilizes standard Bontrager tubeless-ready rims and GR1 Comp 700x40c tires, which are decent but nothing to write home about. Overall, this Trek Checkpoint gravel bike offers great value-for-money from a well-trusted and established brand. Not available online.
Shimano RS500 PressFit 92mm bottom bracket
Shimano 105 Cassette & Chain
Bontrager Montrose Comp Saddle
Shimano RX400 Hydraulic Disc brakes w/ 160mm rotors
---
Salsa – Fargo Apex 1
A bike touring tool
SRAM Apex 1x chainring Drivetrain / 29″ x 2.2″ / Steel frame & carbon fork
MSRP $2,199 Aventuron
When you are looking for durable and well-thought-out off-road gravel bike by a brand that happens to prefer an alternative approach to mainstream concepts – say hello to Salsa Cycles! Closely related to Surly bikes, Salsa bikes are proved to be among the best in their certain niché, and the gravel bike industry is not an exception. Compared to any other mass-produced bikes by top bike brands – the Fargo Apex offers exceptional value, take a look at why:
2x Three-pack mount on the fork
Predictable handling with and without the load
Belt-drive compatible!
Mechanical disc brakes w/ 160mm rotors
All-in-all, the Salsa Fargo Apex gravel bike makes a perfect companion as a touring bike!
---
Santa Cruz Bicycles – Stigmata Carbon CC GRX
Best Carbon Gravel Bike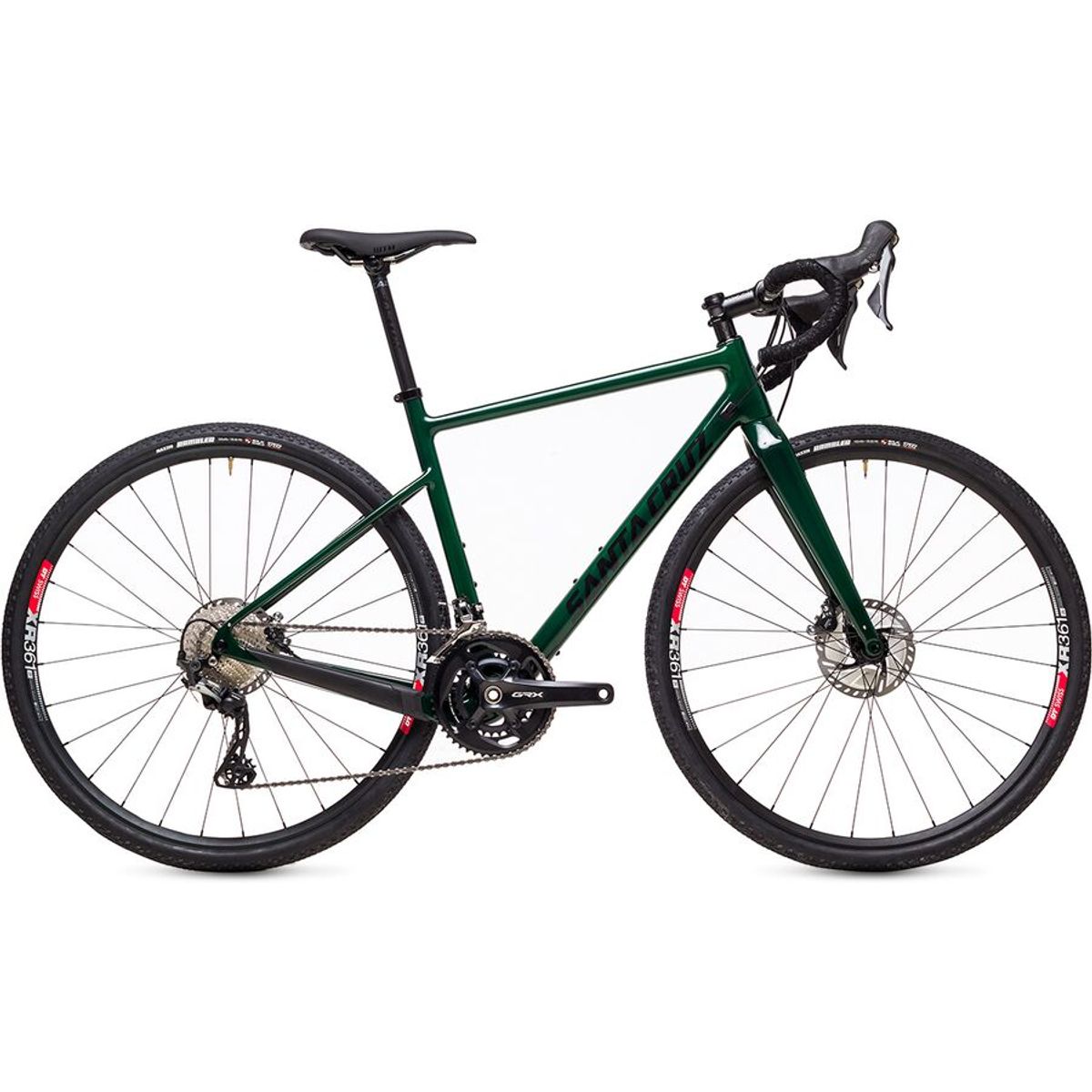 Shimano GRX Groupset / 700x40c Maxxis Rambler / Carbon frame & fork
MSRP $4,199 Competitive Cyclist
Santa Cruz is already well known for its excellent trail and MTB bikes and is now making waves in the gravel bike scene.
The Stigmata CC GRX is a full carbon bike with a top-quality Shimano GRX groupset, 11-speed Ultegra cassette, and hydraulic disc brakes.
It's built in the traditional XC style with no suspension but provides a surprisingly smooth ride due to the tough but highly absorbent Carbon CC frame. Naturally, Santa Cruz didn't scrimp on the wheelset, giving us impressive DT Swiss rims and the ever-popular Maxxis Rambler 40mm tires.
This is a professional-level Santa Cruz gravel bike so unfortunately, it comes with the price tag to match but, hey – that's what you pay for quality!
> See Full Specifications & Availability
---
All-City – Cosmic Stallion GRX
1x drivetrain gravel bike
Shimano GRX – 105 – R5500 / 700c x38mm Teravail Cannonball / Hydraulic Disc Brakes / Steel frame & carbon fork
MSRP $2,700 Aventuron.com
This is something of an interesting offering from All-City Cycles, a US manufacturer of commuter, road, and trail bikes. The Cosmic Stallion is one of few dedicated All-City gravel bikes, with a frame built from proprietary A.C.E steel tubing. The material is surprisingly strong and rigid considering how light the bike feels, with some help from a carbon fork.
The real clincher, however, is the awesome gravel-specific Shimano GRX groupset and lightweight WTB ST i23 rims. These are both top-quality parts. For brakes, you get hydraulic disc brakes which are more than enough on uneven roads. It's unfortunate that there are no mount points for racks because this bike could make a great tourer.
---
Norco – Search XR S1 2020′
Shimano GRX Shifters & Rear derailleur / Shimano GRX Hydraulic Disc Brakes / 700x42c WTB Resolute TCS TLR / 725 Chromoly Steel frame & carbon fork
MSRP $2,700 JensonUSA
Another steel offering this time from Norco, with a Reynolds 725 Chromoly frame and carbon fork. The XR1 S1 is also a versatile adventure bike, kitted out with multiple mount points for racks and fenders if you want to turn it into a tourer. 
However, the lightweight WTB ST i23 rims and X-fusion Manic dropper post make this an ideal Norco gravel bike. Tires are WTB Resolute which roll well both on and off-road, with clearance for up to 42mm sizes. Shimano's excellent 22-speed GRX drivetrain and hydraulic disc brakes make up the groupset, finishing off the collection of quality components.
> Check Availability – JensonUSA
---
Cannondale – Synapse NEO SE
Best Electric Gravel Bike!
11-speed SRAM Apex / 650b x 47mm WTB Byway TCS TLR / SRAM Apex hydro disc / Alloy frame
MSRP $4,500 REI.com
As gravel bikes gain in popularity, we are seeing more and more gravel eBikes on the market. This new e-bike from the 2020 Cannondale gravel bikes range is one of the best we've seen yet. 
The Synapse Neo is based on Cannondale's popular Synapse range, with the addition of a powerful 250W Bosch Active Line motor. The 500W long-range battery will keep the motor running for up to 93 miles (150km) with pedal assistance!
With an 11-speed SRAM Apex groupset, 47mm WTB Byway tires, and STi23 tubeless-ready rims, this bike is focused on maintaining the challenge and sport of cycling. As a Class 1 eBike, most cyclists will only use the motor assistance for long or steep inclines. However, if you're looking for something with more speed than you can pedal, you'll want a Class 2 or Class 3.
The design and geometry of the Synapse NEO closely resemble Cannondale Women's Topstone AL gravel bike.
Pedal-assist range: 93miles
Max speed: 20mp/h
Batter capacity: 500wH
Torque: 50Nm
Charge time: 4.5h
---
Specialized – Diverge E5 Series
Widest variety of gravel bikes for men & women
The Specialized Diverge series gravel bikes are among the most popular on the whole range. There's a wide variety of set-ups and designs, starting from $1,600 for Diverge Comp E5 Evo up to Diverge Expert E5 Evo. It wasn't too long ago when the Diverge bikes were starting along from $1,100 for men and women, while the higher end Diverge gravel bikes can cost up to $10,000.
---
Salsa – Warbird Carbon GRX 600
Best Gravel Race Bike
22-speed Shimano GRX / TLR 700c x 42mm Teravail Cannonball / Carbon frame & fork
MSRP $3,199 Aventuron.com
Salsa Warbird series features 6 gravel bikes, 3x with an SRAM Apex, and 3x with Shimano GRX groupsets.
What sets the Warbird apart from other gravel bikes is their Class 5 VRS high-modulus carbon fiber frameset that is engineered to drastically improve comfort and control on gravel roads. Besides the geometry, it's also the carefully picked bulletproof set-up of why this should be your go-to gravel bike. You'll see the best Shimano gravel-spec parts on the most crucial components such as derailleurs, cassette, hydraulic disc brakes, and shifters. The Warbird Carbon GRX 600 has more than enough on the stock to push your limits both as a recreational cyclist or a racer.
---
Best Gravel Bikes

Under $2,000
---
Surly Bikes – Midnight Special
Best 1x drivetrain gravel bike
SRAM Rival 1 – Crankset, Rear Derailleur, Shifters, levers / 650b x 47mm WTB Horizon / 11-speed / 4130 Steel Frame
MSRP $2,000 Aventuron
Surly is a popular brand for building steel-framed touring bikes so naturally, their gravel bike offering is a bit different. This Cromoly double-butted steel Surly gravel bike has an old-school road geometry combined with modern SRAM Rival 1 gears and excellent TRP Spyre disc brakes.
The 650B Alex Adventurer rims are wrapped in extraordinarily large 47mm WTB Horizon tires with attractive retro tan sidewalls. Surly is a very popular and long-running bicycle manufacturer but steel is something of a niche that you either love or hate, so this might not be for everyone. One thing is for sure, this is a very strong and strikingly unique looking gravel bike from Surly.
---
Priority Bicycles – Apollo Gravel
Best belt-drive gravel bike!
11-speed 400% gear range / 700c x 40mm WTB ByWay / Aluminum frame & carbon fork
MSRP $1,699 Priority Bicycles
Priority Cycles' Apollo Gravel is a unique dirt and singletrack bike with an internal hub and belt-driven drivetrain. This makes it far easier to keep clean and reduces the overall maintenance and upkeep costs. Although its main function is as a gravel bike, it's a highly versatile bike with multiple uses, including commuting, touring, and bikepacking. The best thing about the belt-drive is that the belts' expected lifespan is around 19,000 miles!
Featured in: Best Belt-Drive Bicycles in 2020
The Apollo Gravel is designed to take both the 700c and the 650b wheels, so there's no fuzz there!
What about the downsides? While internally geared hubs do offer a much cleaner system with lower maintenance, they can be difficult to fix on the rare occasions that they do break. Most hubs can't be opened with simple tools and need to be returned to the manufacturer for repairs. This means if you break down far from a city with a dedicated bike shop or mechanic you could struggle to get your hub repaired.
---
MASI – Speciale Randonneur Elite 650B
Gravel-style commuter with Integrated fenders and a headlamp
'
22-speed Shimano 105 Groupset / Mechanical Disc brakes / Integrated front fork and fenders / Steel frame & fork
MSRP $1,850 JensonUSA
Anyone coming from a mountain bike background will find this as a superb gravel bike at an affordable rate. Yes, it will be a smoother transition than getting a cyclocross bike, as this 650b wheel bike is a true gravel warrior on its own league. This is a great bike for those who are looking for a more capable and faster roundabout bicycle than you'd get from a standard hybrid bike.
Designed for touring, this bike is equipped with parts that are equal to mid-range component durability level that is focused on comfort and long-lasting performance, rather than performance.
3x bottle mounts
TLR rims and tires
WTB Horizon 650b x 47mm
Rated ideal for Gravel, Adventure, Touring, and as a commuter bike – the steel frame and gravel-rated components provide a smooth and enjoyable ride for sure!
---
Best Gravel Bikes

Under $1,500
---
Cannondale – Topstone 3 '2021
New, 2021 road-gravel bike model!
Shimano Sora GS / 18-speed / 700x37c / Alloy frame & carbon fork
MSRP $1,250 REI
New in 2021 – Cannondale has introduced another entry-level gravel bike, belonging to the Topstone, the gravel bike series. Due to the 700×37 tire size and 2x front chainrings – it is best suited for both road and gravel riding, preferred by those who are after the performance-oriented speed-chasing instead of jumping over the obstacle on a regular basis. It is a perfect all-rounder for a recreational cyclist who likes to explorer the B-roads while having the capacity to increase their endurance on the roads as well.
Weighing just 23lb, the Topstone 3 is built on a unisex frame, features 160mm mechanical disc brakes, and a carbon fork on the front. There's plenty of extras that can be added on the bike thanks to the eyelets on the frame. This bike truly is a steal for that amount of money.
---
Co-op Cycles – ADV 2.2
Best Value Gravel Bike series!
Shimano GRX Drivetrain & Crankset / 700c x 40mm WTB Nano Comp / Tektro MD-C550 cable mechanical Disc brakes / Aluminum frame & carbon fork
MSRP $1,499 REI
REI Gravel bike selection is best-suited for those who are looking at the best value bicycles on the market without losing on quality components. They offer a fine selection of well-known gravel bikes by known brands such as Salsa and Cannondale, plus they have their own line of bikes known as the Co-op Cycles. Most other Co-op bikes selection has been selling out really good, and the ADV series is no different from that! The ADV-series gravel bikes are equipped with essential components you'd expect from bikes with a slightly higher price tag.
Co-op Cycles ADV Series – Comparison Chart
| | | | | | | |
| --- | --- | --- | --- | --- | --- | --- |
| Co-op Cycles | MSRP | Wheels | Frame | Gears | Group | Brakes – Disc |
| ADV 1.1 | 1,399 | 700c | Steel | 3×10 | Deore | Hydraulic |
| ADV 2.1 | 1,099 | 700c | Aluminum | 2×8 | Claris | Mechanical  |
| ADV 2.2 | 1,499 | 700c | Aluminum | 2×10 | GRX | Mechanical |
| ADV 2.3 | 2,199 | 700c | Aluminum  | 1×11 | GRX | Hydraulic |
| ADV 3.1 | 1,399 | 650b | Steel | 2×10 | Deore | Mechanical |
| ADV 3.2 | 1,799 | 650b | Aluminum | 2×10 | Deore XT | Hydraulic |
| ADV 4.2 | 2,099 | 27.5″ | Aluminum | 2×11 | SLX | Hydraulic |
Read our full ADV-series review
The ADV-, also known as the Adventure series has a great variation of set-ups and designs to choose from, and the ADV 2.2 has the best feedback on the list. Co-op Cycles is also well known for its production of bike frames for men, women, kids' and a large number of unisex frames which makes it most likely the best selection of gravel bikes for women in this list.
---
Salsa Cycles – Journeyman 650b Sora
18-speed Shimano Sora / 27.5″ x 2.1″ Teravail Sparwood / 6061 butted Aluminum frame & Carbon fork
MSRP $1,199 Aventuron
A slight upgrade from the Journeyman Claris, this 650b gravel bike from Salsa uses improved Shimano Sora derailleurs with a 9-speed Sunrace cassette and dual ring FSA crank. The result is decent 18 gears with Sora STI shifters controlling them and the Promax flat mount disc brakes.
The inclusion of a carbon fork means riders will get a far smoother ride on the Journeyman 650B, plus better traction and comfort on the Teravail Sparwood 2.1″ tires. High-quality WTB ST i29 rims make up the rest of the wheels, with Salsa and FSA components finishing it off.
Sure, it may not win any races but at just over $1,000, there's little more you could ask for!
Fits up to 700c x 50mm / 650b 56.5mm
---
Fuji – Jari 1.5
20-Speed Shimano Tiagra / 700c x 38mm / Alloy frame & carbon fork
MSRP $1,400 Fuji
The Jari 1.5 is a versatile, mid-level Fuji gravel bike aimed at recreational weekend riders, bikepackers, and light tourers. Its durable, lightweight alloy frame is complemented by a carbon monocoque fork with rack and water bottle mounts for touring or bikepacking.
Despite the attractively low price, the Jari 1.5 has several above-average components, including a Shimano Tiagra 20-speed drivetrain, WTB wheels, and 700x38c Panaracer Gravelking tires. A full groupset with Tiagra hydraulic disc brakes would have been a welcome addition over the Tektro mechanical disc brakes, but they still provide excellent stopping power in any conditions.
---
Marin Bikes – Four Corners Complete 2020
27-Speed Shimano Sora / XS/S 650B – M-XL 700C / Chromoly Steel frame & fork
MSRP $1,100 JensonUSA / evo.com
This Cromoly steel Marin gravel bike will appeal to traditionalists looking for a strong, dedicated touring or bikepacking bike. It doesn't feature the lightweight materials or aggressive race geometry of some top gravel bikes but makes up for this in strength and durability.
A generous smattering of mount points makes it easy to turn this into a full-scale, long-distance expedition bike. It also offers a more comfortable upright seating position and the huge 27-speed Shimano drivetrain will ensure you never struggle up steep ascents.
Some components like the Tektro mechanical disc brakes and alloy rims could be better but overall, everything fits well in the price bracket.
---
Devinci Bikes – Hatchet Sora 700C '2020
Shimano Sora derailleurs & shifters / Tektro MD-C511 Mechanical brakes / 700x32c Kenda Kwick Roller Sport / Aluminum frame & carbon fork
MSRP $1,200 JensonUSA
Devinci is a small bike brand out of Canada that makes bespoke adventure bicycles. The Hatchet Sora is a mid-range aluminum-framed bike with an 18-speed Shimano Sora drivetrain and Tektro mechanical disc brakes. It has no suspension but the carbon fork helps to reduce vibration and overall weight.
Shipped with 700x32c tires, it seems the Hatchet is more aimed at fast single track riding but has clearance for up to 700x45c or 650B x 2.1″ tires. Most components aren't top-quality but it makes a good entry-level gravel bike. Plus, with both front and rear rack and fender mounts, the Hatchet could make a decent light-tourer.
---
Tommaso Bikes – Illimitate Disc 40C
Best Value Gravel Bike
Shimano Tiagra Derailleurs / 700x40c CST Tirent All-terrain / Avid BB5 Mechanical Disc Brakes / Aluminum frame & carbon fork
MSRP $1,175 Giantnerd
If you want a quality budget gravel bike with carbon fork and decent gears, you'll struggle to beat the Tommaso Illimitate. It offers excellent value for money, considering it hosts a full Shimano Tiagra 20-speed drivetrain along with Avid BB5 disc brakes.
Admittedly, the 6061 aluminum frame is fairly stock standard and Tommaso uses their own brand for the wheelset as well as many other small parts. However, it rolls very nicely on the fat CST Tirent 700x40c tires, and at only 25 lbs (11.3kg) is comparatively lightweight for a bike in its price range.
> Check Availability – GiantNerd
---
Salsa Cycles – Stormchaser
Single-speed gravel bike
TRP Spyrce Flat Mount disc brakes / 700c x 42mm Teravail Rutland / Aluminum frame & carbon fork
MSRP $1,499 Salsa.com
The Salsa Stormchaser is a single speed gravel bike designed specifically to handle extreme weather conditions. It's aluminum frame and carbon fork benefit from Salsa's own 'Vibration Reduction System' (VRS) and include internal cable routing to protect from wear. 
With no derailleurs or cassettes to gather mud, the Stormchaser is ideal for those muddy conditions. It has TRP Spyre disc brakes and two rear cogs (17t, and 18t) with an Alternator Flat Mount dropout to allow easy changing depending on conditions. With WTB ST i23 rims and Teravail Rutland 42mm tires, this is clearly a bike aimed at some serious off-road exploring. Of course, with only one speed, you had best avoid any steep hill climbs.
> Check Availability – SalsaCycles
---
Best Gravel Bikes

Under $1,000
---
Salsa Cycles – Journeyman Claris 700
Best Budget Gravel Bike
16-speed Shimano Claris / 700c x 37mm WTB Riddler Comp / Mechanical Disc Brakes / 6061-T6 Aluminum frame
MSRP from $949 REI.com
As one of the few that you'll find for under $1,000, the Journeyman Claris 700 is a great entry-level gravel bike. The frame and fork are a fairly standard 6061 aluminum build which is strong and durable but does little to absorb vibration.
The key attraction is the Shimano Claris 16-speed groupset (with Sunrace cassette), which, while on the lower-end of Shimano gears, is decent enough. Promax provides the mechanical disc brakes and this 700c gravel bike actually has some pretty good WTB STP i9 rims with Riddler Comp tires.
This is a highly-affordable Salsa gravel bike with no truly remarkable features but it'll get the job done!
---
Gravel Bike Q & A
↓    ?    ↓
---
Is a gravel bike
worth it

?

Any bike is worth it if you are going to use it often and for its intended purpose. If you enjoy spending a lot of time riding fast on gravel, dirt, or singletrack, you will appreciate the subtle differences that gravel bikes offer. They are not simply road bikes with thicker tires.
---
Are gravel bikes
a fad

?

Gravel bikes are certainly a niche that fits somewhere between off and on-road cycling. However, their practicality and varied range of uses mean they are likely here to stay. Many people thought mountain bikes were a fad when they first came out in the 70s and now they dominate the cycling landscape.
---
What are the best gravel bike

brands

?
Trek, Specialized, Cannondale, Kona, Scott, Salsa, Surly, Niner, Bianchi, Santa Cruz, Fuji, Marin, Orbea, Co-op, Evil, Jamis, Norco, Ibis, Pivot, Look, All-City
---
How much does a gravel bike
cost

?

Cheap gravel bikes start from around $1,000, while mid-entry gravel bicycles cost around $1,500. The variety of bikes, designs, and components start to get better at around the $2,000 to $2,500 price range.
Don't forget, that a Gravel bike is an above-average bicycle type since it has to perform well on different terrains and hold up on rather demanding trails where you simply can not use weak components!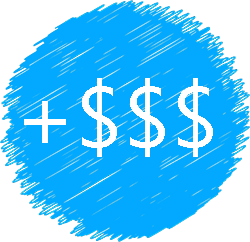 ---
Where to shop

for the best gravel bike deals?

REI – Cannondale, Co-op Cycles, Salsa Cycles

Aventuron – Salsa, All-City

JensonUSA – Argon 18, Bjorn, Devinci, Evil, GT, Ibis, Look, Marin, Masi, Niner, Norco, Orbea, Rocky Mountain, Sage Bicycles, Santa Cruz Bicycles, VAAST

evo.com – Evil, Giant, Juliana, Marin, Santa Cruz

Trekbikes.com – Trek Gravel Bikes (Very few models can be ordered online)

Specialized – Official Specialized Gravel bikes
---
Gravel vs
Road Bike
However, many road bikes can be converted to adequate gravel bikes with the simple addition of thicker, treaded tires. However, dedicated gravel bikes do have certain additions and frame adjustments that make them far more comfortable on the dirt. Most notably, they fit wider tires and have hydraulic disc brakes for better braking and control on loose gravel.
---
Gravel Bike vs
Mountain Bike
Due to the thinner tires and lack of suspension, gravel bikes can't handle sand and mud or steep rocky descents as well as mountain bikes. Gravel bikes generally do
---
Gravel Bike vs
Hybrid Bike
Since their introduction a few years ago, gravel bikes have often been compared to hybrids but there are several important distinctions. Most notably, hybrids usually use flat handlebars whereas gravel bikes are almost exclusively designed with drop-bar handlebars. Similarities are commonly made between the road-style frames and thicker tires, two characteristics which both hybrids and gravel bikes share.
However, beyond these obvious similarities, dedicated gravel bikes incorporate several features that make them distinct from hybrids. They are usually built from higher quality materials and have lighter frames with more expensive components designed to reduce wear-and-tear from offroad riding. However, with a few minor tweaks, a high-quality hybrid or road bike could be converted into a decent gravel bike.
---
Gravel vs
Cyclocross
Cyclocross and gravel bikes both look the same while having a 'completely' different approach towards their field of use
Cyclocross bike (CX) = A more performance-driven for fast, tight, and twisty courses. Stiffer geometry with steeper head angle.
– No braze-ons for the lightest set-up
– Generally Quick-Release axles for fast repairs (not a rule of thumb though!)
– Knobby, thicker tires
Gravel bike = Best for long rides on gravel roads or marathons. Slacker head angle with more comfort-orientated geometry.
– Braze-ons for racks, fenders
– Smoother tire pattern, wider tires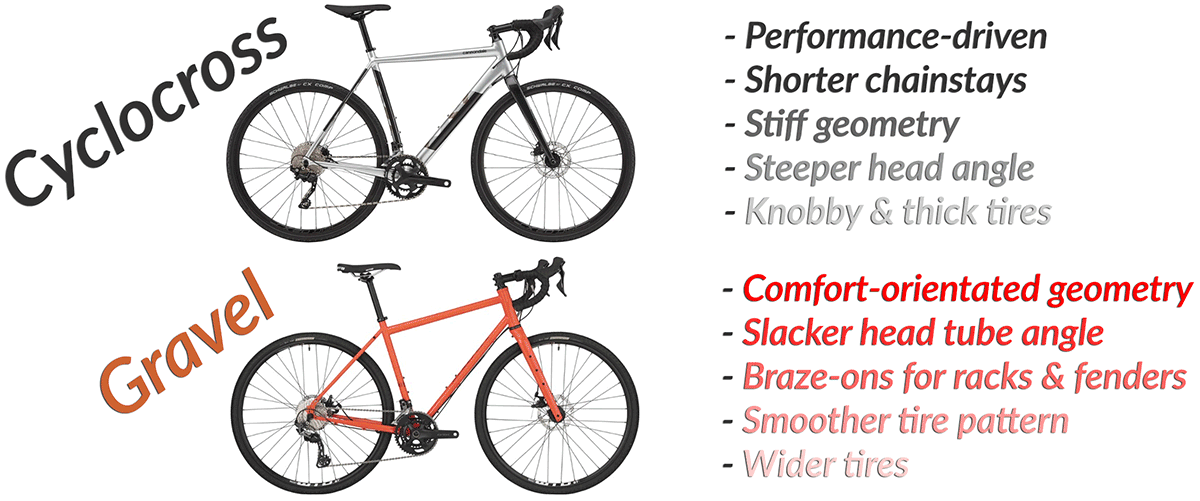 Yes, you can race cyclocross on a gravel bike and you can use cyclocross bike on gravel, but in order to maximize comfort on gravel roads or speed on cyclocross races, there's a reason why these bikes have a subtle difference.
---
650b

vs

700c

wheels

650b (27.5″) =  Stronger, best for off-road touring. Slightly smaller than 700c which gives a better acceleration
700c = Fast-rolling, ideal for on-road commutes. Slightly larger than 650b
29" – Salsa Cutthroat is a gravel bike with 29-inch wheels
---
Gravel bike
tire sizes

:

700c x 32mm
700c x 35mm
700c x 40mm
700c x 42mm

650b x 47mm = 27.5″ x 1.9″
27.5″ x 2.1″ = 650b x 53mm

29″ x 2.2″
---
Gravel Bike
Size Chart
It is recommended to look up each manufacturer's size chart to find the best-suited model for you. Some brands recommend going for the height only, while others recommend choosing the right size bike by the length of your inseam.
---
Steel

,

Aluminum,

Titanium

, or

Carbon

Gravel bike frame?

Stiffness – Weight – Strength

Steel is known to be somewhat bulletproof while adding little extra weight. Aluminum frames are lighter. When it comes to touring bikes, chasing the grams is not much of a deal.
Steel frames = One of the strongest. Inexpensive, but also the heaviest.
Carbon frames = Super lightweight, good vibration reduction qualities. Expensive.
Aluminum frames = Lightweight. Great stiffness & flexibility. Not as durable as steel frames. Affordable.
Titanium frames = Super tough, best vibration reduction qualities. Titanium won't rust or corrode! Rides smooth & comfortable like a steel frame. Expensive.
---
1x / 2x / 3x drivetrains
x1 drivetrain – Often seen on high-end mountain bikes, or cyclocross bikes. No derailleur on the front = less maintenance and weight
x2 drivetrain – Popular section among mid-range bikes
x3 drivetrain – Mainly used on entry-level, or long-distance touring bikes.
---
Hydraulic

vs

Mechanical

disc brakes on gravel bikes

Although hydraulic brakes have become a standard for even the cheapest bikes, it doesn't play such a big role in cyclocross or gravel bike riding. You see many mid-range bikes with cable-actuated mechanical disc brakes as you don't actually want to entirely block your wheel on softer surfaces with a touch of a finger. It's also common for cyclocross bikes to use a 160mm rotors in the front and a 140mm rotor in the rear to prevent locking the wheel.
---
Back To:
Best of 2020
Under $2,000
Under $1,500
Under $1,000
Back To Top
---
Related Reviews: