Best Women's Gravel Bikes of 2023
Gravel bikes provide an excellent middle ground between road bikes and mountain bikes, allowing you to venture out into nature without sacrificing speed and agility. They typically have a lightweight frame, rigid fork, and 700c wheels with slightly thicker tires than standard road bikes.
Most importantly, the frame geometry is adapted to suit riding at speed over rough terrain for long distances.
Women's vs Men's Gravel Bikes
Women's gravel bikes have a shorter top tube than men's to accommodate shorter arms and provide better reach to the handlebars. They also have shorter stack heights and often a steeper top tube angle to allow for easier mounting.
Shorter top tube – shorter reach
Sizes from XS-L
Women's saddles or generally shorter and wider, with narrower handlebars and shorter stems. Sizes are available from XS to L, with slightly reduced measurements when compared to men's bikes of the same sizes. Other than that, women's gravel bikes commonly use the same gravel-specific geometry and components as men's bikes.
---
Best unisex & women-specific gravel bikes to buy in 2023
Niner – RLT 9 2-Star
VAAST – A/1
All-City – Gorilla Monsoon
Ibis – Hakka MX
Co-op Cycles – ADV 2.2
GT – Grade Expert
Ridley – Kanzo Fast
Norco – Search XR S1
Santa Cruz Bicycles – Stigmata
Diamondback – Haanjo 2
Marin – Gestalt X11
Niner – RLT RDO 4-Star
---
Niner – RLT 9 Steel 2-Star
MSRP: $3,099
Reynolds 853 steel frame and RDO carbon fork
SRAM Apex 11-speed
Niner Alloy rims
Schwalbe G-One 700x40mm tires
SRAM Apex 1 hydraulic brakes
This exceptional unisex bike from Niner is one of the leaders among our top gravel bikes for women in 2023. Using decades of mountain bike experience, Niner developed the RLT 9 gravel bike with outstanding comfort, versatility, and durability.
The durable and comfortable Reynolds steel frame pairs well with a responsive and shock-absorbent carbon fork. Weight is further reduced with light Niner Alloy rims that run 700×40 Schwalbe puncture-resistant tires, although spacing allows up to 700c x 50mm 650b x 2.0″.
All this is supported by SRAM's popular gravel-specific Apex groupset, with an 11-42t cassette and Apex hydraulic disc brakes. Quite simply, the Niner RLT 9 2-Star is one of those perfectly crafted bikes that leaves little room for improvement.
---
VAAST – A/1
MSRP: $2,699
Aluminum frame and carbon fork
Shimano GRX 11-speed
38c Maxxis Rambler tires
Hydraulic disc brakes
The VAAST A/1 is a mid-range women's gravel bike but it's still one of the best you'll find under $3,000.
The ALLITE Super Mag aluminum frame with a carbon fork provides excellent strength and rigidity without the extra weight. It also comes with some decent Stan's NoTubes Grail S1 wheels and other finishings plus a Praxis Zyante Carbon 42T crank.
VAAST chose the dependable gravel-specific Shimano GRX 11-speed groupset. These gears are smooth and precise under pressure. Similarly, the Shimano GRX hydraulic disc brakes are a high-performance set so when you pull the levers, you'll stop without trouble.
---
All-City – Gorilla Monsoon
MSRP: $2,599
SRAM Apex 11-speed
WTB ST i25 TCS 2.0 rims
612 Select Chromoly Steel
Tektro mechanical disc brake
WTB Riddler 27.5×2.4″ tires
The All-City Gorilla Monsoon is a unique gravel bike designed for versatility. The Gorilla Monsoon model also comes in other builds depending on your budget and riding style.
This bike is set up to ride anywhere, coming with huge MTB tires and clearance for 700c x 42mmm tires. In addition, the comfortable ride position and stable geometry make riding off-road a breeze.
Image source: allcitycycles.com Steel is most definitely real according to plenty of current bike manufacturers, ...
SRAM's Apex drivetrain provides the ideal 11-speed drivetrain while Tektro's mechanical disc brake system delivers reliable stopping power. You also get top-quality WTB tubeless-ready rims with WTB Riddler 27.5×2.4″ tires, both strong and lightweight for exceptional performance.
---
Ibis Hakka GRX
MSRP: $5,435
Shimano GRX LTD, 11-Speed
Shimano GRX Hydraulic Disc, 160mm Rotors
Stan's NoTubes Grail Alloy wheelset
This stylish carbon gravel bike from Ibis is a great all-rounder for outdoor getaways, hard gravel riding, or long-distance bikepacking. The carbon fiber frame and fork are lightweight and responsive to maximize performance.
This bike uses Shimano's reliable GRX LTD groupset for gearing and brakes. The drivetrain features an 11 – 42t cassette and 40T crank to provide plenty of gearing for varied gradients.
The Hakka GRX LTD would work well as a competitive-level women's gravel bike and it'll keep you ahead of the pack on weekend rides. Even the relatively mid-range Stan's wheels and Teravail Cannonball tires are decent components in this price range, making this women's gravel bike a good buy for the price.
---
Co-op Cycles – ADV 2.2
Best value women's gravel bike!
MSRP: $1,599
2×10 Shimano GRX
Tektro mechanical brakes
700c x 40mm
Weight: 23.4lbs
The ADV in the name stands for adventure and this women's gravel bike from Co-op Cycles sure lives up to its name! With fat 40mm WTB Nano tires and a carbon fork, the ADV 2.2 is built for high-speed charging along gravel roads and mountain trails.
The price hovers around entry-level bikes but looking at the component set you'd expect it to be closer to the mid-range. Most remarkable is the killer Shimano GRX 400 2×10 drivetrain. This bike includes Tektro mechanical disc brakes which lock on to ever-popular WTB ST i19 rims, making this truly one of the best value women's gravel bikes available today.
---
GT Grade Carbon X
MSRP: $4,000
Full Grade carbon frame
WTB Resolute TCS Light, 700x42c tires
SRAM Apex 1 – 11-Speed groupset
SRAM Apex 1 Hydraulic Disc brakes (160mm rotors)
The GT Grade Carbon X is a high-performance gravel bike at a mid-range price, combining a set of reliable components with GT's tried and tested frame engineering. The full carbon frameset is a joy to experience, making gravel ascents a breeze.
Notable components include the 1×11-speed SRAM Apex 1 groupset that features a 38 chainring and an 11-42t cassette. Moreover, SRAM Apex 1 hydraulic disc brakes are some of the best available at this price.
This GT women's gravel bike might be a bit more expensive than average but with its collection of quality specs, you won't be disappointed. The only potential upgrade you might consider is the WTB ST i23 rims which are a bit basic for a bike of this caliber.
---
Santa Cruz Skitch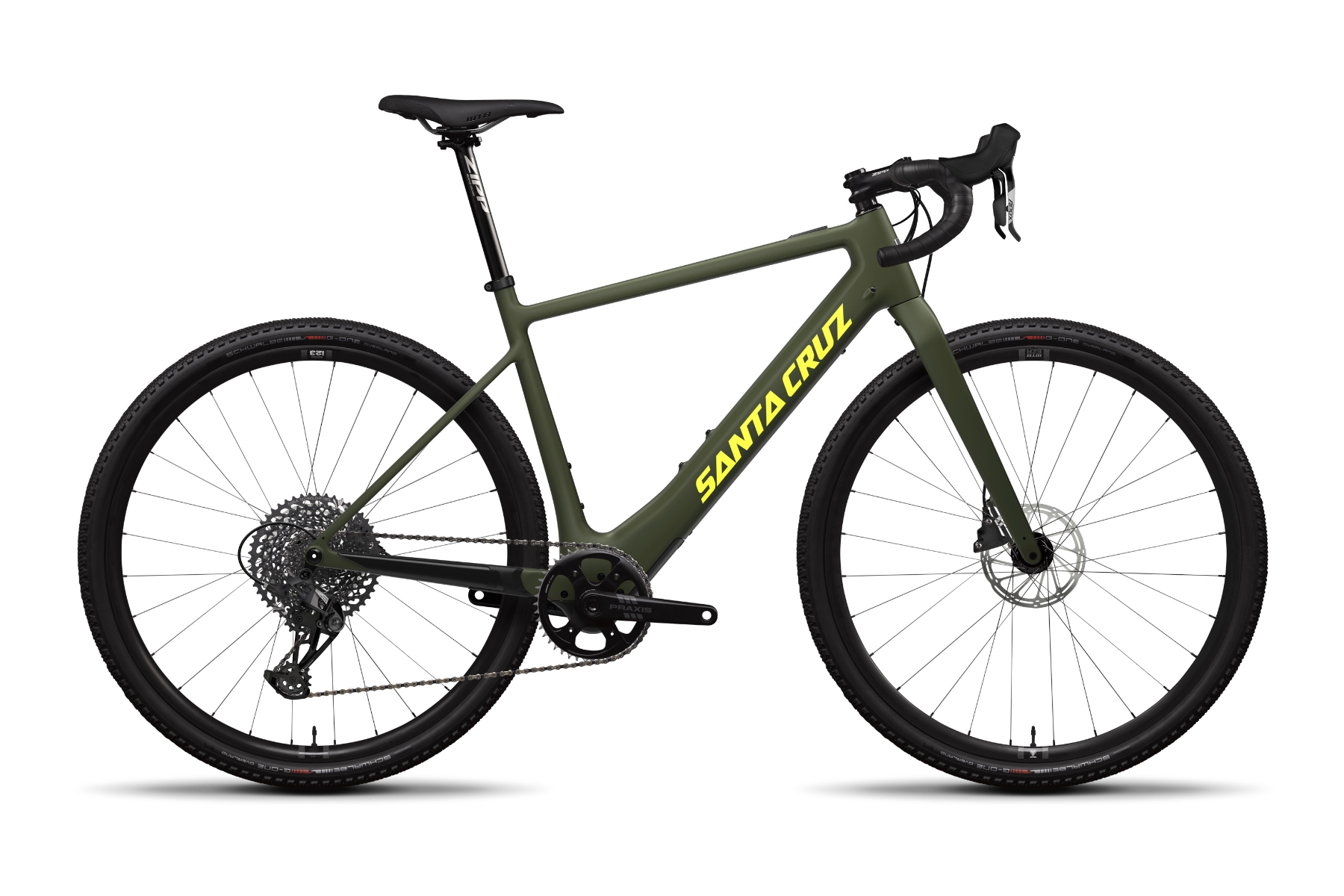 MSRP: $3,800 (evo.com / Mike's Bikes)
High-modulus carbon frame and fork
SRAM Apex 12-speed
Hydro disc brakes
700c x 45mm tires
Fazua Ride 60 motor
This carbon electric gravel bike from the proven cycling brand Santa Cruz is very well-priced for the level of components on offer.
The extra-large 700x45c Schwalbe G-One tires are a particularly noticeable feature, highlighting this bike's off-road capabilities. To further boost the off-road performance, the Skitch has long geometry. However, the angles are steeper than the average gravel bike.
Road vibrations are swallowed up by both the carbon fiber frame and fork, making for an incredibly smooth ride. It features the gravel standard 1×12 SRAM Apex Eagle groupset with hydraulic disc brakes.
Finally, the Skitch also comes with a Fazua Ride 60 ebike motor and a 430 Wh battery that will assist you up to 28 mph for up to 60 miles per charge.
Buy from evo.com Buy from Mike's Bikes
---
Norco – Search XR S1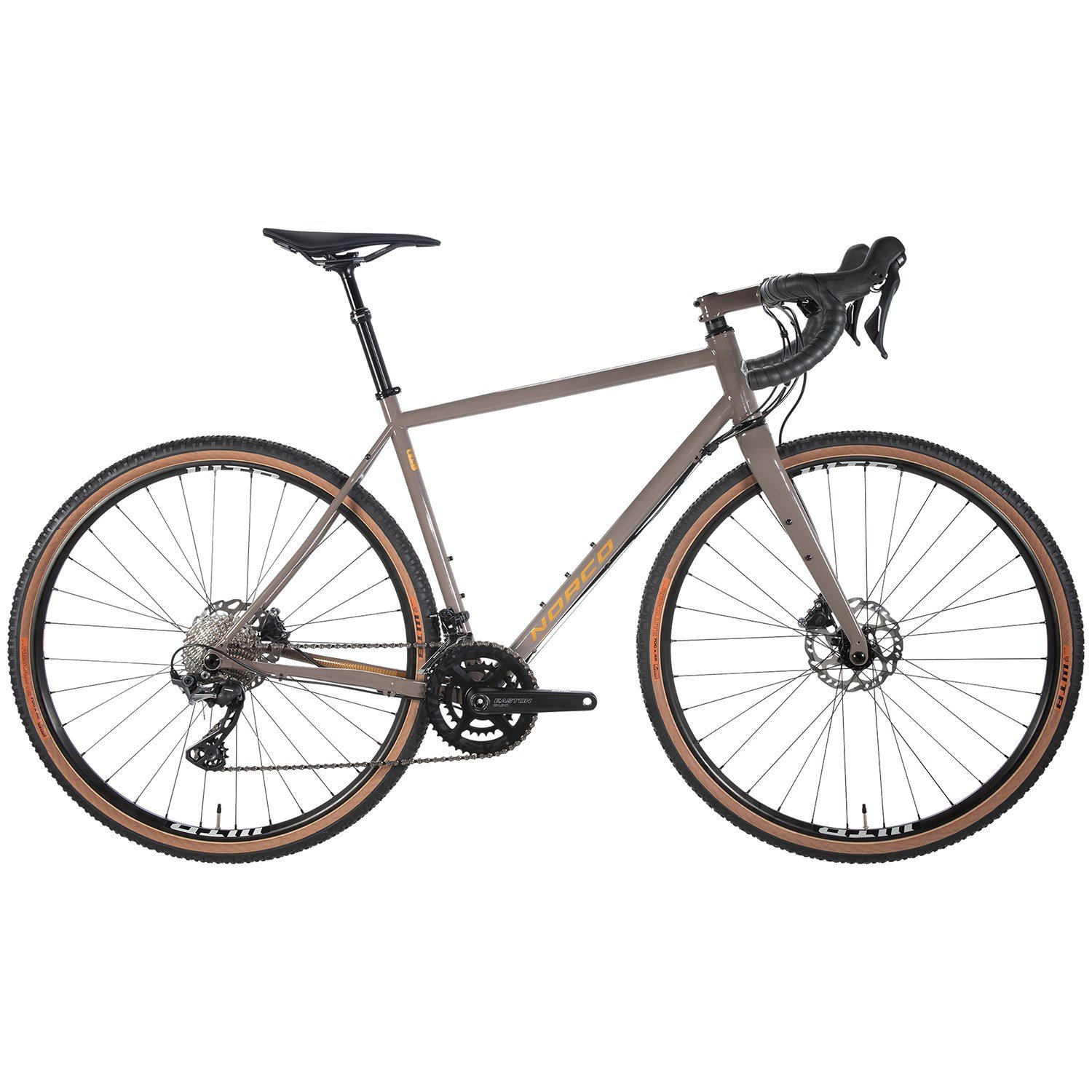 MSRP: $3,299
Steel frame & carbon fork
Shimano GRX/105 2×11-speed
WTB Resolute TCS 700x42c
GRX hydraulic disc brakes
Norco has long been a leading road bike and MTB manufacturer in North America and they continue that tradition in the new gravel scene. The Search is one of the best women's gravel bikes and we can see why.
This is likely due to Norco's clever frame geometry that translates perfectly to the gravel experience. The durable steel frame balances perfectly with a carbon composite fork helping to absorb road vibrations and smooth out your ride.
Image: allcitycycles.com Dropper posts are adjustable seatposts that move up and down to change the saddle's ...
Norco chose a Shimano GRX drivetrain with a 105 front derailleur to give the Search reliable shifting on diverse terrain. It's finished off with GRX hydraulic disc brakes and an X-Fusion Manic Gravel dropper post.
---
Santa Cruz Bicycles – Stigmata
Fits both 700c and 650b/27.5″ wheels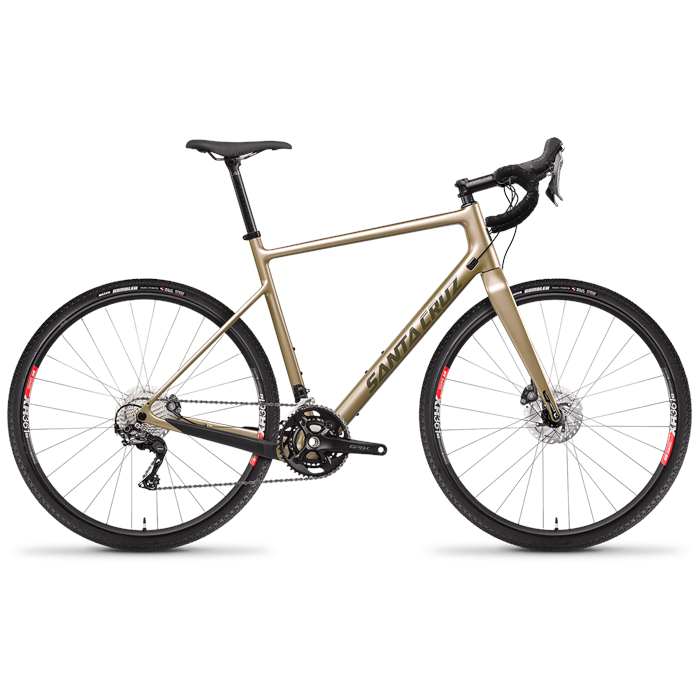 MSRP: $5,149 (GRX)
Carbon CC
Tire Clearance: 45mm (700c) or 2.1″ (650b)
SRAM Rival 1 or Shimano GRX
Santa Cruz Bicycles is one of the most popular mountain bike brands in the US and the Stigmata is its answer to professional CX and gravel biking. Choose between Shimano GRX and a higher-end SRAM Rival setup for this incredible bike.
With a frame that fits both 700c and 650b wheel sizes with up to 2.1″ tires, it's a bit different from your standard gravel bike. Santa Cruz used elements of its famous Highball MTB and Danny MacAskill's trials bike to create this award-winning gravel racer.
With a full carbon frame and an incredible weight of only 20 lbs, it's no wonder the price tag is eye-watering. Not to mention DT Swiss hubs, WTB rims, and Maxxis tires, the Stigmata is a veritable 'whos-who' of the world's best bike part manufacturers. If you've got the budget for it, you won't find much in the gravel bike world to top this beauty.
Buy from Evo.comBuy from Mike's Bikes
---
Diamondback – Haanjo 2
Best budget women's gravel bike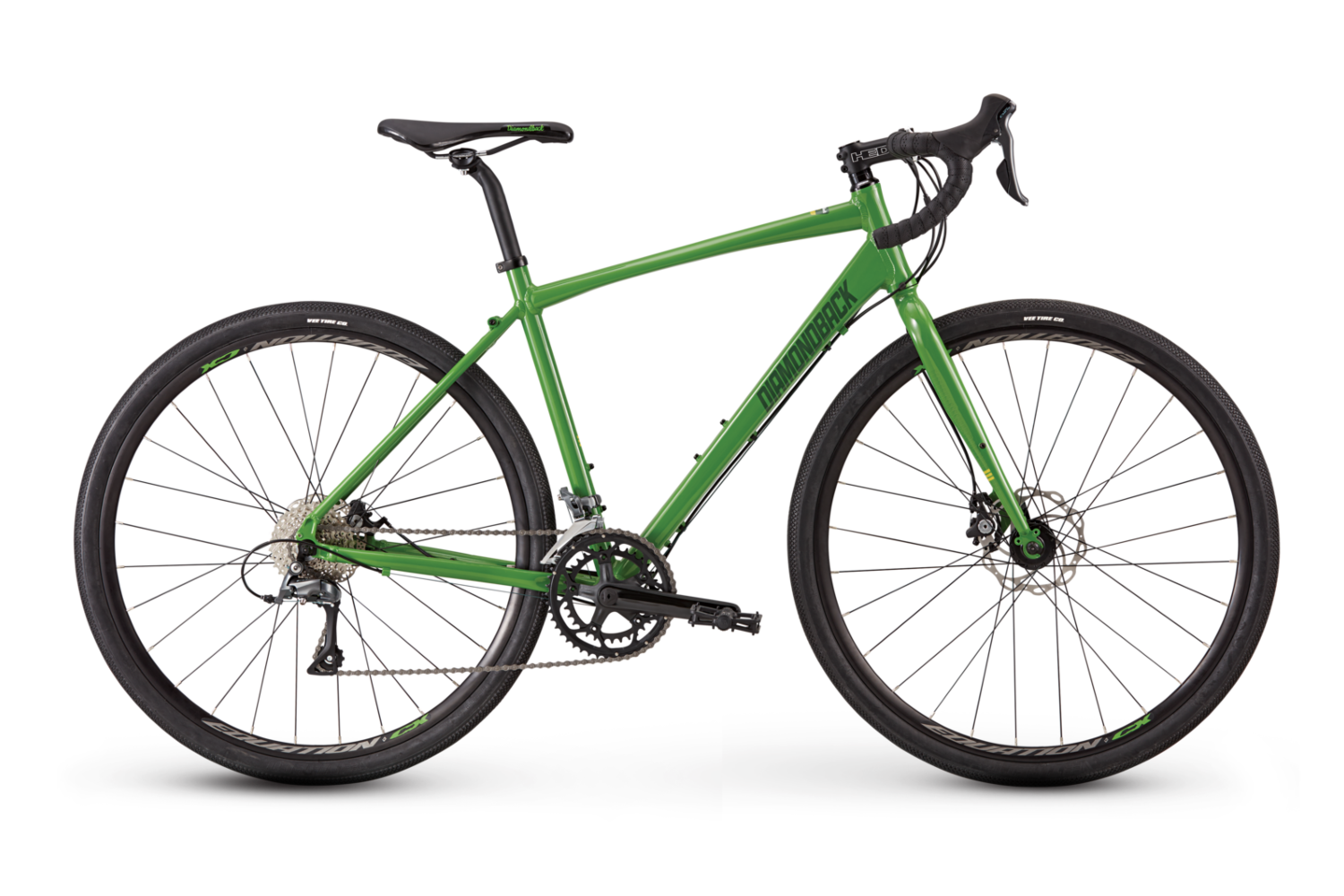 MSRP: $925
Aluminum frame
Mechanical disc brakes
Shimano Claris 2x8speed
700c x 40mm
Sizes from XS
On the other side of the pricing brackets, the Haanjo 2 from Diamondback is probably the best women's gravel bike under $1,000. The low cost means it's the perfect introductory bike for those who aren't sure yet if gravel riding is for them.
Naturally, you're not going to get any fancy bells and whistles here. The Haanjo 2 features Shimano's budget Claris groupset paired with rather clunky Tektro mechanical disc brakes. The aluminum frame is quite heavy and it has entry-level Vee Rubber tires on stock standard Diamondback rims.
However, that's not to say it's a bad bike for the price – everything works well and you can certainly hit some backcountry trails and have a lot of fun on the Haanjo 2. Smaller riders will appreciate this women's gravel bike's XS frame size.
---
Marin – Gestalt X11
MSRP: $2,449
Aluminum frame and carbon fork
Sizes: 50-60
Shimano GRX 11-speed
Schwalbe G-One Performance 700c x 40mm
Marin Aluminum tubeless-ready rims
The Gestalt X11 is an affordable Marin women's gravel bike that is built for adventure, whether it be offroad racing, bikepacking, or just an exciting work commute. The Series 3 6061 aluminum frame, carbon fiber fork, and Shimano GRX drivetrain are solid parts for this price.
The drivetrain is also paired with Shimano GRX hydraulic disc brakes helping to make this bike perform well in all conditions. On the wheels, you get Marin's double-wall tubeless-ready rims on 40mm Schwalbe G-One Performance tires.
Marin is known for its excellent craftsmanship, so even though some of the components on the Gestalt are entry-level, overall it looks and feels high quality.
Buy from Jenson USA Buy on GovVelo.com
---
Niner – RLT RDO 4-Star
MSRP: $4,299
RDO Carbon frame, fork, and seatpost
Shimano GRX 800 1×11
Schwalbe G-One Allround EVO Super Terrain 700x45c tires
Shimano GRX hydraulic disc brakes
When it comes to pure speed, acceleration, and responsiveness, you just can't beat carbon. Niner makes some of the best carbon bikes out there, and that experience and ingenuity are clearly visible in the RLT RDO 4-Star.
With an RDO carbon frame, 11-speed Shimano GRX drivetrain, and GRX 800 hydraulic disc brakes, this women's gravel bike is a beauty to ride. The stunning combination of high-quality carbon and top-of-the-range parts means it's lightweight and responsive.
The DT Swiss G 1800 tubeless-ready rims and 700x45c Schwalbe tires react well to rough, offroad conditions, making this bike a real pleasure to ride. Naturally, the price matches the quality but trust me, it'll be worth that second mortgage.
---
FAQ
What are gravel bikes good for?
Gravel bikes, as the name suggests, are designed to be ridden on gravel, dirt, or in other mild off-road conditions. They can't handle the same rocky terrain as mountain bikes but handle loose dirt better than road bikes.
Gravel bikes have many uses beyond recreational riding as they make excellent touring bikes, bikepacking bikes, commuter bikes, and general all-rounders.
The variety of women-specific frames
Among all the different types of bikes for women, the number of women-specific gravel bikes is still a new trend. Therefore, this is quite a good selection but not as comparable as road- or mountain bikes.
Are gravel bikes also suitable for bike touring?
Yes, gravel bikes are generally quite strong and built to handle all types of terrain so they make good touring bikes. They are also lighter and faster than mountain bikes on pavement and tarmac.
While steel gravel bikes are less common than alloy or carbon, there are some available from niche manufacturers like Pure Cycles and Surly. These bikes make particularly good touring bikes due to their durability and easily repairable frames.