Many people frown when they hear the term 'best entry–level road bikes'. Mainly, because of vanity. We do not see anything wrong with basic road bikes that are well-built by a known brand.
These cheap road bikes listed below are perfect for anyone who isn't willing to break the bank by spending too much, but still wants to get a glimpse of what road biking is all about. We must warn you – road biking is very addictive!
What is a beginner's road bike anyway?
Entry-level road bikes are generally affordable road bikes that are designed to 'lure in' potential road bikers who are on a tight budget. That doesn't always mean that those bikes are poorly made, instead they are equipped with the essential basics one would need to get going with the new hobby.
In this case, beginner's road bikes are typically built on an aluminum frame and carbon fork, coupled with a 2x front cog drivetrain, mechanical disc brakes.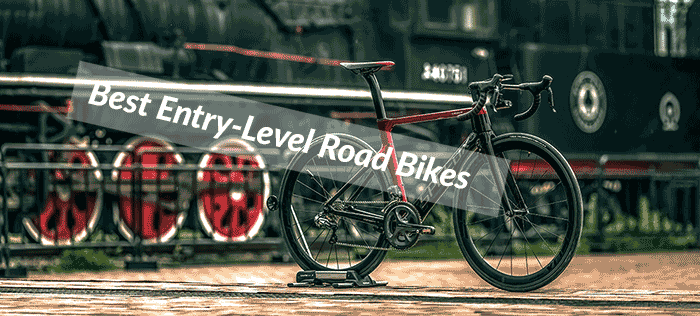 The 8 best beginner road bikes:
1. Tommaso Fascino   $880
2. Co-op Cycles ADV 2.1   $1,249
3. Cannondale – Quick Disc   $800
4. Retrospec Drome
5. Giant Contend   $1,000
6. Marin Gestalt   $1,359
7. Tre Domane   $880
8. Raleigh Merit   $750
9. Ridley Road Race 26 $829
---
1

. Tommaso – Fascino

Best value beginners road bike!

MSRP: $880
Tommaso Cycling

Are you ready for some original Italian design? Yes, bikes should be utilitarian, but there's nothing wrong if they are a fashion statement at the same time. Tommaso Fascino meets both of these criteria, which is why I had no doubts to include it as one of the best beginner road bikes. It's light, it's customizable, it's painted a sexy shade of black – it has all that you need!

Let's make it clear, I have nothing against so-called Frankenbikes which mix components from different manufacturers. If done right, they can be awesome. However, it's nice to see a bike with matching components throughout. Tommaso Fascino promises exactly that – it comes with a full Shimano drivetrain, Shimano derailleurs, as well as Shimano brake levers. This means that all of the parts are guaranteed to be compatible and to work seamlessly together.

Apart from that, this is a lightweight bicycle made 100% from aluminum, which is the best material for an entry-level road bike. I also need to mention that you'll be shifting through 21 gears on the Tommaso Fascino, which is plenty even for more experienced riders. The lightweight Tommaso TC-20 wheels and Kenda 700x25c tires are easy to get going and increase your speed threshold. Even though Tommaso Fascino is a good entry-level road bike, it's built for those who plan to ride more and more and need a bicycle that would support their growing fitness demands.

Tommasocycling.com/
---
2

. Co-op Cycles – ADV 2.1

A gravel/road bike

MSRP: $1,249
REI Co-op

Getting a new road bike under $1,000 in 2021 sounds way better than it did five years ago. By today, the price and quality gap have finally come down to a suitable price range, allowing recreational and beginner riders to get a good quality road bike at just three digits. Yes, the ADV 2.1 is not a thousand-dollar road bike, instead, it is a gravel/road bike 2in1.

Plus, you'll be saving a 10% members' dividend!

Related: ADV-series review

Also Featured In: Best Gravel Bikes Under $2,000

The bike is built on a 6061 double-butted frame with a carbon fork, coupled with Shimano Claris 2×9 speed drivetrain, Pro-max mechanical disc brakes, and Marin's WTB ST i19 rims. The tires are 700x35mm Kenda Flintridge gravel/road tires. The ADV 2.1 features all the essentials to get you going, and participate in long endurance rides, some intermediate climbs and why not use it for bikepacking. The Lombard comes in sizes from XS to XL, from 5'0″ to 6'3″ offering newbies and recreational cyclists to turn a new page in their life, while valuing the great price-to-quality ratio!

JensonUSA.com/
---
3

. Cannondale – Quick Disc 3 – 2020

Best cheap hybrid-road bike with a flat bar
MSRP: $800
REI Co-op
Quick Disc 3 doesn't have the recognizable drop bars that you're used to seeing on road bikes but comes with flat bars. However, it has all the other characteristics of a great road bike, and you can always easily add drop bars if they matter to you! Cannondale Quick Disc 3 has a lightweight aluminum frame and an incredibly comfortable steel fork. The steel fork won't increase weight too much, but it makes all the difference in smoothness on imperfect roads. The Schwalbe Spicer 700x35c tires are wide enough to tackle even bumpier roads, so if you live somewhere like this, it's a great choice for you. power.
Fitness riders who would like to step up their training or just get around the city much faster than before will love the Cannondale Quick Disc 3, but it's a good starter road bike as well!
REI.com/
---
4

. Retrospec – Drome V3

Cheapest & best looking single-speed road bike
Has anyone told you that it was impossible to find a real road bike for around $400? Well, I plan to prove to you otherwise with Retrospec Drome V3. Retrospec Drome V3 has an aluminum frame and only one gear, which keeps the weight to a reasonable number. It can be ridden both as a fixie and as a single-speed machine. Whichever way you prefer. For those who worry about looks as well, Drome V3 can be ordered from Amazon in brushed aluminum and red paint jobs.
Both look fantastic, and at first glance, people might think that you're riding a much more expensive bike. Retrospec Drome V3 is one of the best-selling entry-level fixie road bikes on Amazon right now, with great user reviews. Most comments by people who bought it confirm how good-looking this bike is. Even though this is a cheap bike, it is not built cheaply. Drome V3 hides one pleasant surprise as well — an ultra-lightweight tapered carbon fork!
The brakes are aluminum calipers, and the tires are slim and sleek, which is a great width for a comfortable and fast ride. The Retrospec Drove V3 comes already 85% assembled so you can start riding it in no time. Therefore, if you want the best inexpensive fixed road bike that looks expensive, to make your first steps in cycling, feel free to buy the Drome V3.
---
5

. Giant – Contend AR 3 (2020)

A Great Mix of Components
MSRP: $1,000
Jenson USA
Giant is one of the biggest, if not the biggest road bike manufacturers nowadays. Some of the most successful elite road racers ride Giant bikes, such as the CCC Team, one of the biggest names in cycling right now! The Giant Contend AR 3 is super-lightweight due to the ALUXX-Grade Aluminum frame and the Advanced-Grade Composite raw carbon fork. It's one of the top picks on the list!
Related: Full Giant Brand Overview
The biggest difference between a $500 road bike and a $1,000 road bike is seen in the components. With the Giant Contend AR 3, you get a nice improvement. While the best entry-level road bikes have Shimano Tourney components, this model comes with Shimano Sora, which is a higher-quality groupset. There are 18 speeds in total, on a 2×9 drivetrain, which is also one of the characteristics of more expensive road bike models. There are 11-34T on the cassette, so you'll be able to keep your cadence up no matter what.
The Giant S-R2 Disc wheelset and 32mm tires will give you an idea of what riding a real road bicycle feels like. The tires are puncture-proof, so they will last for a long time. They are also quite comfy due to their width. Finally, what's worth mentioning are the Tektro mechanical disc brakes, which will provide you with a decent braking experience, more than enough for most riders snooping in this price category. The bottom point is, if you want to start training more seriously and have longer and more arduous rides, the Giant Contend AR 3 is one of the best entry-level road bikes for you!
JensonUSA.com/
---
6

. Marin – Gestalt 2 '2021 🏆

The best starter gravel bike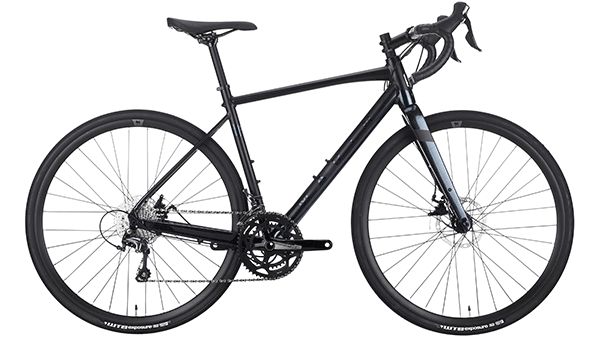 MSRP: $1,359
Jenson USA
The Marin Gestalt 2 makes a great entry-level road bike for anyone out there. The new 2021 models feature must-have components packed at a very good value: Starting from the 6061 Aluminum frame coupled with Marin's full-carbon fork, 2×10 speed Shimano Tiagra groupset, 700x32c WTB Exposure Comp tires. Mechanical disc brakes and tubeless-ready rims with rack and fender mounts also add a ton of versatility which makes the bike quite modern if you are looking fora bike for the next 5-10 years.
Besides the tech specs, the looks of the bike matter a ton as well, right? Well there you have it, the all-new bike looks, excuse me, but way better than most other bikes around! Go check out Marin's size chart and available models to see if there's still something for you there!
JensonUSA.com/
---
7

. Trek – Domane AL 2

The best endurance road bike for under $1,000
MSRP: $880
Trekbikes
Trek has moved the limits of the money-value ratio with this model. Built around a 100 Series Alpha Aluminum frame is a bicycle that looks like a million dollars, but costs just $860. Domane AL 2 is available in two colors (black and blue) and with entry-level Shimano components so it will be hard to resist riding it every day. This is a fantastic road bicycle for beginners who know they will not stay on the entry-level road cycling level for much longer.
Shimano Claris derailleurs are built to withstand much more force than you can serve them with a couple of weekly rides. You can ride intervals or hills on the Domane AL 2 because the Shimano drivetrain has no problems withstanding higher wattage. Plenty of gears always come in handy for me when I'm tackling high hills or attacking a KOM on Strava, so it's good to know that this bike has 16 of them! But, you need to get down somehow as well so the alloy dual-pivot brakes will take care of your safety on the downhills. The rims and tires are produced by Bontrager, so don't be afraid to corner as hard as you can!
Trek Domane AL 2 is the best endurance road bike under $1,000 for anyone who doesn't feel like an absolute beginner anymore and wants to take their fitness to the next level.
Trekbikes.com/
---
8

. Raleigh – Merit 1

Premium Look with Shimano Components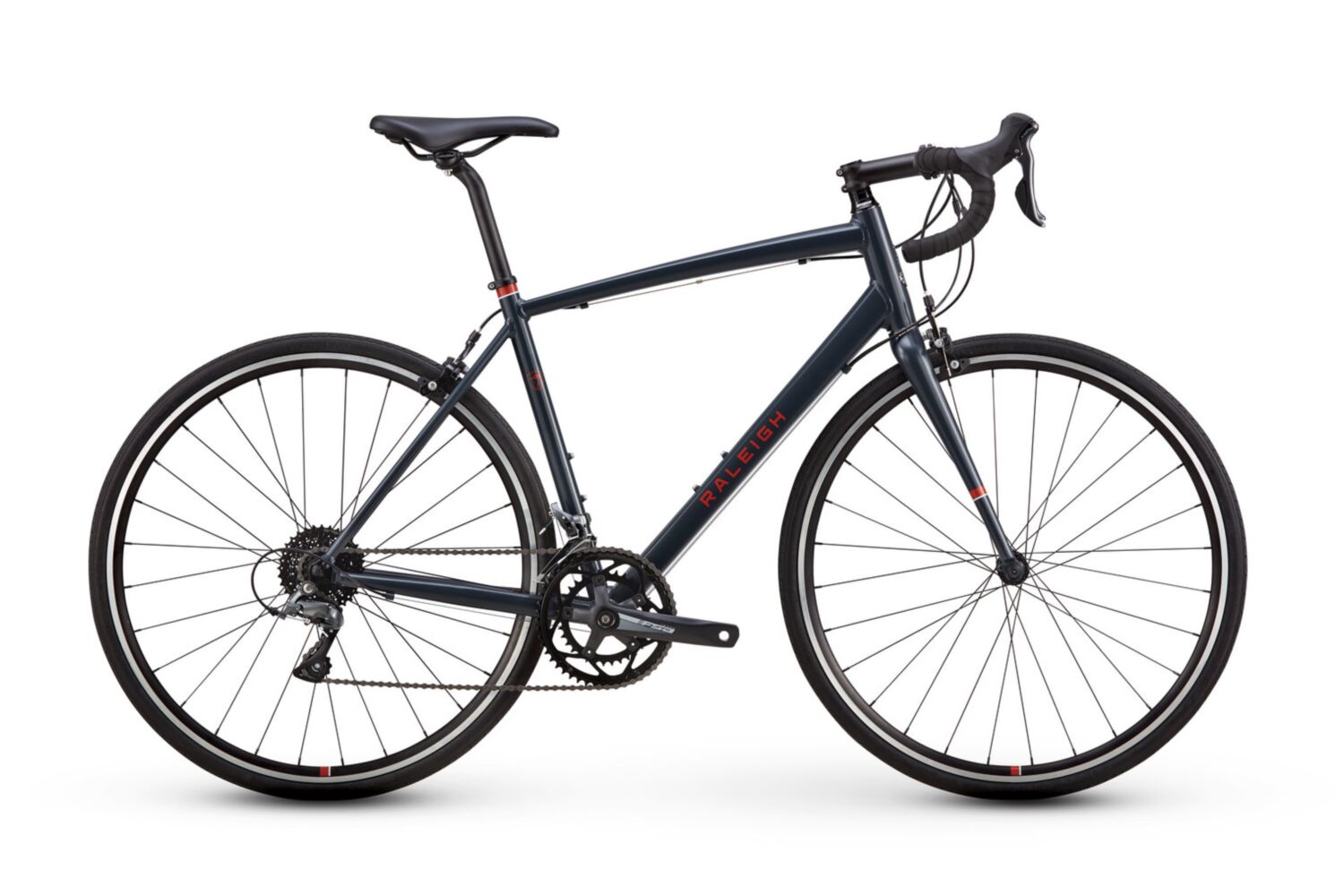 MSRP: $750
Raleigh USA
Raleigh is one of the best bicycle manufacturers today partly because it takes very good care of both its male and female riders. This is evident in the Raleigh Merit 1 model, which has everything a lady might want in a beginner road bike. The Raleigh Merit 1 comes in an attractive Black/Red color scheme that makes for an eye-catching design. The Raleigh Merit 1 uses a custom-formed and butted AL-6061 Heat Treated Aluminum frame and alloy fork, which provides a comfortable and strong ride on any terrain.
What makes this entry-level road bike women-specific is the wide range of sizes available, all the way down to 52 CM to fit riders from 5'4″.
Shimano took care of the shifting with their trusty Claris groupset, which is seen on most models you can get at this price. Unfortunately, the brakes are not Shimano as well, but these Tektro calipers are a dual pivot, which means you'll have a more sensitive braking experience and the calipers with last longer. The Raleigh Merit 1 has flat pedals included, so you can ride it as soon as you get it. However, if you want to train more seriously, I always recommend clipless pedals. The Raleigh Merit 1 is the best looking women's road bike for beginners who care about looks and styles but are also cycling and fitness enthusiasts.
RaleighUSA.com/
---
9

. Ridley – Road Race 26″

Best Kids' First Road Bike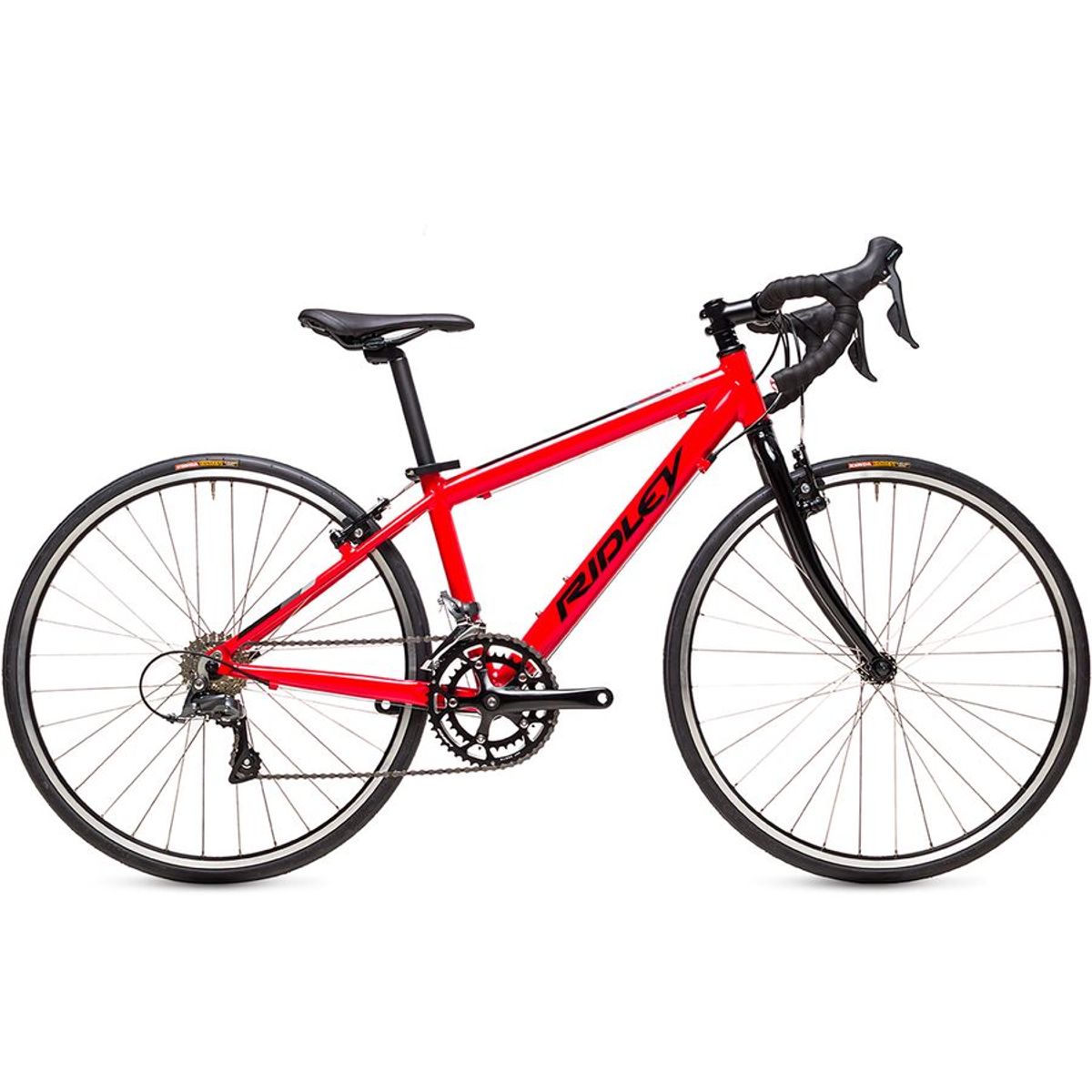 MSRP: $829
Backcountry
The 26″ Road Race bike by Ridley is a perfect kids' first road bike at just under a $1,000 mark. The bike is great for road race and cyclocross purposes, which allows them to explore both worlds in the fastest way possible. The 2×8-speed drivetrain is represented by Shimano Claris, the bike's frame, fork, and wheelset are all made of lightweight yet durable aluminum.
The 46 / 34 chainring is right around the middle to use for training purposes and races alike. The geometry of the bike is ideal for active kids' to take the next step in performance, participate and win some races as well.
Backcountry.com/
---
What to Expect?
As mentioned earlier, you probably wouldn't be able to win Tour de France on an entry-level road bike. These bikes are intended for light, occasional training, and casual rides on the weekend. If you want to get a bicycle just to stay fit, to commute from time to time, or simply have fun now and then, there are many entry-level road bikes under $500 that would make you perfectly happy. Their components are not as durable as those on high-end bicycles, so they require more care. However, as long as you are mindful of the most crucial parts, you can rest assured that your entry-level road bike will last you for many years.
Bottom Line
All of the bikes on this list are good starter road bikes, that with proper care and maintenance will last for years and years of regular riding. They are all a very good buy, so it's up to you to make up your mind and choose the one that created the biggest spark in your eyes. If your excuse for not cycling was that you couldn't afford it, I hope that I've eliminated it and proved you wrong.
So, ride more, stay fit, look good, join a group ride, and become a cyclist with one of these budget road bikes!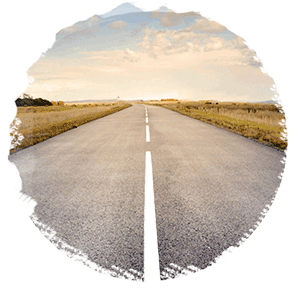 ---
RELATED
Best Road Bikes of 2021     //     Best Cheap Road Bikes     //     Best Electric Road Bikes