Bikepacking vs. Bike Touring: What's the Real Difference?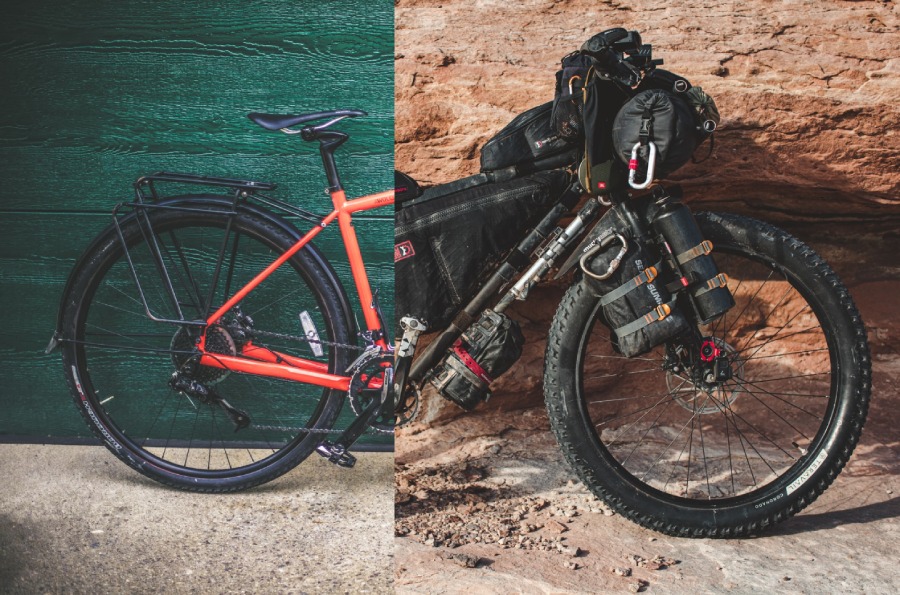 If you're a keen cyclist, you're probably wondering what this new 'bikepacking' trend is that you've been hearing about. Maybe you already know what bikepacking is but aren't really sure how it differs from normal bike touring.
Well, bikepacking and bike touring are both bicycle camping activities that involve multiple days out on the bike, but they have a few notable differences.
Here, we discuss what is a touring bike, what is a bikepacking bike, and all the unique little quirks that differentiate the two activities.
What Is Bikepacking?
Bikepacking is a new style of bike touring that's focused more on off-road riding and has become very popular over the past decade. Bikepacking bikes look more like mountain bikes than road bikes and use an entirely different method of attaching luggage. Many bikepackers also love using fat bikes because of their wide, comfortable tires.
Although there is no limit on how long you can tour on either style of bike, bikepacking is usually associated with shorter trips because luggage space is limited. Whereas some long-distance bicycle tourists travel for years at a time, bikepackers usually only do weekend or week-long trips at the most.
Though there are always exceptions—some bikepackers stay out on the roads for months or years at a time, such as when riding the Cape Town to Cairo bike route.
Advantages:
Can cycle on any terrain
Lighter loads for a more enjoyable ride
Can access areas that most touring bikes can't
Disadvantages:
Limited cargo capacity
Slower on pavement and tarmac
Not ideal for long trips
What Is Bike Touring?
Bike touring has been around for over 100 years, with three early bike explorers heading off on a tour around the world as early as the late 1800s. Back then, bicycle tourists would simply strap a few bags to their road bike and head out, but things have come a long way since then.
These days, when comparing a touring bike vs. a road bike, you'll find significant differences that make life a lot easier for bicycle explorers. Touring bikes have strong frames with comfortable seating, large pedals, and wide handlebars that offer multiple grip positions. The frames have a multitude of mount points for racks, bags, accessories, and bottles so you can carry your whole life with you.
No posts for this criteria.
However, as purpose-built bikes, they can be quite expensive, so those on a budget might question whether a hybrid or touring bike is the right choice. Hybrid bikes usually have similar strong frames and thick tires, but cost significantly less due to lower-quality materials. You may also consider an adventure bike vs. touring bike, as these race-style bikes can go offroad but are lighter and faster than touring bikes.
Advantages:
Tough, long-lasting frames with easy maintenance
Comfortable, all-day riding
Can carry lots of cargo
Disadvantages:
Good quality touring bikes are expensive
Slower and heavier than most bikes
Not ideal for offroad riding
Characteristics of Touring Bikes
Touring bikes come in a variety of styles, from basic, lightweight short-distance tourers to fully loaded year-long traveling machines. Common characteristics found on almost all touring bikes include thick, puncture-resistant tires, strong rims with extra spokes, multi-position handlebars, and a lot of mount points for racks and accessories.
Touring bikes are designed with a singular goal in mind: to go as far as possible and carry as much cargo as possible without breaking down.
Common bike touring gear includes:
Front and rear pannier bags

Bike touring bags (saddle, handlebar, frame)

Several water bottles

Bicycle computer with sat nav or phone mount

Maps

Spares, including tubes, spokes, and a chain

Tool kit and puncture repair kit

Emergency medical kit

Cooking equipment

Tent, sleeping mat, sleeping bag
Characteristics of Bikepacking Bikes
Best bikepacking bikes have MTB-style frames and big off-road tires but usually no suspension and often drop bars like on a road bike. This is to facilitate more comfortable riding and more varied hand positions. They're designed specifically for multi-day camping trips through forests, mountains, fields, national parks, or any other backcountry terrain.
However, they are also a great choice for day-long century rides and adventures.
Not all of the national parks are bike-friendly, but there are at least 15 that have excellent paved road networks and ...
In part 2 of our two-part series, we will explore a further 8 national parks and what they have to offer. Remember to ...
Bikepacking panniers are quite different from touring bike panniers. Rather than large front and rear racks attached to the wheels, bike touring uses a large saddle bag for clothing, a frame bag for accessories, and a handlebar rack for sleeping equipment. This keeps all the cargo high off the ground and tightly attached for bumpy rides.
Common bikepacking gear includes:
Large saddle bag

Frame and handlebar bags

Several water bottles

Map and compass (or satnav)

Clothing for all weather

Tools and spare tubes (or repair kit)

Emergency medical kit

Minimal cooking equipment

Hammock, bivvy or super-light tent

Lights, headlamp, torch
Bikepacking vs. Cycle Touring Setup
A cycle touring setup differs from a bikepacking setup because it's designed with flat tarmac roads in mind. The panniers are heavy and sit low on the wheels, making it difficult to go over bumps at speed. In contrast, the bikepacking setup is focused on tackling rough terrain at high speed without knocking the bike off balance. It uses minimal, lightweight gear that is strapped tightly to the bike to improve handling.
The Eurovelo cycle route network contains 17 routes traversing 40 different countries across Europe. Each route is ...
With a touring bike setup, you're not planning to cycle over bumpy terrain, so the bags can be as heavy as you like and are positioned low to the ground to give a better center of gravity. Most long-distance cycle tourists have two big pannier bags on the rear rack and another two on the front wheel rack. They can carry enough clothing and gear to allow for months (or even years) of cycling on a single trip.
A bikepacking mountain bike can only carry enough gear for a week or two at most, although some bikepackers go on longer trips. Most bikepackers sleep in a lightweight bivvy or hammock to reduce weight and rarely have space to carry excessive food or cooking equipment.
Weight and Cost Differences
Touring bikes are usually heavier than other bikes because they're built using very strong frame materials designed to carry heavy weight over long distances. They usually weigh between 14-17kg. In comparison, bikepacking bikes are built with lighter materials because they are designed to carry less weight and provide an easier ride. They often weigh as little as 10kg.
There is almost no limit to how much a loaded touring bike can weigh, so long as the frame and wheels can handle it. Some lifetime cycle tourists carry all their bike touring equipment plus everything they've collected along the way on their journey. Fully loaded bike touring weight can be as heavy as 50kg (110lbs) although the average is probably around 30kg (66lbs).
Bikepacking bikes can usually accommodate an additional 30-40kg in addition to the rider, but most bikepackers try to keep the weight as low as possible. It's not uncommon for a fully loaded minimal bikepacking setup to weigh only 20kg (44lbs), including the bike.
How to Choose Between Bikepacking vs. Touring?
It's quite easy to decide if you want to go bikepacking vs bike touring because it comes down to two things: the terrain you want to ride on and the distance you want to go.
If you want to go off-road and cycle through mountains and forests for a few days, you'll be much better off with a bikepacking bike. If you want to spend months exploring Europe or South America by road, you're better off bike touring.
The United States is made up of some of the most beautiful and diverse landscapes in the world. Within the 50 ...
Bikepacking vs touring also comes down to personal preference. Some people like to travel light and don't need lots of gear, so a bikepacking setup suits them. Others prefer having a big, comfortable campsite with lots of cooking equipment to make gourmet meals, so they need the extra cargo space of a touring bike.
FAQ
How to pack a bike for bikepacking?
A common saying in the bike touring community is: pack everything that you think you need and then leave half of it behind. With bikepacking, this is more relevant than ever. If you want to enjoy your trip, only take the absolute necessities and pack as little clothing as possible. Hours of cycling through dirt, mud, and mountains is no fun with an overloaded bike.
Some bikepackers like to carry their cargo in a bikepacking trailer, which they then leave at the campsite while they go explore on an unloaded bike. While these can be handy in taking the weight off the bike, they can be cumbersome to navigate over rough terrain.
What kind of bike is ideal for bikepacking?
You can use a standard hardtail or rigid mountain bike for bikepacking, but it's best to get a bike that is purpose-built for the task. Bikepacking bikes ride well on all terrain and have convenient mount points to attach racks, with better frame bag fit and extra water bottle cage mounts.
How do you start bikepacking?
Anyone can get into bikepacking. All you need is a bike, some camping gear, lots of water and a sense of adventure. Many bikepackers are ex-mountain bikers who decided they want to go that extra mile and stay out in nature for longer, so they strapped a tent to their bike. So if the idea of bikepacking appeals to you, just pack your bike, hop on and head out into the great unknown!
What to take on a bikepacking trip?
Ideally, you want to take as little as possible to keep your bike light and more enjoyable to ride. A bivvy or a hammock and tarp are great ways to save space and sleep outdoors while staying warm and dry. Other necessities include a bike tool, repair kit, and emergency medical kit, plus lots of water. For cooking, you just need a small pot and a gas stove or fire lighting tools plus your choice of dry, non-perishable food.
Where to camp when bikepacking?
To keep weight down, many bikepackers carry minimal bike camping gear. They usually avoid carrying a tent in favor of a waterproof bivvy bag or a lightweight tarp. Naturally, you'll want to avoid areas with wild animals and don't sleep too near water that might rise in the night. Try to find a spot out of the wind and adequately shaded if you expect bright morning sunshine.
Is cycle touring good for you?
Cycling is one of the best cardiovascular exercises, so you'll certainly get fit and healthy from cycle touring. However, cycle touring can be dangerous because you are exposed to traffic, crime, and the elements. Always plan each trip carefully, carry a lot of water, and use common sense in dangerous areas.
Which type of cycle is best for touring?
Many people say the best bike for touring is the one you currently own. Whether it's a road bike, mountain bike or anything else, you will probably be able to do a few weeks of touring on it. However, if you're planning to embark on a long-distance tour, it's best to buy a proper touring bike or bikepacking bike.
Are touring bikes fast?
No, touring bikes are not typically designed for speed. You get the occasional lightweight touring bike, but most are heavy, slow, and cumbersome machines built to carry lots of weight over long distances.
Why are touring bikes so heavy?
The thick aluminum or steel frames used to build touring bikes make them heavier than normal road bikes. They usually have thick tires, strong wheels, and other heavy-weight components designed to handle the rigors of long-distance riding. Bikepacking bikes are usually lighter than touring bikes.