Best Bike Locks in 2023
Bike theft is an unfortunate reality that many cyclists have to face at some point. Unless you only use your bike for short rides and never stop at shops or restaurants, you will inevitably need a bike lock at some point.
Naturally, more valuable bikes are at higher risk and some should never be left chained up in public. Many competitive cyclists even use a cheaper secondary bike for general commuting around town and keep their expensive bikes safely at home.
---
Table of Contents
1. U-Locks
2. Chain Locks
Related: Best GPS Trackers
---
1. Best Bike Chain Locks
Chain locks are considered to be most effective against bike thieves. This type of lock might not be as convenient to carry around, but they do a great job protecting the bicycle against bolt cutters. Chain locks vary from thinner 11m chain links which are easier to cut to thick 16mm links that require tough bolt cutters to break.
The advantage of chain locks is that they can usually be wrapped around large objects and can lock up multiple bikes at once. If you often find you need to tie your bike to thick trees or abnormal objects, a chain lock might be the answer. As chain locks are generally longer in length, you can easily lock the bike and one wheel with it.
However, the strongest chain locks are very heavy and can add considerable weight to your bike. In addition, they are the weakest form of security with the most potential points of failure in their design (a chain is only as strong as its weakest link).
---
Hiplok – Gold
2in1 Safety – Wearable chain lock with a reflective sleeve
MSRP:$75 – $110
Hiplok Gold is one of the heaviest locks that should keep away most bike thieves whenever they see this massive lock. It's best suited for those who travel at night or on occasional daytime trips as the Hiplok can be comfortably used around the hips while cycling.
There is also a protective sidewall on the sleeve, which helps prevent the frame from scratching and adds a little cushion whenever you're carrying this around your waist.
Chain thickness: 10mm
Lock thickness: 12mm
Made of: Hardened steel
Weight: 5lbs, 5oz
Chain Length when locked: 33.5″
Chain length unlocked: 24″-44″
Comes with 3 keys
Reflective sidewall for safety
Look indestructible
---
Kryptonite – New York Chain 1210
One of the sturdiest
MSRP $148.95
Inspired by the streets of New York, the Kryptonite 1210 is a decent chain lock by one of the most trusted bike lock brands out there. The biggest advantage of this lock is the length of the chain (40″) which can be locked over any thinkable object such as trees or lamp posts. There's plenty of room to lock either wheel along with the frame, although it is not as comfortable around the waist while transportation, so you'd need to have extra compartments for storage.
Chain Thickness: 12mm
Made of: Hardened manganese steel
Weight: 8lbs 9oz
Chain Length: 40″
Comes with 3 stainless steel keys
Built-in light when need to unlock it in the dark
Replaceable battery
---
Abus – Granit CityChain 1010
Great weight to security ratio
MSRP from $99
This is a classical chain lock with different size availabilities. The soft sleeve around the metal chain will not scrape against the frame in case you were planning to wrap it around the bike when commuting, or simply lock it regularly on a daily basis. It's bulky and heavy, which in most cases is just about enough to lock the frame and either wheel! Abus is a well-known name in the game, and the Granit series locks come in various different sizes.
Chain thickness: 9mm
Lengths:
33″ – 85cm
43″ – 110cm
55″ – 140cm
Hex temper-hardened steel links
Durable cloth cover protects the bicycle from scratches
Security Rating: 12/15
Lock Style: Integrated
---
Kryptonite – KryptoLok 990 Combo Chain Lock
A keyless combination chain lock
MSRP $75
A great alternative to those who wish to commute keyless – the 990 Krpytolok Combo by Kryptonite offers a considerable amount of safety in low to moderate theft-risk neighborhoods. The concept of this lock makes it unappealing for bolt-cutters or any other tool besides the angle grinder, which also needs quite a bit of time and effort to get it open. This is a great choice for those who are better at remembering the passcodes than keeping small keys. After all, it is a $75 bike lock for by a known bike lock brand!
5-digit combination
Lock Thickness (mm) – 9.5 millimeters
Material – 3T manganese steel
Length: 35 inches
Weight – 5 lbs. 13.6 oz. pounds
---
2. Best U-Locks
U-locks, also known as D-locks, are the strongest and safest locks available as they are almost impossible to break, even with industrial tools. Some might even believe that even the toughest chain lock is nowhere near as secure as a U-lock.
However, never buy a cheap U-lock as these are made from weak materials and are easy to pick.
U-locks come in varying sizes and thicknesses and should include an independent rating from a security testing company like Sold Secure or ART. The downside to U-locks is that they only fit around an object smaller than the size of the lock, so you may have to search long to find a suitable place to park. They can also be difficult to carry on the bike and often take up space in the frame where water bottles or other objects could fit.
The best U-locks are made by Kryptonite, ABUS, and Yale. If you live in a high-risk area like a busy city, always use a U-lock in combination with a steel cable to secure your wheels.
---
RockyMounts – Compton Large
Clean stainless steel finish
MSRP $120
A full metal lock that's easy to use and carry around. It is as sturdy as it looks and does a great job locking the bike in most cases where it can be attached around. RockyMounts offers a wide range of locks with different sizes and shapes, while the Compton Large is one of the largest and heaviest.
Weight: 4lbs 10oz
Shackle length: 185mm
Shackle width: 115mm
U-lock diameter: 18mm
---
Kryptonite – Messenger Mini Plus U-Lock
Frame + wheel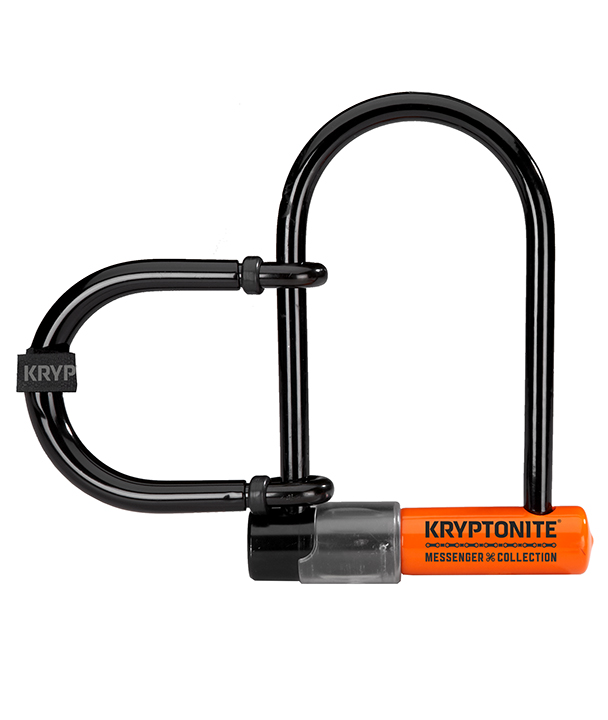 Designed for NY bike messengers who are locking and unlocking all day to countless different objects. The extra shackle is meant designed to lock the rear wheel with the frame! NOTE! Don't forget to not use the extender shackle as the main point of locking, as it's not as strong as the main U-lock shackle!
The wheel extender can secure either the front or back wheel while the mini captures the frame and the immovable object
Reduced shackle diameter to 11mm for decreased weight
Bentfoot double deadbolt design
High-security DuoCore cylinder
Two stainless steel keys with coiled wrist key chains
Security Rating: 7 out of 10
Diameter: 11 mm
Lock Style: Keyed
Weight: 2.5 lbs
3.75 x 6.5″
Includes 3.25″ wheel extender shackle
---
Kryptonite – New York STD U-Lock with Bracket: 4 x 8
One of the thickest U-locks
MSRP $142.95
Another NY-inspired U-lock that lets you leave the bike on the street without constantly thinking if it is still there or not. It is among the safest options you could choose as the 4 by 8 is one of the toughest U-locks with a 16mm thick shackle!
Hardened deadbolt locking for extensive holding power
Includes 3 Stainless Steel keys (2x standard and one with a LED bulb for convenient, easy unlocking in the dark)
Higher security disc-style cylinder
Patented hardened steel sleeve over crossbar for double security
Highest security Kryptonite lock, 16mm Kryptonium steel with double deadbolt design
Oversized hardened steel sleeve over crossbar for double security
Lock Size: 4″ x 8″+
---
Abus – Ultra 410
Versatile lock for a wheel/seatpost and the frame
MSRP $60
A simple, tough U-lock with a cobra lock included making it convenient to use when you'd like to lock both the frame and one of the wheels or the seatpost.
Length: 11″
Diameter: 12mm shackle
Lock Style: Keyed
Weight: 2lbs 5oz
Pass-through, double-bolting steel shackle provides anti-twist protection
Security Rating: 8 of 15
2x keys included with durable SH34 fixing bracket (fits 24-35mm)
---
Kryptonite – KryptoLock Standard U-lock with cable
Frame & wheel combination
MSRP $59
Kryptonite has taken that extra step towards protecting the bike and accessories against bike thieves. Although the cable lock is not among the most recommended types out there, it still does a great job on basic wheel protection when used in combination with the D-lock.
Weight: 2lbs 13oz
Dimensions: 9″ x 4″
Lock thickness: 12.7mm
---
3. Best Folding Bike Locks
Folding locks offer the flexibility of chains with some of the added strength of U-locks, making them more versatile but slightly less secure. They usually tuck away discreetly into a frame holder or bag so they are easy to carry.
However, even the best folding locks require rivets to fold which are susceptible to attacks by drills or similar tools. While many folding locks have decent security ratings, a U-lock with an equivalent rating will always be stronger.
The best folding locks are made by ABUS, SeatyLock, and Foldylock. Silver-Rated folding locks should be secure enough for high-risk cities but use them only if you absolutely can't carry a U-lock.
---
Kryptonite – KryptoLok 610 Folding Lock
Super durable, lightweight and compact
MSRP $129.95
The Kryptolock Folding locks feature 6x 5mm hardened steel links hinged together to create a flexible, secure lock that compacts down to a small package for portability.
100cm
Security level: 6/10
Includes 2 keys
---
ABUS – Bordo 6000/90 BK SH XPlus Folding Lock
MSRP $129.95
The Bordo 6000 is a relatively light and compact folding lock by ABUS. Weighing in at less than three pounds the 6000 easily fits in a frame mount or hydration pack. This lock is perfect when used in city streets where there's enough lighting and traffic, used on a bike that's not overly flashy or expensive.
The Bordo 6000 is among the safest folding locks out there; it goes a long way in terms of convenience too!
Hardened steel 5mm thick
XPlus lock cylinder prevents picking
Drill resistant rivets
Lock Style: Keyed
Length: 90 cm
Weight: 2lbs 9.6oz
---
ABUS – uGrip Bordo 5700 Folding Lock
MSRP $85
A great solution for those who want a tough yet lightweight keyed lock for their bikes in safe neighborhoods of low to medium risk. It's super compact and won't scratch the bike's frame and comes with rattle-free mounting.
Length: 80cm
Single-hand operation
Convenient Transport Mode
5mm thick
---
4. Best Bike Alarms
Bike alarm systems are becoming more popular these days as technology gets smaller and cheaper. Some bike alarms come as part of a lock, whereas others are just an alarm and must be used in combination with a separate lock. Using just an alarm on its own is not adequate security as a thief could still escape with your bike physically before you have time to react.
Most alarm-enabled bike locks are weaker than traditional locks because the alarm should deter any extended attempt at theft. This means they offer a good lightweight alternative to heavy U-locks while still offering a high level of security.
Also, many bike alarms come with wireless or Bluetooth connectivity and will send an alert to your phone when they are tampered with. However, bike alarms should always be considered an additional level of security and are best when used in conjunction with a strong traditional lock.
Popular bike alarm locks include the ABUS Bordo Alarm Plus, the Nunet Nulock, WSDCAM Wireless Alarm, and G Keni A6 taillight alarm.
---
Abus – Alarm 440 U-Lock
Bike lock with an alarm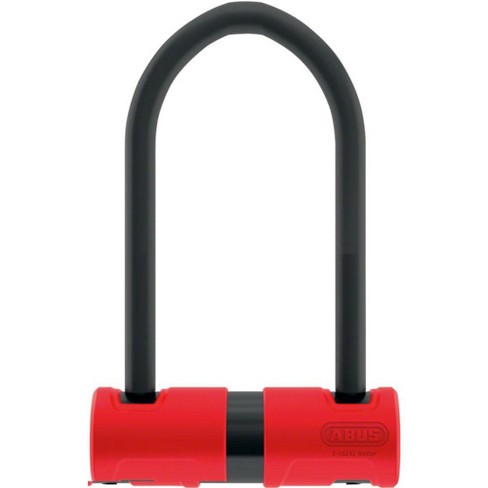 MSRP $90-$100
The Abus Alarm 440 U-Lock is equipped with a 100-decibel alarm, which detects any tampering with the bike or lock.
When locking a bicycle with this Alarm U-lock, make sure the lock is snug around the bike so it wouldn't start alarming right away when you are about to unlock it!
Hardened 12mm thick round shackle
Alarm for 15 seconds, followed by automatic reactivation
CR2 batteries included
Specially hardened steel
Length: 6.3″ or 9″
Diameter: 23 mm
Lock Style: Keyed
---
Abus – Bordo Big Alarm 6000A Folding Lock
100dB intelligent alarm
MSRP $200
The Bordo Big Alarm 6000A Folding Lock is one of the most expensive bike locks in this list. It is a lock with alarm of a 100dB intelligent system making it an ideal solution for many who wouldn't settle for only one type of lock. Although it is rated as 10/15 in terms of safety, it is a lock that's well-suited for somewhat safe neighborhoods. Why? It's because folding locks are not among the strongest locks to break in, and having a bike alarm won't stop the thieves from physically removing the bike.
100dB intelligent alarm system
Different lengths – 47″ (120cm) / 35″ (90cm)
5mm steel bars with a soft coating to protect bikes' paint
Includes front loading SH bracket for use on all styles and sizes of bikes
Security Rating 10 of 15
---
G-Keni – Bike Light Alarm
Best bike alarm system – light & protection
3-distinct flashing modes: burst/slow/steady on

Water-resistant

120 dB Theft-deterrent alarm with remote activation and deactivation

The remote control operates on distances up to 16 feet

Wireless electric horn to alert others or cars while riding thru traffic.

Both saddle and seat post mounting kits are included.

USB rechargeable with built-in 700mAh lithium battery that lasts up to 15 days / or up to 15 hours of flashing

Charge time 2-3 hours

One-year quality guarantee.
---
Bike Lock Buying Guide
---
The threat of bike theft differs from place to place, with big cities like London, New York, and Los Angeles being some of the worst-hit areas. Depending on where you live, you will need a certain quality and style of bike lock.
Most security specialists suggest using a bike lock that costs at least ten percent of the value of your bike!
The chain lock is the strongest bike lock type but also the heaviest and often least convenient to carry. If you don't live in a high-risk area, a simple chain and padlock or good-quality D-Lock (a.k.a U-Lock) should be sufficient.
Many cyclists also find folding locks more convenient to transport but their moving parts make them weaker than U-locks.
Most compact – Folding lock
Compact & durable – U-Lock
Most durable – Chain / D-Lock
Best reach – Chain lock & Folding lock
Cheapest, also the least safest lock – Cable
Whatever type of bike you have, there is a bike lock that fits your needs and budget. Below we look at the various useful options available.
Best Bike Lock Brands:
Kryptonite
OnGuard
Ottolock
Hiplok
Abus
Where to Shop For Best Bike Locks Online?
Key vs Combination lock
Whether to get keyed or a combination bike lock comes down to personal preferences. Although most higher-end locks are equipped with keys, a keyless bike lock is a great alternative as well. However, when you'd like to commute keyless or have a tendency to lose small keys – a combination lock might be for you. But, don't forget that combination locks have a 4-5 digit to remember as well.