Best All-Road Bikes in 2023 (Buying Guide Included)
The best all-road bikes will lap up the tarmac and not blink when you cross over onto compact gravel.
All-road bikes are essentially drop-bar bikes with road endurance frame geometry and bigger forks for wider tires. They're ideal for those who want a bike that is fast on the road and has well-maintained gravel tracks. However, they aren't for tough terrain or gnarly trails, they're simply not built for that.
In this article, we'll discuss what these bikes are, how they compare to other similar drop-bar bikes, what they're best suited for, and review some of the most popular current models.
---
Best All-Road Bikes
---
1

.Cannondale – Topstone 4 2022
MSRP: $1,375
The Cannondale Topstone 4 is a gravel/all-road bike with a fast and versatile build.
It's designed to perform on whatever surface you ride it on. Smooth tarmac? Check. Fire roads? Check. Gnarly gravel? Check. It can do it all, with its lightweight SmartForm C2 aluminum frame and carbon fork to absorb road buzz.
Wide gears (11-48T) on the cassette and a 40t crankset help you up any climb. It also comes with Promax mechanical disc brakes for reliable stopping power and WTB Riddler 37mm tires for comfort and grip.
If you're after an affordable bike that's built for speed on any terrain, check out the Cannondale Topstone 4.
Aluminum frame and carbon fork
Drivetrain – microSHIFT Advent X 10-speed
700x37mm WTB Riddler tires
Best for gravel & adventure
---
2

. Marin – Gestalt X11 '2022

MSRP: $2,449

An exciting and impressive all-road bike doesn't need to be eye-wateringly expensive.

Step forward, the Marin Gestalt X11 bike. Its aluminum frame means it can take some knocks as well as provide comfort when you take it off-road. Impressively for this price point, the bike can also come with a dropper post. Although these are typically seen on mountain bikes, they can offer extra balance when descending and can allow you to get your weight over the back wheel far more easily than without.

Wide tires and wide gear ratios are also a theme on this bike, making it ideal not just for road riding but for all roads.
6061 Series 3 aluminum frame, Marin Full Carbon fork
11-speed Shimano GRX, 11-42T
GRX hydraulic brakes
TranzX dropper seat post
700x40c, Schwalbe G-One Performance
Head tube angle: 71-71.5 / Seat tube: 75-73.5
Buy from JensonUSA.com Buy on GovVelo.com
---
3

. Marin – DSX 2022

The mountain bikers gravel bike
MSRP: $1,349
Described as the 'mountain biker's gravel bike', the Marin DSX is an affordable entryway into all-road riding.
Although it's priced at an accessible $1,349, it's still jam-packed full of features. These include a 12-speed Shimano groupset with a wide gear ratio (10-51T) for climbing steep hills. Additionally, wide tires can be used up to 45mm in width making it a perfect bike for getting into gravel. It's capable on the road and off the road thanks to the suspension fork which dulls any road buzz.
Many commuters choose to use gravel and all-road bikes because of their durability, which in wintertime is particularly important. And at just over $1,000 it's hard to go wrong with this Marin DSX all-road bike.
700x45c WTB Riddler
12-speed Shimano Deore, 10-51T
Series 3 alloy frame, suspension fork
Intended use – Gravel, Adventure, Commuting, Touring
Head tube: 69.5 / Seat tube: 74
Buy from Jenson USA Buy on GovVelo.com
---
4

. State Bicycle Co – Black Label All-Road

MSRP: from $1,400

The State Bicycle Co Black Label All-Road bike is a bike designed for all-terrain speed.

Whether you're commuting to work or racing on gravel, this bike can provide the base for some enjoyable all-road riding. The bike comes with the choice of using 700c or 650b wheels, and if you select 'both' at checkout, you'll receive both sizes so you can interchange them when necessary. On 700c wheels, the max tire width is 38mm, and on 650b wheels it's 47mm.

An alloy frame with a carbon fork means the bike is affordable, at $1,400 but rides like a more expensive bike.
700x38c / 650b x 47c
11-speed State derailleur
Frame – 6061 alloy
Fork – Carbon
---
5

. Co-op Cycles – ADV 2.1

Best Value Components & Positive Score of 4.8/5 out of 25+ ratings
MSRP: $1,299
Another budget bike, the Co-op Cycles ADV 2.1 presents an affordable entry-level option for those looking for a versatile bike.
Whether it's for riding the fire roads or commuting to work, this bike can do it all with wide 700x35mm tires and disc brakes. It's not got the highest spec list but at just over $1,000 it's never going to be a world-class winning bike. Unlike the others on this list, it comes with two chainrings up front and an 8-speed cassette.
The alloy frame is durable while the carbon forks provide some comfort and help to reduce vibrations caused by riding off-road.
It's a budget bike but a great entrance into the world of all-road cycling.
Aluminum frame & carbon fork
2×8 Shimano Claris
700x35c Kenda Flintridge
Mechanical brakes
Weight: 23lbs
Head tube: 70-72 / Seat tube: 75-73
---
6

. Salsa – Warbird
MSRP: $4,599
Best use – Mixed-terrain adventures and gravel racing
The Salsa Warbird is a race-ready all-road bicycle built for speed and efficiency. Aggressive gravel geometry combines with a stiff and lightweight carbon fiber frame to give this bike podium potential.
The carbon frame is loaded with mounts for water, tools, and accessories, meaning you can turn the Warbird into a multi-day adventure bike. The Class 5™ Vibration Reduction System integrated into the frame helps keep you fresh for longer on bumpy trails.
A premium Shimano GRX 810 groupset provides buttery-smooth shifting and excellent durability on off-road terrain. The crankset is a 48/31T setup and pairs with an 11-34t cassette to provide plenty of gears to go uphill and put the power down on descents.
Overall, this is an impressive bike for the price, perfect for all-road riders who want to take their training to the next level.
Shimano GRX RX810 – 2×11-speed
Shimano GRX RX810 hydro brakes
WTB EZR i23 TCS rims
Teravail Cannonball 700x42c
Carbon frameset
---
All-Road Bikes Buying Guide
---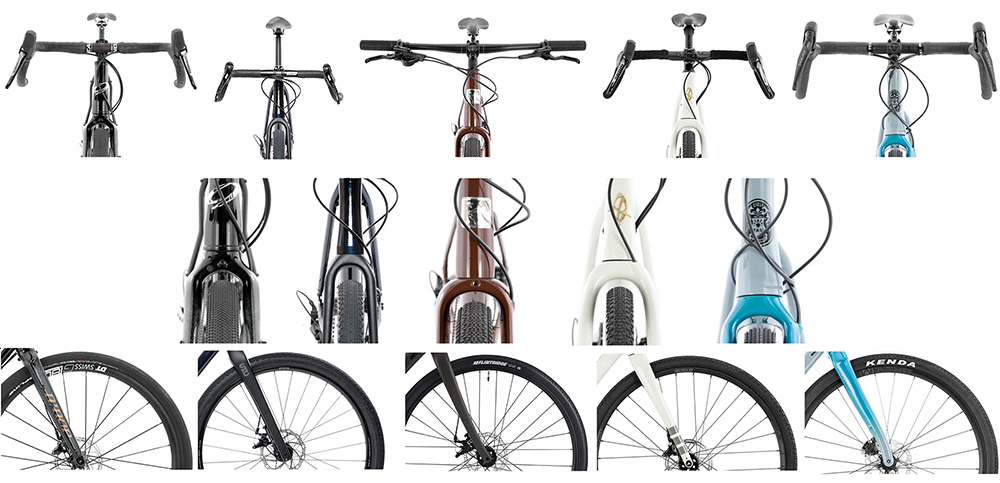 All-Road Bikes Main Features
700c wheels with wider tires
generally from 33-45mm
Drop-bars
1x / 2x front chainring
Geometry that's great for both road and off-road riding
Disc brakes
Gravel vs All-Road Bikes
Although they might look similar at first glance, a gravel bike offers even more relaxed geometry than an all-road bike. A gravel bike is the most capable drop-bar style bike on trails and away from the road, but can also be used on the tarmac. Often you'll see gravel bikes with flared bars which can offer a more natural hand position. This can fight fatigue on long days in the saddle.
You might also see riders using 650b gravel bike wheels. The smaller wheel gives more tire clearance in the forks thus allowing you to run wider tires. You might also see people using these bikes as gravel touring bikes. They're less sluggish than mountain bikes for touring off-road and are easier to carry through any hike a bike section.
Gravel bike tire sizes range from – 35-42mm although you'll see extremes at both ends of this spectrum.
Wide forks to accommodate these chunky tires.
Flared drop handlebars.
Mounting points for luggage .
More relaxed geometry.
Cyclocross vs All-Road Bikes
Cyclocross bikes are yet another type of bike styles you might compare to an all-road bike. They are the bikes you see people running around muddy fields with jumping or bunnyhopping over obstacles. As cyclocross is a UCI sanctioned discipline, there are certain points that the bike designers need to take into account. These include a maximum tire width of 700x33mm. The frames are usually either alloy or carbon fiber and since 2010 have largely included the use of disc brakes.
They're light and agile because they need to be able to be carried over short distances and stay upright in mud and sand. Compared to the more relaxed ethos of an all-road bike, they're still capable on the tarmac, and many commuters use them as a more 'bombproof' bike throughout the winter than their road bikes.
Performance-geometry
Cyclocross max tire size is 700x33mm
Lightweight and agile
Usually alloy or carbon fiber
Disc brakes
Road vs All-Road Bikes
An all-road bicycle might be good at more than one thing, but if you're after something to eat up the miles on the tarmac, a road bike is your best bet. All-road bikes generally adopt a similar geometry to that of endurance-style road bikes. This means that they promote a slightly more upright riding position so you can ride in comfort for longer.
Road bikes also generally tend to have skinnier tires. These range between 23-28mm but depend on the clearance of the forks. Road bikes aren't as versatile as all-road bikes and thus should really only be ridden on the tarmac.
Road bikes have short wheelbases
Drop-bars
Road bike tire sizes range from – 23-28mm
Rim and disc brakes
Carbon or alloy frames
Usually 700c wheels (650b are rare but good for smaller riders)
Touring/Adventure vs All-Road Bikes
Touring and adventure bicycles are built for multi-day journeys. They provide plenty of storage space with their many mounting points so you can comfortably take everything you need for a comfortable trip. Make no mistake, these bikes can handle some of the rough stuff, but they're not built for speed. An adventure road bike is designed to be a workhorse, not a racehorse. The long wheelbases make them stable and unlikely to be too deterred by plenty of luggage. They also generally come with wide gear ratios to help you climb without grinding your knees.
Adventure bike tire sizes range from – 25-42mm
Often steel framed
Plenty of mounting points for luggage
Mudguards
Dynamo power