Best Road Bikes Under $2,000
If you are searching for a great road bike with a limited budget, you want to make sure the one you choose has a good balance of ride quality, performance, and reliability.
Although most of us would love a pro-level bike for the job, there's are plenty of well-designed and reliably constructed bikes out there for less than $2,000.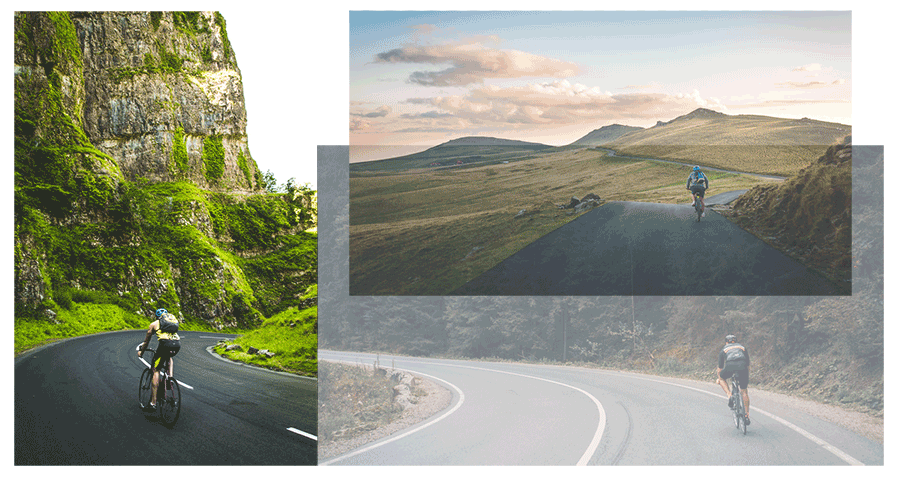 In this article, we've chosen 16 of the best road bikes for men and road bikes for women with varying levels of components from reputable manufacturers. Each of these bikes is highly rated by independent reviewers online, earning a place in this list.
After reading we hope you will be able to find exactly what you are looking for when you are ready to make your purchase!
---
Would you like to tackle some dirt as well?
Try: Best Gravel Bikes Under $2k // Best Cyclocross Bikes
---
Table of Contents
Men's Road Bikes
Women's Road Bikes
FAQ
---
Is $2,000 Enough, And What To Expect?
We believe that $2000 is certainly enough to find an excellent road bike that you will love to ride, will last a long time, and will even turn some heads out on the road.
With a road bike under this price, you can expect an entry to mid-range option from any of the major bike brands including Orbea, Specialized, Giant, and Cannondale.
The best options in this price range have Shimano 105 for the drivetrain, which is an excellent, responsive, and reliable drivetrain found on bikes costing upwards of $3000.
Other important features are hydraulic disc brakes (or mechanical/rim on cheaper models), a carbon fork for improved ride quality and weight, and a lightweight but durable aluminum alloy frame.
Road Bike Price Ranges
$500 = Budget. Steel & alloy.
$1,000 = Cheap. Aluminum.
$1,500 = Entry. Alloy frame, steel fork.
$2,000 Mid/Entry. Alloy frame, steel fork.
You'll be needing a pair of pedals
In general, purchasing a road bike in this price range online will require the additional purchase of pedals. While some manufacturers may include a set of platform pedals that allow you to ride immediately, these will likely be low quality and worth replacing.
If you need help choosing the right pedals for your needs, check out our article on the different types of pedals here.
Road Bike Sizing
Unlike most other bike types where choosing the right size is determined by height only, road bikes have a more precise approach. Road bike sizes are most frequently based on recommended inseam length as well as height, for a more accurate fitting.
---
Best Men's Road Bikes Under $2,000
These are the best road bikes of 2021
---
Cannondale – Synapse 105 Bike
One of the best road bikes under $2,000
MSRP: $1,900 REI
Cannondale is a manufacturer of some of the world's most advanced bikes, and their dedication to performance and style is evident even among their entry-level range.
The Synapse 105 endurance men's road bike comes with an advanced aluminum C2 alloy frame with a full carbon fork which combines to provide silky-smooth ride quality and a very low base weight of just under 22lbs.
Other notable features include a reliable Shimano 105 groupset, mechanical disc brakes, and Vittoria Zaffiro tires with thicker casing for improved puncture resistance and excellent wear life.
Cannondale road bicycles are known for their stylish finishes and this bike has a sleek metallic red and black pattern which will surely turn some heads out on the road.
SmartForm C2 alloy frame & BallisTec full carbon fork
2x11sp Shimano 105
Mechanical disc brakes
700x30c tires
Weight: approx 22lbs
REI
---
Ridley –

Fenix SLA Disc 105 Road Bike

Best endurance road bike under $2,000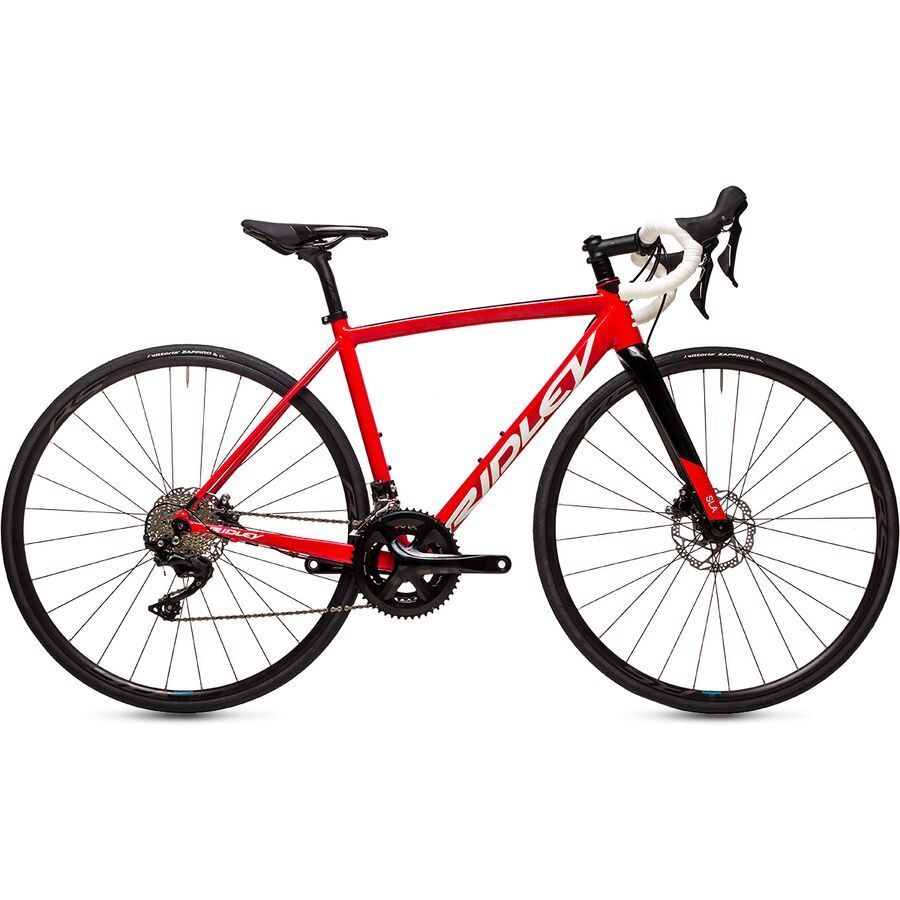 MSRP: $1,899 Backcountry
Ridley's Fenix SLA road bicycle comes with lots of premium features that make it responsive, comfortable, and fun to ride on even the longest days in the saddle.
The Fenix SLA is fitted with a 2×11 Shimano 105 groupset giving you plenty of options for steep climbs or rapid descents. All of the cables are internally routed too, providing a sleek look.
You can rely on hydraulic disc brakes to provide the ultimate stopping power in any conditions, and a high-quality carbon fiber fork for a lightweight and smooth ride feel.
With Shimano RS171 wheels and Vittoria Zaffiro tires, your Fenix SLA will be able to withstand rough road conditions with ease. Additionally, the frame is designed to be extra impact-resistant with reinforced edges from the diamond shape tubing.
Superlight 6005-601 alloy frame & carbon fork
2×11-speed Shimano 105
160mm hydraulic disc brakes
700c Vittoria Zaffiro tires
Backcountry
---
Spezialized – Allez E5 Elite
Best road bike under $1,500
MSRP: $1,500 Mikes' Bikes
The Allez E5 Elite by Specialized is one of the company's most affordable models that still delivers much of the ride quality, performance, and reliability expected of a Specialized men's bike.
This inexpensive road bike comes with a high-performance carbon fork and an E5 aluminum alloy frame that is both lightweight and durable. The frame utilizes the company's renowned design that provides excellent ride quality and comfort over distance.
With this bike, you can rely on a Shimano 105 2×11-speed drivetrain to shift perfectly no matter the challenge you face. Additionally, the RoadSport wear-resistant tires and Body Geometry Bridge Saddle combine to smooth out road vibrations and make your ride more enjoyable. Unfortunately, this model only has rim caliper brakes.
Aluminum frame & carbon fork
2×11-speed Shimano 105
Axis 1.0 caliper brakes
700 x 26mm Roadsport tires
Mikes' bikes
---
Felt – VR 40 Endurance Road Bike
Best aluminum road bike under $2,000
MSRP: $1,799 Felt Bicycles
The Felt VR 40 Endurance is a beautifully designed and highly-performance road bike that is both agile and comfortable for all-day cycling performance.
This bike comes with Felt's SuperLite aluminum alloy frame, VariableRoad geometry, and a UHC Advanced carbon fiber fork. This combination makes the VR 40 ride smoothly with a perfectly responsive feel.
The groupset on this bike is a Shimano Tiagra 10-speed setup which is slightly lower in quality than other bikes in this price range. However, notable components are the powerful hydraulic disc brakes, a tubeless-ready aluminum wheelset, and durable Vittoria Zaffiro tires.
Finally, the endurance-optimized geometry means that you can seamlessly install a rear rack or fenders using the hidden frame mounts if you need more from your bike.
Superlight aluminum frame & carbon fork
Shimano Tiagra derailleurs
Shimano Tiagra hydraulic disc brakes
700x30cVittoria Zaffiro Pro V tires
Felt-bicycles
---
Giant – Contend AR 1
One of the only bikes with tubeless tires under $2000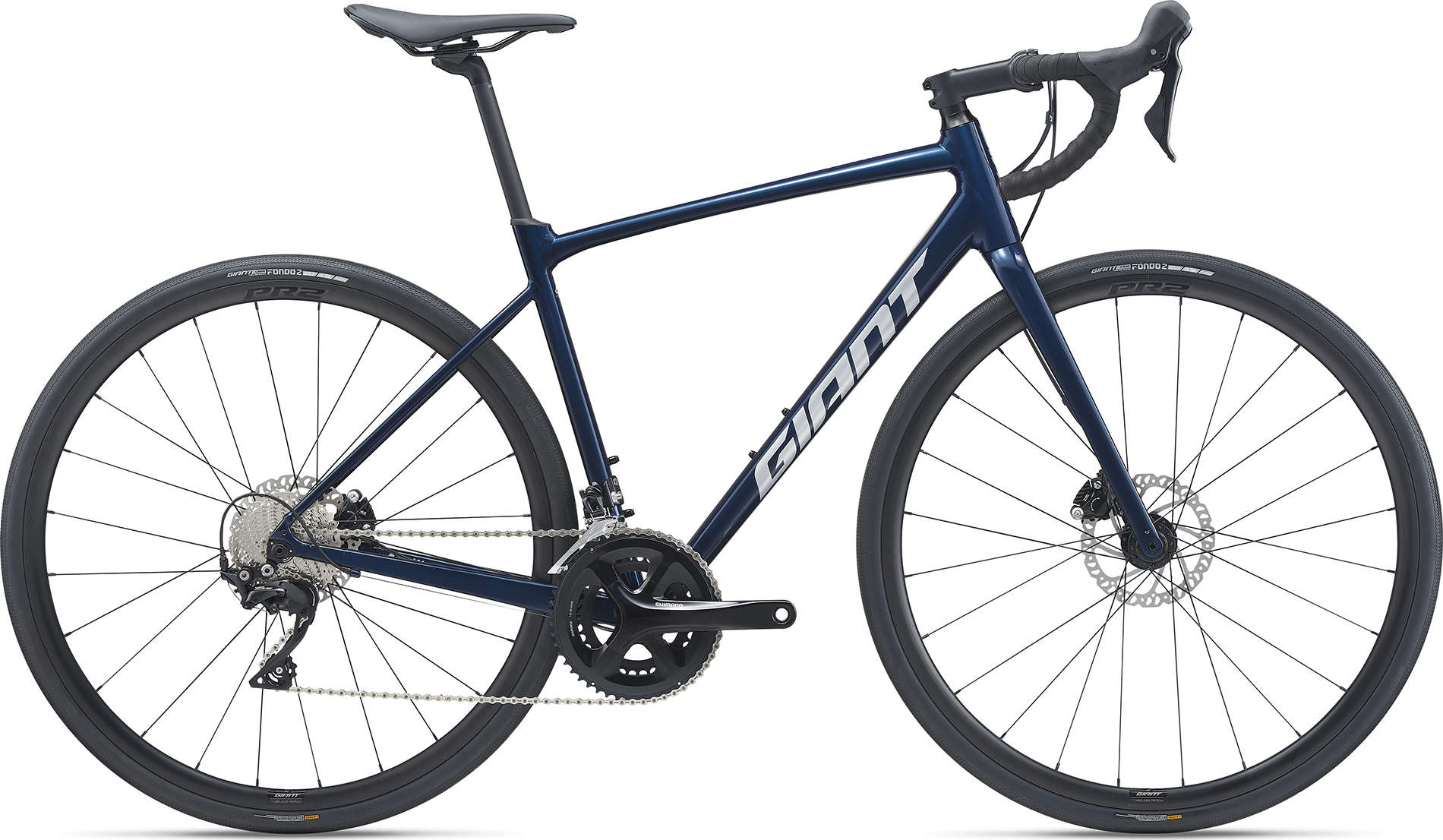 MSRP: $1,800 Giant Bicycles
The Contend AR 1 is a sleek entry-level model from the popular bike manufacturer Giant. It offers versatility, smooth-riding, and a responsive frame design for a great all-around experience.
The AR 1 road bike comes with powerful Shimano hydraulic disc brakes, high-volume tubeless Gavia Fondo 2 tires, and a D-Fuse composite seatpost to dampen road vibrations and boost control, resulting in a more enjoyable and less fatiguing ride quality.
The frame itself is engineered to balance a relaxed riding position with great performance with a focus on cornering and responsive acceleration ability, utilizing an Advanced-grade carbon composite fork.
Finally, this bike comes with a full Shimano 105 drivetrain for great reliability and shifting accuracy.
Aluminum frame & Advanced-Grade composite fork
Shimano 105 derailleurs
Hydraulic disc brakes
700x32c Giant Gavia Fondo 2 tires
Giant-bicycles
---
Orbea – Vector Drop LTD
The best fully equipped road commuter bike in this road bike review
MSRP: $1,999 Jenson USA
Orbea's Vector Drop LTD is a versatile and widely functional road bike with reliable components and a sleek vintage look.
This bike performs best as a commuter bike as it comes with a rear rack and fenders pre-installed on the lightweight aluminum frame. The tires on this bike are Schwalbe G-One Bite tires that are tubeless-ready and perfect for tackling a wide range of road surfaces including gravel. The bike comes with 40mm of tire clearance so you can install larger tires if you want.
Another excellent commuter feature on this bike is the dynamo-powered headlight and taillight that are integrated into the bike. Additionally, the bike comes with Shimano hydraulic disc brakes and a 2×10-speed Shimano Tiagra groupset that performs well on or off-road.
6000-series aluminum frame
2×10-speed Shimano Tiagra
700 x 38mm tires
Hydraulic disc brakes
Jenson USA
---
Bianchi – Via Nirone Sora
Endurance road bike with affordable price
MSRP: $1,040 Bianchi USA
Italy's Bianchi makes some of the most iconic bikes in cycling, and their Via Nirone Sora road bike is a great cheap option that offers much of the quality associated with the brand.
The Via Nirone utilizes the original endurance geometry engineered over a decade ago. This frame balances speed and comfort with added Kevlar Vibration Isolation Device (K-VID) vibration dampening technology in the carbon fiber fork as well as Bianchi Active Technology to improve riders sitting and pedaling position. Additionally, the aluminum frame itself is triple butted and hydroformed to improve durability and weight.
This bike uses the entry-level Shimano Sora groupset which is perfectly functional, especially at just over $1000. Finally, the bike comes with regular caliper brakes and reliable Vittoria Zaffiro tires.
Aluminum frame
2×9-speed Shimano Sora
Reparto Corse brakes
700×25 Vittoria Zaffiro tires
Bianchi USA
---
Trek – Émonda ALR 5
Lightweight performance road bike almost under $2,000
MSRP: $2,150 Trek Bikes
The Trek Émonda ALR 5 Disc comes in at slightly over $2000 but deserves an honorable mention as it is one of the best men's road bikes we've seen with regard to value, the level of components, and the careful design.
Trek's attention to detail in the choice of alloy frame makes the ALR 5 perform far above other aluminum alternatives. The frame is lighter, more responsive, and equally sleek using invisible weld technology and internal cable routing. A full carbon fork also improves overall ride quality by smoothing out road vibrations and reduces the total base weight of the bike (19.9lbs).
For the drivetrain, the ALR 5 has a dependable 2×11-speed Shimano 105 setup along with hydraulic disc brakes for ultimate stopping power. This bike uses tubeless-ready and durable Bontrager R1 tires and Bontrager Affinity Disc rims.
Ultralight 300 series Alpha aluminum frame & full carbon fork
2×11-speed Shimano 105
Hydraulic disc brakes
700x25c Bontrager tires
20 lbs (size: 56)
Trek bikes
---
All-City – Space Horse
Best steel road bike under $2,000
MSRP: $1,650 Jenson USA
All-City's Space Horse Tiagra 700c beginner road bike is another great versatile choice under $2000 that can be used easily as a commuter bike.
This bike utilizes a durable 612 Select Steel frame that provides a very smooth ride and unbeatable durability over aluminum competitors. When you are ready to take on more challenges, you can fix a rack and fenders to the Space Horse with its convenient frame mounts.
This bike comes with wider 700x40mm tires that allow you to take on a more diverse range of road surfaces including gravel, and the rims and tires are tubeless-ready for those who want a smoother ride with fewer flats.
Finally, the Space Horse utilizes a Shimano Tiagra 2×10-speed drivetrain and Tektro MD-C550 mechanical disc brakes to deliver a reliable and consistent cycling experience.
Steel frame & fork
2×10-speed Shimano Tiagra
700 x 40mm tires
Tektro mechanical disc brakes
Jenson USA
---
Co-op Cycles – ADV 1.1
Best steel road bike under $2,000 for bike touring
MSRP: $1,599 REI
REI's Co-op Cycles ADV 1.1 road-touring model is a reliable entry-level road bike for those with dreams of taking their bike across huge distances to see the world.
The Chromoly steel frame is double-butted and comes equipped with racks on the front and back as well as mounting points for fenders which are sold separately. This type of steel is very stable, durable, and strong under load. Additionally, it provides a smooth ride quality which steel touring frames are known for.
The tires on this bike are puncture-resistant Schwalbe Marathon paired with durable WTB STP i23 rims so you can ride without a hiccup for longer. Finally, the ADV 1.1 has Tektro hydraulic disc brakes, a reliable Shimano Deore groupset, and a large 3×10-speed drivetrain.
Customer rating: 5.5 / 5 out of 36+ reviews in REI
Steel frame & rigid steel fork
3×10-speed Shimano Deore
700 x 38mm Schwalbe Marathon tires
Hydraulic disc brakes
Weight: 30 lbs
REI
---
Tommaso – Imola
Probably the best cheap road bike under $1,000
MSRP: $975 Giant Nerd
Tommaso's Imola starter road bike is easily one of the best in its price range. Costing less than $1000, this bike is sleek and reliable with careful attention to detail.
The Imola comes fitted with an entry-level yet reliable 3×8-speed Shimano Claris Groupset. The frame is a 6061 SLA aluminum alloy designed to be compact and responsive, with mounts available for a rear pannier rack. For the wheelset, you can rely on high-quality Tommaso Corsa TC20s with Kenda K152 tires.
Finally, the Imola has a handy UltraCompact handlebar which makes the drops more accessible to regular riders, allowing you to ride faster for longer. Cheap road bikes don't get much better than the Imola!
6061 aluminum compact road frame
3×8-speed Shimano Claris
700 x 25mm Kenda tires
Shimano Claris brake calipers
Giantnerd
---
Vilano – Shadow 3.0
Best budget road bike under $500
The Vilano Shadow 3.0 budget men's road bike is super cheap and perfectly suited to those who need a bike for light usage without worrying about performance or extra comfort.
This is a 2×7-speed bike with a 6061 aluminum frame, caliper brakes, and a budget wheelset. This bike arrives with pedals so you don't have to worry about purchasing your own.
Aluminum frame
2×7-speed
Caliper brakes
700x25c tires
---
Best Women's Road Bikes Under $2,000
---
Trek – Domane AL 5 Disc
Best women's road bike at this price tag
MSRP: $2,000 Trek Bikes (available in-store only)
Trek's Domane AL 5 Disc women-specific endurance bike is from the brand's comfort-optimized line of bikes. Despite being supremely smooth and comfortable, this bike is fast and features lots of premium components.
The frame itself is lightweight aluminum and designed with ergonomic geometry to make it comfortable over long distances. The full carbon fiber fork incorporates Trek's premium IsoSpeed vibration dampening technology and an IsoZone handlebar to further absorb fatiguing road vibration.
You can rely on a 2×11-speed Shimano 105 groupset giving you the perfect range of gears for riding on varied gradients. Additionally, this bike has high-quality disc brakes, extra tire clearance, and mounts for a rack and fenders if you want to do some all-road touring or commuting.
Finally, the bike comes with reliable Bontrager R1 tires and tubeless-ready Bontrager rims.
100 series Alpha aluminum frame & carbon fork
2×11-speed Shimano 105
Hydraulic disc brakes
700x32c Bontrager tires
Weight: 22 lbs (size: 56)
Trek bikes
---
Liv – Langma Advanced 2
Only road bike for this price with a full carbon frame and fork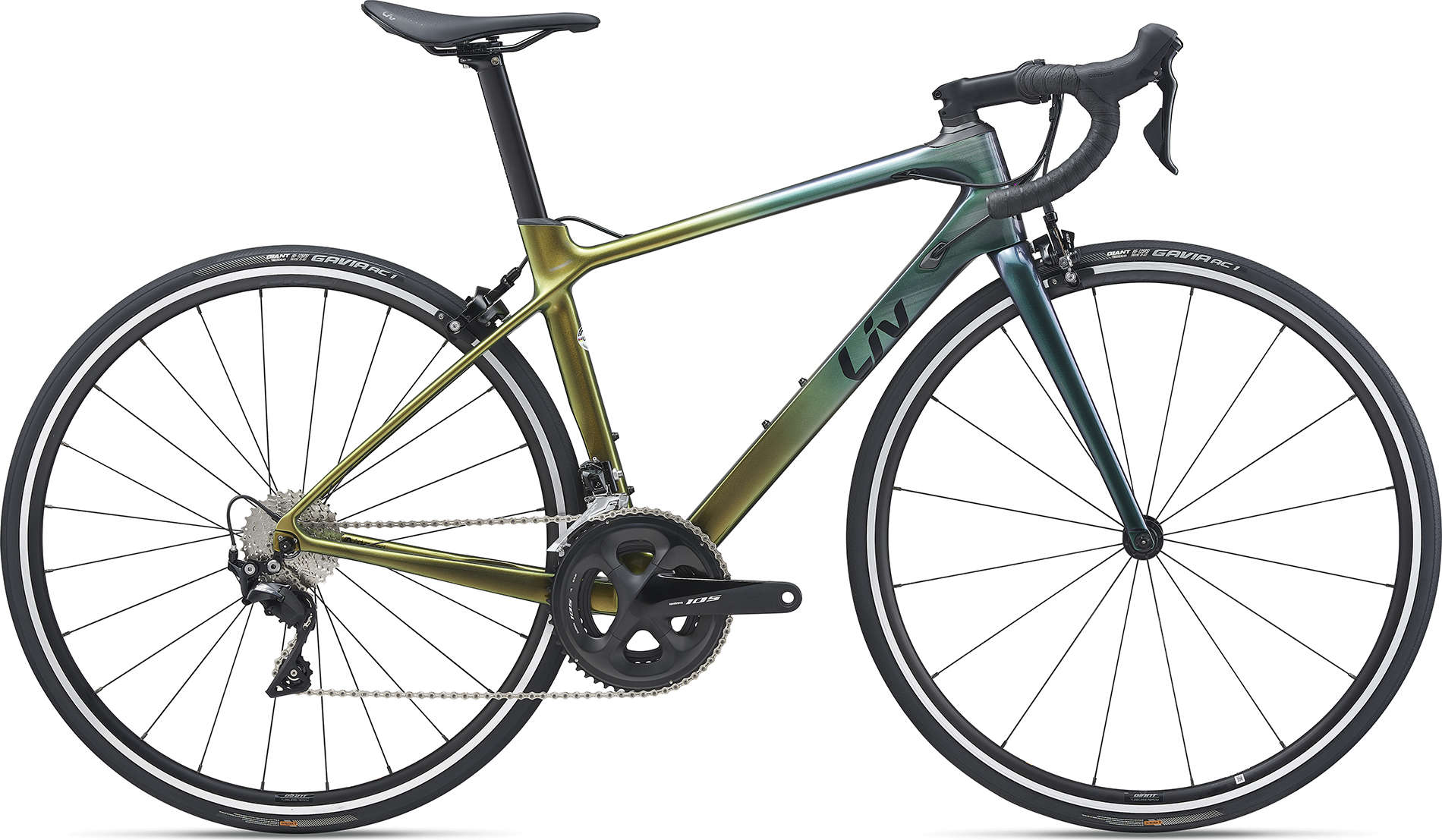 MSRP: $2,000 Liv Cycling (currently sold out)
Giant's Liv Cycling is a brand dedicated to designing the most effective bikes and gear for women. The company is run by women for women, and this is evident in the Langma Advanced 2 road bike.
The bike is built with female-specific geometry and touchpoints that ensure the most comfortable, efficient ride position possible. Most impressive on this bike is the full Advanced-Grade carbon composite frame and fork which make it super lightweight, stiff, and responsive.
The frame has compact and narrow tubing that makes it ideal for climbing and slicing through the wind. It also uses Compact Road design which makes it even lighter, stiffer, and better suited to riders of all sizes.
Other notable features are the Shimano 105 groupset, Giant Gavia tires, a lightweight and shock absorbent seatpost, and Overdrive front-end steering technology that optimizes steering performance.
Advanced-Grade Composite frame
Shimano 105 derailleurs
Caliper brakes
700x25c Giant Gavia tires
liv-cycling
---
Cannondale – Topstone 2 Alloy Women's Bike – 2021
One of the best women's adventure bikes
MSRP: $1,750 REI
Cannondale women's bikes are some of the best available and the Topstone 2 is the perfect choice for any adventurous woman who wants to do more with their bike.
The frame on this bike is a C2 aluminum alloy which is combined with a lightweight and smooth carbon fiber fork. The geometry of the frame is optimized for female use with a balance between comfort and performance over long distances.
This bike uses a gravel-specific Shimano GRX 2×10 groupset, hydraulic disc brakes, and 37mm tubeless-ready WTB Riddler tires to which allow it to perform excellently on and off-road.
Finally, if you are ready for a long adventure you can take advantage of frame mounts for a rear rack and fenders.
Alloy frame & carbon fork
2x10speed Shimano GRX
700c x 37mm
Hydraulic disc brakes
WTB ST i23 TCS rims
Weight: Approx. 22lb 4.8oz
REI
---
Specialized – Allez
Entry-level women's road bike with affordable price
MSRP: $1,000 Mikes' Bikes
Specialized's Allez is an excellent entry-level road bike from the company's comfort range of road bike. For just $1000 it certainly over-delivers on performance and ride quality.
This Specialized women's bike comes with a great E5 aluminum frame which is responsive and lightweight, as well as a carbon fork which gives the bike a more premium feel out on the road.
The Allez uses Shimano Claris as the groupset, which although is an entry-level choice, is great for this price range. Any women's road bike for beginners should be comfortable, and Specialized uses their Body Geometry Bridge saddle and ergonomic frame geometry to make this bike very comfortable for all body shapes.
Specialized E5 premium aluminum frame & carbon fork
2×8-speed Shimano Claris
Tektro dual-pivot brakes
700×26 RoadSport tires
Mikes' bikes
---
FAQ
Road bike vs gravel bike differences?
These two bike styles are very similar to look at, however, there are some subtle differences that optimize each for a specific environment. A gravel bike is designed to perform well on a number of surfaces, while a road bike really only performs very well on road tarmac.
To do so, gravel bikes use wide, grippy tires that give traction and control on loose gravel, mud, grass, etc. Additionally, the geometry is more relaxed. This meaning the steering is less "twitchy" and easier to control on unpredictable, loose surfaces, and is more stable due to the longer wheelbase and lower bottom bracket.
Cycling in bad weather?
Check out the → best bike trainers to keep you going through the seasons.
Is road cycling good for weight loss?
Road cycling is an excellent way to promote healthy weight loss. Depending on the individual, intensity, and other factors, 1 hour of road cycling can burn anywhere between 200 and 1000 calories.
What is the 75 rule in cycling?
This rule relates to training. It means that in any given week, at least 75% of your total training time or distance should be done at or below 75% of your maximum heart rate (MHR).
You can calculate your MHR as follows: 220 – Your Age (220 – 31 = 189).
---
RELATED
Best Entry-Level Road Bikes for Beginners