Best Road Bikes Under $2,000 for Men & Women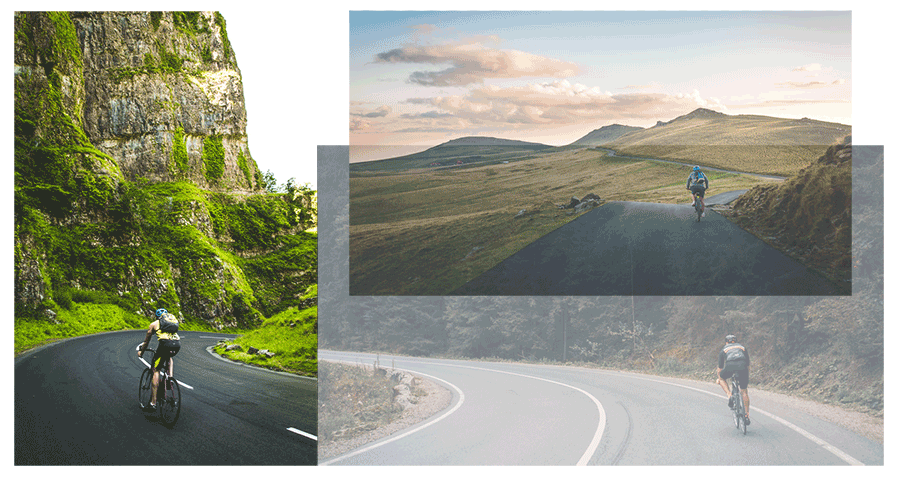 If you are searching for a great road bike with a limited budget, you want to make sure the one you choose has a good balance of ride quality, performance, and reliability.
Although most of us would love a pro-level bike for the job, there's are plenty of well-designed and reliably constructed bikes out there for less than $2,000.
In this article, we've chosen 16 of the best road bikes for men and road bikes for women with varying levels of components from reputable manufacturers. Each of these bikes is highly rated by independent reviewers online, earning a place in this list.
After reading we hope you will be able to find exactly what you are looking for when you are ready to make your purchase!
Is $2,000 Enough & What To Expect?
We believe that $2000 is certainly enough to find an excellent road bike that you will love to ride, will last a long time, and will even turn some heads out on the road.
With a road bike under this price, you can expect an entry to mid-range option from any of the major bike brands including Orbea, Specialized, Giant, and Cannondale.
The best options in this price range have Shimano 105 for the drivetrain, which is an excellent, responsive, and reliable drivetrain found on bikes costing upwards of $3000.
Other important features are hydraulic disc brakes (or mechanical/rim on cheaper models), a carbon fork for improved ride quality and weight, and a lightweight but durable aluminum alloy frame.
$500 = Budget. Steel & alloy.
$1,000 = Cheap. Aluminum.
$1,500 = Entry. Alloy frame, steel fork.
$2,000 Mid/Entry. Alloy frame, steel fork.
You'll be needing a pair of pedals as well
In general, purchasing a road bike in this price range online will require the additional purchase of pedals. While some manufacturers may include a set of platform pedals that allow you to ride immediately, these will likely be low quality and worth replacing.
---
Best Men's Road Bikes Under $2,000
Co-op Cycles – ADV 2.1
Ridley – Fenix SLA Disc 105 Road Bike
Diamondback – Haanjo 3
Orbea – Avant H40D
VAAST – A1
Orbea – Vector Drop LTD
Marin – Gestalt 2
Tommaso- Monza
All-City – Thunderdome
Co-op Cycles – ADV 2.2
Tommaso – Imola
Vilano – Shadow 3.0
---
Co-op Cycles – ADV 2.1
One of the best road/gravel bikes under $1,500
MSRP: $1,299
Aluminum frame and carbon fork
2×8-speed Shimano Claris
Promax mechanical disc brakes
700x35c tires
Weight: approx 23.5lbs
Co-op Cycles is a manufacturer of reliable and affordable bikes, and their dedication to versatility and style is evident even in their entry-level range.
The ADV 2.1 men's road and gravel bike has an aluminum alloy frame with a carbon fork which combines to provide silky-smooth ride quality and a very low base weight of just under 23.5lbs.
Other notable features include a reliable Shimano Claris 2×8-speed groupset, mechanical disc brakes, and Kenda Flintridge tires with thicker sidewalls and light tread for extra grip on gravel trails.
Co-op Cycles road bicycles are known for their durability and this bike will surely survive anything you throw at it.
---
Cannondale Synapse AL 2
Best endurance road bike under $2,000
MSRP: $1,800
Superlight SmartForm C2 alloy frame & carbon fork
Shimano Tiagra 10-speed drivetrain
160mm hydraulic disc brakes
700c x 30mm Vittoria Zaffiro tires
The Cannondale Synapse AL 2 road bicycle comes with lots of premium features that make it responsive, comfortable, and fun to ride on even the longest days in the saddle.
The Synapse is fitted with a 2×10 Shimano Tiagra groupset giving you plenty of options for steep climbs or rapid descents. All of the cables are internally routed too, providing a sleek look.
You can rely on hydraulic disc brakes to provide the ultimate stopping power in any conditions, and a high-quality carbon fiber fork for a lightweight and smooth ride feel.
With DT Swiss R470 DB wheels and Vittoria Zaffiro tires, your Synapse AL 2 will be able to withstand rough road conditions with ease. Additionally, the frame is designed to be extra impact-resistant with reinforced edges from the diamond-shaped tubing.
---
Diamondback – Haanjo 3
MSRP: $1,175
Aluminum frame and fork
2×9-speed Shimano Sora
Tektro mechanical discs
WTB Riddler Comp 37mm tires
The Haanjo 3 by Diamondback is one of the company's most affordable models that still delivers much of the ride quality, performance, and reliability expected of a Diamondback bike.
This inexpensive road and gravel bike comes with a lightweight aluminum alloy frame that is both responsive and durable for this price range. The frame utilizes the company's renowned Endurance Geometry design that provides excellent ride quality and comfort over distance.
With this bike, you can rely on a Shimano Sora 2×9-speed drivetrain to shift well under pressure. Additionally, the WTB Riddler gravel tires smooth out road vibrations and provide grip on gravel paths, making your ride more enjoyable.
---
Orbea – AVANT H40D
MSRP: $1,999
Aluminum frame & carbon fork
Shimano Tiagra 2×10-speed
Shimano Tiagra mechanical disc brakes
700x28c Vittoria Zaffiro V tires
The Orbea Avant H40-D is a beautifully designed and highly-performance road bike that is both agile and comfortable for all-day cycling performance.
This bike comes with an aluminum alloy frame, endurance geometry, and an advanced carbon fiber fork. This combination makes the Avant ride smoothly with a responsive feel.
The groupset on this bike is a Shimano Tiagra 2×10-speed setup which is slightly lower in quality than other bikes in this price range. However, notable features are the powerful mechanical disc brakes, internal cable routing, and 35mm tire clearance.
Finally, the endurance-optimized geometry means that you can seamlessly install a rear rack or fenders using frame mounts if you need more from your bike.
---
VAAST – A1
MSRP: $1,899
AE81 SuperMag frame and a full-carbon fork
Shimano GRX 2×10-speed
Hydraulic disc brakes
700x37c WTB Riddler
The A/1 is a sleek entry-level gravel model from VAAST that performs equally well on the road. It offers versatility, smooth riding, and a responsive frame design for a great all-around experience.
The A/1 road bike comes with powerful Shimano hydraulic disc brakes and high-volume 37mm WTB Riddler tires for superior control on all terrains.
The frame itself is engineered to balance a relaxed riding position with great performance with a focus on cornering and responsive acceleration ability, utilizing a carbon fiber fork.
Finally, this bike comes with a full Shimano GRX drivetrain for great reliability and shifting accuracy.
---
Orbea – Vector Drop LTD
MSRP: $1,999
6000-series aluminum frame
2×10-speed Shimano Tiagra
700 x 38mm tires
Hydraulic disc brakes
Orbea's Vector Drop LTD is a versatile and widely functional road bike with reliable components and a sleek vintage look.
This bike performs best as a commuter bike as it comes with a rear rack and fenders pre-installed on the lightweight aluminum frame. The tires on this bike are Schwalbe G-One Bite tires that are tubeless-ready and perfect for tackling a wide range of road surfaces including gravel. The bike comes with 40mm of tire clearance so you can install larger tires if you want.
Another excellent commuter feature on this bike is the dynamo-powered headlight and taillight that are integrated into the bike. Additionally, the bike comes with Shimano hydraulic disc brakes and a 2×10-speed Shimano Tiagra groupset that performs well on or off-road.
---
Marin – Gestalt 2
Endurance road bike with an affordable price tag
MSRP: $1,569
Aluminum frame and carbon fork
2×10-speed Shimano Tiagra
Tektro mechanical disc brakes
WTB Exposure Comp 700x32mm tires
Marin makes highly-renowned bikes, and their Gestalt 2 endurance road bike is a great cheap option that offers much of the quality associated with the brand.
The Gestalt 2 utilizes the original endurance geometry engineered over a decade ago. This frame balances speed and comfort with a carbon fiber fork and large volume tires for added comfort. Additionally, the aluminum frame is hydroformed to improve durability and weight.
This bike uses the cheap Shimano Tiagra groupset which is perfectly functional, especially at just over $1500. Finally, the bike comes with mechanical disc brakes and reliable WTB Exposure tires.
Buy from Jenson USA Buy on GovVelo.com
---
Tommaso – Monza
Cheap road bike
MSRP: $1,149
Aluminum frame and full carbon fork
2×10-speed Shimano Tiagra
V-brakes
700x25c Kenda tires
The Tommaso Monza comes in at slightly over $1,000 and is one of the best men's road bikes we've seen with regard to value and the level of components at this price.
Tommaso's attention to detail in the choice of alloy frame makes the Monza very competitive in this price range. The frame responsive and equally sleek. A full carbon fork also improves overall ride quality by smoothing out road vibrations and reduces the total base weight of the bike.
For the drivetrain, the Monza has a dependable 2×10-speed Shimano Tiagra setup along with caliper brakes.
---
All-City – Thunderdome
Best single-speed road and track bike under $2,000
MSRP: $1,850
Aluminum frame & Whisky No.7 carbon fork
Single-speed
700 x 25mm tires
V-brakes
All-City's Thunderdome road and track bike is another great choice under $2000 that can be used easily as a flat-road commuter bike.
This bike utilizes a lightweight All-City Alumasonic frame and a Whisky No.7 RD carbon fiber fork that provides a very smooth ride and unbeatable durability over competitors.
The Thunderdome comes with fast 700x25mm tires that allow you to take on smooth road surfaces at high speeds. Finally, this bike utilizes a single-speed drivetrain with a 49T crank and 17t cassette, perfect for track riding.
---
Co-op Cycles – ADV 2.2
Best road bike with gravel capabilities under $2,000
MSRP: $1,599
Aluminum frame & carbon fork
2×10-speed Shimano GRX
WTB Nano Comp 700c x 40mm tires
Tektro mechanical disc brakes
Weight: 23.4lbs
REI's Co-op Cycles ADV 2.2 road/gravel model is a reliable entry-level bike for those with dreams of taking their bike across huge distances on varied terrain.
The light 6061 aluminum frame is double-butted and comes equipped with mounting points for a rack and handlebar bag which are sold separately. This type of aluminum is very durable and responsive for the price. Additionally, a carbon fork provides a smooth ride quality.
The tires on this bike are WTB Nano Comp 700c x 40mm for tackling loose gravel and they're paired with durable WTB STP i19 rims so you can ride without a hiccup for longer. Finally, the ADV 2.2 has Tektro mechanical disc brakes and a precise Shimano GRX 2×10-speed drivetrain.
---
Tommaso – Imola
Probably the best cheap road bike under $1,000
MSRP: $899
6061 aluminum compact road frame
3×8-speed Shimano Claris
700 x 25mm Kenda tires
Shimano Claris brake calipers
Tommaso's Imola starter road bike is easily one of the best in its price range. Costing less than $1000, this bike is sleek and reliable with careful attention to detail.
The Imola comes fitted with an entry-level yet reliable 3×8-speed Shimano Claris Groupset. The frame is a 6061 SLA aluminum alloy designed to be compact and responsive, with mounts available for a rear pannier rack. For the wheelset, you can rely on high-quality Tommaso Corsa TC20s with Kenda K152 tires.
Finally, the Imola has a handy UltraCompact handlebar which makes the drops more accessible to regular riders, allowing you to ride faster for longer. Cheap road bikes don't get much better than the Imola!
---
Vilano – Shadow 3.0
Best budget road bike under $500
Aluminum frame
2×7-speed
Caliper brakes
700x25c tires
The Vilano Shadow 3.0 budget men's road bike is super cheap and perfectly suited to those who need a bike for light usage without worrying about performance or extra comfort.
This is a 2×7-speed bike with a 6061 aluminum frame, caliper brakes, and a budget wheelset. This bike arrives with pedals so you don't have to worry about purchasing your own.
---
Best Women's Road Bikes Under $2,000
Marin – Nicasio 1
Diamondback – Haanjo 2
Marin – Gestalt 1
Specialized – Sirrus
---
Marin – Nicasio 1
Best sub-$1,000 road bike with gravel capabilities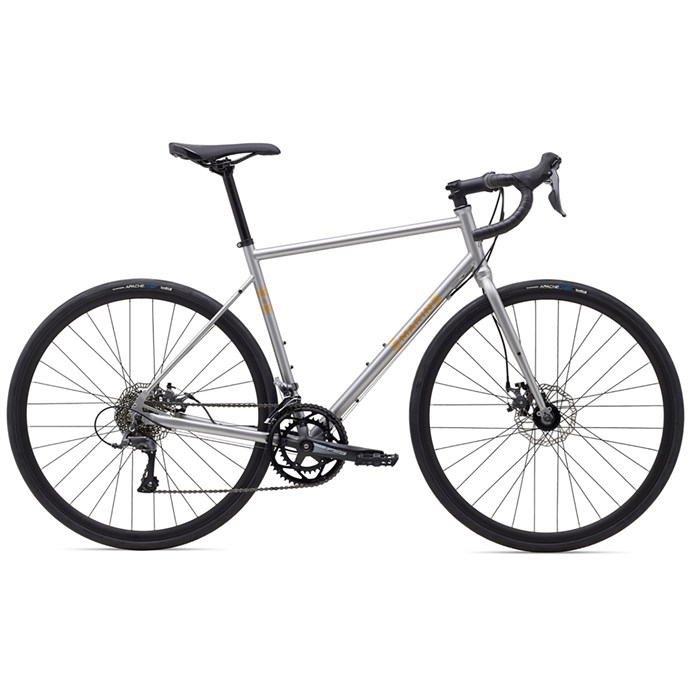 MSRP: $989
Chromoly steel frame and fork
Shimano Claris 2×8-speed
Mechanical disc brakes
Vee Tire Apache Chief 700x30c
Marin's Nicasio is an endurance bike with some off-road capabilities. Despite being supremely smooth and comfortable, this bike is fast and features solid components for the price tag.
The frame and fork are durable Chromoly steel that helps to smooth out any vibrations keeping you fresh for longer on bumpy roads or gravel paths.
You can rely on a 2×8-speed Shimano Claris groupset giving you the perfect range of gears for riding on varied gradients. Additionally, this bike has Shimano mechanical disc brakes, 30mm Vee Tire Apache Chief tires with extra tire clearance (700c x 35mm or 650b x 47mm tires.), and mounts for a rack and fenders if you want to do some all-road touring or commuting.
---
Diamondback – Haanjo 2
MSRP: $925
Aluminum alloy frame
Shimano Claris 2 x 8-speed
Tektro Lyra flat-mount mechanical discs
700x38c Diamondback Interval tires
Diamondback is a brand dedicated to designing the most effective bikes. The bike is built with comfortable endurance geometry and touchpoints that ensure the most comfortable, efficient ride position possible.
The aluminum frame has plenty of mounts that make this bike ideal as a commuter option or for light touring. In addition, with 38mm tires, you can tackle almost any terrain you come across.
Other notable features are the Shimano Claris groupset, mechanical disc brakes, and steel fork, rounding out a great component list for under $1,000.
---
Marin – Gestalt 1
MSRP: $1,389
Alloy frame & carbon fork
2×9-speed Shimano Sora
700c x 32mm
Mechinical disc brakes
Marin Aluminum Double Wall rims
Marin's Gestalt is one of the best available in this price range thanks to its versatility and Marin's careful component selection
The frame on this bike is a Series 3 Beyond Road 6061 Aluminum which is combined with a lightweight and smooth carbon fiber fork. The geometry of the frame is optimized for comfort and performance over long distances.
The Gestalt 1 uses a Shimano Sora 2×9 groupset, mechanical disc brakes, and 32mm WTB Exposure tubeless-ready tires to allow it to perform excellently on and off-road.
Finally, if you are ready for a long adventure you can take advantage of frame mounts for a rear rack and fenders.
Buy from Jenson USA Buy on GovVelo.com
---
Specialized – Sirrus X 3.0
Entry-level flat-bar road bike with an affordable price
MSRP: $1,199
Specialized A1 premium aluminum frame and fork
10-speed Shimano Deore
Tektro hydraulic disc brakes
700×42 Pathfinder Sport tires
The Specialized Sirrus is an excellent flat-bar road bike from the company's comfort range of road bikes. For just over $1,000 it certainly delivers on performance and ride quality.
This Specialized women's bike comes with a great A1 aluminum frame and fork which is responsive and lightweight.
The Sirrus uses Shimano Deore as the groupset, which is a great choice at this price. Any women's road bike for beginners should be comfortable, and Specialized uses their Body Geometry Neutralizer saddle and ergonomic frame geometry to make this bike very comfortable for all body shapes.
---
FAQ
Road bike vs gravel bike differences?
These two bike styles are very similar to look at, however, there are some subtle differences that optimize each for a specific environment. A gravel bike is designed to perform well on a number of surfaces, while a road bike really only performs very well on road tarmac.
The best all-road bikes will lap up the tarmac and not blink when you cross over onto compact gravel. All-road ...
To do so, gravel bikes use wide, grippy tires that give traction and control on loose gravel, mud, grass, etc. Additionally, the geometry is more relaxed. This meaning the steering is less "twitchy" and easier to control on unpredictable, loose surfaces, and is more stable due to the longer wheelbase and lower bottom bracket.
Is road cycling good for weight loss?
Road cycling is an excellent way to promote healthy weight loss. Depending on the individual, intensity, and other factors, 1 hour of road cycling can burn anywhere between 200 and 1000 calories.