Wahoo's product range is focused on improving and tracking cycling data on a professional level!Wahoo Fitness is a well-established brand in the bicycle game, recognized by its smart trainers and tech fitness devices. Based in Atlanta, Georgia – Wahoo Fitness was founded in 2009 by Chip Hawkins.
The brand has released a selected variety of improved and updated products while specializing in quality over quantity – generally speaking, their product range is not large, instead, there's a small selection of top-quality products on the shelf.
If you want to get one of the greatest of what's out there—Wahoo has the essential products for competitive, data-driven cyclists!
Wahoo Fitness also sponsors the following cycling teams:
Team Ineos (Formerly known as Team Sky)
Bora-Hansgrohe
Team Katusha Alpecin
Hagens Berman Axeon
---
---
SMART BIKES
---
Wahoo Kickr Bike
Ride Feel – Reality Shift – True Fit – Ride Steady
MSRP $3,500
Competitive Cyclist
Virtually Silent – "The balanced, belt-driven motor on the KICKR BIKE combines years of engineering knowledge to create a virtually silent riding experience!"
FEATURES
MEASURES: Speed, Distance, Power, Cadence, Grade
Electromagnetic and Enhanced Motor resistance
Maximum Power wattage: 2200W
ANT+, BLUETOOTH Low Energy, ANT+ FE-C
iOS, Android, PC (Mac & Windows)
Maximum Power Wattage: 2200W
Suitable for: 5′ – 6'4″ (152-192cm)
Total Weight: 93lbs / 42kg
Electrical Connection 100-240V
---
BIKE TRAINERS
---
Accessories:
Wahoo Kickr Headwind Bluetooth Fan
Wahoo Kickr Climb Bike trainer
Wahoo Kickr Bike Trainer Floormat
---
Wahoo KICKR Core – Bike trainer
The essential indoor smart trainer
MSRP $899 Competitive Cyclist

Compatible with 12×142 and 12×148 thru-axles and with a standard 130/135mm QR skewers
FEATURES
Measures: Speed, Power, Distance, Cadence
Compatible with: 8-, 9-, 10-, 11- speed SRAM/Shimano Cassettes
Compatible with third-party power meters (not included)
Adjusts to simulate up to a 16% incline

Generates up to 1,800 watts power with +/- 2% accuracy
Supports up to 3 simultaneous Bluetooth connections
---
Wahoo KICKR Snap – Bike trainer
Turns your road or mountain bike into a powerful indoor smart-trainer
MSRP $500 Competitive Cyclist
Compatible with 130/135mm QR or 12×142 thru-axle with adapter
FEATURES
Made of high-strength carbon steel
Wide stance/flywheel
Firm plant
Resistance type: Flywheel
Adjustable incline stimulates up to 12% grade
High-inertia flywheel replicates the feel of the real wheel
Quiet
Foldable legs for convenient transportation
Supports aftermarket power meters
TrainerRoad compatible
---
Wahoo KICKR Smart – Bike trainer
Updated to be virtually silent
MSRP $1,200 Competitive Cyclist
Compatible with 130/135mm (QR) quick-release or 12×142 / 12×148 thru-axles
FEATURES
Generates up to 2,200W
Max grade adjust up to 20° incline
Made of robust carbon & steel construction
Suitable from 24″ – 29″ wheels
Bluetooth Smart, ANT+, ANT+ FE-C – PC, Max or ELEMNT computer compatible
Supports up to 3 Bluetooth devices
Includes 11-sp Shimano/SRAM compatible cassette
RPM Cadence sensor
Compatible with 8/9/10 SRAM/Shimano cassettes that are not included
Made for Wahoo Fitness app, can be used with TrainerRoad (Not included)
Zwift compatible trainer
---
BIKE TRAINER ACCESSORIES
---
Wahoo KICKR Headwind
Control your climate
MSRP $250 Competitive Cyclist
Compatible with: ANT+ trainers, HR monitors, or speed monitors, KICKR Desk
FEATURES
Wind speeds up to 30mp/h
Weight: 12 pounds
Manual/automatic airflow
Targeted Airflow Pattern mirrors the shape and position of a cyclist's body on a bike
Automatic fan-speed control when paired with a Smart Trainer, Heart Rate Monitor or Wahoo Speed sensor
---
Wahoo KICKR Climb
Elevate your ride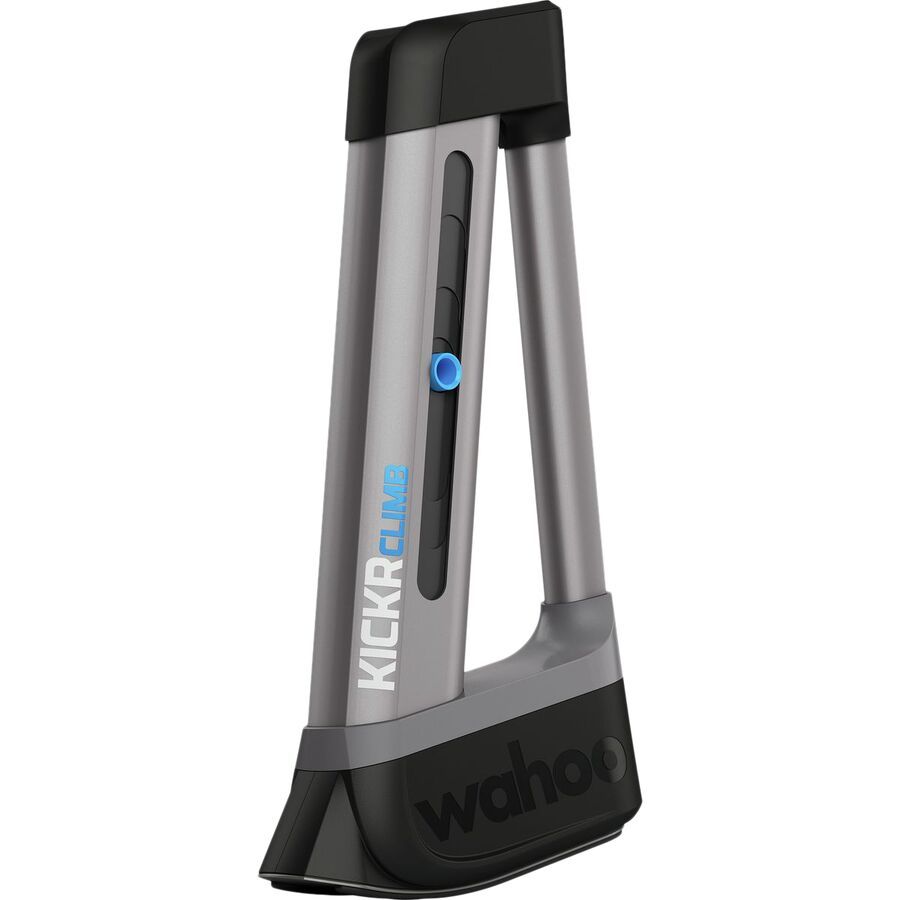 MSRP $600 Competitive Cyclist
A training device that quickly raises and lowers your bike to match ascents of up to 20% and -10%. Super realistic feel, sturdy build.
FEATURES
Compatible with: Kickr / Snap by using a remote
Zwift / TrainerRoad compatible
Fitness ELEMNT, ELEMNT Bolt compatible
QR or 12×100, 15×100 or 15×100 thru-axles
'Totally stable even on a violent sprint'
Warranty: 1 year
---
Wahoo KICKR Bike Trainer Floormat
6P-free PVC materials / Water-resistant nonslip texture / Noise-insulating / Beveled-edges
---
Wahoo – Front Wheel Block
Features a stable base for the front wheel when using the bike trainer. The front-wheel block has a wide and deep groove.
---
BIKE COMPUTERS
---
ELEMNT Roam / ELEMNT Bolt
There's plenty of accessories for bike computers to choose from!
---
Wahoo ELEMNT Roam
MSRP $380 Competitive Cyclist
2.7″ on-board smart navigator
COLORED
Gorilla Glass
100% wireless
Re-routing
Directions, the shortest route to the start
Enter address or for navigation
Saved locations
STRAVA compatible
1-10 Level workouts
ERG mode (With KICKR) allows setting your target power wattage which increases the resistance to maintain constant power output
Super smart training programs – look up the Relive Route
Buy from Competitive Cyclist Wahoo Elemnt Road Bundle (REI)
---
Wahoo ELEMNT Bolt
MSRP $230 Competitive Cyclist
Designed for performance and engineered for simplicity – helps every second count
2.2″ diagonal, fully customizable screen
BLACK & WHITE
Battery life: 15h
Waterproof up to 5ft
Aerodynamic GPS bike computer
Bluetooth Smart, ANT+ dual-band technology
Cycling sensor compatible
ELEMNT companion app compatible
LE DQuickLook indicators
Speed / HR / Power
---
HEART RATE MONITORS
---
TICKR / TICKRx / TICKRfit
---
Wahoo TICKR
Simple & Reliable devices that track accurate heart rate and other workout data through training apps & platforms
---
Wahoo TICKRx
Can be used with onboard memory when you want to go device-free! Tracks accurate heart rate, calories burned, running analytics, and indoor cycling cadence.
Use it for swimming, triathlon, running, etc.
---
Wahoo TICKRfit
Forearm Band. Optical HR technology for ultimate accuracy, reliability, and comfort
---
CYCLING SENSORS
---
RPM Cadence / RPM Speed / Blue SC
RPM Cadence – Low profile, magnetless, wireless cadence monitor. ANT+ / Bluetooth connectivity
RPM Speed – Low profile, magnetless, wireless speed monitor. ANT / Bluetooth connectivity
Blue SC – Speed + Cadence
---
Wahoo Cadence + Speed Bundle
---
Speed and cadence tracking to measure and improve your performance
FEATURES
Light and easy to use
Sleek design
ANT+ and Bluetooth 4.0 capabilities allow for a wireless connection to smartphones, bike computers, and GPS watches
2 cadence mounting options: crankarm or shoe (includes adhesive, zip tie and shoe mount)
Speed sensor mounts securely to the front wheel hub
LED light provides visible connection confirmation
Fits all bikes
Powered by: 2 x CR2032
Compatible with iPhone 4S and newer, Android 4.3 and newer plus various cycling computers and GPS fitness watches
Buy Cadence Sensor Buy Speed Sensor
---
Wahoo Blue SC sensor
Wahoo bike monitor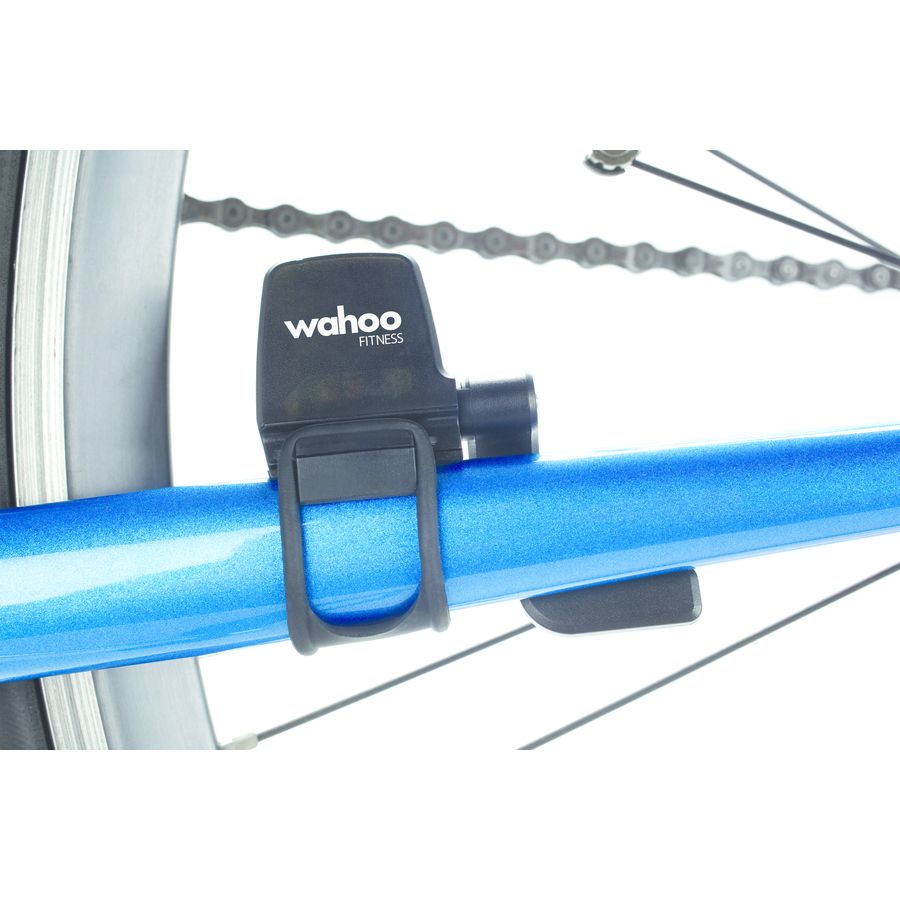 MSRP $60 Competitive Cyclist
Transform your phone to a bike computer
Tracks speed, cadence, and distance
Bluetooth 4.0, ANT+
Runs on CR2032 batteries
---
Extras – WAHOO KITS & Apparel
---
Wahoo offers a line of indoor training apparel and sportswear made by Le Col.
---
Where to Buy Wahoo Fitness Products?
Buy from Backcountry Buy from Competitive Cyclist