Overview / Buying Guide / Sizing / Types / Reviews / Best Picks /
Well, let's start from the beginning. At the end of this road bike buying guide, you will already know, how to choose the best road bike.
---
#1: TYPES
Choosing The Right Type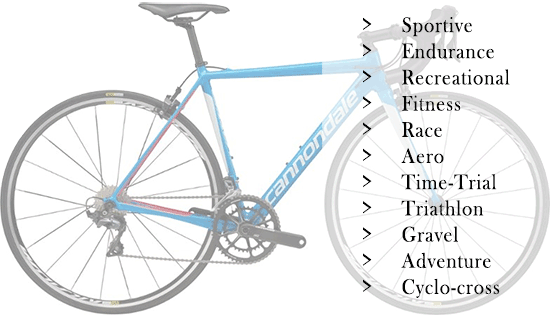 What type of road bike should I choose? How to buy a road bike?
That should be your first question. What would be the right road bike type for you?
Let's cover the main types of road bikes.
⇒ Sport / Endurance – If you are looking for a bike for exercise, or to take your first steps into the road biking world, then an endurance road bike should be your pick. Also, choose this if you plan to make longer trips. Components on these bikes are made to last long and the riding position is comfortable.
⇒ Recreational or Fitness bikes – The most comfortable road bike type. They are the road bikes that are most similar to hybrid bikes. These are suitable for commuting around cities.
⇒ Race bikes – feature a lower riding position and are meant for racing and performance-oriented training. They aren't suitable for long comfortable rides or commuting around the city.
⇒ Aero bikes – are designed to be as aerodynamic as possible. If you plan to take part in races, then you should look into something aerodynamic.
⇒ Time-Trial (TT) / Triathlon –features an aerodynamic frame and lower riding position –optimized for speed!
⇒ Gravel or adventure bikes – are excellent for longer rides both on and off-road. The frame geometry is slightly different thanks to a higher bottom bracket and wider tires.
⇒ Cyclo-cross (CX) bikes – are somewhere between hybrid and road bikes, meant for aggressive riding on off-road trails. The geometry features the best aspects from road bikes.
---
#2: PRICE: How Much Should I Pay for My Road Bike?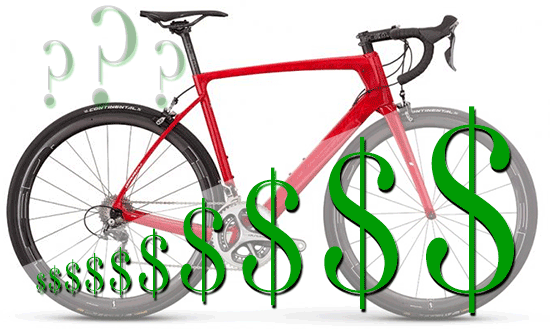 Too many people purchase bikes with only the price in mind. We, however, believe that's not the way to do it.
Occasional riders – From $300. If you use your cheap road bike for just commuting twice a week, then you can get a road bike around $300. Just keep an eye out for reliable brands.
Beginners – around $500 – $1,500. If you are just starting training or want to use your road bike for commuting, you should look at something in this price scale. You'll get solid, entry-level components that will give you that proper road bike feeling.
Trainers – $1,000 – $2,500. These road bikes have typically mid- to high-level components which are more expensive but last longer and offer much better performance. Bike frames in this range are made from lightweight aluminum or in the higher end – carbon.
Experts / Competitors – From $2,500 and above. These bikes are designed to be a lightweight, reliable, and awesome performance. You can get a lightweight carbon frame with top-notch components.
We make these suggestions in this road bicycle buying guide because we have seen too many people buy bikes in the wrong price bracket.
Buying too cheap of a road bike can cost you a fortune when trying to fix and maintain it, and possibly ride poorly.
When buying something top end may give you the best performance, but if you are just starting out you might not care anyway.
---
#3: Components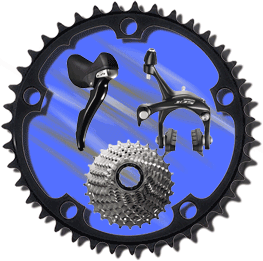 Pick The Right Components
Now, it's time to introduce components in our road bike buying guide.
Components are one of the biggest deciding factors for both the performance and price of a road bike.
When talking about components, we mean road bike wheels, brakes, derailleurs, cassette, chainrings, hubs, and so on.
Manufacturers offer different components to match the price bracket that they are aiming for, while still offering the best performance possible.
Lower quality components are cheaper, heavier, and usually, don't last as long as the higher end ones. Higher-level components save you some weight, work much better, and hold up well to a lot of abuse.
Here we wrote what you need to know about three different groupsets:
Hierarchy of SRAM, Shimano and Campagnolo
Searching around road bike buying guides might give you the feeling that components and groupsets are very hard to understand. However, they aren't! There are two main component manufacturers (and the lesser-known company Campagnolo) and their hierarchy for road bikes are described below.
This is an updated list and you can see the freshest info here for Shimano and for SRAM.
Shimano Groupsets
Shimano road bike groupsets listed from the beginning to the best components is Shimano Tourney -> Claris -> Sora -> Tiagra -> 105 -> Ultegra -> Ultegra Di2 -> Dura-Ace -> Dura-Ace Di2.
Entry-level components are: Tourney, Claris, Sora, and Tiagra
Performance components are 105 and Ultegrea
Pro series is Dura-Ace
Both Ultegra and Dura-Ace are available in electronic shifting versions called Di2.
SRAM Groupsets
For SRAM, this is the list in ascending quality order: Apex for entry-level; Rival and Force for Performance and Red is pro level. The electronic (wireless) shifting system is called eTap.
Campagnolo is a less frequent choice but they offer their own groupset hierarchy. Here they are from worst to best: Centaur for entry-level, for performance level – Potenza and Chorus, and for pro – Record and Super Record.
Their electronic groupset is called EPS (Electronic Power Shift)
Note that Campagnolo's entry-level components are similar to Shimano and SRAM mid-level components.
---
#4: Size
Picking the right size road bike is crucial.
People often reject road bike shops online because they are afraid that they can't try the bike for fit first. We want to point out this in this road bike buying guide that we find this is a bit strange because sizing is one of the easiest things to figure out!
Finding the correct size bike is tricky because of the massive variation in how manufacturers measure and list ...
Many fine adjustments can be made to make a bike fit properly and this work can be done by professionals in a bike shop, or a knowledgeable friend.
However the easiest way to get the right frame size is to use this chart below:
Rider Height
Feet & Inches
Centimetres
Frame Size (cm)
4'10" – 5'0″
148cm – 152cm
47cm – 48cm
5'0″ – 5'3″
152cm – 160cm
49cm – 50cm
5'3″ – 5'6″
160cm – 168cm
51cm – 53cm
5'6″ – 5'9″
168cm – 175cm
54cm – 55cm
5'9″ – 6'0″
175cm – 183cm
56cm – 58cm
6'0″ – 6'3″
183cm – 191cm
58cm – 60cm
6'3″ – 6'6″
191cm – 198cm
61cm – 63cm
Frame Size (cm) – Road bike sizes are measured from the center of the bottom bracket to top of the seat tube. We've seen some bike manufacturers measure their bikes slightly differently but with similar results.
Frame Size – XS to XXL is just the overall indicator for models and you should not take this too seriously. Road bikes for kids have typically S, M and L sizes. The L size, however, is often somewhere around 52 cm which in our opinion isn't correct.
If you do end up with the wrong size, you can return the bike according to most online shop's terms.
---
#5: BUYING ADVICE
Choose The Right Model​
Since you now know what you want, you can directly approach the right bike.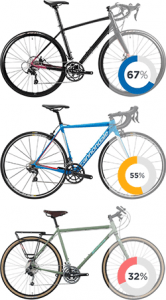 Here we've gathered:
Bike Reviews – In-depth overviews about different road bikes. You can categorize these by price, brand, or intended use.
Best Picks – Chosen models go on our "Best-Of" lists. We try to provide lists of the best items for different riders. For example, you can find the best entry-level road bikes, and also the best road bikes for women under separate lists.
We'd suggest you start off looking at our Best Picks because it is our most updated list of the best road bikes at the moment. You can sort them by price or type!
Enjoy!
Road Bike Reviews Best Road Bike Picks
---
What Else Should You Know?
If you need more information about some bike parts, read in our road bike buying guide. This information might be useful if you are stuck deciding between two (or more) different bikes:
Wheels
The term road bike wheel is very general. There are multiple parts to a wheel including a hub, spokes, nipples and a rim.
Materials used for these parts are typically aluminum or carbon. Both are lightweight materials, but carbon is a bit lighter and aluminum costs a bit less.
There are different road bike wheel types you will want to know. It's up to your preferences whether you choose climbing wheels, which are basically meant for riding uphill, or regular wheels. Climbing wheels don't claim to be aerodynamic and they usually have more rolling resistance compared to regular wheels.
They weigh somewhere between 900 – 1500 grams (which is quite light).
Derailleurs
Derailleurs and brakes are operated via the same handles. Shimano, SRAM, and Campagnolo have slightly different approaches to how their shifting works. This isn't something that should be a deciding factor but we just wanted to let you know.
Road bikes typically have two or three chainrings on the front and 9 to 11 rings on the rear. When buying a road bike, you will want to know some of the markings. Cassettes on the rear have something like 11-30T marked on them. This means that the hardest gear has 11 teeth and easiest has 30. Chainrings on the front are marked 50/34t, which means it has two chainrings, the big one (hardest) with 50 teeth and the smaller one (easiest) with 34 teeth. To wrap it up, these numbers make the ratio of gears that you can use.
This is something that you should not worry too much about when buying a road bike because companies spec their bikes with the most practical ring sizes. However, you can make adjustments once you are familiar with your bike, and if you find that you need lower or higher gears.
Brakes
Many of the road bikes today make use of disc brakes. The main advantages of disk brakes over traditional (V- or side-caliper) brakes is the fact that they stop you quicker, and work better in wet weather.
Road bike disc pads can be found in three compounds; organic, semi-metal or metal. These provide much better friction for stopping than traditional rubber V-brake pads.
Pretty much all road bikes equipped with disc brakes make use of cables to activate the brakes. These are called mechanical disc brakes.
KEEP IN MIND!
If braking surfaces are wet, the distance to stop is much longer. Keep your braking surfaces as dry as possible. Disk brakes stop you much better in wet weather than V or side-caliper brakes do.
If we add the brake aspect to the road bike buying guide, then we would suggest you look for disc brakes unless you ride a specific type of road bike that doesn't use them. For example, Time-trail and triathlon bikes, and some other specific types don't have disc brakes.
To wrap it up, we want to say to keep the quality classes in mind. If you plan on getting the bike for just cruising around, entry-level will do fine. If you plan to take part in competitions, performance or pro-level parts are for you. The lower the level, the cheaper the parts will be, but also the less durable/high performing they will be. Find the right level for you!
---
Upgrades And Accessories (To Save Weight)
Have you found a bike that would be perfect with some minor changes? Know that by upgrading your bike, you will get better performance, handling, and lower the weight of the bike. Heck, you might even get better results too!
What are the main upgrades one can do to a road bike?
Wheels – This is what most affects how a bike feels. By upgrading the wheels to lighter ones, you will have less rolling resistance. The handling will also feel faster. Most road bike buying guides suggest you upgrade to carbon wheels, but you can also find some good aluminum wheels. Carbon is lighter though so we would recommend it if it's in your budget.
Derailleurs – By upgrading your current derailleurs, you will save on weight and increase shifting performance. This is important for people who like quick and accurate shifting such as racers.
Brakes – A huge difference comes from upgrading poor brakes. If your bike runs on traditional V- or side caliper brakes, consider adding disc brakes. It is worth the effort! If you already run disc brakes, consider upgrading to premium brake pads.
Other components (seat post, saddle, and handlebars, etc.) – All of these play a big role in the overall feel of your bike. Upgrading parts to carbon can save you some serious weight! Remember to upgrade to parts that will also increase your comfort on the bike.
Bottom Line
Buying a road bike online isn't difficult with the right knowledge.
We hope that after reading this road bike buying guide, you have a better understanding of how to choose a road bike for you. Feel free to discover our reviews and suggestions to help ensure you buy a bike that you will absolutely love!
---
Related Reviews