Best Endurance Road Bike Selection: Best Bikes for Long-Distance Comfort
Endurance road bicycles are hugely popular due to the versatility and comfort of their design.
These are the consummate all-rounder bikes for non-competitive road cyclists as they are comfortable over long distances and versatile for jobs like bikepacking, mixed-terrain riding, and commuting.
One strength of these bikes is they usually support different tires and accessories and have lots of low gears for days with lots of elevation gain. This capability will allow you to go on a relaxed solo century ride or keep up on a fast group sportive ride.
This review will cover the best endurance road bikes across various styles and prices and finish with a short guide on choosing the right one for you.
What are Endurance Road Bikes?
Endurance road bicycles are the versatile sibling of the performance road bike. These bikes allow riders to easily cover huge distances in relative comfort, thanks to a few simple modifications.
It helps to compare an endurance bike vs. a race road bike to understand this style better. Firstly, endurance bikes use a more upright, relaxed position. Racing frames have a lower stack and longer reach than endurance frames, putting you in a more aggressive aero position. Let's use Trek's endurance Domane and lightweight climber Emonda to illustrate this.
Domane SL 5 (54 cm): Reach – 37.4cm / Stack – 57.5cm
Emonda SL 5 (54 cm): Reach – 38.6cm / Stack – 54.1cm
Additionally, endurance road models typically have more low gears for spinning up steep climbs, extra clearance for adding off-road-capable tires and improving comfort, and mounts for accessories and fenders. Most also use disc brakes for stopping, offering more stopping power, especially if you're carrying additional gear or frame bags.
Finally, premium endurance road bikes may also have frame-integrated micro-suspension, such as Cannondale's SAVE, Trek's IsoSpeed, or Giant's D-Fuse.
Best Endurance Road Bikes
---
Top Budget Endurance Road Bike:

Tommaso Monza
Tommaso Monza
An affordable endurance road bike with a full Shimano groupset, geared towards beginners.
PROS
Affordable price
Tiagra groupset
Carbon fork
Comfortable geometry
Aero wheelset
CONS
Cheap tires and pedals need replacing
No disc brakes
The Tommaso Monza is one of the best beginner endurance road bikes because it is affordable, reliable, and performs above its price.
As a direct-to-consumer brand that skips the middleman, Tommaso can sell bikes at more competitive prices. For example, the Monza is the top model in their line of road bikes and is a great deal for just $1,200.
The Monza's frame is a 6061 aluminum alloy that is cheap to manufacture but is lightweight and offers solid ride characteristics. This frame pairs with a premium carbon fiber fork to enhance comfort and front-end stiffness. A lifetime warranty backs up both the frame and fork.
The groupset used is a 2×10 Shimano Tiagra with Tiagra 4700 rim brakes, meaning you get reliability, performance, and cheap maintenance. The cassette is an 11-32t setup paired with a compact 50/34T chainset. This ratio is perfect for climbing super steep gradients.
Finally, Tommaso uses its own-brand wheelset and Kenda K191 700x25c tires to maximize speed on smooth road surfaces. These tires are worth upgrading, though, as they are low-quality and prone to punctures.
Choose the Tommaso Monza if you want the best endurance road bike in this price range.
Buy from Tommasocycling.com Buy on Amazon
---
Best Aluminum Endurance Road Bike:

Cannondale Synapse Tiagra
$1,725
A versatile endurance road bike that's perfect for multi-day adventures and mixed-terrain commutes.
PROS
Frame micro-suspension
Full Shimano drivetrain
Carbon fork
Lightweight
CONS
Pricey for the spec
Mechanical discs only
The Cannondale Synapse Tiagra is a pure endurance road bike built to deliver a highly versatile ride perfect for long-distance road rides or commuting.
The Synapse has a SmartForm C2 aluminum frame paired with a Ballistec carbon fork. This frame has internal cable routing and the bike weighs just 23 lbs.
The geometry is typical of an all-road bike, with a balance of efficiency and comfort for the average rider. This design makes long distances more comfortable. The bike runs on heavy RD 3.0 wheels and Vittoria Zaffiro, 700c x 30 tires.
Don't miss out on the Cannondale Synapse Tiagra if you want a comfortable, do-it-all bike with a lightweight feel.
---
Best Endurance Road Bike in 2023:

Orbea Avant Series
$1,999 to $2,499
A sleek, integrated endurance road bike designed for crushing long climbs in comfort.
PROS
Fully integrated design
Shimano 105 on H30D
Carbon fork
Excellent gear ratio
Premium aluminum frame
CONS
Poor groupset on the H40D
Heavy wheelset
The Orbea Avant 2023 stands out in this price range because of its unique headset integration that gives the bike a pro-like appearance and saves a few watts in aerodynamics.
This endurance road bike has a versatile carbon fiber fork with integrated cable mounts and 35mm tire clearance. The frame is a sleek hydroformed aluminum with internal cable routing and an Acros Alloy headset.
The geometry is typical of an endurance bike with a high front end that puts the rider in a relaxed position for comfortable all-day riding.
The Avant H30D uses a smooth and reliable 2×11 Shimano 105 groupset with hydraulic disc brakes, a compact 50/34t chainset, and a hill-crushing 11-34t Sun Race cassette. In contrast, the cheaper H40D has a Shimano Tiagra 2×10-speed with Tektro mechanical discs.
Both models feature a heavy combination of Vittoria Zafiro V Rigid Bead 28mm tires and Orbea Corsa wheels. This pairing is entry-level, but the tires are pretty durable for the price.
All things considered, the Avant series is a competitive line with a beautiful design and reliable componentry. Add it to your shortlist if you want style and performance at a reasonable price.
---
Best Endurance Carbon Road Bike:

Salsa Warroad C 105
$3,199
A premium endurance road bike for riders who want a high-end ride quality from a leading brand.
PROS
Full carbon frameset
105 groupset
Class 5™ Vibration Reduction System
32mm tires
Lightweight
CONS
Low-quality wheels and tires for this price
The Salsa Warroad C 105 is the best endurance road bike in terms of ability and spec.
This model has a lightweight and strong Salsa carbon fiber frame with full integration for improved aerodynamics and tire clearance up to 32 mm. In addition, this premium bike weighs just 20 lb, one of the lightest endurance models you'll find.
The Warroad is super comfortable to ride for many hours. The frame and fork use Salsa's Class 5™ Vibration Reduction System to improve compliance and reduce road chatter while increasing stiffness. The taller headtube places the rider in a relaxed position, and long chainstays help smooth the ride even further.
The groupset on the Warroad is the tried and true Shimano 105 R7000 with an 11-34t 11-speed cassette and a 50/34t chainset. In addition, you have Shimano 105 hydraulic disc brakes that provide exceptional power and reliability.
The Salsa Warroad could be the perfect bike if you have a big budget and want all the bells and whistles of a complete carbon road bike with an electronic groupset.
---
Best Endurance Bike for Climbing:

Look 765 Optimum Plus Disc Rival ETAP
$5,200
A stylish option with an enormous 42mm tire clearance and a full carbon frame.
PROS
Carbon frame and fork
42mm tire clearance
Lightweight Fulcrum wheels
Tubeless-ready
Electric drivetrain
The Look 765 Optimum Plus is an endurance road bicycle that teeters on the edge of the gravel biking discipline.
The carbon fiber frame is the standout feature of this bike, with its light weight and incredible stiffness. Unfortunately, Look didn't include any mounts.
Look chose pure endurance geometry to maximize comfort. Compared to a typical performance road bike, the Optimum+ is 10mm shorter and 20mm higher, giving a more relaxed all-day ride position. The one trade-off of this bike's geometry is the steering is relatively slow.
This bike uses a SRAM Rival AXS groupset, which is super smooth, reliable, and high-performing. The crankset is a 46/33t with a 10-35t cassette, perfect for climbing steep hills.
The tires are Hutchinson Fusion 5 tubeless-ready 30mm with a Kevlar Pro Tech flat protection layer to improve durability. These come on a set of lightweight Fulcrum Racing 900 wheels, which are a solid inclusion for a bike of this price.
Although not the cheapest considering the spec, this is the best endurance road bike from Look as it is a pleasure to ride and a solid choice for tackling diverse terrain.
---
Best Mid-Range Option:

Giant Contend AR 3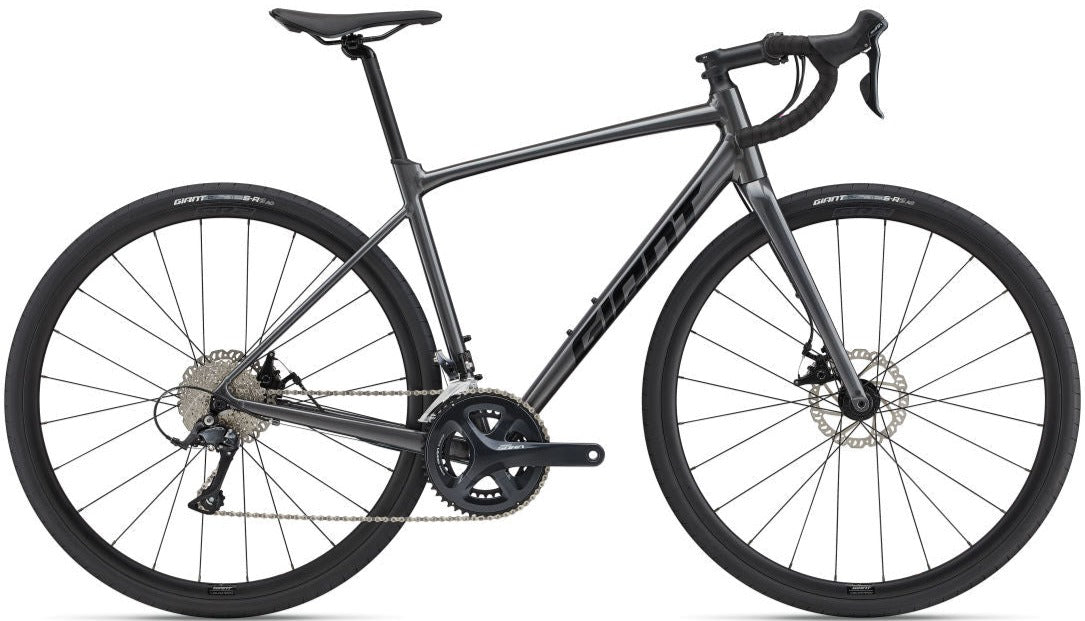 $1,350
A road bike that balances endurance and performance for rider's with versatile demands.
PROS
Good selection of parts
Agile handling
Full Shimano groupsets
Fast
Powerful brakes
The Giant Contend AR 3 is an entry to mid-level endurance road bike with a performance twist.
The Contend AR 3 is the result of years of Giant's experience in creating the perfect frame for tackling endurance rides and centuries. As a result, this bike expertly balances performance with comfort.
Unlike other endurance road bikes, the Contend AR 3 has agile and precise handling that ensures maneuverability in tight areas. This endurance road bike is available in a triple-butted aluminum frame with a carbon fork that lowers the weight and vibrations.
The Giant Contend AR 3 comes with a Shimano Sora 2×9 groupset that features a compact 50/34t crankset paired with an 11-34t cassette for steep, endurance climbing.
Unfortunately, mechanical disc brakes are slightly underwhelming for this price, but they can be easily upgraded. In addition, the stock tires used are 32c, slightly too wide for an endurance bike, though you can go up to 38 mm in width if you want to ride gravel.
Choose the Giant Contend AR 3 if you want a road bike from a prominent bike brand that combines performance and long-distance comfort.
---
Best Endurance Road Bike Under $2000:

Marin Gestalt 2
$1,569
Versatile entry-level endurance road bike with gravel capabilities.
PROS
Lots of mounts
Tiagra groupset
Carbon fork
Extra tire clearance
Tubeless-ready
CONS
Heavy
Mechanical disc brakes
The Marin Gestalt 2 is another model that straddles the line between gravel and endurance road, with tons of versatility and capability on mixed-terrain.
The Gestalt 2 has a Series 3 aluminum frame and carbon fork with internal cable routing, mounts, and clearance for tires up to 35mm wide. These features allow riders to personalize their bike for jobs like bikepacking, touring, and commuting on mixed-terrain.
The geometry is Marin's 'Beyond Road,' designed in the style of an endurance road bike with enhanced stability for off-road riding. Disappointingly, the brakes on this bike are mechanical discs, which is uncommon at this price.
The drivetrain is a standard Shimano Tiagra 2×10 with a 50/34 compact chainset and a hill-crushing 11-34t cassette. This tier drivetrain is typical for the sub-$2,000 range.
Finally, the wheelset is Marin's stock double-wall rims which are heavy but have tubeless compatibility. Likewise, the WTB Exposure Comp tires are tubeless-ready.
All in all, this is a solid entry-level gravel/endurance road bike for under $1,600 and perfect for anyone who wants the ability to take on multi-day tours on varied terrains.
Buy from Jenson USA Buy from GovVelo.com
---
Best Endurance Women's Road Bike:

Liv Avail Advanced Pro 2
$4,800
Performance-focused women's endurance bike with solid spec and sleek design.
PROS
Carbon frame and fork
105 Di2 groupset
Fast and lightweight
Comfortable over long-distances
UCI-ready
Liv is one of top women's cycling brands, and the Avail Advanced Pro 2 is their performance-optimized endurance road bike designed for comfort and speed over long days in the saddle.
This Avail build uses a lightweight carbon fiber frame and fork (3.4lbs), perfect for long alpine climbs. This frame comes with 32 mm tires and integrated cabling with relatively aggressive geometry for an endurance bike but is still comfortable for long distances.
It sports Shimano 105 hydraulic discs with exceptional stopping power and modulation and a 105 Di2 drivetrain with a 50/34t chainset and an 11-34t cassette to provide a decent range when climbing. Giant Gavia Fondo 1 32 mm tires provide a fast-rolling base and pair with Giant SLR 2 36 Carbon Disc wheels.
Consider the Liv Avail if you want a stylish, high-performing endurance road bike from one of the most coveted cycling brands.
---
Best Cheap Endurance Road Bike:

Tommaso Imola
Tommaso Imola
A basic road bike with a complete Shimano Claris groupset, perfect for new road bikers.
PROS
Cheap
Shimano groupset
Vibration dampening technology
Lots of sizing options
Great frame
CONS
Poor quality wheelset
Rim brakes
The Tommaso Imola is a cheap option from a reputable manufacturer and an excellent choice for a first-time road cyclist on a budget. The Imola is the best-selling model from Tommaso due to its low price and reliable build.
It has a 3×8 Shimano Claris groupset, a typical setup among the sub-$1,000 category. This drivetrain comprises an 8-speed 11-28t cassette and a 50/39/30t chainset.
The frame is the same lightweight 6061 alloy used across the Tommaso line. In addition, it includes vibration dampening technology to reduce fatigue during long endurance rides.
A benefit of ordering a Tommaso bike is that they arrive assembled and adjusted for riding out of the box. In addition, you can test-ride it for 14 days risk-free to ensure it's right for you and the frame has a lifetime warranty.
As an entry-level bike, the components are expectedly cheap, meaning there is room for improvement with upgrades. We'd recommend changing out the touchpoints and the tires and rims as a way to improve the performance and comfort of the Imola.
Choose this bike if you have a limited budget but want reliable performance from a trusted brand.
Buy from Tommasocycling.com Buy on Amazon
---
Lightest Option:

Cervelo Caledonia 105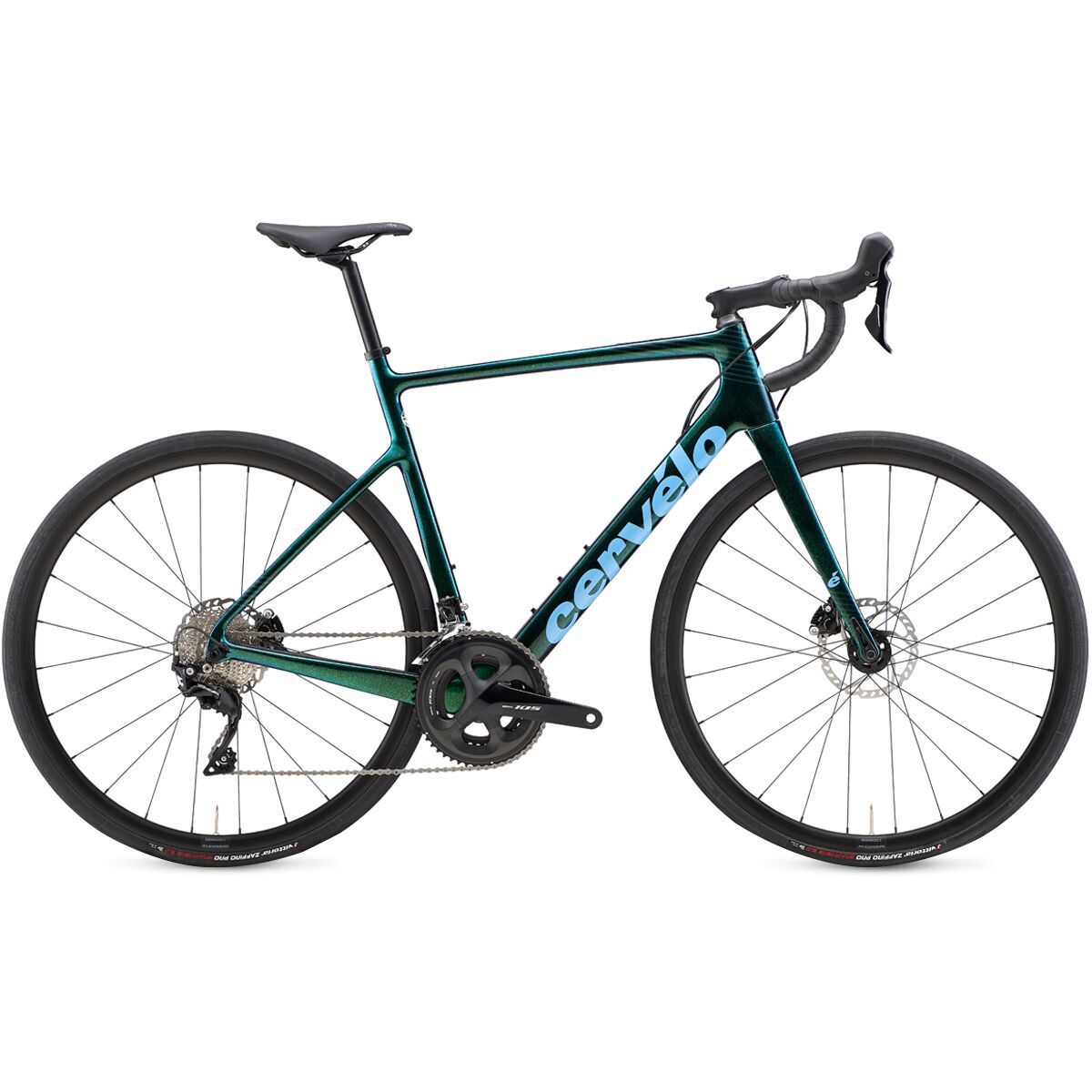 $3,200
A lightweight and fast road bike with the versatility to tackle multi-terrain tours.
PROS
Lightweight carbon frameset
105 groupset with big range
34mm tire clearance
Lots of mounts
Fast and agile for an endurance road bike
CONS
Underwhelming tires could be upgraded
The Cervelo Caledonia is a high-performing endurance bike designed to fill the gap between race-ready road bikes and gravel.
The premium Cervelo carbon frame and fork balance responsiveness and compliance, reducing fatigue and increasing efficiency. This combination is also incredibly lightweight, weighing just over 3.2lbs, making it perfect for crushing long climbs.
The geometry of the Caledonia includes a slacker head angle for extra stability off-road, while the short wheelbase and front center ensure sharp, agile handling. In addition, Cervelo put in additional tire clearance (34mm) so riders can confidently venture onto chunky gravel paths.
The global demand for light, reliable, and fast bikes is always increasing and manufacturers are dedicating more ...
This model of the Caledonia comes with an ever-reliable 2×11 Shimano 105 groupset. The chainset is a semi-compact 52/36t paired with an 11-34t cassette. This combination allows you to spin up super steep climbs with relative ease.
The wheelset chosen is Alexrims BOONDOCKS 5. These are heavy but durable and tubeless-ready, making them a solid choice for light off-road riding. In addition, they come wrapped in 30mm Vittoria Zaffiro Pro tires with graphene for extra durability.
Another exciting feature of this frame is the ability to install fenders and remove the front derailleur to run a single chainring. Choose the Cervelo Caledonia if you want a gravel-ready endurance road bike with high-quality components and a reasonable price tag.
---
Best Women's Model:

Liv Langma Advanced Disc 1
$3,700
A high-performance women's road bike with solid components but limited versatility.
PROS
Female spec and geometry
Reliable 105 Di2 groupset
Compliant carbon frame and fork
Stength-optimized tubing
Fast and lightweight
The Liv Langma is one of the best women-specific endurance road bikes. It's designed for big endurance rides where performance and comfort are of utmost importance.
The frame is optimized for compliance on bumpy roads and cobblestone, while the low seatstays help improve efficiency through rear-end stiffness. Additionally, Liv designed the tubing in a diamond shape for extra strength and impact resistance. The upside of this frame is the wide tire clearance of 32mm, though there's a lack of mounts for bikepacking.
The Liv Langma is also more enjoyable to ride for women as the touchpoints and geometry are designed to suit female bodies. However, there's just one color option to choose from, if you care about that.
The drivetrain on this bike is a 2×12 Shimano 105 Di2 with a compact 50/34t chainset and an 11-34t cassette, which is a decent climbing range. Shimano 105 hydraulic disc brakes complete the groupset and offer excellent stopping power.
In summary, this is a solid endurance road bike for female riders who want tailored spec and geometry.
---
Best Endurance Road Bike for Beginners:

State Bicycle Co Undefeated Disc Road
$1,499
An entry-level endurance bike with a lightweight build and reliable components.
PROS
Tubeless-ready
Low-maintenance drivetrain
Carbon fork
Lightweight frame
Various customization options
CONS
Liimited gearing
No extra mounts
The new 2023 Undefeated by State Bicycle Co. is a significant upgrade to the previous model, now featuring improved frame material and flat mount disc brakes.
This road bike is ideal for endurance riding in flat or hilly areas; however, with a single chainring drivetrain, the Undefeated won't be capable of tackling the steepest gradients. The drivetrain is an own-brand 1×11 setup with a 46t chainring and an 11-32t cassette.
A unique characteristic of this bike is the Y9 alloy. This material is essentially 6061 aluminum with titanium added to improve stiffness and strength, allowing for thinner tubing and a lighter frame. In addition, you have a carbon fiber fork up front for extra stiffness and compliance.
The wheelset used is SBC's tubeless-ready alloy set with 28mm tires. These are fast-rolling wheels but are heavy, meaning you could upgrade them for a considerable improvement to the bike's performance. Finally, the Undefeated has Tektro mechanical disc brakes for reliable stopping power.
Don't miss out on the Undefeated by State Bicycle Co. if you want an affordable and reliable road bike for fast urban rides.
What to Look for in Best Endurance Road Bikes
---
There is plenty of variety in the endurance category, with each manufacturer using a slightly different approach. Consequently, the perfect endurance road bike is different for each rider, and the best endurance road bike brands offer a range of specs and prices, so you can find one that suits your budget.
Now, let's look at the different characteristics of these bikes and how they compare to race bikes.
What is the difference between endurance and race road bikes?
Comparing an endurance bike vs. road bike for racing is relatively straightforward. As mentioned at the beginning of the article, the most significant difference is that race bikes use more aggressive geometry, with extended reach and a lower stack that reduces the rider's aerodynamic drag. This position isn't as comfortable as the comparatively relaxed and upright endurance one.
Race road bikes typically don't have extra tire clearance or mounts for accessories and fenders. In addition, micro-suspension is also uncommon as the additional compliance reduces efficiency very slightly. Finally, race road bikes rarely have a rear cog bigger than 30t, meaning they have less low-end gearing.
How much slower is an endurance road bike?
The difference in speed between an endurance road bike and a race bike is slight. For competitive cyclists, endurance road bikes are slightly slower when climbing as they're typically heavier. Likewise, the more upright position creates more aerodynamic drag, making them marginally slower for flat riding, but this difference is most notable at the high speeds typical of racing.
In contrast, endurance road bikes can be faster in some scenarios. For example, on rough roads, light gravel, or cobbled rides, you may have a speed advantage because the wider tires and extra frame compliance help you maintain momentum while reducing fatigue. That's why in the 2022 edition of Paris Roubaix Femmes, professional riders used Trek's Domane endurance road bike for these reasons.
Frame Features
Most endurance road bikes have discreet mounts for installing fenders and other accessories like a pannier rack or bike bags. These allow owners to personalize the bike for jobs like commuting, bikepacking, or bicycle touring.
Another important consideration for your bike is the frame material. Carbon fiber and aluminum are the most common materials in this style, but some manufacturers use steel. Compliance significantly contributes to comfort over long-distance rides, and carbon and steel do this best.
Carbon – Expensive, high performance, and compliant
Aluminum – Cheaper, moderate performance, not compliant
Steel – Cheaper, lower performance, heavy, and compliant
Endurance Road Bike Geometry
Road bike geometry varies based on the intended use. As we discussed, when comparing an endurance road bike vs. a racing road bike, the geometry of endurance bikes puts the rider in a more upright, relaxed position. They achieve this primarily by raising the stack and shortening the reach.
In addition, these bikes often have more stability when you venture onto off-road terrains. As a result, the steering is typically slower. Manufacturers can achieve this by widening the handlebars and lengthening the wheelbase and stem. Conversely, racer steering must be sensitive and fast for quick maneuvering and tight cornering.
Gear Ratios
Endurance road bikes are versatile machines. They usually have extra low gears to tackle long, steep climbs with a high cadence to stay out of the red zone.
The ideal gearing for the best endurance road bike is a compact chainset (50/34t) paired with an 11/12-speed cassette with a 30t, 32t, or 34t cog as the largest. This pairing gives a ratio of around 1:1, which is ideal for climbing. In contrast, racing bikes often have a 28t or 30t as the largest rear cog.
Some road bikes also have semi-compact (52/36t) chainsets. These offer more high gears for fast, flat riding but aren't as effective for climbing unless paired with a 34t rear cog.
Tires and Tire Clearance
Extra tire clearance is one of the primary differences between endurance and all other road bikes. This extra room allows you to fit tires that are more capable off-road and offer more traction and comfort on bumpy roads or wet weather rides.
Most race road bikes will use 25 or 28mm tires, with very select models fitting anything above 28mm. In contrast, most endurance bikes come with 28 to 32mm, often with clearance up to 34 or 35mm. However, some performance-oriented endurance bikes like the Ridley Fenix use 25mm tires with 28mm clearance. With more clearance, you can also consider adding a treaded gravel tire to increase traction and durability off-road.
Finally, many endurance road bikes come with tubeless-ready tires and wheels. Tubeless tires are more durable and allow you to run a lower PSI, which is more comfortable and grippy.
How Much Should I Spend on an Endurance Bike?
The primary factors that affect what you should spend include your budget, how often you plan on riding, and where and when you will ride.
We recommend maximizing your budget to get the best endurance road bike you can afford if you plan on riding regularly.
Doing so will make your riding experience much more enjoyable. For example, you should invest in a bike with hydraulic disc brakes if you frequently ride in wet weather.
This article includes bikes priced from under $1,000 to more than $5,000. The entry-level bikes are great for new riders but can be uncomfortable and heavy for experienced riders. However, beginning at around $2,700 and above, you will find carbon framesets with high-quality Shimano 105 groupsets, perfect for most recreational riders, regardless of experience. Then, if you want more technology and a lighter bike, you can consider the higher range.
Final Thoughts: Should I Get an Endurance Road Bike?
An endurance bike isn't for you if you enjoy a race-ready road bike's aggressive position and sensitive steering or plan on competing. Likewise, if you ride primarily off-road and venture onto the road now and again, you may be better off with one of the best gravel bikes.
Endurance bikes are the generalist, all-arounder of the road category. These aren't specialist machines like an aero road or lightweight climbing bike. Instead, the best endurance road bike can tackle any paved road in a more comfortable and relaxed approach, effortlessly venturing onto gravel and smooth forest trails when needed.
If you're looking for versatility, comfort, and performance in one bike, consider an endurance road bike for your next purchase.