Co-op Cycles ADV Series – Best Value Adventure Bikes in 2023?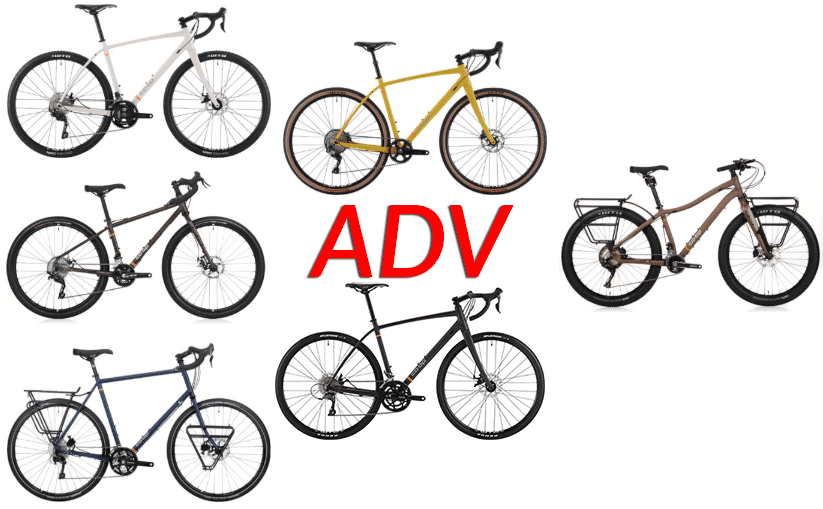 Bicycles have been used for touring for over 150 years, with one of the earliest recorded bike tours dating back to 1869 when two British riders cycled approx. 50miles from London to Brighton.
Nowadays, bicycle touring is more popular than ever, with hundreds of cyclists crossing countries and continents on a regular basis. Any bicycle can be used to tour but a specialist touring bike will make things much easier.
The Co-op Cycles ADV series stands for 'Adventure', and comprises several different bikes built for a variety of touring and adventure cycling. These include traditional touring bikes that can carry heavy luggage, lightweight gravel bikes for weekend trips, and tough, off-road bikes for bikepacking.
Co-op Cycles ADV Series Review
---
Bike touring means different things to different people so there is no one-size-fits-all touring bike. Co-op bikes ADV range is a bit of a mish-mash of adventure style bikes, with everything from lightweight road cruisers to thick, solid, mountain explorers.
Basically, if you want to get out into the wild on a bicycle for one day or 100 days, Co-op Cycle's ADV range has a bike to suit your needs!
It also keeps everything in a fairly tight price range between $1,000 to just over $2,000, making it ideal for both first-timers or more experienced adventurers on a budget.
| | | | | | | |
| --- | --- | --- | --- | --- | --- | --- |
| Co-op Cycles | MSRP $ | Wheels | Frame | Gears | Group | Brakes – Disc |
| ADV 1.1 | 1,599 | 700c | Steel | 3×10 | Deore | Hydraulic |
| ADV 2.1 | 1,249 | 700c | Aluminum | 2×8 | Claris | Mechanical  |
| ADV 2.2 | 1,599 | 700c | Aluminum | 2×10 | GRX | Mechanical |
| ADV 2.3 | 2,399 | 700c | Aluminum  | 1×11 | GRX | Hydraulic |
| ADV 3.1 | 1,599 | 650b | Steel | 2×10 | Deore | Mechanical |
| ADV 3.2 | 1,899 | 650b | Aluminum | 2×10 | Deore XT | Hydraulic |
| ADV 4.2 | 2,299 | 27.5″ | Aluminum | 2×11 | SLX | Hydraulic |
Co-op Cycles ADV Frame Size Recommendations
S – 5'3″ – 5'6″  /  160 – 168cm
M – 5'6″ – 5'9″  /  168 – 175cm
L – 5'9″ – 6′  /  175 – 183cm
XL – 6′ – 6'3″  /  183cm – 190cm
XXL – 6'3″ – 6'6″  /  190 – 198cm
---
Co-op Cycles ADV 1.1
Price: $1,599
REI.com
The ADV 1.1 is your traditional, long-distance touring bike for those looking to spend months on the road with everything that they own. It comes equipped with Schwalbe Marathon tour tires, front and rear luggage racks, and low-maintenance hydraulic disc brakes. Simply strap on your bags and you're ready to go!
The 30-speed Shimano Deore drivetrain will ensure you make it over the steepest mountain passes while strong and durable WTB rims handle even the heaviest of loads.
ADV 1.1 Cons
However, the thick steel frame makes the bike heavier than similarly priced touring bikes. While some cyclists prefer steel, it might not appeal to everyone.
---
ADV 2.1
Price: $1,249
REI.com
The ADV 2.1 is an excellent entry-level gravel bike for road cyclists looking to explore a bit more far afield. It has a strong 6061 aluminum frame with a tapered carbon fork to reduce both weight and vibration.
The Co-op Cycles has done a good job focusing on key gravel bike components, like the strong WTB rims and 35mm Kenda Flintridge tires. The 16-speed Shimano Claris drivetrain is sufficient and provides a decent range of gears but we'd like to have seen hydraulic rather than mechanical disc brakes on this bike.
ADV 2.1 Cons
With heavy use, some riders may find mechanical brakes wear quicker and are more difficult to maintain.
---
ADV 2.2
Price: $1,599
REI.com
The ADV 2.2 is an impressive upgrade in Co-op Cycle's gravel bike offerings. It features the same high-quality aluminum frame and carbon fork as the 2.1 but with upgraded WTB STi9 tubeless-ready wheels and extra-wide Nano Comp 40mm tires. These provide excellent grip and a smooth ride over gravel and singletrack.
Most notably, the smooth 20-speed Shimano GRX 400 drivetrain and Tiagra shifters make changing gears on the ADV 2.2 an absolute pleasure.
ADV 2.2 Cons
Unfortunately, the ADV 2.2 still uses mechanical disc brakes although admittedly with higher quality Tektro components, which are a slight improvement over the brakes on the 2.1.
---
ADV 2.3
Price: $2,399
REI.com
The ADV 2.3 is a gravel bike for serious riders looking to move their hobby into more competitive territory. The 11-speed Shimano GRX drivetrain with a single front cog and protective Shadow Plus rear derailleur indicates a design intended for fast riding over hard, rough terrain.
With a remote-controlled dropper seat post and flared handlebars for better stability, the ADV 2.3 can even take on some steep MTB-style descents with ease. Plus, it has hydraulic disc brakes and extra-thick tires to ensure it stays tightly on track.
ADV 2.3 Cons
The only downside is the rather high price, at over $2,000.
---
ADV 3.1
Price: $1,499
REI.com
The ADV 3 series combines cycling touring and gravel bikes into a selection of dedicated trail riding and bikepacking machines. The ADV 3.1 is Co-op Cycles' entry-level bikepacking bike, with a Shimano Deore 2×10 drivetrain, extra-fat 50mm tires, and 12-degree flared handlebars for improved stability.
The ADV 3.1 frame is forged from high-quality, double-butted Chromoly, a type of steel material popular with bikepacking enthusiasts the world over.
ADV 3.1 Cons
While the TRP mechanical disc brakes do provide great stopping power, they are a bit heavy and add to the bike's already significant 27.4 lbs (12.7 kg) weight.
---
ADV 3.2
 Price: $1,899
REI.com
Co-op Cycles has incorporated an aluminum frame for this version of their bikepacking-style ADV 3 series range and it's a welcome addition. The 6061 double-butted frame and fork help keep the bike strong while reducing weight and are covered in brazed-on mount points for various racks, bags, and attachments.
The 3.2 sports large 50mm Donnelly tires on 650B WTB wheels with impressive TRP Hylex hydraulic disc brakes: an excellent combination for heavy-loaded off-road cycling.
ADV 3.2 Cons
The 2×10 Shimano Deore drivetrain is decent (especially the Shadow Plus rear derailleur) but I don't like the inconveniently placed Microshift bar-end shifters that making changing gears a hassle.
---
ADV 4.2
Price: $2,299
REI.com
With the 4th series in Co-op Cycles ADV range, we see a more decisive move toward long-distance expedition touring. The 4.2 looks like it's designed to roll through rough and varied terrain – sand, snow, or mud – slowly and with weight.
The aluminum bike features a Jones Loop H-Bar and Cane Creek suspension seat post that will ensure days, weeks, or months of comfortable riding. It offers a wide gear range and easy thumb-shifting with the Shimano SLX 22-speed drivetrain plus M6000 hydraulic disc brakes.
Finished off with top-quality WTB Scraper rims and 2.8″ wheels means the only downside is the $2,000 price tag.