Gravel Bike vs. Road Bike — What Are the Main Differences?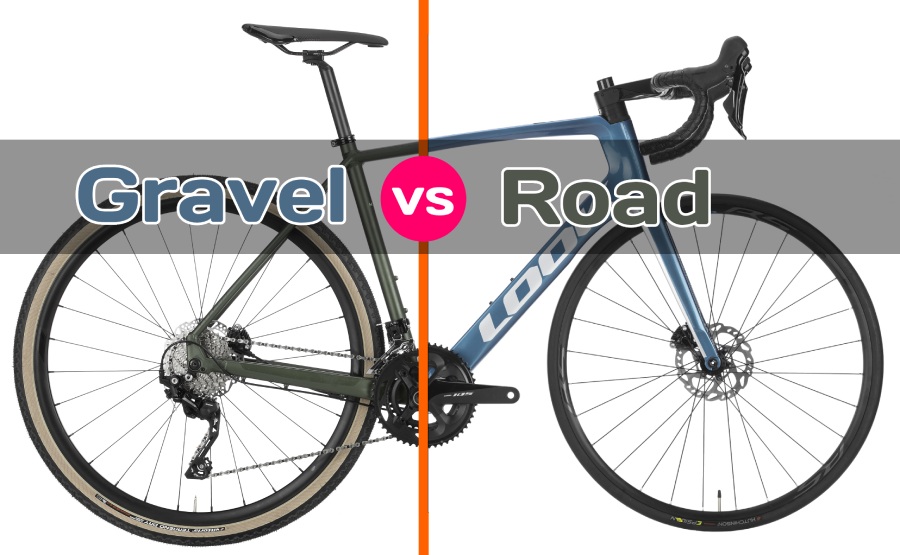 Over the past few years, gravel bicycles have experienced massive growth in popularity.
Although they look like road bikes, gravel bikes allow extra freedom to go off-road while maintaining respectable performance on pavement.
Comparing a gravel bike vs. a road bike highlights differences that aren't obvious to the untrained eye.
This article will describe where each style excels and touch on their differences by comparing the components and design elements.
What Are Gravel and Road Bikes Used For?
Although both look similar, gravel bikes can tackle more varied terrain than road bikes. Road bikes, however, are specialists at covering distance at speed on tarmac and asphalt surfaces.
Among the range of bikes in each category, you can find different designs that significantly change the ride characteristics.
Gravel Bikes
As the name indicates, gravel bikes are built to ride on any surface on or off-road, including gravel, forest paths, mountain trails, asphalt, and tarmac, making them a true all-rounder.
These bicycles are stable, comfortable, and durable, especially went taking on rough terrain. However, being a mix of road and MTB styles, gravel bikes don't excel in any one domain.
Gravel bicycles require slight adjustments to traditional road bike geometry and different components to achieve the abovementioned attributes. Additionally, they make great touring bikes, so most models come with several accessory mounts.
You can find bikes with varied geometries and components within the gravel category. These changes yield distinct ride characteristics and capabilities. For example, some gravel models such as the Cannondale Topstone Lefty have fork suspension.
Fork suspension increases efficiency and comfort on heavier gravel and bumpy mountain trails. Conversely, a bike like Biachi's Arcadex has a more aero, road-like design, producing better performance on smooth surfaces.
Road Bikes
The road bicycle requires no introduction. Drop-bar racers have been used in bike racing since the mid-to-late 1800s. This style of bike is popular among cyclists worldwide for its speed and ability to cover long distances comfortably on paved surfaces.
Although road bikes are thought of primarily as racing bikes, you can find a wide range of designs in two general categories: endurance and performance.
Endurance bikes are designed for comfort over long-distance rides thanks to a more relaxed riding position, stable geometry, frame flex, and tire clearance. Conversely, performance road bicycles have sensitive (or twitchy) handling, a more aggressive aero position, and a super-stiff frame, allowing riders to maximize speed.
For most non-competitive road cyclists, an endurance model is ideal. The comfort and handling gains easily outweigh the performance advantage.
Gravel bicycles have similarities to endurance road bikes except with wider tires, slacker, longer geometry (to improve stability and handling), and MTB gearing. Nevertheless, if you plan on going off-road, an endurance road bike quickly loses its speed advantage over gravel and is more susceptible to damage.
Gravel Bike vs. Road Bike: Main Differences
As mentioned, both road and gravel categories have a wide range of designs. To help you decide which style of bike might suit you best, we will compare the characteristics that differ the most. Again, it's important to remember these bikes exist on a spectrum, on one end a MTB-Esque gravel bike, on the other a Tour de France winning Colnago.
Gearing
There is a lot of crossover between the gear set up on a road bike vs. gravel bike; both styles use 1x and 2x drivetrains.
Road models favor a double chainring, 22/24-speed setup as there are smaller steps between each gear, encouraging smooth pedaling through gear changes.
Gravel manufacturers usually prefer a 1x format, using wide 11/12-speed cassettes with around 11-42t, which boosts climbing ability. However, Shimano offers both 1x and 2x options for their gravel GRX.
If you want a gravel bike primarily for off-road riding, consider a 1x drivetrain; a 2x drivetrain may be more suitable if you ride mainly on roads. The choice of groupsets is similar though, as many gravel bikes come with road bike groupsets or gravel-specific groups.
Tires and Tire Clearance
The tires are the most consistent and apparent difference when comparing gravel vs. road bikes. Tires are the most influential component change for off-road riding. Both styles typically use 700c wheels, although it is possible to find gravel bikes with 650b (27.5″) wheels.
Gravel bikes have clearance for tires ranging from 33mm to 2″ wide (51 mm). However, most of the best gravel bike tires are 40 to 47mm wide with tread depth that depends on the intended use; higher tread provides more grip.
These wide, treaded tires offer comfort, durability, and stability when riding on bumpy or loose terrains. In addition, the large air volume and low tire pressure absorbs vibrations, and extra tread and surface contact area boost traction on varied terrain.
Road bikes have a much narrower tire range, typically between 23 and 32mm, with the most common sizes being 25mm and 28mm. Road tires usually have slick or very slightly treaded exteriors, as they are designed for use on the smooth pavement where traction is consistent unless it's wet.
Additionally, road tires run high pressure to maximize the rolling speed at the expense of comfort. Finally, high pressure and light rubber casings make road tires more susceptible to punctures on gravel paths.
Handlebars, Stem, and Seatpost
Most gravel bikes have drop handlebars with two slight modifications to improve handling on technical terrain. First, they are wider, and second, the drops flare out. This design boosts control, especially when descending at speed on trails. Conversely, road drops are narrow, and the drops run parallel.
Another difference is the stem on a gravel cockpit is shorter, shortening the reach and producing a more upright riding position. In contrast, road bike stems are usually longer to help achieve a more aero position.
Road bike seat posts are relatively similar, with varying shapes that boost either aerodynamics or comfort. Gravel seat posts include road-style designs and MTB designs. Seatposts with integrated suspension or MTB dropper posts are better for off-road riding.
Frame Mounts
All gravel bikes should have several mounting options for bottles, racks, and fenders to facilitate bicycle touring, bikepacking, and other long-distance supported rides.
Conversely, most road bicycles don't have these mounting points, but some endurance-style models have these extra mounts and tire clearance so that you can set them up for this type of riding.
Brakes
Hydraulic disc brakes are ubiquitous on decent gravel bikes, though some budget options may have mechanical discs. This is something that gravel bikes took over from mountain bikes. Powerful disc brakes are essential for providing ample stopping power in varied conditions, terrains, and at high speeds.
Although most new road models have disc brakes, many roadies still like rim brakes as they are lightweight and adequate for most situations on the tarmac, unless it's raining or wet. Then, unfortunately, rim brake performance diminishes significantly.
Suspension
Many mid to high-end road bikes have frame-integrated suspension systems such as Specialized's Future Shock and Trek's IsoSpeed. These systems help absorb shocks from rough roads or cobblestone sections with micro-suspension. This technology is excellent in endurance road bikes where comfort is the top priority.
Gravel bicycles also have suspension, although more obvious. Top suspension brands like RockShox and Fox have gravel-specific suspension forks with 30 to 50mm of travel. These forks help bridge the gap in off-road performance between hardtail MTBs and gravel bikes but reduce performance on tarmac.
Gravel Bike Geometry vs. Road Geometry
The slightest changes to bicycle geometry can drastically change the ride characteristics, making it tricky to distinguish the differences between road and gravel bike geometry unless you place them side-by-side.
In general, gravel geometry optimizes for stability, an upright riding position, and relaxed handling to help navigate technical off-road terrain because speed isn't a priority. Gravel frames have:
Longer wheelbases and chainstays
Slacker head tube angles for stability
Shorter reach to create a more comfortable, upright position
Elevated bottom brackets for extra ground clearance off-road
On the other hand, road bicycles are optimized for speed with:
Longer reach and shorter head tube to create a lower, aerodynamic ride position
Shorter wheelbases
Steep angles for sensitive handling characteristics
To demonstrate this, let's compare two Size-M bikes by Canyon, the Endurace CF SL 8 road and Grizl CF SL 8 gravel:
Head tube angle – 73° vs. 72.25°
Reach – 402mm vs. 382mm
Chainstay length – 415mm vs. 435mm
Wheelbase length – 990mm vs. 1037mm
Bottom bracket drop – 73mm vs. 75mm
Can You Turn a Road Bike into a Gravel Bike & Vice Versa?
Converting a road bike to a gravel bike and vice versa is doable. However, this conversion will result in a less efficient version of the real thing and is typically unnecessary. Most gravel models can perform well on the road as they come—outside of race conditions, of course.
Road to Gravel
Firstly, it's worth mentioning that any road bike can ride on light gravel and dirt roads. To do so, purchase a set of puncture-resistant tires such as Specialized's Roubaix or Continental's Gator Skin tire at your max tire clearance (likely 28 or 30mm) and run the tires at the lowest pressure allowed by the manufacturer.
If converting a road bike to gravel, it's best to start with an endurance-style road model. Then, riders can replace their wheelset with a tubeless-ready, high spoke count set, boosting wheel durability and allowing the installation of tough tubeless tires for off-road riding.
Additionally, you can replace the handlebars for a wider set (with or without flared drops) to improve stability and choose a shorter stem to create a more upright riding position.
Gravel to Road
If you want a gravel bike for road riding, any performance-oriented gravel bike with road-style geometry and a 2x drivetrain will perform well on roads. However, if your gearing and geometry are already on the road end of the spectrum, two changes will further improve performance on the tarmac.
Firstly, choose the most narrow tire possible for your rims (typically 33mm or 35mm) or purchase a narrower set of wheels and set them up with skinnier tires. Otherwise, swapping your handlebars for traditional road bars will improve steering sensitivity, although this isn't as important unless you need a gravel bike for road racing.
FAQ
Which is better, road bike or gravel bike?
A road bike is better on smooth surfaces, and a gravel bike is better on rough surfaces. The harsher the terrain, the greater the advantage for gravel bicycles. They are versatile all-rounders, road bikes are specialists at going fast on pavement.
Can you use a road bike as a gravel bike?
Yes, you can use a road bike as a gravel bike. You can easily ride a roadie on gravel paths and dirt roads using wider puncture-resistant tires and lower psi. However, a proper gravel bike is favorable for mountain trails thanks to slight differences in geometry, tire clearance, and handlebars.
Is a gravel bike as fast as a road bike?
A gravel bike is faster than a road bike off-road and slower on tarmac and asphalt. The mixed characteristics of a gravel bike make it a great all-around bike. Although not specialized in a specific discipline, you can ride wherever the path takes you, which is great for bike touring.
Is a gravel bike slower than a road bike?
A gravel bike is slower than a road bike on smooth paved surfaces and faster than a road bike on off-road surfaces. The more bumpy the surface, the more significant the speed difference, meaning gravel bikes have a slight advantage on light gravel and a considerable advantage on mountain trails.
What is the point of a gravel bike?
The point of a gravel bike is to offer cyclists a comfortable bicycle for riding long distances on varied terrain. These bikes are excellent all-rounders that can ride off-road in comfort and maintain speed on the tarmac, yet they don't excel in one specific area.
Can a gravel bike do it all?
Yes, a gravel bike can do it all. However, technical downhill trails will be challenging to navigate with a regular gravel bike. Ideally, a hardtail MTB or, even better, a full-suspension MTB will provide a more stable and controlled ride on this type of terrain.
Final Verdict: Choosing the Right Type
The choice between a road vs. gravel bike becomes clear once you understand how they differ.
A gravel bicycle is arguably the most versatile style on the market, with the capability to maintain decent speed on the road while providing good stability and comfort on light-to-moderate trails.
Conversely, a road bicycle favors specialization over versatility; roadies value maintaining high speed on smooth paved surfaces.
Although this is the general description of these two styles, a wide range of designs and specs are available in each category, significantly influencing the ride characteristics. For example, you have off-road-heavy gravel bikes on one end of the spectrum; on the other, you have aerodynamic road bikes.
All things considered, if you must choose one bike for various kinds of riding, on or off-road, along with tasks like bicycle touring or mixed-terrain commuting, a gravel bike is the best option; choose a road bike for performance and long-distance comfort on the tarmac.