Best Electric Road Bikes of 2023
An eRoad bike, or electric road bike, is a road bike with an electric assist motor fitted either in the hub of the rear wheel or in the bottom bracket. Otherly known as hub motor, or mid-drive.
Usually, the motor doesn't power the bike fully but provides enough assistance that pedaling is easier, especially when going uphill.
E-Road bikes have taken longer to be accepted by the cycling community than other electric bikes due to the competitive nature of road cycling. To use electric assistance is seen by many as negating the purpose of road cycling, which is meant to be a tough form of exercise.
However, more and more people are now adopting electric road bikes to improve their training sessions, reduce joint impact, and increase their daily distance.
---
As an ex-competitive cyclist who always thought of e-bikes as cheating, I have come to realize the advantages of them in my old age. Almost any cyclist who spent a decade or more completing 100-mile rides every weekend will know the damage cycling can wreak on your knees. eBikes mean I can now continue to enjoy cycling recreationally without having to go through hours of pain or use expensive anti-inflammatory creams.
---
---
1. Orbea Gain M20X
Weight – 27 lbs | Battery – 248Wh | Range – N/A | Motor – 250W | Torque – 40Nm
MSRP: $5,799
Jenson USA
Class 1 e-bike
Frame – Carbon OMR
Brakes – Shimano GRX hydraulic
Gears – Shimano GRX R8010 11-speed
The Gain M20X by Orbea is one of the best e-bikes for long-distance road and gravel cycling. While it is categorized as a road, gravel, and adventure bike, the geometry and 700x38c tire size make it an irreplaceable companion as an all-road bike.
With a max-assisted speed of 20mp/h, the Ebikemotion X35+ motor is among the most compact and innovative, integrated e-bike batteries to get for a road bike. The level of components and the 248Wh battery allows you to go further in altitude and distances while having saved a ton of energy.
The Gain M20X is best suited for someone who knows how to appreciate the nice blend of components mixed into one, a truly high-end carbon electric road bike.
---
2. LOOK E 765 Optimum Plus Disc 105
Specifically tailored to the requirements of e-bike riding
Weight – 31 lbs | Battery – 7A 36V 252Wh | Range – 54mi | Motor – 250W | Torque – 85Nm
MSRP: $6,200
Jenson USA
Carbon – Fork, and a frame with 3D wave seat stays for 15% increased flexibility.
Class 1 eBike with pedal-assist of up to 20mp/h
Fazua Evation Battery
22-speed Shimano 105
Shimano 105 hydro brakes
700x32c (Max clearance – 42mm)
Look no further when you are after an electric road bike made by the champions of the road bike territory. Look road bikes are well established, and a go-to choice among professionals or by anyone who prefers a high-end road bike.
The new 2021 features of the Optimum Plus are above-average, to say the least. The E-765 Optimum series bikes are lightweight and durable, specifically tailored for e-road biking.
---
3. Diamondback Current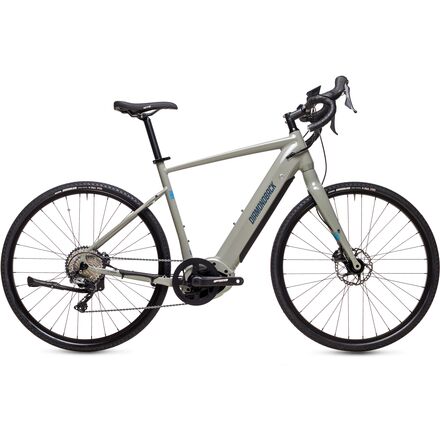 Weight – 46.8 lbs | Battery – 250Wh | Range – N/A | Motor – 350W | Torque – 85Nm
MSRP: $4,100
Backcountry
Class 3 e-bike
Frame – 6061 T6 aluminum
Brakes – Shimano GRX 810 hydraulic
Gears – Shimano GRX 810, 11-speed
Diamondback's Current needs no introduction in the world of bicycles. This electric gravel bike is no less impressive on the road, with a highly efficient Bosch Performance Line Speed Gen 4 motor and PowerTube 500 battery. This means you can use the Current as a gravel bike or as a normal electric road bike.
With quality Shimano GRX gears and flat mount disc brakes combined with a lightweight aluminum frame with stable geometry and 700 x 40mm Maxxis Rambler tires, it's clear this is a bike for long-distance rides. It comes with all the bells and whistles of Diamondback's top competitive bikes with just that added bit of power when you need it.
---
4. Cannondale Topsone Neo Carbon 3 Lefty
Ebikemotion Hub-motor
Weight – 39.3 lbs | Battery – 500Wh | Range – 76mi | Motor – 250W | Torque – 75Nm
MSRP: $6,350
Mike's Bikes
Class 1 e-bike
Frameset – Carbon
Brakes – Shimano GRX hydraulic
Gears – Shimano GRX 812 11-speed
The Topstone Neo Carbon 3 Lefty is a full-suspension electric gravel bike that performs perfectly on the road thanks to suspension lockout and high-power electronics. It comes with a powerful mid-drive motor that pushes out 75Nm of torque, more than enough to help you with those steep hills or long rides.
The 500Wh battery can last up to 76 miles but charges in under 4 hours, perfect to power up during lunch. The Topstone Neo is the ideal, comfortable gravel or road electric bike for long-distance rides.
---
5. Pinarello Nytro Grinta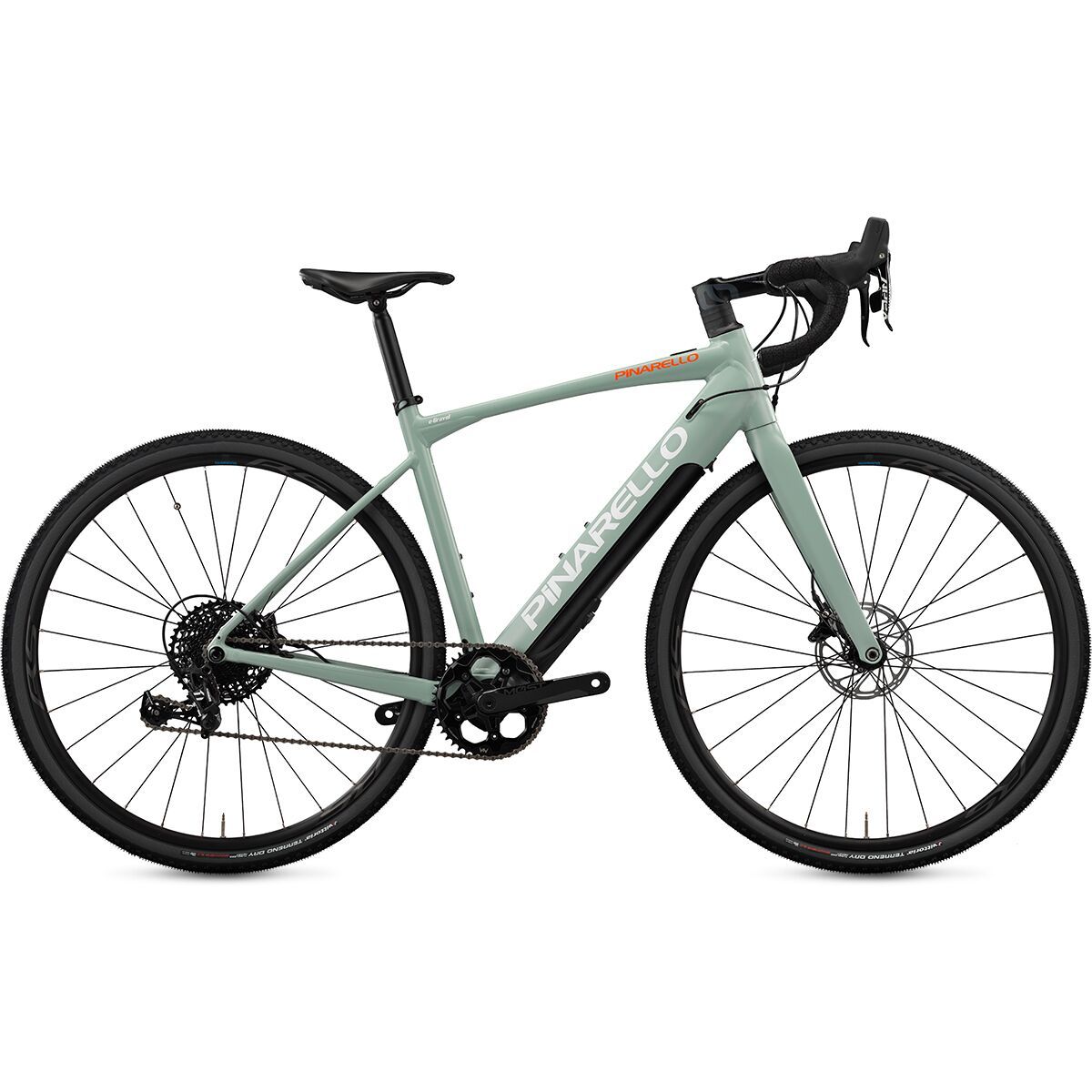 Weight – ~35lb | Battery – 250Wh | Range – 50mi | Motor – 250W | Torque – 50Nm
MSRP: $4,000
Backcountry
Class 1 e-bike
Frame – Aluminum
Brakes – SRAM Apex
Gearing – 11-speed SRAM Apex 1
The Pinarello Nytro Grinta electric road bike is designed to give more people the feeling of a high-end racing bicycle.
They combine traditional all-road bike traits with a cutting-edge, lightweight motor that helps keep the bike lightweight. The Nytro Grinta has multiple power-assist modes so you can manage exactly how much extra boost you need while still getting in some solid training.
With a 250Wh battery that can help you ride 50 miles on a single charge, you'll be able to explore high mountain passes that were previously inaccessible. The high-quality Apex 1 drivetrain and hydraulic disc brakes finish off this Pinarello bike with a high-performance feel.
It's the perfect bike for weight-conscious cyclists who've always thought eBikes are too heavy.
---
6. Alchemy Bikes eRonin
Weight – N/A | Battery – 250Wh | Range – N/A | Motor – 250W | Torque – 60Nm
MSRP: from 10,999
Alchemy Bikes
Class 1 e-bike
Frame – Carbon
Gears – 12-speed, electronic gearing
Alchemy Bikes is a boutique manufacturer that specializes in hand-made carbon and titanium bikes. The eRonin is the only electric bike in their range.
This electric road/gravel bike uses industry-leading components in every area, delivering high performance capable on anything from roads to light singletrack.
A full carbon fiber frameset has clearance for 45mm tires with 700c wheels or 2.1″ tires on 650b wheels. Each of the four builds comes with Teravail Cannonball 42mm tires on Industry Nine carbon wheels.
Choose between Shimano GRX 815 Di2, SRAM X01, Force XPLR, or XX1 AXS groupsets to support the lightweight and powerful Fazua Evation mid-drive eBike system.
---
7. Gazelle Ultimate C380+
Best flat-bar electric road bike
Weight – 55 lbs | Battery – 500Wh | Range – 80mi | Motor – 250W | Torque – 75Nm
MSRP: $5,000
Class 1 e-bike
Frame – 6061 Aluminum alloy
Gears – Enviollo 380 Trekking Hub
The Gazelle Ultimate C380+ is an excellent flat-bar road bike with commuter components, perfect for those who spend a lot of time cycling down dirt or gravel roads.
It has thicker tires than most at 47mm and a powerful engine with a long-lasting battery. The Ultimate C380+ is ideal for getting out into the countryside and spending a full weekend exploring your surrounding nature.
Gazelle has included an impressive Bosch Performance Line Speed eBike system and a 500Wh battery to deliver 80 miles of range. Not the cheapest e-bike on the market, but what a lovely ride!
---
8. Bianchi Aria Ultegra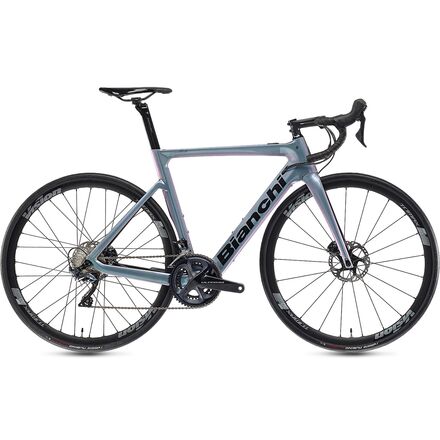 Weight – 27 lbs | Battery – 250Wh | Range – 15-25mi | Motor – 250W | Torque – 40Nm
MSRP: $6,500
Backcountry
Class 1 e-bike
Frame – Carbon
Brakes – Shimano Ultegra R8070 hydraulic
Gears – Shimano Ultegra R8000 2×11
Bianchi bikes are easily recognizable by their signature light blue color, and this carbon e-road bike is not different. Looking much like your traditional Bianchi road bike, it has only a slightly fatter downtube to fit the battery and more modern frame geometry. The integrated motor has three power modes, giving out 30%, 60%, or 100% assistance.
Hop on and it feels just like riding a standard road bike, with hardly any resistance from the motor and mild, smooth electrical assistance when going uphill. Top-quality parts like a Shimano Ultegra groupset make it feel just like a pro bike, so competitive riders will feel at home. All the class and quality of a traditional Bianchi steed, with some added electrical horsepower.
---
9. Bianchi Impulso
Weight – 27 lbs | Battery – 250Wh | Range – N/A | Motor – 250W | Torque – 40Nm
MSRP: $4,950
Backcountry
Frame – aluminum, carbon fork
Brakes – Shimano BR-RX400 hydraulic
Gears – 1×11
Rear derailleur – Shimano GRX RD-RX812
The Impulso is a Bianchi electric road bike with gravel capabilities, combining an aerodynamic, lightweight frame with thick tires and a powerful motor. The result is an off-road beast that will tackle the tough conditions of nature with ease and speed.
Bianchi's Impulso is a lightweight and stable ride thanks to tailored, providing control and confidence even at high speed. The 250W motor pumps out a smooth 40Nm of torque, helping you sail up hills with ease. Finally, you have premium Kenda Flintridge 35mm tires with deep tread to take on any tough gravel paths and trails.
---
10. Pivot eVault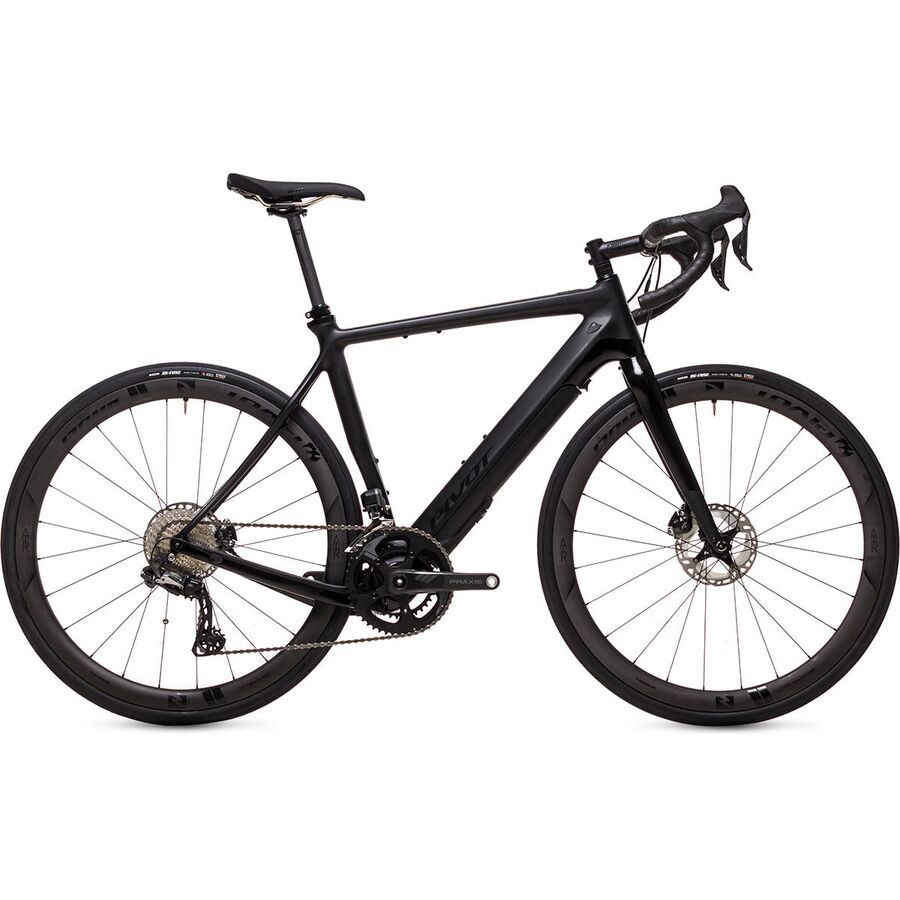 Weight – 29.9lbs | Battery – 250Wh | Range – N/A | Motor – 250W | Torque – 40Nm
MSRP: $9,999
Competitive Cyclist
Class 3 e-bike
Frame – Hollow-core molded carbon
Brakes – Shimano GRX 810 hydraulic
Gears – 2×11
Derailleurs – Shimano GRX 815 Di2
The Pivot eVault electric gravel bike combines a lightweight 40Nm motor with an elite level carbon frame providing you with an excellent long-distance, hill-climbing eBike. The premium Fazua Evation motor will surprise even the weakest of riders, carrying you smoothly up steep hills with no effort at all.
Paired with the motor is a 250W battery that is fast-charging and long-lasting, especially when used with the 2×11 GRX Di2 drivetrain. Finally, the ability to run up to 700 x 47mm or 650b x 2.0in tires makes this bike an incredibly versatile and comfortable electric road or gravel bike.
Buy from Competitivecyclist.com
---
11. Cannondale Topstone Neo Carbon Lefty 3
Weight – 39 lbs | Battery – 500Wh | Range – 109mi | Motor – 250W | Torque – 85Nm
MSRP: $6,350
Class 3 e-bike
Frame – Carbon
Brakes – Shimano GRX RX400 hydraulic
Gears – 1×11
Derailleur – Shimano GRX Shadow Plus
The Cannondale Topstone Neo Carbon Lefty 3 is a unique all-road/gravel electric bike with a one-sided 30mm travel fork.
This reduces the weight and provides a more smooth and controlled feeling on rough terrain. Modern additions like frame-integrated KingPin suspension also further smooths out rough gravel rides, making this one of the more advanced e-road bikes on the market.
With a range of pedal-assistance modes available, you can push out as much or as little effort as you like, ensuring that you get in all your training while reducing strain and impact on your joints. The wide-ratio Shimano GRX drivetrain allows you to take on steep climbs, and if you drop the motor into eco mode, you'll be sure to feel the burn and ride for up to 109 miles.
---
FAQ
What to look out for in an electric road bike?
When choosing an e-Road bike, the main points to look out for are the 1. Discipline (endurance, race, gravel), 2. Correct size, and 3. Level of components. Luckily, all of the e-road bikes lister are made of high-quality components, oftentimes designed for e-Road specific geometry and components.
Why get an electric road bike?
There are many good reasons to get an eRoad bike but trying to cheat in a cycling race is not one of them. The large batteries and visible motors make eRoad bikes instantly recognizable, so you won't be fooling anyone.
Many eRoad bike buyers simply want to get to work without breaking a sweat or keep up with their younger, fitter mates on weekend rides.
If you struggle with arthritis or knee pain, an electric road bike could mean the difference between hanging up your helmet for good or enjoying several more years in the saddle. Maybe you simply want to see more of the world in a day and your legs aren't taking you as far as you'd like to go.
Despite the electrical assistance, some research has found that eBikes actually improve fitness because riders spend longer periods in the saddle.
And lastly, the most obvious reason is that eBikes are super fun to ride. The constant assistance is very convenient on both flat and hilly roads.
What is the average cost of an electric road bike?
Make no mistake, electric road bikes are not cheap so you may need to consider your needs carefully. Most electric road bikes cost upwards of $3,000, with some top-range bikes costing $6,000 or more. However, if you currently drive to work or use public transport, an eRoad bike could pay for itself in a few months by saving on petrol or train tickets.
Disadvantages of e-road bikes?
Most electric road bikes are heavier and more expensive than traditional bikes. They also have more complex parts and as such are likely to need expensive repairs more often.
Which is the best electric road bike brand?
Cannondale has produced the widest variety of eRoad bikes on the market, while their main competitor, Specialized, has also a line of high-end bikes on their fleet. When you are after a road-specific brand, consider Look electric road bikes.
Are electric road bikes worth the money in 2023?
Any bicycle that gets you cycling outdoors, breathing fresh air, and improving your fitness is worth the money. For many people, an e-bike gives them the power to cycle to work, saving money on fuel or transport, and paying itself off in the long run.
Over the years, motor and battery technology has gotten cheaper, making e-bikes more affordable now than ever before.
Which is the best electric road bike groupset?
Electric road bikes use the same groupsets that normal road bikes do, but with more pressure being put on the gears, it's best to have a high-strength set like Shimano Ultegra or GRX. Some ebikes with rear-wheel motors use built-in gears like the Shimano Nexus or Rohloff system, both of which are very good.
What is the lightest electric road bike?
At only 23.7lbs (10.75kg), the Scott Addict eRIDE is probably the lightest electric road bike in the world.
Which is the best budget electric road bike?
Unfortunately, the term 'budget' is not often seen in the road bike industry and is not as common in the electric bike industry as well. We couldn't find any cheap electric road bike under the $2,000 and even the $3,000 mark so please hold on few more years and let's hope to see better deals by then.