Best Road Bikes For Women
Road cycling is said to be the quickest way to lose weight and get in shape, fast! It is also the fastest way to commute non-electric, and maintain a healthy cardiovascular endurance. Anyway, whether you are looking for a road bike as your second bike to a hybrid or a mountain bike, or simply want a bike to race with – down below you'll find a selection of the best women's road bikes in 2021.
---
Men's vs Women's Road Bikes
Men's vs Women's Road Bikes. How to tell that a road bike is women-specific? Is it the colors or the geometry?
The most distinct feature that is usually found on women's road bicycles is a lowered top tube. This makes it easier for a shorter person to mount the bike but is also a feature from the old days when women typically wore dresses.

Women's bikes are also usually a bit smaller, with a shorter reach and lower standover height. However, a taller woman could just as easily ride a standard size men's road bike.
Nowadays, these features are still present on many women-specific bikes but are largely unnecessary. Choosing the best women's road bike is no different from choosing the best men's – simply find the right frame geometry that best fits your body measurements.
Can you use a road bike for everyday commuting? Yes, you certainly can, but bear in mind that a road bike that's been properly fitted to your body might not be as comfortable
Best Women's Road Bike Brands: With the most popular women-specific models available: Cannondale, Specialized, Bianchi
---
---
Best Women's Road Bikes of 2021
1. Bianchi – Infinito $4,500
2. Tommaso – Fascino $875
3. Cannondale – Topstone 2 AL $1,600
4. Salsa – Warroad 105 $3,199
5. All-City Cycles – ZigZag $2,699
6. Trek – Domane AL 2 $1,249
7. Cannondale – Synapse $3,300
8. Cannondale – SuperSix Evo $4,000
9. Diamondback – Haanjo 5 $1,800
10. Giant – Contend 3 $1,000
11. Schwinn – Volare 1400 $750
12. Specialized – Allez $899
13. LIV – Avail 3 $700
Anyway, here are the best women's road bikes of 2021 to buy online in our opinion! – Road – Endurance – Race
---
1

. Bianchi – Infinito CV

A high-end road bike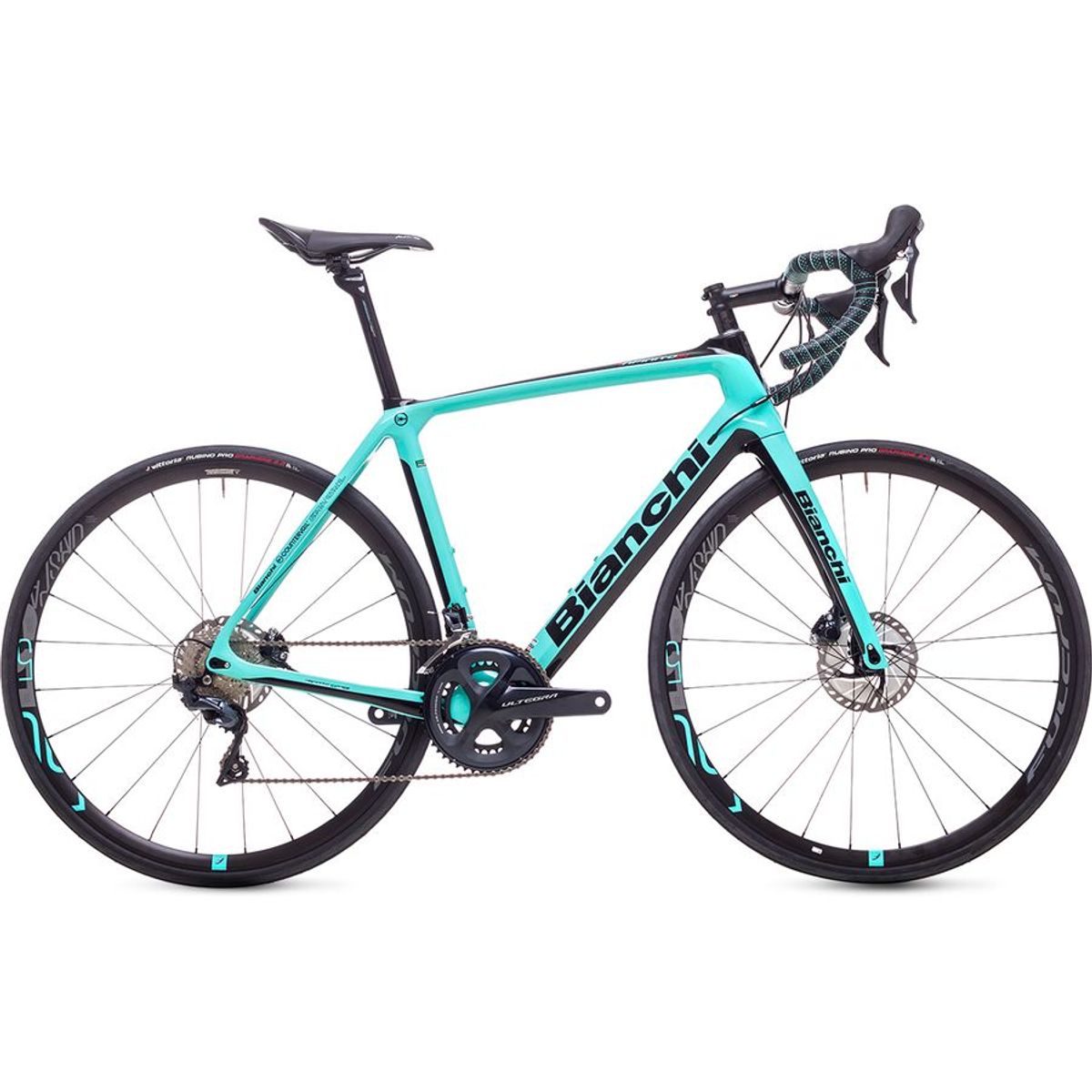 MSRP: $4,500
Bianchi
Although this is not a women-specific frame, Bianchi is one of the oldest road bike manufacturers in the world, harking back to late 19th century Italy. Their light blue frames are instantly recognizable, having won many famous road races over the years. The Infinito CV women's road bicycle from Bianchi is one of its top-end offerings, coming in a lightweight full carbon frame with high-quality gears, wheels, and brakes. 
This is one of the best high-end yet affordable road bikes on the market, aimed at professional riders who intend on competing in races. Although there is no women-specific model, it comes in seven sizes to fit anyone from 5'4″ to 6'6″.
Wheels: Fulcrum Racing 418
Brakes: Hydraulic, flat mount
Carbon / 2×11 Shimano Ultegra / 700x28c
---
2

. Tommaso – Fascino

Best Women's Road Bike Under $1,000
MSRP: $880
Tommaso Cycling
The Fascino from Tommaso is technically a women's road bike for beginners but considering the low price, it offers excellent value for money. With a lightweight aluminum frame and Tommaso Corsa alloy rims, it weighs less than the average aluminum road bike at only 23.6 lbs (10.7kg).
The drivetrain is a full Shimano Tourney set, offering a smooth shifting and braking experience integrated into the drop bars. The strong, rigid frame is designed with compact geometry for better power transference and includes mount points for a pannier rack. It also features a steel fork that better absorbs shock to provide a smoother cycling experience.
Weight: 23.6 lbs
Wheels: 23mm deep, Tommaso Corsa TC20
Brakes: Shimano Tourney brakes & shifters
This is most likely the best women's entry-level road bike that will actually last, and offer heaps of miles. Unlike some cheaper bikes at this price level, Tommaso uses only good quality parts and doesn't cut any corners on the Fascino. It's a great bike to get into road cycling and start training for your first competitive race.
Kristen G about the Tommaso Fascino: "I wanted to start road cycling for exercise after not having ridden a bike in 25 years as a kid. I was able to put this bike together by myself with no problem. It's a pretty smooth ride and the gears are easy to use. I like how lightweight the bike is, I'm a petite woman and I can easily carry the bike and put it in my car."
Aluminum / 3×7 Shimano Tourney / 700x25c
More from Tommaso under $1,000: Imola (In 3 different colors), Forcella (In 2 different colors)
Read more - TommasoCycling.com
---
3

. Cannondale – Topstone 2 AL
2021 Women's Model
MSRP: $1,600
REI Co-op
A great comfortable commuter, gravel grinder, and go-anywhere bike! This female road bike from Cannondale is a tough gravel bike designed for getting off-road and exploring the countryside, hitting some dirt trails, or taking a single track through the mountains. The strong alloy frame and thick WTB tires can tackle all kinds of terrain, from broken pavement and cobblestones to loose dirt and rocky country lanes.
It's fitted with a 10-speed Shimano GRX groupset which includes its Shadow rear derailleur – specifically designed to handle bumpy, off-road conditions. The groupset also features Shimano hydraulic disc brakes that provide instant stopping power in both wet and dry weather. For the price, it really is a great offer, as you'll struggle to find a better gravel bike for less. Get out there and explore to your heart's content, confident that the Cannondale Topstone 2 will get you home again.
Brakes: Shimano GRX Hydraulic Disc Brakes
Rims: WTB ST i23 TCS
Weight: 22lbs 4.8 oz
Aluminum frame / 2×10 Speed Shimano GRX / 700x37c
---
4

. Salsa – Warroad 105

Best 2in1 – Road & Gravel Bike
MSRP: $3,199
REI Co-op
This full-carbon women's road bike from Salsa combines a lightweight frame and vibration reduction system with semi-thick tires and stable gravel bike geometry to create a hybrid that can take you anywhere – and fast! It's one of the very few road bikes that manage to incorporate off-road features without sacrificing on-road speed and agility.
Sure, the price tag is definitely on the higher side of most budgets but one ride on this beauty and you won't regret it. The superb Shimano 105 groupset will have you changing gears just for the fun of it, and the incredible absorption system will keep you comfortable all day long. It's a race-winning piece of machinery that is as fun as it is fast, ready to tackle anything you throw at it. Whatever your riding style, the Salsa Warroad may be the last bike you'll ever have to – or want to – buy.
Max Tire Clearance: 700x35c / 650x47b
Wheels: WTB ST i21 TCS 2.0
Carbon / 2×10 Shimano 105 / 700x28c
---
5

. All-City Cycles – Zig Zag 105 Bike – Purple Fade
MSRP: $2,699
Aventuron
This ladies road bike from All-City uses the company's proprietary air-hardened, custom extruded steel frame combined with a carbon fork to provide the smoothest ride possible. The combination results in a bike that provides all the benefits of modern technology while maintaining a classic, iconic style.
Not only does it feature a high-quality Shimano 105 drivetrain with hydraulic disc brakes but comes compatible with Di2 internal cabling if you wish to upgrade. All-City finishes it off with their Signature dropouts, brazed-on seat collar, and custom head badge in the unique, personalized way that only a family-run company can offer.
Wheels: WTB ST Light i19
Upgraded Version: Zig Zag Ultra
Steel frame & carbon fork / 700x28c
---
6

. Trek – Domane AL 2

A lightweight ladies race bike
MSRP: $1,249
Trekbikes.com (Trek bikes can be bought in-store only!)
The Domane AL2 is a quality unisex aluminum bike from Trek that offers excellent value for a bike just over $1,000. Although it may not have the top-class components of some other Trek bikes, it benefits from much of the same technology that makes Trek a leading brand.
A 24-speed Shimano Claris gear set is more than sufficient for an introductory road bike, and the endurance geometry frame is perfect for long days in the saddle. You also get hydraulic disc brakes, rack and fender mounts, a comfortable carbon IsoSpeed fork, and Trek's Blendr-compatible stem for fitting lights or other equipment.
Weight: 23.24lbs
Rims: Bontrager Alloy TLR
Alloy frame & Carbon fork / 2×9 Shimano  / 700x32C
---
7

. Cannondale – Synapse Carbon Disc Ultegra Women's Bike
MSRP: $3,300
REI Co-op
The Cannondale Synapse has been a long time favorite of competitive road cyclists for many years and continues to impress. Naturally, the Synapse women's racing bike is just as good, with a full carbon frame, top-of-the-range Shimano Ultegra gears, and top quality Fulcrum wheels. Although not technically a gravel bike, the wider tire clearance, and hydraulic disc brakes allow for accommodating larger tires so you can fit something more off-road friendly if you need it.
The newest upgraded version of the Synapse has been designed with endurance race geometry and SAVE micro-suspension technology to maintain comfort over long distances. In addition, its strong, lightweight frame and wide 30mm Vittoria Rubino tires can handle both on and off-road conditions in equal measure, so don't be afraid to go exploring! At only 19 lbs (8.6kg) you'll find the Synapse a joy to ride, even on those long, uphill slogs.
Wheels: 26mm deep Fulcrum Racing 600DB w/ alloy clincher
Weight: 19lbs, 1.6oz
Carbon / 2x11speed Shimano Ultegra / 700x30c
---
8

. Cannondale – SuperSix Evo Carbon Disc Ultegra Women's Bike

Best Women's Endurance Road Bike
Carbon / 2x11sp Shimano Ultegra / 700x25c
MSRP: $4,000
REI Co-op
The SuperSix EVO is one the best Cannondale women's bikes available, with a stiff and light carbon frame, top-quality Shimano Ultegra gears, and ultra-fast race geometry. It's designed for competitive racing and features some groundbreaking technology, including an integrated wheel sensor that connects to your phone to deliver live racing stats.
The new frame design reduces drag by 30% and can accommodate tires up to 30mm thick if you plan on hitting some gravel paths or dirt singletrack. With super-light carbon Hollowgram wheels, the SuperSix weighs an incredible 17 lbs (7.7kg), making it one of the lightest bikes available. At $4,000 it is admittedly one of the most expensive on the list but you can't put a price on quality like this. It's a bike for serious cyclists with podium-winning dreams, and it delivers the goods.
Weight: 17lb, 11.2 oz
Wheels: 30mm deep, HollowGram 35 w/ Carbon Clincher
---
9

. Diamondback – Haanjo 5

Great beginners road bike for commuting and light riding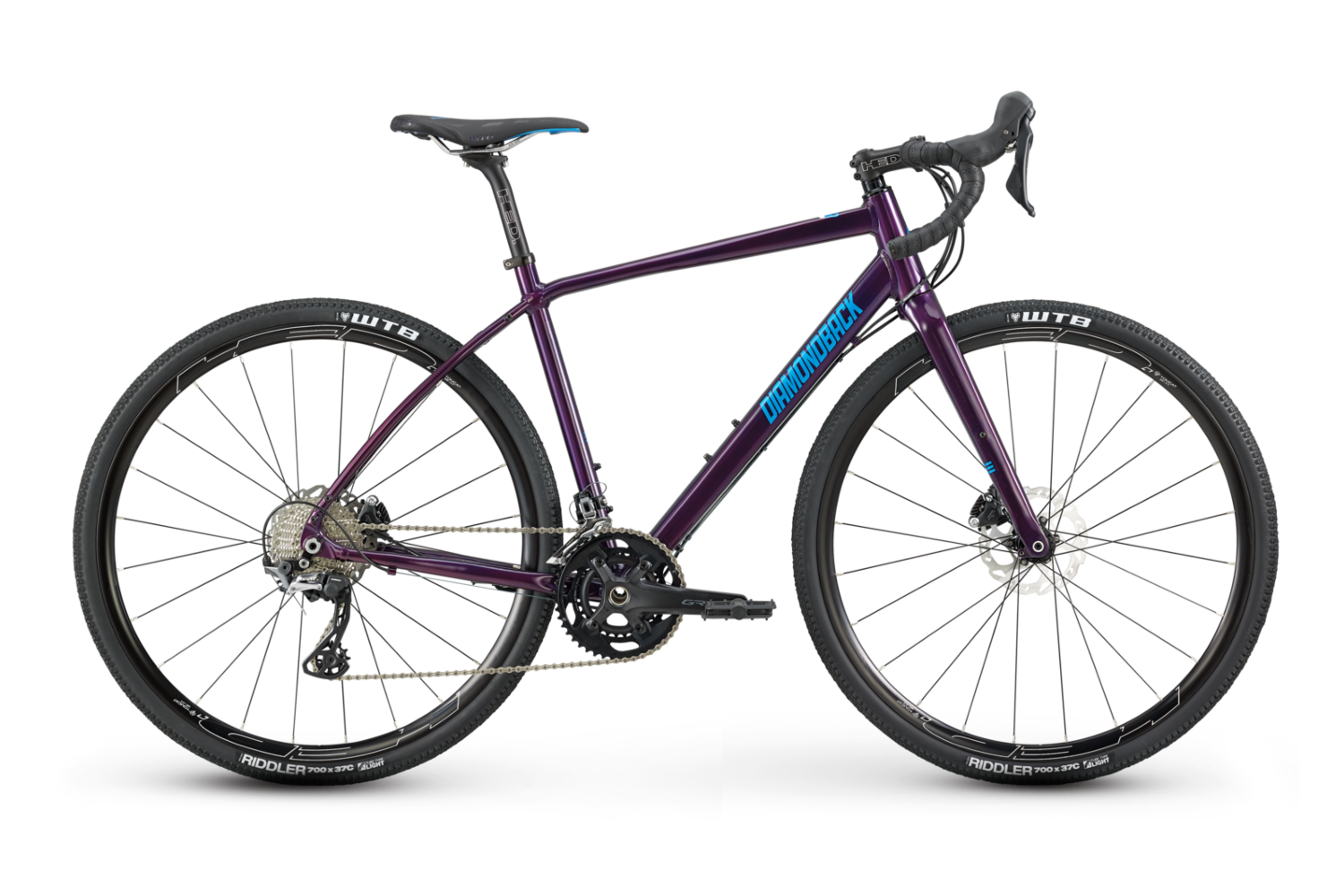 MSRP: $1,800
Diamondback.com
The Diamondback Haanjenn 2 is a great bike both for the commuter and occasional riders alike. The all-aluminum frame is strong and robust for gravel riding, commuting, and weekend training up and down the hill.
Fitted with a Claris 8 speed groupset with a 46T, 34T in the front and an 11-32T in the back makes this bike more versatile than it appears at first glance.  The low gears allow a commuting cyclist to ride up the hills with her laptop bag and other work gear mounted to the frame. The bike's frame comes in sizes for women between 5'1″ to 5'11".
The Haanjo 5 is a gravel-specific road bike, perfect for exploring the countryside or getting lost in nature. It features thick-treaded 37mm tires and a 22-speed Shimano GRX groupset with a low profile Shadow Plus rear derailleur, designed to handle the rigors of offroad riding.
If you like heading out into nature for a few days of adventure, the Haanjo 5 is the perfect bikepacking bike. Strap on a tent to the handlebars, fit a seat and frame bag and you're ready to escape into the wild for an awesome weekend away. What are you waiting for?
Aluminum frame & carbon fork / 2×11 Shimano GRX / 700x37c
---
10

. Giant – Contend 3

A road bike to race and go to grand Fondos on
MSRP: $1,000
Jenson USA
With a lower than the expected price tag of only $1,000, the Giant Contend 3 delivers a lot of bike for the price.  The Giant Contend 3 provides a cyclist with speed and great handling.  Sporting a lightweight alloy frame with a carbon fork; this bike was made to move fast.
The steerer tube has Giant's original Overdrive system which features oversized headset bearings (1 1/4" lower and 1 1/8" upper) and a tapered headtube to deliver great handling. If there were a bike that was built to lean in corners in crits and carve a descend on a mountain pass; the Giant Contend was certainly the one! A frame can make or break a bike, but the Giant Contend 3 frame can accommodate up to 38 mm tubeless and clincher tires. The tubeless tires add to the comfort and safety of the rider.
Tubeless technology has recently transferred to the road industry from the mountain bike industry. As the name implies – there are no tubes; the tire is held on with a strong rim and sealant.  If an object punctures the tire, the sealant will fill the hole automatically. This unique feature gives the rider added flat protection and comfort. Tubeless tires can be ridden on lower tire pressure without getting a pinch flat. The ability to ride on tires with lower pressure adds even more comfort and stability in different and sometimes challenging terrains.
Outfitted with Shimano Sora taller gearing for racing – 50/34T in the front with an 11/34T in the back, this bike is just the right ticket for more aggressive riding as well. It also has internal cable routing for clean lines and aerodynamics. There is an aerodynamic "Giant D- Fuse" shaped 27 mm seat post that is designed to absorb the harshness that comes with most aluminum frames. This seat point is a plus for women riders who love speed but don't want the soreness that accompanies racing aluminum frame bikes. The Giant Contend 3 comes in sizes ranging from 20 inches to 23 inches and can accommodate most riders.
---
11

. Schwinn – Volare 1400

Best women's road bike for beginners!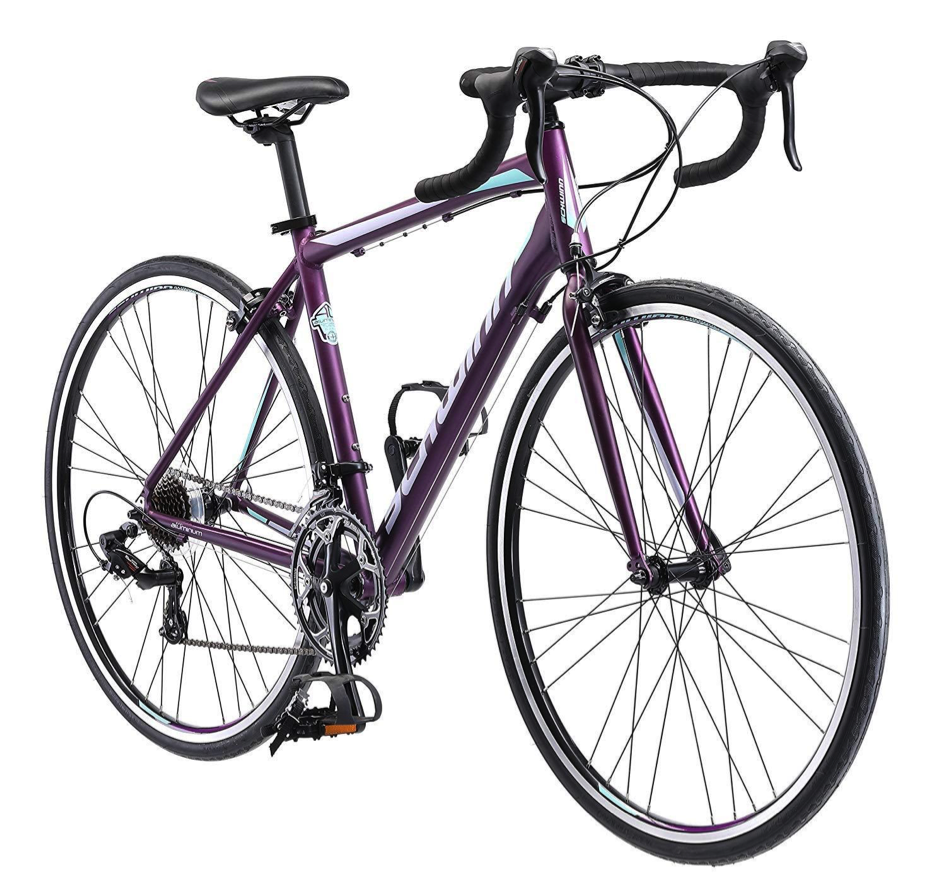 Check Latest Price at Amazon.com
The Schwinn Volare 1400 is the perfect entry-budget bike for 'Sunday riders' who are looking for the cheapest way into road cycling. It is comfortable, robust, and well suited for short commutes. The Volare's alloy frame has a steel fork that comes in two sizes 48 CM and 53 CM. Although it is a budget bike it comes with a Shimano Tourney groupset. This is a suitable bike for a cyclist who intends to ride the bike occasionally, in other words – for someone who is not interested in high performance.
The Volare offers a great upgrade from a flat-bar bike as the rider can feel the huge difference in terms of speed and better climbing qualities.
Since the bike has a drop bar handlebar, the rider has three different positions for their hands – the hoods, drops, and tops. The described features allow the cyclist to be able to ride further than with a flat-bar bike.  Painted power all purple including frame and fork; this bike screams "Girl Power"!! which will attract the younger female riders.
Aluminum / 2×7 speed Shimano Tourney / 700x28c
---
12

. Specialized – Allez

Out of stock online
MSRP: $899
Specialized
Besides the girliest of color-schemes to get – the women's Specialized Allez is also the perfect bike for commuting as well as for Sunday races.
The newer model Allez went on a diet compared to the last Allez losing over 450 grams on the frame and fork due to the E5 Alloy.  Climbing up hills, and even up the steps to your office is not a problem for the Allez. It is equipped with the dropped seat stays for comfort and aerodynamics.
Road vs Gravel?
The Allez carbon fork is directly borrowed from the Specialized Tarmac frame, and while the bike shares similar geometry with the model Tarmac. Make no mistake, Allez is a race bike and is not suited for gravel! If you love criterium racing, the Allez is certainly your go-to cycling best friend.
Made for speed on the streets this bike will out corners other commuters on the street.  However, if a cyclist wants a bike with a more upright position he/she would do well to look elsewhere. The bike is also fitted with an 8 speed Shimano Claris group set to make the price point.  Specialized Allez bikes come in sizes between 49 cm to 61 cm to fit all riders.
Aluminum frame & carbon fork / 2×8 Speed Shimano Claris /
---
13

. LIV – Avail 3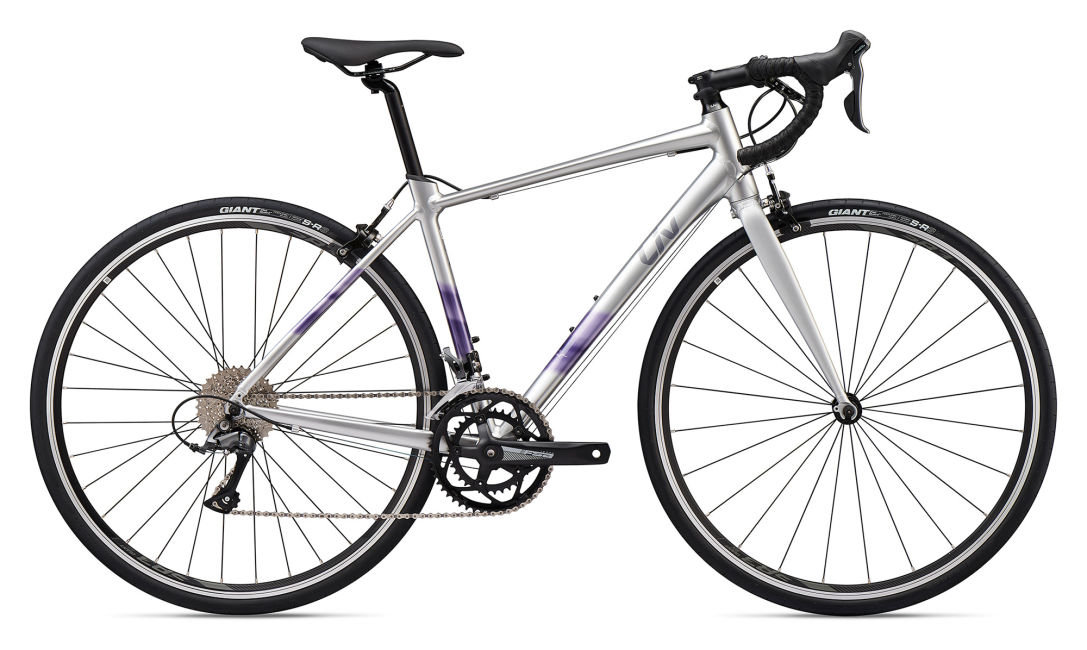 MSRP: $700
Liv-cycling.com
The Liv Avail 3 is a women's aluminum road bike designed specifically to fit the female form, with lightweight endurance geometry for smooth, comfortable riding all day long. Despite the low price, the Avail 3 incorporates some modern technology, including OverDrive steering and PowerCore bracket for a precise and highly responsive cycling experience.
As an introductory road bike, the Avail 3 offers excellent value for money, making it the perfect work commuter or weekend training bike. The strong ALUXX frame and Shimano Claris groupset are quality components that will provide you with years of hassle-free cycling.
Aluminum frame / Shimano Claris Groupset / 700x28c
---
Didn't find what you were looking for?
---
What are the main differences between Men's and Women's road bikes?
Women's, Unisex, Men's
However women's bikes are very similar to men's bikes, in years past, bike companies would just "pink up" a men's bike and sell them as women's bikes.  Today, the biking industry is more fully addressing the needs of women cyclists. Although the bikes have similar geometry, there are small differences in women's and men's bodies as well as the difference in the way women and men ride.
Since women have wider hips, narrower shoulders, and shorter legs on average, women's bikes have wider saddles and narrower handlebars. Women's saddles are also shorter than men's saddles. Some high-end saddles for women have different cut-outs for the saddle to relieve the pressure on the sensitive areas affected by the bike design.
Except for professional cyclists that have a super aerodynamic slammed stem position, most cyclists both male and female prefer a shorter reach and a more upright position.  The geometry for most women's bikes is more endurance-oriented. The chainstays are longer for more stable handling and the headtubes are taller for a more upright position.
Moreover, women generally have shorter arms and smaller hands, therefore the stem is shorter on women's bikes.  This allows them to reach the brake hoods and the drops easier.
Women's legs are shorter and the standard crank arms are shorter for women's bikes with easier gearing with front chainrings of 48T, 32T with an 11-32T cassette. This type of gearing allows casual riders to spin up the hills without too much effort.
Related: Best Road Bikes
Women's bikes also have a sloping geometry with a lower top tube. The lower top tube allows for a lower standover height which makes it easier for shorter women to get their leg over the bike when mounting the bike and gives them the ability to hope off during an emergency.   Women's bikes also are sized smaller many brands carry bikes down to 44 cm.
Which is the best women's road bike saddle?
The bicycle saddle is obviously one of the main differences between men's and women's road bikes. Women's cycling saddles are either larger in width and shorter in length and have a gap in the middle to release the pressure from the genitals.
---
FAQ
Choosing the Right Riad Bike for You
After all this technical jargon you may still be asking yourself – which bike is right for me?  The two biggest factors in deciding which bike is right for a specific rider is what type of riding will the cyclist do? (commuting, racing, gravel grinding, cyclocross or bike backpack touring) and what the bike's price point will be.
First, let's take a look at the price range for women's bikes.
Right price range
$400 – $1,000 (ENTRY) – Bikes in this price range are usually for beginners, entry-level cyclists. These bikes usually have an alloy or steel frame with lower-end components such as Claris groupset with rim brakes, which is the lowest end of the groupset hierarchy.
Alloy/Steel frame, rim brakes, entry-level components
$1,000 – $1,500 (ENTRY/MID – Bikes in this price range are generally purchased by more committed cyclists.  These bikes will have Shimano 105 Groupset which is 3rd on Shimano's hierarchy.  These higher-priced wheels almost always feature mechanical disc brakes for great stopping in all conditions.
Alloy frame, mechanical disc brakes, mid-entry groupset
The Shimano 105 is a complete trickle down from the top of the range groupset Dura-Ace and will last longer with proper maintenance. Some Carbon bikes are in this range and they can be used for racing.  These higher ticket bikes are good for touring long distances and up to 100+ miles per day. Bikes in this range are light and stiff, which is good for competitive riding.
Most importantly to note is that bikes in the price range have excellent performance but the price tag will not send a buyer into sticker shock nor send her to the poor house.
$1,500 – $3,000 (MID RANGE)

– Bikes in this price range are for serious cyclists, or for anyone who appreciates great craftsmanship and good quality.  When a rider buys a bike in this price range, she'll most likely get a bike made of carbon fiber. These high price cycles are lighter, stiffer, and more comfortable.  In this class of bike, a buyer will receive Ultegra components which are very racy.
The cyclist will also be delighted to receive hydraulic disc brakes for the best braking and modulation in all weather conditions.  The purchaser of this class of bike is almost always an experienced cyclist that is ready to race in for grand fondues. She more than likely may be a Strava addict.
Buyers who purchase bikes at this level have a very strong desire to win their local criterium or "crit" race, get the best times on a mountain or bike across Europe.  This is a great bike for a junior racer and a nice upgrade from 105.
$3,000 + Competitive(MID/HIGH). This is where the selection of bikes comes the widest, and the quality of components the highest. In this range, you'll find a lot of components that are built to save weight, perform at a high level, and
Bikes in this price range provide her with what she requires in terms of performance, speed, and safety. This higher ticket bike is purchased as an upgrade from the 105, or Ultregra.
Why prefer a road bike over any other bike?
No matter what your level of cycling is, there is a bike for you.  If a cyclist wants to race, gravel grind, or just get to work – bikes are the past, present, and future mode of the main source of alternative transportation.  Cycling is a healthy cardiovascular sport, and as a seasoned cyclist can admit – very addictive as well!
Once a rider starts to enjoy the pleasure of racing in the wind on a high-performance machine it is almost impossible to settle for anything less. Enjoy your new adventure and tell others so they can share the joy of cycling too.
---
RELATED
Bicycle Frame Materials – Which one to prefer in different disciplines?