All You Need to Know About Disc Brakes for Bikes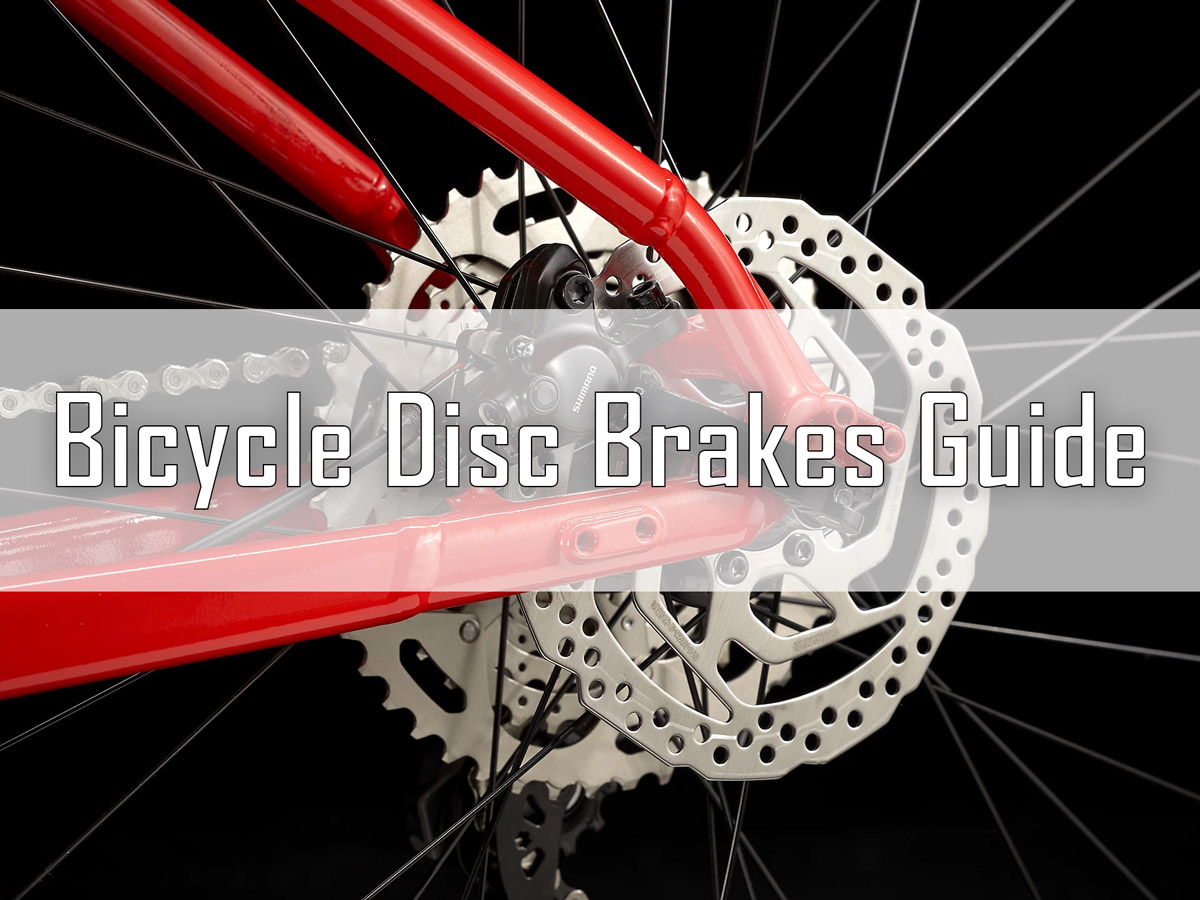 Since their popularization in mountain biking, disc brakes have slowly edged into the other disciplines. Mechanical and hydraulic disc brakes are becoming the universal choice for bicycle manufacturers thanks to their unbeatable performance.
As of 2023, it's challenging to find a new bicycle with rim brakes as disc brake superiority is now widely recognized, and the technology has become more affordable. As a result, very few budget-level road bikes and city bikes still use rim brakes, despite the lower price, complexity, and weight.
This guide will discuss and compare hydraulic and mechanical disc brakes, contrast the difference between rim vs. disc brakes, and describe the individual bicycle brake parts.
Bike brakes have been subject to constant innovation and development down the years, with ...
Types of Disc Bike Brakes
There are two types of disc brakes: mechanical and hydraulic, the main difference being how they engage the calipers. Although both disc styles are excellent, hydraulic bike brakes are considered the better of the two.
Mechanical Disc Brakes
Mechanical bicycle brake types use standard cables to operate. First, you engage the cable connected to the calipers by pulling the brake levers. Then, the two pistons in the caliper close together on either side of the rotor.
These pistons have brake pads attached, which compress the rotor, causing the wheel to slow. Mechanical discs are usually compatible with standard brake levers and cables, like those on rim brake bikes.
Hydraulic Disc Brakes
Hydraulic disc brakes do not use cables to engage the pistons; instead, they use hydraulic fluid in a sealed container attached to the caliper. Once you pull the levers, fluid moves through the system, creating pressure in the caliper.
This pressure activates the pistons and presses the brake pads onto the bicycle brake rotor. This fluid system makes hydraulic brakes the most powerful, consistent, controlled, and long-lasting.
Rim Brakes vs. Disc Brakes: What Are the Main Differences?
Both brakes utilize friction created by the brake pads to stop the wheel. The main difference between rim and disc is where that friction occurs. Rim brakes, as the name suggests, apply pressure on the wheel rim.
This straightforward, lightweight mechanism involves a set of brake pads mounted on calipers, which close when the rider pulls the lever and the cable shortens. Conversely, disc brakes operate by applying pressure on a small rotor located in the center of the wheel. This design allows each to excel in these specific areas:
Power – Disc brakes are far more powerful than rim brakes. Less force is needed on the brake levers to achieve the same reduction in speed, and total stopping distance decreases significantly. Additionally, you can add more stopping power by increasing rotor size, which is helpful for larger riders and e-bikes, for example.
Wet-weather performance – When braking in wet weather, rim brakes require a full wheel rotation to clear off water and debris before gripping the rim, increasing stopping distance and requiring more force. On the other hand, discs engage much faster, with an almost imperceptible performance loss. Therefore, disc brakes are much better for biking in the rain.
Modulation (control) – Disc brakes allow the rider to be extremely precise with the braking they get when applying pressure to the levers. This added control is primarily from consistency; each time you operate disc brakes, you essentially get an equal amount of stopping power, which isn't the case with rim brakes.
Weight – Rim brakes are lighter than disc brakes, which is why many road cyclists still prefer them.
Price – Disc brakes are more expensive than rim brakes, and hydraulic ones are more expensive than mechanical ones. However, rim brakes wear down the wheel rim over time, requiring more frequent rim replacement.
Maintenance – Rim brakes simplify bike maintenance as they are a simple mechanism, and parts are widely available.
Mechanical vs. Hydraulic Disc Brakes: Which Are Better?
Comparing mechanical vs. hydraulic disc brakes is a little more complex than comparing rim vs. disc brakes. Both have pros and cons, but hydraulic outperform mechanical in the most critical areas, including stopping power, reliability, and aerodynamics.
Stopping power – Hydraulic fluid is more efficient than cable-actuated mechanical discs. Mechanical discs inherently have friction in the system, which increases with wear.
Reliability – Mechanical brakes are less reliable as they are more susceptible to cable wear and contamination than the sealed hydraulic fluid container.
Maintenance – Mechanical discs are less complex and easier to repair by the home mechanic. However, mechanical discs require more care to preserve optimal function.
Price – Hydraulic disc brakes are more expensive as they require specialized components; mechanical discs work off standard brake levers and cables. Additionally, most riders need a bike mechanic to perform maintenance.
Aerodynamics – Hydraulic systems allow compact integrated headsets as delicate cable routing isn't necessary; braking efficiency is maintained even if there are twists in the brake hose.
Bicycle Disc Brake Parts
The most frequently discussed parts of disc brakes are the rotors, pads, and calipers. These three components typically require the most maintenance and replacement to keep the brakes functioning optimally.
Disc Brake Calipers
The caliper is the biggest part of the disc brake system, aside from the rotors. It houses two or four pistons that sit on either side of the rotor; on the tips of the pistons are the brake pads. When the brake levers are pulled, pressure is created in the brake line. This pressure forces the pistons inwards, allowing the brake pads to compress the rotor and stop the wheel.
Disc Brake Rotors
Whenever you pull the disc brake levers, the brake pads compress the disc, creating friction to stop the bike. These rotors vary in size depending on the type of bike. Rotor sizes begin at 140mm for road and cyclocross bikes, up to 203mm for gravity MTB hydraulic brakes, and brakes for powerful e-bikes.
In general, the larger the rotor, the more stopping power the brakes have. In addition, larger rotors dissipate heat faster, reducing the likelihood of performance loss from excessive braking. That said, the larger the rotor, the more it weighs, meaning many riders want the smallest one possible for their discipline.
Disc Brake Pads
Disc brake pads are composed of a braking material bonded to a metal plate. The metal plate helps to dissipate heat and gives the braking material structure. These pads sit inside the brake caliper and push against the rotor upon pulling the brake lever.
Over time, braking pad material deteriorates, and once the thickness of the braking material goes below 1.5mm, it's time to replace them. There are three brake pad material options:
Organic (rubber, glass, resin) – Responsive, quiet, less durable, poor in wet and dirty conditions, lower performance at high heat.
Sintered (metallic) – Durable, better in wet and dirty conditions, better for downhill riding, can sustain higher temperatures, noisy, more heat transfer to calipers.
Semi-metallic – Combination of both materials and their advantages, more expensive.
Advantages and Disadvantages of Bike Disc Brakes
Again, hydraulic brakes have superior modulation, power, and all-weather performance than mechanical alternatives. That said, each of the following advantages and disadvantages is relevant to both designs.
Pro: Modulation (Control)
Disc brakes provide the best modulation of braking force applied when you pull the levers. The stopping power is consistent and reliable, giving riders more control and confidence, especially when riding at higher speeds.
Pro: Power
Disc brakes are the most powerful design on the market, delivering much shorter stopping distances compared to other brakes. Stopping power is modified by rotor size; larger rotors increase braking power. For example, mountain bike hydraulic disc brakes use the widest rotors (203mm), specifically gravity MTB disciplines.
Pro: All-Weather Performance
The most significant advantage of disc brakes is their performance in wet weather and dirty trail conditions because rim brake performance drops significantly, whereas disc performance doesn't. Disc brakes grip quickly and reliably in wet weather and in winter riding conditions.
Con: Heat
Disc brake systems, especially the rotors and brake pad material, are prone to heat buildup during heavy braking. Although many manufacturers are developing technologies to mitigate this (Shimano's Ice Technology), this heat can cause the system to deteriorate faster. Larger rotors and metallic brake materials can help avoid this problem.
Con: Rubbing
If your caliper is misaligned, it can cause rubbing on the rotor, which reduces your speed and typically makes an unpleasant noise. Additionally, a warped rotor from excess heat or a crash can produce a rubbing noise. It can also lead to the infamous squeaky bike brakes, which can be very annoying.
Con: Weight
Disc brakes weigh more than rim brakes. While this isn't a massive issue for most riders, it caused road-racing professionals to change over slowly. The British World Tour team Ineos was the last to switch from using rim brakes to disc brakes for this reason, which they finally did in 2021.
Disc Brakes Safety and Maintenance
Safety
When disc brakes began gaining popularity across all disciplines, there were some safety concerns as riders claimed to experience cuts from the disc rotor upon crashing in a race. In the end, there was no significant evidence pointing to a higher rate of injuries after their introduction. Injuries caused by disc brakes are uncommon and shouldn't deter anyone from using them.
Maintenance
As we mentioned previously, it is possible to perform maintenance on disc brakes at home. Mechanical discs are less complex and easier to maintain than hydraulic systems, which require more mechanical skills, making them harder to fix at home.
Here are some home maintenance procedures you can try out if you have issues with your disc brakes. There are many follow-along videos available online for each.
Adjust the calipers – Misaligned calipers cause friction through the rotor and pad rubbing. You can adjust caliper alignment using just a 5mm hex key and a rubber band.
Brake pad cleaning or replacement – Using a 5mm hex key and disc brake spacer, you can remove the brake pads to clean or replace them. Use isopropyl alcohol for cleaning the pads and rotors.
Rotor texturizing to restore performance – If your rotors become shiny after some months of use, you can lightly sand the rotor with 200-grit+ sandpaper until it has a dull look again.
Conclusion: Should I Buy a Bike with Disc Brakes?
There is no doubt that disc brakes have better control, power, and consistency in all weather conditions than rim brakes. This superiority led to universal adoption across professional cycling disciplines and bike styles.
Nonetheless, rim brakes still maintain an advantage in some areas, including weight, ease-of-maintenance, and low price. These attributes lead some cyclists—like those riding in dry climates bikes or climbing-heavy competition—to continue using them.
If your budget allows it, it is best to buy a bike with disc brakes.
More modulation makes disc brakes safer, and they enable you to ride with extra confidence once you become accustomed to the power.
Thankfully, most new bikes, even cheap ones, have either mechanical or hydraulic disc brakes, meaning you don't have to search too hard to find a disc brake bike.