Tommaso Imola Review
25-Speed Shimano Claris / Aluminum frame & carbon fork / 700x25c
BEST FOR Training or shorter rides
FEATURES: Amazing price & quality balance, Full Shimano group-set.
Tommaso Imola is an elegant entry-level road bike beauty built for cycling enthusiasts and recreational weekend riders. It's perfect for those who are looking for a decent budget road bike that looks good and can be ridden every day.
Full Specs
Frame: Tommaso 6061 SLA Lightweight Aluminum Compact Road Frame
Fork: Tommaso SST Steel w/ 6061 SLA Aluminum Steerer Tube Fork
Derailleurs: Shimano Claris R2000
Shifters: Shimano Claris R2000
Crankset: Shimano Claris 30/39/50T Triple
Cassette: Shimano Claris 11x28T 8-speed
Brakes: Shimano Claris R2000 dual-pivot Brake
Wheelset: Tommaso TC-20
Tires: Kenda K152 700×25
Saddle: Tommaso WTB Volt Road
Handlebars: Tommaso Ultralight Alloy Compact Flat Top Bar
Weight:23.8 lbs (Small Frame without pedals/reflectors)
Tommaso Imola Full Review
Tommaso's mission when it comes to cycling was never to create bikes just for the sake of riding. They always put a little bit of art in their recipes, which makes the end result quite unique. It seems that they followed the same formula when they built Tommaso Imola.
Because of that, this entry-level model looks like a high-end machine. Even though the components are inexpensive, they are put together intelligently. Therefore, the bike rides smoothly and comfortably even on longer rides.
Reliable Claris Brakes
Although pros claim that looks don't matter, we know that that's not 100% true and so does Tommaso. Therefore, Imola is available in three attractive colors — black, orange, and white — that look great on the road. Apart of the paint job, one of the first things you'll notice about Tommaso Imola is the beautifully rounded top tube that continues seamlessly to the rear triangle. Let's see what else Tommaso is giving us with their best-selling entry road bike.
Shimano Claris Shifters & Brake Levers
However, Tommaso Imola could not be sweeping the roads so successfully were it not for the Shimano Claris brake calipers and the Tommaso Corsa rims wrapped in Kenda 25 mm tires.
They add a real sense of stability and security on the road, so you can push the limits without having to deal with any awkward quirks or nasty surprises. You can ride Tommaso Imola the moment you get your hands on it because it comes with composite flat pedals, which are good enough if you do not worry too much about performance.
Later on, we recommend you swap them for a clipless pair which will make your riding more snappy and further reduce the weight of the bike.
---
Are There Any Setbacks?
Even though Tommaso Imola offers almost unprecedented value for the money, we need to keep in mind that it is an entry-level bike. As such, this bike is not going to help you break any records or take you to the Tour de France. You can expect some issues with it that have to do with shifting and the wheels, but they are far from being a deal-breaker.
Namely, it is advisable to get the bike assembled at a LBS since the derailleurs can be tricky to adjust properly the first time. Moreover, the wheels might become a bit wobbly if not trued correctly, but it's nothing that a professional cannot deal with. All in all, if your expectations of Tommaso Imola are realistic, you will be happy with it for years, as are almost all of those who have bought it.
What We Liked the Most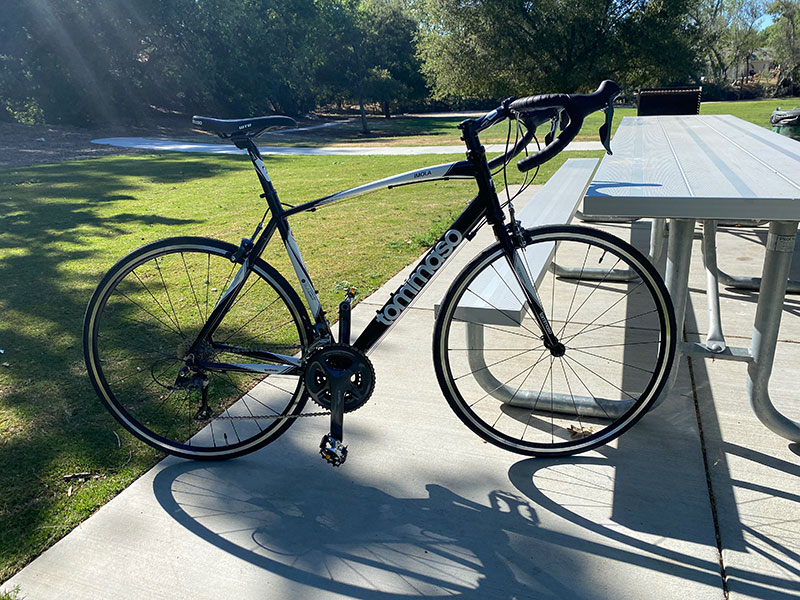 Even though we emphasized the looks, Tommaso Imola is not all looks and no brains. Far from it. It is a bike with a beginner price intended for beginners, but Tommaso did not want to cut corners. Instead, they made an entry-level bike that will let you cut corners on downhills like a pro. The thing we like the most about Tommaso's creation is matching components. You see this feature on all expensive bikes, but it is rarely seen on the cheaper models.
Imola is equipped with a complete Shimano Claris groupset, which includes the whole drivetrain, derailleurs, shifters, and brakes. The result is that one component complements the other which guarantees a smooth ride.
The 6061 aluminum frame weighs around 23 lbs, which is not at all shabby for a bike that costs $650. Tommaso understands that Imola might be ridden by commuters as well. That's why they added rear rack mounts, so you can carry all of your valuables. Moreover, the frame is compact and comfortable, making it stable and fun to ride, no matter the style.
---
PROs & CONs
PROS:
Amazing price-value ratio.
Rear rack mounts.
The only entry-level road bike with a full Shimano groupset.
Custom Tommaso Corsa rims.
CONS:
You cannot test-ride it (available online only)
The saddle is reportedly uncomfortable
---
Size Recommendation
XXS – 4'9″ – 5'2″
XS – 5'2″ – 5'6″
S – 5'6″ – 5'8″
M – 5'8″ – 5'11"
L – 5'11" – 6'2″
XL – 6'2″ – 6'5″
---