Groupset Overview – Shimano, SRAM, Campagnolo, SunRace, microSHIFT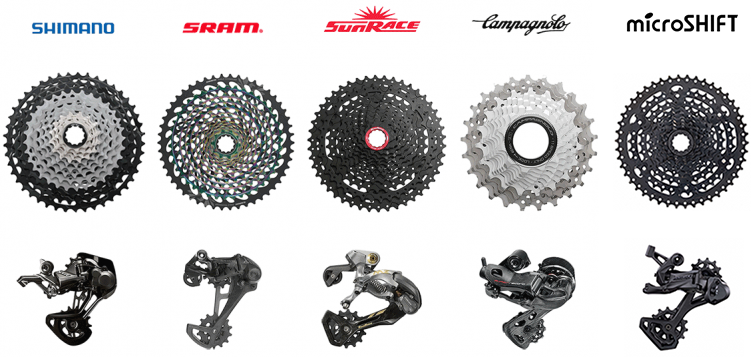 Bicycle groupsets comprise of all the gearing and braking components that make up the mechanical moving parts of a bike. This includes the chain, cassette, crankset, bottom bracket, derailleur/s, shifters, levers, and brakes, plus all the cables or any other smaller parts that make them work together.
Major cycling groupset brands include Shimano, SRAM, Campagnolo, and Sunrace. Each offers a wide variety of groupsets optimized for Road and Mountain bike cycling. When choosing a bike, it's important to ensure that the groupset and gear ratio is correct for the style of cycling you intend to do.
These days, more and more bikes are using a 1x groupset, meaning there is only a single cog on the crank and no front derailleur or shifter. This reduces the weight and complexity of the system, making it easier to clean and maintain. However, for certain disciplines like cycle touring it is still necessary to use a 2x or 3x set up to get a wider range of gear.
Learning how to shift gears effectively will increase the enjoyment of your rides and help boost your ...
Traditionally, the number of gears is calculated by multiplying the front rings with the number of cogs on the rear cassette. So a 10-speed rear cassette in a 2x setup provides 20 gears. However, in 2x or 3x setups, several gear combinations will always overlap so in practice, you get less than indicated.
Down below we've listed all of the current groupsets by the best bicycle component brands out there. Although the majority of the market is shared by Shimano and SRAM, there is SunRace, who offers parts at more affordable rates, and Campagnolo, which is best known to make super high-end groupsets for road bikes. Anyway, take a look at the whole selection down below!
Shimano vs SRAM market share according to The Pros' Closet's data:
Road Bikes – 76% Shimano / 18.5% SRAM
Mountain Bikes – 27.7% Shimano / 71.5% SRAM
Cyclocross / Gravel Bikes – 51.1% Shimano / 46.9% SRAM
---
Table of Contents
---
Shimano
Mountain / Road / Gravel
Launched in Osaka, Japan in 1921, Shimano is one of the oldest and most popular manufacturers of cycling groupsets. It sells all kinds of groupsets, from the cheapest Claris and Tourney models to the top range Ultegra and Dura-Ace professional racing sets. Shimano also has a 50% share of the global bicycle component industry.
Mountain – eMTB
Road – Gravel – Touring
Hybrid – Commuter
Shimano ROAD Groupsets
Pro – Dura-Ace
Mid – Ultegra, 105
Entry/Mid – Claris, Sora, Tiagra
Shimano GRAVEL Groupsets
Pro – RX800 (Ultegra equivalent)
Mid – RX600 (105 equivalent)
Entry – RX400 (Tiagra equivalent)
Shimano MOUNTAIN Groupset
Pro – XTR
Race – XT
Mid – Deore, Deore XT, SLX, Alivio
Entry – Acera, Altus, Tourney
Shimano DOWNHILL (Gravity) MTB Groupsets
Race – Saint
Mid-range – Zee
---
SHIMANO Mountain Bike Groupsets
---
🏆
Shimano XTR
XC, Marathon, Trail, Enduro, All-Mountain
Ultimate race components
12-speed
Greater flexibility & Action-optimized cockpit layout
HYPERGLIDE+ shifting – lets you pedal continuously while shifting
The XTR is Shimano's top-of-the-range MTB groupset built for professional racing and enduro events. The bonded alloy and Chromoly steel crank are mounted directly which helps to reduce weight even further. It has all the other bells and whistles, including Dynamic Shape Engagement, Shadow Plus tech, and upgraded non-slip shifters. XTR is available with a 12-speed cassette in either 1x or 2x format.
---
Shimano SLX
XC, Marathon, Trail, Enduro, All-Mountain
The SLX is a mid-range groupset with a 1x or 2x setups and a 12-speed cassette with the largest cog up to 51 teeth. The crank uses Hollowtech II technology to save weight and range from 165mm to 175mm in length.
The introduction of Dynamic Chain Engagement on the SLX helps reduce chain wear and provides smoother gearing over rough terrain. Furthermore, SLX is compatible with the i-SPEC EV standard which provides customizable mounting positions and brake lever integration.
---
Shimano Deore
XC, Marathon, Trail, Enduro, All-Mountain
Deore is the first in Shimano's more professional groupsets, incorporating Hollowtech II technology. This includes a hollow bottom bracket that is connected to the crank for more efficient power transfer.
The M6000 model has a 10-speed steel cassette and uses Shadow RD+ technology with a controllable chain stabilizer. It's available in both 2x or 3x configurations to provide 20 or 30 gears.
There is also a 12-speed Deore M6100 model that uses a 1x setup combined with a 30 or 32T crank and 10-51T cassette. The M6100 utilizes a modern Microspline freehub which is only compatible with certain wheelsets.
The higher-grade alloy Deore XT groupset is a lighter-weight option, with 1×12 or 2×12 setups. It is also compatible with Di2 electronic shifters.
---
Shimano Alivio
XC – Marathon
Alivio is very similar to Acera but uses lighter materials on certain parts to reduce weight. It also has a 9-speed cassette with double or triple crank and Shadow RD rear mech. However, with the addition of Shimano's 'Hyperglide' technology on the Alivio, you get better accuracy and smoother gear changes. These groupsets are often found on the mid-level mountain and gravel bikes.
---
Shimano Acera
XC – Marathon
Acera is Shimano's mid-range groupset, built to handle the rigors of rough mountain biking. It features a 9-speed rear cassette that can provide 18 or 27 gears, depending on whether you choose a 2x or 3x setup. The modern alloy cranks and steel chains look considerably better than lower groupsets.
---
Shimano Altus
XC – Marathon
Altus is a significant upgrade on Tourney, incorporating Shimano's Shadow RD rear derailleur low-profile technology to avoid damage. However, it's still a relatively low-quality set made of steel, with no clutch and a maximum 45 tooth rear cog.
It uses modern plastic thumb and finger shifters and can be paired with a double or triple crank. The side-swing front derailleur provides for better tire clearance than Tourney's top swing.
---
Shimano Tourney
XC – Marathon
Tourney is the lowest quality MTB groupset that Shimano offers and is commonly found on the cheap mountain, touring, and hybrid bikes. The derailleurs are controlled with old-style thumb shifters which are often clunky and inconveniently placed.
Cassettes come in different sizes, from 6 to 8 cogs, and are usually paired with a Tourney triple crank to provide 18, 21, or 24 gears. Although cheap and heavy, Tourney drivetrains are tough and long-lasting.
---
Shimano Road Groupsets
---
🏆
Shimano Dura-Ace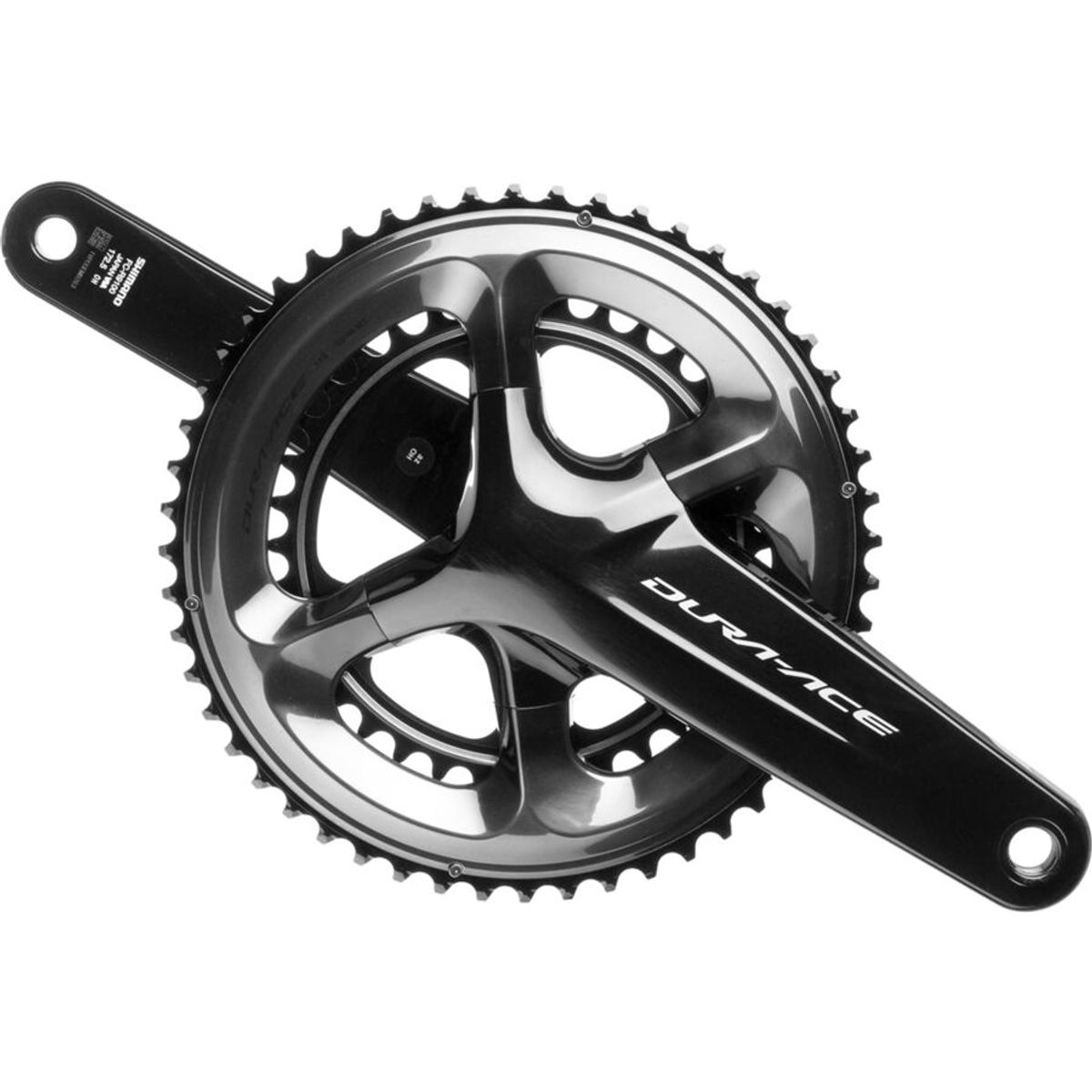 Dura-Ace is the best groupset available in Shimano's road bike range, comprising a combination of alloy, carbon, and titanium parts. It's super lightweight and the groupset of choice by many professional cycling teams, including Dimension Data and Team Ineos.
Dura-Ace includes rim, mechanical or hydraulic disc brakes and is available as standard or with Di2 electronic shifting.
---
Shimano Ultegra
Ultegra is the second-best groupset available from Shimano and is commonly found on top quality carbon road bikes. Its components are built from highly durable and lightweight materials, designed for heavy use over long distances.
It has an 11-speed cassette and is available in the standard version or with electronic Di2 shifters. The groupset is available with high-quality rim brakes, mechanical discs, or hydraulic disc brakes.
---
Shimano 105
The 105 is one of Shimano's most popular professional groupsets, often found on mid-range road bikes. It includes an 11-speed cassette that works well with either a single or double crank. The 105 groupsets have also been upgraded to include hydraulic disc brakes. It's a high quality, durable groupset that can be used in competitive racing events.
---
Shimano Tiagra
Tiagra is Shimano's most affordable quality groupset and offers a slightly downgraded version of the more professional 105 groupsets. It has a 10-speed cassette that can be combined with a single or double crank for 10 or 20 gears. In 2019, Shimano upgraded the Tiagra groupset to include hydraulic disc brakes rather than rims.
---
Shimano Sora
Sora is a slight upgrade on Claris, offering a 9-speed cassette with a double or triple crank to provide 18 or 27 gears. It also comes with rim brakes and combined levers to control the entire system.
---
Shimano Claris
Shimano's most affordable groupset is Claris, commonly found on entry-level road bikes. It includes simple rim brakes with rubber and alloy levers, which control both the gears and brakes. The 8-speed rear cassette can be combined with either a double or triple crank, to provide 16 or 24 gears.
It's suitable for recreational riders doing short commutes or weekend rides but the components are not durable enough for long-distance or heavy touring.
---
Shimano Gravel Groupsets
---
🏆
Shimano GRX
Shimano's newest range of groupsets is aimed at the emerging gravel bike market. They are made up of components from other Shimano groupsets, combined to provide the ideal conditions for gravel riding. This also covers a range of other cycling disciplines, including bike touring, cyclocross, and other styles of adventure biking.
Pro – RX800 (Ultegra equivalent)
Mid – RX600 (105 equivalent)
Entry – RX400 (Tiagra equivalent)
All Shimano GRX groupsets use hydraulic disc brakes with inline levers, Shadow RD derailleurs with chain stabilization, and either 1x or 2x setups. The lowest range GRX R400 groupset is made up of Tiagra parts, the RX600 uses mostly 105 parts, and the highest level RX800 uses Ultegra components.
---
SRAM
Mountain / Gravel

Like Shimano, SRAM makes both road and MTB style groupsets in varying price ranges. The American company was founded in 1987 in Chicago, Illinois, making it one of the youngest groupset manufacturers.
The SRAM name is an acronym of the founders, Scott, Ray, and Sam. In 2015, SRAM released the first wireless groupset, the SRAM Red eTap. Over the years, SRAM has acquired several other component manufacturers, including RockShox for suspension and Avid for disc brakes.
These days, SRAM is far more focused on the MTB market, leaving Shimano to largely dominate the road bike market. They offer three different disc brake options: Level, G2, to Code, which increase in quality and are matched with similar-quality groupsets.
Mechanical / Electronic derailleurs
Over time SRAM has bought one of the leading bicycle component brands such as Avid, RockShox, Truvativ, Quarq, and Zipp
SRAM ROAD/GRAVEL Groupset
Pro – RED, RED eTap, RED eTap AXS
Mid – Rival, Force, Force eTap AXS
Entry – Apex
SRAM MOUNTAIN Bike Groupsets
Pro – Eagle XX1, XX1, XX, Eagle X01
Race – X01, X0
Mid-range – X1, NX, GX, X7, X9
Entry –X3, X4, X5
---
SRAM Mountain Bike Groupsets
SRAM is best known for its MTB groupsets, of which it offers a wide range in quality from simple, plastic components to titanium and carbon. Although there are cheaper SRAM X3 and X4 components, they don't make up entire groupsets so we haven't added them here.
---
🏆
SRAM XX1 Eagle AXS
XC spec and ready for the trail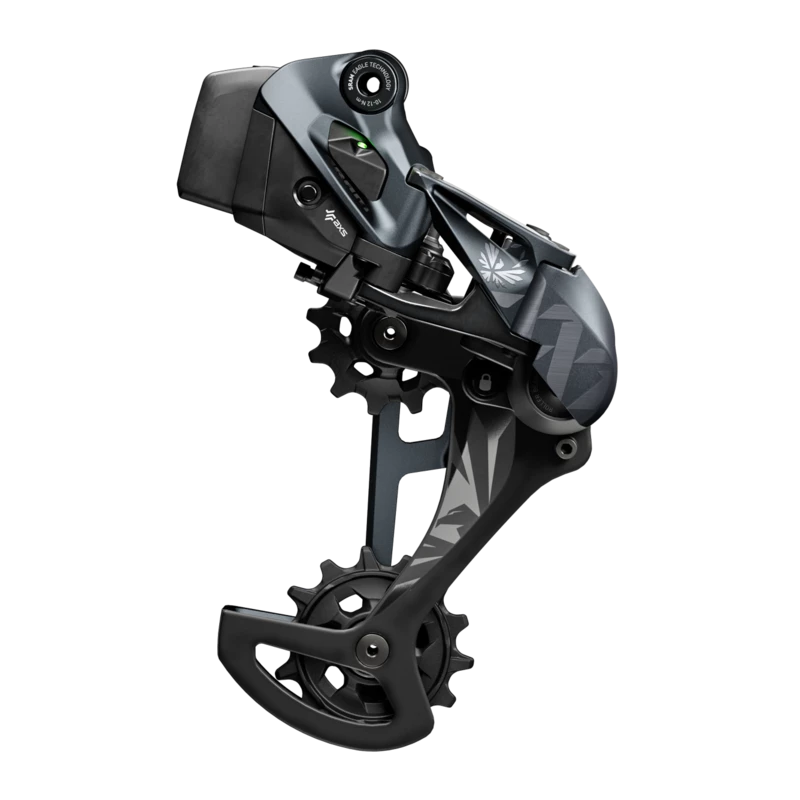 The Pinnacle of performance
SRAM XX1 Eagle AXS is an electronic wireless version that uses two clutches on its derailleurs. XX1 uses an SRAM AXS Application to set up and tune the derailleur according to your preferences.
Lightest weight materials and 520% gear range
12-speed 10+50t 'rainbow' cassette
34t chainring
Secure & longer wearing X-Sync 2 'rainbow' chainring
Carbon cranks
---
SRAM XX1 Eagle
XC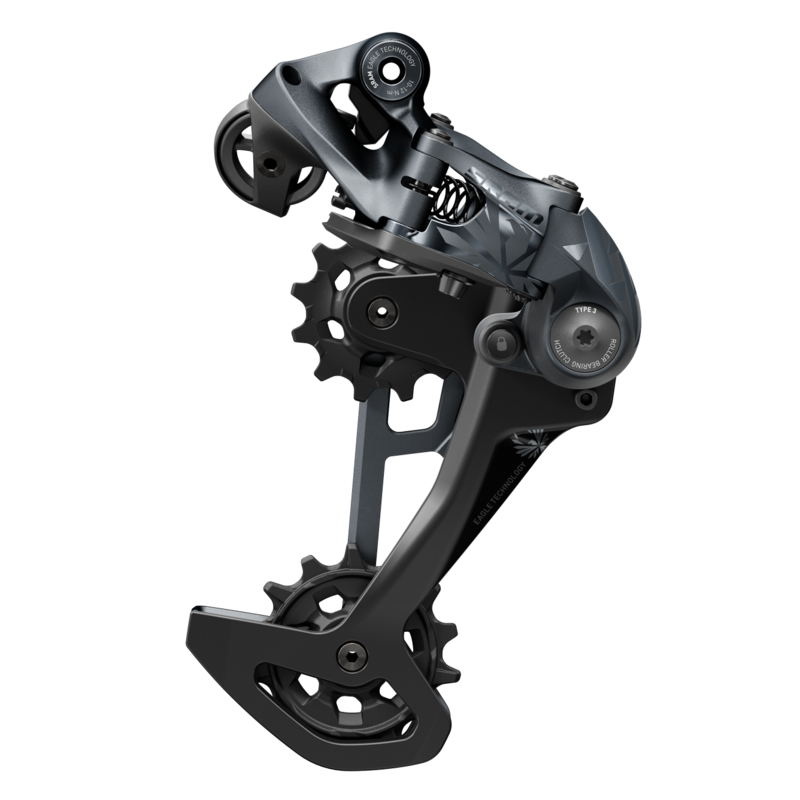 Built to work quietly, intuitively, precisely and perfectly!
Top-shelf groupset for XC racers – Gold-titanium nitride coating is used for increased durability.
XC focused & Trail ready
500% gear range
34-tooth crank
10-50t 12-speed
Lightweight materials
Smooth, precise, greater durability
Carbon cranks
DUB configuration
---
SRAM XX1
Trail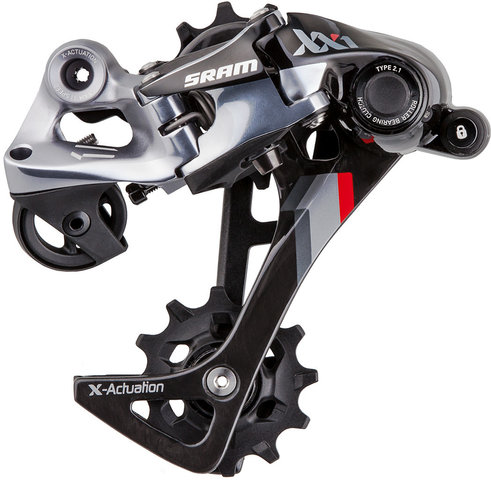 The XX1 is SRAM's leading professional groupset, coming in slightly lighter than the X01 and offering a 1×11 setup with 10-42T cassette. Aimed at more long-distance trail riding rather than downhill, the XX1 is also available with the eTap AXS wireless system.
Rear derailleur
Shifter
Grip Shift
X-Dome Cassette
Hard Chrome Chain
X-Sync Chainrings
Carbon cranks
---
SRAM X01 Eagle AXS
Enduro spec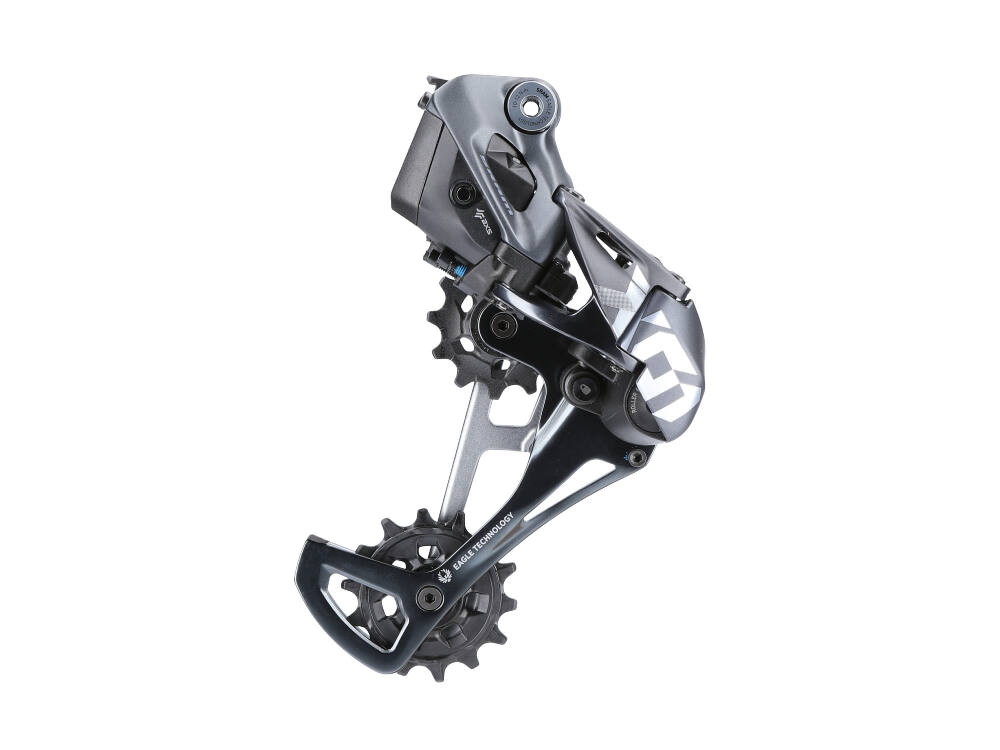 Lowest electronic AXS Eagle system, built for hardcore use.
1×12
500% gear range
Aluminum cage & carbon cranks
Connected components of Eagle AXS
---
SRAM X01 Eagle
Enduro & aggressive trail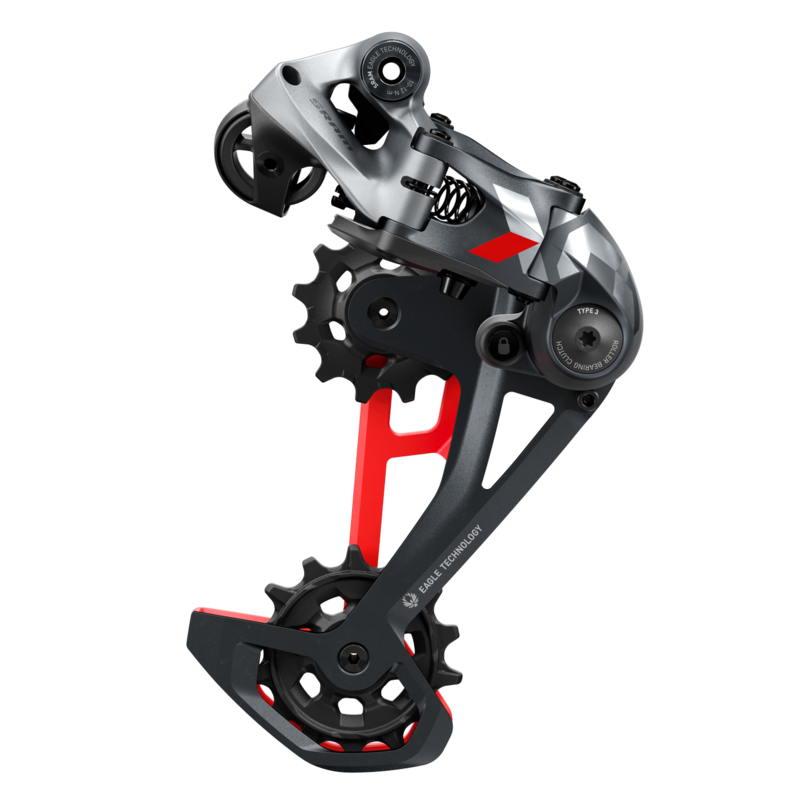 Freedom to enjoy any terrain, any location, at any speed
The huge 10-50T cassette on the X01 Eagle provides a massive 500% gear range on just a 12-speed cassette with a single front cog. It's built from a mix of carbon, steel, and aluminum components and is also available with SRAM's eTap AXS wireless shifting system.
12-speed
10-50T
Increased wear life, toughness, precision
Smooth & silent operation
Carbon cranks
---
SRAM X01
With SRAM's X-range, carbon fiber is introduced to the manufacturing process to create extremely lightweight components. These high-end, professional-level groupsets are typically used by downhill racing and enduro biking teams.
1×11 groupset
10-42T cassette
Carbon cranks
---
SRAM X01 DH
Hard-working and well-rounded – Quicker shifting, smarter gear steps, and more precise chain management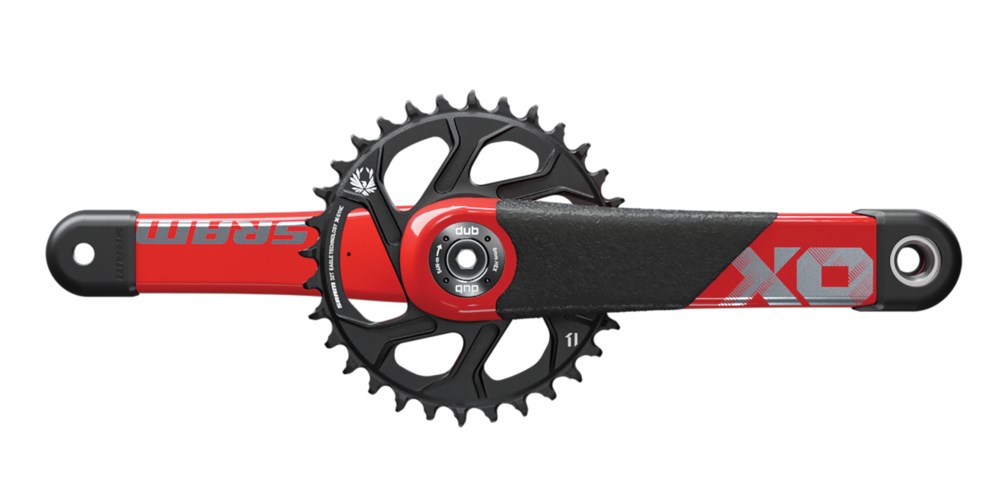 7-speed
10-24T
Lightweight & durable
Carbon cranks
---
SRAM EX1
Created as the world's first derailleur for E-MTB's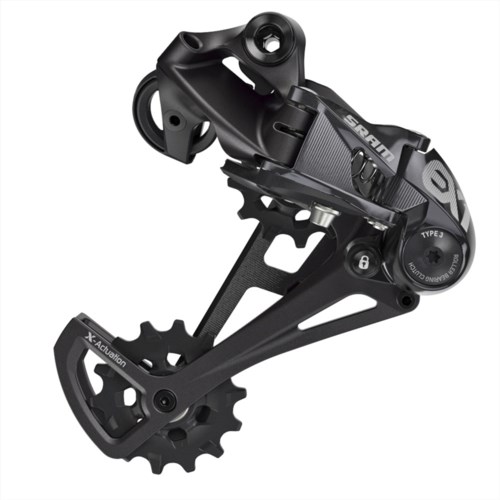 1×8
11-48T
Handle high-torque, low cadence shifting
Lightweight, durable, stiff
Designed to work with Bosch and Brose mid-ship motors
---
SRAM GX Eagle
Trail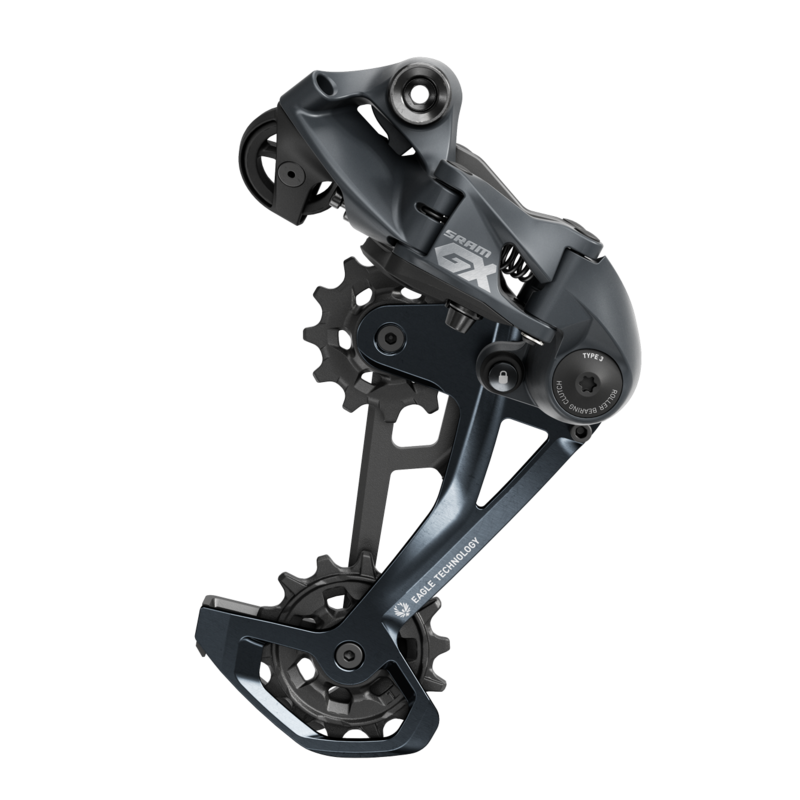 Maximize the potential of your ride experience
Like the NX Eagle, the GX Eagle uses a 1×12 configuration but with improved technology and better materials. Essentially, it offers all the advantages of the top-level XX1 and X01 groupsets but without lightweight carbon fiber components. The GX Eagle is one of the most popular SRAM groupsets, commonly found on thousands of mid-to-high level mountain bikes. The GX Eagle has now largely replaced the older SRAM X1 groupset.
520% gear range
12-speed
10-52T (10-50 compatible)
Smooth and efficient shifting
DUB configuration
---
SRAM GX
Trail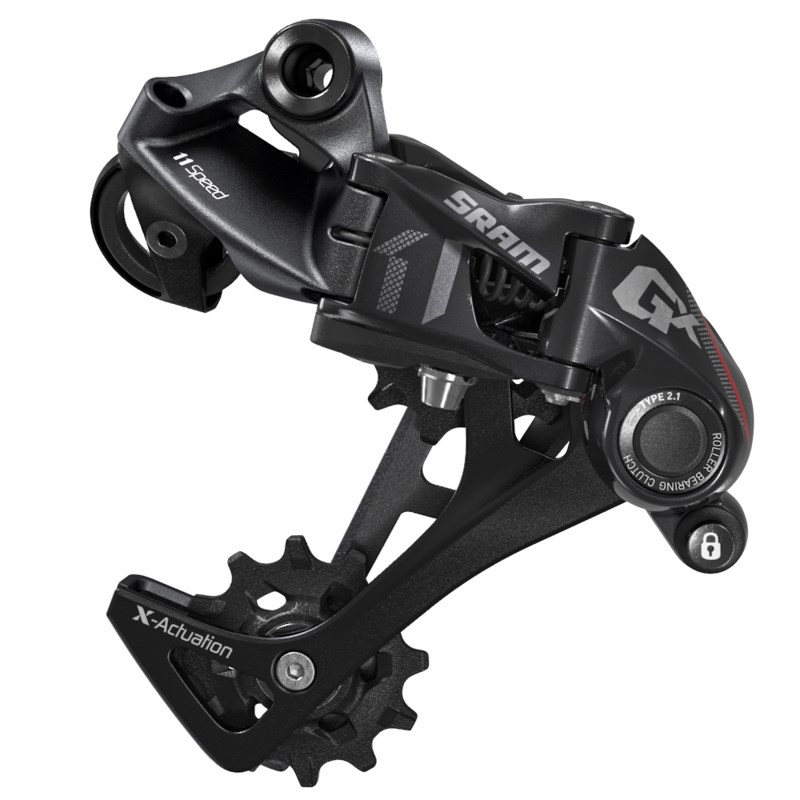 Widest range of gears ever offered on a 2x drivetrain
With the GX, SRAM upgrades to more aluminum components and adds support for a 10-42T cassette. Usually, it is installed as a 1×11 groupset but there are also 2×11 and 2×10 versions. In addition, there is a downhill racing option with a limited 1×7 setup.
Sold separately: Trigger shifters, rear derailleurs (2×10, 2×11, 1×11), grip shifter, front derailleurs, cranksets, cassettes, chains
Rear derailleurs:
---
SRAM GX DH
Downhill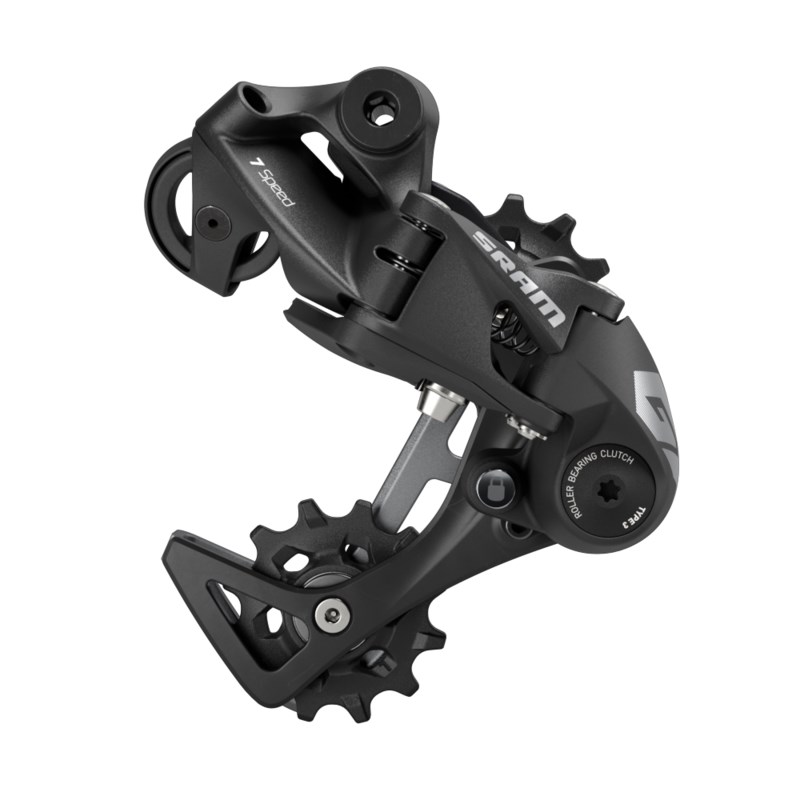 In the range: SOLD Separately:
Trigger shifter
7-speed cassette
Rear derailleur
Chain
---
SRAM NX Eagle
Trail
NX Eagle is ready to let the world know what the real riding feels like
With the NX Eagle, SRAM introduces a 1×12 speed groupset that goes down to 10T or 11T on the smallest cog. It's still aimed at the more entry-level market as it uses heavier materials than the GX and X1 sets.
1×12-speed
Light, simple, durable
500% gear range (Equal to 2×11 drivetrains)
---
SRAM NX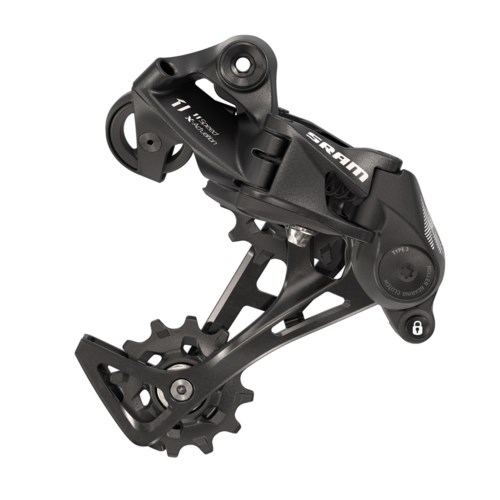 1×11 – 11-42t
With the NX, SRAM upgrades to a wide range 11-42T cassette, using a narrow/wide X-Sync chainring. It uses affordable materials and a standard hub, so it's compatible with cheaper wheels and commonly found on entry-to-mid level bikes.
SOLD Separately: Trigger shifter, grip shifter, reader derailleur (1×11), crankset, cassette (11t-42t), chain
---
SRAM SX Eagle
12-speed with the smallest sprocket of 11t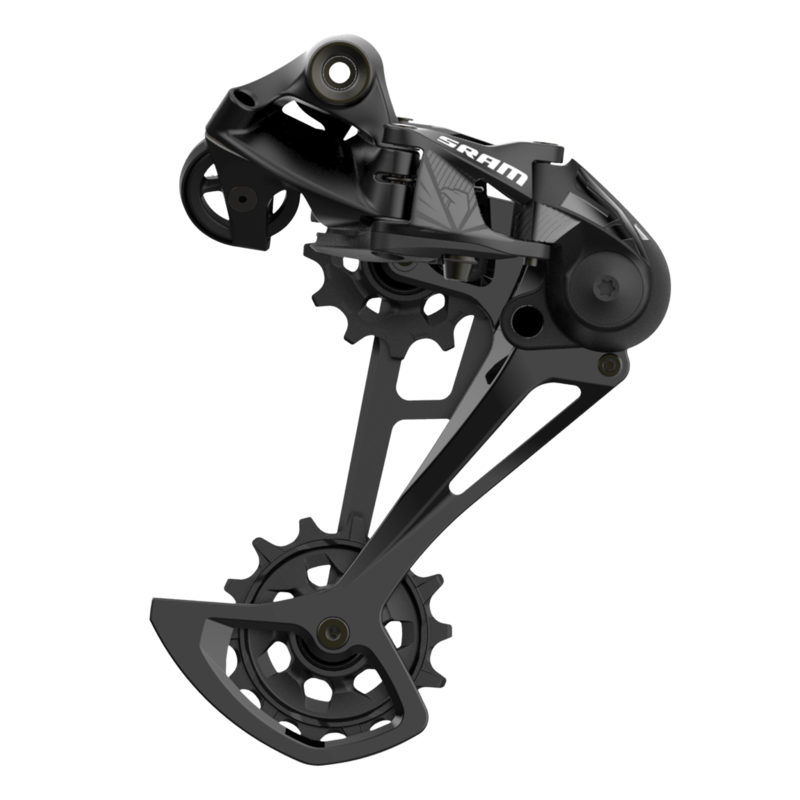 SRAMs Eagle range is where it starts getting serious. Eagle groupsets are often found on mid to high-level: Mountain, Trail, Gravel bikes. The SX is the most affordable Eagle groupset, with a 12-speed cassette going down to 11T on the smallest cog.
SOLD SEPARATELY: Trigger shifter, single-click trigger, rear derailleur, crankset (5 different chainrings), cassette
---
SRAM X9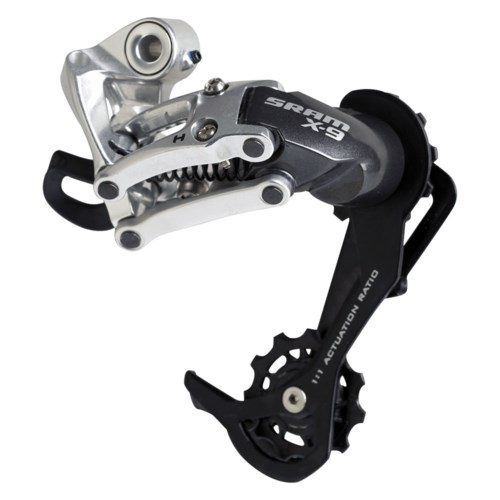 2x/3x to 10-speed
The SRAM X9 Groupset is said to be equivalent to the Shimano SLX groupset series that was known to be the true mid-range workhorse.
---
SRAM X7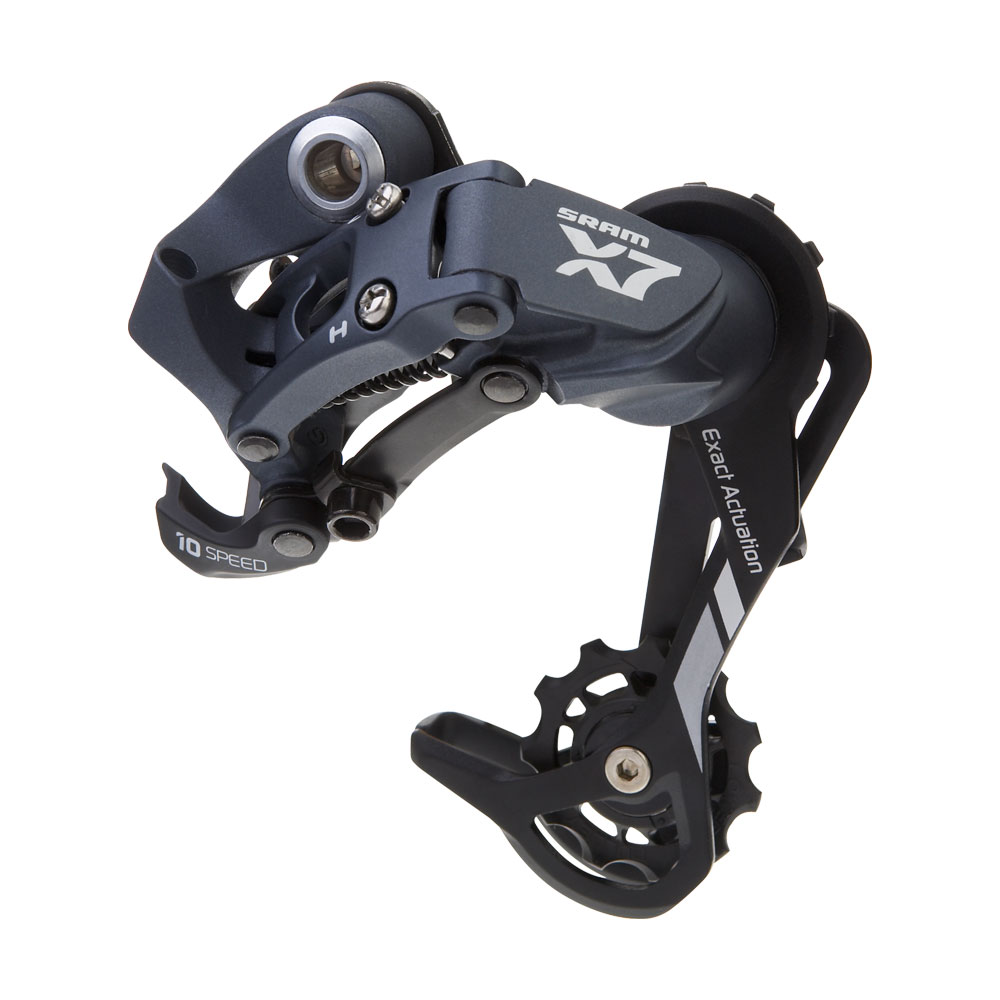 2x/3x to 10-speed
The X7 brings in some new technology to the mix, including X-Glide shifting technology and a rolling bearing clutch on the rear derailleur. Often found on singletrack or trail bikes, the X7 offers excellent value for money. It has a 10-speed cassette and comes as a 2x or 3x setup, with SRAM MatchMaker compatibility.
---
SRAM X5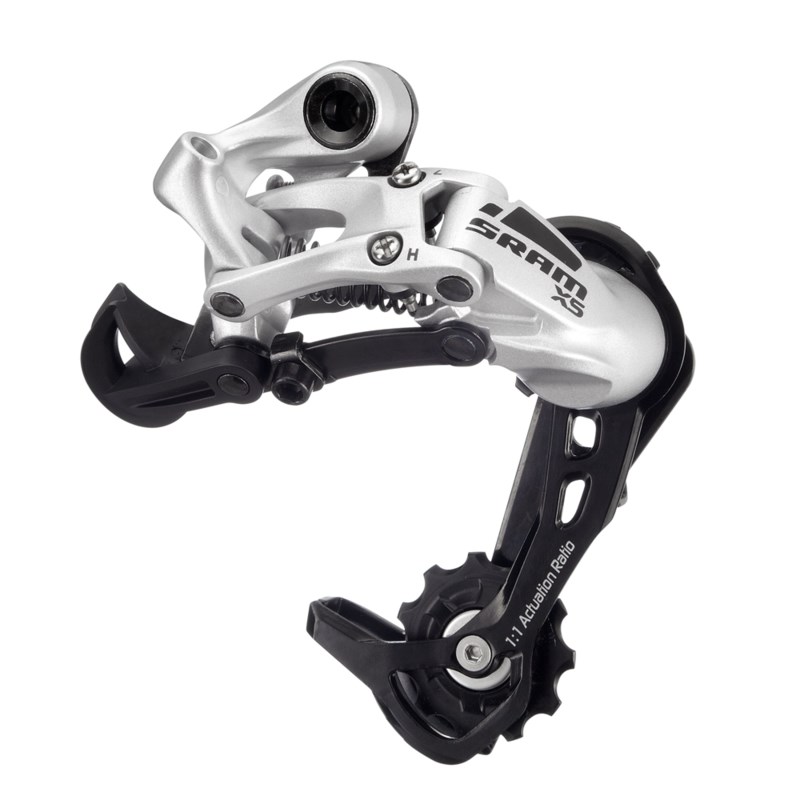 2x/3x to 7-, 8,-, 9-, 10-speed cassettes
The most affordable SRAM MTB groupset is the X5, with standard gearing technology and alloy parts. It is often found on entry-level hardtail and full-suspension mountain bikes.
Despite the low cost, X5 still offers very precise and smooth shifting. Comparable to Shimano's Acera or Altus range, X5 components are often found mixed with other higher grade SRAM parts. It's available with 7 to 10-speed cassettes and double or triple cranks.
---
SRAM Gravel Groupsets
---
SRAM Red eTap AXS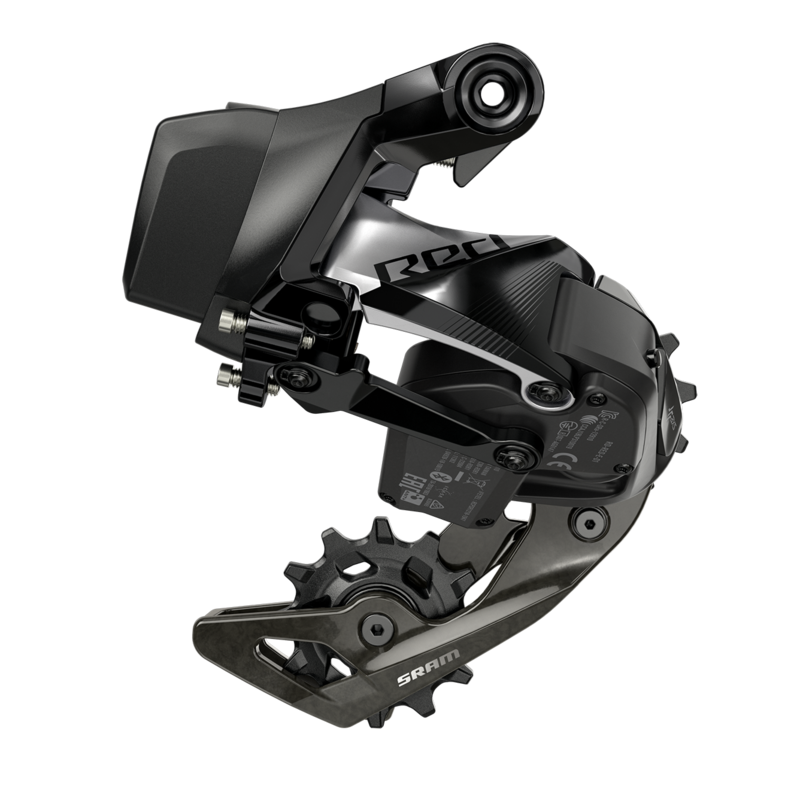 Red represents SRAMs professional-level groupsets, used by several pro cycling teams. It has components constructed from super lightweight titanium, carbon fiber, and ceramic. The 11-speed groupset is also available with WiFli for a wider gearing range.
This is the cream of the crop for SRAM groupsets, featuring all the benefits of Red plus wireless electronic gearing. It's a 12-speed groupset and comes in both hydraulic disc and rim brake versions.
---
SRAM Force eTap AXS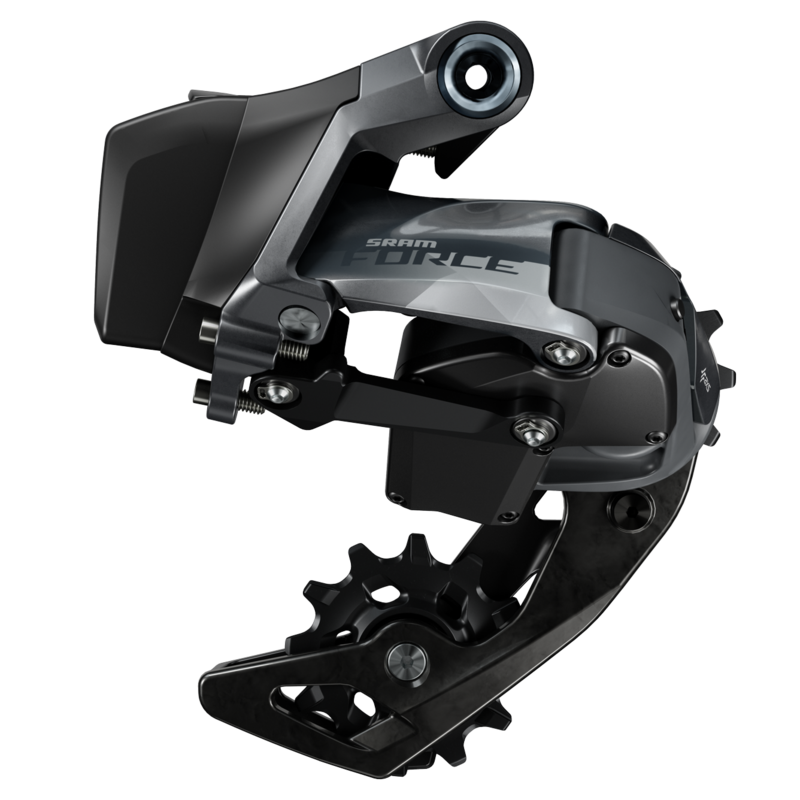 This is SRAM's most affordable groupset that uses the wireless eTap system which cuts almost 300g off the overall weight. It benefits from an X-range optimized 12-speed cassette and Flattop chain to reduce noise and increase strength.
SRAM Force eTap AXS Electronic Road Groupset – 1x, 12-Speed, HRD Brake/Shift Levers, Flat Mount Disc Calipers, Rear Derailleur, D1 MSRP $1,650
---
SRAM Force 1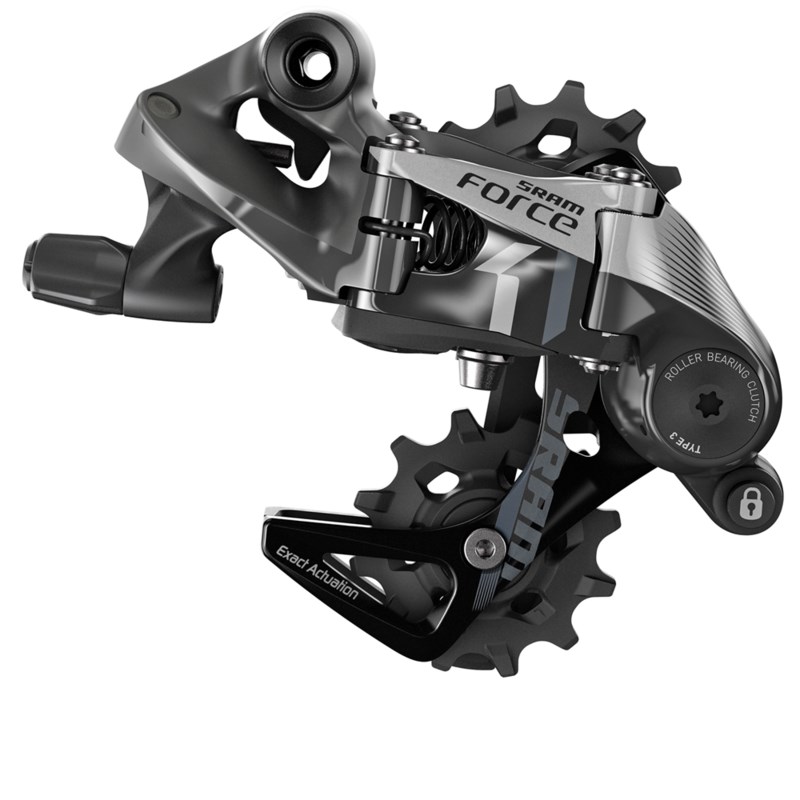 Force 1 is a dedicated single front ring set that comes with hydraulic disc brakes. It can be fitted with a 10-42T cassette and 38 to 54T front ring. The Force 1 groupset is considered comparable to Shimano's Ultegra groupset.
---
SRAM Force 22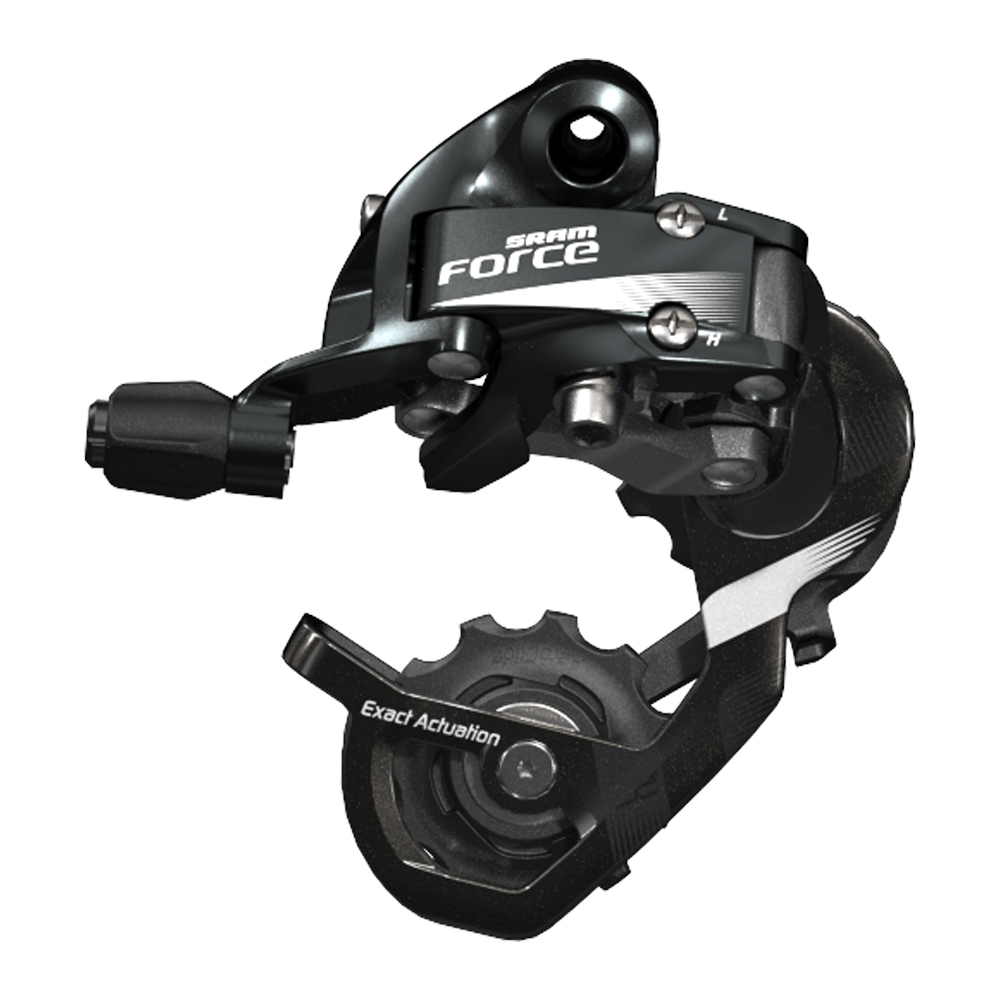 With the Force groupset, SRAM moves into more professional cycling territory. Force components are manufactured using lightweight alloy and carbon fiber materials, with a single or double crank option. As with Rival, you can get the upgraded HRD disc brake version or the standard with rim brakes. Cassettes are 11-speed, offering up to 22 gears with a double crank.
---
SRAM Rival 1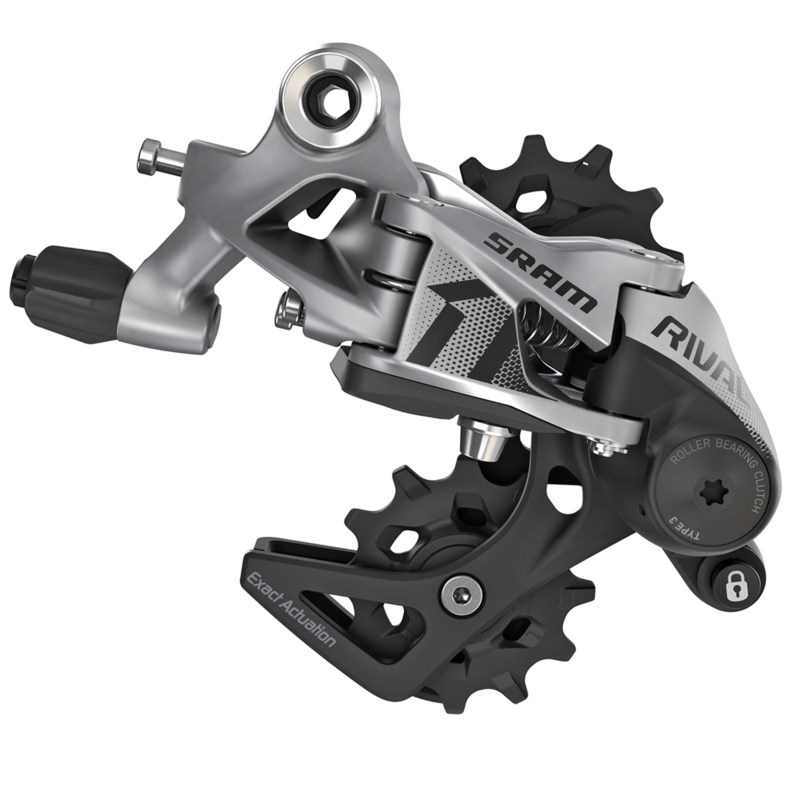 Rival 1 is a single crank system with an upgraded X-Horizon rear derailleur with a clutch to provide chain stabilization. It comes with mechanical disc brakes and an 11-speed cassette. The Rival 1 groupset is considered comparable to Shimano's 105 groupsets.
---
SRAM Rival 22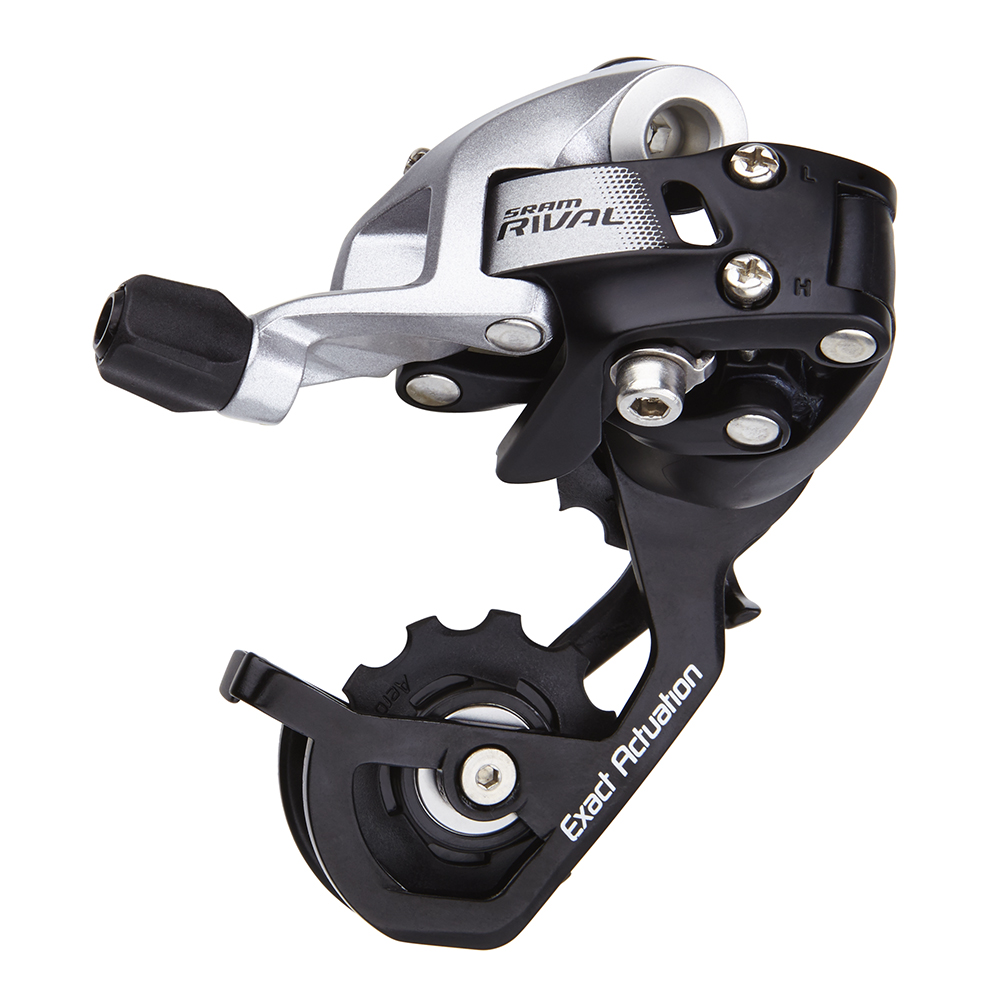 Rival is one of the most common SRAM groupsets, often found on mid-level road bikes. The Rival 22 is the lower-priced set, with either rim brakes or disc brakes on the HRD model. It is lighter than the Apex and also uses WiFli technology with an 11-speed cassette and a single or double crank.
---
SRAM Apex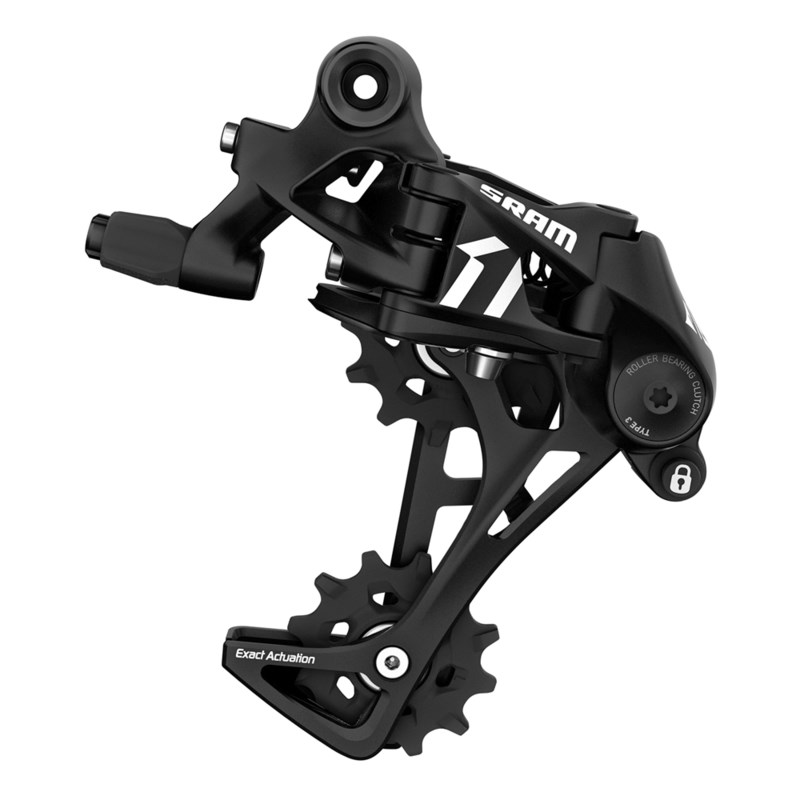 Apex is SRAMs entry-level groupset with rim brakes and an 11-32T cassette. It uses SRAMs WiFli system which allows a wider range of gears without needing a triple crank. This helps to keep weight down. There is both a 10-speed and 11-speed cassette available with either a 1x or 2x setup. On SRAMs Apex 1 groupset you can get a rear derailleur to accommodate up to 42T cogs.
---
Campagnolo
Road

Founded in 1933 in Italy, Campagnolo is arguably the oldest producer of bicycle gears and is often credited with inventing the rear derailleur. Despite being formed earlier, Shimano only started manufacturing cycling gear components later on.
For almost two decades after World War II, Campagnolo's parallelogram shifting technology led the world of professional cycling. Nowadays, Campagnolo is less prominent than Shimano and SRAM but remains the groupset of choice by many professional cycling teams. The company no longer produces groupsets for the MTB market.
Campagnolo ROAD Bike Groupsets
Pro – Record, Super Record
Mid/High – Chorus, Potenza
Entry – Centaur
---
Campagnolo Road bike Groupsets
---
Campagnolo Super Record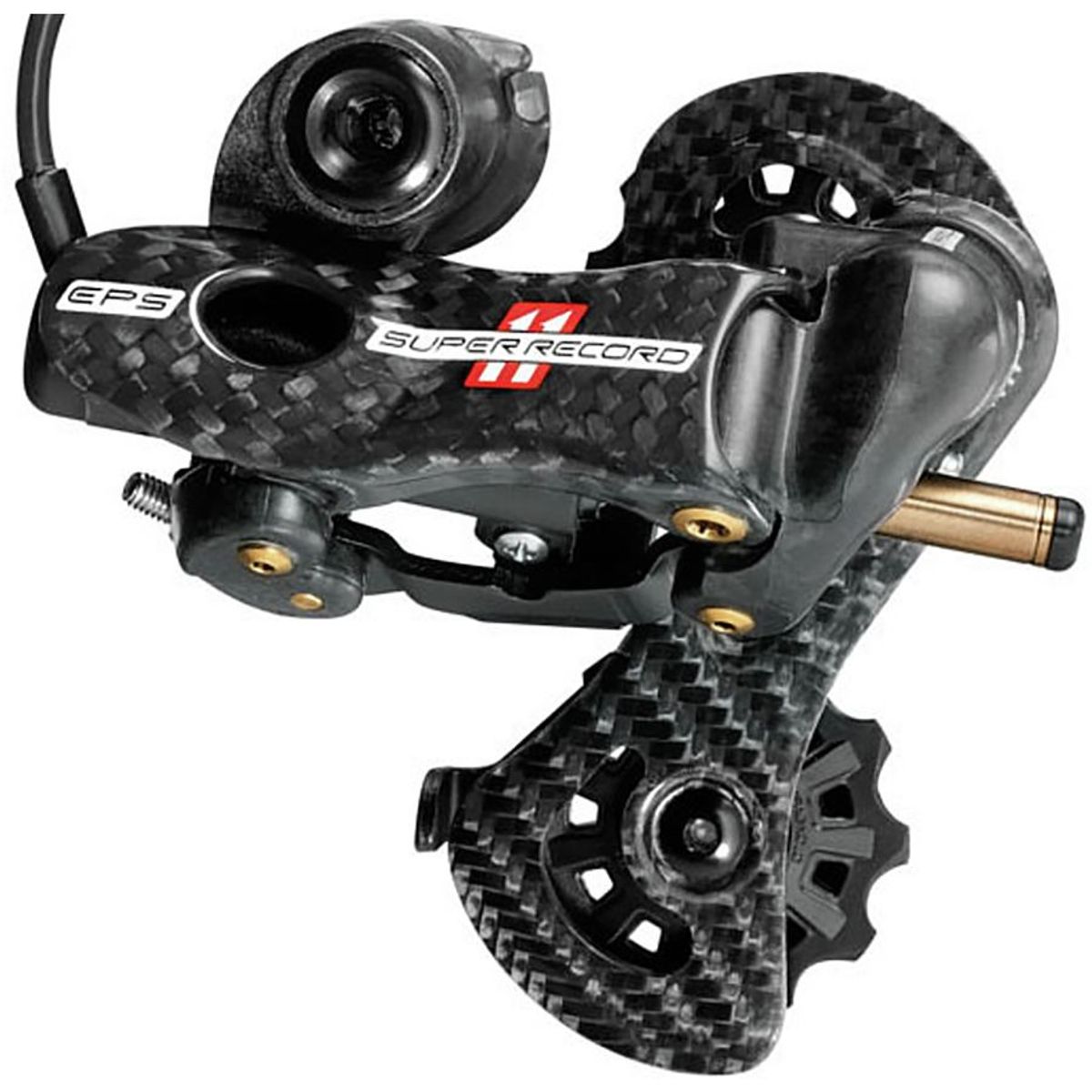 Aimed at the professional cycling market, Super Record is designed with parts to be easily swapped depending on whether it's a speed or hill climbing day.
The 12-speed cassette is available in 11-29T to 11-34T sizes, all of which use the same rear derailleur for added convenience. This can be paired with a choice of three chainring combinations, 50/34, 52/36, and 53/39.
The electronic EPS version of the Super Record is Campagnolo's best road groupset available, retailing at over $3,000 (with disc brakes).
---
Campagnolo Record
Record consists of Campagnolo's professional cycling grade components, with lots of carbon fiber and titanium construction. This 12-speed cassette is paired with a 2x drivetrain.
It has hollow carbon cranks that connect inside the bottom bracket using Campagnolo's Ultra-Torque system. The Record is also available in an electronic EPS version.
---
Campagnolo Chorus
Chorus is a big step up for Campagnolo, offering several parts made from carbon fiber, including the cranks, brake levers, and sections of the rear derailleur. Many believe Chorus is comparable to Shimano's high-end DuraAce groupset.
It has a 12-speed cassette with 2x chainring options for 50/34T to 53/39T and is also available as an electronic shifter with Campagnolo's EPS technology.
---
Campagnolo Potenza
Potenza features a mix of high-end and mid-range components, using similar shifting to Centaur but with Chorus-style crank and some carbon components.
It has three chainset options, 53/39, 52/36, and 50/34, and an 11-speed rear cassette sizing up to 11-32.
---
Campagnolo Centaur
Comparable to Shimano's 105 groupsets, the Centaur is largely aluminum and uses Campagnolo's high-end Ultra-Torque crank system.
With an 11-speed cassette and 50/34 or 52/36 crank options, Centaur is aimed at a non-professional market. It features ErgoPower shifters that are integrated with the brake levers.
---
Campagnolo Veloce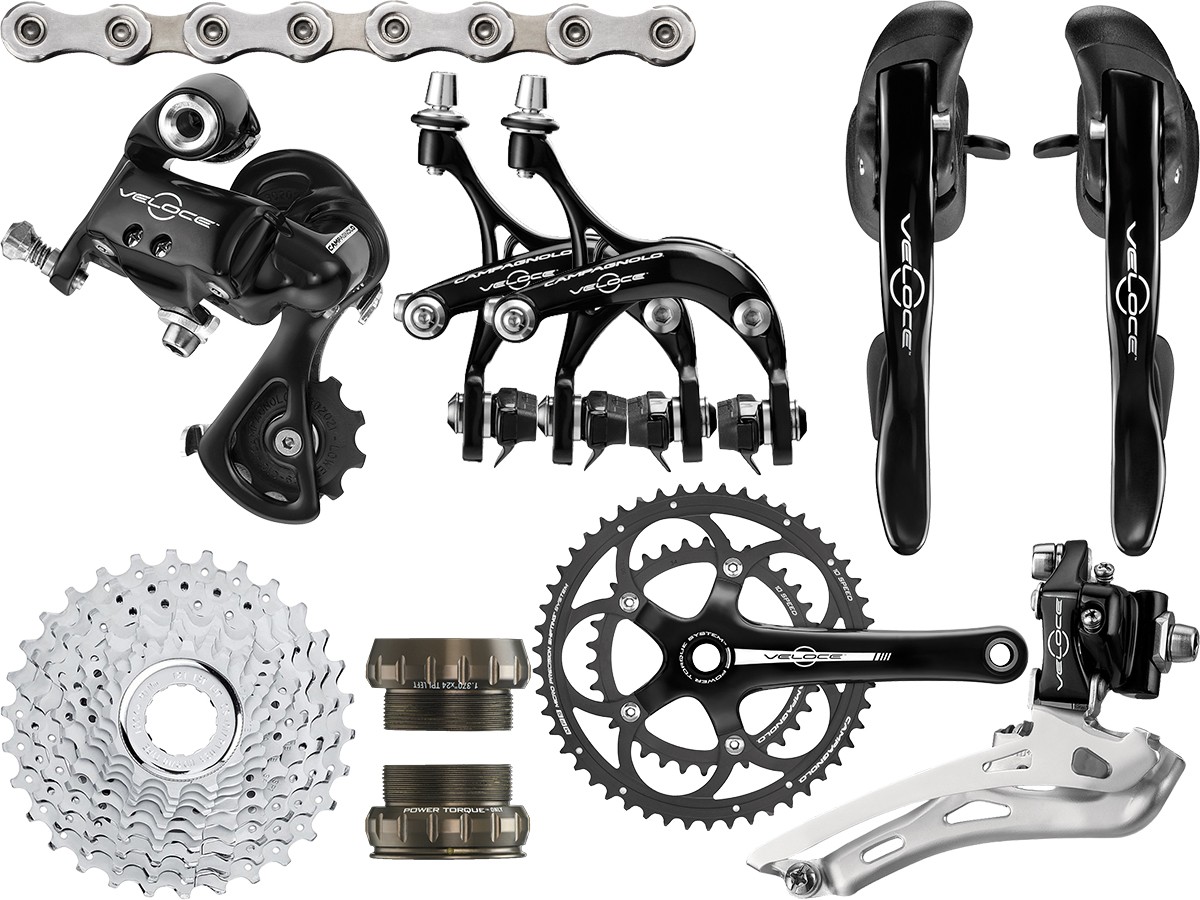 This entry-level Campagnolo groupset is made mostly from plastic and aluminum. It has a 10-speed cassette and uses Campagnolo's Power-Shift levers and Power-Torque technology on the crank and bottom bracket.
Veloce is much like the now discontinued Campagnolo Athena groupset and is comparable to Shimano Claris or SRAM Apex.
---
SunRace
Mountain / Road
Established in 1972 in Taipei, Taiwan – SunRace is one of the more affordable bicycle parts manufacturers. Although it does have some high-quality components, it mainly features a range of entry to mid-level groupsets made from alloy with some carbon reinforcements. SunRace offers a perfect alternative to original parts due to its compatibility with both Shimano and SRAM parts.
SunRace MOUNTAIN Bike Groupsets
M-series, MS, MX, MZ, Downhill
Sunrace ROAD Bike Groupsets
RS, RZ, RX, R30
---
SunRace Mountain Bike Groupsets
---
Sunrace MX
The MX is an 11-speed mountain bike groupset featuring a wide-ratio cassette and single cog crank with various sizes from 30T to 40T. The rear derailleur has an adjustable chain stabilizer and can accommodate cogs up to 51T.
It's built from mostly alloy components and comes with hydraulic disc brakes that are Shimano I-SPEC II compatible.
---
Sunrace MS
The MS is another MTB groupset with the choice of a 10 or 11-speed wide ratio cassette, hydraulic disc brakes, and a few options for a 2x or 3x crank.
Like the MX, it's mostly made from alloy, with a top swing front derailleur and trigger shifters that integrate with the brake levers.
---
Sunrace M-series
The M-series consists of several Mountain bike gearing components that level up from the M2 to M9, with both fixed and freewheel cassettes ranging from 6 to 8-speeds.
It features a choice of single, double, or triple alloy forged cranks, with a twist or push-pull shifters and caliper or disc brakes.
---
Sunrace MZ
The MZ is a 12-speed groupset with a wide-ratio cassette aimed at the e-bike market. It has several different options for alloy cassettes and a carbon cage rear derailleur. It uses Shimano I-SPEC II compatible shifters with push-pull functionality.
---
Sunrace Downhill
Sunrace sells a downhill MTB-specific 7-speed cassette with 11-42T cogs that can be paired with any variation of Sunrace mountain bike components to make up a full groupset.
---
Sunrace Road bike Groupsets
---
Sunrace RS
The RS is a 2×10 speed groupset with forged alloy caliper brakes and a 6061 aluminum crank. It has slightly higher quality parts than the RX, with rubber-cushioned up-shift levers and alloy derailleurs.
---
Sunrace RZ
The RZ is a road bike focused groupset series, with 10 or 11-speed cassettes, quick release alloy caliper brakes, and carbon-reinforced derailleurs.
---
Sunrace RX
The more affordable of the Sunrace road bike groupsets, the RX features most alloy components with some Chromoly steel-reinforced parts.
It has simple caliper brakes with shifter-integrated levers and a 10 or 11-speed cassette paired with a double cog crank.
---
Sunrace R30
The R30 is an entry-level road groupset made with low-quality alloy parts. It includes a 6 or 7-speed freewheel cassette with a double crank and simple derailleurs.
Shifters are the old style thumb shifters that attach to the top tube via braze-on points or a clamp.
---
microSHIFT
microSHIFT Mountain Bike groupsets
Advent X
Advent
Acolyte
XCD
XLE11
XCL10
Marvo LT
Mezzo
microSHIFT Road Bike groupsets
Arsis 11
Centos 11
Centos 10
R10
R9
R8
microSHIFT City Bike groupsets
Alfine, Nexus compatible shifters
---
Where To Shop For Groupsets / Drivetrains?
Down here you'll find a selection of the best places to buy bicycle components online
JensonUSA – Shimano, SRAM, Sunrace, Campagnolo, Wolf Tooth, TruVativ, Race Face, FSA, Chris King
Competitive Cyclist – Campagnolo, Cane Creek, Shimano, Race Face, SRAM, Wolf Tooth
evo.com – Race Face, Shimano, SRAM, Wolf Tooth, Magura
BackCountry – SRAM, Shimano, Race Face, Wolf Tooth
REI – Shimano, SRAM
Aventuron – SRAM