Cannondale Synapse Carbon Disc 105 Review
The Synapse soaks up the imperfections of the terrain beneath you perfectly with its stiff front and more relaxed rear end. It ensures great and pain-free rough rides thanks to its 30 mm tires. With its weight of 20 lbs, it is able to compete with some much more expensive carbon bikes out there.
Full Specs
The full-carbon frame, fork, and the Shimano 105 groupset is what makes this bike worth the investment. However, that is not all as it has much more to offer. Stay with us to learn what it is and why you should give it a go.
Frame: BallisTec Carbon, Di2 ready, SAVE, BB30a, flat mount, 12mm thru-axle, internal cable routing, removable fender bridge
Fork: BallisTec Carbon, SAVE, integrated crown race, 12x100mm thru-axle, internal routing, 1-1/8 – 1-3/8 in. tapered steerer, 45mm rake
Tires: Vittoria Zaffiro Pro Bright Black, 700c x 30mm
Rims: RD 2.0, 28h
Crankset: Cannondale 1, BB30a, FSA rings, 50/34
Cassette: Shimano 105, 11-34, 11-speed
Front Derailleur: Shimano 105, braze-on
Rear Derailleur: Shimano 105 GS
Shifters: Shimano 105 hydro disc, 2×11
Brakes: Shimano 105 hydro disc, 160/160mm RT30 rotors
Saddle: Fabric Scoop Shallow Sport, steel rails
Pedals: Sold separately
Number of gears: 22
Weight: 20 lbs. 0.2 oz.
Cannondale Synapse Full Review
Cannondale Synapse Carbon 105 is aimed at all of those rides who are seeking adventures off the beaten track. If your idea of a cycling route is similar to Paris-Roubaix, then this all-carbon road bike will be your best companion. It is available in one color – Jet Black, which in our opinion makes it even more irresistible to hop on and ride.
The all-carbon frame and fork on this Synapse Carbon 105 will make you the king of cobbles and rough roads and give you an edge over most riders. It's not only its carbon frame that the Synapse Carbon 105 boasts.
There are premium components fitted onto that frame, but great looks as well. All of that is brought together by Cannondale's experienced craftsmanship so we end up with an excellent road/gravel bike that is a delight to ride.
---
Frame and Fork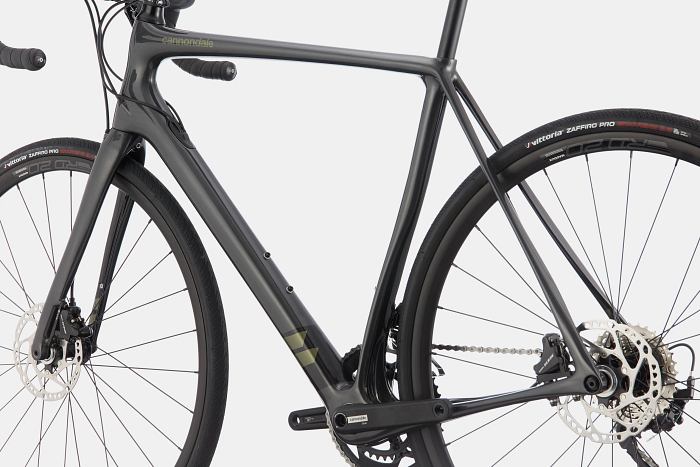 Even though Cannondale is most popular for its superior aluminum frames, they have shown with this, and a range of other models, those carbon frames are not strange to them either. Both the frame and the fork are made of BallisTec Carbon and they contribute greatly to the low weight of 20 lbs of this Synapse Carbon 105.
The fork is quite stiff so you will have high positive feedback when you are sprinting or biting the tarmac up some steep hills. The frame and the rear triangle give in a little bit more so they perform well, but still, ensure the comfort that carbon frames are known for. It's definitely a winning combination for Cannondale Synapse Carbon 105.
The Drivetrain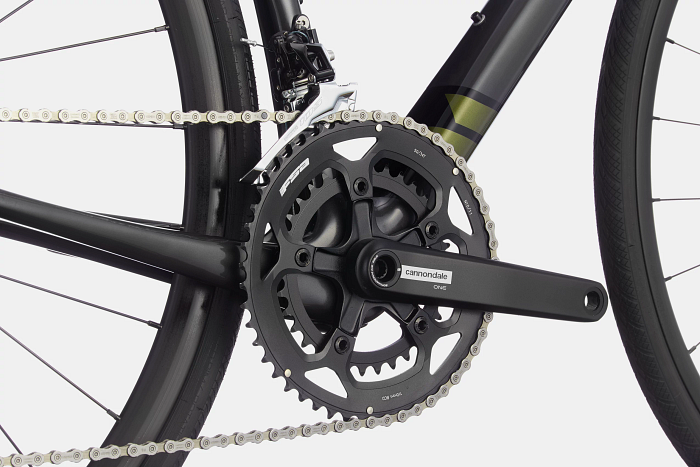 The crankset is made of a combination of Cannondale 1 crankset and Shimano 105 cassette on the back. The crankset is a combination of 50 and 34 teeth on two FSA rings, while the cassette has the range of 11-34 teeth.
Together, they couple for 22 wide-range gears suitable for fast flats, lightning downhills, as well as some hard hills. They are linked together by the Shimano HG601 chain which is by no means a weak link among the three. This drivetrain combination adds to the general idea that Cannondale Synapse Carbon 105 is intended for the rougher roads and long century rides.
The Derailleurs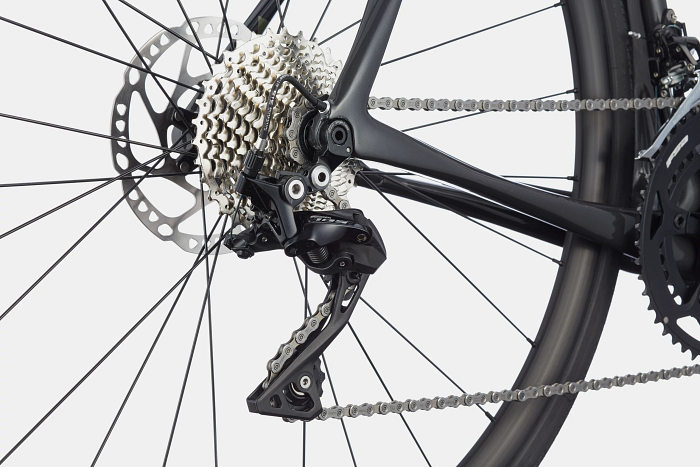 The derailleurs, as expected, are also a part of the Shimano 105 groupset. On the front, shifting is done by a Shimano 105 braze-on derailleur, while on the back Shimano 105 GS has this role. Generally, road cyclists love the 105 which is regarded as the workhorse of road cycling components.
Not much can go wrong with the 105 as it is built to shift accurately and last for a long time. That is why it is the most popular choice among the majority of mid-range road bikes on the market.
Brakes and Tires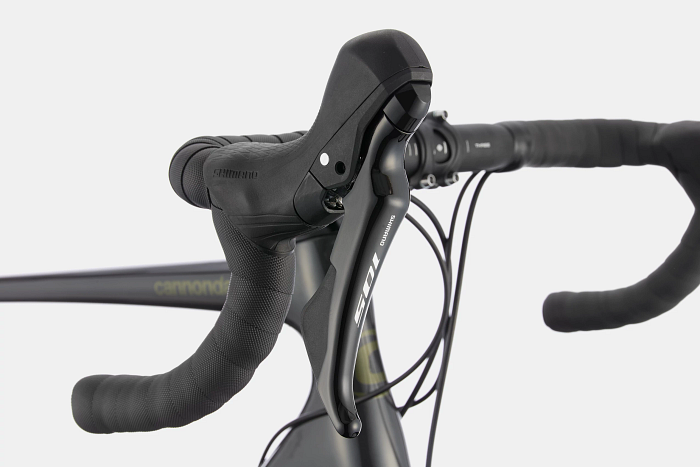 The hydraulic brakes are one of the biggest positives on Cannondale Synapse Carbon 105, apart from the carbon frame and fork. Even though it is expected to get hydraulics on a $2,600 road bike, it is great to see that they are sticking with the idea throughout this model.
These Shimano 105 hydraulic discs will offer awe-inspiring stopping power on any rough and wet terrain, such as cobbles or pothole-laden roads. The tires add to the overall story of this Synapse. Cannondale has chosen to go with Vittoria Zaffiro Pro Bright Black- 30 mm wide.
Saddle
The saddle that comes with Cannondale Synapse Carbon 105 is the standard Fabric Scoop Shallow. You can find this saddle on most Cannondale road bike models and that is for a good reason. Something that works well should not be changed, and this saddle has proven itself time and time again. Plus, it adds quite a bit to the overall good looks of the bike because it is a great fit for the Jet Black paint job.
---
PROs & CONs
PROS:
The carbon frame and fork
Hydraulic disk brakes
Heavy-duty Shimano 105 components
---
Size Chart
51 CM – 5'5″ – 5'7″
54 CM – 5'7 – 5'10"
56 CM – 5'10" – 6'0″
58 CM – 6'0″ – 6'2″
61 CM – 6'3″ – 6'4″
---
Other Synapse Models
Cannondale has other Synapse models in stock for you if Synapse Carbon 105 doesn't meet your needs perfectly. Check them out below
Synapse Carbon Disc Tiagra – It comes with Shimano Tiagra components, beautiful midnight blue paint, and hydraulic disc brakes. This model exists with both flat and drop bars.
Carbon Disc Ultegra – This is another model with flat bars but it is more expensive due to Shimano Ultegra components.
Disc Women's Tiagra – This is a women's model with Shimano Tiagra components. It also comes with drop bars.
Synapse Hi-MOD Disc Line – This is a line of 4 more expensive Synapse models featuring electric groupsets, such as Ultegra Di2 and Red eTap AXS.
Disc 105 – This model has the same Shimano 105 components as the one we reviewed above, but it features an aluminum frame and mechanical disc brakes.
Disc 105 SE – Quite similar to the one above, but with lighter wheels and tires for better rolling performance.
Carbon Disc Dura-Ace – As you can guess from the name, this is one of the most prestigious models in the Synapse line. It comes with Dura-Ace components, the best on the market.
Cannondale Disc series – Find out more and Shop on REI
---
Should You Buy the Synapse 105?

Once again, Cannondale has nailed it and built an all-rounder that appeals to an incredibly wide audience. Whether you are looking for a bike that will shorten your commute time to work and back every day, want to improve your average time on those long rides, or tackle the far-from-perfect roads in your area, the Cannondale Synapse Carbon 105 is going to make you happy.
If you're living in a wet and cold area and that was stopping you from putting the weekly and monthly miles into your Strava account, now you will have no excuses. Arguably, the Cannondale Synapse appeals better to the sportive audience, but you can take it to a race easily as well.
The only slight downside is the heavier wheels, but this does not stop it from accepting the power and surging really fast during sprints. Plus, the heavier and harder wheels add to the overall sturdiness and durability of the bike and make it an all-condition winner.
At this price range, you are usually paying the most for the frame, and that is exactly where you're getting the most with Carbon 105. If you ever decide to invest more in components and the wheelset, the Synapse's carbon frame will offer the perfect basis.