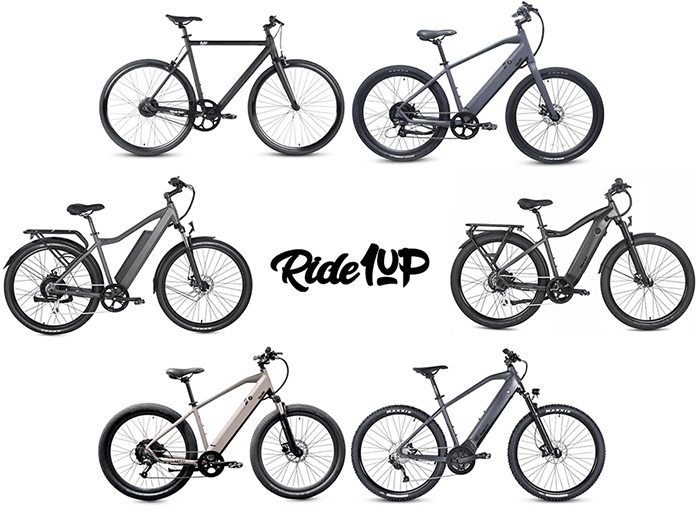 Ride1UP is a newly formed American electric bike brand launched in September 2019. The brand prides itself on designing and building some of the best value e-bikes on the market.
The company has something for every kind of rider, with eight unique e-bikes to choose from among their range.
The range starts at $1,100 for a single-speed Roadster going up to $2,300 for their powerful and versatile Prodigy hybrid.
This article will cover what makes Ride1UP special, describe each bike, list the popular accessories and spare parts, and finish with some information on support, ordering, and assembly.
What Makes Ride1UP Stand Out?
Direct-to-consumer Business
They aim to offer quality electric bikes without the added costs normally associated with them. They act as a direct-to-consumer company to minimize costs and therefore have no physical presence either in shops or with middlemen.
Additionally, they manufacture spare parts so although they don't have a physical shop presence, you can still purchase replacement parts for your Ride1UP bike if it's out of warranty and needs maintenance.
Free Shipping
They offer free shipping within the United States and finance options for those who need it. As they don't have a physical presence for you to try the bikes out before purchase, they focus heavily on customer service as they are the only face of the company, so if you have any questions you'll be sure to have them answered by one of the team.
---
Table of Contents
1. Bikes Range
3. Support
---
Ride1UP Bikes Range Overview

| | | | | | | | | |
| --- | --- | --- | --- | --- | --- | --- | --- | --- |
| RIDE1UP | TYPE | MSRP $ | FRAMES | SPEEDS | TIRES | WEIGHT | DESIGNS | TORQUE |
| Roadster V2 | Single-sp | 1,095 | S-L | 1 | 700x28c | 33lbs | 3 | 40Nm |
| Core-5 | City | 1,195 | XT/ST | 7 | 27.5″x2.2 | 49lbs | 2 | 60Nm |
| 500 Series | City | 1,295 | XT/ST | 8 | 27.5×2.2″ | 55lbs | 2 | 60Nm |
| 700 Series | Hybrid | 1,695 | XT/ST | 8 | 27.5×2.4″ | 62lbs | 2 | 60Nm |
| LMT'd | Trail | 1,895 | XR/ST | 8 | 27.5×2.4″ | 53lbs | 2 | 100Nm |
| Prodigy | Hybrid | 2,295 | XR/ST/XC | 9 | 27.5×2.0″ | 48lbs | 1 | 90Nm |
Ride1UP Roadster v2
A belt-driven single-speed eBike

Price: $1,095
The Roadster V2 is Ride1UP's first bike but evolved into a second edition.
Simple, and with a concealed battery, the Roadster V2 has a clean aesthetic and low maintenance requirements thanks to its belt drive.
It's the cheapest bike in their range with an MSRP of $995 and comes with a compact LCD screen.
It's best suited for urban or flat rides and commutes. There are three stylish colorways to choose from, matte black, burgundy matte, and silver matte. The 6061 aluminum frame will keep it rust-free and safe from the knocks and wear and tear a bicycle gets on your commutes.
6061 aluminum frame
Class 3 electric bike
Pedal-assist max speed up to 24 mph
500W motor
40Nm of torque
20-35mi range
Integrated 36V battery
The bike arrives 90% assembled
Weight: 33lbs
Weight capacity: 275lbs
Frame Size Recommendations
52 – S – 5'3″ – 5'8″
55 – M – 5'10" – 5'10"
58 – L – 5'7″ – 6'2″
Buy from Ride1UPOr Read Our Full Review
Ride1UP CORE-5
Price: $1,195
The CORE-5 is the second cheapest bike in Ride1UP's range, at just $1,095.
They call it an entry-level e-bike but it's quite a capable bike, with a 500W motor and pedal-assisted max speeds of up to 28mph. The frame comes in two models, the ST which is a step-thru frame, and the XT which has a higher positioned top tube. It's available in two colors; midnight gray, and slate blue. The thick 2.2″ tires make this bike rather capable both on the road and on light trails, and with such an accessible price point, you'd be hard-pressed to find a better value e-bike if you're just starting out.
6061 aluminum frame
500W motor
Peak 800w
20-40mi range
Class 3 eBike
Max pedal-assisted speed 28mph
Tektro mechanical disc brakes
160mm rotors
27.5×2.2″
Weight: 49lbs
Frame Size Recommendations
XR – 5'6″ – 6'4″
ST (Step-Through) – 5'0″ – 6'1″
Buy from Ride1UPOr Read Our Full Review
Ride1UP 500 Series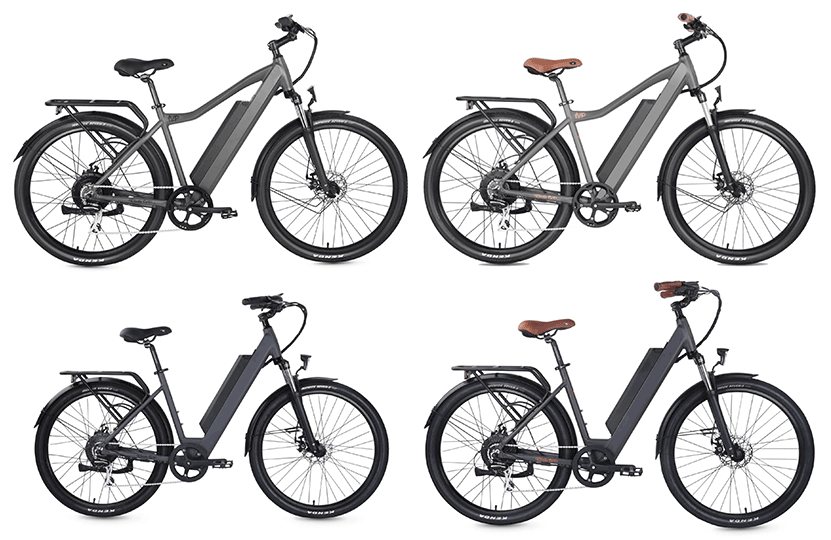 Price: $1,195
The 500 series is Ride1UP's original best-selling model. Starting at $1,195, it's low priced and great value for money.
There are two main options, one with fenders and a rack for panniers, (for $100 more) and then the standard version that comes without fenders. Given the low price, it's no surprise they use lower specced components like mechanical disc brakes, but for casual riding, they are sufficient. With a 500W motor, the top speed on this bike taps out at 28mph. There are also two paint color choices: black or gold.
6061 Alloy frame
100mm XCT Coil Spring Fork
27.5×2.2″
Range: 25-45mi
500W (800W peak) motor
Class 3 E-Bike
Max speed: 28mp/h pedal-assist & 20mp/h throttle
Frame Size Recommendations
XR – 5'5″ – 6'4″
ST (Step-Through) – 5'1″ – 6-2″
Buy from Ride1UPOr Read Our Full Review
Ride1UP 700 Series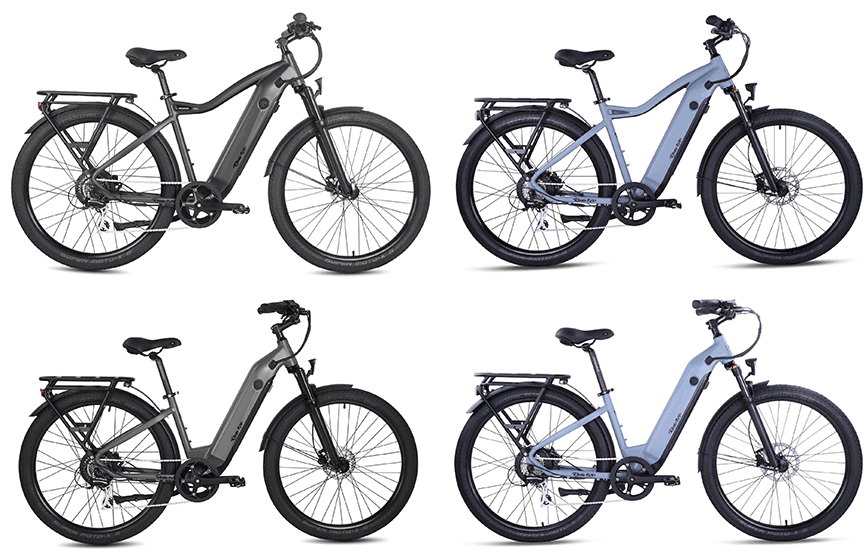 Price: $1,695
The Ride1UP 700 series is the next step up from their 500 series.
It costs slightly more at $1,495 but the value is plain to see. Components are upgraded, for instance, the inclusion of hydraulic brakes, a color display LCD screen which allows riders to adjust the programs on the bike and check battery levels, speed, etc.
With Ride1UP's mission to get as many people out of cars and onto e-bikes, the 700 series is a fantastic place to start.
Wide tires mean it's capable for both on and lights off-road use, while also promoting comfort. Like the 500 series, it comes as either an ST (step-thru) or XT frame option and is available in two colors: gunmetal gray and steel.
Alloy frame
27.5×2.4″
Range: 30-50mi
48V 500W (800W max) motor
56Nm torque
Class 3 Pedal Assist
Max speed: 28mp/h p/a, 20mp/h throttle
Frame Size Recommendations
XR – 5'5″ – 6'4″
ST (Step-Through) – 5′ – 6'2″
Buy from Ride1UPOr Read Our Full Review
Ride1UP LMT'd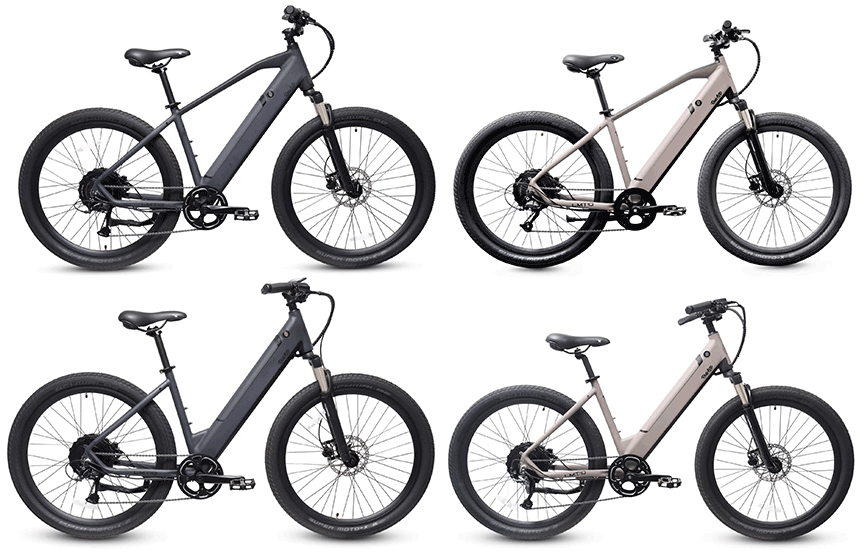 Price: $1,995
'Described as the 'ultimate commuter bike', the Ride1UP LMT'D is certainly a lot of bike for the money.
Costing $1,795 as the second most expensive in their range, the LMT'D is a super-charged electric bike designed to make you rethink your car ownership.
With Schwalbe Super-Moto X tires, an RST Asteria Air Fork, and Dual Piston Tektro Hydraulic brakes, this bike is not only comfortable but will allow you to go faster, and get to max speed quicker with an impressive 100Nm of torque. The bike is available in both ST (step-thru) and XT versions and has a choice of two colorways: midnight gray, and sand/brown.
Alloy frame
27.5×2.4″
Hydro disc brakes w 180mm rotors
48V 750W (1000W peak)
100Nm of torque!
Range: 30-50mi
Frame Size Recommendations
XR – 5'1″ – 6'2″
ST (Step-Through) – 5'1″ – 6'2″
Buy from Ride1UPOr Read Our Full Review
Ride1Up Prodigy
Price: $2,195 – $2,295
The Ride1UP Prodigy is the brand's most expensive model at $2,295.
It's not yet available as pre-orders begin in August 2021, but given the popularity of their other bikes, you might want to secure yours early. They promise the bike will take your riding to the next level and looks to be a step away from their usual utility, commuter-style bikes.
The addition of front suspension means the bike will be at home on the trails as well as the roads, and the lightweight alloy frame means getting up to the max assisted speed of 28mph is much easier as well. It will be available in three configurations: ST (step-thru), XT, and XR and is available in one color – matte gray.
Alloy frame
Range: 30-50mi
Brose TF Sprinter Motor with 90Nm of torque
Weight: 48lbs!
Frame Size Recommendations
XC (Step-over) – 5'6″-6'4″
ST (Step-through) – 5'1″ – 6'2″
XR (Suspension) – 5'6″-6'4″
Buy from Ride1UPOr Read Our Full Review
Parts & Accessories
One huge benefit of owning a Ride1UP bicycle is the availability of various space or replacement parts and accessories that allow you to personalize your bike. Additionally, they sell a range of baseball caps, t-shirts, and hoodies from the Apparel page.
From the "Part and Components" tab, you can view each item and the stock availability. In addition, each item has a description that indicates the bike(s) with which it's compatible. For example, you can use the rear rack with the CORE-5 or LMT'D.
Replacement & Extra batteries
Chargers
Cargo trailer
Racks
Fenders
Displays
Phone Mount
Panniers
Apparel – Merch
Shop All AccessoriesShop Ride1UP Apparel
Ride1UP Support
Although Ride1UP is an online direct-to-consumer brand, they offer an excellent customer support experience.
Firstly, all Ride1UP bikes include a 1-year warranty to protect your purchase. In addition, during the first 30 days, you can send the bicycle back for any reason and receive a full refund.
You can consult their extensive "Tech Support" answer section for bike-related issues, including detailed answers to almost any problem you can imagine. Additionally, they have an email-based support team working to solve customer issues from Monday to Friday 9-5 PST.
What to expect?
Why order an eBike online?
Lost keys replacement
Can I charge without removing the battery?
Can I upgrade my bike's battery for an extra fee?
How to adjust the seat & handlebars
And much more…
Assembly & Ordering
Ride 1 UP is a bike brand that focuses on the direct-to-consumer business model, therefore all of their bikes are sold online without the middleman.
Ordering from the Ride1UP website is quick and straightforward. Select the frame design and color option you prefer and proceed to check out. You can also add recommended accessories or spare parts to your cart from the product page. 
The company offers a range of options for payment and a test ride service from independent suppliers, rental fleets, or ambassadors, which you can search here. 
Ride 1 Up electric bicycles come 85% – 90% pre-assembled!
Each Ride1UP bike has a detailed assembly guide that features step-by-step instructions of the final 10-15% needed to get the bike ready to ride. The final assembly is just mechanical parts, there is no electronic assembly required.
Additionally, there are video tutorials available which allow you to watch a Ride1UP mechanic and follow along. To troubleshoot any issues, the assembly guide also features extra tips and problems to avoid.