Best Steel Gravel Bikes in 2022
Steel is most definitely real according to plenty of current bike manufacturers, which is why we've made a list of the best steel gravel bikes.
Known for its strength and durability, steel is one of the most desirable bike frame materials out there. Steel-framed bikes can absorb more damage and take more blows than aluminum or carbon fiber. Steel bikes can often produce better ride quality, with the absorption of bumps more noticeable, which is especially important on gravel bikes.
Strong
Durable
Affordable
Great vibration damping qualities
Been around for ages (since the very beginning)
Doesn't rust, but does corrode
Steel gravel bikes are nothing new, but this article will help you understand why steel is a material of choice for many bike builders and manufacturers and give you a list of a few top ones to get you started.
One downside to steel as a bike frame material is its cost. Often it costs more than aluminum, and if it's a bespoke bike it can cost even more as you pay for the labor of the bike being made specifically to your size. So although steel is a great material, let's look at the alternatives and their cost in relation to steel.
Top Alternatives to Steel
Aluminum is the cheaper alternative to steel. Why? Because it's generally mass-produced and lighter than steel. It's a great budget option for gravel bikes (and other bikes), and it's corrosion-proof. It may not have the superior ride quality that steel does, but it's a great option for those on a budget.
Carbon fiber is one of two main options if you're looking to spend more money. It's stronger than aluminum and much lighter. The downside is, of course, the cost. A carbon fiber gravel bike will set you back a lot more than aluminum and more than a steel gravel bike. Carbon fiber frames are usually only mass-produced as it is difficult to make carbon molds in-house for bespoke models.
A further issue of carbon fiber is its durability. Although it's strong, it needs to flex to absorb some of the energy from the road or gravel. If it is constantly hit by rocks or large impacts, it could fracture and you could easily weaken the carbon fiber structure.
If carbon fiber isn't your thing, titanium is the next best upgrade from steel. Titanium might be among the most expensive frame materials you can buy, but it's for good reason. It's a sort of wonder material, in that it doesn't require painting (so you can worry less about scratches and stripping the paint back).
Image source: Cannondale.com The question "what is a gravel bike?" regularly arises in cycling circles as it is a ...
And it's also corrosion-resistant and wear-resistant, so you don't need to worry about hitting rocks or stray bits of gravel hitting your downtube as if it were a carbon frame.
Titanium gravel bikes are often things of beauty and are usually made by bespoke frame builders rather than mass-produced, off-the-shelf brands. Titanium bikes are incredibly durable and often outlive their owner's riding interests. Scratches can be easily buffed out and it's not rare to see decades-old titanium bikes still thriving.
---
Best Steel Gravel Bikes of 2022
---
Zize Bikes – 29er Max 2.0
MSRP: $2,500
REI.com
Shimano 8-speed internally geared hub
29×2.1″
Weight: 48 lbs
Mechanical disc brakes
Sizes S/M
The Zize Bikes 29er Max 2.0 might be a steel urban bike, but it gets a place on our list due to its versatility. It's definitely one of the best bikes for heavy people as well.
It's perfect for commuting or bicycle touring on all-terrain thanks to the rack mounts and the bottle cages and fenders already installed on the bike. They allow you to pack plenty of bags suitable for your journey. In addition, the gear choices available allow you to ride diverse gradients and the internal gearing significantly boosts durability.
Alhonga mechanical discs provide powerful braking on this gravel touring bike, and 2.1″ tires are suitable wide for both gravel and asphalt riding. It's a versatile machine and one of the best gravel bikes around.
---
Niner RLT 9 Steel
MSRP: $2,700
Jenson USA
Choice of groupsets
Clearance for 45mm tires
Multiple color options
Disc brakes
Weight: 20lbs (model dependent)
Another excellent steel gravel bike on our list is the Niner RLT 9 Steel.
It can be bought as either a steel gravel bike frame or as a fully built bike. There are also plenty of variations to suit different budgets, with the price ranging between $2,850 and $5,800. With these variations come different levels of components, ranging from 1×11 SRAM Apex to 1x SRAM Force AXS LTD.
Each variation has a choice of colorways, so you can personalize your bike to your style. It's as suited to the road as it is on gravel and singletrack. Tire clearance is enough for a 45mm tire, which is more than wide enough for even the roughest gravel.
---
Marin – Nicasio+
MSRP: $1,179
Jenson USA
Steel frame & fork
650b x 47mm tires
700c x 40mm clearance
MicroShift Advent 1×9 drivetrain
The Marin Nicasio+ combines super-fast road geometry, plenty of mounts for bikepacking, and off-road components and capability.
It features Tektro mechanical disc brakes and WTB Horizon 47mm tires so that you can tackle anything from asphalt to singletrack.
This bike can tackle hills easily, thanks to a 1×9 MicroSHIFT Advent drivetrain with an 11-46T cassette. The Beyond Road geometry balances endurance road geometry with extra stability for off-roading.
It comes with 650b x 47mm tires as stock but can accommodate tires up to 40mm wide on 700c wheels. Don't miss out on this durable and versatile gravel bike if you're on a tight budget.
---
State Bicycle Co. 4130 All-Road
Awesome value
MSRP: $900
State Bicycle Co.
4130 ChroMoly steel
700x38c / 650b x 2.1″, thru-axle
State Bicycle Co. All-Road 1 Flat-Mount disc brakes, 160mm rotors
1×11 State Bicycle Co. drivetrain, 11-42t cassette
The State Bicycle Co. 4130 All-Road is another steel-framed gravel bike ready for adventure. The steel frame helps to absorb trail chatter, making for a smoother ride.
This bike has clearance for a 700x38c or a 650b x 2.1″ wheelset, giving you plenty of options for different terrains and seasons. The stock tires are Vittoria Terreno Zero 38c tubeless-ready or 2.1″ Vittoria Barzo.
As with most SBC bikes, the 4130 All-Road uses stock components, including a simple 1×11-speed drivetrain, mechanical disc brakes, and tubeless-ready double-wall rims. These are low-performance but durable components.
Overall, this is a budget gravel bike that makes a great, cheap starter for riders with a tight budget who do a mix of paved and off-road riding.
---
All-City Cycles – Gorilla Monsoon
MSRP: $2,599
Jenson USA
1×11 SRAM Apex
700c & 650b options
Clearance for 2.4″ or 42mm tires
Mechanical disc brakes
Available in both 700c and 650b wheel configurations, the All-City Gorilla Monsoon is one of the best steel gravel bikes around.
Designed to be at home either on or off the tarmac, it comes with clearance for 2.4″ tires (or 700c x 42mm) and powerful Tektro disc brakes. Mounts for bags make the bike versatile enough for bikepacking, while this steel-framed gravel bike also comes with a one-by drivetrain with a wide range of gears, ideal for steep climbs.
Other notable features include the Tranz-X dropper post, tubeless-ready rims, and grippy WTB Riddler tires for a durable and controlled ride off-road.
---
Norco Search XR S1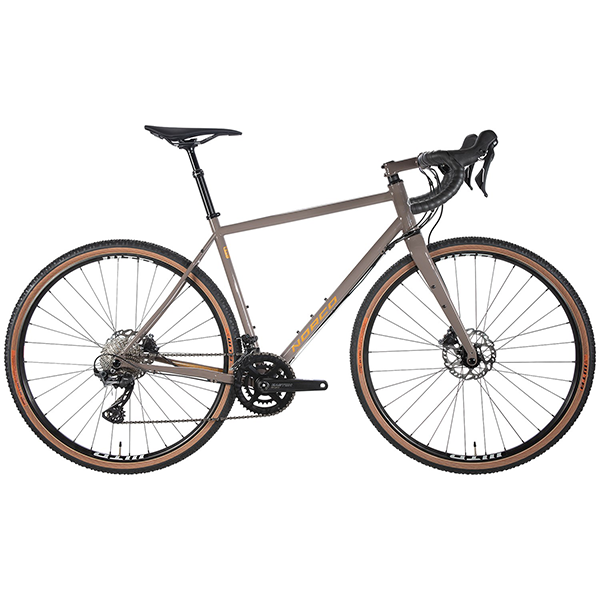 MSRP: $3,199
evo.com
Steel frame & carbon fork
Up to 42mm tire clearance
2×11 drivetrain
Dropper post
Whether you're after a backcountry adventure or a gnarly gravel race, the Norco Search XR S1 is a great steel-framed gravel bike option.
It comes with numerous mounting points so you can kit it out however you like – bar bags, frame bags, etc. The Reynolds 725 Chromoly Steel gives the bike a great ride quality while the carbon fiber forks reduce vibrations through the front wheel. It comes equipped with a 2x Shimano GRX drivetrain, but there is the option to run a 1x system instead.
Image: allcitycycles.com Dropper posts are adjustable seatposts that move up and down to change the saddle's ...
Unusually for a gravel bike, it also comes with a dropper post. This is great for descending on technical sections where you need to balance your weight over the bike. 42mm tires will allow you to tackle everything from asphalt to singletrack.
---
Rondo Ruut ST1
MSRP: $2,899
Mike's bikes
700c or 650b wheel options
50mm or 2″ tire clearance
SRAM Rival 1×11 drivetrain
Flat mount hydraulic disc brakes
The Rondo Ruut ST1 is the steel frame gravel bike in the brand's collection of adventure bikes.
Ideal for commuters looking for a smooth ride and a rugged bike, or for gravel riders and off-road adventurers looking for a versatile bike that's capable of tackling the rough stuff. It comes with mounting points for various frame bags, and a wide gear ratio of 11-42 on the cassette. This is a decent ratio designed to be able to help you get up the steepest of inclines.
Rondo has made this gravel steel bike with custom-shaped heat-treated tubing. They have used a rounded top tube for more front-end compliance, and an S shape seat stay for extra comfort. The forks are incredibly wide and can take up to 50mm tires for a 700c wheel, and 2″ tires for a 650b.
---
Marin Four Corners
MSRP $1,279
Jenson USA
700c or 650b wheel options
42 mm tires
CrMo steel frame and fork
Shimano Sora, 3×9-Speed
Marin Four Corners is a popular gravel bike with huge potential for touring and bikepacking.
Marin has used their proprietary steel design for the frame, ensuring this is a super comfortable and long-lasting bike. The Four Corners has been used for bikepacking and touring across the globe with plenty of success and can be ridden with either 700c or 650b wheels. Either size comes with 42mm tires, but there's clearance for even wider rubber in the frame and fork.
This bike is a tried and tested formula for Marin and they have refined it to create a bike that's versatile and exciting to ride. It's priced at only $1,280 and comes loaded with mounts for any accessories you want.
It also boasts mechanical disc brakes and a 3×9 Shimano Sora drivetrain, so it's definitely ready to climb as well!
Buy from Jenson USA Buy on GovVelo.com
---
Breezer – Doppler Cafe+
MSRP: $1,499
Jenson USA
650b wheels
47mm tire clearance
Shimano Deore 1×10-speed drivetrain
Butted CroMoly steel
Mounts for a rack
The Breezer Doppler Cafe+ is a great all-around steel gravel bike.
It is designed for everything from asphalt to loose gravel and can tackle most terrain thanks to the wide tire clearance available on this bike. You can run up to 47mm wide tires on 650b wheels for comfortable controlled riding off-road. The bike comes with fenders, lights, and rack mounts to make it the perfect adventure-style bike.
Breezer has used its own designed steel tubing to create a comfortable and durable ride featuring stable geometry suitable for both on and off-road applications. This version comes with a Shimano Deore drivetrain and powerful Shimano hydraulic disc brakes and is priced at only $1,499.
---
Rondo – Bogan ST
MSRP: $2,599
Mike's Bikes
29″ wheels
2.1″ tire clearance
11-speed SRAM APEX 1 drivetrain
TRP SPYRE hydraulic disc brakes
Weight: 10.6kg
One of the best gravel bikes on the list, the Rondo Bogan ST is a great steel-framed do-it-all bike with a premium Rondo Twintip carbon fork.
The brand uses double-butted Chromoly steel tubing combined with a carbon fork for the ultimate ride experience and to keep the weight of the frame low. The Bogan ST comes with an 11-speed SRAM Apex 1 groupset, with 11-42t cassette and 38t crankset, which is an excellent gear ratio for even the steepest climbs.
Ready to tackle anything you throw at it, the 23mm internal width of the wheels and wide fork clearance allows for tires up 2.1″. Additionally, hydraulic disc brakes are included to help stop you on a dime. The Bogan ST is priced at $2,599 and comes in a sleek silver/grey color.
---
Niner – RLT Steel 3-Star
MSRP: $3,399
Jenson USA
700 x 50c tires and 650b x 2.0″ tires
SRAM Rival 1 11-Speed drivetrain
SRAM Rival 1 HRD Flat-Mount hydraulic discs
RDO Carbon fork
The only Reynolds 853 steel frame on our best steel bikes for gravel list, the Niner RLT 3-Star is an adaptable and versatile steel gravel bike.
Designed to be ridden wherever you want, the RLT is happy as a commuter bike, a road bike, or a gravel bike. The high-quality SRAM Rival 1 drivetrain with an 11-42t cassette allows you to tackle steep hills without getting out of the saddle.
The RLT comes with hydraulic disc brakes, tubeless-ready rims, and premium Schwalbe G-One Allround EVO Super Terrain 40mm tires equipped. Finally, you have lightweight DT Swiss G 1800 Spline 25 Centerlock thru-axle rims to cap off an excellent spec.