Best Electric Gravel Bikes
Electric gravel bikes maximize your riding time by taking you further and faster over varied terrain for a longer distance.
Cycling on gravel ebikes is a fun activity all year round thanks to the added pedal-assist options picking up the pace through any muddy slopes whilst the extra power and added gadgets allow you to pack extra weight. This makes electric gravel bikes the perfect choice as a trustworthy steed for both long and short-distance touring and bikepacking.
Related: Best Electric Touring Bikes of 2022
---
Now, Let's Check Out the
of 2022
↓
Niner – RLT E9 RDO 4-Star
Cannondale – Topstone Neo 5
Look – E-765 Gravel
Canyon – Grail:ON CF 8 eTap
Orbea – Gain M30 1X
Specialized – Turbo Creo SL Comp Carbon
Giant – Road E+ 1 Pro
Merida – eSILEX+ 600
Kona – Libre
BMC – Alpenchallenge AMP Sport
NEW! – Ride1UP – Roadster V2
---
Niner
RLT E9 RDO 4-STAR
Futuristic look – futuristic performance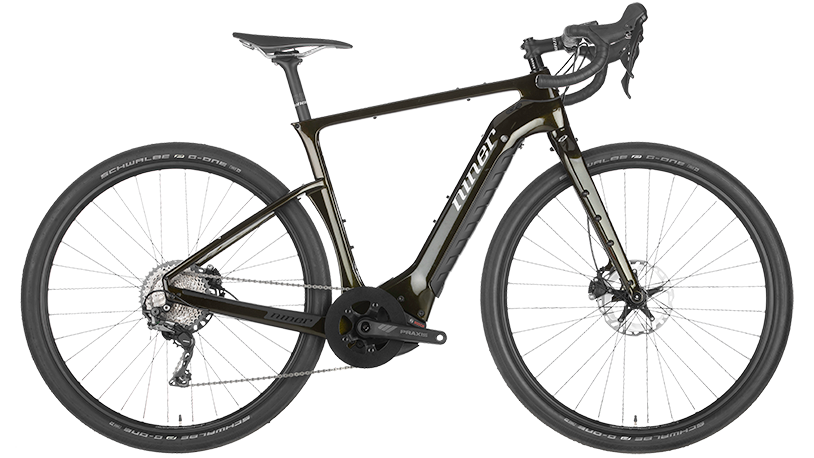 MSRP: $5,695
Jenson USA
The 4-star version of the RLT E9 RDO is a truly impressive Niner electric gravel bike, packed full of so many cool features that the price almost seems too low.
So what's the catch? The bike has a full carbon RDO frame complete with internal cable routing, rack and fender mounts, and clearance for 50mm tires.
Size Recommendations
50 (5'2″ – 5'6″)
53 (5'5″ – 5'9″)
56 (5'8″ – 6'0″)
59 (5'11 – 6'3″)
You also get a killer 11-speed Shimano GRX drivetrain with hydraulic disc brakes, Stan's NoTubes rims, and Schwalbe G-One Speed tires. So are the electronics cheap? Nope – you get a top-quality 250W Bosch Performance motor combined with a long-range 500Wh battery, powering you along at 28mph (45km/h) for a full day of cycling. It's a full package gravel ebike with no corners cut, offering very decent value for money.
Related: Niner Gravel Bikes Review
RDO Carbon
11-speed Shimano GRX (11-42T)
Shimano GRX 400 hydro brakes
Class 3 eBike – Assists up to 28mph
250W Bosch Performance & 500Wh battery
700x50c
Read more >
JensonUSA.com/
---
Cannondale
Topstone Neo 5
MSRP: $5,000
REI Co-op
Cannondale, well known for their quality aluminum frames, now brings you the new Topstone Neo 5 gravel eBike with a carbon fork for speed and comfort.
There's not much you can't do with this bike although admittedly, it's at its best as a road bike. Light and speedy with a stealthy-looking Bosch Performance Line Speed motor and a 500 Wh Power Tube battery, it provides you with 28mph (45km/h) pedal power and a range of up to 70 miles (112 km). 
Not only does it come with a convenient upright riding position for extra comfort over long commutes, but it also features 700c x 36mm tires for a softer ride. The additional tire clearance also leaves enough space for bigger tires of up to 42mm if desired. The lithium-ion battery, however, is not removable and there is no suspension but the Shimano GRX 1×11 drivetrain and hydraulic disk brakes deliver excellent performance on even the most challenging terrains.
Aluminum frame & carbon fork
Class 3 – Assists up to 28mph
250W Bosch Performance Line Speed
11-speed Shimano GRX 400 (GRX 600 shifters)
Shimano GRX hydro disc brakes w/ RT54 rotors
500Wh battery
Range: Up to 70mi!
700x36c
TopStone NEO 2 starting as low as $3,500!
Read more >
REI.com/
---
Look
E-765 Gravel
MSRP: $6,200
Jenson USA
With over 30 years of experience, LOOK has achieved its goal of developing the ultimate light and aerodynamic carbon bike, handling any resistance five times better than that of titanium.
With carbon material being more flexible and more comfortable, the Look E765 Gravel also lets you glide effortlessly over any terrain with the well-balanced on-road and off-road 700x40mm tires that come with it. The uniquely designed seat filters out bumps and vibrations and increases traction while allowing full control of the bike. 
The E-765 is versatile and sturdy, providing you with the confidence you need to venture into unknown territories. The bottom bracket FAZUA Evation motor and battery are a single unit that drops easily out of the frame to charge or remove to enjoy a non-assisted ride. Coming in just above $7000, it's costly but you get a lifetime warranty and free updated software alerting you of temperature and battery life in real-time.
Full carbon
FAZUA Evation motor
SRAM Rival 1x11sp
700x40c
Weight: 31lbs
Read more >
JensonUSA.com/
---
Canyon Grail:ON CF 8 eTap
This Red Dot award winner for best bicycle design in 2020 definitely lives up to its achievement, despite its multi-position double-decker CP07 carbon handlebar and "flex-zone" causing quite the stir.
The SRAM's Force eTap AXS twelve-speed groupset offers top-class performance, allowing you to shift almost instantly with its impressive lever ergonomics and wireless connectivity. In addition, the turbo boost you get from the powerful Bosch motor when applying slightly more pressure will leave you feeling confident and satisfied pushing up steep hills. 
However, considering the aggressive attitude and power this bike displays, some riders might find the tire choice quite odd and opt for an upgrade. Schwalbe's G-One Bite Evo tires were made to be ridden mainly in dry weather conditions on hard-packed terrain due to their limited tread, whilst the Canyon Grail ON CF 8 was designed to perform all day, every day, come rain or shine. 
Class 3 eBike – 28mph max assisted speed
Sizes from XXS to XXL
Weight: 35 lbs
Charge time: 60minutes!
Motor: Bosch Performance Line CX (4th Generation)
DT Swiss HGC1400 Spline
700x50c
Read more >
Canyon.com/
---
Orbea
Gain M30 1X
MSRP: $4,599
Jenson USA
The Orbea Gain M30 1x eBike cuts no corners with a carbon frame, tire clearance up to 40mm, Shimano GRX 11-speed drivetrain, and RX400 hydraulic brakes.
This beast was put together to enhance every part of your ride without taking full control, allowing you to ride longer and have more fun. The wide range of gears is ideal for any terrain, whether climbing, descending, or just enjoying a flat ride. The beautiful OMR carbon frame includes neatly concealed internal cable routing and integrated front and rear lights for a sleek appearance. 
This Class 1 pedal-assist bike with its Mahle Ebikemotion Motor and 248Wh battery was designed to give you an overall feeling of having enough power on every ride. On the handlebars, you get an advanced iWoc ONE control interface that connects to a pedal-assist sensor, providing all your riding data and the option to adjust power based on heart rate.
OMR Monocoque Carbon
Shimano RX400 hydro disc brakes
1×11 Shimano GRX
Fulcrum E-Racing 900 wheelset
Class 1 eBike – Max assisted speed 20mph
Motor: 250W Ebikemotion X35 plus
Battery: 36V 6.9A (248Wh)
Read more >
JensonUSA.com/
---
Specialized
Turbo Creo SL Comp Carbon
MSRP: $7,000
Mikes' Bikes
When shopping for an electric gravel bike, you will be happy to know that the value you get for your money is worth every penny on the Specialized Turbo Creo SL Comp Carbon.
Not only is it one of the fastest electric bikes on gravel but with a FACT 11r full carbon frame and Future Shock 2.0 fork, it's one of the lightest eBikes in its class. 
You'll certainly notice an increase in the distance you can cover, with Specialized's lightweight e-bike SL 1.1 motor delivering 240W of pedal power. The motor features a reactive torque curve that automatically tunes in with your cadence and eliminates any pedal resistance when you are not pedaling. The fully integrated 320Wh internal battery provides a whopping 80m (128km) range with an optional range extender giving an added 40 miles, making this the ultimate long-distance warrior. All of this is perfectly finished off with a Shimano GRX 11-speed drivetrain and hydraulic disc brakes.
Fact 11r Carbon
11-Speed Shimano RX812 GX Shadow Plus
700x28c
Motor: Specialized Sl 1.1
Battery: Specialized SL1 320Wh
Read more >
MikesBikes.com/
---
Giant
Road E+ 1 Pro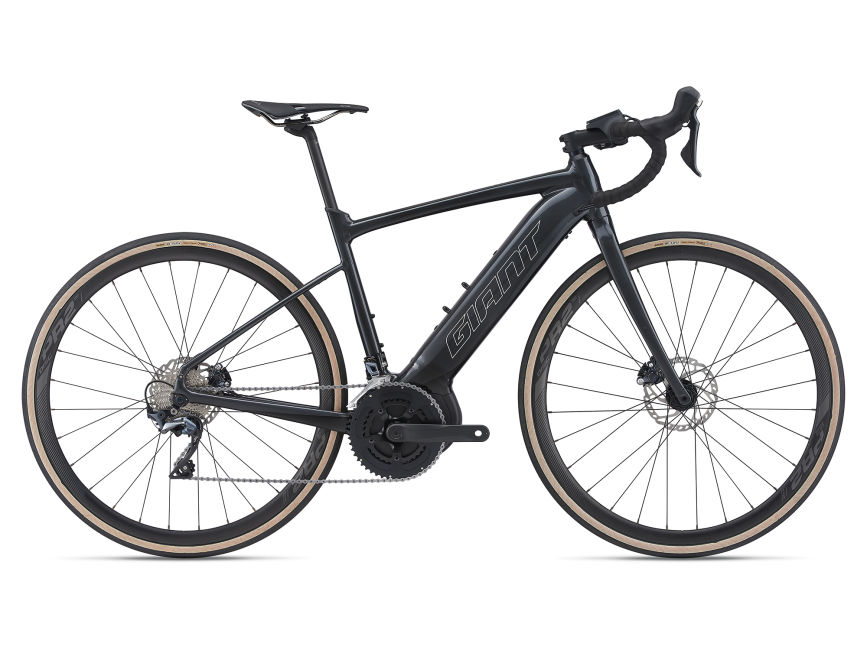 The Giant Road E+ 1 Pro is a performance-driven road bike with an aluminum frame featuring high-end components and a SyncDrive Pro motor for added power.
Its carbon fork and small Q-factor make your ride more comfortable and natural-feeling, whilst its geometry really shines with excellent weight distribution and power transfer. With the Smart Assist and RideControl EVO command center integrated perfectly into the ALUXX SL frame, you can stay focused purely on enjoying the ride. 
The bike comes with Giant tubeless-ready rims and tires allowing for less stress over punctures and an overall, smoother ride. The EnergyPak Smart Compact 500 battery gives you up to 500Wh of power, making you go further, whilst the powerful disk brakes add to the comfort. For what you get, it's well priced but quite a bit heavier than other gravel ebikes, meaning it takes some time to kick into its full speed capacity.
Motor: Giant SyncDrive Pro
Battery: 500Wh Giant EnergyPak Smart Compact
Shimano Ultegra groupset
Read more >
GiantBicycles.com/
---
Merida
eSILEX+ 600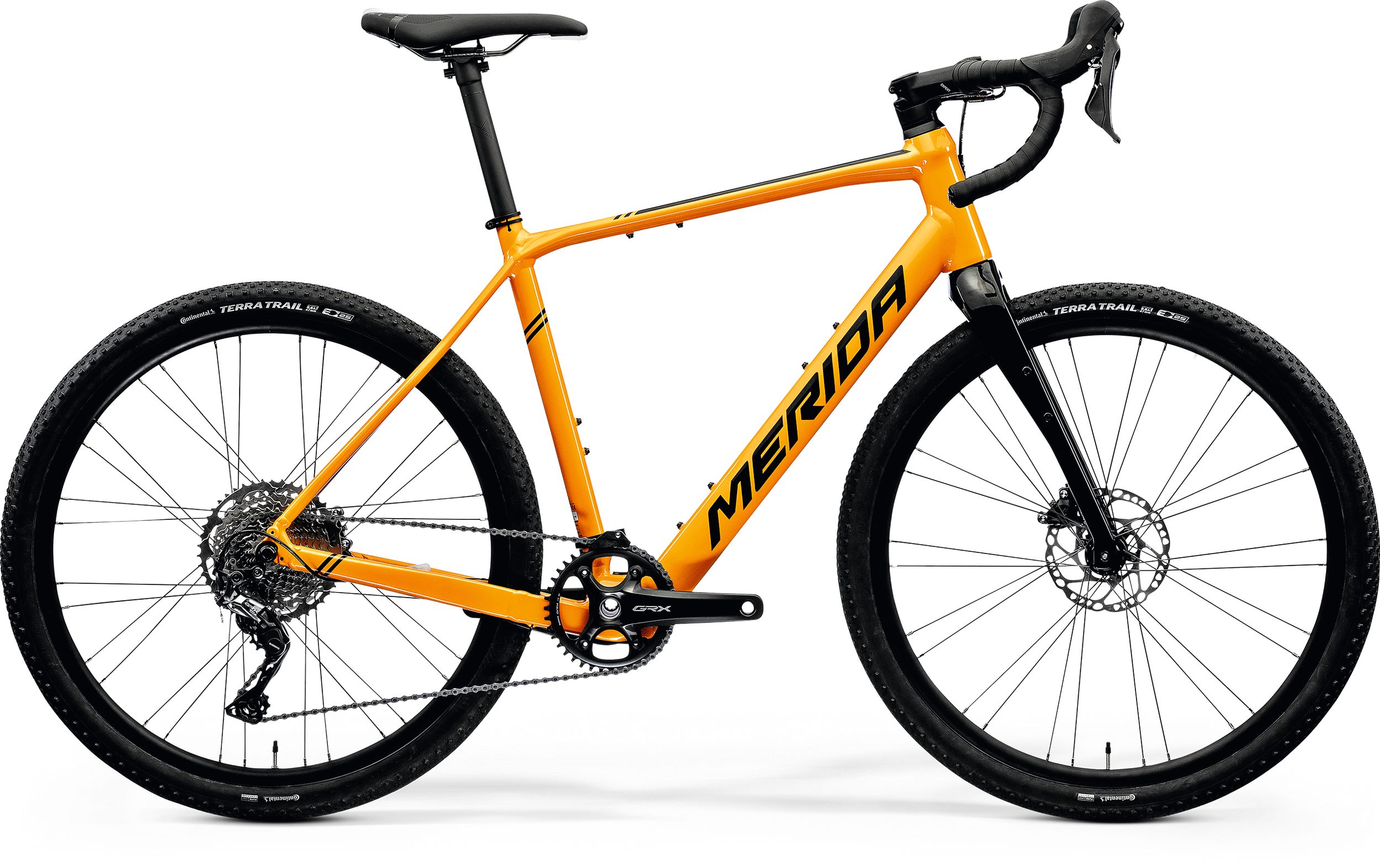 Rather than a fast, aggressive ebike, the eSILEX has a smooth character, allowing you to relax and enjoy the scenery.
This "newbie" to the eBike world is easy to ride with its upright, compact riding position, aluminum frame, carbon fork, and relatively long chainstay. Nonetheless, any hard knock causes the front wheel to lose traction which is hard to control and makes this bike a no-go for very rough trails. 
Compared to Bosch or Shimano-driven eBikes, the lower 40Nm torque on the eSILEX is fairly noticeable as momentum builds slowly. On flat, slightly hilly terrains, the MAHLE Ebikemotion X35+ hub motor offers sufficient power but reaches its limits on steeper gradients. You also need to remove one hand off your handlebar in order to switch between assist mode on the iWoc control integrated into the top tube. However, it makes a good long-distance touring bike capable of pulling extra weight.
Mahle X35+ hub motor – 40Nm torque
Mahle B1-C battery – 250Wh
650b x 47mm
Aluminum frame, carbon fork
Shimano GRX600 hydro brakes
Read more >
MeridaBikes.com/
---
Kona
Libre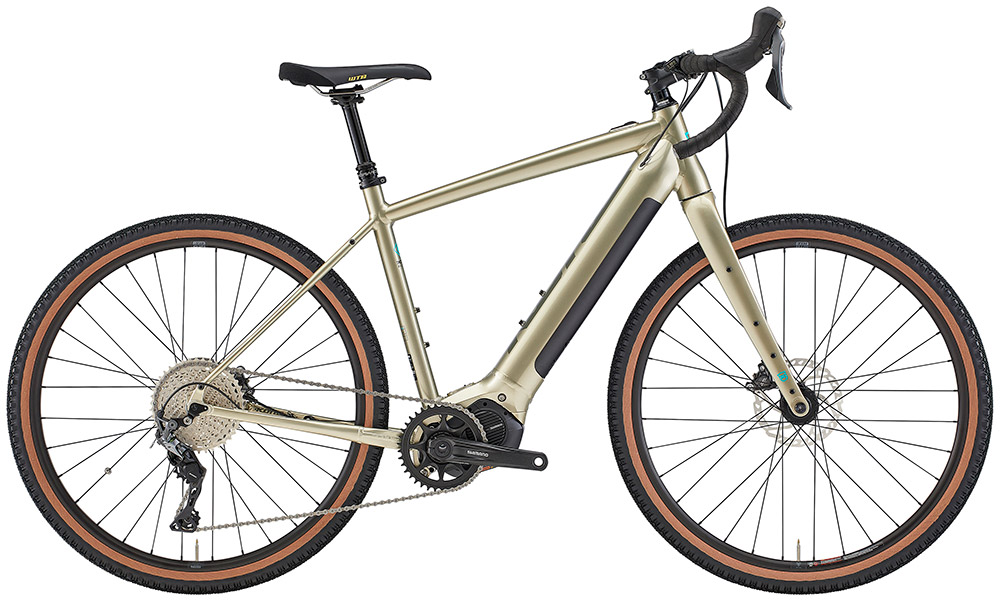 MSRP: $n/a
Konaworld
The Kona Libre EL comes with a trusty 250W Shimano E7000 motor and a powerful 504Wh Shimano battery, giving you a maximum assist speed of 20 mph (32km/h).
With a TranzX dropper post and Shimano 105 chain combined with an excellent 11-speed Shimano GRX drivetrain, this is one of the best electric off-road bicycles available for the price. 
The Kona 6061 aluminum butted frame and Kona Verso full carbon fork hold it all together superbly, while the 4-speed pedal-assist motor pushes you effortlessly up even the most intimidating hills. Clearly destined for tough off-road trails, the Libre EL features mid-sized 650b x 47c WTB Venture tires, perfect for cornering sharp bends on loose gravel at a low angle. When it comes to strength and reliability, it definitely delivers on even the most ambitious of trails.
250W mid-drive Shimano E7000
Max speed: 20mph
Battery- 504Wh
Sizes: 50-58
1×11 speed Shimano Deore
Shimano 105 chain
Shimano GRX shifters
TranzX Dropper post
650x47c
Read more >
KonaWorld.com/
---
BMC
Alpenchallenge AMP Sport
MSRP: $4,699
BMC
Switzerland-based bike manufacturer BMC didn't hold back when designing their 2021 AlpenChallenge AMP Sport eBike.
At only 34.3 lbs (15.5kg), this hybrid electric gravel bike can tackle the most hardcore terrain with the feel of a lightweight traditional bike. It features a 250W Shimano STEPS E-6100 motor which is not only powerful but increases stability due to the extra centralized weight. The 504Wh Shimano STEPS BT-E8010 battery located vertically on the seat tube isn't exactly subtle but gives a striking appearance nonetheless.
The full carbon frame and fork include BMC's 'Micro Travel' technology that soaks up those extra rear-end knocks going over bumps or loose gravel, combining the speed of a road bike with the versatility of an MTB. The Shimano GRX ShadowPlus drivetrain is supported by WTB Byway gravel tires with clearance up to 42cm, allowing for a fun and confident ride on rough, technical terrain.
Motor: 250W Shimano STEPS E-6100 – 60Nm torque
Battery: 504Wh Shimano STEPS BT-E8010
1×11 speed
Shimano GRX Shadow Plus RD-RX812
SR500 wheels
Weight limit: 264 lbs
Weight: 34.3 lbs / 15.6 kg
700x34c tires
Read more >
BMCSwitzerland.com/
---
Ride1UP
Roadster V2
An urban flat-bar gravel bike
MSRP: $1,095
Ride1UP
Available for pre-order, this is the newest bike available by Ride1UP who has offered an awesome set of great value e-bikes at the very competitive price range and e-bikes market.
350W gear hub motor
40Nm torque
Class 3 eBike – 24mph
Estimated range – 20-30mi
Charge time: 2-4 hours
Disc brakes
Read more >
Ride1UP.com/
---
---
RELATED Reviews
Long distance electric bikes > Best Electric Road Bikes