Did you know that 60% of all car rides are less than six miles long and that three-quarters of all car rides are less than 10 miles long? That's a distance you can easily cover on an electric bicycle.

Rad Power Bikes is a direct-to-consumer US-based company that specializes in making unique electric bicycles everyone can afford.
They build different types of bikes suitable for ordinary people who just need a better way to commute on an everyday basis, have fun, and save money in the long run.
Read our detailed Rad Power Bikes review to find out about their models, prices, builds, assembly, and a lot more.
---
About Rad Power Bikes
Rad Power Bikes have a pretty rad story to tell.
This is a Seattle-based company that started out in a garage of an ingenious kid who wanted a better way to commute to high school. That kid is called Mike Radenbaugh.
He built his first eBike when he was 15 years old and then kept making them for friends, family, and neighbors who were impressed by the concept. These were quite basic in the beginning but kept getting better and better. In 2015, he joined forces with his lifelong friend Ty Collins and that's when Rad Power Bikes started to grow.
Today, they own one of the biggest and fastest-growing electric bike companies in the world
A Company That Specializes in Electric Bikes
Unlike many other bike brands out there that try to satisfy the biggest chunk of the cycling market, Rad Power Bikes decided to specialize in just one area — electric bicycles.
They make nothing else but eBikes which allows them to direct all of their capacities towards improving the concept, the design, and the technologies that go into the products.
They make different types of bikes, many of which you will struggle to find elsewhere. You can choose from fat, cargo, folding, mountain, and city electric bikes.
What Makes Rad Power Bikes Unique?
Rad Power bikes stand out from the pack thanks to numerous unique features that meet the requirements not many other brands can meet.
These bikes are bold and authentic, made to be practical in the first place, but fun, and fast as well.
They are best known for their powerful 750 W motors and high-capacity batteries.
However, there are other features that make them recognizable as well:
Much lower prices than the competition. 🏆
Best value in terms of price & quality.
Thousands of ratings & feedback.
Extra-wide tires.
Numerous stock accessories + tons to get as extra.
Throttle and pedal-assist modes.
Unique & well though-out design.
One size frame to fit most riders.
Made for ordinary riders.
Lots of storage capacity.
On average, Rad Power bikes cost less than $1,500. For that money, potential buyers will get more in terms of components, durability, and innovation than anywhere else.
Who Are Rad Power Bikes For?
Are you thinking about ditching your car for a greener and cheaper alternative? Then you are precisely the type of person Rad Power bikes are made for.
These electric bicycles are intended as a replacement for cars as they feature integrated rear racks and large weight capacity. Therefore, they are an excellent choice for people who need a quick and easy way to get from point A to point B, run errands around the city, take their kids to school, or do grocery shopping.
Rad Power bikes are an ideal solution for people who have never ridden a bike before, as well as for professional cyclists who need a reliable and fun family commuter.
Most importantly, Rad Power bikes are the best choice for anyone who wants to go electric but does not want to pay through the nose to do it.
---
Rad Power Bikes Model Range
---
At the moment, Rad Power Bikes offers six unique electric models you can buy. However, there are fourteen bikes in total in their catalog, as some of the six models have both step-over and step-through versions. Plus, some models have better-equipped "Plus" builds as well.
| | | | | | | | | |
| --- | --- | --- | --- | --- | --- | --- | --- | --- |
| | PRICE | TYPE | MOTOR | FRAMES | SPEEDS | TIRES | BRAKES | FORK |
| RadTrike 1 | 2,499 | Single-speed | 500W | ST | 1 | 18 x 2.25 | Mechanical | Rigid |
| RadRunner 2 | 1,299 | Utility | 750W | ST / Standard | 1 | 20 x 3.3″ | Mechanical | Rigid |
| RadRunner 3 Plus | 2,499 | Utility | 750W | ST | 7 | 20 x 3.3″ | Hydraulic | 60mm |
| RadExpand 5 | 1,299 | Folding | 750W | ST / Standard | 7 | 20 x 4″ | Mechanical | Rigid |
| RadWagon 4 | 1,899 | Cargo | 750W | Step-Through | 7 | 22 x 3″ | Mechanical | Rigid |
| RadCity 5 Plus | 1,999 | City/Hybrid | 750W | ST / Standard | 7 | 27.5 x 2.0″ | Hydraulic | 50mm |
| RadRover 6 Plus | 1,999 | Fat | 750W | ST / Standard | 7 | 26 x 4″ | Hydraulic | 60mm |
If you want to find out more about their characteristics, components, advantages, and disadvantages, read about the individual models below.
---
RadRunner 2
Ideal for urban cyclists on a budget
MSRP: $1,499
RadRunner is a perfect choice for city dwellers who want a simple e-bike to ride every day from a few to a dozen miles.
Single-speed with a chain tensioner
Aluminum frame and steel fork
Mechanical disc brakes
Integrated lights and rear rack
750W rear hub motor and 672Wh battery
25-45+ miles per charge
Size Recommendation: Leg inseam 22″ – 28″
A small e-bike that packs a mighty punch. It's made with a stiff and durable 6061 aluminum frame and a steel fork. The steel fork brings the price down, so that's one of the reasons why this model is $200 cheaper than the others. It also makes the construction stronger and rides more comfortable.
Rad Power's main idea with RadRunner 2 is to make a bike that is affordable, accessible, customizable, and versatile. Therefore, this model comes with simple components and not too many stock accessories. It gives riders the freedom to upgrade it any way they want.
It has 20″ wheels that are 3.3″ wide, so it can easily tackle curbs, potholes, and even dirt roads. RadRunner 2 also features mechanical disc brakes and a comfortable Velo saddle, including different seats, racks, bags, fenders, baskets, and so on.
If you want the simplest and the cheapest ebike out there that will get the job done and provide you with ridiculous fun, RadRunner 2 is the choice.
Buy from RadPowerBikes.comOr Read Our Full Review
---
RadRunner 3 Plus
Premium utility e-bike that fits everyone's needs
MSRP: $2,499
RadRunner 3 Plus is the new and improved version of the original RadRunner Plus. This is a utility electric bike that has been a huge success ever since it hit the market. It can go anywhere and do anything thanks to its oversized tires, 350+ accessory combinations, and a 350 lb payload limit.
Do-it-all 3.3″ tires
Front and rear fenders and lights
750W hub motor and 672 Wh battery
Hydraulic disc brakes
7-speed drivetrain
60 mm Suspension fork
Recommended Rider Heights: 28″ – 37″ inseam
RadRunner 3 Plus is a utilitarian mini cargo ebike that can serve as a commuter, everyday grocery getter, or recreational ebike, depending on how you set it up. It's built around a durable and comfortable step-through aluminum frame with an upright geometry and a wide saddle keeps you comfortable but lets you pedal efficiently.
It rolls on nimble 20″ wheels and 3.3-inch-wide tires, so it's suitable for urban rides as well as light off-roading and gravel riding.
Apart from the wide tires and utilitarian nature, RadRunner 3 Plus also has a front suspension with 60 mm of travel. It will make your ride significantly more comfortable and extend the bike's off-roading capabilities.
RadRunner 3 Plus has a rear Shimano Altus derailleur and a 1×7 drivetrain. Since this is an e-bike, you do not need too many speeds and complicated components. These would just unnecessarily increase the price and the weight of the bike.
This ebike also comes with hydraulic disc brakes and features a dual battery compatibility which increases the range to a 100-mile maximum.
If you love the idea of having one bike that can do it all, RadRunner 3 Plus will check all of your boxes.
---
RadRover 6 Plus
New and improved version of the best-selling RadRover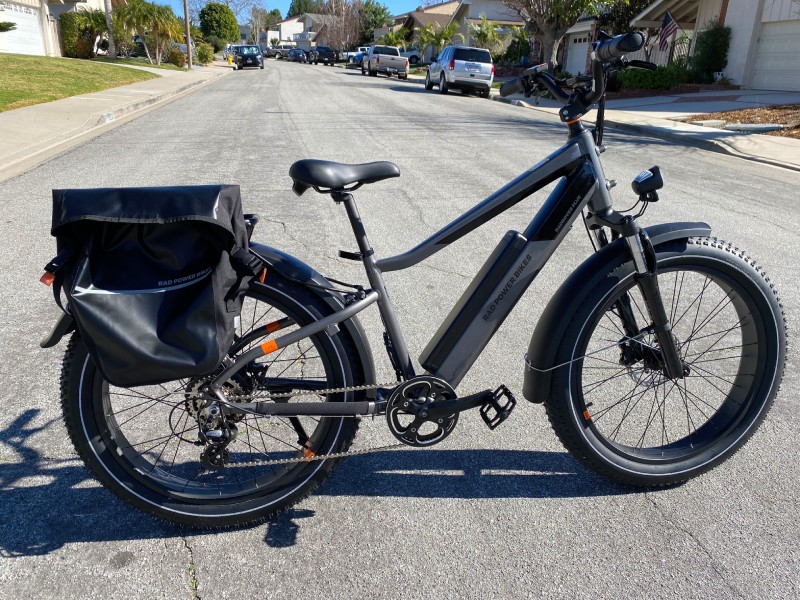 MRSP: $1,999
Rad Power Bikes' flagship has taken an enormous leap forward in quality and ability, demonstrating the brand's commitment to improvement.
The RadRover 6 Plus fat bike utilizes the best technology and frame design from the company to date. Like with previous models, the 6 Plus is designed for versatility.
The fat tires allow you to go off-road in comfort and handle soft surfaces like mud or sand. Additionally, the wide tires provide plenty of traction for confident riding in wet weather commutes.
Versatile and Powerful Fat-Tire eBike
750W motor

14Ah semi-integrated, removable battery

1×7-speed drivetrain

60mm travel fork suspension

Hydraulic brakes with ceramic pads

Auto-on LED lights

26″ x 4″ Kenda Krusade puncture-resistant tires

Low 275lb max weight capacity

Frame fits riders: 5'4″ – 6'2″
The motor and the geometry on the new RadRover are optimized for efficiency and power output when climbing. Another noteworthy upgrade is moving hydraulic disc brakes from mechanical models, significantly increasing stopping power.
Finally, it's worth noting that the fork suspension adds unnecessary complexity and weight to the bike as it's not practical for off-road riding, making this bike one of the heaviest, even without a rear rack.
Buy from RadPowerBikes.comOr Read Our Full Review
---
RadTrike 1
A single-speed electric tricycle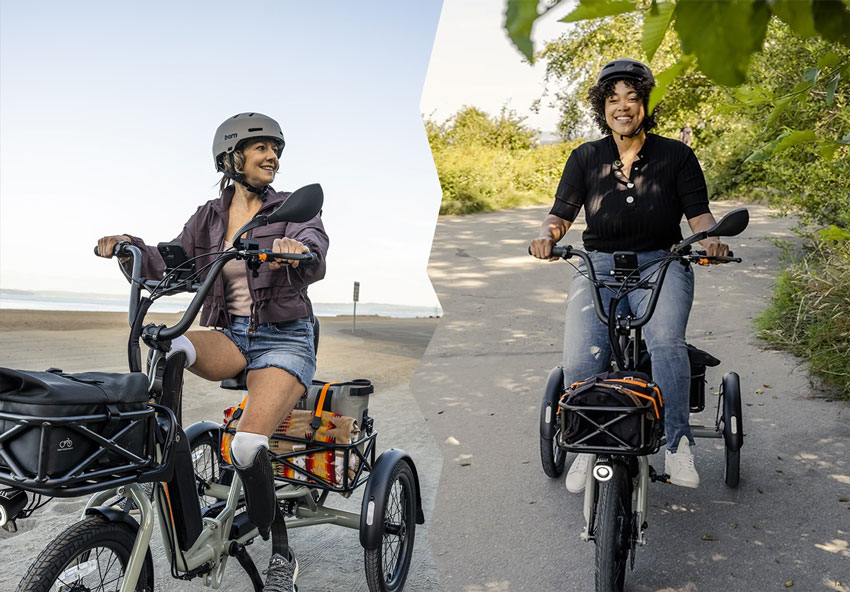 MSRP: $2,499
RadTrike 1 is Rad Power Bikes' long-awaited electric tricycle. According to the company's founder and CEO Mike Radenbaugh, it is one of the most-requested models by loyal fans.
It features a 500W front hub motor coupled with a 480 Wh battery that together provide a 14 mph top speed and a 55-mile maximum range.
The RadTrike 1 is ideal for urban dwellers who need to transport heavy cargo on a regular basis, as this e-trike has a 90 lb cargo payload and a 415 lb total payload.
It's also ideal for anyone who struggles with balance and can't ride an e-bike, such as people with disabilities or senior riders. The RadTrike provides more than enough stability an comfort for any rider.
When it comes to the components, there's nothing flashy, but all the parts are of solid quality. The RadTrike is equipped with a single-speed drivetrain, mechanical disc brakes, a steel frame, and 18″ wheels wrapped in 2.25″ wide tires.
All in all, this is a decently made electric tricycle that finally addresses an underserved portion of e-bike riders. Get it if you need a solid solution for transporting cargo or overcoming your stability limitations.
Recommended Sizing: Height: 4'10" to 6'4″ / Inseam: 25″ to 35″
Buy from RadPowerBikes.com Or Read Our Full Review
---
RadWagon 4
Perfect for riders looking for a car replacement

MSRP: $1,899
Are you sick and tired of driving around the block in the neverending quest for finding a free parking spot? Then you should consider Rad Power's RadWagon bike. This is an ideal car replacement for those who want to save money and decrease their carbon footprint, while still being able to ride their kids to school or carry groceries back home.
A long wheelbase and oversized rear rack
350 lb payload capacity
Step-through frame for easy access
Numerous accessories
Enough room for two kids on the back
Dual leg kickstand
Recommended rider height: 5'1″ – 6'4″
Rad Power RadWagon is an e-cargo bike that is known as the future of urban family cycling. You can use it to carry groceries, personal belongings, give friends a ride, or ride your kids to school.
It's constructed with a 6061 aluminum frame and a rigid steel fork, so it will not buckle no matter how heavy you load it.
Best Value E-cargo Bike on the Market
RadWagon has a 750 W motor with 40 Nm of torque, so it will have no problems pulling you, your kids, and your groceries. To start riding more easily, you can use the throttle mode and then switch to pedal-assist to save power.
It has 2.3″ tires on 26″ wheels which are great both for on-road and off-road riding and a 1×7 drivetrain.
The rear rack comes with bag holders that double up as footrests for kids, which is a unique and practical feature. RadWagon has everything you need to never again think about driving your car to run errands around the city.
Buy from RadPowerBikes.comOr Read Our Full Review
---
RadExpand 5
New fifth-generation folding fat-tire eBike by Rad Power Bikes

MSRP: $1,299
The RadExpand 5 is one of the newest additions to Rad Power Bikes' extensive range. This fat tire folding e-bike is a fifth-gen update to the award-winning RadMini with improved designs and components at an even lower price.
At just $1,299, this bike offers the best value for money in the folding electric fat-bike market. In addition, the RadExpand is relatively lightweight for this style of bike, it's super compact when folded, and the locking mechanism ensures it stays in a secure package while in transit, perfect for commuters or travelers.
Rigid fork
Capable 20″ x 4″ tires
Step-through frame
Folding rear rack and front and rear fenders
Integrated, auto-on lights
1×7 drivetrain
275 lb payload capacity
Recommended rider height 4'10" – 5'10"
The RadExpand 5 is extremely easy to fold and unfold thanks to continuous development by the Rad Power design engineers. Additionally, you have riser handlebars that make it easy to find the perfect position and a quick-adjust seatpost.
This bike is packed with the typical power and quality of all Rad Power Bikes regarding electronics. A 672Wh battery supports a 750W geared hub motor to deliver plenty of range for all of your city rides.
The RadExpand also has excellent handling and control characteristics thanks to updated geometry that improves handling, larger 4″ CST fat tires to boost comfort and grip on all terrains and in all weather conditions, and reliable mechanical disc brakes.
With the addition of the wider fat tires, Rad Power decided to remove the heavy front suspension and focus on bringing the weight down to keep their new folding e-bike as light as possible, weighing just 62.5lbs. So don't miss out on the RadExpand 5 if you're looking for a convenient, powerful, versatile, and compact folding bike.
Buy from RadPowerBikes.com Or Read Our Full Review
---
RadCity 5 Plus
Fifth-generation urban commuter by Rad Power Bikes

MSRP: $1,999
The RadCity 5 Plus is the latest Rad Power Bikes RadCity model with a massively improved spec and design.
The RadCity 5 Plus costs $400 more than its predecessor, but, as you'll see, this bike easily justifies the price increase and still delivers exception value for money in the $2,000 price race.
The improvements made to this bike are drastic. Firstly, Rad Power swapped to larger diameter wheels, narrower tires, shorter suspension travel, and a more efficient motor to improve speed and boost battery range.
Additionally, they upgraded to hydraulic disc brakes, improved the frame design with more integration, and added a more advanced LCD display. These features make the latest RadCity e-bike a faster, more efficient, and safer ride.
50mm travel spring suspension fork
27.5″ x 2″ custom e-bike tires
Step-through or high-step frame
Rear rack and fenders
Integrated LED lights with brake light activation
1×7 drivetrain
275lb payload capacity
The RadCity 5 Plus is an excellent choice for a wide variety of urban e-bikers as it's supremely comfortable, comes fully equipped for safe and convenient city riding, and fits a broad height range.
The electronics also pack a punch. A 672Wh battery supports a 750W geared hub motor to deliver plenty of range (50+ miles) for all of your city rides.
In our opinion, the Rad Power Bikes RadCity 5 Plus offers excellent value at an affordable price and easily competes with the similarly-price competition. So be sure to consider if you're on the hunt for the perfect urban electric bike.
Recommended rider height:
Step-Thru: 4'8″ – 6′
High-Step: 5'4″ – 6'5″
Buy from RadPowerBikes.com Read Our Full Review
---
Assembly
Even though Rad Power bikes are electric and come with more complicated parts compared to traditional bicycles, they are pretty easy to assemble.
The motor and the batteries are already attached when you take the bike out of the box, so that's not something you need to worry about.
If you've never assembled a bike before, you will probably need around an hour to do it. The bikes come with a toolkit that has all the tools you will need, so you do not need any special equipment.
When you take the bike out of the box, you'll need to attach the stem, the handlebar, front fender (if there is one), front wheel, lights, and pedals. That's it!
If you need some guidance, you can check out Rad Power's YouTube channel, where they have detailed video assembly instructions for all models, which are super-easy to follow.
In case you are not a handy type, you can pay an additional $199 to have Velofix assemble your bike at your home. They operate in most North American cities.
FAQs
All Rad Power bikes are made in China. The company partners with two Chinese factories that handle all of the manufacturing. The bike design team is located in the Rad Power Bikes Seattle, Washington headquarters. The European office is in Utrecht, the Netherlands.
Rad Power bikes go as fast as 20mph (32km/h). This speed is the have a maximum assisted speed using either the throttle or pedal assistance. In Europe, Rad Power bikes go up to 25km/h, the max-assisted speed for an electric bike in the EU.
You can buy Rad Power Bikes online from their official website. It is a direct-to-consumer company, meaning the bikes don't sell in shops. However, you can test their bikes at showrooms, rental fleet locations, and their mobile test ride service in the US and Europe.
Yes, Rad Power bikes are good. The company designs high-quality, affordable e-bikes designed to be ridden every day for years or thousands of miles. They use components from the most well-recognized brands in cycling, such as Shimano, Tektro, Velo, and Bafang.
Rad Power bikes are from $999 to $1,999. The most expensive model is the RadTrike 1, at $2,499. Notably, they offer two specs with different prices for the RadRover, RadCity, and RadRunner, both a Standard and a Plus model.
Charge a Rad Power bike by removing the rubber cover and connecting the smart charger to the charging port. Plug the power cord into a 110V or 230V AC power outlet. The battery takes between 3-7 hours to charge. Two red lights illuminate, showing that it is charging.
Remove a Rad Power bike battery first by turning off the bike, waiting for the display to turn off. Then, insert your key, push and turn to unlock into the "OFF, unlocked" setting. Next, carefully pull the battery upward, sliding it out of the frame.
Our Thoughts
After doing thorough research on Rad Power bikes and analyzing all of the models they have to offer, we can say that we like what we saw overall.
When it comes to authentic and practical e-bikes, there is no other company out there that offers more for your money in terms of features and components.
The things we like the most include thoughtful and practical design, wide tires, strong motors, high-capacity batteries, and a diversity of models.
The few weak points include a slightly higher weight than the competition and limited frame size options for some models.
However, for an average price tag of $1,500, we would have no second thoughts about buying one of these bikes and riding it every day to commute, run errands, or just have some fun.
Where To Buy?
As we have mentioned briefly above, Rad Power Bikes is a direct-to-consumer company. That means that they sell all of their bikes and products directly to consumers. There are no retailers and middlemen involved. This is one of the reasons how Rad Power sells its bikes at such a low price.
Therefore, you can purchase all of Rad Power bikes, replacement parts, and accessories directly from the official website.