These Are The Best Cyclocross Bikes of 2021
Cyclocross has a rich history spanning all the way back to late 19th century Europe. Initially, a casual French pastime known as 'steeplechasing', involved racing towards a landmark, usually a church steeple, in the most direct way possible. Carrying the bicycle up hills, through rivers, and over fences was common. However, it wasn't until a French soldier organized the first-ever cyclocross race in 1902 that it became an official sport.
X – Cross – Cyclo-Cross – CX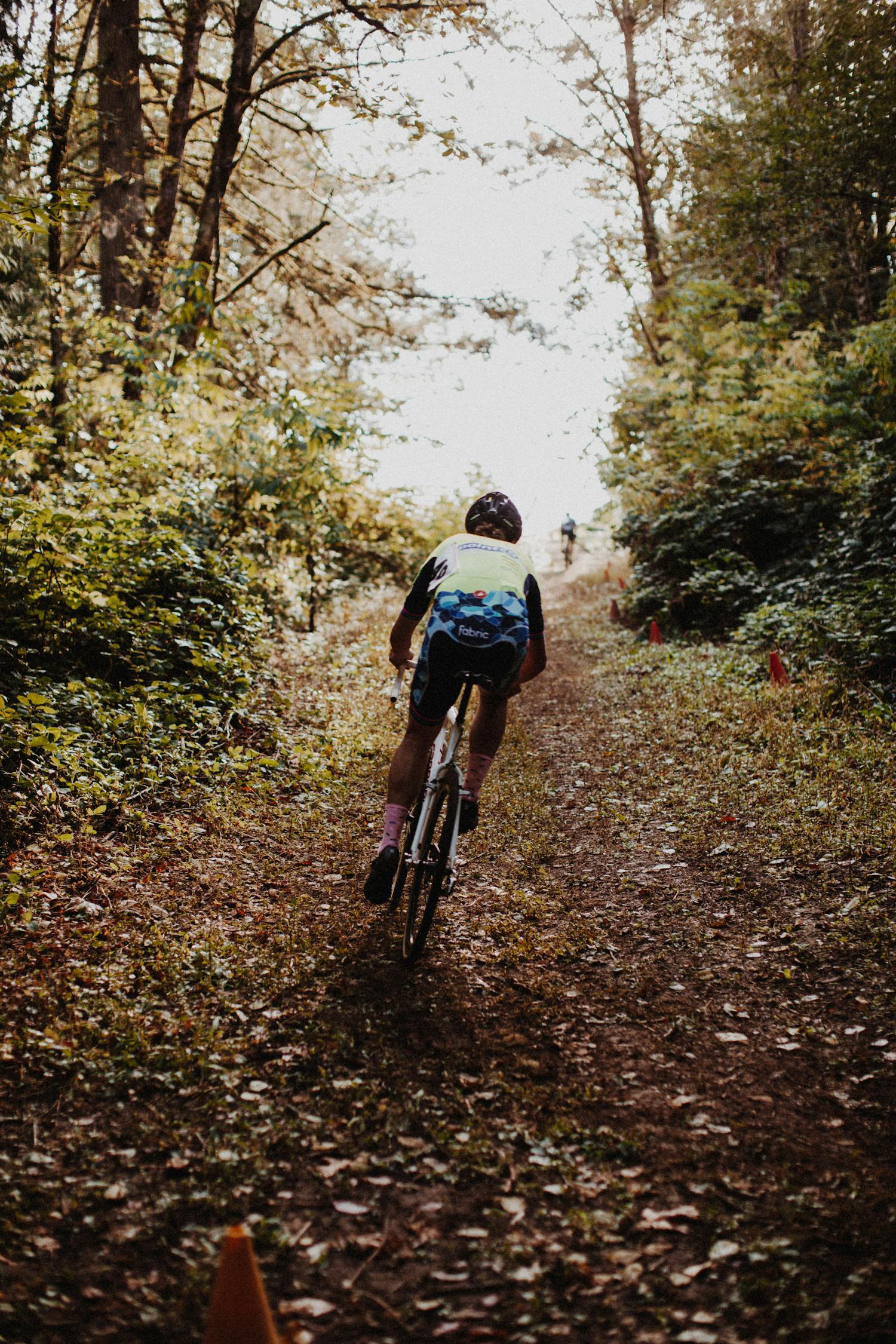 Road bike inspired
Cyclocross bikes look similar to road bikes with drop bars, lightweight frames, and aggressive racing geometry. However, they have certain modifications that make them capable of competing in cyclocross races. These include thicker, treaded tires for riding off-road and a frame more easily carried on the shoulder. 
Gravel bike inspired
Although often compared to gravel bikes, CX bikes are more similar in design to road bikes. They have aggressive race-style geometry and use lightweight materials not designed to carry weight. Gravel bikes, on the other hand, have relaxed geometry designed for a more comfortable ride over long distances and can accommodate luggage racks for bike packing trips.
Key factors a cyclocross bike should have
Wide wheel clearance with disc brakes so that mud doesn't get trapped in the fork or rear seat stays.
Wide road tires with thick tread designed to handle everything from

gravel

,

grass

,

muddy

, and

sandy

conditions.
A small, lightweight frame with a shorter reach, a taller bottom bracket, and internal cable routing.
---
Table of Contents
101
---
Best Cyclocross Bikes of 2021
1. Santa Cruz Bicycles – Stigmata CC Rival $3,599
2. Bianchi – Zolder GRX 600 $4,150
3. Cannondale – SuperX Force 1 $4,000
4. All-City Cycles – Macho King A.C.E. Bike $2,399
5. Trek – Crockett $2,400
6. Sage Titanium Bicycles – PDXCX $6,452
7. Alchemy Bicycles – Chiron Carbon $6,499
8. Ibis – Hakka MX Rival $3,299
9. Specialized – CruX Comp $3,600
10. Felt – FX $2,999
---
1

. Santa Cruz Bicycles – Stigmata CC Rival

One of the best cyclocross bikes
MSRP $3,599 JensonUSA
The Santa Cruz Stigmata is a full carbon CX bike aimed at the high-end cyclocross market. It features a top-quality SRAM Rival 1 drivetrain with hydraulic disc brakes and a threaded bottom bracket. The gearing setup is 1×11, with a large 40T Easton crankset and 10-42T cassette on the rear.
Cane Creek 40 IS integrated headset
Mounts for fenders and 3x water bottle mounts
Tire clearance goes up to 700 x 45c, or 27.5″ x 2.1″ tires, depending on your choice of wheel size. The Stigmata CC Rival comes standard with lightweight WTB Asym i23 rims and Maxxis Ravager 700x40c tires.
More from Stigmata series:
CC GRX – Price: $4,599
Carbon CC / SRAM Rival 1 Groupset /  11-speed  / Hydraulic Disc Brakes
JensonUSA.com
---
2

. Bianchi – Zolder GRX 600

Bianchi's one only CX bike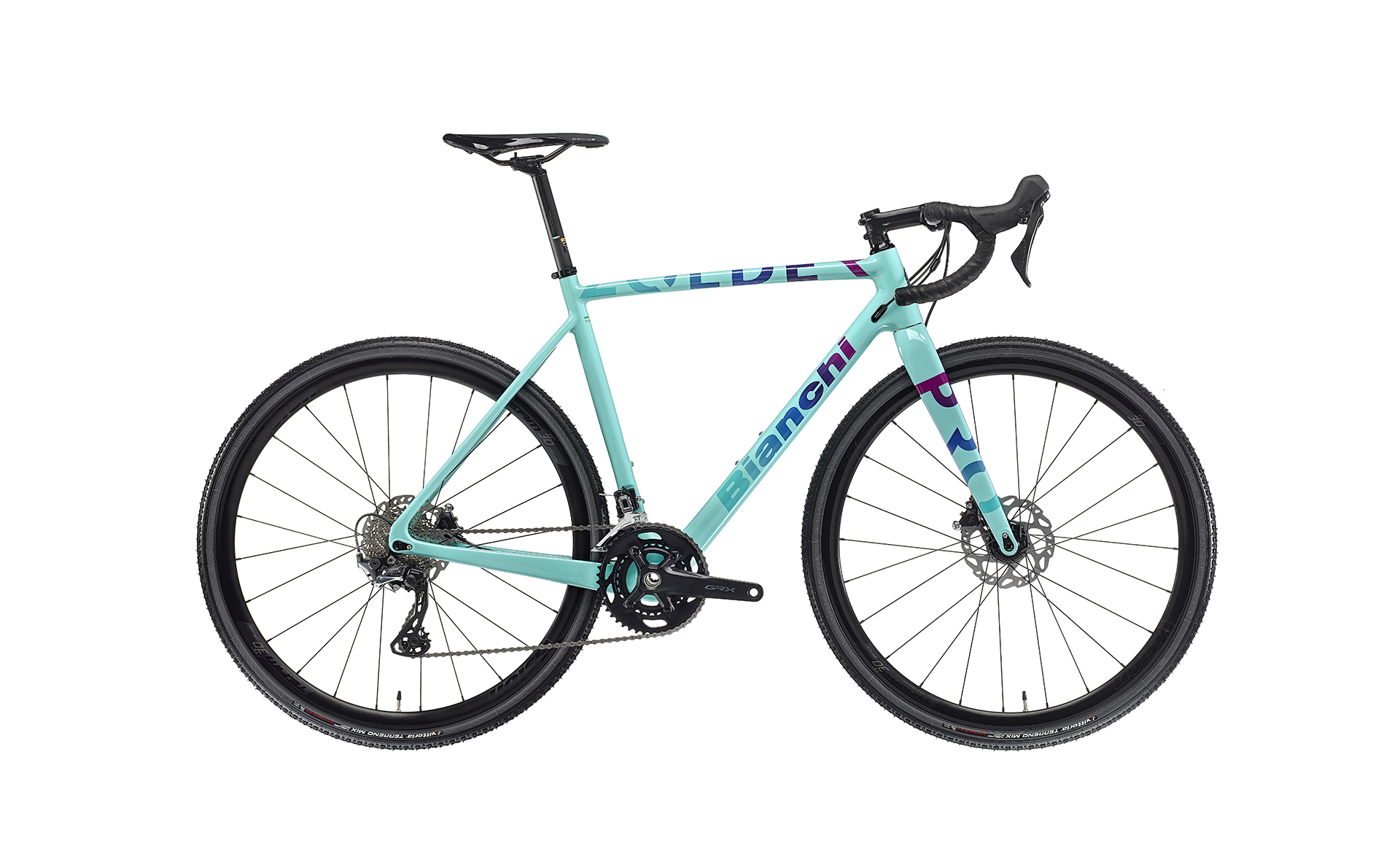 MSRP $4,150 Bianchi
This full-carbon Bianchi cyclocross bike is a competitive team racing bike used by pros like Chiara Teocchi and Marco Fontana. It packs in a punch with some top of the range components, like the 22-speed Shimano GRX groupset and hydraulic disc brakes.
To shave some extra weight off, you get a carbon seat post and press-fit BB plus full internal modular cable routing. Vision Team 30 rims combined with Vittoria 700x33c tires make up an impressive wheelset that complements a bike of this class.
700 x 33VITTORIA TERRENO MIX TNT tires
FSA Orbit C-40 headset
Overall, the Zolder is a killer CX racing bike, and, naturally, it comes in Bianchi's signature 'Celeste' color scheme.
Carbon / Shimano GRX Groupset / 2×11 speed / Hydraulic Disc Brakes
Bianchi.com
---
3

. Cannondale – SuperX Force 1

The 'Cross boss' – Currently 15% off!
MSRP $4,000 REI
The SuperX Force 1 is an impressive Cannondale cyclocross bike built for serious competitive cyclists. It features a full carbon frame and fork with wide tire clearance and 12x100m thru-axle. The drivetrain is a 1×11 SRAM Force 1 groupset with hydraulic disc brakes and a Hollowgram 40T crankset. The bottom bracket is press-fit rather than threaded which some may not like but you do get a swanky carbon seat post and lovely Fabric Scoop saddle.
Cannondale Alloy PressFit 30 bottom bracket
2x water bottle mounts
Unique dirt-inspired design
The wheels are standard CX 2.0 rims with 700x33c Vittoria Terreno Mix tires which I would upgrade to something a bit beefier. All in all, a great bike with top-class specs and an incredible 18lbs (8.1kg) on the scales!
Carbon / SRAM Force 1 derailleur& hydro brakes / 11-speed
REI.com
---
4

. All-City Cycles – Macho King A.C.E. Bike

Steel frame & modern race geometry
MSRP $2,399 Aventuron
For a cyclocross bike, steel wouldn't be my first choice of frame material, but there are those who swear by it. Admittedly, All City's custom heat-treated A.C.E steel frame delivers an impressive package and comes with a carbon fork to help offset some weight.
Cane Creek 40 headset
Lots of signature details around the bike
160/140mm rotors
It also features WTB's ST Light i23 rims and Cross Boss 700x35c tires, although with clearance for up to 42mm tires you could make this a serious off-road machine. The SRAM Rival 1 drivetrain needs no introduction although a full groupset would have been nice. The 40T Apex crank is paired with an 11-speed Sunrace cassette and TRP Spyre disc brakes, which are decent enough.
The Macho King will appeal to the rather niche market of cyclocross steel enthusiasts looking for a stylish and unique ride.
All-City is one of the few brands to have produced a flat bar cyclocross bike, the Super Professional. It can either be set up as a single-speed or a with gears.
Steel & carbon / SRAM Rival / 11-speed / Mechanical disc brakes
Aventuron.com
---
5

. Trek – Crockett '2021

Not available online
MSRP $2,400 Trekbikes
The Crockett is a high-end Trek cyclocross bike, designed specifically for CX racing. It's lightweight 300 series Alpha Aluminum frame uses invisible weld technology for a full carbon feel and appearance. Both the frame and carbon fork have internal cable routing, thru-axles, and flat mount discs.
Trek uses in-house Bontrager parts on most of the bike, including Affinity rims and CX3 tires for the 700x32c wheelset. The ever-popular SRAM Rival 1 has been chosen for the 11-speed groupset, including hydraulic disc brakes.
FSA Integrated, sealed cartridge headset
Praxis T47 threaded, internal bearing bottom bracket
700x32c Bontrager CX3 Team Issue, 120TPI tires
Overall, the Crockett has all the precision and quality one would expect from Trek, with no particularly unique or outstanding characteristics.
Aluminum & carbon / 11-speed SRAM Rival / Hydraulic disc brakes
Trekbikes.com
---
6

. Sage Titanium Bicycles – PDXCX

Highest-end

MSRP $6,452 Sage Titanium

Sage makes high-quality titanium bikes for discerning riders, with the price tag to match. Titanium provides a lightweight carbon feel with near-unbreakable strength – ideal for the intensity of cyclocross. This is not your average CX racing bike but rather a bombproof machine for eliminating the competition.

It's designed around traditional Belgium cyclocross bikes, with a lowered BB, shorter chainstays, an ovalized top tube, and a stiffer head tube. For the most affordable PDXCX build, you get a Shimano 105 hydro disc groupset with TRP fork and HED Ardennes Plus wheelset. Upgrading to a Dura-Ace Di2 groupset will add $3k to the price.

SageTitanium.com
---
7

. Alchemy Bicycles – Chiron Carbon

High-end selection of titanium cyclocross bike builds
MSRP $6,499 Alchemy Bicycles
Possibly one of the best cyclocross bikes available, this titanium offering from Alchemy is a beauty to behold. Handcrafted in Colorado, Alchemy bicycles feature unique design elements like S-bend seat and chainstays for better absorption without sacrificing stiffness.
All frames are made from seamless 3a/2.5v titanium tubing for the lightest and most resilient bikes available. The most affordable model comes with an Ultegra mechanical disc groupset, HED Ardennes rims, and Teravail Cannonball 700×35 tires.
AlchemyBicycles.com
---
8

. Ibis – Hakka MX Rival 700C

A mixture of gravel & cyclocross bike, that can easily be used as a road bike

Carbon / SRAM Rival / 11-speed / Hydraulic disc brakes

MSRP $3,299 JensonUSA

The Hakka MX is a very impressive multi-purpose cross bike designed to suit various disciplines, including CX, gravel, and bike packing. The carbon monocoque frame is super lightweight yet strong enough to support a bike-packing rig and tire clearance goes all the way up to 700x40c or 650b x 2.1″.

This makes the Hakka MX adaptable to various styles, all of which benefit from the 1×11 SRAM Rival groupset with hydraulic disc brakes. Another notable factor is the excellent wheelset, consisting of Stan's Holy Grail rims and Schwalbe G-One tires.
Cane Creek 40 headset
Praxis bottom bracket
Schwalbe G-One 700x40c TLR tires
Clearance up for: 700x40c / 650B (27.5) x 2.1″
It may not be the cheapest CX bike on the market but this kind of quality and versatility is hard to beat.
JensonUSA.com
---
9

. Specialized – CruX Comp

One of the best women's cyclocross bikes 🏆
Carbon / SRAM Force / 11-speed
MSRP $3,600 Specialized
Having won several World Championship races, this Specialized cyclocross bike speaks for itself. Using Rider-First Engineering, Specialized designed the CruX with CX-specific carbon frame technology to create a stiff, compliant, and ultra-lightweight bike.
SRAM Force brakes
Praxis Zayante Carbon M30 crankset
DT Swiss R470 rims
700c x 33m Tracer Pro Tubliss ready
You get a lowered bottom bracket for better cornering and a larger front triangle for shouldering, plus extra-wide tire clearance to tackle those muddy sections. The groupset is an 11-speed SRAM Force 1 with hydraulic disc brakes on DT Swiss rims and Trace Pro 700x33c tires.
Specialized.com
---
10

. Felt – FX
MSRP from $2,999 Felt
The FX range is a selection of competitive-level Felt cyclocross bikes aimed at the mid-to-high budget market. The proprietary carbon FX frame features unique and aggressive race geometry that combines tight head and seat tube angles with short chainstays and a stiff bottom bracket. The front triangle is slightly larger than usual for easy shouldering and has clearance to accommodate up to 34mm tires. 
You can select the Felt FX as a frameset only, which features the best quality Fx FRD Ultimate carbon material, or pre-built. On the builds, you get slightly lower quality Fx Advanced+ carbon with a Shimano GRX groupset on the lower-priced build and SRAM Force 1 at the highest price. The standard wheelset includes Zipp 30 Course with Devox hubs.
FeltBicycles.com
---
Best Under $2,000 CX Bikes
11. Canyon – Inflite $1,699
12. Surly – Straggler $1,650
13. Ridley – X-Ride 105 $1,990
14. Tommaso – Sentiero Disc 40C $975
15. Tommaso – Illimitate Disc 40C $1,175
16. All-City Cycles – Nature Cross $1,999
---
🏆
11

. Canyon – Inflite

Leaders in the CX business

MSRP from $1,699 Canyon

This podium-winning range of Canyon cyclocross bikes features an eye-catching frame design with perfectly balanced CX-specific geometry for lifting the bike over obstacles.

There are several builds in the Inflite range, spanning various groupsets from the affordable SRAM Apex to the top-range Shimano Ultegra Di2. Even the most entry-level models come with quality components like DT Swiss rims, Schwalbe tires, and hydraulic disc brakes.

Moving up to more mid-range builds, you get Ultegra groupsets with DT Swiss rims or SRAM Force 1 and lightweight Reynolds carbon rims. The top-range Inflite CF SLX 9 Team used by Team Alpecin-Fenix features a full Ultegra Di2 groupset with RT800 disc brakes and Reynolds Assault carbon rims.

Weights range from 8.85kg on the heavy side to 7.8kg on the lightest build.
Canyon.com
---
12

. Surly – Straggler 650b

A steel cyclocross bike
MSRP $1,725 Aventuron
Like all Surly bikes, the Straggler is designed around a striking steel frame that promises strength and stiffness at the cost of weight.
It's a versatile cyclocross bicycle that could easily be used as a tough city commuter or a touring bike. Unusual frame elements like 135mm rear dropouts with screw adjusters make the Surly Straggler highly customizable. It also has tons of mount points for fenders and racks, solidifying its touring bike capabilities.
Cane Creek 40 headset
Hayes CX-expert mechanical disc brakes
Surly themselves admit it's not a competitive cyclocross bike but rather a recreational rough-road weekender. It comes standard with a full SRAM Apex 1×11 groupset and Hayes CX hydro disc brakes. Rims are Alex Adventurer and tires are Surly's own Knard 650b x 41mm.
Steel frame and fork / Sram Apex WiFLi rear derailleur / 11-speed
Aventuron.com
---
13

. Ridley – X-Ride 105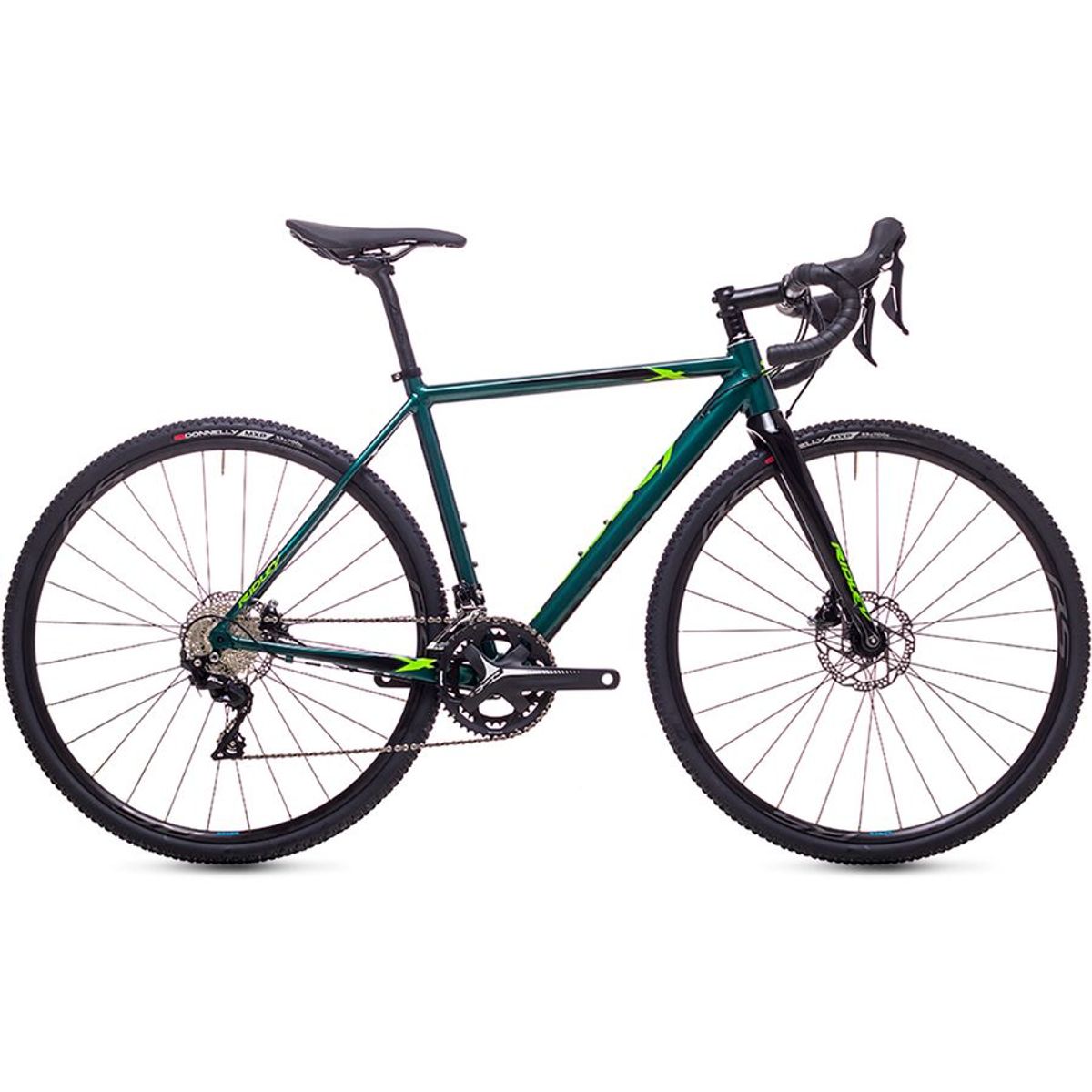 MSRP $1,990 Competitive Cyclist
If you're looking for a quality CX racing bike at an affordable price, look no further than the Ridley X-ride. With a full Shimano 105 groupset, Fulcrum racing rims, and Forza finishings, you'll struggle to find anything equal for under $2,000.
The 22-speed groupset runs off a double FSA Omega crank and includes Shimano's 105 hydro disc brakes. Naturally, the X-ride is not as light as its full carbon compatriots but the triple-butted aluminum frame sure can take a beating.
700c x 33mm Donnelly MXP tires
5-year warranty on a frame
The Donnelly tires could do with an upgrade but otherwise, this is very nearly a competitive level bike at an entry-level price.
Aluminum frame, carbon fork / Shimano 105 groupset / 2×11-speed
CompetitiveCyclist.com
---
🏆
14

. Tommaso – Sentiero Disc 40C

Ready to ride out of the box – Under $1,000 CX bike!
MSRP $975 Giantnerd
Affordable cyclocross bikes are few and far between so this offering from Tommaso makes an excellent entry-level option. For less than a grand, you get a Shimano Claris groupset, 6061 aluminum frame, steel fork, and Avid disc brakes.
Shimano Claris crankset
Avid BB5 disc brakes
At 26lbs (12kg) for the smallest size, you aren't going to win any races on the Sentiero but you'll get a good feel for CX riding. With a strong frame, 700x40c tires, and a full 27 gears, it would also make decent gravel or bike-packing bike.
Aluminum frame, Carbon fork / Shimano Claris / 3×6 drivetrain / Mechanical disc brakes
Giantnerd.com
---
15

. Tommaso – Illimitate Disc 40C

Best starters' cyclocross bike!
MSRP $1,175 Giantnerd
At just over $1,000, the Tommaso Illimitate is an affordable, cheap cyclocross bike with a 6061 aluminum frame. The 20-speed Shimano Tiagra groupset is particularly impressive on a bike in this price range, plus you get Avid BB5 disc brakes and a carbon fork.
On the wheelset, you get fairly subpar Tommaso rims and stock standard 700x40c tires which could do with an upgrade. Overall, it's a decent bike for the price but any serious cyclist looking to compete in races will need to spend a bit more.
Aluminum frame, Carbon fork / Shimano Tiagra / 20-speed / Avid BB5 Mechanical Disc brakes
Giantnerd.com
---
16

. All-City Cycles – Nature Cross

A single-speed cyclocross bike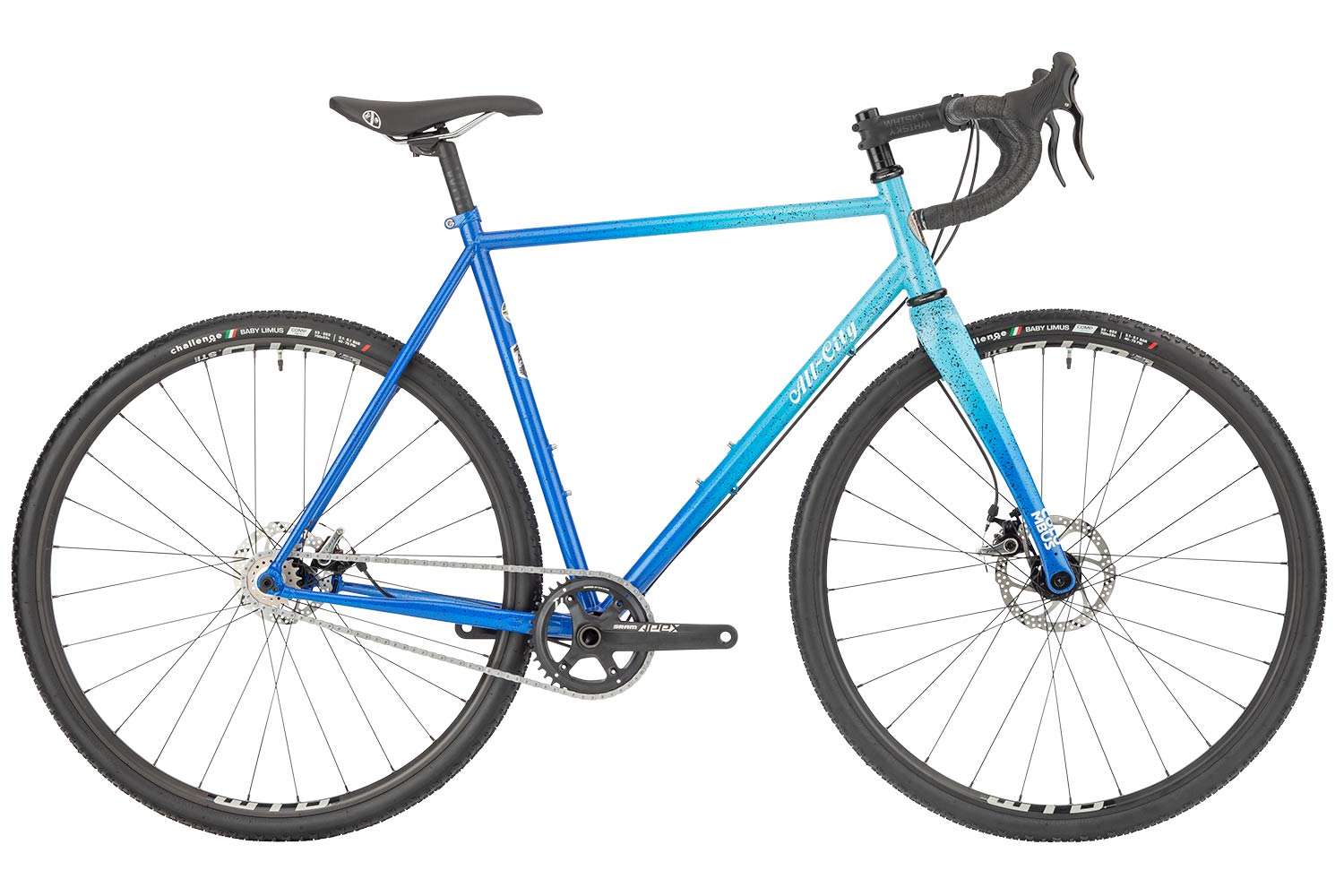 MSRP $1,999 All-City Cycles
A single-speed cyclocross bike sounds like an odd choice at first but it makes sense considering CX races seldom involve any long, steep ascents. It may involve a bit more grunt work on the slippery sections but certainly removes any mechanical worries.
This steel single speed from All-City Cycles is custom formed from its top-class A.C.E steel tubing, making it strong and stiff but not exactly lightweight. However, you do get a very nice Columbus Futura cross carbon fork with 12mm thru-axles and clearance for up to 42mm tires.
18/40t
160/140mm rotors
PF30 Eccentric Bottom Bracket – SRAM/Shimano Spacers
The Nature Cross is a versatile bike that would also make a great city commuter or recreational gravel bike. It comes with WTB rims, Challenge Baby Limus tires, and TRP Spyre disc brakes.
Steel frame, carbon fork / 11-speed SRAM Rival / TRP Spyre Flat Mount brakes
AllCityCycles.com
---
Conclusions: Best Cyclocross Bicycles to buy in 2021
Best of 2021
1. Santa Cruz Bicycles – Stigmata CC Rival $3,599
2. Bianchi – Zolder GRX 600 $4,150
3. Cannondale – SuperX Force 1 $4,000
4. All-City Cycles – Macho King A.C.E. Bike $2,399
5. Trek – Crockett '2021 $2,400
6. Sage Titanium Bicycles – PDXCX $6,452
7. Alchemy Bicycles – Chiron Carbon $6,499
8. Ibis – Hakka MX Rival 700C $3,299
9. Specialized – CruX Comp $3,600
10. Felt – FX $2,999
Under $2,000
11. Canyon – Inflite $1,699
12. Surly – Straggler $1,650
13. Ridley – X-Ride 105 $1,990
14. Tommaso – Sentiero Disc 40C $975
15. Tommaso – Illimitate Disc 40C $1,175
16. All-City Cycles – Nature Cross $1,999
---
FAQ
What is Cyclo-cross?
Cyclo-cross is a bicycle discipline, mainly a bike race that includes tackling different off-road elements. Most CX races also include a run-up section where a cyclist has to dismount their bike.
---
What is

Cyclocross Bike?

A cyclocross bike is a road-bike-resembling bicycle that's built for speed on multiple terrains such as road, mud, rocks, sand, and even snow.
---
Should I buy

a Cyclocross bike?

Typically, you would only buy a cyclocross bike if you

intend to compete in cyclocross races

. However, they do make good

city commuters

if you want something

very fast and lightweight

. While they are good for recreational off-road riding, you might find a gravel bike more comfortable.
---
Cyclocross bikes for sale
Best places to buy cyclocross bikes online:
---
Gravel Bike vs

Cyclocross

Cyclocross vs Gravel bike are closely related and seem to be the main debate cyclists are the most interested in.

Although similar, cyclocross and gravel bikes are not always interchangeable so you should buy a bike specific to the style of riding you plan to do. Gravel bikes are better for slower, long-distance rides or bike-packing trips. Cyclocross bikes are specifically designed for short, high-speed races that involve carrying the bike at times.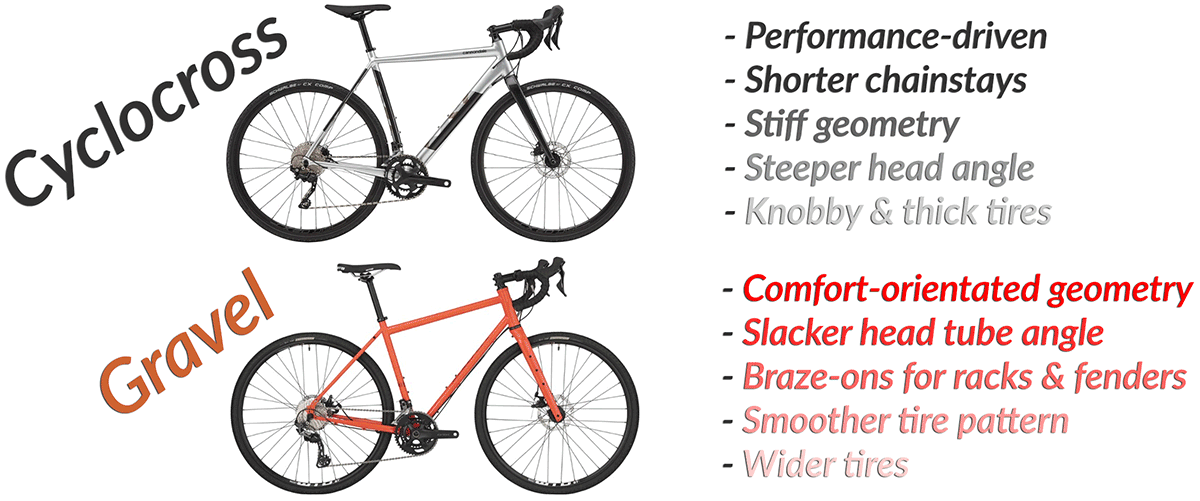 ---
Cyclo-cross vs
Road
Although road bike and cyclocross bikes might be visually indifferent, there are quite a few important differences.
CX Geometry

: Modern race geometry with higher bottom bracket and shorter rear end.

Road bike tires

are thinner, generally 23-28mm.

Gears

: Road bikes have always more gears than cyclocross bikes, mostly 2 chainrings on the front compared to a
---
Are Cyclocross bikes good for road training?
Yes, cyclocross bikes handle tarmac and pavement very well although the tires lack the solid contact of smooth, road-specific tires. For road racing, you'll want smoother tires but for general, all surface cycling, cyclocross bikes are great.
---
Gravel bike tire sizes
700c
x 30mm
x 33mm
x 36mm
x 37mm
x 38mm
x 40mm
x 42mm
x 45mm
---
CX bikes
weight
CX bikes typically weigh around 20lb, but after all, frame weight becomes irrelevant when it's covered in 10 pounds of mud.
---
Cyclocross bike
frame materials
Aluminum – One of the most used materials among CX bicycles.

Lightweight and affordable.

Steel – Durable, affordable. Almost zero flex to the frame with good vibration reduction capabilities.
Carbon – Mainly used on professional level bikes. Super lightweight, vibration-reducing.
Magnesium – Almost indestructible to fatigue. Expensive to make.
Titanium – Predecessor to carbon fiber, stiffness. Expensive to make. 60% denser than aluminum. As strong as steel, but 45% less dense.
---
What are the best
groupsets

for CX bikes?
SRAM Rival
SRAM Force
Shimano GRX
Shimano Ultegra
Shimano Tiagra
Campagnolo
Read our review: Bicycle Groupset Comparison
---
Which cycling
shoes

to use for Cyclocross?

Due to uneven surfaces, most cyclists use clipless mountain bike shoes.

Traditionally, cyclocross riders wore mountain bike shoes with cleats but nowadays you can get specific clipless shoes designed specifically for cyclocross. However, it's always best to wear whatever shoes are most comfortable.
---
What are the best cyclocross
bike brands

?
Felt
Santa Cruz Bicycles
Canyon
Trek
Cannondale
Giant, Raleigh, Kona, Vaast etc.
---
Cyclocross helmets
Most cyclists use a road-bike helmet to cyclocross races. A multi-sport or a light mountain bike helmets are commonly being used as well.
---
Related
---