Best Cyclocross Bikes of 2023
Cyclocross has a rich history spanning all the way back to late 19th century Europe. Originally a casual French pastime known as 'steeplechasing', it involved racing towards a landmark (usually a church steeple) in the most direct way possible.
Carrying the bicycle up hills, through rivers, and over fences was common. However, it wasn't until a French soldier organized the first-ever cyclocross race in 1902 that it became an official sport.
Inspired by Road Bikes
Cyclocross (CX) bikes look similar to road bikes with drop bars, lightweight frames, and aggressive racing geometry. However, they have certain modifications that make them capable of competing in cyclocross races. These include thicker, treaded tires for riding off-road and a frame more easily carried on the shoulder.
Road bikes and mountain bikes may dominate the cycling scene but in between these two extremes, you'll find several ...
Although often compared to gravel bikes, CX bikes are more similar in design to road bikes. They have aggressive race-style geometry and use lightweight materials not designed to carry weight. Gravel bikes, on the other hand, have relaxed geometry designed for a more comfortable ride over long distances and can accommodate luggage racks for bike packing trips.
Key Features of a Cyclocross Bike:
Wide wheel clearance with disc brakes so that mud doesn't get trapped in the fork or rear seatstays.
Wide road tires with thick tread designed to handle everything from gravel, grass, muddy, and sandy conditions.
A small, lightweight frame with a shorter reach, a higher bottom bracket, and internal cable routing.
---
---
Best Cyclocross Bikes of 2023
---
1

. Orbea – Terra H40

Best first cyclocross bike
MSRP: $2,499
The Orbea Terra H40 is an impressive cyclocross bike built for those looking for the best bang for their buck.
It features an aluminum frame and carbon fork with clearance for 700 x 45mm or 650b x 50mm tires. The drivetrain is a 2×10 Shimano GRX 400 with hydraulic disc brakes, a GRX 600 46/30T crankset and an 11-34t cassette.
The Vittoria Terreno Dry Gravel G2.0 38mm tires are not cyclo-cross tires but they can be swapped for a 32 or 33mm tire if necessary.
Wide tire clearance
Rack mounts
Carbon seatpost
The wheels are Ready GR tubeless-ready rims by Orbea which are lightweight and perfect for CX riding. All in all, a solid, affordable CX bike with reliable components and a light weight.
Aluminum / 2x10sp Shimano GRX / Hydraulic disc brakes
---
2

. Juliana – Quincy

The best women-specific cyclocross bike in this price range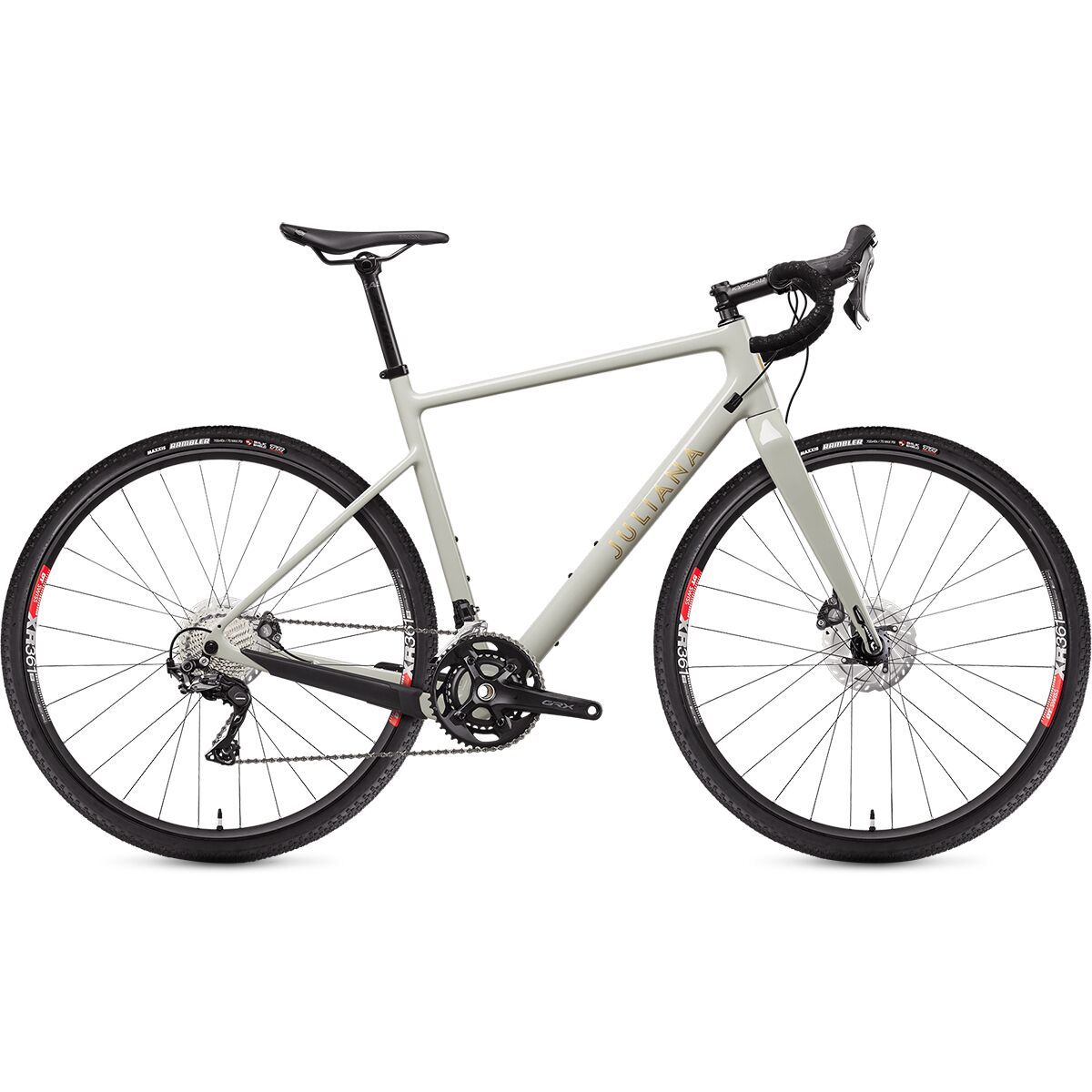 MSRP: $4,599
The Juliana Quincy CC is a full-carbon CX bike aimed at the high-end cyclocross market. It features top-quality SRAM components with hydraulic disc brakes and huge tire clearance for a 45mm tire on 700c wheels or a 2.1″ tire on 650b wheels.
The gearing setup is 1×11 SRAM Rival 1 with a 10-42t cassette and a 40t Easton EA90 crankset.
SRAM Rival 1 Derailleur
WTB EZR i23p rims with 28x Sapim Race spokes
DT Swiss 370 hubs
Cane Creek 40 IS integrated headset
Mounts for fenders and 3x water bottle mounts
Ergon Women's SR10 Sport Gel saddle
The Quincy CC comes standard with lightweight and robust-ready DT Swiss 370 hubs, WTB EZR i23p rims, and Maxxis Ravager EXO 700x40c tires. In addition, you have a sleek, fully-integrated Carbon CC Frame, Santa Cruz's highest grade carbon fiber.
Carbon CC / SRAM Rival 1 / 1×11-speed / Hydraulic Disc Brakes
---
3

. BMC – URS AL One
Prices: $2,600
The BMC URS AL One is another gravel bike with cyclocross capabilities.
Starting with an URS Premium Aluminum frame and a carbon fork, this bike is light and fast. Additionally, BMC included various mounts on the frame and dynamo compatibility for long-distance tours.
The groupset chosen is a SRAM Apex 1 11-speed with a 40t crankset and an 11-42t cassette and Apex HRD hydraulic disc brakes.
For the wheelset, you have WTB Riddler 45mm tires and DT Swiss C1850 rims. This setup is also tubeless-ready for superior durability and comfort off-road.
---
4

. Cervélo – Caledonia

Race-ready carbon fiber bike with 40mm tire clearance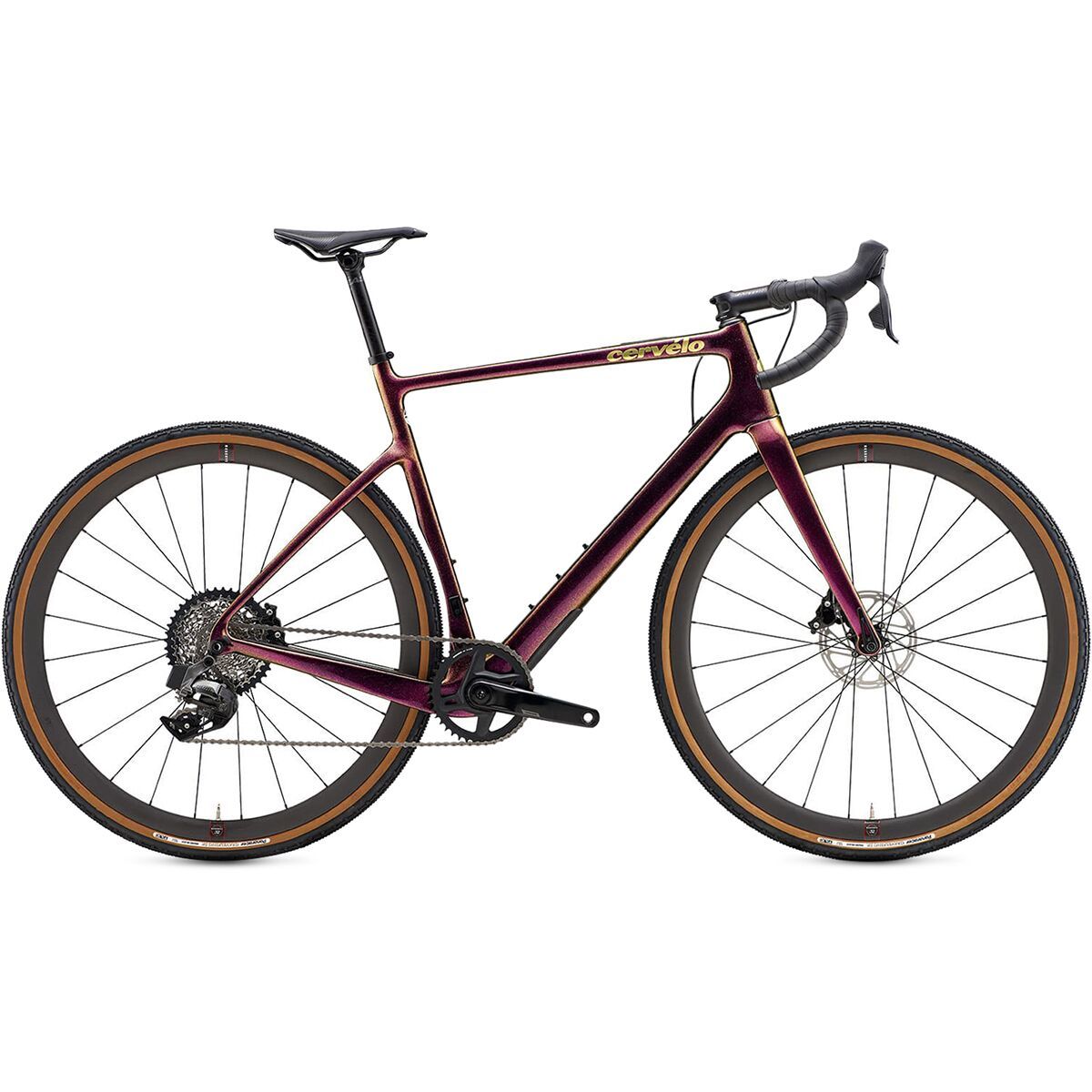 MSRP: $5,500
Cervelo's Aspero is a versatile race-ready machine with top-end components and tire clearance of 40mm, perfect for cyclocross, gravel, or road riding. This bike has a Cervelo fully-integrated all-carbon frame and fork which keeps it super lightweight and responsive.
The global demand for light, reliable, and fast bikes is always increasing and manufacturers are dedicating more ...
SRAM's Rival eTap AXS electronic groupset provides elite-level performance with a low weight. For gearing, you have a 12-speed drivetrain with a 10-44t cassette and a 40t crankset.
As it comes, the Aspero has Panaracer Gravel King SK 38mm tires, which you can swap out for UCI-approved 33mm cyclocross tires. Finally, you can rely on a SRAM Rival HRD hydraulic disc brakes for unbeatable stopping power.
Carbon / SRAM Rival eTap AXS / 12-speed / Hydraulic Disc Brakes
---
5

. Marin – Gestalt X11

A non-racing cyclocross bike
MSRP: $2,449
Like all Marin bikes, the Gestalt is offers excellent value for money and a promise of reliability.
The Gestalt X11 is a versatile cyclocross bicycle that could easily be used as a tough city commuter or a gravel bike.
This bike has tons of mount points for fenders and racks, solidifying its touring bike capabilities. Marin's Beyond Road Geometry balances mountain bike control with the comfort of an endurance road bike while a TranzX YSP38J dropper provides additional descending capability.
FSA Orbit IS headset
Shimano GRX disc brakes
Marin themselves admit it's not a competitive cyclocross bike but rather a recreational adventure machine. It comes standard with a full Shimano GRX 1×11 groupset.
Rims are Marin stock alloy and tires are Schwalbe G-One Performance 40mm. Finally, the Series 3 Aluminum and carbon fork frameset has clearance for a 700c x 45mm or 650B x 47mm setup.
Aluminum frame and carbon fork / Shimano GRX drivetrain / 11-speed
---
6

. Diamondback – Haanjo 5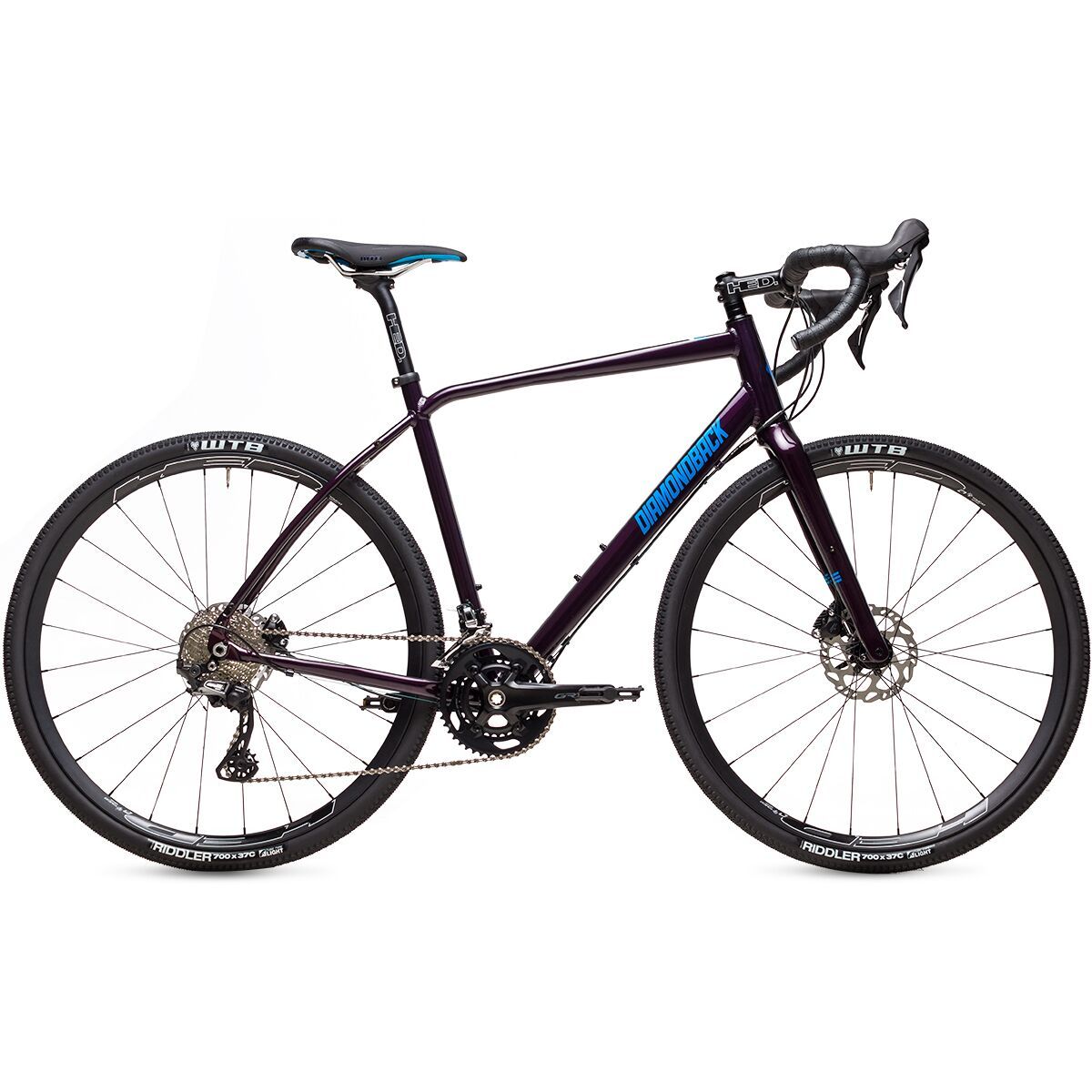 MSRP: $2,050
Diamondback makes high-quality bikes across most disciplines, and the Haanjo 5 is a reliable gravel/cyclocross choice. It's designed with 37mm tire clearance, snappy endurance geometry, and durable components to inspire confidence off-road.
The Haanjo 5 comes on an aluminum frame with a carbon monocoque fork to provide front-end stiffness and comfort – ideal for the demands of adventure riding. This is not your average CX racing bike but rather a blend of gravel and CX in one.
A 2×11 Shimano GRX 810/600 drivetrain and brakes offer smooth shifting and plenty of stopping power. This Shimano setup is precise, lightweight, and reliable, ensuring it can perform in any domain you take on.
---
7

. Niner – RLT 2-Star

A mixture of adventure and cyclocross bike, that can easily be used as a road bike
MSRP: $2,599
The Niner RLT 2-Star is a very impressive multi-purpose cyclocross bike designed to suit various disciplines, including CX, gravel, and bikepacking. The aluminum frame is stiff and lightweight yet strong enough to support a bike-packing rig, and tire clearance goes all the way up to 700 x 50c and 650b x 2.0″.
This makes the RLT 2-Star adaptable to various styles, all of which benefit from the 1×11 SRAM Apex 1 groupset with hydraulic disc brakes. Another notable factor is the wheelset, consisting of Niner alloy rims and Schwalbe G-One Allround TLE 40mm tires.
Schwalbe G-One 700x40c TLE tires
It may not be the most advanced CX bike on the market, but this kind of quality and versatility is hard to beat.
Aluminum / SRAM Apex 1 / 11-speed / Hydraulic disc brakes
---
8

. Cannondale – Topstone 1 Alloy

One of the best gravel bikes with CX capabilities
MSRP: $2,325
Cannondale's Topstone 1 is one of the most popular gravel bikes on the market. It's fast, light, comfortable, and versatile, meaning it appeals to a huge range of riders.
This model uses a high-quality Shimano GRX groupset combining GRX 600 and 800 components. Cannondale's OutFront Steering geometry makes for light and agile handling and extra stability and confidence on rougher stuff.
Shimano GRX groupset
FSA Omega AGX+ alloy 46/30t crankset
WTB ST i23 TCS rims
Vittoria Terreno Zero, 700c x 38mm tires
A lightweight carbon fiber fork a makes for a light, comfortable front end, perfect for CX terrain. 38mm tire clearance is enough to fit CX-ready tires while mounts for accessories allow you to turn your Topstone 1 into an adventure companion.
Aluminum / Shimano GRX / 2×11-speed
---
9

. Rondo – Ruut ST1
Price: from $2,999
Mike's Bikes
The Ruut range is a selection of Rondo bikes aimed at the riders who want a versatile bike that can get them across any terrain. The proprietary Ruut 2.0 Tange CroMoly steel frame and TwinTip 2.0 carbon fork balance a comfortable and responsive ride feel.
Rondo also designed this bike with S-shaped seat stays to further boost comfort and an oval top tube for better front-end compliance. For the drivetrain, you have a 1×11 SRAM Rival 1 setup that performs great on any terrain thanks to the 11-42t cassette. The Ruut also has hydraulic disc brakes and tire clearance of 700x40c or 650Bx2.1″ and comes with WTB Nano 40c tires as stock.
---
10

. Masi – Brunello ADX
MSRP: $1,700
If you're looking for a high-value CX bike, look no further than the Masi Brunello. With a MicroSHIFT Advent X 10-Speed drivetrain and Rever MCX2 mechanical disc brakes, you'll struggle to find anything equal at this price.
The 10-speed groupset runs off a 40t crank and an 11-42t cassette, providing plenty of gears for short, steep sections. Naturally, the Brunello is light as it is made with smooth-welded aluminum and a carbon fork. Additionally, Masi designed the geometry to be aggressive for fast off-road riding.
Hutchinson Override, 700x38mm
Aluminum and carbon / MicroSHIFT Advent X / 1×10-speed
---
Best CX Bikes Under $2,000
---
11

. Co-op Cycles – ADV 2.1

Affordable gravel bike by a reliable brand
MSRP: $1,299
This 6061 aluminum gravel bike would make a great cyclocross option with its lightweight design and responsive carbon fiber fork.
It packs in a punch with some solid components, like the 2×8-speed Shimano Claris groupset and Promax mechanical disc brakes.
For technical off-road riding, you get a 12-degree flared drop handlebar and a tubeless compatible wheelset. Kenda Flintridge 700c x 35mm tires make up a solid list of components for a bike of this price. Overall, the ADV 2.1 is a killer adventure bike.
Aluminum frame and carbon fork / Shimano Claris drivetrain / 2×8 speed / Mechanical disc brakes
---
12

. Salsa – Journeyer
MSRP: $1,499
The Journeyer by Salsa is a high-end gravel bike that performs well for CX racing thanks to its lightweight aluminum frame, carbon fork, and 2×9-speed Shimano Sora drivetrain.
Salsa uses in-house parts on most of the bike, including a Salsa Guide stem and seatpost and a Cowbell 3 handlebar. It comes with Teravail Washburn, 650b x 47mm on WTB ST i23 rims.
The ever-popular Shimano Sora 2×9-speed drivetrain has been chosen for the gearing and pairs with Tektro mechanical disc brakes.
FSA NO.42 ACB IS-2 headset
Shimano MT210 46/30t crankset
Overall, the Journeyer has all the precision and quality one would expect from Salsa, with excellent versatility to match.
Aluminum frame and carbon fork / 2×9-speed Shimano Sora / Mechanical disc brakes
---
13

. Tommaso – Sentiero Disc 40C

Ready to ride out of the box – Under $1,000 CX bike!
MSRP: $975
Affordable cyclocross bikes are few and far between so this offering from Tommaso makes an excellent entry-level option. For less than a grand, you get a Shimano Claris groupset, 6061 aluminum frame, steel fork, and Avid disc brakes.
Shimano Claris crankset
Avid BB5 disc brakes
At 26lbs (12kg) for the smallest size, you aren't going to win any races on the Sentiero but you'll get a good feel for CX riding. With a strong frame, 700x40c tires, and a full 27 gears, it would also make decent gravel or bike-packing bike.
Aluminum frame, Carbon fork / Shimano Claris / 3×6 drivetrain / Mechanical disc brakes
---
14

. Marin – Gestalt 2
MSRP: $1,569
At just over $1,500, the Marin Gestalt 2 is an affordable cyclocross bike with a 6061 aluminum frame. The 20-speed Shimano Tiagra groupset is particularly impressive on a bike in this price range, plus you get Tektro MD-C500 mechanical disc brakes and a carbon fork.
On the wheelset, you get stock Marin alloy rims and WTB Exposure Comp 700Cx32c tires, which serve well for mixed-terrain rides. Overall, it's a decent bike for the price, but any serious cyclist looking to compete in CX races will need to spend a bit more.
Aluminum frame, Carbon fork / Shimano Tiagra / 20-speed / Mechanical Disc brakes
---
15

. NS Bikes – RAG+ 2

Best under $2,000 cyclocross, gravel, and commuter bike
MSRP: $1,799

Mike's Bikes categorizes this bike to be a great fit for bike tourer, gravel riding, amateur cyclocross racing, or commuting, and we don't doubt the reason. An AL6061-T6 custom-formed frame, 1x drivetrain, Alex Draw 2.1P rims, TRP Spyre mechanical disc brakes, and SRAM Apex drivetrain make this a nice catch.
To put it simply, the RAG+ 2 is the best choice for recreational cyclists with some background in road biking who wish to travel all kinds of terrains fast. It is a cool bike, inside-out. It comes fitted with WTB Nano 40mm tires and mounts for accessories so you can go wherever the road or trail takes you.
Aluminum + carbon fork
1×11-speed SRAM Apex
700x40mm
---
FAQ
What is Cyclo-cross?
Cyclo-cross is a bicycle discipline, mainly a bike race that includes tackling different off-road elements. Most CX races also include a run-up section where a cyclist has to dismount their bike.
What is Cyclocross Bike?
A cyclocross bike is a road-bike-resembling bicycle that's built for speed on multiple terrains such as road, mud, rocks, sand, and even snow.
Should I buy a Cyclocross bike?
Typically, you would only buy a cyclocross bike if you intend to compete in cyclocross races. However, they do make good city commuters if you want something very fast and lightweight. While they are good for recreational off-road riding, you might find a gravel bike more comfortable.
Gravel Bike vs Cyclocross
Cyclocross vs Gravel bikes are closely related and seem to be the main debate cyclists are the most interested in.
Although similar, cyclocross and gravel bikes are not always interchangeable so you should buy a bike specific to the style of riding you plan to do. Gravel bikes are better for slower, long-distance rides or bike-packing trips. Cyclocross bikes are specifically designed for short, high-speed races that involve carrying the bike at times.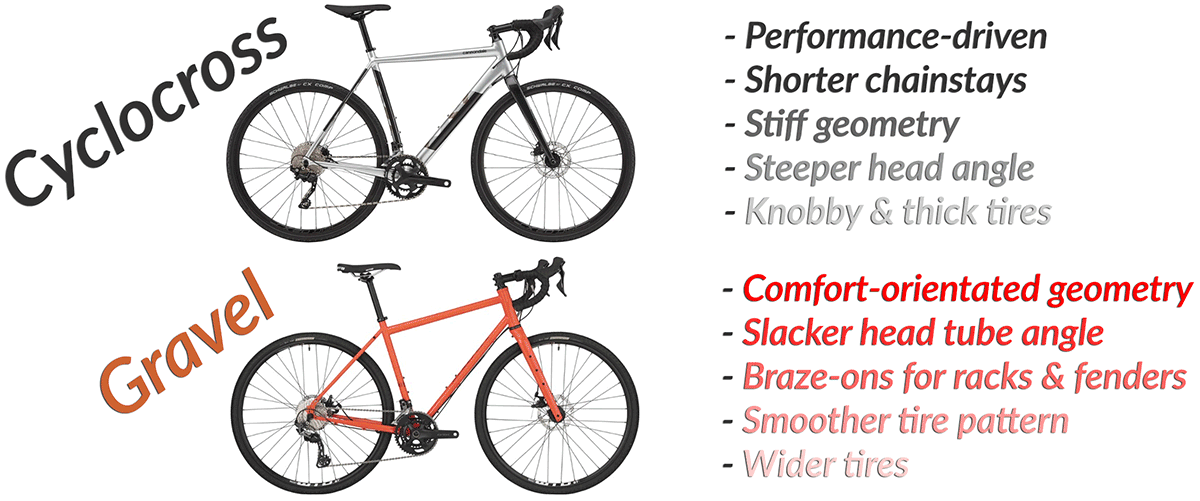 Cyclo-cross vs Road
Although road and cyclocross bikes might be visually indifferent, there are quite a few important differences.
CX Geometry: Modern race geometry with higher bottom bracket and shorter rear end.
Road bike tires are thinner, generally 23-28mm.
Gears: Road bikes have always more gears than cyclocross bikes, mostly 2 chainrings on the front compared to one on a CX bike.
Are Cyclocross bikes good for road training?
Yes, cyclocross bikes handle tarmac and pavement very well although the tires lack the solid contact of smooth, road-specific tires. For road racing, you'll want smoother tires but in general, all surface cycling, cyclocross bikes are great.
CX bikes weight
CX bikes typically weigh around 20lb, but after all, the frame weight becomes irrelevant when it's covered in 10 pounds of mud.
Cyclocross bike frame materials
Aluminum – One of the most used materials among CX bicycles. Lightweight and affordable.
Steel – Durable, affordable. Almost zero flex to the frame with good vibration reduction capabilities.
Carbon – Mainly used on professional-level bikes. Super lightweight, vibration-reducing.
Magnesium – Almost indestructible to fatigue. Expensive to make.
Titanium – Predecessor to carbon fiber, stiffness. Expensive to make. 60% denser than aluminum. As strong as steel, but 45% less dense.
What are the best groupsets for CX bikes?
SRAM Rival
SRAM Force
Shimano GRX
Shimano Ultegra
Shimano Tiagra
Campagnolo
Bicycle groupsets comprise of all the gearing and braking components that make up the mechanical moving parts of a ...
Which cycling shoes to use for Cyclocross?
Due to uneven surfaces, most cyclists use clipless mountain bike shoes.
Traditionally, cyclocross riders wore mountain bike shoes with cleats but nowadays you can get specific clipless shoes designed specifically for cyclocross. However, it's always best to wear whatever shoes are most comfortable.
What are the best cyclocross bike brands?
Felt
Santa Cruz Bicycles
Canyon
Trek
Cannondale
Giant, Raleigh, Kona, Vaast etc.
Cyclocross helmets
Most cyclists use a road-bike helmet to cyclocross races. A multi-sport or light mountain bike helmets are commonly being used as well.