Best Bike Lights for Daytime & Nighttime Rides
A reliable set of bike lights is one of the most important accessories for all cyclists.
In the USA, the law states that any bicycle on the road between sunset and sunrise must use lights front and back. The lights have to be visible from 500 feet, and the back-facing light must be red. Also, note that there are also some individual variances among states so it's worth checking your home state's or country's laws.
As with most bike accessories, there is a seemingly endless list of options to choose from, each slightly different from the next. To help you find the best lights to suit your needs, we've compiled a list of great options and highlighted their main features.
Bicycle lights are absolutely essential for riding at night, early morning, or dusk, and are a helpful safety tool while riding on cloudy days. Using lights in the daytime also increases visibility and reduces the risk of being involved in an accident.
How did we choose?
The bike lights we chose for this article are those that are the best-selling products with the strongest ratings and feedback. We selected bicycle lights from three of the best stores online which offer a selection of bicycles and accessories by reputable brands.
In the list of 10 light options below, you will find a mix of individual front and rear lights, along with bike light sets, in a variety of sizes, functionalities, and prices. Most of the lights we have chosen are best suited to urban or rural road cycling, however, most of the brands we mention have off-road models available as well.
---
Table of Contents
1. Rear Lights
2. Front Lights
4. Types of Bike Lights and Functions
---
Best Rear Bike Lights
---
Cygolite – Hotrod 50 USB Rear Bike Light (50 lumens)
Great value, highly rated rear light. REI Score: 4.2/5 out of 89+ ratings

MSRP: $30
The Hotrod 50 rear bicycle light is a lightweight and sleek choice for any road cyclist.
With an output of 50 lumens on its highest power, the Hotrod provides plenty of light to be seen by other road users in urban areas during both day and night. This light has six lighting modes including high and low flash, steady pulse, zoom, and group.
Cygolite's Hotrod attaches quickly and easily to most seat posts and seat stays including aero types, with its flexible rubber mounting strap. Some other notable features of this LED bike light are its built-in low battery indicator, it recalls the last mode you were using, and it is water-resistant.
Battery Life Low: 100 hours
Battery Life High: 1.5 hours
Charge Time: 3 hours
Weight: 1 oz
Rechargeable
Integrated mount and battery
---
Garmin – Varia RTL515 Rearview Radar Taillight (65 lumens)
Unique taillight and rearview radar combination

MSRP: $200
The Garmin Varia radar is an advanced safety accessory that helps users see and be seen, alerting you to vehicles approaching from behind.
Connect the Varia to a compatible device, and it will notify you with a tone or vibration of any vehicles approaching from up to 153 yards away. It pairs easily with the Garmin Edge bike computer, Garmin radar display unit, some Garmin wearables, and most smartphones.
The light itself provides daylight visibility up to 1 mile with a 65-lumen output. It also comes with a nighttime, flashing, and peloton (group cycling) setting.
The Varia is compact and mounts easily to most road, commuter, and touring bikes. It uses a separate mount which the light quickly clips in and out of.
Battery Life Low: 16 hours
Battery Life High: 6 hours
Charge Time: 3 hours
Weight: 2.5 oz
Rechargeable
Integrated battery
---
Blackburn – Dayblazer 65 Rear Bike Light (65 lumens)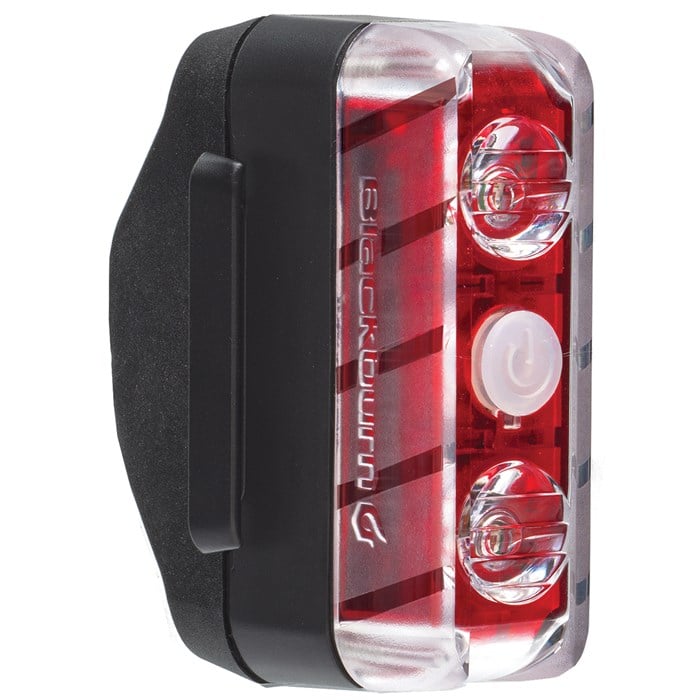 MSRP: $33
The Blackburn Dayblazer is an excellent value, durable "be seen" bike light perfectly suited to urban cycling.
This LED light has a 120 degree light that increases its visibility and makes it function perfectly even when it is clipped to a backpack or mounted slightly off-center. It has three different settings including full power high flash, low flash at 35 lumens, and solid mode at 50 lumens.
Lastly, the Dayblazer has a highly versatile tool-free mounting system. It will attach easily to seatposts and seatstays (including aero posts) using a rubber strap. It also connects to bags and clothes due to its built-in clip.
Battery Life Low: 6 hours
Battery Life High/Solid: 3 hours/1 hour
Charge Time: 2 hours
Weight: 4 oz
Rechargeable (Micro-USB)
Integrated battery and mount
---
Best Front Bike Lights
---
Planet Bike – Spok 50 USB Front Bike Light
Side cutouts give this light a 270° wide beam
MSRP: $22
Planet Bike's Spok LED headlight is a simple, budget-friendly light that illuminates your urban rides with three different modes and 270° visibility.
This "be seen" light is suitable for riding on reasonably well-lit roads where you do not require assistance to see the road and surroundings ahead. It has a high, low, and flash setting so that you can switch during daylight and situations such as group riding.
Additionally, the Spok is compact and can act as a bike helmet light too. It mounts easily to most handlebars as well as other locations on the bike with its durable rubber strap.
Battery Life Low/High: 3.5 hours/2.5 hours
Battery Life Flashing: 14 hours
Charge Time: 2 hours
Weight: 0.88 oz
Rechargeable (Micro-USB)
Integrated battery and mount
---
NiteRider – Lumina Micro 900 Front Bike Light (900 lumens)
One of the most reputable bike light brands for their premium products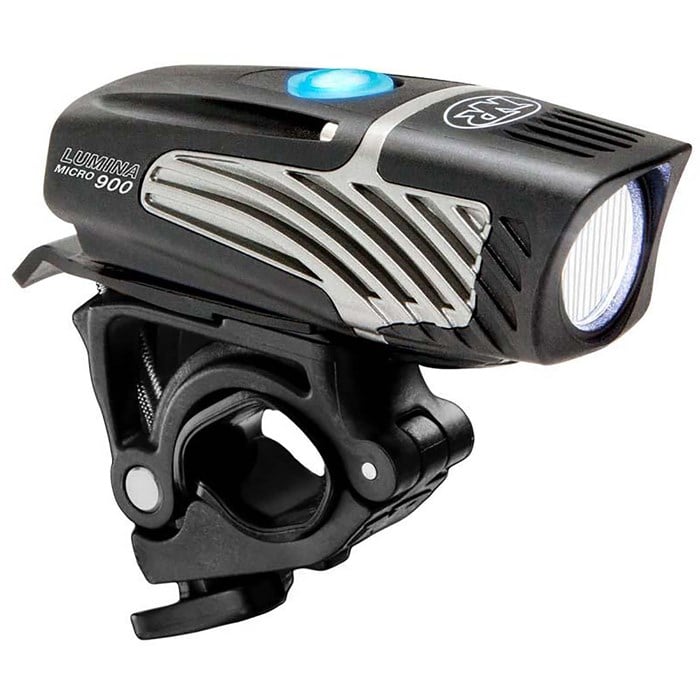 MSRP: $75
The NiteRider Lumina Micro is a premium headlight made to be compact and diversely functional.
This light boasts a max power of 900 lumens, with three other settings of 30, 200, 450, lumens to choose from as well as a flash mode. NiteRider made it to be extra durable, with a reinforced nylon casing that is highly water and dust-resistant.
The Lumina Micro is mounted to the handlebars with a tool-free plastic mount. The light body can then slide on and off the mount with ease. It fits most handlebars, including oversize 35mm versions. Users can also purchase an extra bike helmet light mount from NiteRider if they would like that compatibility.
Finally, NiteRider has added a useful lock feature that ensures the light doesn't turn on in storage or transportation, and when the battery is low the power button turns red. The company has a range of headlights ranging from 150 lumens to 4200 lumens, something to suit all types of riding.
Battery Life Low: 11 hours
Battery Life High: 2 hours
Charge Time: 4.5 hours
Weight: 4.6 oz
Rechargeable (USB)
Integrated battery
---
Specialized – Stix Elite 2 Headlight (200 lumens)
A small yet powerful headlight option
MSRP: $40
Specialized offers another affordable yet high-quality headlight that is compact and perfectly suited to urban and commuter cycling.
Effective in daylight or at night, the Stix Elite has six different modes (including flash modes), ranging from 12 to 200 lumens. While operating on its most economic setting, the light can last up to 112 hours. The lenses on the light provide wide-angle visibility, helping to maximize your visibility to other road users.
Above all, mounting the light is easy and fast with a flexible rubber strap that fastens to any handlebars from 22 to 35mm in diameter. One unique feature of the Stix is the rapid cable-free charging. All you have to do is plug the USB tab into one of your charging devices such as a laptop or plug.
Battery Life Low: 112 hours
Battery Life High: 2.5 hours
Charge Time: 2 hours
Rechargeable
Integrated battery and mount
---
Best Bike Light Sets
---
Bontrager – Ion Pro RT/Flare RT Light Set (1300/90 lumens)
MSRP: $180
Trek's component and accessory brand Bontrager prides itself on high quality, innovative products, and the Ion Pro/Flare light set is exactly that. This "see and be seen" light combo would be an excellent addition to any bike.
The Ion Pro RT has a powerful 1300 lumen max beam that can illuminate the width of any road or trail. The Flare RT provides excellent visibility from over a mile away day or night with a max output of 90 lumens. Each light has five unique modes to select from depending on the user's needs, including flash modes. On flash mode, the Ion and the Flare batteries last 26 and 15 hours respectively.
Both lights come with a separate mount, which installs quickly to the handlebars and seat post, with helmet compatibility available for the headlight. Pre-installed mounts allow users to easily slide the lights off when locking the bike or for storage. Finally, both units are compatible with Garmin or Bontrager ANT+ devices, allowing you to monitor battery status and control the lights wirelessly.
Battery Life Low: 6/13/5 hours
Battery Life High: 1.5/4.5 hours
Rechargeable (micro-USB)
Integrated batteries
Weight Combined 7.5 oz
Flare RT is fully waterproof
---
Knog – Cobber Twinpack Bike Light Set (470/270 lumens)
Innovative bike light set with 330° beams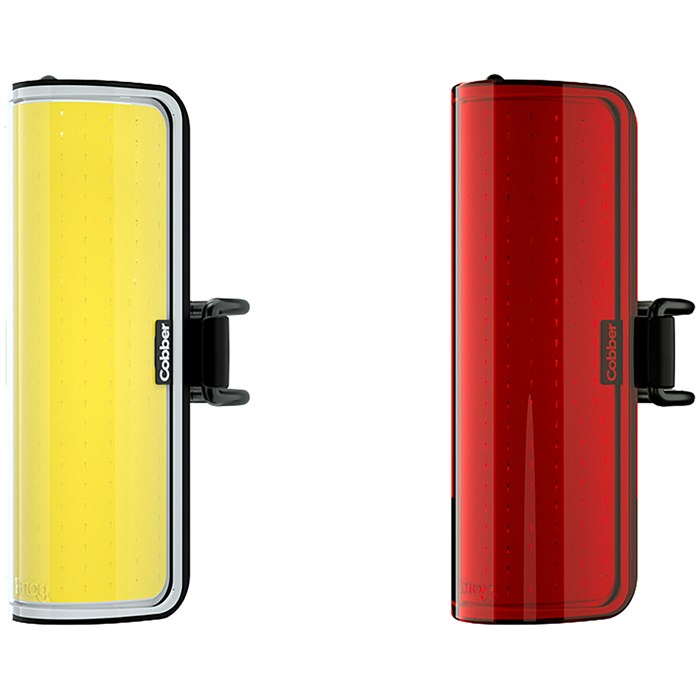 MSRP: $160
If you are looking for a premium light set that provides optimal safety for urban cycling, look no further than the Knog Cobber headlight and taillight.
With their innovative design, Cobber delivers a 330° light that gives users unbeatable visibility on the roads. The headlight has a max of 470 lumens, and the taillight a huge 270 lumens which can be sustained for 90 percent of the battery life. The lights have eight different settings to choose from, using a short press of the power button. Additionally, users can make customized light modes with Knog's ModeMaker app.
Mounting the Cobber lights is a breeze. It is a tool-free process, made so by removable straps for bars and seat posts 22 to 32mm+ diameter. and a magnetic mount. The set also comes with a larger strap and an aero strap so that the lights fit easily on almost any bike.
Battery Life Low Flash: 100/120 hours
Battery Life High Flash: 3.5/2.5 hours
Charge Time: 5.5 hours
Rechargeable (cableless integrated USB)
Integrated batteries
---
Lezyne – KTV Drive Front and Rear Light Pair (200/10 lumens)
An inexpensive and reliable light set

MSRP: $40
The Lezyne KTD Drive light set is the perfect budget-friendly lighting option for any urban cyclist.
Despite the low price, the lights have some stand-out features including an IPX7 waterproof rating, and an integrated USB stick to allow wireless charging. As well as being waterproof and durable, the KTD Drive lights are also super lightweight.
To keep you safe and visible, the rear light has a 180-degree beam. Additionally, both lights have five modes including two flash modes to select from, giving you choices for day and night riding.
Users mount the lights using integrated rubber straps that are compatible with aero posts. Finally, when the battery is low, there is a low power indicator that warns the user to charge for the next ride.
Battery Life Low Flash: 20 hours
Battery Life High: 2.5/4.5 hours
Rechargeable (cableless integrated USB)
Integrated battery and mount
Weight Combined 3.6 oz
Fully Waterproof
---
Cygolite – Dash 520 / Hotshot Micro 30 Bike Light Set (520/30 lumens)
MSRP: $80

Cygolite's Dash and Hotshot Micro set are a great compact and lightweight choice that pack a big punch for their size.
In the front, the Dash delivers a powerful 520 lumens, while the Hotshot behind has 30 lumens of red light, helping you see and be seen on any urban or rural roads. To keep you safe at any time of day, you can choose between eight modes on the headlight and five on the tail.
Like Cygolite's other models, this set comes with integrated, versatile rubber strap mounts that provide easy installation to most bike tubes. Finally, to maximize convenience for the user, the light's memory function saves the mode you were using before turning them off.
Battery Life Low Flash: 10/100 hours
Battery Life High: 1/2.5 hours
Charge Time: 3 hours
Rechargeable
Integrated battery and mount
Weight Combined 4 oz
Low Battery Indicator
Water-resistant
---
Types of Bike Lights and Functions

Bicycle lights are generally categorized by their position on the bike and on what level of lighting they provide. High powered lights are considered "seeing", while low powered lights are "being seen".
Front lights are generally white light, and rear lights are red. Some models are designed for use on-road and in urban areas where there is some road lighting, while others (brighter ones) are suitable for trail riding where there is no lighting.
In this article, we've included mostly lights that you can use on rural roads and paths, as well as urban roads. For cycling off-road at night, the highest-powered lights with longer battery lives are essential.
What are lumens?
Lumens are the unit of measurement that denotes the total amount of light emitted by a light source. The more lumens, the brighter the light.
Therefore, this is the most important specification to look out for when choosing the right light for you. The general recommendations in lumens are as follows:
Daylight riding to be seen: 100+
Urban (lit roads) night riding to be seen: 100-200
Rural riding (unlit roads) to see where you are going: 400-600
Trail riding to see everything: 600+
While the amount of lumens is the most important factor to consider, there are other important variables like battery life which we will cover in the next section.
Front Bike Lights (Headlights)

Bicycle headlights are more powerful than taillights. Headlights use a white light which must be bright enough to illuminate the road in front of you and to ensure you are visible up to 500 feet away.
When purchasing these lights, you'll need to pick a model that you can use for 'being seen' (up to 200 lumens) or 'seeing' (400+ lumens). The number of lumens will determine which usage the light is appropriate for.
Because the majority of road accidents between bikes and cars take place at intersections, it is vital that your light is bright enough and wide enough to warn other road users that you are approaching.
Rear Bike Lights (Taillights)

Taillights are more simple than front lights.
Rear bike lights just need to be bright enough to make you visible and they use red bulbs to stay in accordance with the law. A good setting to look out for is a flashing mode for rear lights, this increases your visibility to approaching traffic. Another type of taillight is a bike wheel light, which attaches to your wheel.
Trail-Specific Lights
As mentioned above, trail-specific lights are the most powerful models available. They are for technical trails with little to no lighting.
They need to be at least 600 lumens, but ideally over 700. These lights will have a broad beam range, allowing you to see the periphery of the trail around. Large battery life is also important, as well as low battery notifications to ensure you don't get stuck on the trail without any light.
---
What to Look Out for When Choosing Bicycle Lights?
There are a few key specifications to consider before you choose lights for your bike. Once you understand where and when you will be cycling, you can begin thinking about the specs that match.
Lumens & Power Modes

As we mention above, the light's total lumens are super important to consider. For example, if you mostly ride in urban environments, but you also visit trails during times of low light, then you will need a 600+ lumen headlight to see on those trails.
The good news is that most lights have different power modes which you can use at different times and for different reasons. The lower lumen outputs will help save the battery and extent usage when you do not need max power.
Battery Life, Low-Battery Indicator, & Charging

Battery life is very important for cyclists who do longer rides in the dark. For those with short commutes, or who run errands at night, a long-lasting battery will be less important.
In general, the longer the duration of the battery, the bigger the size. The most powerful off-road lights may have external battery packs so they can maintain a long battery life with very high lumens. For most cyclists, this type of light is unnecessary and a simple self-contained light will suffice.
An extremely useful safety feature is a low battery notification common with premium models. This can help you stay safe by avoiding a dead light mid-way through a ride.
Most lights available (and each light in this article) come with a rechargeable integrated battery. Charging is usually done using a standard micro-USB or USB-C cable, or a cable-free system.
Mounting System
Most bicycle light mounting systems are simple rubber straps that clip around your seat post or handlebars quickly and easily. If you have an aero seat post or handlebars, ensure the light is compatible in advance.
The advantage of the rubber strap method is its convenience of attachment and compatibility with various seat posts and handlebar shapes. However, these straps can come loose on occasion, leaving your light behind on the road or trail. The elastic in a rubber strap is also more prone to degradation over time.
The alternative is a fixed mount made from plastic or metal. These are far more secure and durable when compared with a rubber strap. They do not move easily, and a good quality mount shouldn't break. The one disadvantage of these mounts is they usually require a tool to install.
Most premium models allow you to slide the light on and off the mount so you can take it with you when locking your bike. This allows you to make a one-time installation of the mount. However this feature is not universal and if it is important to you, check before you make the purchase.
Beam

Depending on where you plan on cycling, the width of a light's beam can be another decisive factor. The rule of thumb for this is: the darker the area you plan on cycling through, the wider your beam needs to be in order to be able to see your surroundings.
LEDs
Bike LED lights are the standard type as LED bulbs are the most energy-efficient light technology widely available. Most models use multiple LED bulbs to maximize brightness and width.
---
Conclusion
It is clear that there are a huge number of bike lights to choose from depending on your needs and budget. Before making the purchase, consider your bike, budget, where you plan to ride, and the level of light that you will be cycling in. Once you have figured that out, you can find the right light with enough lumens (and maybe some cool extra features), so you can ride safely wherever you go.