Best Bicycle Helmets to Ride Safely in 2023
Even though the quality of bicycles has improved significantly over the past decade, it is far too easy to forget the importance of wearing a helmet to a bike ride. Whether it's due to motorists, fellow cyclists, a mechanical error, or riders' own fault – people do mistakes, and in the end, nobody plans to crash, right?
Cycling leads to the most head injuries compared to any other sport or recreational activity
Getting a bicycle helmet is the least you can do to protect one of your most important organs – the brain.
There's no debate about that. Everyone should wear a helmet, and do it correctly – kids, the elderly, men, and women. From short trips to a bike race, where it is already mostly compulsory. It is a priceless investment. New bicycle helmets are both safe and aesthetical as well, sort of a fashion element if chosen properly.
How Did We Choose?
Most of the helmets reviewed below have a safety score of 5/5 based on the Virginia Tech Helmet Lab research center scale. The rest of the helmets on the list have above-average feedback and ratings online. Some of these helmets we've used personally and decided to include them based on our positive experiences as well.
---
Best Bike Helmets
---
#1 – Best Commuter / City Bike Helmets
---
Thousand Helmets – Heritage
A commuter helmet – 12 different designs!
MSRP: $89
The Thousand helmet company is committed to saving 1000 lives by making appealing helmets that cyclists actually want to wear. The Heritage is a classic, minimalist helmet for urban city cycling inspired by vintage moto lids and 50s and 60s colorways.
Certified for both cycling and skateboarding, it has a magnetic one-hand clip, integrated dial fit system, and seven air vents. It also features a secret 'PopLock' for securing onto your bike.
Hidden Poplock – If you'd like to lock the helmet with the bike
Magnetic Buckle – One hand fastening
Dial Fit System – For a snug fit
Vegan Leather Straps – Sweat free and eco-friendly microfiber
---
Bontrager – Charge WaveCel Commuter
One of the few top-rated commuting helmets according to Virginia Tech Helmet lab
MSRP: $150
This Bontrager bike helmet is e-bike approved and features advanced WaveCel technology, a collapsible cellular structure that provides better impact protection. It includes a FidLock magnetic buckle and BOA Fit System for easy adjustment with just one hand.
Use the Blendr mount system to attach a light to the rear and enjoy the ease of removable, washable helmet pads. Comes with a built-in visor and 1-year crash replacement guarantee.
E-bike approved
WaveCel – Advanced helmet technology
BOA® Fit System lets you easily secure and adjusts helmet fit with just one hand
Fidlock magnetic buckle
Rear Blendr mount system easily integrates Bontrager light accessories
Soft, comfortable, moisture-wicking, and washable helmet pads
A built-in visor provides constant coverage against sun and rain
---
Smith –
Maze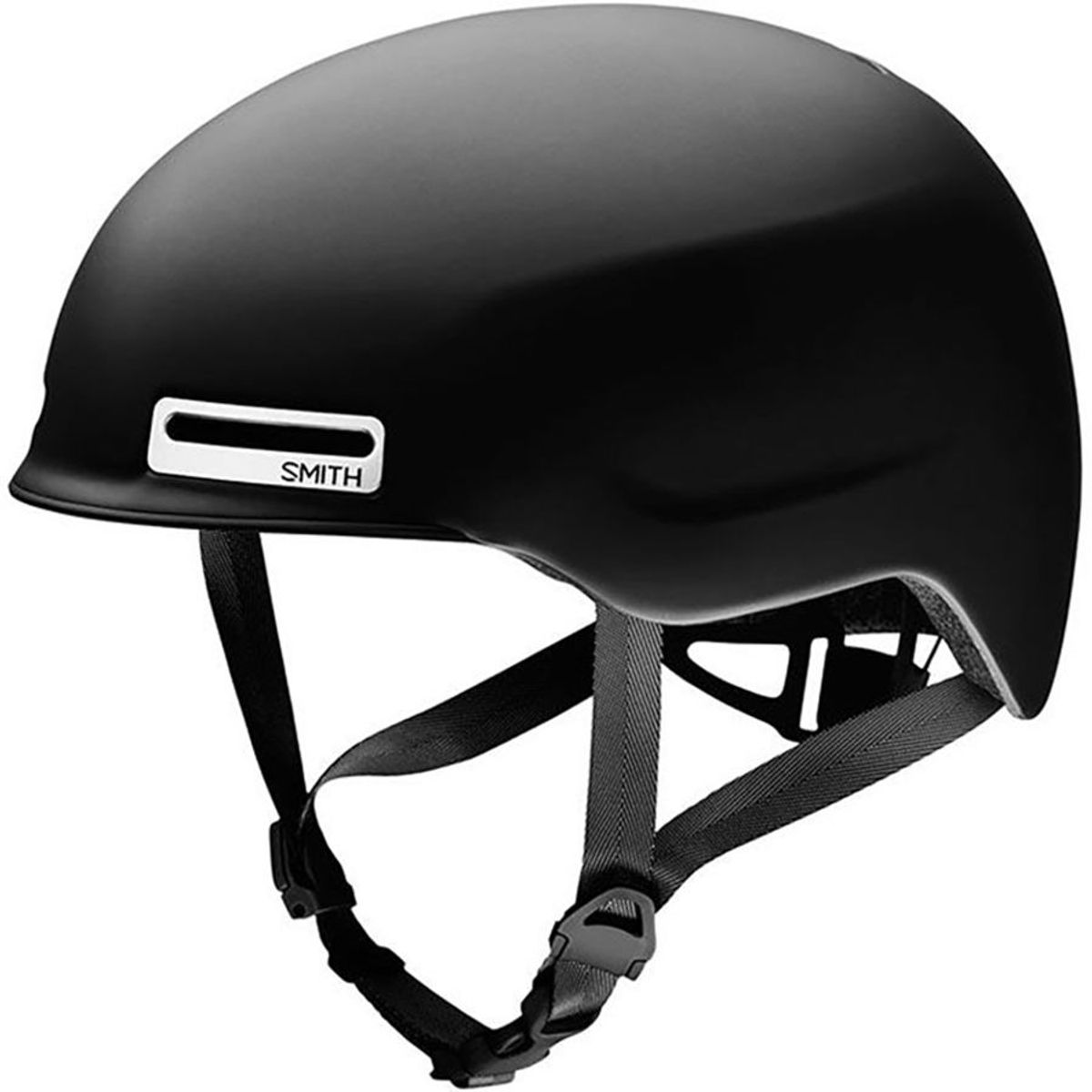 MSRP: $94 – 115
This lightweight Smith bike helmet has a self-adjusting lifestyle fit system that flexes to fit your head shape and features trademark AirEvac ventilation. AirEvac uses two front vents to provide airflow and integrates with Smith goggles to reduce lens fog.
The Maze helmet also uses an XT2 antimicrobial lining for sweat-activated odor control and is CPSC and CE EN 1078 certified.
A low-profile helmet for everyday wear
Vents run from front to the rear while cooling the head during your commute
A self-adjusting fit system that fits nicely around the head while moving, unlike a traditional BOA system
Single-layer webbing straps lay flat and won't impede movement
---
Smith – Signal MIPS
MSRP: $75
This urban bike helmet from Smith features VaporFit's tuned elastic rotary dial adjustment system to fit any head snugly. It also benefits from the MIPS safety system to reduce rotational motion to the brain during impact.
With the AirEvac ventilation system, you get 21 optimized vents plus integrated eyewear storage. The unisex helmet weighs 100 ounces and comes in three sizes.
VaporFit™ fit system – Rotary dial adjustment system integrated with a tuned elastic fit
MIPS, a low-friction layer that slides 10 to 15mm in all directions, reducing rotational motion to the brain during impact
AirEvac™ ventilation system with 21 optimized vents and engineered eyewear storage
In-mold construction makes for a lightweight helmet that's perfect for daily exploration
Performance comfort lining
Ultralight single-layer webbing
Certifications: CPSC, CE EN 1078, AS/NZS2063
---
NutCase Helmets – Onyx MIPS
MSRP: Check on Amazon
Based in Portland, Oregon, Nutcase helmets produce high-quality headgear for all types of cyclists. The Onyx helmet has an injection-molded ABS shell with EPS foam and features the industry-leading Multi-directional Impact Protection System (MIPS) for improved safety.
The new 2023 model has double the reflectivity, improved ventilation, and internal heat sealed pads. Onyx helmets come in 3 sizes, all with a dial-adjustable fit and a FidLock magnetic snap-and-go buckle.
MIPS
Injection-molded ABS shell and tuned EPS foam to keep you safe on the road
Redesigned 11x air vents
Fidlock magnetic closure for one-handed snap and go buckle

3-piece internal heat sealed pads to provide next to brain comfort

Dial adjustable fit
2x reflectivity for increased visibility on the road
3 sizes: Small (52cm-56cm), Medium (56cm-60cm), Large (60cm-64cm)
Visor Included
---
#2 – Best Mountain Bike Helmets
---
Fox – Dropframe Pro
#1 – Safest & best mountain bike helmet according to Virginia Tech Lab!
MSRP: $200
The Fox Dropframe is one of the safest MTB helmets available, providing maximum coverage in an open face format. With both the trusted MIPS rotational reduction system and a dual-density Varizorb EPS liner, you get double the impact protection in one helmet.
What's more, you get 8 Big Bore vents and 7 exhaust vents, allowing for maximum cooling and minimum moisture build-up. Clip-in quickly with a Fidlock SNAP buckle stay clean with removable antimicrobial liners.
---
Bontrager – Rally MIPS
One of the top-rated, safest mountain bike helmets
MSRP: $160
Bontrager bicycle helmets are known for their excellent value, and this MIPS-enhanced MTB helmet is no exception. Beyond the excellent rotational impact protection, you also get the proven BOA Fit System for ultimate adjustment and an in-mold composite skeleton that provides increased airflow through larger vents.
FlatLock dividers simplify strap management and internal recessed channels keep your head cool and dry. Bontrager includes a one-year Crash Replacement Guarantee.
MIPS Brain Protection System
BOA® Fit System
Blendr mount system easily integrates GoPro & Bontrager light accessories only
Drop-in coverage on the back of the helmet offers extended protection
In-mold composite skeleton increases helmet integrity for larger vents and increased airflow
---
Troy Lee Designs – A2 Decoy MIPS
Ranked as #4 among the safest helmets on the market
MSRP: $189
This Troy Lee Designs mountain bike helmet is a steal for only $189, offering everything you need in a quality MTB helmet. Not only does it include the MIPS impact system but also a dual-density EPP + EPS liner for protection against both low and high-speed impacts.
The additional X-Static Pure Silver liner with an adjustable strap and huge ventilation shafts allows for the best possible fit and comfort at all times.
MIPS Brain Protection System – Reduces rotational forces to the brain
Dual-Density EPS molded with EPP
3-Position custom adjustments by rear stabilizer fit system
---
Giro – Radix MIPS
MSRP: $95
Giro helmets offer this budget mountain bike helmet which combines durability with a lightweight, ventilated design. It uses a specialized Roc Loc 5.5 MIPS system for impact protection and a customizable fit that provides long-lasting comfort.
The outer shell is formed from a polycarbonate material fused with an EPS foam liner to maintain strength without sacrificing ventilation. Ideal for long-distance trail riding.
---
Bontrager – Solstice MIPS
4 different colors
MSRP: $65
The Bontrager Solstice MIPS bike helmet is an impressive all-purpose budget helmet with rotational impact protection and a Fidlock magnetic buckle. The removable built-in visor has variable lighting options and the adjustable Headmaster strap clips in easily with just one hand.
For added comfort, you get internal recessed airflow channels and LockDown dividers for easy strap management. The Solstice MIPS comes with a 1-year Crash Replacement Guarantee.
---
#3 Best Road Bike Helmets
---
Lazer – G1
#1 Best Road Bike helmet according to Virginia Tech Helmet lab safety score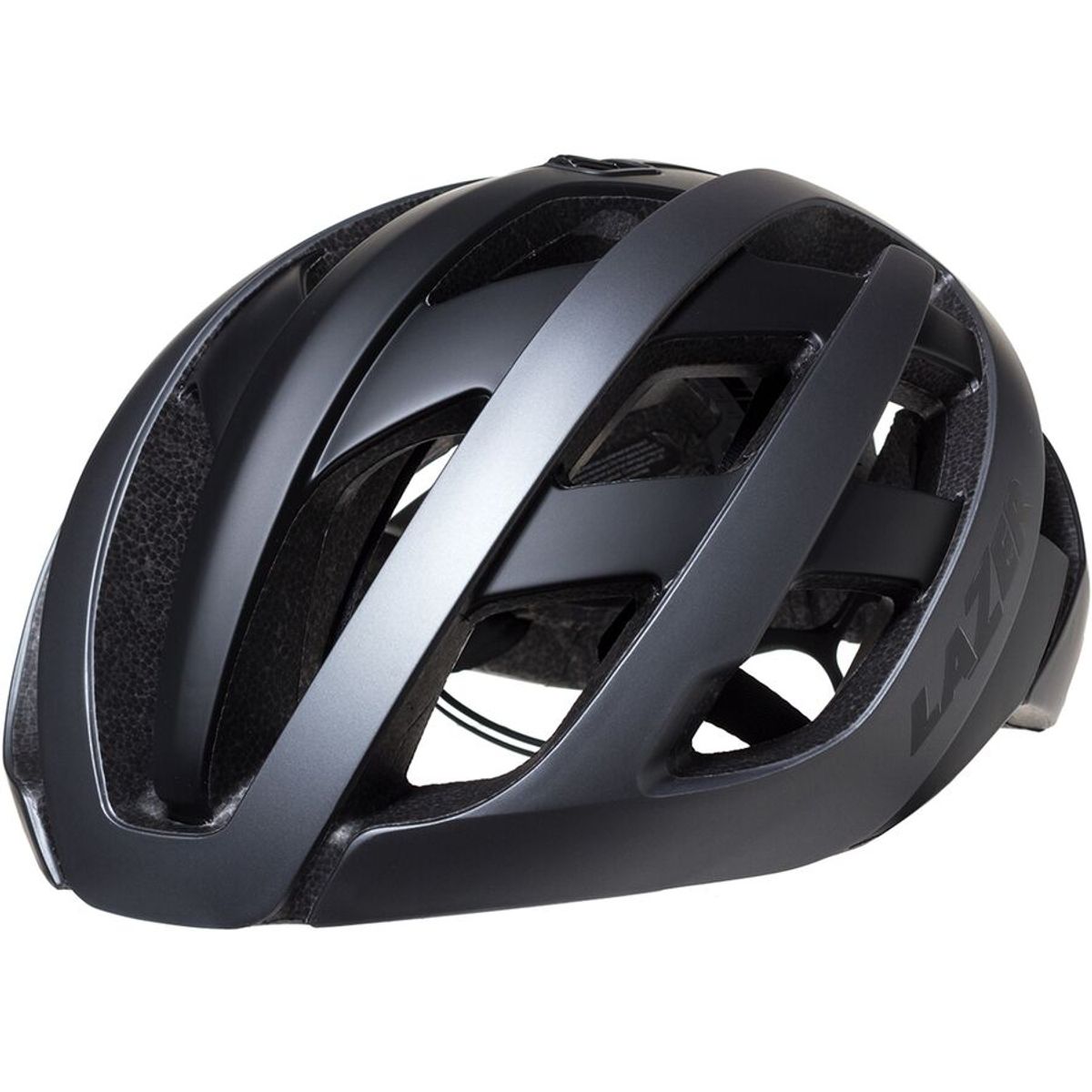 MSRP: $250
The G1 is the lightest Lazer bike helmet available, weighing only 225 grams. It feels almost like you're not wearing anything at all and yet maintains high strength via its polycarbonate shell and EPS internal foam.
Fit it snugly to your head with Lazer's Advanced Rollsys System (ARS) that helps avoid hotspots or pressure points by contouring to your skull shape. Front and side vents provide ventilation and can be covered by the Aeroshell attachment for increased speed and protection from rain or cold.
Lazer's Aeroshell
Ponytail friendly
200g
Adjustable from the top
Made of EPS Foam, Polycarbonate, Nylon
ARS – Advanced Rollsys System
Another great alternative by Lazer helmets is the Cyclone Mips, a multi-sport bicycle helmet.
---
Bontrager – Specter WaveCel
One of the best helmets for road, gravel, and trail 🏆
MSRP: $150
The Spectre WaveCel helmet uses Bontrager's collapsible cellular structure to provide the most cutting-edge safety technology available. With the integrated BOA Fit system and Fidlock magnetic buckle, you can perfectly fit and secure the helmet to your head with just one hand.
The Spectre WaveCel also includes multiple ventilation shafts, reflective rear decals, and washable, moisture-wicking inner pads. Bontrager provides a free replacement guarantee if you crash within the first year.
WaveCel System
BOA® Fit System
Fidlock magnetic buckle
Highly ventilated design
Washable, moisture-wicking helmet pads
Reflective elements on the back of the helmet
---
Bontrager – XXX Wavecell
5/5 star on Virginia Tech Helmet lab
MSRP: $300
This high-grade Bontrager WaveCel helmet is the ultimate road bike helmet, aerodynamically designed using wind-tunnel technology.
Beyond the WaveCel collapsible cellular structure impact protection system, it also benefits from Bontrager's BOA Fit one-hand adjustment system.
It's the perfect lightweight road helmet to reduce drag and improve speed as it is designed for optimal weight and aerodynamics, used by the professional Trek Segafredo men's cycling team. The XXX also comes with Bontrager's first-year Crash Replacement Guarantee.
WaveCel
BOA® Fit System
Crash Replacement Guarantee – Free helmet replacement if involved in a crash within the first year of ownership
---
Bell – Z20 MIPS
MSRP: $200
This advanced Bell bike helmet benefits from a progressive layering process that uses varying EPS foam densities to better absorb the shock of impact. It is also MIPS-enhanced for multi-directional protection and uses an in-mold polycarbonate shell for even better durability.
With 18 vents, X-static quick drying material, and a sweat guide pad design to redirect moisture, you'll be sure to stay cool and dry at all times.
Progressive Layering helps to better manage the transfer of energies from impacts
MIPS-equipped reduces the rotational forces from certain impacts
Float Fit Race system provides three-way adjustability
Made of EPS
Float Fit Race Closure System
---
Specialized – Echelon II MIPS
The cheapest 5-star safety rating road cycling helmet!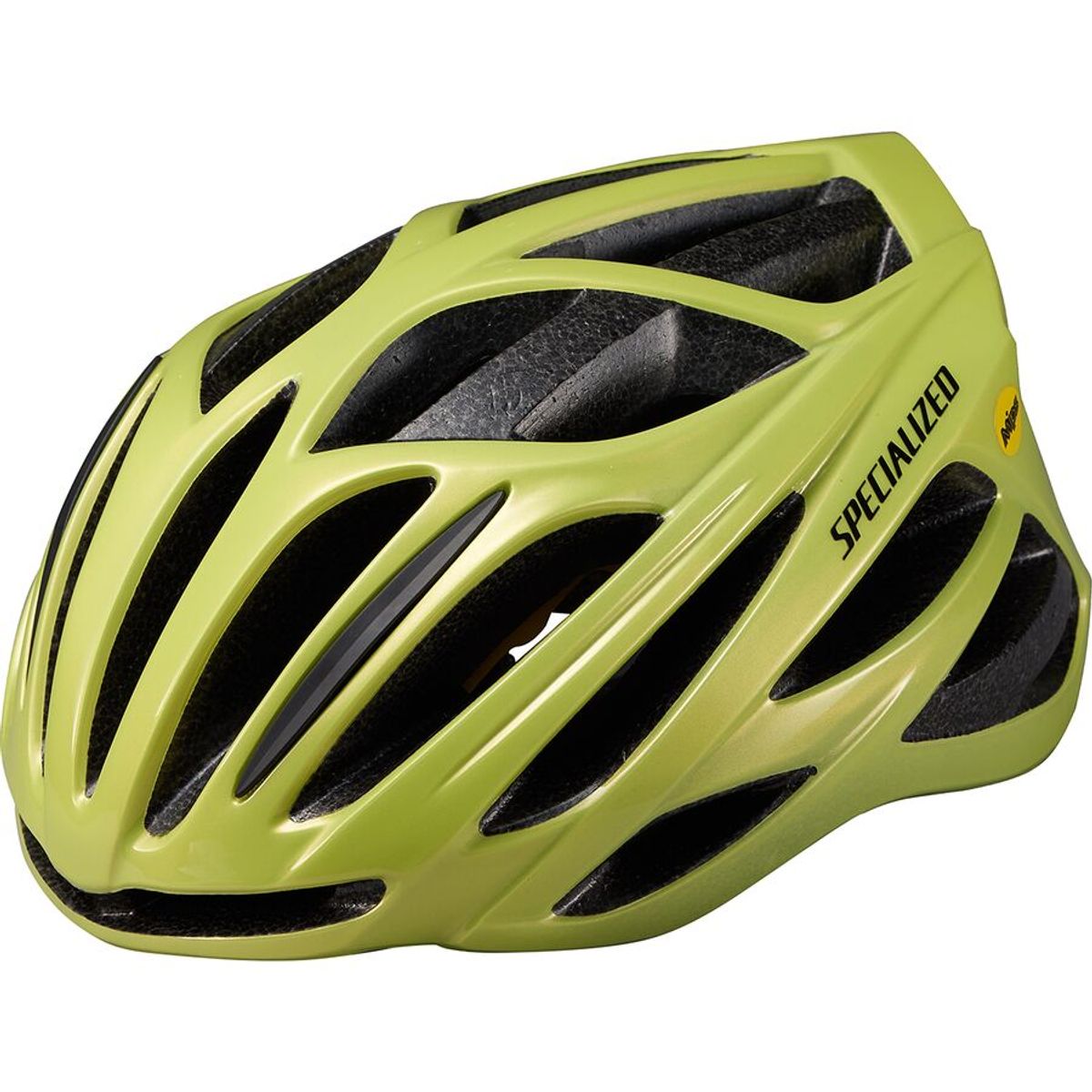 MSRP: $90
One of the more affordable Specialized bike helmets, the Echelon II offers excellent value for money. Not only does it benefit from MIPS rotational impact protection but also has a 4th Dimension Cooling system that uses a composite matrix for larger vents and better internal reinforcement.
The Tri-Fix web splitter offers easy adjustment for better fit and comfort, and reflective rear decals ensure visibility in low light.
MIPS Technology
Headset SL II fit system
4th Dimension Cooling System
Tri-Fix web splitter
Reflective details add visibility in low-light conditions
Buy from Jenson USA Buy on GovVelo.com
---
#4 Best Kids' Bike Helmets
---
Bontrager – Jet WaveCel
MSRP: $100
This top-quality Bontrager kids helmet uses WaveCel technology for improved safety due to its collapsible cellular structure. The Jet WaveCel meets ASTM safety standards, specially designed to account for the small head mass of younger riders.
The FidLock magnetic buckle allows for quick and easy fastening with removable soft padding and a Dialed fit system for ultimate fit and comfort.
---
Bern – Nino 2.0 MIPS Kids'
An awesome choice for toddlers – In a bike trailer or on a balance bike
MSRP: $70
At only $70, this high-quality boy's helmet is a steal. The MIPS-equipped helmet uses an EZ-fit system to accommodate smaller heads and a magnetic buckle for the most comfortable and convenient fit.
The lightweight Zipmold+ design is comfortable and protective, a removable flip visor shields your kid's eyes from glare. This helmet is also compatible with a winter liner or attachable light, purchased separately.
---
Thousand Jr. Bike Helmet
BMX style helmet for youth
MSRP: $60
This Junior helmet is part of Thousand's excellent collection of youth bike helmets, providing top-class protection for your kids. With multiple vents and an adjustable dial, your child will stay safe and comfortable at all times.
Perfect for children with a 19.3-20.9″ head circumference, the Thousand Jr. helmet uses a skate-style design and is certified for both two wheels and four.
A skate-style kids' helmet certified for two wheels and four
Adjustable dial and leather straps
6 vents promote cooling airflow
Occipital bone coverage
---
NutCase Helmets – Captain Gloss w/MIPS
2 sizes – For toddlers & youth (S/M)
MSRP: Check on Amazon
This toddler helmet from Nutcase is ideal for first-time riders, featuring an injection-molded ABS shell with Crumple zone EPS foam and MIPS for extreme protection.
The GROW Flex Fit system ensures ultimate fit and comfort with a heat-sealed 3-piece pad set and snap-n-go Fidlock magnetic buckle. This new and improved helmet comes with a visor, 11 ventilation shafts, and reflective logos for low light conditions.
Durable Injection-molded ABS shell with engineered Crumple Zone EPS protective foam featuring MIPS Safety Protection
New improved visor included!
11 contoured vents for ultimate cooling
Fidlock Magnetic closure
Heat-sealed, 3-piece pad set
Sizes – Toddler ( 48cm – 52cm ), Youth ( 52cm – 56 cm )
---
NutCase Helmets – Sock Hop Gloss w/MIPS (Little Nutty)
For toddlers, 15 new designs
MSRP: Check on Amazon

Sun-visor included.
Durable Injection-molded ABS shell
Engineered Crumple Zone EPS protective foam featuring MIPS Safety Protection
Visor included
11 contoured vents
Magnetic closure
2 sizes: Toddler ( 48cm – 52cm ) / Youth ( 52cm – 56 cm )
---
Bern – Bandito
Youth bicycle helmet with an integrated visor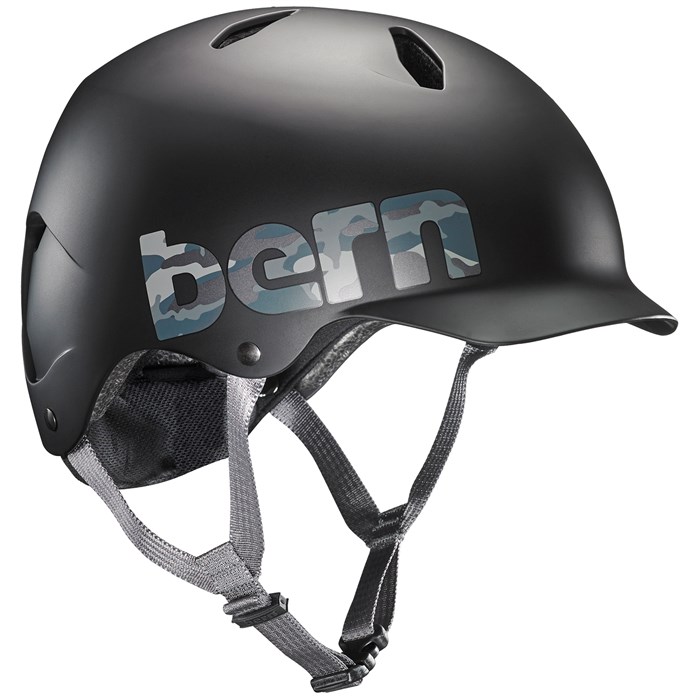 MSRP: $70
Stay stylish this summer with this bike helmet from Bern. With a unique decal design and lightweight build, you can rest assured your child won't want to take it off!
High strength-to-weight ratio!
It features EPS Thin Shell construction creating a lightweight, yet sturdy helmet with impact certifications to keep your kids safe. It's also easily adjustable for a quick and comfortable fit using the hook-and-loop stabilizing system. Your child will stay dry and comfortable with the removable and machine washable polyester linings, one of which is a warm winter lining for hitting the slopes (sold separately).
---
Bicycle Helmets Buying Guide
---
5 Factors When Choosing a Bicycle Helmet:
Light in weight
Great ventilation
Ergonomic fit
Good safety score
Bright color for best visibility
WaveCel vs. MIPS: How Do They Differ?
MIPS – Multi-directional impact protection system. MIPS reduces brain injury risk by minimizing the strains in the brain.
WaveCel – Up to 5x better at protecting your head compared to a traditional foam helmet. Crash Replacement Guarantee during 1st year! Read more about WaveCel's controversial hype from OutsideOnline
---
What are the Best Bicycle Helmet Brands in 2023?
Bontrager – A brand that revolutionized the bicycle helmet by designing the WaveCel. Aka Trek helmets.
Smith – A well-known outdoor & sports gear brand with an extensive selection of cycling helmets.
Specialized – High-quality mountain and road biking helmets.
Fox – A must-know brand specializing in mountain bike helmets.
Thousand Helmets – A brand that took over the urban cycling market with its untraditional yet multifunctional design.
Giro – Main focus: Mountain bike helmets and goggles.
NutCase Helmets – The widest variation of bike helmets for kids.
Bell – American motorcycle and bicycle helmet manufacturer.
Lazer – A brand specializing in helmets only – from motocross to superbike helmets.
---
Where's the Best Place To Buy a Bicycle Helmet Online?
---
Should You Wear a Hat Under the Bike Helmet?
In order for a helmet to offer maximum protection – it has to sit snug around the skull.
When you need to wear a hat under the helmet, especially with MIPS helmets, it is recommended to use a specific cycling cap with a small peak that wouldn't interfere with the fit. Most other types of hats such as baseball caps and beanies are not advised as they'll lift the helmet too high and in an unnatural position.