Road Bike vs Mountain Bike: Differences and Similarities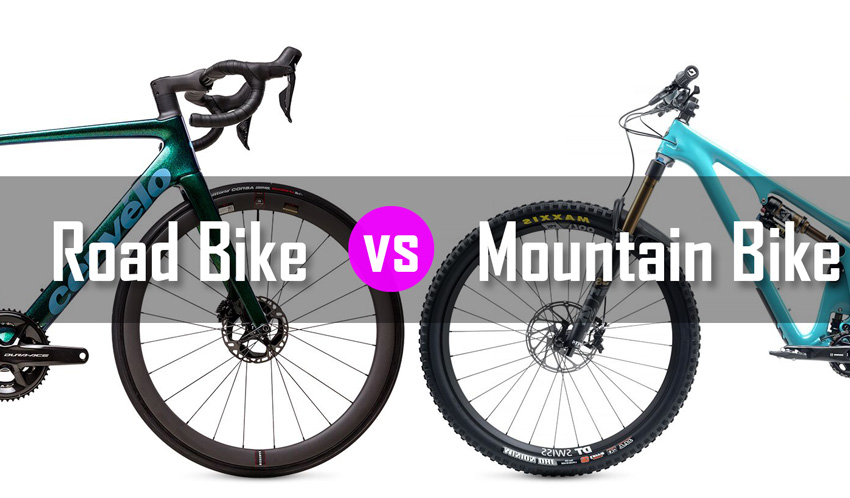 Road bikes and mountain bikes are the two most common types of bicycles available, serving the two most common riding disciplines – road racing and off-road adventuring. If you enjoy going as fast as possible on paved roads, a road bike is for you. If you prefer exploring nature and tackling rough terrain, you'll want a mountain bike.
Most other bicycle types, such as gravel, touring or commuters, are a variation or combination of these two bike styles.
Road Bike
---
Road bikes usually have lightweight frames with dropped handlebars, 29″ (700c) wheels, and thin tires. Each design element facilitates speed and comfort over long distances.
Frames
Road bike frames are built from lightweight materials, usually aluminum on cheaper bikes and carbon fiber on more expensive bikes. In very rare cases, you may also find a steel or titanium frame.
Handlebars
Road bikes almost exclusively use drop bars – handlebars that include a low hand position to make the rider even more aerodynamic. They typically use a combined control system that allows for braking and shifting without taking hands off the handlebars.
Wheels
Almost all road bikes use the European 700c wheel size, which is 29″ in diameter but thinner than standard 29" rims. On rare occasions, a road bike might have the newer 27.5″ wheel size. The rims and spokes are not designed to carry heavy weights, but rather to roll as fast as possible.
Drivetrain
Traditionally, road bikes have a 2x setup, combining two front rings at the crank with a 7 or 8-speed cassette. On some modern bikes, manufacturers have opted for a single front ring with a 10 or 11-speed cassette. Shimano is the most popular manufacturer of road bike gearing components, although SRAM and Campagnolo are also prominent.
Brakes
Until recently, road bikes typically used caliper brakes but more modern ones now use hydraulic disc brakes. Shimano and SRAM are the most common manufacturers of road bike brakes, with Tektro brakes occasionally seen on cheaper bikes.
Frame Geometry
Road bike frame geometry is designed to put the rider in an aerodynamic position, with the seat slightly higher than the handlebars. They usually have a short wheelbase for sharper handling and a low bottom bracket to facilitate maximum leg extension for speed.
Road Bike PROs over a Mountain Bike
The key benefit of road bikes is that they're usually lighter and faster than mountain bikes. They also navigate better through traffic and are easier to store and transport.
Mountain Bike
---
Mountain bikes are a more modern invention than road bikes, rising to popularity in the late 80s. Initially just bikes with thicker tires, they have evolved significantly over the years to include advanced suspension systems, dropper seat posts, and other expensive technology.
Frames
Modern mountain bikes typically have highly technical frames comprising several parts that make up an advanced rear suspension system. The top models are built from high-quality carbon fiber, with cheaper models using lightweight aluminum. The frames are usually heavier and stronger than road bike frames.
Handlebars
Mountain bikes have straight, wide handlebars that allow for better control on bumpy rides. They usually include thumb-operated gear shifters and brake levers at the riders' fingertips.
Drivetrain
Just as road bikes, mountain bike manufacturers are increasingly using a 1x gearing system. This helps to reduce weight, maintenance, and the chance of technical issues. They usually pair with a 10 to 12-speed cassette with a very wide gear range. SRAM is the most popular producer of MTB drivetrains, although Shimano is also very popular.
Brakes
These days, mountain bikes usually come fitted with either hydraulic or mechanical disc brakes. This is because of the need to stop rapidly on steep downhills or at high speed and in wet weather. SRAM and Shimano are the most popular brands, although Tektro is improving its quality and gaining favor lately.
Frame Geometry
Mountain biking now covers several disciplines, including downhill, enduro, trail, and all-mountain. Each of these uses different frame geometry, but in general, they all have a plunging top tube, slack seat tube, and higher bottom brackets for clearance.
Downhill bikes have slacker head tube angles and longer wheelbases while cross-country MTBs are the opposite. Most MTBs now have remotely adjustable seat posts to make hill climbing and descending easier.
Mountain Bike PROs over a Road Bike
Mountain bikes are more versatile than road bikes in that you can ride them both on- and off-road. While they are slower and heavier, they are also more fun and designed for adventure and exploring. They are also stronger, making them better for carrying heavy cargo or bicycle touring.
Conclusion: Which One to Get?
---
A hybrid bicycle is a combination of a road bike and a mountain bike. They have thinner tires than MTBs but thicker than road bikes, with straight handlebars and 29″ or 27.5″ wheels. The frames are similar to road bikes although stronger and heavier, with a rigid fork or occasionally just a basic suspension fork with short travel.
Mountain bike vs Hybrid bike
Hybrid bikes can't handle the same level of off-road riding that MTBs can, but they can tackle mild gravel, grass, or dirt conditions. This is because mountain bikes usually have dual suspension, whereas hybrids often just have front suspension or none at all. Mountain bikes have much thicker tires, usually 2″ or wider, whereas hybrids usually have 700c wheels with tires between 32-40mm wide.