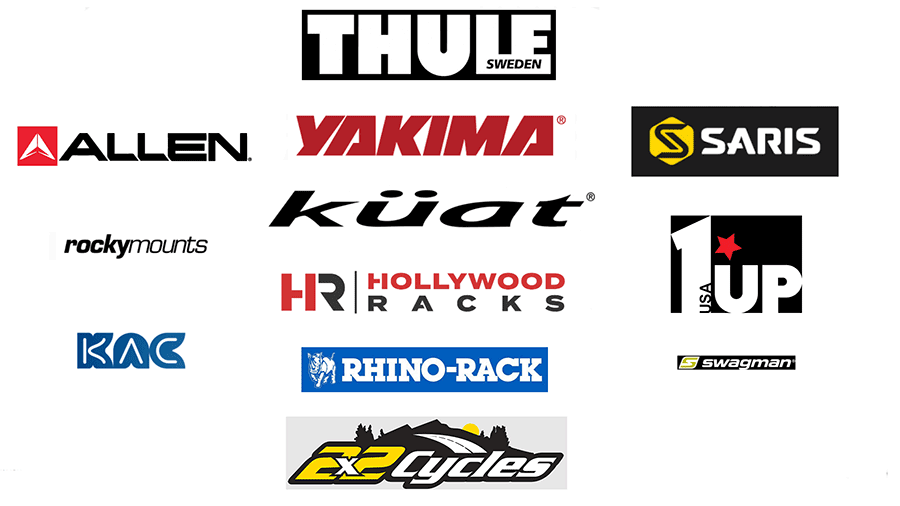 We believe that the best bike rack brands make products that take the stress out of transporting your bike.
Many companies produce these products, both bike carrier specialists like Hollywood Racks or those with racks as part of their range like Thule. Whatever the case, choosing a well-reviewed, reliable manufacturer that produces high-quality products will make your life much easier in the long run.
First, figure out your budget and which type of rack is best for you, such as hitch mount racks or truck bed racks. Then, you can choose the company whose quality, designs, and reputation meet your expectations.
---
TIMELINE
1942 – Thule
1967 – Allen Sports
1973 – Hollywood Racks
1974 – Saris
1979 – Yakima
1992 – Rhino Rack
1993 – Rocky Mounts
1990s – Swagman Racks
2001 – 1UP USA
2008 – Küat
2011 – 2×2 Cycles
n/a – KAC
---
1

. Thule
---
HITCH / BOOT / ROOF / TRUCK BED / Accessories
Thule is renowned for its product design innovation and engineering as well as the high degree of quality and durability typical of their products. Their bicycle racks for cars are some of the most innovative on the market, designed to make transporting your bike safe and easy.
Thule ensures the highest standard is met through rigorous testing procedures and standards carried out at a state-of-the-art facility for testing their products. They are also tested in real life by a professional team. Because of this testing, all of their racks have a large warranty period so you can be confident in the product for many years.
No matter what your situation, Thule aims promises to have the perfect rack for the job. Their range includes roof, truck bed, hitch, and trunk models with varying features and sizes. Their racks are easy to mount (mostly tool-free) and easy to use so you can quickly get on the road and in the saddle.
Shop on REI.com Shop on evo.com
---
2

. Yakima
---
HITCH / ROOF / TRUCK BED / TRUNK / SPARE TIRE / Accessories
Yakima is a specialist in racks of all kinds, based out of the US Pacific Northwest. The company designs vehicle racks for any usage, with a strong focus on cycle racks.
For four decades, they have constantly been innovating and leading within this niche industry. This dedication is evident in their products' quality and reputation and their many professional ambassadors, the RackPack.
Yakima bicycle carriers span a wide range of needs. Their products cover all styles of bikes and types of vehicles. In addition, they factor in your overall cargo situation and what kind of adventure you are pursuing.
Their styles include tray, verticle, and mast style hitch racks, trunk mounts, and roof mounts. To help you find the perfect model, you can follow their comprehensive Bike Rack 101 article.
Shop on REI.com Shop on evo.com
---
3

. Küat
---
HITCH / ROOF / TRUNK / Accessories
Küat is another US-based specialist in the manufacture and design of high-end bike transportation. Their team is passionate cyclists and outdoor enthusiasts who work tirelessly to offer high-quality products and elite customer service.
Kuat bike racks are optimized to be easy-to-use, lightweight, and sleek. The practicality of their products helps cyclists get out on the road faster and with less of a headache, allowing them to do more.
Küat primarily engineers hitch racks and roof racks along with accessories to boost compatibility and versatility. They sell six different models to help meet the most diverse range of needs possible, constantly balancing style with function and simplicity.
Examples of their technological innovations include a hands-free pivot system to take the heavy lifting out of transporting your bike, as well as an integrated bike repair stand on the NV 2.0.
Shop on REI.com Shop on Backcountry
---
4

. Saris
---
Proudly made in the USA
Saris bike racks are some of the best on the market. US brand is made up of a team of cyclists and cycling advocates.
This company's mission is to improve the world's health and make it a more connected place through bicycles.
One of their key product lines is the bicycle carrier rack. As seen in the graphic below, they sell many racks for different car styles and bike types. As a brand, Saris try to push the limits of what's possible to improve the experience of all types of cyclists.
To do this, The company produces durable racks that are exceptionally high quality and easy to use. Additionally, their products are very versatile and compatible. To back this up, they offer a limited lifetime warranty and of their car racks.
Finally, Saris is hugely active in the cycling community advocating for infrastructure improvements and grassroots developments in the United States and abroad.
Shop on REI.com Shop on Backcountry
---
5

. 1UP USA
---
HITCH / ROOF / Accessories
The American brand 1UP has been in operation since 2001 creating high-level products with beautiful craftsmanship and locally sourced materials.
Thanks to their dedication to their customers, 1UP bike carriers are inspired by the needs and wants of real cyclists, from family riders to pros.
1UP build racks to make your cycling life easier. This results in reliable, durable, and simple ways to transport your bikes.
On their website, you will find an in-depth comparison of each of their 8 racks to help find the perfect one for you, your bikes, and your vehicle. Finally, note that all of their racks have a 100% lifetime warranty for factory defects or breakage.
---
6

. Hollywood Racks
---
HITCH / TRUNK / SPARE TIRE / Accessories
Hollywood Racks is a long-standing company of rack-making specialists and one of the first to produce them in the USA.
In the '90s, they expanded internationally with various new products, including a hitch rack and spare tire rack. They quickly developed international recognition for versatile, strong, and reliable products and have gone from strength to strength since.
One of the company's key goals is to create affordable bike transportation solutions because "everyone should be able to afford a bike rack."
They continue making trunk, hitch, and spare tire versions of excellent quality and superior stability. Unfortunately, their racks are always in high demand due to their quality, versatility, and competitive prices and may be out of stock online.
Shop on Amazon Read Our Review
---
7

. Swagman Racks
---
"The term Swagman originates from Australia and describes someone who traveled by foot from farm to farm seeking work, carrying all of their belongings in a swag."
Swagman bike racks were one of the first companies worldwide to design and market a hitch-style bicycle transportation rack in the 90s. The company was founded in Penticton, British Columbia, on the doorstep of incredible outdoor adventures.
The company's mission is to build products that help you travel, explore, and discover without the headache of complicated transportation. For this reason, the company has a range of racks and necessities to make taking your gear safe and easy.
Today, the company produces racks of all styles, including hitch mount racks, roof racks, fork mount racks, and towing racks. From their selection, you can choose varied sizes from single bike to five bike carrying capacity. In addition, they have racks compatible with cars/SUVs, trucks, and RVs.
One notable feature of Swagman's products is that they sell racks explicitly designed for use with carbon and e-bikes.
Shop on Amazon Visit Swagman.net
---
8

. Allen Sports
---
HITCH RACKS / TRUNK RACKS / SPARE TIRE RACKS / Accessories
Allen Sports is a USA-based company that, for over 50 years, has completely specialized in the development of bike carriers. The company was founded by an Apollo program physicist named Dick Allen, who later switched industry when he identified a problem that needed to be solved, carrying bikes on family vacations.
Today, Allen Sports products are built and tested to the highest quality standards, ensuring the best reviews possible. As a result, their racks are known for ease of use, reliability, and durability, and value, leading to accolades for innovation, quality, and service.
Allen sports sells various bars racks, including hitch, trunk, spare tire, and compact racks. In addition, their website has a helpful Rack Finder tool that allows you to identify your exact vehicle model and year seek and see which racks will work.
Finally, a warranty covers each rack, and exceptional customer service ensures lifetime satisfaction with the products.
– Deluxe
– Premier
– Easy Load
– Ultra-Compact
Shop on Amazon Visit Allen.bike
---
9

. Rocky Mounts
---
HITCH RACKS / ROOF RACKS / VAN & TRUCK BED MOUNTS / Bike Locks
Since 1993, Rocky Mounts have aimed to bring their customers well-designed, dependable, and solid racks so that the next ride or adventure is never too far away.
One of the main characteristics of Rocky Mounts' designs is their cross-compatibility, the ability to work with all styles, sizes, and shapes of bikes.
With the awe-inspiring outdoors of the Rocky Mountain range in Colorado to test the racks, the brand ensures an easy-to-use and reliable product backed up by a limited lifetime warranty.
Amongst their product range is a wide variety of hitch racks and roof racks, along with truck and van mounts. In addition, Rocky Mounts also sell replacement parts and accessories for all of their products, even the discontinued ones.
Shop on Amazon Visit RockyMounts.com
---
10

. Rhino Rack
---
HITCH RACKS / ROOF RACKS / SPARE WHEEL RACKS / PICK-UP BED / Accessories
Rhino-Rack bike rack company is an Australian brand founded in the early '90s that manufactures transportation devices of various styles of which their bicycle carriers are a considerable component.
One of Rhino-Rack's core values is to protect the environment by making its products last as long as possible. This commitment begins with design right through manufacturing and distribution, creating the most eco-friendly products on the market. In addition, the company aims to make its products accessible to everybody, whether you're a beginner or a veteran explorer.
Amongst the six different racks that they sell, you can find a hitch rack, roof racks, a spare wheel rack, and a pickup bed rack, along with all the accessories you need for compatibility.
All of their racks face rigorous testing in the extreme Australian outback to ensure they are of the highest quality. The company backs this up by providing a five-year warranty on their racks.
Shop on Amazon Visit RhinoRack.com
---
11

. 2×2 Cycles
---
Bike racks for motorcycles
2×2 Cycles is a unique company that solves a niche problem for motorcycle riders by offering innovative bicycle-carrying solutions.
This US brand makes handbuilt rack solutions for motorcycles of all kinds to carry different sports equipment. Each of their products is also covered by a lifetime guarantee.
2×2 Cycles Was born out of necessity when the owner needed an alternative solution to the 15 miles-per-gallon truck for transporting their bike. In addition, this change in the mode of transport is a positive for the environment.
After experimenting in their home garage, they came up with the first bicycle carrying rack for a motorcycle.
Today, the company Sells a wide range of racks, both vertical and horizontal, compatible with different motorcycle styles. The products range from $189-$349, an affordable solution for any cycling enthusiast.
---
12

. KAC
---
HITCH MOUNT RACKS / TAILGATE PADS / Storage Racks
KAC operates out of prime mountain biking country in the Ozark Mountains. From its inception, the company's goal has been to build quality racks at affordable prices.
As bike riders, KAC saw a need for high-quality bicycle racks that are durable and protect your gear completely. In addition, they wanted to achieve this at prices everybody could afford.
KAC sells 11 distinct carriers, 10 of which are hitch racks of all shapes and sizes, and one truck tailgate bike pad. They also have models for electric bikes and fat-tire bikes.
Most of their racks are unique as they have wide tire trays and high weight capacities, so no bike is left out. In addition, the racks are designed to keep you and your bikes safe and secure with durability for many years, thanks to the heavy-duty steel construction.
Finally, KAC has its own patented anti-wobble system that helps keep your bikes sturdy at all times.
Shop on Amazon VISIT RideKAC.com >
---