What Is a Gravel Bike? Must-Have Features Explained
The question "what is a gravel bike?" regularly arises in cycling circles as it is a relatively new discipline and one of the fastest-growing. Gravel is a mish-mash of other bike designs, with characteristics of MTBs, road bikes, and touring bikes, resulting in the ultimate versatile adventurer.
The spike in popularity of gravel bikes highlights their broadly-appealing qualities. Many riders appreciate a bike that can do multiple jobs, especially given the expense of investing in more than one.
The gravel design cleverly solves a lot of problems, allowing you to ride almost anywhere you want, with relative comfort and efficiency.
To help you better decide if a gravel bike is right for you, we explain their shared features, the areas where they perform well, and some comparisons to other popular bicycle styles.
If you like what you see here, make sure to also check out our selection of the best gravel bikes on the market today.
What is Gravel Riding?
Gravel riding is a discipline that lies somewhere between road riding and mountain biking on the spectrum of disciplines. It was popularized in the US thanks to the vast network of unpaved trails and tracks spread throughout the country.
Competitive graveling involves long-distance races on varied terrain consisting of unpaved roads and dirt tracks, with some forest trails and paved roads sprinkled in.
What Is a Gravel Bike Used For?
---
Like most other categories, you find massive variance in builds and spec levels among gravel bikes. Some models are effectively endurance road bikes with minor geometry and tire size changes, while others resemble hardtail mountain bikes with slack geometry and fork suspension.
1. Adventure Riding – Bikepacking and Bicycle Touring
Upon their introduction, gravel bikes quickly became a go-to option for many bicycle tourers and bikepackers. Since then, manufacturers have continued to foster this connection by loading their gravel models with mounts for accessories and wide tire clearances.
Versatility, durability, and comfort make these bikes ideal for any day-long or multi-day ride where you must cross various terrains or ride in wet conditions. In addition, gravel frames can handle large cargo loads without sacrificing handling characteristics or comfort.
2. Off-Road Riding
In general, all gravel models share the ability to ride off-road on varied terrain, including forest trails, heavy gravel paths, and even moderate singletrack. This freedom to go off-road without a big sacrifice to speed on pavement appeals to many road riders.
Although gravel geometry varies, most models have long headtubes, slack angles, long wheelbases, and shorter reach to ensure stability and control on diverse terrain. Additionally, you can choose off-road-heavy designs if you enjoy that aspect more.
3. Paved Riding
Most gravel models are very comfortable and efficient when riding on tarmac and asphalt surfaces. While there is a speed disadvantage compared to pure road bikes, this isn't an issue for most people as you can still maintain high speeds on smooth surfaces while benefitting from greater comfort and grip thanks to the wider tires.
Again, this is highly appealing to bicycle tourers who do most of their riding on roads.
Gravel Bike Main Features
---
The question "what are gravel bikes?" is easier to answer when you understand the individual components. Almost all gravel models share parts and design elements that make them excellent all-rounders.
The following features vary between manufacturers and models but generally characterize the gravel category.
Frame Material
Most new gravel models are made with aluminum or carbon fiber. Additionally, a small minority are titanium or steel gravel bikes, like Niner's gravel models or Alchemy's titanium-framed Ronin.
Aluminum is popular on budget and entry-level gravel bikes as it is cheap to manufacture and process, lightweight, durable, and easy to manipulate for specific characteristics.
Carbon fiber is both an expensive material and costly to manufacture, meaning you only find it on bikes priced mid-range or higher. High-quality carbon frames outperform aluminum in almost every category, including weight, strength, responsiveness, and comfort.
However, they are slightly more susceptible to damage from side-on impacts and are also more challenging to repair.
Geometry
What is gravel geometry? Gravel bikes should be comfortable, efficient, and versatile, as described above. Additionally, they must be easy to control and stable off-road, as well as handle a loaded frame. To achieve this, manufacturers make slight changes to road geometry that result in drastically different ride characteristics.
Gravel bikes have a shorter reach, creating an upright riding position between that of a road bike and MTB, balancing comfort and aerodynamics.
Longer wheelbases, chainstays, and slack head tube/seat tube angles provide stability off-road and better allow riders to shift their weight around. Finally, gravel bikes usually have elevated bottom brackets like MTBs, for extra ground clearance off-road.
These characteristics vary hugely between models, with some resembling mountain bikes and others using aggressive road geometry with aero tube shapes.
Tires
Wide tire clearance is a signature feature of gravel bikes. Some gravel bikes have clearances capable of running tires between 28mm and 2.1″ (53mm), depending on the size of the wheel.
These wide, high-volume tires allow gravel riders to tackle almost any terrain or surface in comfort and with sufficient traction by increasing surface contact and absorbing vibrations.
In addition, gravel bike tires come with various tread patterns and depths depending on the intended use; deeper tread provides more grip on low-traction surfaces, whereas light tread is perfect for dry trails or roads.
Another increasingly common feature of new gravel bikes is tubeless-ready tires and wheels. Tubeless tires can run with lower PSI than tubular tires boosting traction and comfort while reducing the occurrence of pinch punctures.
Gearing
Many gravel manufacturers choose single chainring (1x) drivetrains with wide 11 or 12-speed cassettes (around 11-42t), closely resembling that of a mountain bike, just with a slightly narrower gear range.
This design ensures you have plenty of low gears to climb steep gradients off-road without getting out of the saddle (which could result in loss of traction).
Less popular but still common is the double chainring (2x) drivetrain of road-style compact (50-34t) or super-compact (46-30t) chainsets. These pair with wide, climbing-ready cassettes (11-32t).
The smaller jump between gears on 2x drivetrains allows for a smooth cadence and facilitates higher-speed riding thanks to additional high gears. Shimano offers both 1x and 2x options for their gravel GRX.
Disc Brakes
Disc brakes ensure you can ride confidently on all terrains and in wet and muddy conditions. They offer excellent control (modulation), reliability, and short stopping distances (power) regardless of the situation.
Almost all gravel bikes on the market have mechanical or hydraulic disc brakes. Hydraulic discs are the standard above entry-level pricing, thanks to their superior performance.
650B and 700C Wheels
Most gravel bikes have 700c wheels, with a smaller percentage using 650b. However, it is normal for gravel frames to have clearance for both sizes.
700c (29″) wheels are faster, more stable, and have better roll-over ability on bumpy trails, whereas 650b (27.5″) wheels allow quicker acceleration and better maneuverability on technical terrain. In addition, smaller 650b wheels can run wider tires, which improves traction and shock absorption.
Other Features
Handlebars
Gravel bikes use drop handlebars with two main differences. First, gravel drop bars are wider, and second, the drops flare out.
These changes reduce steering sensitivity to improve control on rough terrain and while descending at speed. Additionally, it enhances leverage, making it easy to clear big bumps on the trail.
Suspension
Fork suspension is less common but increasingly popular on gravel bikes as more and more models are tailored specifically for off-road riding. For example, RockShox and Fox have gravel-specific suspension forks with 30 to 50mm of travel.
Cannondale's Topstone Lefty is an example of a hugely popular gravel model with fork suspension. Some higher-end and electric gravel bikes also have frame-integrated micro-suspension, which absorbs light vibrations on the tarmac and gravel.
Dropper Posts
Another uncommon component for gravel bicycles is a dropper post. Select models designed for hard off-road riding will include a dropper post to make descending rough or technical trails safer. Using a lever at the handlebars, you can lower the seatpost, getting it out of your way while you drop your weight back on the bike for stability.
Mounts
As mentioned above, the graveling definition includes adventure riding and bicycle touring as fundamental aspects. For this reason, almost all manufacturers provide several mounting points for all kinds of accessories, including racks, fenders, bottle cages, and places for bicycle frame bags. The inclusion of these mounts also makes gravel bikes ideal to be used as commuter bikes.
How Are Gravel Bikes Different from Cyclocross Bikes?
---
In short, both bikes are similar in terms of versatility and durability. The main difference is gravel bikes are designed for comfortable, long-distance riding, whereas cyclocross (CX) bikes are fully-optimized race machines.
Cyclocross bikes must have more aggressive ride characteristics to provide a racing edge. These include sensitive steering closer to a road bike, a super-responsive frame design for fast acceleration, steeper angles for an aero ride position, and a stripped-down frame with fewer mounts. Conversely, gravel bikes have a more upright ride position, slack angles, softer steering, and plenty of mounts.
The other key difference on CX bikes is tires, limited to 33mm in width by the cycling's governing body, the UCI. So while the bikes usually have extra tire clearance, the geometry is optimized for 33mm tires. This width is typically the smallest you would see on a gravel bike, with most models running 40 to 47mm tires as stock.
How Are Gravel Bikes Different from Hybrid Bikes?
---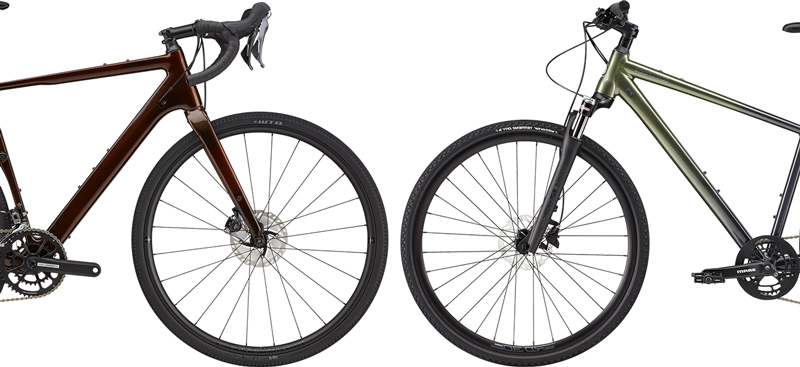 Comparing a gravel bike vs. a hybrid is less complex as they look different. That said, the bikes have many shared characteristics. For example, both are great for urban riding, commuting, and light trails or gravel paths, but gravel bikes function much better on rough and technical terrain.
Hybrid bikes also come with either 700c or 650b wheels but can rarely change between them, as can gravel bicycles. Likewise, both styles come with various tire widths as standard, but gravel bikes usually have more clearance to switch between sizes and more tread on the stock tires for off-road riding.
Another big difference between them is hybrids use a flat handlebar and a much more upright position, similar to a mountain bike. Finally, hybrid bikes aren't as comfortable or efficient for long-distance riding.
How Are Gravel Bikes Different from Road Bikes?
---
Although they look strikingly similar, gravel bikes easily handle the demands of off-road trails but fail to excel in any one domain. Conversely, road bicycles are far more specialized and perform exceptionally well on tarmac and asphalt surfaces, but their performance diminishes rapidly as the terrain gets rougher.
To achieve this specialization, road models have more aggressive geometry and riding positions, narrow tire clearance (up to 32mm), narrow handlebars for more sensitive handling, and double chainsets to minimize jumps between gears and ride at higher speeds.
Finally, there are three types of road bikes to consider, endurance, performance, and all-road bikes. Of the three, all-road bikes are closest to gravel, with optimizations for comfort and versatility.
Final Thoughts: Should You Get a Gravel Bike?
---
We think gravel is an excellent option for many riders, given the inherent comfort, versatility, and durability. However, to help you decide if you should get a gravel bike, you must determine what type of riding you want to do and the conditions of where you live and ride.
If you want a bike for long-distance road rides with the chance of light gravel paths, an endurance road bike with some extra tire clearance should be sufficient. Likewise, a hardtail mountain bike may be the better option if you want a trail-ready machine for long rides off-road.
Choose a gravel bike if you have diverse demands for your bicycle, including long-distance rides on varied terrain on and off-road, commuting and bicycle-touring, or riding in wet weather. Finally, you must value versatility ahead of specialization and be comfortable with a bike that doesn't excel in any specific domain.