Why eBikes Use a 1x Drivetrain
Most eBikes on the market have 1x drivetrains (single chainring), yet a small minority choose a 2x setup.
Examples of the most common drivetrains include:
1×7 on e-Commuter/ Hybrid e-Bikes
1×11/ 1×12 on e-MTB, e-Gravel
2×10 on e-Road / e-Gravel
There are a few reasons to choose a 1x drivetrain, especially on electric bikes, and this article will explain why.
Why do Most Electric Bikes Use a 1x Drivetrain?
The primary motivations for e-bike manufacturers to choose a simple single chainring setup over a 2x or 3x alternative include:
Electric bicycles don't need extensive gear ranges because the motor provides enough power to get up most gradients.
A single chainring is lighter and e-bikes need to save weight where they can.
Wide MTB/Gravel bike cassettes can provide huge gear ranges without needing an extra chainring, meaning you can maintain the appropriate cadence to maximize your battery life.
Mid-drive motors are often incompatible with front derailleurs, so a 1x or internal geared hub is needed.
Having a throttle on the left side makes placing the front derailleur shifter difficult.
A 1x drivetrain is less complex, reducing maintenance needs and the likelihood of damage.
It's worth noting that a 2x drivetrain may be more efficient though.
What Other Bike Types Use a 2x Drivetrain?
Although most MTBs, Gravel, Cyclocross, Commuter, and e-bikes have moved to a 1x drivetrain, some bike types have resisted the change. Most bikes in the following categories have double chainrings:
Road
Hybrid
City
Touring
Cargo
Gravel
E-Bike Motors with 1x Drivetrains – Rear Hub and Mid-drive
---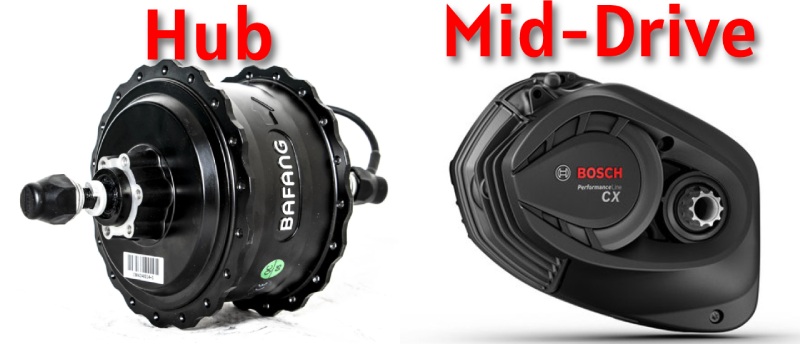 The most prominent category of eBikes on the market is hybrid/commuter-style bikes. In general, these bikes use a 7-speed cassette with a single front cog.
In addition, E-Commuter, E-Hunting, E-MTB, E-Cargo, E-Hybrid, E-Folding all favor 1x drivetrain for simplicity and durability.
For most electric bikes, both hub-drive and mid-drive, anything more than a single front chainring isn't necessary.
A motor is strong enough to make up for the marginal performance gains of extra gearing and the big jump between gears on a 1x drivetrain.
As most non-electric road bikes use double chainrings, it makes sense that electric road bike manufacturers seem reluctant to make the switch. Maintaining a 2x drivetrain is particularly relevant to the high-end e-road bikes, which are light enough that you can ride them comfortably without pedal assistance.
A final point worth mentioning, a considerable benefit of a hub-drive motor is you can ride it even with a broken chain as the motor, not the drivetrain, turns the rear wheel.
Why are 2x drivetrains more common on mid-drive motors?
With many mid-drive motors, such as Bosch, you cannot fit a front derailleur making a 1x drivetrain the only choice. However, Fazua mid-drives, for example, the motor choice on some of Trek's e-road series, work with a front derailleur.
Which eBikes still use a 2x front chainring and why?
---
Hub motor & mid-drive
Cannondale – Neo SL 2 Gravel
With most gravel bikes turning to a 1×12-speed drivetrain and most hub-drive bikes using a single chainring, it's a surprise that Cannondale has kept with a 2×10-speed derailleur on their latest Topstone Neo SL 2.
As the cheapest bike in their e-gravel range, the Neo SL 2 has a Mahle ebikemotion X35 250W hub motor instead of a premium mid-drive. The motor combines with a SmartFrom C2 aluminum frame and Shimano GRX drivetrain.
This bike has various mounts for gear and bottles, allowing you to transform it into the perfect touring bike. Additionally, you can plug in a range extender to boost your battery capacity from 250Wh to 450Wh.
Perhaps Cannondale chose this 2x drivetrain because they want it to be versatile enough for bicycle touring or because this motor is one of the lightest on the market, which keeps the bike's weight down (only 32lbs). It is ideal to ride without the motor at this weight, making the extra gearing worthwhile.
Trek – Domane+ LT 7
Trek's Domane+ LT 7 is an elite-level electric bike almost identical to the non-electric version.
The Domane series is designed for comfort with endurance geometry and Trek's innovative IsoSpeed vibration dampening technology.
Trek's intention for this bike is clear: it functions equally with or without pedal assistance. To accomplish this, owners can remove their battery and replace it with a cover (extra purchase) to save over 6lbs, leaving you with a 23lb bike, lighter than most regular road bikes.
The Fazua Evation motor makes it possible to fit a front derailleur and remain with the standard 2x road bike drivetrain. The extra chainring with a wide cassette ensures you can always find the right gear, motor or not.
Finally, this bike is also compatible with aftermarket accessories and wider tires suitable for bike touring, further motivating the inclusion of a double chainring.
Electric Bikes with Internal Gearing
---
Internal gearing is often used on belt-drive eBikes
A belt drive with an internally geared hub (IGH) is another alternative to the single chainring.
Modern IGH technology such as Enviolo or Sturmey Archer is quickly catching up to regular cassettes. For example, some Enviolo hubs offer gear ranges over 500%, putting them on par with some 12-speed MTB cassettes.
In addition, these hubs significantly reduce drivetrain complexity and are not subject to wear like traditional drivetrains. All of this makes for a massively extended lifetime, especially when combined with a belt drive. These longevity and maintenance-free characteristics make an IGH an excellent choice for many e-bike riders, especially commuters.
The Verdict
---
After careful thought about this area, a few reasons stand out to explain why most electric bikes (even cheap ones) favor 1x drivetrains over 2x.
Cheaper – 1×7-speed drivetrains have fewer components than 2x, making them more affordable to buy/manufacture
Lighter – Fewer components means less weight, which is especially important to electric bikes
Durability – Fewer moving parts means less can go wrong, resulting in a longer average drivetrain lifetime
Sufficient – E-bike motors offer more than enough to make up for a narrow gear range
Compatibility – 1x drivetrains are universally compatible with motor types and brands
Given these reasons, it makes sense that more and more e-bikes will feature a 1x drivetrain, especially considering wide-range cassette technology is less than a decade old and likely to continue improving.
Who knows, maybe one day even road bikes will have 1x drivetrain as the standard?
---