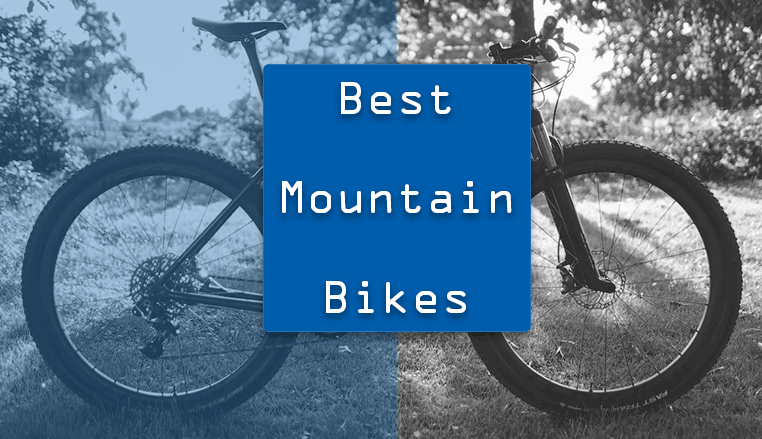 Mountain biking can be as fun and challenging as you make of it – It is a priceless activity and a great excuse to spend some quality time in nature.
Choosing a bike is an investment for at least 5 to 10 years. Once you are certain in your decision to choose a mountain bike as your next bicycle – whether it'll be an upgrade or you are simply starting out on the trails, you'll find a selection of the latest and best value mountain bikes in this article.
There are quite a few different disciplines of mountain bikes to choose from, so follow our guide if you are not entirely sure which one to get!
---
Best Hardtail Men's Mountain Bikes of 2023
---
1

. Niner Air 9 2-Star

Best aluminum hardtail mountain bike
MSRP: from $1,999
Jenson USA
As you can read from the title – here you'll find a selection of the best mountain bikes in 2023 and the number one bike in this list is here for obvious reasons.
Niner Bikes is a renowned mountain bike brand whose line of bikes is dedicated to performance riders. Those bikes are easily capable of winning races, therefore the geometry and set-up might be a little too much for an intermediate, Sunday cyclist.
Unless you really like to charge hard and make no compromises when it comes to quality, this 29er mountain bike is a beast to have fun with. Pushing those boundaries will now be up to you on this tool.
Niner Air 9 is an aluminum hardtail mountain bike with a 120 mm suspension fork, a 12-speed drivetrain, and 29×2.6″ tires. The 2-Star model boasts a SRAM SX Eagle drivetrain, Marzocchi Bomber Z2 Rail fork, a Niner Custom saddle, and SRAM Level hydraulic disc brakes. It doesn't come with a dropper post, but you can fit one. Check out our recommendation of the best dropper seat posts.
Depending on how hard you shred, the Air 9 range has quite a large variety of set-ups to choose from, while the geometry of the bike is suitable for top-class riding in all bikes throughout the range.
HT angle: 70° / ST angle: 73° / Chainstay: 435mm
---
2

. Santa Cruz Bicycles Chameleon AL D R

Best Trail Mountain Bike – Switch the dropout from 27.5″ to 29″

MSRP: from $2,149

As the name reveals, the latestChameleon is SC's vision for a bike to blend into the most surroundings!

It simply adapts to most environments with a flick of a thumb – whether it is a rugged single track, rocky downhill descents, or XC marathon trails – you can count on this bike to be your best companion. The Chameleon comes in either aluminum or carbon frame, 27.5″ plus-sized tires which accommodate a 130mm travel fork while 29ers come with 120mm travel. The bikes start as low as $1,949 for aluminum frames and go up to $5,000 for the limited edition.
Aluminum frame (Carbon available as well)
Fits 27.5″+ and 29″
RockShox Recon RL, 120mm
SRAM NX Eagle Shifters
12-speed SRAM SX derailleur (Can be run as single speed mountain bike)
SRAM Level brakes
Cane Creek 10 IS integrated headset
SGD Tellis dropper seat post
WTB i40 TCS 2.0 rims
Water-bottle mounts on/under downtube
Head Tube Angle: 67.1°
This is simply one of the best value high-end aluminum hardtail mountain bikes you can get!
Buy from evo.com Buy on Mikesbikes.com
---
3

. Salsa Rangefinder

120mm travel all-mountain hardtail, wow
MSRP: $1,699
REI
You are looking at one of the hardest-charging aluminum all-mountain/trail hardtail mountain bikes – the Rangefinder by Salsa.
With a 120mm travel SR Suntour front suspension and an aluminum frame, the Rangefinder rocks a Shimano Deore 12-speed derailleur and shifters, WTB ST i30 wheels, and 2.6″ Maxxis Rekon tires. The Rangefinder is being stopped with Shimano MT200 mechanical disc brakes.
We are talking about a sub-$2000 hardtail mountain bike with an aluminum frame. There's an interesting combination of components you'll see on many higher-end builds such as the WTB Volt saddle and Shimano Deore 10-51T cassette. The dropper-post is made by the TranzX!
Head Tube Angle: 68°
Seat Tube Angle: 74°
---
4

. Cannondale Trail 8

Cannondale's entry-level Trail edition
MSRP: $625
The Trail series by Cannondale offers eight bikes in the range, whereas Trail 8 is the best value that retails for $625, and the mid-range models sell for around $1,500.
The Trail 8 is a great mountain bike for recreational & beginner cyclists as it has the right components you'd want to expect in 2023 in this price range. The geometry of this bike is also great for mountain biking on challenging tracks, and it can also be used as a perfect all-rounder bike due to the 75 mm travel fork on the front.
What stands out most about the bike is obviously the 2×7-speed drivetrain by Shimano and Tektro mechanical disc brakes, a SR Suntour suspension fork, and WTB Ranger Comp tires.
27.5″ or 29×2.25″ tires
75 mm travel
14-Speed
Head Tube Angle: 68°
---
5

. Salsa Beargrease

Best carbon fat bike
MSRP: $2,899
Aventuron
The Salsa Beargrease is a fat tire mountain bike with a full carbon fiber frameset, and a rigid fork.
This impressive Salsa carbon frame is stiff and responsive and incredibly lightweight, giving this bike a premium feel. The huge 4″ 45NRTH Vanhelga fat tires ensure comfort, traction, and durability on almost any terrain you encounter.
Of course, this bike is slightly limited on chunky downhill terrain without suspension, but the wider tires mean you can ride on snow, sand, and mud without issue.
The groupset comprises Shimano's Deore 11-speed drivetrain with an 11-51t cassette and reliable Tektro hydraulic disc brakes.
All things considered, if you're in the market for a fat tire mountain bike, you won't get much better than the Salsa Beargrease in the sub $3,000 price range.
27.5″ x 4.0″ tires
Carbon frame and fork
Shimano Deore 11-speed
Tektro HD-M275 hydraulic disc, 160mm rotors
WTB Volt saddle
Buy on Aventuron.com Buy from REI
---
6

. Alchemy Argos

Hand-made titanium frame
MSRP: from $6,299
Alchemy Bikes
When it comes to ultra-durable, stylish, and well-thought-out mountain bikes, you can surely count on Alchemy. The Argos hardtail is equipped with the latest technologies that are ideal for the best hardtail mountain bike experience.
This truly is a hardtail trail mountain bike to consider when you are looking for a performance race' companion. Just look at the list of components, and tell me what's there to upgrade.
The only downside about this bike is that you'll need to climb up some gnarly hills to enjoy those rugged terrains on your way down. Another great thing about this excellent balance and weight distribution for these tackling steep, varied terrains!
Titanium frame
Fox 34 29 Factory Kashima 140mm fork
12-speed drivetrain
Maxxis Minion DHF/DHR 29×2.3″ tires
Industry Nine carbon rims
Head Tube Angle: 65°
---
7

. Rocky Mountain Growler 40
MSRP: $1,799
Jenson USA
Look no further when you want THE entry-level hardtail to conquer any single trail with the best possible speed and confidence.
The 29er Rocky Mountain Growler 40 is the brand's middle-of-the-line aluminum hardtail with a massive 140mm fork on the front. The rather slack geometry is best for all-mountain blasting, while the 29-inch wheels complement the ones like to go fast.
We believe that hardtail MTBs have a solid place to stay, and they can easily make a comeback among both new and experienced mountain bikers alike. As hardtails offer greater efficiency compared to full-suspension mountain bikes, the Growler 40 is excellent value and has multiple reputable features.
Aluminum 6061
Shimano Deore 12-speed
Suntour Raidon 34 LOR Air Boost, 140mm travel
Head tube: 64°
Seat tube: 75°
---
8

. Marin San Quentin 2

Fantastic value for this amount of money
MSRP: $1,499
Jenson USA
The Marin San Quentin 2 is as tough as it looks. Equipped with solid components, a durable frame, and a massive RockShox FS35 Silver 140mm travel fork in the front gives you a ton of freedom when you'd really like to push the bike to its limits!
The 1×11 Deore drivetrain is known for being light, reliable, and easy to maintain. Shimano MT201 2-Piston hydraulic brakes, Vee Tire Co. Flow Snap 2.6″ tires inspire confidence, but lack cornering traction.
Marin San Quentin 2 has some fantastic surprises when it comes to the components fitted to it. When we saw the price and analyzed the parts, we had no second thoughts about including it on the 'best mountain bikes' list. While this is a 27.5″ mountain bike made by Marin, it boasts quite a good set-up for beginner mountain bikers.
27.5″ Wheels
11-Speed
Head tube: 64°
Seat tube: 77°
---
9

. Orbea Laufey H30
MSRP: $2,000
Mike's Bikes
The Orbea Laufey is one of the best value trail hardtails on the market. The bike is ideal for riders who want to enjoy a range of terrains off-road and maintain some efficiency when riding on pavement.
With all of its high-tech features, starting with the frame of triple-butted aluminum and RockShox Recon RL 140mm fork suspension, it is hard not to include the Laufey H30 on any list. It comes with 29-inch wheels which make for more stability and faster rolling speeds.
There's no doubt the Shimano Deore M5100 11-speed drivetrain can handle hard riding. Orbea really thought about everything, including premium Maxxis Forekaster and Rekon 2.6″ tires and Shimano MT201 hydraulic disc brakes.
29″ wheels
140mm travel
11-Speed
Best Full-Suspension Mountain Bikes of 2023
---
10

. Ibis Ripmo

Big wheel, big travel speed demon

MSRP: $4,399
Jenson USA
The Ibis Ripmo V2 Deore is a full carbon trail bike with an aggressive frame geometry that combines longer reach with a steep, 76-degree seat tube angle. This places the rider more forward over the pedals for better control on steep, tricky descents. In addition, the slacker 65.9-degree headtube and 44m reduced-offset fork make climbing less wobbly, resulting in an excellent all-round trail bike.
The front fork is a DVO Onyx D1 with 160mm of travel and the rear suspension features a DVO Topaz T3 Air shock that features a compression adjustment lever with three settings. Both these parts can be upgraded to Fox Float Factory parts or a DVO Jade X Coil on the rear. For downhill riding you also get a Bike Yoke Revive dropper post and on the wheels are Ibis rims and Maxxis Assegai 29×2.5″ tires.
29″ Wheels
Front Travel: 160mm
Rear Travel: 147mm
12-Speed
Head Tube Angle: 64.9°
---
11

. Ghost Lector FS LC Universal
MSRP: $5,800
REI
The Ghost Lector FS LC Universal is a premium full-suspension mountain bike. The stylish black/orange finish makes this look like a high-end bike. The 120mm travel in the front and rear categorizes this bike as a cross-country MTB.
The Lector FS LC Universal rocks a 10-50T 12-speed SRAM GX Eagle drivetrain, carbon frame, and 2.35-inch IKON tires by Maxxis. RockShox SID Select+ is what represented the front end with a SID LUXE Select+ in the back.
HT: 68º
ST: 75.5º
Chainstays: 435-440mm
Rear shock: RockShox SID LUXE Select+
---
12

. Cannondale Habit 5
MSRP: $2,525
Cannondale never fails to surprise us. The Cannondale Habit 5 is an entry-level full-suspension mountain bike with trail-focused geometry; solid features packed into an affordable price tag.
Built for trail enthusiasts who wish to start racing or check out some awesome descents in and around the county, the new Habit 5 is built around a SmartForm C1 alloy frame that is lightweight and offers nimble and responsive handling, especially on tricky descents. A perfect alternative to much pricier carbon frames seen in that price range.
The combination of RockShox 35 Silver front 140mm and rear Deluxe Select 130mm suspension makes light of any bumps and rocks you encounter on the trail.
We'd feel free to try and reach our potential with this kind of setup. Shifting is one of the most critical points on a trail bike for anyone, and the 11-speed Shimano Deore derailleur means you will have no headaches on the trail. Shimano Tektro M275 hydraulic disc brakes certainly clear that last doubt from your mind.
Maxxis Ardent 29 x 2.4″ tires
Front Travel: 140mm
Rear Travel: 130mm
11-Speed
Head Tube Angle: 66°
---
13

. Yeti SB130 Series

Best High-End Performance Carbon All-Mountain Bike
MSRP: $6,400
The Yeti SB135 is a line of high-end carbon trail bikes with the best components for performance riders. Yeti mountain bikes are perfect for professional trail riders who want to start winning races, therefore the bike might be too much for a casual cyclist.
The SB135 is a premium line of bikes coming from Yeti, featuring a light, stiff, and responsive carbon frame, that can win any Enduro podium!
Fox Performance 36 and Fox Performance Float 150mm fork and shock will allow you to start practicing on terrains unimaginable to you before.
For the $6,400 that you'd need to pay for this build – you will get one of the top trail bikes with Shimano SLX 12-speed rear derailleur, which is the best you can find on the market right now.
Maxxis Minion 27.5 x 2.5″ tires are a combo that will make you fast on harder flats and perfectly optimized grip in tight turns. Simply put, the Yeti SB135 speaks for itself – It's a bikes you'll fall in love with and finally start winning some races.
27.5″ Wheels
Front Travel: 150mm
Rear Travel: 140mm
12-Speed
Head Tube Angle: 65.4°
---
14

. Niner WFO RDO 2-Star

Best Enduro MTB
MSRP: $5,199
Jenson USA
The Niner WFO RDO 2-Star is an all-terrain machine that can both climb hills efficiently and tackle fast flats and downhill. This Niner bike is built around RDO Carbon technology, which makes it amazingly lightweight, stiff, and resilient.
The frame is made complete with the Fox 38 Float Performance GRIP EVOL fork with 180mm of travel and the Fox Float X2 Performance rear suspension linked with Niner's CVA suspension system. These make this bike a true Enduro machine, but give it some downhill traits as well. This frame has fully internal cable routing and a flip chip which I love as it allows you to change geometry while riding.
Today's bikes generally do not lack gearing, so the Niner solved that with a lightweight and quick 12-speed SRAM SX/X1 Eagle drivetrain. Hydraulic disc brakes are a must on a bike of this caliber, so the SRAM G2 R 200mm-rotor hydraulic brakes provide more than ample braking.
The Niner WFO RDO 2-Star is an incredibly capable and plush 29er enduro bike designed for the harshest downhill terrain and surprisingly efficient climbing.
29″ Wheels
2.6″ Schwalbe Magic Mary and Hans Dampf tires
180/170mm travel
12-speed
Head Tube Angle: 64°
---
What Else Do I Need To Know?
---
Price Category Must-Haves

Front Suspension with Lockout
A good MTB should have a lock-out feature on the suspension fork, with plenty of adjustments to be made according to the trail and rider.
Internal Cable Routing
Internal cable routing is obviously another must these days, alongside with
1x Chainring
1x front chainring with 11- or 12 speed rear cassette.
Tubeless-Ready Wheels and Tires
Also, the majority of mountain bikers have turned to tubeless-ready wheels and tires.
SRAM and Shimano Components
SRAM has been dominating the MTB industry, while higher-end Shimano components are present on many bikes.
Popular Wheel Sizes
29″ vs 27.5″ vs 26″ mountain bike wheels, 27.5″ or 29″ wheels are basically a must these days.
29″ Wheels: XC, Trail, All-Mountain, Enduro
Best for going fast on straight lines
Great rollover capabilities
Preferred by taller riders
27.5″ (650b) Wheels: XC, Trail, All-Mountain, Enduro, Downhill
Better on technical sections
Allows to fit plus-sized tires 2.4-2.8″ wide
Faster acceleration
26″ Wheels: Park, Trail, XS frame sizes
Often seen on older mountain bikes
Available in XS, S frames
Prices & What To Expect
Suspension Travel
Short, mid vs long-travel
Short suspension travel is anything less than 100-120mm and is best for all-around performance, as well as for smoother trails and uphill rides. Long suspension travel is between 120-200mm and is best for high-speed descents on rough terrain. The larger the travel, the more suitable the bike is for descending.
Learning to mountain bike is a fun and challenging process that never truly ends, but the learning process is ...
We can also combine these traits in mid-suspension travel bikes, but we lose some of the advantages of both worlds this way.
Gears
How many gears are enough on a bicycle?
Gears are generally not a problem on today's mountain bikes. These days mountain bikes usually have between 9 and 27 gears on 1x, 2x, or 3x cranksets. All of these setups will provide you with plenty of gearing. The only time you might need to get off your bike is up to some extremely steep hills.
1x chainrings = Option among mid/high-end bikes.
2x chainrings = Mid-range bikes
3x chainrings = Often used on cheaper or gravel bikes.
Head Tube Angle
The head tube angle is important because it affects handling.
XC – Cross Country bikes have steeper head angles (69-71 degrees) which makes the fork more upright and provides sharper handling.
Aggressive enduro and trail bikes have sharper head tube angles (65-68 degrees), which makes the fork more parallel to the ground. This provides more stability, but it affects handling
Downhill bikes have slacker head angle (62 degrees and up)
Women's Mountain bikes vs Men's Mountain bikes?
The main difference in women's mountain bike geometry is the shorter top tube, which also has a lower angle for easier on- and off. It is also the aesthetics, obviously.
Related: Best Women's Mountain Bikes of 2023
What are the best mountain bike brands?
Bike brands that are specialized in the mountain bikes scene are – Ibis, Santa Cruz Bicycles, Yeti, Orbea, Evil. Many other popular mountain bike brands are Giant, Trek, Mongoose, Cannondale, Diamondback, GT Bicycles, Rocky Mountain, Scott, and many others.
Read more from our Best Bike Brands article to find out more!
---
To Wrap It Up
Before buying a mountain bike, you need to ask yourself what you want to do with it and how serious you are going to be about it. Are you planning to go for relaxed forest rides on trails, ride long cross-country rides, or do downhill descents? All of these categories require a different bike. After that, determine your budget and you can finally pick your perfect bike! This way, you'll ensure that you'll end with the best mountain bike for your needs!