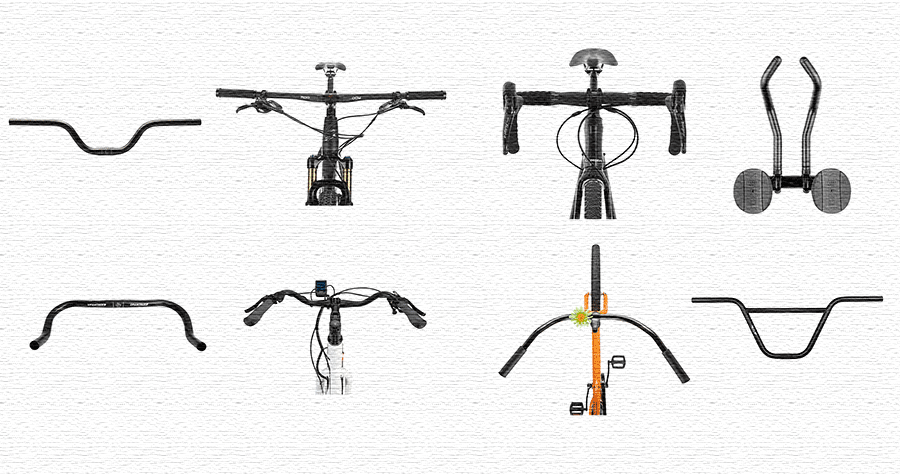 Bicycle handlebars have evolved a great degree over time. The shape, angle and overall characteristics play an important role regards comfort and performance. In this article we'll cover all the possible bike handlebar types, where they are being widely used, and why do they have a shape like that. Have a look.
1. Riser bar
2. Drop bar
3. Flat bar (Straight bar)
4. Mustache (Cruiser)
5. High rise (Monkey bar)
6. Bull horn bars
7. (Surly manillar) Terminal bar
8. TT / Aero bars
9. Ape Hanger
10. Pursuit handlebars
11. BMX Handlebars
12. Sunrise Handlebars
13. Trekking Bar
14. Surly Moloko
1

. Riser bar
---
Classic, most popular type
Riser bars, also known as upright bars, are probably the most common and simplistic style of bicycle handlebars.
They are characterized by a bar that has a dip in the middle and rises up on both ends, placing your hands in a position higher than the saddle. The brake levers are placed in front of the fingers for easy reach, while the gear levers are controlled with the thumbs.
These are bicycle handlebars for sitting upright and are commonly found on hybrid bikes and city commuters. Some MTB handlebars also come in the riser style, although more recently the flat bar style is getting popular.
2

. Drop bar
---
Competitive cyclist choice
Drop bars are the second most common style of handlebars.
They are designed to put the rider in an aerodynamic position to reduce wind resistance and increase speed. As such, they are almost exclusively found on bikes designed for racing like road, gravel and cyclocross. Many touring bikes also have drop bars for the comfort of multiple hand positions.
Handlebars are one of the three touchpoints on a bike, along with the saddle and pedals. Yet, despite significantly ...
A modern drop bar bike has a unique style of brake levers that are integrated with the gear levers. This allows riders to change gears by pushing the levers sideways and brake by squeezing on the levers. There are two road bike handlebar positions – hands on top of the bars for cruising along comfortably and hands on the lower drop bars when you need extra speed.
Drop bars use specific road bike handlebar tape that wraps around the entire bars for a comfortable, sweat-free grip. Some top-level professional road bikes even come with carbon handlebars to help reduce weight.
Drop bars come in three different sizes – compact, traditional, race.
Many different positions from relaxed to race where the back is parallel to the ground.
3 sizes – Compact, traditional, race.
Brakes & gears are under the same levers
Brakes work by pull, gears by sideways pull.
3

. Flat bar (Straight bar)
---
Old-school classic
Flat bar is the most basic style of straight handlebars, commonly found on mountain bikes, hybrids or fixies.
They have grips at either end with brake levers at your fingertips and thumb-operated gears, although some fixie bikes have no brakes or gear levers. The Orbea Gain series eBikes is a rare example of a road bike with a flat bar.
Flat bar handlebars are designed for recreational riding and city commuting. They are usually the most affordable style but can be hard on the wrists. These days, modern mountain bikes have started using expensive flat bars made from strong, lightweight materials.
4

. Mustache (Cruiser)
---
The Mustache bar is a type of cruiser handlebars, designed for upright seating and slow, comfortable riding.
It's also known as a beach cruiser handlebar, typically found on low-slung, laid-back bikes seen cruising boardwalks around the world.
The handlebar is bent back at either end to create a 'mustache-like' appearance, putting the rider's hands at a comfortable, 45-degree angle. While comfortable, this design reduces control at high speed, which is why these handlebars are only found on slow cruiser bikes
5

. High rise (Monkey bar)
---
A.k.a ape hanger
The high rise handlebar places the riders hands in a high up, hanging position – hence the nicknames 'monkey bar' or 'ape hanger'.
Ape hanger bicycle handlebars are typically seen on BMX bikes and stylized cruiser bikes, made popular by classic Harley Davidson motorbikes.
The style is noticeable by the large U-shape center with the handles sticking off the sides. They are usually found on single-speed bikes with a rear coaster brake, so they often have only one front brake lever with no gear shifters.
6

. Bull horn bars
---
Bullhorn bars, as the name suggests, look like small bullhorns because they are a straight bar with curve ends.
They're a common style of fixie handlebars, popular with hipsters and often seen on messenger bikes or city commuters. The design allows for a mix of flat or sideways hand positions, making these bikes ideal for long days of city riding.
Bullhorn bars are often seen with just a single front brake lever, as fixie bikes use back-pedal rear wheel braking and have no gears.
7

. Terminal bars
---
a.k.a North Road handlebars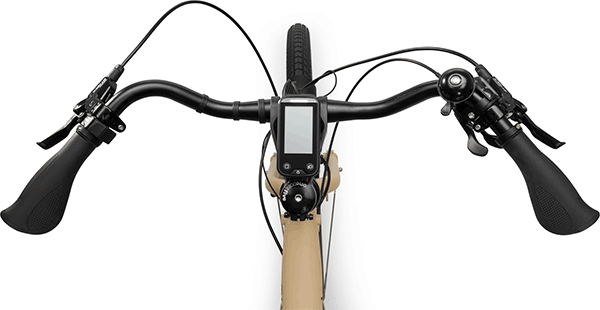 This unique design from Surly combines a riser bar with a moustache bar to provide the ultimate bicycle handlebars for comfort.
They put the rider's hands at a comfortable 45 degree angle while allowing for better control at speed.
The swept back handlebars come with flat handlebar grips for resting on while riding without bruising your palms. These make for excellent recreational, commuting or touring bike handlebars.
8

. TT / Aero bars
---
Aero bars are a type of bike handlebar extension, commonly attached to an existing set of drop bars by riders who want to turn their road bike into a triathlon bike.
They are designed to put the rider in an even more forward-leaning, tightly tucked aerodynamic position for maximum speed and minimum wind resistance.
Like drop bars, they don't use rubber grips and require bike handlebar tape to be wrapped around the bars to provide grip and reduce sweat. Aero bars, for the most part, are only used by time trial (TT) racers and triathletes as they are not permissible in standard etapes and road races.
They come in many different shapes and sizes, allowing for personal preference and different race regulations. Unlike other bike handlebars, Aero bars come with pads for resting your forearms on while leaning forward.
9

. Ape Hanger
---
The ape hanger handlebar is similar to the high rise, placing the rider's hands in a raised position above the head. Unlike most bike handlebar styles, ape hanger bars are more about image than practicality. The position of the hands and unnaturally extended bars make it difficult to steer, so these are usually only found on recreational cruiser bikes.
Ape hanger bars are characterized by two long bars sticking upwards towards the sky, with handles sticking off each end. You'll typically see them on single-speed or fixed-gear BMX and cruiser bikes that don't require braking and gear levers.
10

. Pursuit handlebars
---
Pursuits are custom bicycle handlebars that allow for two different positions, allowing the rider to cycle either upright or lean forward for speed. The name Pursuit implies that when the rider needs to pursue something, they can lean forward and cycle faster.
Pursuit bars bend in a wide U-shape, dipping down slightly at each corner and then curving up at the ends. The dipped sides make it possible to rest your forearms here while holding the upward curves.
Pursuit or bullhorn handlebars – what is the difference?
Although they look similar, pursuit bars allow the rider to lean down on their forearms for better aerodynamics.
11

. BMX Handlebars
---
Typical BMX handlebars look like a smaller version of ape hanger bars, with an added crossbar at the top. They provide an upright seating position with slightly inclined handles to allow for better control and comfort.
Other than on standard BMX bikes, you sometimes find BMX handlebars on Klunker bikes and other cruisers. They use slip on rubber grips and have standard lever brakes at the fingertips. The additional crossbar can be used to attach accessories like bells, lights or a basket.
12

. Sunrise Handlebars
---
Sunrise handlebars and made by the popular steel bike manufacturer Surly. They look like a type of very wide riser bar with a crossbar for added strength. The design is intended to provide a simple, comfortable handlebar for cruising or touring.
They have a partially swept-back design with a slight rise at the ends to take some pressure off the wrists. They make a wonderful addition to an adventurous trail bike, BMX, or commuter bicycle.
13

. Trekking Bar
---
Trekking handlebars are specifically designed for touring bicycles, with a double front bar for attaching bags, equipment or devices.
The handles are quite far apart and swept back at almost 45 degrees, providing a wide, comfortable and somewhat upright position. This makes it easier to cycle with a heavy load and gives the feeling of driving a large bus or RV.
Curved bike handlebars such as these are quite rare and almost exclusively used as touring handlebars by those going long distances. They also make great bikepacking handlebars as they provide excellent control in rough conditions. Like straight handlebars, they use standard brake levers and thumb-operated gear shifters.
14

. Surly Moloko
---
The Surly Moloko handlebar is a specialized bikepacking bar designed to provide maximum control off-road while heavily loaded.
It includes multiple hand positions plus a central rack space for attacking a utility bag.
Riders can place their hands in a comfortable vertical position at the top while cycling on smooth road and use the wide position for better control in rough terrain. The bar ends come with rubber grips while the upper tubes can be wrapped in bar tape of your choice. The multi-tube design provides multiple mount positions for lights, gadgets, and bottle holders.
More from Surly – Corner bar, Truck Stop bar, Terminal (#7), Sunrise bar (#13), Cheater bar, Open bar
---
Bike Type & Handlebar Choice
Road – Aero, drop bar.
Mountain – Flat bar, riser bar.
Hybrid – Riser bar.
City/Commuter – Riser bar, high riser, mustache, flat bar.
Fixie – Flat bar, riser bar, bull horn.
Touring – Drop bar, terminal bar.
---
Bike Handlebar Thicknesses
You'll need to check the size of the clamp on your bike's handlebar stem before buying new handlebars. Most bike handlebars use one of the following tubing sizes:
If the handlebar you want is too small, most manufacturers provide clamp shims to increase the thickness of the bar. However, if the bar is too large, you may need to get a new stem with a bigger clamp.
Bicycle Handlebar Materials Guide
Bike handlebars are made from the same three materials as frames – steel, aluminum and carbon. Which one you choose will depend on your budget and bicycle style.
Steel is cheap, durable, and has great vibration dampening properties, but is the heaviest material. It's good for touring, bikepacking, commuting and recreational mountain biking.
Aluminum (or alloy) is the most popular material because it's affordable and lightweight. However, it can be quite weak and doesn't absorb vibrations well.
Carbon is the most expensive material, but also the lightest. It has great weight to strength ratio and good vibration dampening.
What are some of the Best Bicycle Handlebar Brands?
Bontrager, Chromag, Deity, Dimension, e.thriteen, Easton, ENVE, Fi'zi:k, Joystick, Kona, Nitto, OneUp, PNW, FZA, Pro Taper, Race Face, Renthal, Ritchey, Salsa, Specialized, Surly, Trutativ, Whisky Parts Co., Yeti, Zipp.
---
Bike Handlebar Accessories
There are many accessories to fit on the handlebar to make your ride more versatile. Few of the popular choices are the bike handlebar cup holder, handlebar bag, and a basket. Although often times the space on a handlebar is quite limited, many riders also choose to fit a front light to it.
Lights
Basket
Bag(s)
Cup holder
Bell
FAQ
---
What is the bicycle steering wheel?
To steer a bicycle, you use a handlebar which is attached to the front wheel via the stem, headset and fork.
How many bicycle handlebar types are there?
The main types of bicycle handlebars are drop bars and straight bars – but there are many different variations on these. We've covered 14 of the main types in this article.
How to remove bike handlebar grips?
On standard commuter bikes with no drops, you can often just pull the rubber grips off the ends of the bars. In some instances, they are held in place by a cap which is taped or screwed on.
What is the correct mountain bike handlebar angle?
It is recommended to adjust the handlebar so that the curvature is parallel to the fork angle. This way you have the most 'real feel' to the ride.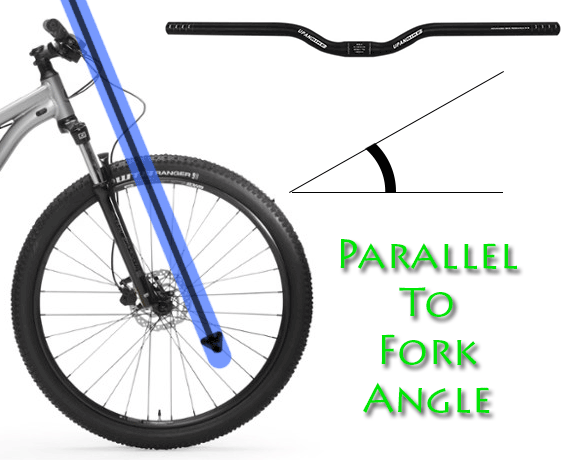 What is the correct road bike handlebar angle?
You should adjust the handlebars on a road bike so your torso and arms are at a 90-degree angle. This is usually the most comfortable position to be in for road cycling.
What is the correct mountain bike handlebar height?
Most people position their mountain bike handlebars to be the same height as their seat. These days, many mountain bikes come with remotely adjustable seat posts to change when climbing or ascending.
Flat bar vs drop bar on a 700c commuter bike?
Many people prefer to use a flat bar on their commuter bike because it's simpler and the controls are easier to understand. However, there are some advantages of drop bars, particularly if squeezing through tight gaps in traffic. You also have more hand positions with drop bars which can be more comfortable if cycling for long hours. Most cyclists who have gotten used to using drops prefer to keep using them.
---