Best Bike Frame Bags | A Buyer's Guide for Bikepackers & Commuters
Bike frame bags are a fundamental part of a bikepacker's arsenal, using otherwise useless space to boost carrying capacity.
Choosing the perfect frame bag will add convenience to any bikepacking trip or commute and help avoid unnecessary headaches. Additionally, they allow you to carry heavy items with little to no impact on handling.
Frame packs come in various shapes and sizes, with different materials, capacities, and features. This guide will help you pick the best bicycle bag for you and provide you with some of our top selections for your next bikepacking trip.
Best Bike Frame Bags
---
Revelate Designs Tangle Frame Bag – Small
Price: $105
Capacity: 3-6L (XS-L)
Dimensions: 19.75 x 4.5 x 2.75″ (M)
Reasons to buy:
Easy to access
Hydration bladder-compatible
Mud-shedding laminated polyester
Full-length side pocket for quick access to valuables
Reasons to avoid:
Bag can interfere with bottle cages on some bikes
Not fully waterproof
The Revelate Designs Tangle is a bicycle frame bag that you can use in conjunction with bottle cages to maximize your carrying capacity.
This product is designed to hold items such as food, water, and maintenance tools close to hand and so it is easy and quick to access. However, the trade-off for this ease of use means the Tangle isn't waterproof, so it isn't suitable for carrying clothes and electronics.
Revelate Designs chose durable laminated polyester for the shell. This material is lightweight, and it sheds mud and dirt that splashes up from the trail.
Other notable features of this Revelate frame bag include the external zipper pocket for quick access to valuables and the water bladder compatibility. Before purchasing this bag, measure your bike to ensure it doesn't interfere with your bottles, as this is a common complaint by users.
The Tangle is a solid option for any rider who wants to maximize their carrying capacity without sacrificing their bottle cages.
---
Salsa EXP Series Hardtail Framepack
Price: $100
Capacity: 5.6-11.6L
Dimensions: N/A
Reasons to buy:
Designed specifically for Salsa bikes
Internal dividers and storage pocket
Hydration bladder compatibility
Reasons to avoid:
Poor durability reported by some reviewers
Not waterproof
The Salsa EXP Series is a tailored frame bike bag with eight versions designed to fit specific hardtail salsa bikes.
One of the inconveniences of purchasing a frame bag is making sure it fits your specific bike dimensions and doesn't negatively affect handling. The EXP Series solves this issue with purpose-built bags.
This bike frame bag is weatherproof and water-resistant, keeping your valuables safe from the trail splash and light rain. However, heavy rain will penetrate this product, so avoid using it for electronics or clothes.
The EXP is designed well with an easy-to-access main compartment with dividers to keep items separate, so you don't need to dig around to find what you need. Additionally, it has an extra pocket to store essential items.
Choose the EXP Series if you've got a Salsa hardtail and want a convenient, tailored frame bag at a reasonable price.
Buy from Jenson USA Fat-Bike Model on REI
---
Roswheel Road 3.5L Frame Bag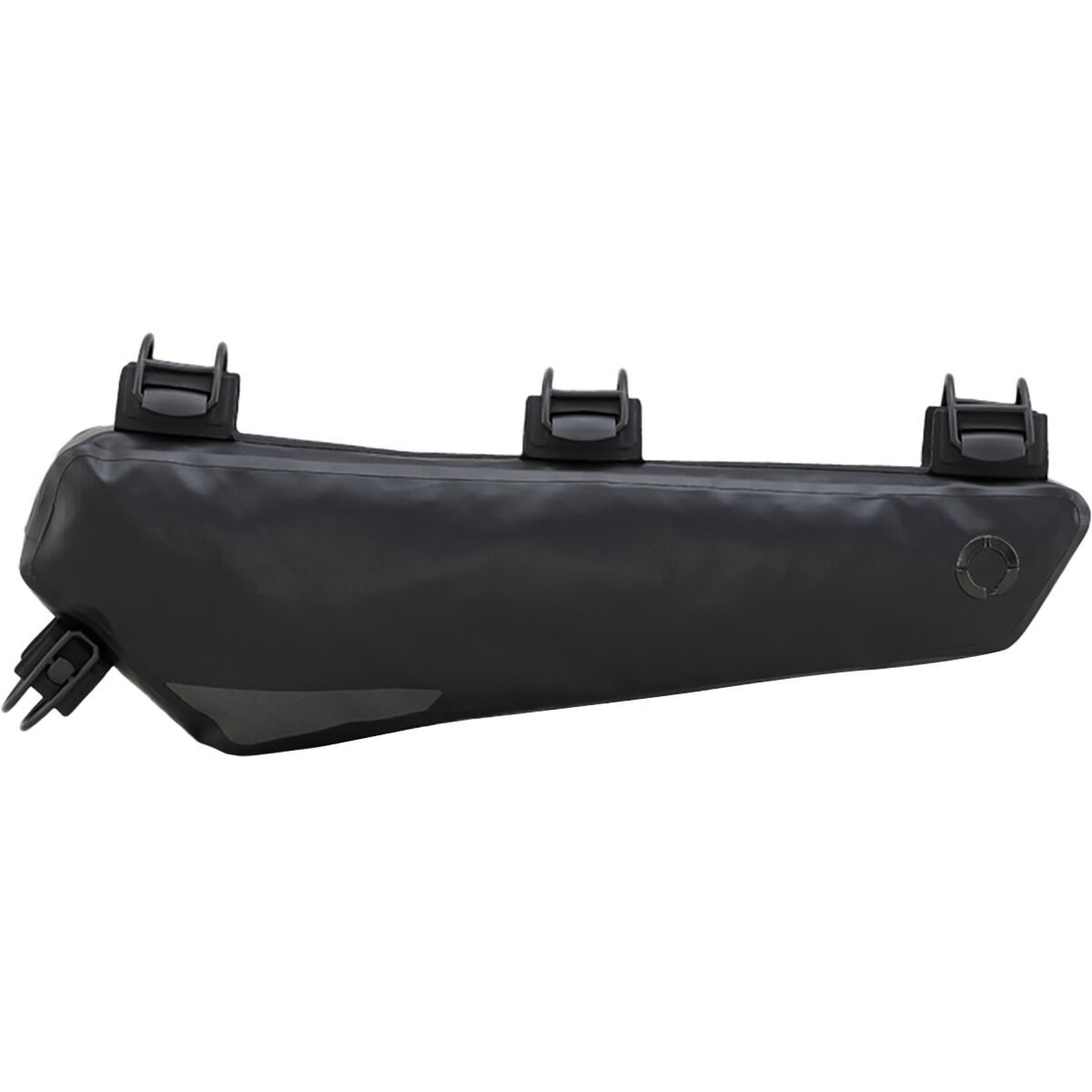 Price: $90 (Backcountry / REI)
Capacity: 3.5L
Dimensions: 19.7 x 5.9 x 2
Reasons to buy:
Large reflective patches
Waterproof
Charge devices with zipper closed
Tight fitting and sturdy
Reasons to avoid:
Restricts access to bottles
Not very durable attachment straps
The Roswheel Road 3.5L is a half-frame bike storage bag that is lightweight and aerodynamic and gives roadies some valuable cargo carrying capacity for multi-day tours or commutes.
The 3.5L of space is plenty to carry all your biking essentials and more. In addition, the lightweight polyurethane-coated 420-denier nylon material and molded seams are waterproof, which allows you to store your phone and other portable electronics safely.
Roswheel designed this road bike frame bag with a Fast-Fix attachment that reduces the risk of paint damage to your frame, and they included large reflective surfaces to improve low light visibility.
One final feature is the hidden cable port (doubles as a hydration port) that lets you charge your devices with the zipper closed.
In summary, this Roswheel frame bag is an excellent choice for road cyclists who need to carry cargo without significantly impacting ride quality or performance.
Buy from Backcountry Buy from REI
---
Ibera Bicycle Triangle Frame Bag
Price: Check on Amazon
Capacity: 3L / 5L
Dimensions: 12 x 7 x 11″ / 16 x 11 x 17″
Reasons to buy:
Cheap
Multiple compartments

Water resistance

Two size options
Reasons to avoid:
Can rub against legs when pedaling
Not very sturdy, just three attachment points
The Ibera Bicycle Triangle Frame Bag is a super-cheap option that doesn't sacrifice quality. This product is highly-rated, with thousands of 5-star reviews on Amazon.
For under $20, you get many of the same features seen on premium models. These include water resistance, extra compartments for better storage of your valuables, and reflective lining.
Users of this Ibera frame bag are impressed with the durability, quality feel, and how well it keeps water out. But, of course, this bag has a couple of downsides, given its low price. These include limited attachment points and the width of the bag when packed full. In addition, the large bag isn't suitable for most bikes.
Nonetheless, Ibera's frame bag is a superb value option for any cyclist who needs reliability on a budget.
---
Salsa EXP Series Full Suspension Frame Pack
Price: $100 (REI / Backcountry)
Capacity: 3.7-5.7L
Dimensions: 1: 17.5 x 6″ / 2: 19 x 6″ / 3: 18 x 5″
Reasons to buy:
Very secure
Tailored for Salsa full-suspension bikes
Highly water-resistant
Hydration reservoir compatible
Reasons to avoid:
Only one compartment
Incompatible with other brand bikes
The Salsa EXP Series Full Suspension mountain bike frame bag is designed for their Spearfish and Horsethief models.
Salsa tailored this bag to match the frame of their MTBs, ensuring a sturdy and tidy fit. Unfortunately, the small model leaves extra unused space on medium-size frames.
The material used is a waterproof 500-denier polyurethane-coated nylon combined with water-resistant seams and zippers to provide a high level of water resistance.
While the EXP full suspension has a good storage capacity, it doesn't have any additional compartments for separating valuable items, which may deter some riders.
All things considered, if you have a full suspension Salsa mountain bike, then your best bet is the EXP Series frame pack for convenient storage.
Buy from REI Buy from Backcountry
---
Blackburn Outpost Large Frame Bag
Price: $70 (Jenson USA / Backcountry)
Capacity: 5.25L
Dimensions: 19.25″ x 7″ (closed) 19.25″ x 11″ (open)
Reasons to buy:
Water bladder port
Multiple pockets
Expandable bottom pocket
Several straps for a versatile and secure fit
Reasons to avoid:
Not very water-resistant
It runs slightly smaller than described
The Blackburn Outpost bicycle frame bag is a cleverly designed product and one of the best value bags you'll find.
Blackburn included several pockets and dividers so you can carefully organize your cargo and make it easier to find. In addition, the Outpost has hydration bladder compatibility.
The Outpost is a non-specific bike bag for frames, which means it won't fit any bicycle perfectly. However, it has many velcro straps, ensuring a decent fit for a wide range of bike triangles.
The major downside of this bike bag is the poor water resistance. Users report a damp interior during light rainfall, so place any electronics or paper inside a dry bag to be safe.
Finally, it's worth pointing out the handy extendable bottom if you have extra space in your frame. Don't look past Blackburn's Outpost frame pack if you need an affordable dry weather bag with tons of space and pockets.
Buy from Jenson USA Buy from Backcountry
---
Topeak Midloader Frame Bag 4.5L
Price: $79.95 (Jenson USA)
Capacity: 4.5L
Dimensions: 18.1 x 4.7 x 2.4"
Reasons to buy:
High capacity half-frame bag
Lightweight
Water-resistant material and zippers
Sturdy fit
Reasons to avoid:
Only one compartment inside
Can rub against legs when fully packed
The Topeak Midloader is a half-frame high-capacity bag with an affordable price tag and one of the best gravel bike frame bags.
Using the Midloader, you can carry an extra 4.5L of capacity and still have two bottle cages mounted. This capability makes life much easier on bikepacking trips or long commutes.
The material used by Topeak is lightweight and water-resistant nylon which combines with covered, water-resistant zippers to deliver solid protection against the elements.
The main issues with this bag are the lack of pockets for the organization of your gear, which leads to wasted time, and the bag can rub against your legs when it's full.
In summary, this Topeak frame bag is a moderately-priced option from a trusted bike accessory manufacturer and a solid choice for riders who need more capacity without much extra space.
Buy on Amazon Buy from Jenson USA
---
Ortlieb Frame Pack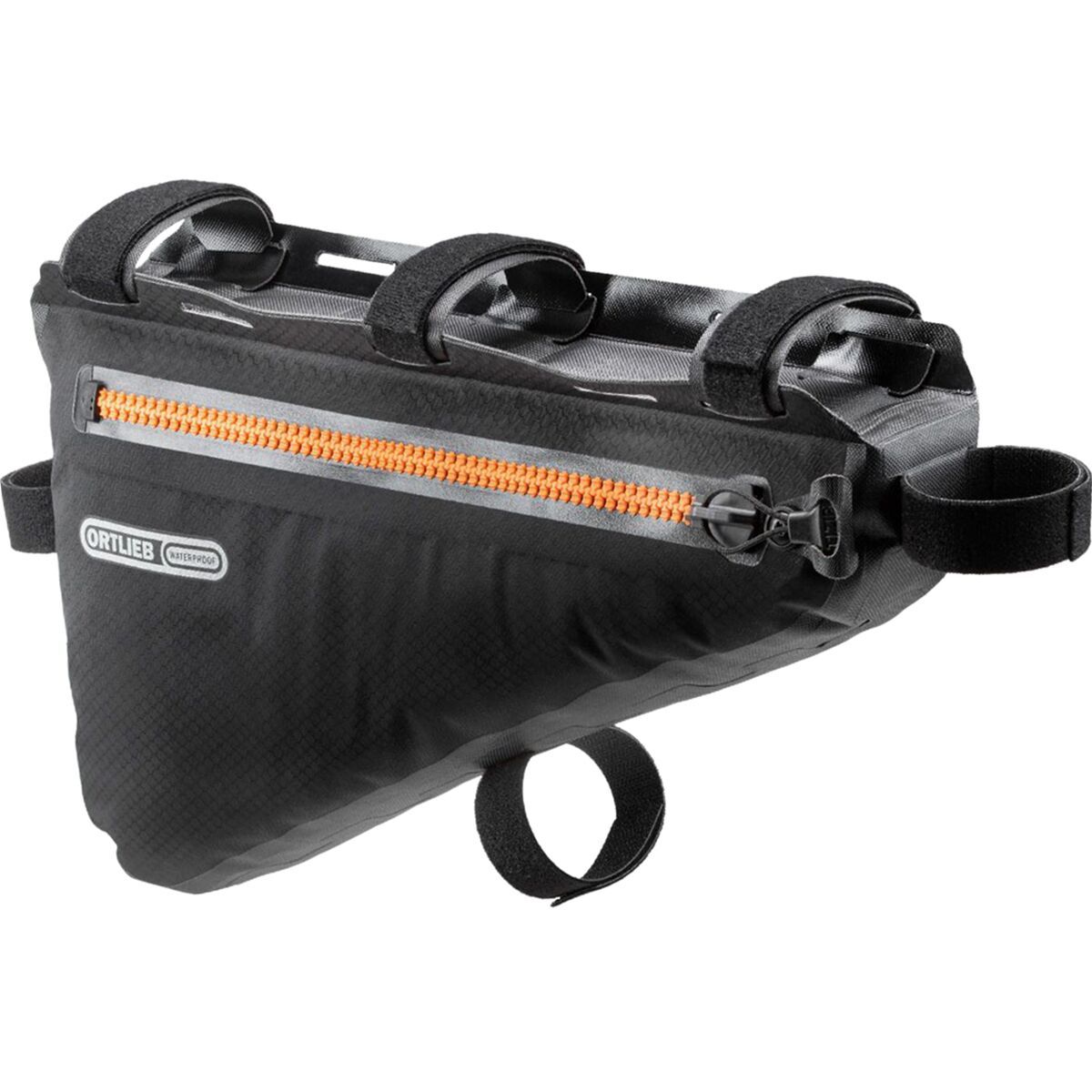 Price: $155 (Backcountry / REI)
Capacity: 4L
Dimensions: 15.7 x 9.4 x 2.4″
Reasons to buy:
Waterproof fabric and zipper
3M reflectors
Strong and durable attachment
Broad compatibility
Reasons to avoid:
Expensive
No internal organization or dividers
Ortlieb is the most renowned bike bag brand in the industry, known chiefly for its super-durable and fully waterproof bags, and its frame pack ticks all of those boxes.
The material is a PU-coated nylon fabric paired with a TIZIP waterproof zipper to protect your valuables during the most extreme rain. Despite the heavy-duty design, this bag only weighs 7.1oz.
The 4L pack works well with a bottle cage underneath and attaches securely to the frame with hook and loop straps. Additionally, the narrow width means your legs will never rub off the pack, no matter how full it is. The only downside we can identify is the lack of organizing dividers in the internal pocket.
If you want unbeatable quality and durability and you have the budget to do it, then Ortlieb's frame pack is the best you can get.
Buy from Backcountry Buy from REI
---
REI Co-op Link Frame Bag
Price: $100
Capacity: 4/6.75/9.5L
Dimensions: S: 13.75 x 9.75 x 2.5″ / 16 x 12.8 x 2.5″ / 18 x 14.5 2.5″
Reasons to buy:
Fully waterproof
Internal organizer
Sturdy attachment
Spacious
Reasons to avoid:
Slow to install
Zipper is stiff
Co-op Cycles' Link frame bag is another fully waterproof option like the Ortlieb model above, except more affordable.
The Link is a full-frame pack, meaning you must remove your bottle cages, but the large bag can fit a whopping 9.5L of cargo.
One of our favorite features of this bag is the handy internal divider which allows you to keep your gear separate. However, it doesn't reach the bottom, meaning small items can drop down.
One consideration for this pack is the time it takes to install, meaning it might not suit commuters. In addition, some users have commented on the questionable durability of the zipper.
All things considered, we believe this is the best value fully waterproof frame bag you'll find, so if you're on a tighter budget, choose Co-op Cycles' Link frame pack.
---
Revelate Designs Full Suspension Bike Frame Bag
Price: $115
Capacity: 3L / 4L
Dimensions: 21 x 5.5 x 2.75″ / 24 x 5.5 x 2.75″
Reasons to buy:
Broad compatibility
Foam padding
Abrasion-resistant
Covered zipper port allows cables or hydration pack through
Reasons to avoid:
Leaves extra frame space on larger bikes
The Revelate Designs Full Suspension frame bag is the brand's response to the growing popularity of bikepacking among all types of mountain bikers.
Their full-suspension pack utilizes precious space on the bike's frame to increase carrying capacity without affecting handling. In addition, this product has a durable and water-resistant Zipstretch construction which boosts durability by taking pressure off the zipper when the bag is full.
The bag attaches quickly and securely to almost any dual-suspension frame but leaves extra unused space on larger frame sizes. One final feature of this bag is the foam padding that protects your frame from scratches.
We think this Revelate Designs frame bag is a solid choice for any rider with a full-suspension mountain bike who wants to maximize their carrying capacity without breaking the bank.
---
MOOCi Bicycle Angle Frame Bag
Reasons to buy:
Cheapest frame bag
Wide compatibility
Water-resistant
Dual zipper access
Reasons to avoid:
Not very durable
Slightly loose fitting
The MOOCi frame bag is the cheapest option but has a surprisingly good reputation thanks to its functionality and quality.
This bike frame bag has a high rating on Amazon with a large number of reviews, demonstrating overall user satisfaction. It fits a wide range of frames and is relatively quick to install, with just four velcro straps to attach. However, this means it is a little loose fitting.
The material used is relatively lightweight and has light water resistance, but it isn't for use in heavy rain. In addition, the simple design is easy to use with an access zipper on each side, and the slim build of the MOOCi pack means it works well on bikes with small tubing.
Choose this cheap triangle frame bag if you need extra carrying capacity but you've got a tight budget.
---
How to Choose the Right Bike Frame Bag
---
Selecting the best frame bag means considering your bike, what type of riding you do, and the quantity and type of things you need to store. With that in mind, let's look at the features and components of a frame pack and how they differ to serve different needs.
Material and Zippers
A common consideration for bike bags is water resistance/proofing. Material choice and zipper design are the pivotal factors in a bag's resistance to the elements. Most frame bags are made with flexible nylon treated to resist water.
Waterproof bags like Ortlieb's products are usually more expensive and come with heavy-duty zippers that are stiff to use. Additionally, these bags are often a little less convenient to use, as it's easier to waterproof a bag with fewer seams and zippers.
On the other hand, water-resistant bags can have more zippers and extra features like openings for cables and hydration hoses. Make a choice on which design is suitable for you based on what you need to store inside and where and when you ride.
Capacity
Frame-mounted bike pouches come in a wide range of capacities, up to 11L+ for the biggest, full-frame bags.
The capacity you need depends on how much cargo you carry and how much room there is on your touring bike. For example, a 2-4L half-frame pack is adequate for most commuters. On the other hand, multi-day bikepackers may benefit from more capacity, like a full-frame pack.
One deterrent for larger packs is they aren't compatible with bottle cages or rear suspension, limiting their appeal.
Dimensions
Picking a bag that matches your bicycle's dimensions is the most important factor when deciding on a bike frame bag. Each frame size is different, and you must choose a pack that corresponds to the space available in your triangle.
If there is a brand-specific bag available for your bike (like Salsa's) you won't need to measure dimensions. Otherwise, measure the height, width, and depth of the space available in your triangle and search for bags that correspond. Choose the smaller option if yours is between two sizes.
Other factors that affect dimensions include the number of bottle cages you want to use (none/one/two) and if you have a full-suspension or hardtail bike.
Organization
Bags with multiple pockets or internal dividers make it much easier to keep your gear organized. Time spent digging around your bags adds up over multiple days, so a bag that allows you to separate your belongings will save you time and possible headaches.
These characteristics may not be as significant for small frame bags, but organization features are invaluable for bags four liters or more.
Top Bicycle Bag Companies
Revelate Designs: Revelate Designs is one of the original bicycle bag companies, operating since 2007 and driving the industry forward with design and technology innovations. They produce mid to high-end bags across five categories—seat, handlebar, frame, cockpit, and cargo bags.
Topeak: Topeak is one of the most recognized manufacturers in cycling, designing and building components, accessories, and tools for bikes. Their bag range is extensive, including 48 options with low to mid-range pricing. Topeak is renowned for its excellent value products.
Roswheel: Bicycle bag specialist, Roswheel, is a newer entrant in the market. They have a range of well-reviewed products with mid-range pricing. Their bags fit in three categories; off-road, road, and tour.
Ortlieb: The most famous of all bicycle bag companies and one of the longest operating, founded in Germany in 1982. Their products are high-end and expensive, but they easily justify the prices due to the superior quality, durability, and flawless waterproofing. In addition, each of their products has a five-year warranty.
Blackburn: Since 1975, Blackburn has manufactured high-quality cycling goods at affordable prices. Each of their products is tested rigorously and backed by a unique lifetime warranty, helping set Blackburn apart in the industry. They have bags for every location on a bike, and each one is cleverly designed and priced in the mid-range.
Apidura: The only UK-based company on this list, Apidura, is a manufacturer of premium bike bags that are lightweight, durable, and waterproof. The brand doesn't use marketing and instead focuses entirely on innovation, design improvement, and sourcing the best materials. Their range features bike bags of all shapes, sizes, and functions with high-end pricing.
What should I pack in a frame bag?
Bicycle frame bags are ideal for storing heavier items and anything you need to access quickly.
You store heavy items in frame bags to maintain a low center of gravity and minimize how your cargo impacts handling. In contrast, storing heavy items in a seat pack would negatively impact balance when climbing steep gradients, cornering, or steering at low speeds.
Additionally, a frame pouch is a great place to store items you need quick access to, as they're often convenient and easy to access. Examples of things to keep in a bike frame pack include food, spare tubes, a pump, water bladder, tools, and cookware.