Best Commuter Bikes for Everyday Rides [2023]
Commuter bikes are the most utilitarian type of bicycle out there.
Coming in many shapes, sizes, and with a huge variety of features, the commuter bike should meet its owner's specific needs while being durable, comfortable, and practical. These bikes form the backbone of urban travel, helping people run errands, get to and from work, haul cargo, or drop a kid off at school.
What is a commuter bike?
A commuter bike is one of the most basic, widely used bicycle to get around. A-to-B bicycle.
Here are some of the main components and features that make commuter bikes so useful:
Rear pannier rack – to carry cargo
Fenders – to stop road spray in wet weather and protect jeans from the oily chain
Wider, puncture-resistant tires – comfortable and controlled riding with a reduced chance of getting a flat tire
Chainguard – keep your clothes protected from chain grease
*Electric motor – helps you stay sweat-free or travel longer distances
Folding – if you take public transit or need to bring it into the office
---
Best Commuter Bikes of 2023
Schwinn – Discover
Huffy Carom – $300
Co-op Cycles – CTY 2.1 – $799
State Bicycle Co – 4130 – from $460
Priority Bicycles Turi – $949
Marin DSX 2 – $1,289
Priority – 600 – $2,299
Marin – Four Corners – $1,279
Tommaso – Forza Disc – $750
Cannondale – Quick CX 4 – $735
Public – D8I Disc LTD – $1,300
Momentum Vida – $760
Giant Escape Disc 3 – $650
Cannondale – Treadwell 2 Remixte – $950
Electra Loft 7i – $750
Pure Cycles Classic Bike – $639
---
Schwinn – Discover
Best cheap commuter bike
Frame Material: Aluminum
Drivetrain: 21-speed SRAM
Bike weight: 35.5 lbs
28-inch wheels
Promax alloy linear-pull brakes
Rear rack and fenders
Schwinn's Discover is one of the most popular commuter bikes on amazon for its broad functionality at an entry-level price.
This comfort-style amazon commuter bike uses upright frame geometry, saddle and front-fork suspension, wide tires, and a padded saddle to deliver a super smooth ride even on the bumpiest of roads.
The Discover comes fitted with fenders and a commuter bike rack, two of the most important components of a functional commuter bike. Riders can also rely on a 21-speed SRAM drivetrain to provide options on those hilly roads. Additionally, the Discover is built with a lightweight aluminum frame to cut weight and make riding easier.
---
Huffy Carom
MSRP: $300
8-speed rear derailleur
6061 aluminum frame and fork
Dual disc brakes
27.5″ versatile tires
Huffy's gravel bike Carom is a simple, lightweight, and excellent value choice.
This bike is perfect for any urban rider who wants a balance of comfort and performance. Huffy achieves this balance through their Upright Geometry which ensures a sporty yet relaxed position. In addition, the lightweight aluminum frame and fork are pretty responsive.
To boost comfort, you have wide 27.5″ tires as well as ergonomic grips and saddle. To keep things simple, you have a 1×8-speed drivetrain leaving you with plenty of gearing options for the city streets.
Finally, this bike also comes with mechanical disc brakes that ensure a good stopping power level, even in wet conditions. No accessories are included, but there are mounts to add fenders and a rear rack.
---
Co-op Cycles – CTY 2.1 Step-Over and Step-Through
Best value commuter bike of 2023
MSRP: $799
Step-over | Step-through
Frame Material: Aluminum
Derailleur: Shimano Altus 8-speed
Bike weight: 32lbs
700x40mm Kenda Kick-Back tires
16 gears (2 x 8)
Co-op Cycles CTY 2.1 is, in our opinion, the best budget-friendly commuter bike out there with respect to quality and price.
This hybrid bike comes loaded with many premium components and delivers a delightful balance of comfort and performance both on and off-road. Co-op ensures this bike is ready for anything with rear-rack and fender compatibility.
The CTY 2.1's standout features are the lightweight aluminum frame, shock-absorbent 63mm fork suspension, and responsive Tektro hydraulic disc brakes. The suspension, combined with a comfortable Selle Royal gel saddle, ergonomic grips, and upright geometry makes this bike a joy to ride.
Buy the Step-Over Buy the Step-Through
---
State Bicycle Co. – 4130
MSRP: $590
State Bicycle Co's 4130 is a retro-style road bike that reels in the years with an affordable and stylish build.
This State road bike has a double-butted 4130 Chromoly steel frame which is both comfortable to ride and extremely durable. The 4130 uses old-school downtube shifting for its Sunrace 8-speed drivetrain. Using an 11-28t cassette you will easily be able to tackle tough hills on this lightweight bike.
Light-weight 'Lo-Pro' wheels come fitted with 28c tires with enough clearance for 32c alternatives. In typical old-school fashion, this bike has standard caliper brakes, a synthetic leather saddle, and mounts for front or rear racks. Finally, this bike comes in a unique Americana paint finish.
---
Priority Turi
MSRP: $949
Aluminum mid-step frame
Internal gear hub with Gates carbon belt
700c x 35mm tires
Priority Turi is a versatile and durable bike, perfect for multi-terrain commutes and heavy use year after year.
The Turi has Priority's mid-step unisex frame with upright geometry, raised handlebars, and high volume 35 mm tires to create a super smooth and comfortable ride quality.
The drivetrain consists of an internal gear hub with a CVT shifter and a Gates carbon belt, so there's no maintenance involved and changing resistance is super easy. On the descents, you can rely on hydraulic disc brakes and grippy mixed-terrain puncture-resistant tires.
Finally, this bike comes with fenders and comfortable grips and saddle, which makes it the perfect commuter. Choose the Priority Turi if you want an affordable do-it-all bike with a long-lasting build.
---
Marin DSX 2
One of the best sub-$1,500 hybrid commuter bikes
MSRP:$1,289
Frame Material: Aluminum
Fork: Carbon
Drivetrain: Shimano Deore 12-speed
WTB Riddler, 700 x 45mm tires
Shimano hydraulic disc brakes
The Marin DSX 2 is an affordable and versatile commuter bike designed for multi-surface riding.
The DSX 2 has treaded gravel-ready 45mm tires, carbon fork, and Shimano hydraulic disc brakes making it perfect for riding on open roads, gravel paths, or on your city commute.
Other notable features include the dynamic Shimano Deore 1×12-speed drivetrain and a lightweight aluminum frame. This combination makes the Marin DSX 2 perform well over long distances and on steep gradients.
For any bike commuter that wants reliability and diverse functionality, look no further than the DSX 2.
---
Priority Bicycles – 600
Best belt drive commuter bike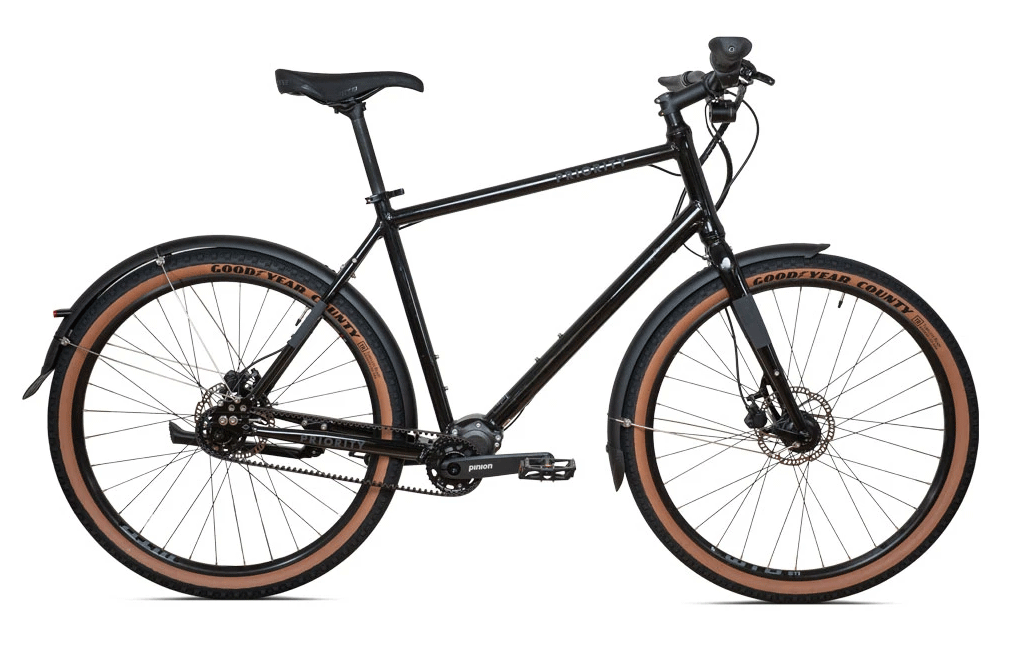 MSRP: $2,299
Frame Material: 6061 Aluminum
Tektro hydraulic disc brakes
650B premium Goodyear County tires
12-speed Pinion gearbox
WTB Pure Saddle
The 600 by Priority is an exceptional commuter bicycle built with premium components for diverse functionality on and off-road.
The 600 belt drive bike features a quality Gates Carbon Drive belt with an automotive-inspired 12-Speed Pinion gearbox and DS2 rotary shifter. The belt drive system takes the stress of maintenance and frequent repairs out of commuting by bicycle. No rust or grease makes this bike a dream to use.
This bike uses tubeless-ready Goodyear tires on 650b Road Plus wheels, blending the performance of a 700c road bike tire with enhanced cushion and grip for use on light trails and gravel.
Finally, the 600 features Tektro Hydraulic Disc brakes delivering precision all-weather stopping power, a lightweight carbon fiber seat post, and dynamo-powered head and taillights.
---
Marin – Four Corners
Best men's commuter gravel bike
MSRP: $1,279
Frame Material: Double Butted CrMo
Fork: CrMo steel
Rims: Marin Aluminum Double Wall
Shimano Sora 3×9-Speed
Tektro Spyre-C Road Mechanical Disc
The Four Corners is a Marin gravel-ready commuter bike with an intricate balance of geometry, comfort, and performance.
Marin's attention to detail makes the Four Corners a joy to ride, be it on a daily commute or even on a long bicycle tour. It comes with fenders and a mount option for a rear-rack, perfect for those needing to haul some extra gear.
Marin uses reliable components including Tektro mechanical disc brakes, WTB Resolute tires, and a 3×9 Shimano Sora drivetrain. Unfortunately, this gearing adds some extra weight and maintenance needs. Finally, the Four Corners features 42mm tires which perform well both on the road and on hard-pack trails.
---
Tommaso – Forza Disc
Road-focused commuter bike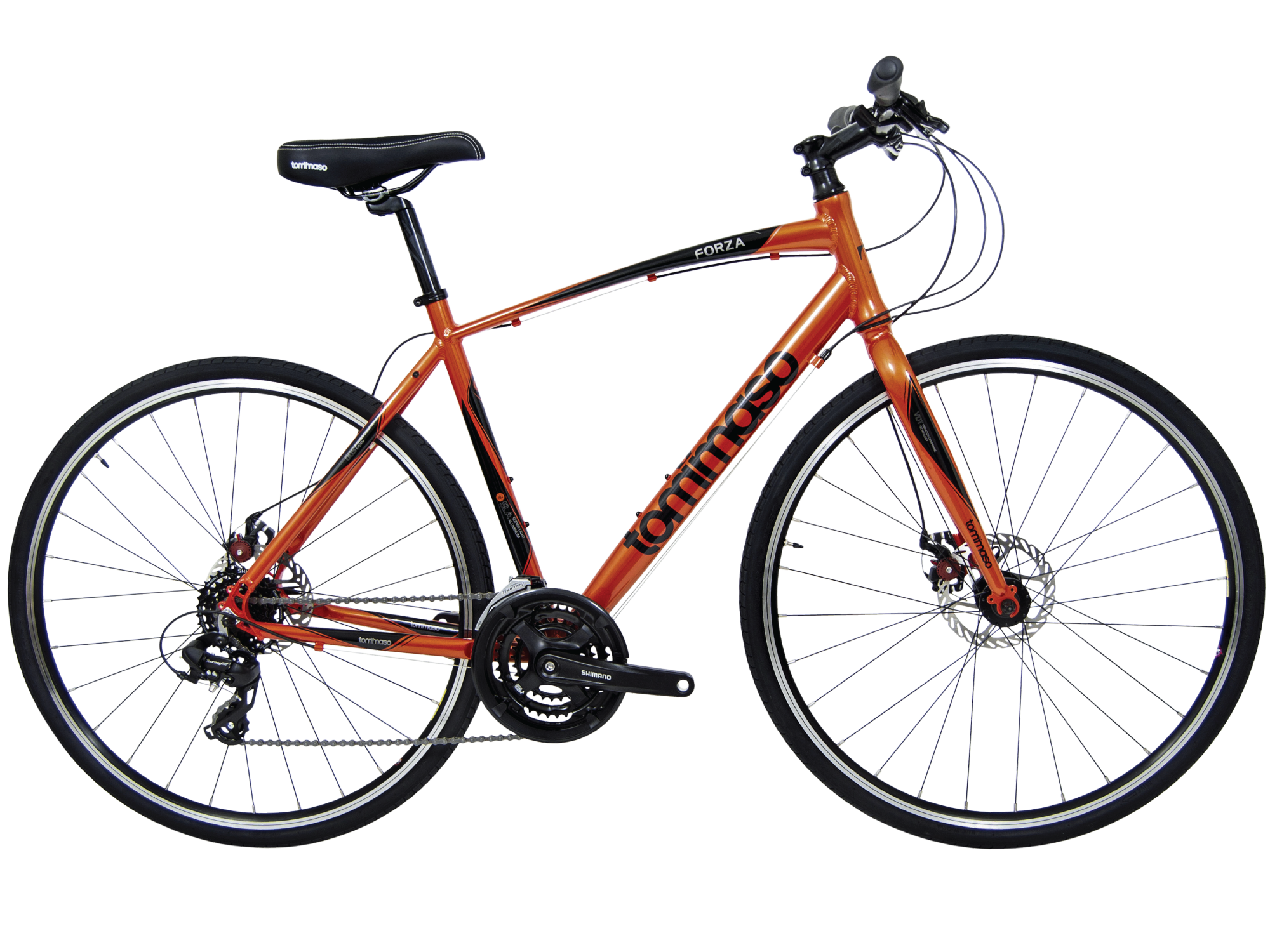 MSRP: $850
Frame Material: Aluminum
Bike weight: 25.6 lbs
Mechanical disc brakes
700x32c Kenda tires
Saddle WTB Speed V-street
Tommaso's Forza disc is a good commuter bike option for any urban commuter looking for an entry-level bike without sacrificing performance.
Although primarily designed for comfortable commuting and city cruising, the Forza also performs well and rides smoothly on light trails. It does so using wider tires, powerful disc brakes, and a lightweight 6061 aluminum frame. The frame is also rack-ready for any commuters who need extra space. This bike uses a reliable Shimano Tourney Triple drivetrain, giving users a wide range of gears to choose from.
Lastly, Tommaso designed the Forza frame to balance power transfer and comfort by dampening road vibrations which makes long-distance rides more enjoyable. The company is so sure of the quality of their frames, that they offer a limited lifetime warranty to back them up. By selling direct to consumers, Tommaso has been able to offer this excellent quality at the most competitive prices on the market.
---
Cannondale – Quick CX 4
Best cheap Cannondale commuter bike
MSRP: $610
Frame Material: SmartForm C3 aluminum alloy
Bike weight: 32lbs
Vittoria Terreno Dry 700c x 40mm tires
Shimano Tourney 3×7-speed
Promax mechanical disc brakes
---
Public – D8I Disc LTD
Best urban commuter bike
MSRP: $1,400
Frame Material: Steel
Bike weight: 32 lbs
700x35c Kenda Kwest tires
Shimano hydraulic disc brakes
Shimano 8-speed shifter
The Public D8i Disc LTD a workhorse city commuter bike with a clean look and performance feel.
The D8i Disc LTD has a Chromoly steel frame that is strong and durable, capable of handling long commutes or weekend trips. To boost durability, this bike also comes with double-wall wheels and puncture-resistant tires, greatly reducing the chance of roadside repairs.
Public has opted for a Shimano Alfine 8-speed internal hub that requires little-to-no maintenance while still giving plenty of gear options for different types of rides and terrains.
Other notable features include premium Shimano hydraulic disc brakes. a comfortable yet high-performing Sport Saddle, and weatherproof handlebar grips. Finally, the bike comes with fenders installed to keep road spray away.
---
Momentum Vida Low-Step
Best women's commuter bike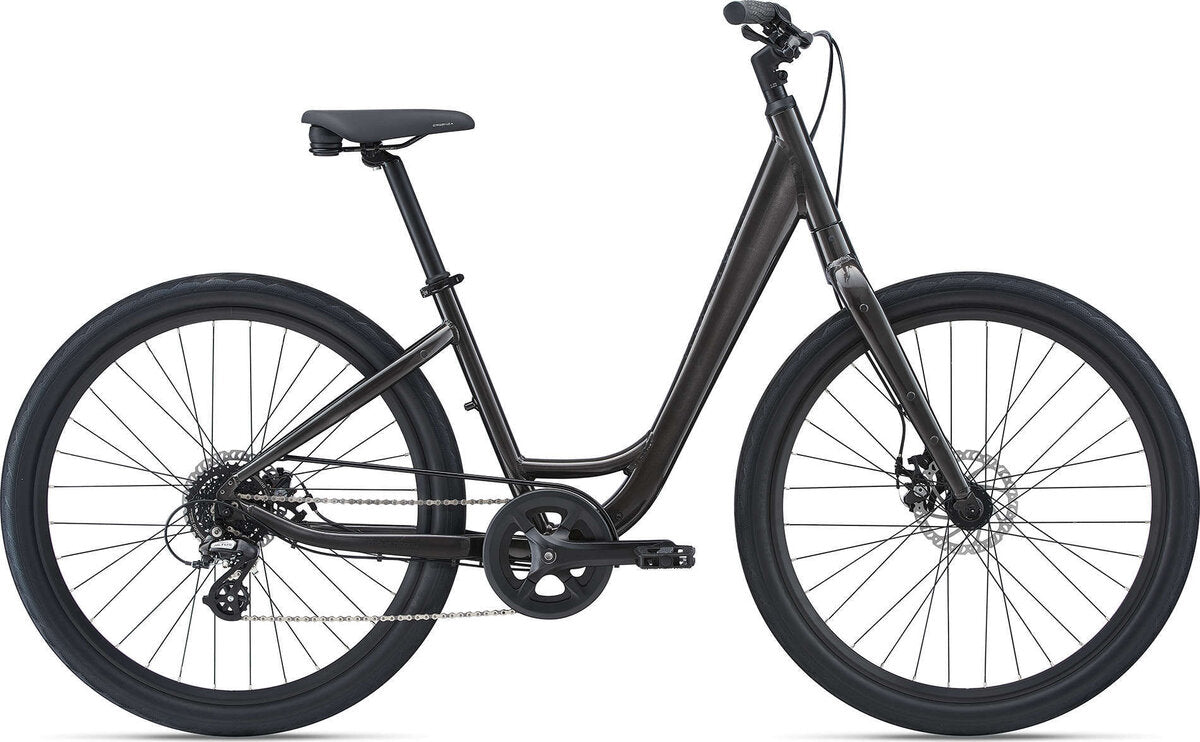 MSRP: $760
The Momentum Vida is a beautiful take on the Dutch-style urban bicycle, built for functionality with an elegant dark gray, teal, or white finish, an excellent ladies' commuter bike option.
Momentum has chosen a Shimano 8-speed rear derailleur for this bike, which is an entry-level option that works well for recreational riders and beginners.
The Vida rides perfectly in dry conditions, but the lack of fenders means it's not ideal for wet commutes. However, you can retrofit fenders and a rear rack, and the bike also performs well due to the combination of mechanical disc brakes, quality grips, wider threaded tires, and a chainset guard.
Additionally, this bike is built for comfort. A convenient step-through top tube, cruiser-style commuter bike handlebars, upright geometry, and a saddle with a traditional worn leather feel.
Frame Material: Aluminum
27.5 x 2.4″ tires
Shimano 8-speed shifter
Mechanical disc brakes
---
Giant Escape 3 Disc
Best Giant commuter bike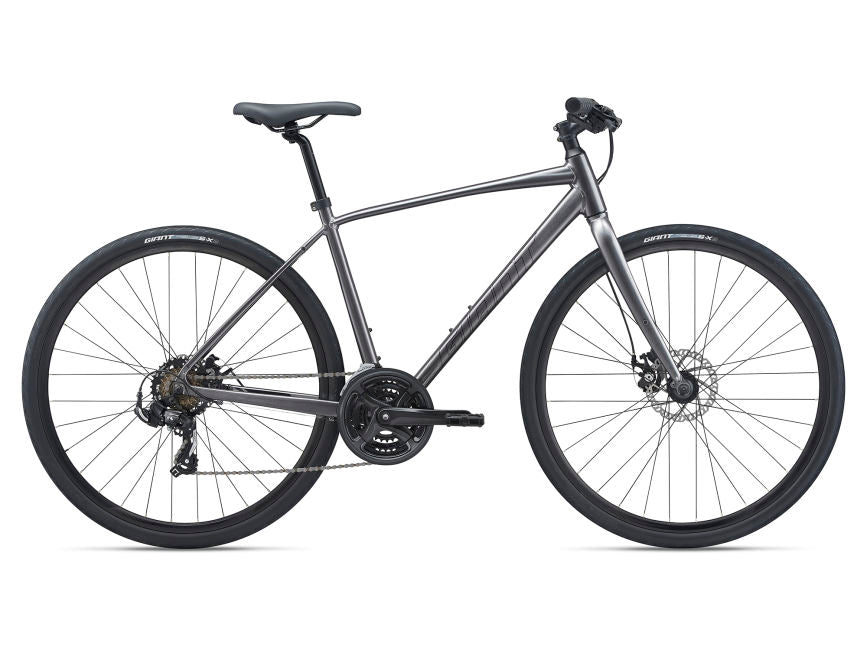 MSRP: $650
If you are looking for a great value adventure and commuter bike, look no further than the Giant Escape 3 Disc.
The Giant Escape is perfect for fast commutes, weekend multi-day adventures, and mixed-terrain rides, providing a smooth ride throughout. Using a shock-absorbent aluminum frame and steel fork, and a Shimano groupset, this bike proves to be durable and functional.
With this attractive bike by the Giant bike brand, riders are both comfortable and in control. The bike comes with Tektro mechanical disc brakes, stable city geometry, and a 1×7 Shimano Tourney drivetrain for precision shifting. With all of this and more, you won't find a better deal out there than this gem.
Frame Material: Aluminum with steel fork
Drivetrain: Shimano Tourney 1×7
Giant GX wheelset
Giant S-X3, 700x38c tires
Mechanical Disc Brakes
Rack and accessory mounts
---
Cannondale – Treadwell 2 Remixte
MSRP: $950
Frame Material: SmartForm C3 Aluminum
Drivetrain: microSHIFT Advent 9-speed
650b wheels
Maxxis DTR-1 47mm tires
Cannondale's Treadwell 2 Remixte hybrid bike balances cruiser comfort with the versatility of a commuter, in an all-around sleek product.
Cannondale chose flat handlebars and upright geometry paired with high-volume 47c tires on a 650b wheelset to generate added traction and comfort along with smooth vibration dampening. This bike uses reliable MicroSHIFT drivetrain components with nine gears to choose from.
Other notable components include Tetra hydraulic disc brakes, comfort touchpoints, as well as mounts for fenders or a rear rack for extra commuter functionality. The Treadwell 2 Remixte is a great budget-friendly choice for any commuter.
---
Electra Loft 7i
MSRP: $750
Aluminum frame and steel fork
700c x 35 mm city tread tires
7-speed internal gear hub
Alloy dual-pivot caliper brakes
Look no further if you'd like to navigate city streets with comfort, convenience, and speed.
The Electra Loft 7i is a versatile bike that's designed to be easy to use and fast for long commutes on bike paths and city streets. With 7-speed internal gearing, this bike is much easier to maintain and it's also more durable than models with an external derailleur. Though, the caliper brakes are not ideal for wet season stopping—disc brakes would be better here.
This bike comes equipped with all kinds of accessories that make it one of the most versatile commuters around. All in all, Electra knows how to blend quality features with a low price.
---
Pure Cycles Classic Bike
MSRP: $639
700 x 35 tires
1×8-speed Shimano Altus drivetrain
Alloy dual-pivot brakes
Faux leather saddle
Kickstand
This is pretty much a classic set-up of what to look in for a comfort bike in 2023. The Pure Cycles Classic is an affordable urban bicycle for convenient everyday use.
Steel frames have proved their way to be durable, comfortable, and well-engineered. Another great factor that speaks for the bike is the versatile 700c x 35mm tires, the wide variety of gears, and a kickstand. The saddle plays an important role too, and the faux leather is definitely a great fit for such a bike.
The bike also comes with a combination of fenders and a rear rack that increases its everyday practicality.
As a downside, the dual-pivot caliper brakes don't give you as much stopping power as disc brakes, which is why more and more modern bikes come with discs.
However, we're impressed with the overall package, especially considering this price range.
---
Commuter Bikes Buying Guide
---
Different Types of Commuter Bikes
There are many different types of commuter bikes that you can choose from. Each type has its unique pros and cons and might suit your specific needs better or worse.
City/Urban – This type of bike is perfect for riding in cities, urban areas, and bike paths. Comfortable bikes for short to medium distances using upright frame geometry and wide tires. Rear racks and fenders are common components on city/urban bikes.
Hybrid/fitness – This type of bike works is one of the most versatile. It is not optimized for anything in particular but works well everywhere. You can use it for commuting, weekend fitness, running errands, or visiting friends.
Comfort – These bikes are perfect for those with a shorter commute, who want a smooth and comfy ride. Perfect for older people, or those who are prone to aches in the back, shoulders, or wrists while riding.
Folding – This bike is the most convenient for those who need to store or transport their bike after using it. They are not optimized for performance but can be quite comfortable.
Cargo – If you need to transport anything heavy or bulky each day, be it kids, groceries, your pet, or other cargo, then look no further than this workhorse bike.
E-Commuters – The perfect bike for those who need to travel long distances or want to keep from sweating before reaching work. They are comfortable and practical for transporting heavy loads too.
Overall convenience
Knowing what you will require from your commuter bike will determine which type you need. It could be a cargo bike for transporting large loads, a folding bike for taking public transit, a hybrid to help keep you fit and take you from A to B through city streets and gravel roads, or a cruiser so you can ride in ultimate comfort wherever the road takes you.
With the gradual changing of cities and urban areas to support bicycle commuting, there is no better time than now to find yourself the perfect commuter bike. In this article, we will provide you with the knowledge you need to find your perfect match.
Commuter Bike vs Hybrid Bike
As we mentioned above, a hybrid bike is a type of commuter bicycle.
Hybrids are a mix of mountain, road, and touring styles, making them highly functional but not specialized to any one discipline. This means that you can be comfortable and still achieve a decent level of performance.
They perform well and are comfortable commuting short to medium distances. In your time off, you can also use this type of bike off-road, for fitness, or just as an alternative mode of transport. Hybrids usually have rack and fender compatibility, and many come with front fork suspension and moderately wide tires to complement the relaxed upright geometry.
Commuter Bike Wheel Sizes
700c – This is the most most common size in modern bikes. It is wider in diameter and narrower, creating less traction, meaning it is more efficient but offers less grip on the road and thinner tires are more uncomfortable to ride with.
650b – Less common but becoming more popular in newer models. This is the lighter wheel, however, wider tires sacrifice efficiency while boosting grip and comfort while riding.
26" – Sort of retired wheel size which is still used among cruiser and city bikes.
Suspension
Rigid Fork – This type is best for those less worried about comfort but who want performance. The more efficient yet less comfortable choice. A rigid fork is also cheaper and requires less maintenance.
Suspension Fork – Shock-absorbing front fork suspension makes for a super smooth ride. However, you sacrifice efficiency, requiring more energy to move. Note that many fork suspension systems can be set to rigid when it is not needed.
---
Bike Commuter Tips
If you have decided to do your daily commute by bicycle, there are a few things you should ask yourself before you make the change.
What are the accessories I need to stay safe year-round?
The two most important tools are finding the best bike lights and choosing the best commuter bike helmet for you.
What is the best way to carry the things you need for work or school?
The best options are bike commuter backpacks or a rear rack and pannier bags.
Also, make sure to follow road etiquette and safety practices in the city, and know how to keep your bike secure at all times.
---
FAQ
What is the difference between a road bike and a commuter bike?
A road bike is a style of bike, whereas a commuter bike is a category that features many styles, including hybrid, comfort, road, e-bikes, and more.
For long commutes, entry-level road bikes can be an excellent choice. They are fast, lightweight, and comfortable for longer distances.
Should I get a commuter bike?
Consider getting a commuter bike if you need your bike to be a versatile tool to help you get from A to B, run errands, transport cargo, or for leisurely rides.
How much should I spend on a commuter bike?
In this article, we have provided a wide variety of commuter bikes in different styles between $600 to $2300. Decide what features you need from your bike, and then maximize your budget ensuring the bike has each of these features. For more information, see our article on buying a bike and gear.