Best Hybrid Bikes for the Money
Hybrid bikes typically feature a combination of the best features from both on- and off-road styles and are designed to be comfortable riding on both tarmac and some gravel roads. In this sense, hybrid bikes are versatile but can't perform on extremely rough terrain as well as mountain bikes, nor can they compete in a race with a road bike.
Nowadays, they are the most common form of bicycle used for non-sport-related activities like:
Work commutes
Bike deliveries
Day trips
Recreational rides
If you're on a tight budget, we recommend also reading our buying guide on the best hybrid bikes under $1,000.
---
---
1

. Trek Dual Sport+ 2
Price: $2,400
Trek Dual Sport+ 2 is Trek's most affordable electric hybrid bikes and one of the best choices on this list. This is a fast and nimble hybrid ebike with sleek integrated motor and battery that are not in your face.
The Hyena G2 rear hub motor has 40 Nm of torque and provides assistance for up to 20 mph, whereas the 250 Wh battery is integrated into the down tube and secures a 35-mile range.
That's a decent setup for everyday riding and climbing, especially when you consider the 9-speed Shimano Altus rear derailleur and Shimano's MT200 hydraulic disc brakes. These are entry-level components, but they are reliable and durable.
Finally, the Dual Sport+ 2 also comes with bright front and rear lights, so you can ride it day and night.
We recommend getting it if you want a minimalistic hybrid electric bike that will allow you to ride further and faster than before.
---
2

. Cannondale – Quick Disc 4
Price: $960
REI.com
The Cannondale Quick Disc 4 is part of Cannondale's fitness city bikes, which include bikes that lean more towards on-road riding.
This bike has great value and a decent set of components to satisfy the needs of a recreational cyclist or urban commuter. You can add racks or fenders to the bike to make it even more versatile, while it can be used as a fitness bike as easily.
Frame – SmartFrom C3 alloy, tapered head tube.
Fork – Chromoly
Drivetrain – microSHIFT Advent 9-speed
Tires – Schwalbe Spicer 700c x 35mm
Brakes – Tektro hydraulic disc 160mm rotors
All in all, the Quick Disc 4 hybrid bike is definitely a bike that should be at the top of this list. At 25.5lbs, there's nothing to add or remove to make it more complete.
Sizes from S – XL
Accommodates riders from 5'2″ to 6'4″
---
3

. Co-op Cycles – CTY 2.1

Best-selling. Great value hybrid bike unisex & step-through frame

MSRP: $799
REI.com
With 63mm of travel in the front and 700c x 40mm tires, the CTY 2.1 is both fast and comfortable. It is a great value commuter bike with an upright riding position. On and off the road, the CTY 2.1 is an entry-level bike for casual commuters.
The CTY-series bikes have gained really good feedback on REI, which is Co-op Cycles one and only retailer! Their bikes have gained fast success in a limited timeframe so whenever you'd need assurance of what to expect – go over and read more from the reviews!
2×8-speed drivetrain. The Co-op Cycles CTY 2.1 features a Shimano Altus 16-speed drivetrain and Tektro hydraulic disc brakes to make up its groupset. The 8-speed rear cassette is an 11-34t with plenty of variety for all sorts of terrains.
700x40c Wheels and Tires. The CTY 2.1 comes with 700×40 Kenda Kick-Back tires with a reflective sidewall for extra safety at night. Wheels are standard 700c.
Performance. With the large, comfortable tires the bike handles well both on- and off-road.
>>> Related: eCTY Electric Hybrid Bikes
XS – M frame sizes.
Fits riders from 5′ to 5'9″
---
4

. Pure Cycles – Urban Commuter Bike

Versatile in every aspect
Price: $689
REI
Pure Cycles' Urban Commuter Bike is a budget-friendly urban bike equipped to tackle city roads as a commuting companion or a swift fitness bike.
The Urban Commuter has a high-quality Chromoly steel frame which is durable and comfortable to ride. This is paired with fast 700x32C tires which help you zip around the city.
This bike comes with Tektro M280 mechanical disc brakes and a SRAM X4 8-speed for the groupset, an adequate combination at this price.
Finally, this bike also comes with mounts for fenders and a pannier rack which would allow you to turn it into the perfect commuter bike.
1×8 SRAM gearing
Steel frame for a smooth and stable ride
Mechanical disc brakes
Frame sizes from S to L
Rider height – 5'3″ to 6'3″
---
5

. Giant – Escape 2 Disc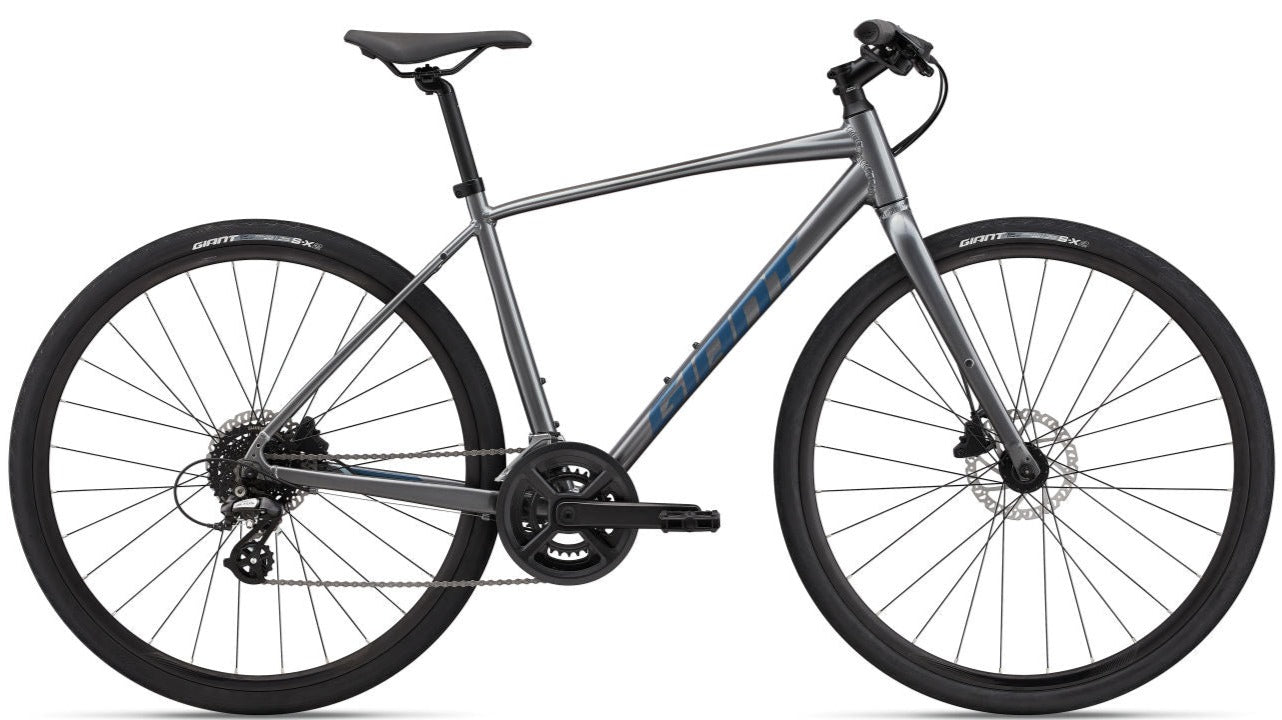 Price: $750
Mike's Bikes
The Giant Escape 2 is a fast fitness hybrid. Whether you need to get from A to B daily or convert the bike for commuting – there is a great mixture of capabilities. The Escape 2 is built on a step-through aluminum frame and equipped with 700c wheels.
As a hybrid with relatively narrow 38mm tires, this bike excels when going fast on pavement. Set them up tubeless for increased comfort and puncture resistance. The Tektro hydraulic disc brakes are also a great addition to the bike at this price range.
2×8 speed Shimano Altus/Tourney drivetrain
Tektro hydraulic brakes
Giant Sport saddle
700x38c Giant tires
As a downside, the Shimano Altus is not among the most durable drivetrains. Instead, it is best suited for recreational cyclists.
Available frame sizes: S-XL
---
6

. Specialized – Turbo Como SL 4.0
Price: $2,999
Mike's Bikes
A versatile electric bike for commutes and general urban riding. The Turbo Como is a comfortable option with an in-built basket.
For $3,000, you'll get quite a bulletproof hybrid bike with more than enough commuter attributes for the price. We're glad that they've gone for the 5-speed Shimano Nexus hub which provides extra reliability and less maintenance, while a Specialized SL 1.1 custom lightweight motor provides just enough punch to get you around the city sweat-free.
TRP Flow Set Control hydraulic disc brakes are another great addition to this bike as they allow you to stop reliably in wet conditions and require minimal maintenance. Finally, Nimbus 2 Sport Reflect 2.3″ absorb road vibrations to create a smooth ride quality.
E5 Aluminum
Nimbus 2 Sport Reflect, 650Bx2.3″ tires
Shimano Nexus, 5-speed internal gear hub
Turbo Como SL one-piece-design aluminum fork
TRP Flow Set Control hydraulic disc brakes
---
7

. Cannondale – Treadwell 2 Remixte

Best hybrid bike for women 🏆
Price: $950
REI.com
First impressions matter, right – Well what were your first thoughts when seeing this bike?
The Treadwell 2 Remixte is Cannondale's vision of a one-bike-to-rule-them-all that's built on a unisex frame that pertains more to female riders. Equipped with above-average components for long-lasting commutes, it runs on 650b wheels that are commonly used for comfort in commuting and bike touring.
The braking power is provided by Tektro hydraulic disc brakes, whereas the comfort is improved by a Cannondale Treadwell saddle. This is a sturdy bike for anyone who is looking for the ultimate hybrid that can be used for commuting and fitness alike.
In addition to all of this, Treadwell 2 Remixte also has a 9-speed microSHIFT Advent rear derailleur, female-friendly frame, geometry, and paint job, as well as comfy riser bars.
All in all, it's a phenomenal bike to travel to work, enjoy a fun afternoon spin with friends, or do daily grocery hauls!
---
8

. Rad Power Bikes – RadCity 5 Plus

Best all-purpose electric hybrid bike

Price: $1,849
Rad Power Bikes

RadCity 5 Plus is an electric hybrid bike at an excellent price point.

It's got all you need to get on the two electric wheels and with all the extras. The 800-charge cycle battery provides a pedal-assisted range of up to 50+ miles, and it takes 5-6 hours to fully charge the battery.

This e-bike does come with a rear-wheel hub motor instead of a mid-drive motor but it rolls on versatile 27.5″ wheels and tires and is a hell of a hybrid for city commutes. The bike weighs 65lb, but it really comes at a great price point.

It's got all the extras one would need from an everyday commuter such as – fenders, lights, racks, hydraulic disc brakes, and so on.
7-Speed
750W rear hub motor
27.5 x 2.0″ tires
Weight: 65lbs
Step-thru (mid-step frame fits riders – 4'8″ – 6'2″
Step-over frame fits riders 5'4″ – 6'5″
---
9

. Priority Bicycles – Continuum Onyx

Silent – Clean – Maintenance free
Price: $1,299
Priority Bicycles
A commuter hybrid should be the type of bike you simply use for any type of riding. You can wear a suit with the Priority Continuum Onyx since there's no lubricated chain, and you'll be protected from the water spray by the long-reaching fenders!
The Priority Bicycles – Continuum Onyx is a perfect example of what to expect in a decent hybrid bike. If you are looking for something that's easy to ride, comfortable, durable, and pretty much maintenance-free – This is the one for you.
Check out the rest of their range as their bikes start as low as $499.
380% gear range
Pinion Internal Gearbox – No need to lubricate the chain, or worry about the chain 'lubricating' your pants
Gates Carbon Belt-drive – Literally maintenance and oil-free
WTB 700c x 32mm puncture-resistant tires
Tektro Hydraulic Disc brakes
Carbon-fiber seat post
Front and rear fenders with mud flaps
Dynamo lights
S,M, L frame size
Recommended inseam 27″ – 35″
---
10

. Cannondale – Bad Boy 3

Most unique hybrid bicycle to rule the streets
Price: $1275
REI
The Cannondale Bad Boy 3 is a hybrid with the look of a hardtail but the versatility of a city bike.
Upon first glance, the component that stands out is the Lefty rigid fork that reduces overall weight without sacrificing strength. Cannondale uses their SmartForm C2 frame, which is a high-performance alloy with excellent ride characteristics and a low weight. The frame has in-built top tube protection for leaning and locking the bike when out and about.
The Bad Boy 3 comes with a 2×8-speed Shimano Tourney/Altus drivetrain, Easy Fire trigger shifters, and Shimano MT200 hydraulic disc brakes to complete the groupset.
650b Cannondale rims and WTB Byway 40mm is a versatile gravel-style setup. This combination gives the Bad Boy 3 mixed-terrain capabilities and plenty of traction in wet urban conditions.
Don't miss out on the Cannondale Bad Boy 3 if you want an affordable, versatile, and stylish city bike with the reliability of a big-name brand.
Aluminum frame
650b x 40mm tires
2×8 Shimano Altus/Tourney drivetrain
Shimano hydraulic disc brakes
Frame Sizes – S to XL
Accommodates riders 5'2″ to 6'4″
---
11

. Liv – Alight DD Disc 1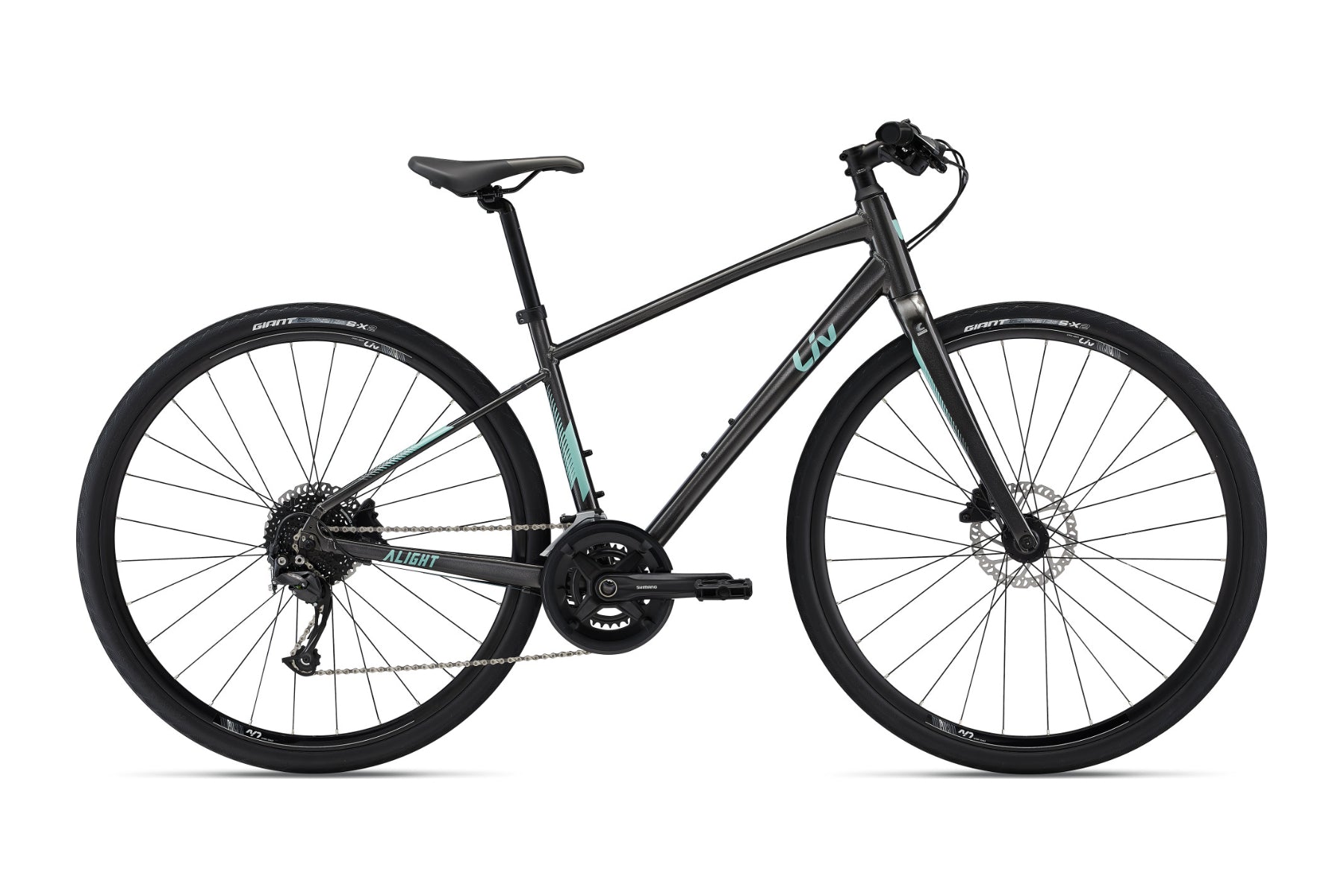 Price: $900
Mike's Bikes
The Alight DD Disc 1 is a stylish hybrid bike by the female-specific brand Liv with plenty of versatility for mixed-terrain riding.
For $900, you'll get an excellent commuter or fitness bike with reliable components from Shimano, Tektro, and Giant. In addition, the Alight 1 comes with 700c wheels and fast-rolling 38mm tires with puncture protection to ensure control and comfort on light gravel.
This bike also has Tektro hydraulic disc brakes with 160mm rotors, which is an impressive addition at this price. Finally, the Alight DD Disc 1 has relaxed hybrid geometry for added comfort.
6061 aluminum frame
700c x 38mm tires
2×9 Shimano Altus/Acera drivetrain
Tektro hydraulic disc brakes
---
12

. Marin – DSX 1
Price: $1,149
Jenson USA
The Marin DSX is another rigid hybrid, branded as the mountain biker's gravel bike. Like all Marin bikes, the DSX has excellent compatibility with accessories. This compatibility allows riders to personalize the bike for jobs like commuting and running errands.
The first highlight of this bike is the Tektro hydraulic disc brakes for consistent stopping power in all weather. Additionally, it has a Shimano Deore 11-speed drivetrain, which provides tons of range for climbs and smooth shifting, perfect for off-roading or hauling heavy cargo on long rides.
Overall, this is a great choice for gravel riders or mixed-terrain commuters.
Series 3 aluminum frame
700c x 45mm WTB Riddler tires
1×11 Shimano Deore drivetrain
Tektro hydraulic disc brakes
---
Other Types of Urban Bikes to Consider
---
Different Types of Hybrid Bicycles
Mountain bike influenced – These bikes usually have front suspension, thick treaded tires, and a mountain bike style frame design for better off-road handling. While they typically have slightly better on-road performance than most dedicated mountain bikes, they are at their best when dealing with rough surfaces like dirt and gravel.
Examples include the Trek FX 1
Road bike influenced – These are bikes with racing-style frames but straight handlebars for a more comfortable, upright position. They are usually lighter than most hybrids but also least suited to rough terrain or long-distance touring. These are great bikes for zipping around town are getting to work and back.
Examples include the Giant Escape 3 and Vilano Diverse 3.0
Cruiser & lifestyle influenced – Cruiser style bikes like the Sixthreezero EVRYjourney are aimed at short trips around town or into the countryside. They are usually very comfortable and feature racks or baskets for carrying small goods. While cruiser bikes can handle a bit of rough terrain they are ideally aimed at smoother road surfaces.
Examples include the Sixthreezero EVRYjourney
Utility hybrids – Utility hybrid bikes often make good touring bikes if you intend to stick mostly to tarmac surfaces. They are generally designed to be tough and carry heavier loads than most but are slower and a bit heavier than other hybrids. They don't usually have suspension but with thicker tires, they can hold their own on dirt or gravel.
Examples include the Raleigh Route 3
CX influenced – CX-style bikes are intended to provide a perfect balance between off- and on-road surfaces, making for decent dirt track and tarmac riding. The mix means CX-style bikes are ideally suited to any specific surface but are great if you want a long-distance touring bike that is ready for any conditions.
Hybrid bike tire sizes
26″ – An old-school choice, often found on city bikes
27.5″ = 650b – Common among hybrid bikes
700c – Road bike-inspired wheel size, very common among hybrid bikes.
29″ – Often found on mountain bikes, while some hybrid bikes can be equipped with 29er wheels.
Conclusion: Which one to choose?
---
Always take into account what you'll be using the bicycle for. There is no point in getting a mountain-bike-style hybrid bike with suspension travel if you are only going to be commuting to work on flat paved roads.
For work commutes, you might want a lightweight, easy-riding bike so you don't break too much of a sweat.
If you intend to do some weekend tours with camping – look into a utility bike that can handle more weight.
If you want to hit the gravel tracks on the weekend then you'll want a CX or mountain bike style hybrid.