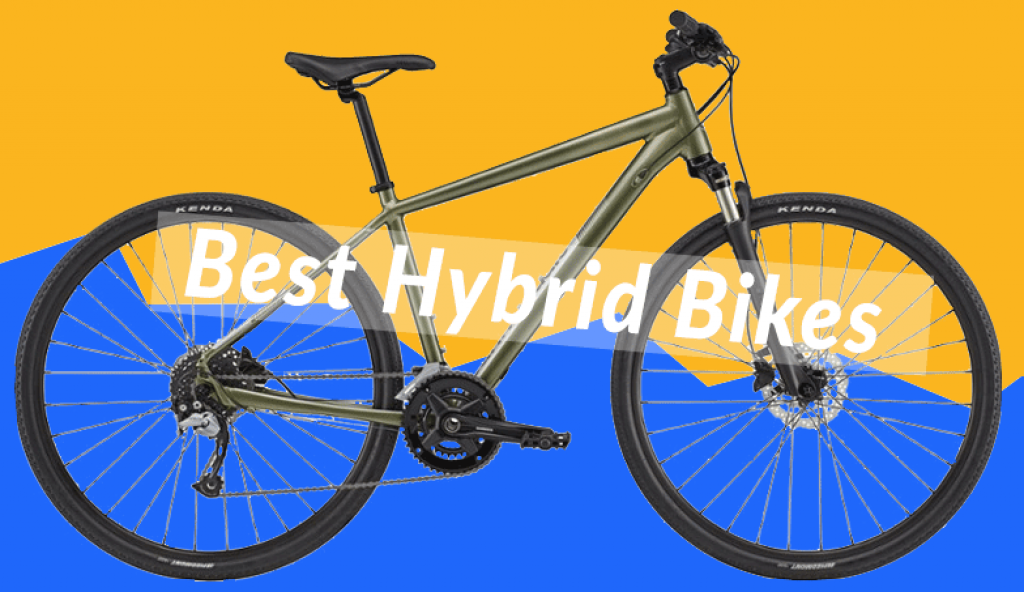 What is a hybrid bike?
A hybrid bike is essentially a cross between a mountain bike and a road bike, with a focus on comfort rather than speed. They typically feature a combination of the best features from both on- and off-road styles and are designed to be comfortable riding on both tarmac and some gravel roads.
In this sense, hybrid bikes are versatile but can't perform on extremely rough terrain as well as mountain bikes, nor can they compete in a race with a road bike. Nowdays they are the most common form of bicycle used for non-sport related activities like work commutes, bike deliveries, day trips, and recreational rides.
Best Hybrid Bikes For 2020
Most of our readers are looking for budget-friendly hybrid bikes. Here, we include such bikes. 
MSRP: $700
Features: Front suspension, versatile frame geometry, tough tires
The Cannondale Quick CX 3 is part of Cannondale's cross bike range, which includes bikes that lean more towards offroad riding but are not mountain bikes.
The CX range of bikes all have front suspension to deal with rougher off-road terrain and thick, treaded tires to handle dirt and gravel. While the bikes handle tarmac and concrete well, they really shine when it comes to dirt roads or single track trails.
The key features that differentiate the Quick CX from a mountain bike are the more upright frame design, thinner tires and lack of rear suspension. These all aid in making the bike faster and more efficient for urban and city riding.
Frame
The SmartFrom C2 alloy frame is lightweight and features internal cable routing, a tapered head tube and rack, and fender mounts. The front suspension fork is an SR Suntour NCX with lockout and 1-1/8″ steerer.
Groupset
The CX3 groupset is comprised of a Shimano Acera front derailleur with 48/36/26 crankset and Shimano Deore rear derailleur with an Alivio 11-32, 9-speed cassette. This makes up for 27 gears supported by Shimano Alivio shifters. Brakes are Shimano M315 hydraulic discs with 160mm rotors and M315 shifters.
Wheels and tires
The upgraded 700x38c tires on the new 2019 model are the excellent puncture-resistant Panaracer Comet Hardpack to handle and terrain. Wheels are Cannondale DC 3.0, 32-hole rims with Alloy disc, sealed, loose bearing hubs.
Performance
A great all-round bike for hitting trails on the weekend and getting to work and back during the week. While the bike is suited to off-road, recreational riding it will handle well for commuting and short to medium length bikepacking tours.
Positives:
Excellent gravel ride
Updated Shimano groupset
Front suspension
MSRP: $420
Features: lightweight, affordable
The Giant Escape 3 is an entry-level hybrid bike for short urban journeys, ideal for the work commute or recreational weekend rides. The lightweight ALUXX aluminum frame is designed in the sportive style of a racing bike but features straight handlebars for better control on dirt or gravel. 
While the Escape 3 is more suited to tarmac than dirt, it benefits from extra wheel clearance to fit wider tires and make offroad riding more comfortable. This combined with the addition of rack and fender mounts means the Escape 3 could make for a decent weekend adventure bike.
Frame
The Escape 3 frame is formed from ALUXX-grade aluminum with a high-tensile steel fork, making the bike slightly stronger but heavier than most similarly priced road bikes. The frame also features convenient rack and fender mounts so you can load up some luggage for short touring or bikepacking trips.
Groupset
The new 2020 model of the Giant Escape 3 comes kitted out with Shimano Tourney derailleurs on the front and back along with Shimano ST-EF41 shifters. The triple front crankset has 28/38/48 cogs with the 7-speed rear cassette ranging from 14 to 34. Brakes are standard alloy linear-pull caliper brakes with Shimano levers.
Wheels and tires
Giant have fitted the Escape 3 with their own brand double-wall aluminum rims and fitted puncture-resistance Giant S-X3 700x38mm tires.
Performance
The Escape 3 offers excellent value for money if you are looking for a quick, light bike to get around town. It won't handle dirt and gravel quite as well as some other hybrids and lacks extra features like disc brakes and suspension. However, it makes for an excellent and affordable city commuter or as a second-bike for taking out on short outings.
Negatives:
Some parts are low quality 
MSRP: $549
Features: 3 x 8 gears, disc brakes
The Co-Op Cycles CTY 1.1 is a 24-speed aluminum bike perfect for city riding, weekend trips or work commuting. It features mechanical disc brakes for sharp and precise stopping, wide, puncture-resistant tires and a comfortable Selle Royal Shadow+ saddle. 
If you're looking to do short weekend bikepacking or camping trips, the CTY 1.1 has sufficient eyelets to mount both racks and fenders so you can carry luggage and stay mud-free.
At only 26.4 lbs, the CTY 1.1 is light enough to zip around town but also strong enough to carry up to 304 lbs including the rider and luggage. Its frame is made from 6061 butted aluminum to offer a tough exterior that doesn't weigh a ton.
Groupset
The Co-Op Cycles CTY 1.1 features a combination of Shimano Tourney, Altus, and Acera parts to make up its groupset. The 8-speed rear cassette is a Shimano HG31 (11-32) with an Acera derailleur.
On the front, you'll find a 3-speed (48/38/28) Shimano TY-301 crankset with Tourney derailleur. Both gears are supported by Altus 8 trigger shifters and brakes are Tektro M300 mechanical discs with Tektro shifters.
Wheels and Tires
The CTY 1.1 comes with puncture-resistant 700×40 Kenda K1024 tires that benefit from a protective shield to block thorns and a reflective sidewall for extra safety at night. Wheels are standard 700c Co-op rims with Joytech 32h hubs on both front and back. 
Performance
With the large, comfortable tires the bike handles well both on-road and off. Over a wide variety of terrain, we were unable to puncture or damage either of the tires. The lack of suspension means you can't quite go fully offroad like you would on a mountain bike but that is to be expected from a hybrid.
The advantage of having no suspension means the bike goes much faster on the tarmac, making it ideal for zipping around town, collecting groceries or just visiting friends. Put a rack on the back and a handlebar bag on the front and this bike will be perfect for weekend camping trips in the surrounding countryside.
Positives:
Value for money
Versatile
Fender and rack mounts
MSRP: $949
Features: Steel frame, internal hub
The Marin Muirwoods RC is a true urban commuter – a tough, comfortable bike designed for navigating the concrete jungle.
Rather than sacrificing efficiency with front suspension, the Muirwoods RC makes use of wide thick tires and a steel frame to ensure a smooth and comfortable ride.
Frame
The Series 1 4130 double-butted CroMo frame will appeal to road bike traditionalists who know you simply can't beat the feel of steel. It's durability, absorption, and excellent power transfer makes steel a long-time favorite of hardcore cyclists.
Despite its decidedly urban look, the Muirwoods RC is actually designed on a mountain bike frame with Marin slider dropouts, fenders, and rack mounts.
Groupset
Another key feature that makes the Muirwoods RC stand out from the rest is the internal gearing on the rear hub. It hosts a Shimano Nexus 8-speed gearbox connected to an external 19T cog. This is coupled with a single 42T front ring to provide an incredibly simple groupset that requires minimum maintenance.
Wheels and Tires
As mentioned, the Muirwoods RC features extra-wide 650Bx47 WTB Horizon tires, which are slightly heavier than their tubeless version but feature a wire bead for added protection. These run well on the 27mm disc-specific Marin Aluminium Double Wall rims with aluminum alloy hubs.
Performance
Overall, the Muirwoods RC is a high-quality hybrid bike and comes with a price to match. However, if you have the extra budget this is a bike that will provide years of quality riding with minimal hassle.
Positives:
CroMo Steel frame
Internal hub
MSRP: $699
Features: 27 gears, aggressive geometry, tough frame design
The GHOST Square Cross 1.8 is another tough hybrid bike that could almost be mistaken for a mountain bike. Aggressive geometry coupled with front suspension and thick tires makes for a bike that wouldn't look out of place racing down a mountain.
However, don't discount its on-road abilities just yet. The Square Cross handles tarmac surprisingly well, largely due to its stiff but lightweight aluminum alloy frame. A quick realignment of the adjustable handlebars put the rider in a comfortable upright position perfect for long-distance commuting or touring.
Groupset
The GHOST Square Cross 1.8 Bike features a Shimano Altus parts across the board, with a Shimano 48/36/26 triple crankset up front and a 9-speed (11-34) rear cassette offering 27 gears. 
Tekro hydraulic disc brakes are on both wheels along with Kenda Flintridge Sport 42-622 tires for maximum grip and control off-road.
Frame
At 30 lbs, it's not the lightest hybrid bike we've tested but it certainly feels like one of the strongest, taking on rocky downhills without trouble. The Suntour SF 16-NEX-DS suspension fork has 50mm travel and reacts quickly coming off a bump.
Performance
While the GHOST Square Cross 1.8 might struggle to compete with full-blown mountain bikes it certainly holds it's own while blasting down singletrack and gravel paths. You'll certainly have no trouble getting to work and back on this bike but it's really aimed at those looking to spend more time off-road. If you are thinking of getting into gravel riding bikepacking, the Square Cross 1.8 is an excellent and affordable entry-level choice. 
Positives:
Aggressive riding style
Good groupset
5 models 
MSRP: $749
Features: Front suspension, step-through design
Like the Co-Op CTY 1.1, this is another hybrid offering from outdoor sports supplier REI. REI developed their own range of in-house bicycles in 2017 and have released over 30 models since.
The CTY 2.1 features similar relaxed geometry found in the 1.1 with the addition of a step-through frame and front suspension fork for added comfort on rough roads. Adjustable handlebars give the bike additional versatility along with hydraulic brakes and ergonomic handlebars.
Groupset
The CTY 2.1 combines a Shimano Acera derailleur on the rear with an HG41 8-speed (11-34) cassette and a Shimano triple crankset with FD-M191 derailleur up front. Altus trigger shifters control the gears while Shimano M315 levers handle the hydraulic disc brakes.
Wheels and tires
The CTY 2.1 comes with 700c x 40mm Kenda Kick-Back tires with reflective sidewalls for safer night riding. These are fitted on Co-Op cycle rims with Joytech 32h hubs.
Performance
The main advantage of REI's Co-Op range of bikes is their ready-to-ride nature which is appealing for entry-level riders. These highly versatile bikes can hit the road right out of the box and will feel great from the start.
The 2.1 is a bit of an upgrade on the 1.1, with the main benefit being the 63mm lock-out suspension fork for comfortable on and off-road riding. The upgraded groupset also gives this bike a more mature feel which gravel riders will appreciate.
At 31 lbs, the CTY 2.1 isn't the lightest bike in its class but it makes up for this with quality components at an attractive price.
Positives:
Front suspension
Quality components
Consider Also: Giant Escape 3 Disc
MSRP: $470
Features: Disc brakes, low cost
The Giant Escape 3 Disc is the disc-brake version of the Giant Escape 3. As with the standard Escape 3 above, the Escape 3 disc is an entry-level hybrid bike for short urban journeys, ideally, work commutes or short weekend rides. The lightweight ALUXX aluminum frame is designed in the sportive style of a racing bike but features straight handlebars for better control on dirt or gravel. 
The addition of disc brakes makes the Escape 3 slightly more adaptable to offroad or wet conditions and provides much sharper braking. As with the standard model, the Escape 3 disc has considerable wheel clearance for wider and more comfortable offroad-suitable tires.
Frame
The Escape 3 Disc features a lightweight ALUXX-grade aluminum frame with an upright seating position for more comfortable riding. This is combined with a strong, high-tensile steel fork and a D-Fuse seat post for better absorption on rough terrain. Several convenient mount points are included on the frame so you can attach a rack to carry luggage and fenders for deflecting water and mud from the road.
Groupset
The Escape 3 Disc model comes with a Shimano Altus rear derailleur and an FD-TY710 front derailleur. These are coupled with Shimano Altus shifters, a double ring 30/46 crankset, and an 11×34 cassette on the back. The disc brakes are Tektro MD-U310 with standard alloy levers.
Wheels and tires
Giant have fitted the Escape 3 with their own brand GX Disc rims and Giant S-X3 puncture-protect 700x38mm tires.
Performance
While the Escape 3 Disc is still an entry-level bike, it offers excellent value for money for a disc brake bike with decent components. If you're looking for a light but tough bike to get around town or hit some trails on the weekend, the Escape 3 disc will serve you well. It may not provide as comfortable a ride on the offroad as a bike with suspension but it makes for an excellent work commuter or recreational weekend ride.
Positives:
Disc brakes
Altus groupset
Good price
sixthreezero EVRYjourney Women's Cruiser
MSRP: Check On Amazon
Features: Comfortable step-through design, range of colors
This female-focused hybrid bike comes in a wide variety of colors and sizes to fit all requirements.
Despite the lightweight aluminum frame, the bike still comes in at 33.9 lbs due to other solid features like a larger saddle and thicker 26″ wheels and tires. However, these features are included for the purpose of providing an extremely comfortable ride, making this one of the most comfortable hybrids available.  
Frame 
The frame geometry is customized with the female figure in mind, with an easy step-through design and comfortable upright sitting position.
The foot-forward seat means riders of any height will be able to rest feet on the ground when stopped and easily mount the bike. The saddle benefits from a double spring design combined with large 1.95″ double wall tires for maximum shock absorption.
Groupset
The sixthreezero EVRYjourney Women's Step-Through comes with a simplified gearing system with only a single front ring and a 3-speed, 7-speed or 21-speed Shimano rear cassette. Brakes are standard alloy caliper brakes with simple handlebar levers.
Performance
Since the sixthreezero EVRYjourney comes standard with fenders and a rear rack it makes it an ideal commuter bike straight out the box. However, while the bike might handle dirt paths it is not especially well designed for off-road riding. This is suited best to comfortable riding about town on solid surfaces.
The variety of colors, versatile seating options and general adaptability will make this a highly attractive bike to a wide range of female riders.
Positives:
Shock absorption for extra comfort
Wide range of colors
Simple design
Negatives:
Not ideal for off-road
Low gearing options
MSRP: Check On Amazon
Features: 24-speed, disc brakes
The Vilano Diverse 3.0 has probably the most road bike style frame of all the hybrid bikes listed here but don't let that fool you. With wide tire clearance, disc brakes and straight handlebars, this bike can take on the tarmac and gravel paths in equal measure.
Riders hoping to compete in friendly weekend sportives or hit single track paths with friends will both find themselves happy on the Vilano Diverse 3.0. This is a sporty bike designed to be ridden fast and aggressively on any terrain. Of course, it will get you to work and back too in a slightly faster and more exciting way.
Frame
The hydroformed 6160 aluminum alloy frame is shaped for performance, putting the rider in a more aerodynamic position for minimum wind resistance. Unfortunately, frame sizes are slightly limited to only a medium and large, fitting riders from 5'5″ to 6'4″.
Groupset
The Vilano Diverse 3.0 has a 24-speed Shimano Tourney TX gearset with Tourney derailleurs on both the front and back. These are controlled with Shimano EF 51 3/8 shifters that are integrated into the brake levels. This might take some getting used to for riders who haven't used them before.
Tires and Wheels
The Vilano Diverse 3.0 comes standard with Kendra 700c x 35 tires on Weinmann 700c wheels with combined disc brakes. The decent tire clearance means these tires can be upgraded to even larger tires for better grip and more comfort off-road.
Performance
The Vilano Diverse 3.0 performs excellently for a bike in its price range and could easily compete against more pricier models. It may not win you any medals but will certainly pit you well against your mates on weekend rides around town or in the countryside.
Positives:
Good value for money
Fast frame design
24 speed
Negatives:
Strange shifter design
Gearset could be better
MSRP: $830
Features: Quality components all round
The Raleigh Route 3 is a true hybrid style bike with all the necessary features for both on and off-road riding. It also comes in slightly more expensive than most bikes listed here but proves it's worth the extra dollars.
With front suspension, disc brakes, and a high-quality Shimano groupset, the Raleigh Route 3 will impress even the most seasoned of bikers. Combined with a lightweight aluminum frame and quality components and you have a winning formula.
Frame
The Raleigh Route 3 features a custom formed aluminum alloy tubed frame with a Suntour NVX-DS fork with 75mm travel and a preload adjuster. Eyelets for a rack, fenders and bottle cages means this bike could easily be converted to a decent touring bike.
Groupset
The gearing is supplied by a combination of a Shimano Acera M3000 front derailleur on a 3-speed (26/36/48t) crank and Shimano Alivio M4000 rear derailleur on an HG200 9-speed cassette. This provides 27 gears controlled by Shimano Acera SL-M3000 3×9 trigger shifters.
Wheels and tires
Raleigh Route 3 benefits from nice and wide Vee Tire Easy Street 700x42c tires on Alloy DDM-1 Double Wall disc rims. These are fitted with Shimano MT200 hydraulic disc brakes for sharp and precise stopping.
Performance
The Raleigh Route 3 is a beast of a bike that will leave riders struggling to find anything bad to say about it. The thick tires, front suspension, and strong frame make for fun riding on even the roughest of off-road surfaces. On the tarmac it features just as well, tackling city and urban streets in any weather conditions. It's certainly no racing bike but it sure us a tough player designed for tough conditions.
Positives:
High quality components
Front suspension
Good for touring
MSRP: $440
Features: Aluminum frame, steel fork, Shimano components
Trek FX 1 is designed to traverse all and any terrain, from pavement and road to gravel and dirt track. Front steel fork combined with an aluminum mountain bike frame design makes this bike a decent trail runner or urban navigator. 
Trek has managed to keep the cost of the FX 1 down by settling for a slightly lower quality groupset but all-round this bike still comes out better than most in its range. Decent components like Bontrager rims and tires and Tektro brakes work together to provide an impressive ride.
Frame
Trek's Alpha Gold Aluminum alloy frame gives this bike a lightweight, mountain bike feel. Combined with the traditional rigid steel fork gives you have a potent urban and dirt commuter.
Groupset
A combination of Shimano Tourney and Altus components work well together to provide a decent 21-speed drivetrain. Altus EF500 shifters control the Tourney front derailleur and Altus rear, with an 14-34T, 7-speed cassette. The crankset is a Tourney triple ring, 48/38/28 tooth, with a chainguard.
Wheels and tires
For tight control off-road, the Trek FX 1 utilizes wide Bontrager H2 700x35c tires on Bontrager Connection double wall 32h wheels. 
Performance
The Trek FX 1 is one of the tougher hybrid bikes we've ridden, coming across almost like a CX bike. It's certainly more focused on urban terrain than off-road, meaning this might appeal more to commuters than weekend adventurers. If you live in an urban area surrounded by nature, the Trek FX 1 will be the perfect vehicle for all your biking needs.
Positives:
Great frame and fork
Good for urban and off-road rides
21 speeds
Different Types Of Hybrids
There are different types of hybrids we are covering now:
Mountain bike influenced – These bikes usually have front suspension, thick treaded tires, and a mountain bike style frame design for better off-road handling. While they typically have slightly better on-road performance than most dedicated mountain bikes, they are at their best when dealing with rough surfaces like dirt and gravel.
Examples include the Trek FX 1 and Ghost Square Cross.
Road bike influenced – These are bikes with racing-style frames but straight handlebars for a more comfortable, upright position. They are usually lighter than most hybrids but also least suited to rough terrain or long-distance touring. These are great bikes for zipping around town are getting to work and back.
Examples include the Giant Escape 3 and Vilano Diverse 3.0
Cruiser & lifestyle influenced – Cruiser style bikes like the sixthreezero EVRYjourney are aimed at short trips around town or into the countryside. They are usually very comfortable and feature racks or baskets for carrying small goods. While cruiser bikes can handle a bit of rough terrain they are ideally aimed at smoother road surfaces.
Examples include the sixthreezero EVRYjourney
Utility hybrids – Utility hybrid bikes often make good touring bikes if you intend to stick mostly to tarmac surfaces. They are generally designed to be tough and carry heavier loads than most but are slower and a bit heavier than other hybrids. They don't usually have suspension but with thicker tires, they can hold their own on dirt or gravel.
Examples include the Raleigh Route 3 or Marin Muirwoods
CX influenced – CX-style bikes are intended to provide a perfect balance between offroad and on-road surfaces, making for decent dirt track and tarmac riding. The mix means CX-style bikes are ideally suited to any specific surface but are great if you want a long-distance touring bike that is ready for any conditions.
Examples include the Cannondale Quick CX
Always take into account what you will mostly be using the bicycle for. There is no point in getting a mountain-bike style hybrid bike with suspension if you are only going to be commuting to work. For a work commute, you want a lightweight, easy-riding bike so you don't break too much of a sweat. 
If you intend to do some weekend tours with camping you'll want a utility bike that can handle heavyweight. If you want to hit the gravel tracks on the weekend then you'll want a CX or mountain bike style hybrid.
Weight
Bicycles tend to weigh less the more expensive they are and for hybrids, this is no different. Good quality racing bikes that cost $1000 bikes usually weigh around 24 lbs. A cheaper $500 bike could weigh as much as 30 lbs. However, this is a very broad scale and for hybrid bikes, they can weigh a lot more or less depending on their purpose. 
Strong off-road or touring-style bikes with suspension will almost always weigh more than lighter, road-style bikes that can't carry much luggage. Most hybrid bikes weigh between 24 to 28 lbs without any added components. Wheel quality is another important factor that can affect the weight of a bicycle and ride quality.