Best Hybrid Bikes For The Money
A hybrid bike is essentially a cross between a mountain bike and a road bike, with a focus on comfort rather than speed. They typically feature a combination of the best features from both on- and off-road styles and are designed to be comfortable riding on both tarmac and some gravel roads. In this sense, hybrid bikes are versatile but can't perform on extremely rough terrain as well as mountain bikes, nor can they compete in a race with a road bike. Nowadays, they are the most common form of bicycle used for non-sport-related activities like:
What is a hybrid bike?
Commuter = City = Urban = Hybrid?
*Commuter bike is designed to get around in generally urban areas. Great for everyday rides
*City bikes are known to have rigid frames and simple set-ups in terms of the level of components
*Urban bikes are somewhat similar to city bikes, while some urban bicycles have a fork for added comfort
Therefore, a Hybrid bicycle is a mixture of two (or more) different bikes. In most cases, a hybrid bike is considered a mixture of road and mountain bikes. The best of (and for) both worlds!
Work commutes

Bike deliveries

Day trips

Recreational rides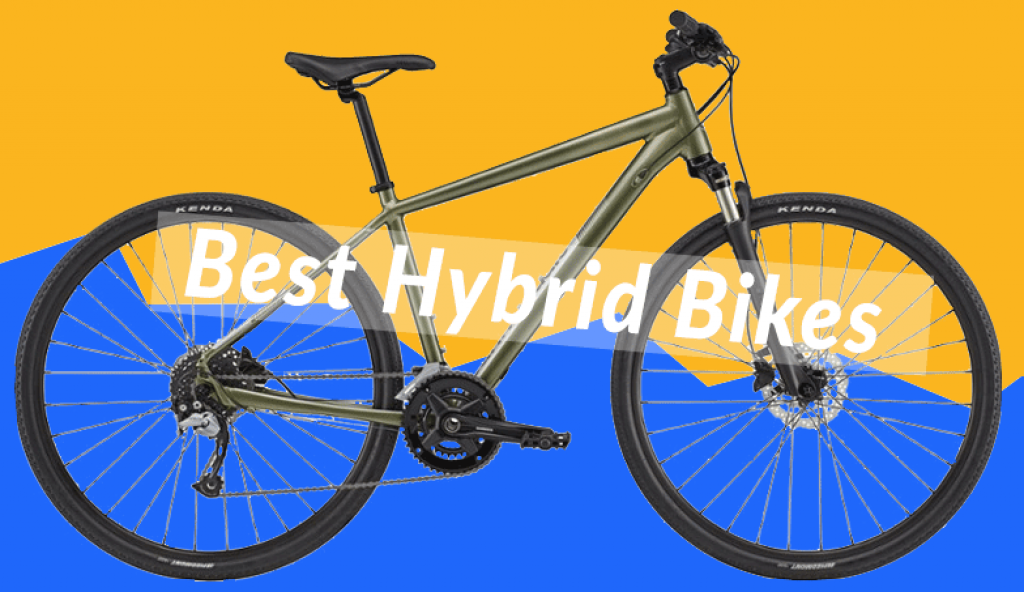 ---
Best Electric Hybrid Bikes  //  Women's Hybrid Bikes of 2021  //  Best City Bikes  //  Best Commuter Bikes
---
1

. Co-op Cycles – CTY 2.2

Best-value – REI Score 4.5 / 5 out of 31+ ratings!
3×9 Drivetrain / Hydraulil Disc brakes / 700c wheels & puncture-resistant tires
MSRP $1,199 REI (Earn a 10% member dividend)
With 63mm of travel in the front and 700c x 40mm tires, the CTY 2.2 is both a fast and comfortable commuter with an upright riding position.
The CTY-series bikes have gained really good feedback on REI, which is Co-op Cycles one and only retailer! Their bikes have gained fast success in a limited timeframe so whenever you'd need assurance of what to expect – go over and read more from the reviews!
Groupset

. The Co-op Cycles CTY 2.2 features a combination of Shimano Alivio and Acera parts to make up its groupset. The 9-speed rear cassette is a Shimano HG-300 (11-36) with an Alivio derailleur and shifters, Brakes are hydraulic discs, which is a nice upgrade from the cheaper models.

Wheels and Tires

. The CTY 2.2 comes with puncture-resistant 700×40 Kenda K1024 tires that benefit from a protective shield to block thorns and a reflective sidewall for extra safety at night. Wheels are standard 700c GLM with Joytech 32h hubs on both front and back.

Performance

. With the large, comfortable tires the bike handles well both on-road and off. Over a wide variety of terrain, we were unable to puncture or damage either of the tires. The suspension lockout means you can go fully offroad as you would on a mountain, and lockout on paved areas – something to be expected from a hybrid.
Check out eCTY 2.2 Electric Hybrid 🏆
Co-op Cycles CTY Series Overview
CTY 1.1 – $599
CTY 1.2 – $999
CTY 2.1 – $799
---
2

. Cannondale – CX 3

Best under $1,000 hybrid bike
700c wheels / 16-speed / Rack&fender mounts / Hydraulic disc brakes
MSRP $825 REI
The Cannondale CX 3 is part of Cannondale's fitness city bikes, which includes bikes that lean more towards on-road riding. This bike has great value and a decent set of components to satisfy the needs of a recreational cyclist or an urban commuter. You can add racks or fenders to the bike to make it even more versatile, while it can be used as a fitness bike as well. What's also great is that it's got a front suspension with 63mm of travel which helps a ton when riding through city streets or light trails.
This frame type is more suitable for men, while you'll find hybrid bikes from the same series made for female riders as well!
Frame

 The SmartFrom C3 alloy frame is lightweight and features internal cable routing, a tapered head tube and rack, and fender mounts.

Components

 The Cannondale CX 3 features a Shimano Tourney derailleur and shifters on that 16-speed drivetrain (46-34 tooth sprockets). The braking power is supported by Tektro HD-T275 hydraulic disc brakes with 160mm rotors.

Wheels and tires

 The speed of the CX 3 is backed with Cannondale's double-wall 32h Disc rims and Vittoria Terreno Dry 700c x 40mm tires with a reflective strip.

Performance

 A great all-around bike for fitness/commuting purposes on the weekend and getting to work and back during the week.
---
3

. Cannondale – Treadwell 2

Best fitness hybrid bike! 🏆
9-speed / 650b wheels / microSHIFT derailleurs
MSRP $925 REI
First impression matters, right – Well what were your first thoughts when seeing this bike? The Treadwell 2 is Cannondale's vision of a one-bike-to-rule-them-all that's built on a unisex frame. Equipped with all the above-average components for long-lasting commutes, the runs on 650b wheels that are commonly used among bike touring, the braking power is supported by the Tektro hydraulic disc brakes, the comfort is well-supported by Cannondale Treadwell saddle. This is a sturdy bike for anyone who is looking for the ultimate bike that can be used for commuting and fitness alike.
---
4

. Rad Power Bikes – RadCity

Best electric hybrid bike under $1,500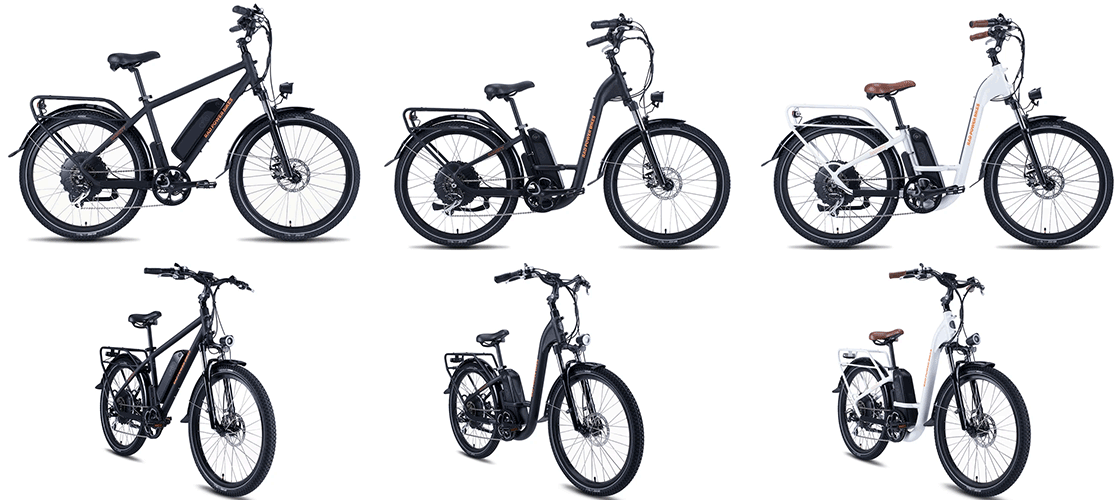 7-Speed / 750W rear hub motor / 26×2.3″
MSRP $1,499 Rad Power Bikes
RadCity 4 is an electric hybrid bike at an excellent price point. It's got all you need to get on the two electric wheels and with all the extras. The 800-charge cycle battery provides a pedal-assisted range from 25 to 45 miles, and it takes 5-6 hours to fully charge the battery. Sure, a seasoned cyclist may notice that it's got a rear-wheel hub instead of a mid-drive engine, 26″ wheels instead of 650b, and the bike weighs 60lb, but it really comes at a great price point. Its got all the extras one would need from an everyday commuter such as – the fenders, lights, racks, mechanical disc brakes, and so on.
Recommended for riders between 5'11" – 6'5″
Look up also the RadMission single-speed electric city bike for $1,099!
---
5

. Priority Bicycles – 600

Silent – Clean – Maintenance free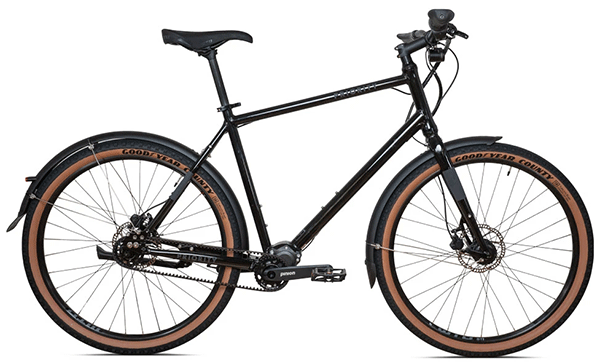 Gates Belt-drive / 12-speed Pinion Gearbox / 650B wheels / Dynamo lights
MSRP $2,299 Priority Bicycles
A commuter hybrid should be the type of bike you simply use for any type of riding. You can wear a suit with the Priority 600 since there's no lubricated chain, and you'll be protected from the water spray by the long-reaching fenders!
The Priority Bicycles – 600 is a perfect example of what to expect in a decent hybrid bike. If you are looking for something that's easy to ride, comfortable, durable, and pretty much maintenance-free – This is the one for you. Check out the rest of their range as their bikes start as low as $499 – Priority Cycles full review
Fenders – Front and rear with mudflaps on the end
600% gear range
Internal Gearbox – No need to lubricate the chain, or worry about the chain 'lubricating' your pants
Belt-drive – Literally maintenance and oil-free
WTB 650B Road Plus tires (27.5″)
Tektro

Hydraulic Dis

c brakes
Carbon-fiber Seatpost
Dynamo lights
Large and comfortable, puncture-resistant tires.
---
6

. Marin – Olema 650b

A gravel bike is an ideal hybrid commuter for fast and zippy routes, on and off the road
MSRP $799 JensonUSA
Wait, why is there a road bike in a hybrid bike review?
A hybrid bike in essence is a mixture of two bike types, generally, a mixture between the road- and mountain bikes, and the gravel bike is a perfect middle-ground for that.
If you didn't know before, mountain-bike specific brands have also at least one gravel bike on their listings. Matter of fact, gravel bikes are considered mountain bikes since the majority of the riding is expected to take place on gravel roads and light trails.
Long story short, if you are an experienced cyclist looking for a do-it-all bicycle, this is truly a hard deal to pass by. Drop-bar handlebar, 650b wheels, mechanical disc brakes and plenty of gears to choose any imaginable trail to conquer. Just make sure it is one of the cheapest gravel bikes, to get, which means it is best for recreational commuting, not for competing.
---
7

. Tommaso – La Forma

Best value fitness hybrid!
27-Speed Shimano Acera / Weight: 25lbs
MSRP $875 Giantnerd
Tommaso is a well-known bike brand for its good quality and affordable price tag. La Forma rocks a little old-school set in the game with V-brakes and triple front chainring, but hey, there are many of us who prefer the 'old-school' to new trends. V-brakes, in the long run, require less maintenance, and you can simply do the work by yourself.  This is a fast bike with 32mm wide tires on it, and it only weighs 25lbs! The frame is made of 6061 aluminum alloy, and the whole bike actually comes 99% assembled and pre-tuned! Check out for more affordable or better-equipped bikes on the range to find you the best deal available!
Shimano Acera 9×3
Aluminum frame
Tommaso La Forma – MSRP $875
Tommaso Forza Disc – MSRP $750
Tommaso Sorrento – MSRP $700
Giantnerd
---
8

. Marin – Muirwoods RC 2021

2021 model

Steel / Hydraulic brakes / Internal gearing
MSRP $1,049 JensonUSA
The Muirwoods RC 2021 model features all and more you'd want from a hustle-free riding experience. This bike has got everything; fenders, internal gearing, a comfortable riding position, hydro brakes, a steel frame, and plenty of rack mounts to use for other purposes, not that this bike has already everything to be one of the exemplary.
Puncture-resistant tires
Reflective graphics for urban use
Steel frame for a smooth and stable ride
Fenders with mud-flaps
Shock-absorbing bar tape
The Muirwoods has been on this list before and has shown great interest among many recreational cyclists!
The 2021 Muirwoods start as low as $799
---
9

. Cannondale – Bad Boy

Most unique hybrid
Lefty-Rigid fork / A tough-looking geometry / 650b wheels
Those bikes don't need too much introduction as the Bad Boy series is one of the toughest and unique hybrid bikes on the market! Check out our overviews of those bikes to find the best suitable one for you.
Bad Boy 1 – MSRP $2,100 REI – Cannondale Bad Boy 1 Review
Bad Boy 2 – MSRP $1,350 REI
Bad Boy 3 – MSRP $950 REI – Cannondale Bad Boy 3 Review (Incl. a comparison vs Bad Boy 2)
---
10

. Pure Cycles – Urban Commuter

One of the cheapest of the bunch
8-speed / Steel Frame / 700x32c tires / Mechanical Disc Brakes
MSRP $499 REI
Pure Cycles' bikes range offers a nice variety of unique-looking bicycles, and the Urban Commuter is one of those. Although the bikes have nice designs, the low price is designed for the recreational cyclists who are looking for the best bang for their buck. Take a look at the features it's got:
Rack & fender ready with two water-bottle mounts – For the best-optimized versatility
Steel frame and 700c wheels – Pick up and hold speed more than you could imagine!
8-speed derailleur by SRAM and mechanical disc brakes – For a convenient commuting
---
The Different Types of Hybrid Bicycles
There are different types of hybrids we are covering now
Mountain bike influenced – These bikes usually have front suspension, thick treaded tires, and a mountain bike style frame design for better off-road handling. While they typically have slightly better on-road performance than most dedicated mountain bikes, they are at their best when dealing with rough surfaces like dirt and gravel.
Examples include the Trek FX 1 and Ghost Square Cross.
Road bike influenced – These are bikes with racing-style frames but straight handlebars for a more comfortable, upright position. They are usually lighter than most hybrids but also least suited to rough terrain or long-distance touring. These are great bikes for zipping around town are getting to work and back.
Examples include the Giant Escape 3 and Vilano Diverse 3.0
Cruiser & lifestyle influenced – Cruiser style bikes like the Sixthreezero EVRYjourney are aimed at short trips around town or into the countryside. They are usually very comfortable and feature racks or baskets for carrying small goods. While cruiser bikes can handle a bit of rough terrain they are ideally aimed at smoother road surfaces.
Examples include the Sixthreezero EVRYjourney
Utility hybrids – Utility hybrid bikes often make good touring bikes if you intend to stick mostly to tarmac surfaces. They are generally designed to be tough and carry heavier loads than most but are slower and a bit heavier than other hybrids. They don't usually have suspension but with thicker tires, they can hold their own on dirt or gravel.
Examples include the Raleigh Route 3 or Marin Muirwoods
CX influenced – CX-style bikes are intended to provide a perfect balance between offroad and on-road surfaces, making for decent dirt track and tarmac riding. The mix means CX-style bikes are ideally suited to any specific surface but are great if you want a long-distance touring bike that is ready for any conditions.
Examples include the Cannondale Quick CX
---
Which one to choose?
Always take into account what you'll be using the bicycle for. There is no point in getting a mountain-bike style hybrid bike with suspension travel if you are only going to be commuting to work on flat paved roads.
– For work commutes, you might want a lightweight, easy-riding bike so you don't break too much of a sweat.
– If you intend to do some weekend tours with camping – look into a utility bike that can handle more weight.
– If you want to hit the gravel tracks on the weekend then you'll want a CX or mountain bike style hybrid.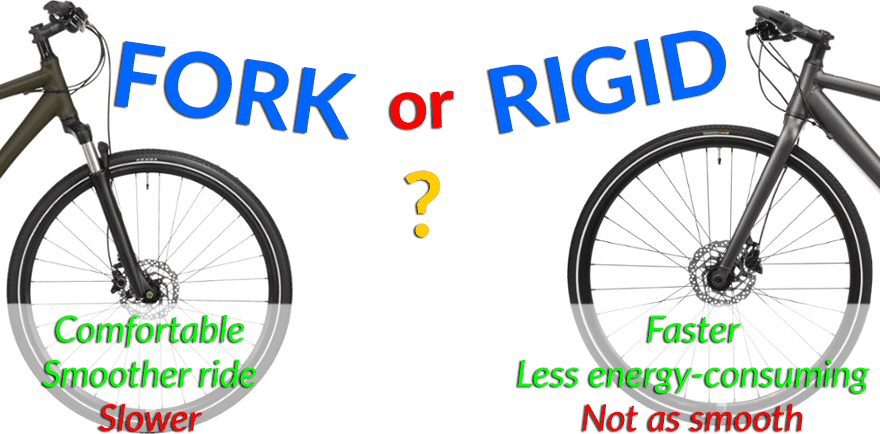 ---
RELATED
The 19 Different Types of Bikes
Best Electric Bikes – Under $1,000