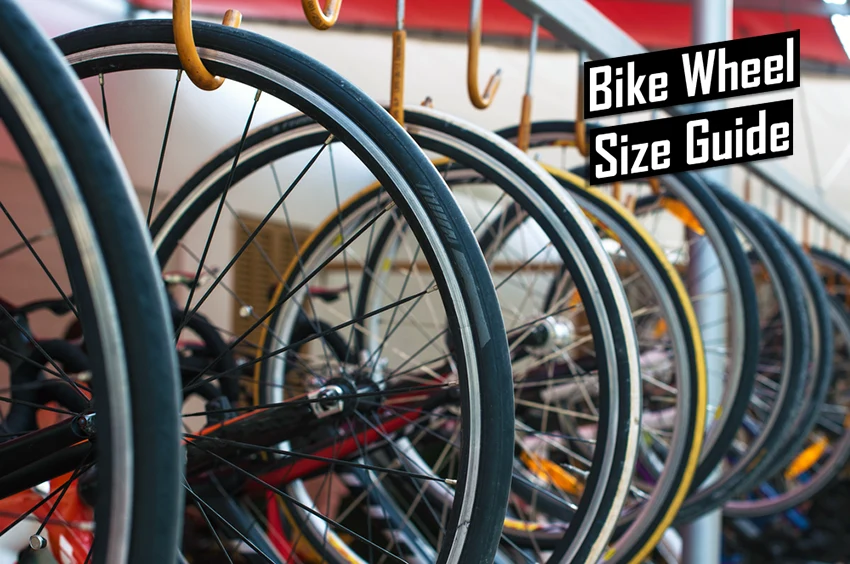 Choosing the right bike wheel size for your ride is not just a technicality. The wheel size influences everything from speed and stability to handling and comfort, which makes it a crucial aspect of your ride.
So, if you're buying a new bike or thinking of an upgrade, it's important to understand how wheel sizes affect bike performance and how to determine which diameter is the best fit for your needs.
But, since wheel sizes are not standardized, deciphering bike wheel size charts can create a lot of confusion for inexperienced cyclists.
In this guide, we'll demystify different wheel sizes, explain the benefits and limitations of each, and help you make an informed decision based on your riding style and needs!
A Quick Bike Wheel Size Chart
---
Bike Size Wheel Chart

Diameter (In)
ISO (mm)
Diameter (cm)
Age / Height Recommendation
Common Bike Types
12″
203 mm
30.5cm
1½ +
Kids' balance bikes
14″
254 mm
35.5cm
2-4 years
Kids', kids' balance bikes
16″
305 mm
40.6cm
4-6 years
Kids', folding adult bike
20″
406 mm
50.8cm
5-9 years
Kids', E-Folding, Folding, BMX
24″
507 mm
60.9cm
7-11 years
Kids', cargo bikes, folding
26″
559 mm
66.0cm
12 years+
Teen bikes, cruiser, dirt jump, fat bikes
27.5″
584 mm
58.4cm
All adults
Hybrid, Touring, Mountain
29″
622 mm
72.2cm
All adults
Mountain
650b
584 mm
58.4cm
All adults
Touring, hybrid, city, gravel
700c
622 mm
62.2cm
All adults
Road, fixie, gravel, cyclocross
When choosing the right bike wheel size for you or your child, use the chart above to identify the wheel size that corresponds to your age and height.
But, keep in mind that the wheel size also depends on the size of the bicycle tire and bike tire pressure. For example, a 26″ x 4″ fat tire has roughly the same diameter as a 29″ mountain bike tire.
We've also included the most common bike types that use a particular wheel size, but there are definitely some exceptions
Below, we've described each size's strengths, weaknesses, and applications in more detail, which will give you a good idea of which wheel size is right for you.
How to Read Bike Wheel Size Labels
---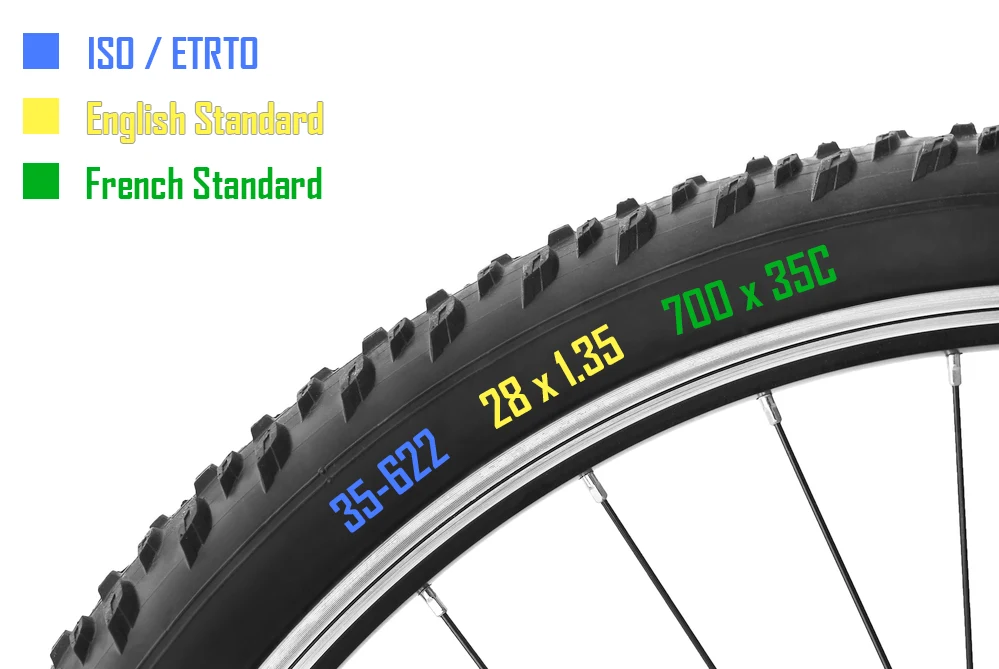 If you take a look at any wheel rim or tire, you'll notice two numbers; for example 21-622, or 622 x 21, or 700 x 35C, or 28 x 1.35. What does all this mean?
First of all, it's important to understand the four most common wheel and tire standards:
International Organization for Standardization (ISO)
European Tyre and Rim Technical Organization (ETRTO)
French Standard
English Standard
The ISO and ETRTO standards are essentially the same and use markings in millimeters to denote the bead seat diameter (diameter of the rim from edge to edge) and the inner rim width (between the two flanges).
For example, the 622 x 21 (21-622) marking means that the rim has an outer diameter of 622 mm and an inner rim width of 21 mm. This essentially tells you what wheel size you have and which tire size you can use. For clarification, the 21 mm inner rim width commonly accepts tires between 23mm and 40mm wide (but this varies).
When it comes to tire sizes, you may see markings such as 35-622, 28 x 1.35, or 700 x 35C. These all refer to the same tire size but in different ways.
In the first example (35-622), the first number 35 refers to the tire width in millimeters, whereas the second number refers to the inner tire diameter in millimeters, which needs to match the outer rim diameter. The second example (28×1.35) is the English Standard and the numbers refer to the outer tire diameter and tire width in inches. The third example (700 x 35C) is the French Standard and the numbers tell us that the tire is 35mm wide and has a 622mm inner diameter.
As you can see, wheel and tire size standards are definitely overcomplicated but are not that difficult to understand once you know what the labels refer to.
How to Measure a Bike Wheel Size?
If that's the case, you can determine the wheel size easily by using the International Standard (ISO) chart.
All you need to do is measure from the center of the wheel hub to the rim's outside edge and double the measurement to get the total diameter of the wheel. Then, compare that number to our chart at the beginning of this article and you'll find out what wheel size you're dealing with.
Note that you need to measure the diameter in millimeters. To convert inches to millimeters, simply multiply inches by 2.54 (1 inch = 2.54cm).
Standard Bike Wheel Sizes Explained
---
Next, let's dive into the most common bike wheel sizes you'll find on the market and explain what types of bikes use them, what their main strengths and weaknesses are, and how to choose the right size.
12 Inch Wheels: ISO 203 mm
Commonly found on:
Kids' balance bikes
Bikes with training wheels
Mini e-bikes
The 12-inch wheel size is typically used on balance bikes and pedal bikes for very young children (aged 1½ to 3 years).
This is the ideal wheel size for young learners as it keeps the center of gravity low and allows kids to easily reach the ground with their feet. This improves stability and handling, which is crucial when trying to learn how to balance or pedal a bike.
Related: See the Best Balance Bikes for Toddlers
This wheel size is also found on some mini electric bikes, such as the Jetson Bolt Pro. Due to their size, these smaller wheels are limited in speed and are only suitable for riding on smooth, flat surfaces, such as paved city streets.
---
14 Inch Wheels: ISO 254 mm
Commonly found on:
Balance bikes
Kids' pedal bikes
Mini electric bikes
The 14-inch wheel size is commonly seen on kids' pedal bikes and balance bikes for slightly older kids, aged roughly from 2-4 years.
Related: Best Bikes for 2 / 3 / 4 / 5-Year-Old Kids
They offer a more balanced ride when it comes to speed, stability, and agility. However, they are still only suitable for riding on smooth surfaces and limit the top speeds you can develop.
---
16 Inch Wheels: ISO 305 mm
Commonly found on:
Kids' bikes
Mini electric bikes
Compact folding bikes (Brompton)
The 16-inch wheel size is the smallest size found on bikes for adults, reserved for electric mini-bikes and some compact folding bikes, such as models made by Brompton.
This small wheel allows for a compact folding design but is slow compared to bigger wheel sizes, uncomfortable on rough terrain, and has very sensitive steering because of the small turning radius.
Related: Best Electric Bikes for Kids in 2023
When it comes to children's bikes, 16-inch wheels are a big step up from the smaller 14-inch wheel size. They are typically suitable for riders aged 4-6 years and offer a big improvement in stability and speed.
---
20 Inch Wheels: ISO 406 mm
Click the arrows to see the images.
Commonly found on:
Kids' bikes
Folding bikes
Moped-style eBikes
BMX bikes
20-inch wheels are used in various types of bicycles, including children's bikes and bikes for adults, such as BMX bikes and folding bicycles.
On kids's bikes, this is a step toward adult-sized bikes, offering more speed and stability, and more complex components. These wheels are ideal for kids ages 5 to 9.
Related: Best 20-inch Electric Bikes for Adults
In addition, they are the most common wheel size for BMX bikes, folding and electric folding bikes for adults. Some niche bike styles, like moped-style e-bikes, also commonly use this size.
They strike a balance between portability and rideability, making them suitable for easy transport and storage.
---
24 Inch Wheels: ISO 507 mm
Click the arrows to see the images.
Commonly found on:
Older kids' bikes
Cargo bikes
This is a transitional size, typically found on bicycles designed for teens and pre-teens, bridging the gap between kids' bikes and adult bicycles.
A 24-inch wheel size bike provides a significant improvement when it comes to speed and stability, so it's often found on specialized bikes for kids, such as the best kids' mountain bikes.
These wheels are also commonly seen on the best cargo bikes and best electric cargo bikes because they keep the center of gravity low and make it easy to load and unload cargo.
---
26 Inch Wheels: ISO 559 mm
Commonly found on:
Teen bikes
Cruiser bikes
Fat bikes
Dirt jump bikes
The 26-inch wheel size is a classic size in the cycling world, commonly seen on bikes designed for teens, smaller riders, cruiser bikes, fat bikes, dirt jump bikes, and even some mountain and hybrid bikes.
This was the standard mountain bike wheel size until 29″ and 27.5″ wheel sizes replaced it. These wheels provide a comfortable ride, excellent stability, and great maneuverability, especially on rough terrain.
Related: 26-Inch Bike for What Size Riders?
Even though the 26-inch wheel size was overshadowed by larger 27.5″ and 29″ wheels, it remains a popular choice for casual riders and shorter cyclists. It is also the dominant choice on the best fat bikes and the best electric fat bikes, which have been gaining popularity lately.
---
27.5 Inch (650b) Wheels: ISO 584 mm
Click the arrows to see the images.
Commonly found on:
Mountain bikes
Gravel bikes
Hybrid bikes
The 27.5-inch wheels, also known as 650b wheels, appeared more recently in the cycling world. Before you ask, there are no differences between 27.5″ wheels and 650b wheels, they are simply two names used for the same wheel size.
This size became popular as a replacement for smaller 26″ wheels and an alternative to larger 29er wheels. Therefore, 27.5-inch wheels strike a balance between the two, offering more speed than 26″ wheels and better maneuverability than 29″ wheels.
This wheel size is also commonly found on modern gravel bikes with a wider bike tire size designed for rough surfaces, as well as on some multi-purpose hybrid bikes. They offer plenty of traction, grip, stability, and maneuverability.
---
29 Inch Wheels: ISO 622 mm
Commonly found on:
Mountain bikes
Gravel bikes
In recent years, 29-inch wheels (also known as 29ers) have gained a lot of popularity in various mountain biking disciplines. Their large diameter offers increased speed and improved rolling efficiency, making them ideal for riding over obstacles and rough terrain.
That's why 29ers are the go-to choice on cross-country bikes, trail bikes, and enduro bikes, and have also started appearing on some heavy-duty gravel racing bikes.
They have the same rim diameter as 700c wheels (roughly 622mm) but come with wider and taller tires that give them a larger total wheel diameter.
---
28 Inch Wheels: ISO 622 mm
Commonly found on:
City bikes
Dutch-style bikes
Urban e-bikes
Trekking bikes
The 28-inch wheel size is less common on modern bikes, but has a significant presence in certain parts of the world, such as Europe.
In terms of the bead seat diameter (the diameter where the tire fits onto the rim), they are identical to 700c and 29″ rims—622 mm.
However, they typically have slightly wider tires than 700c wheels, which makes them more suitable for hybrid, city, and touring bikes.
The Royal Dutch Gazelle is one of the most popular brands that still commonly uses 28″ wheels and tires on its bikes.
---
700c Wheels: ISO 622 mm
Commonly found on:
Road bikes
Gravel bikes
Cyclocross bikes
Hybrid bikes
City Bikes
Fixies
The 700c rim (622mm) is universal on road bikes and any other type of bike designed for speed and efficiency. In addition to road bikes, this wheel size is also often seen on hybrid bikes, city bikes, gravel and cyclocross bikes, and so on.
This wheel size because popular because of its ability to maintain high speeds and efficiency on paved roads over long distances. On road bikes, this diameter is paired with narrow road bike tires (23mm-30mm), whereas other types use wider tires, typically between 35mm and 50mm.
Therefore, for cyclists and racers who prioritize speed and efficiency on smooth surfaces, 700c wheels are the ideal choice, combined with narrow road bike tire sizes.
Non-Standard Bike Wheel Sizes: 32″ (ISO 686 mm) & 36″ (ISO 787 mm)
---
In addition to the standard bicycle wheel sizes we've listed and described above, there are a few additional non-standard sizes, most notably 32″ (ISO 686 mm) and 36″ (ISO 787 mm) wheels.
As you can imagine, these larger wheels are designed for very tall riders (6'4″ and above) and offer distinct advantages and challenges.
Both 32-inch and 36-inch wheels represent a niche in the bike market, suitable only for riders who cannot comfortably ride bicycles with standard wheel sizes due to their height.
Some of the most common brands that make these bikes include DirtySixer and Truebike. There are also numerous independent cycle builders that can make custom bike frames and wheels as per riders' needs.
The DirtySixer has made several 36″ bikes for popular NBA players, including two models for Shaquille O'Neal.
---