26″ vs 27.5″ vs 29″ Mountain Bike Wheel Comparison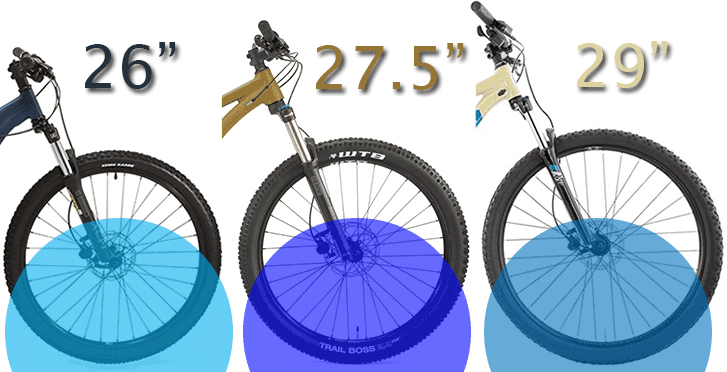 Choosing the right mountain bike wheel size for your riding style and preferences will undoubtedly make riding more enjoyable.
As the difference between the three common MTB wheel diameters is substantial and changes how a bike moves and feels, it's important to consider it carefully before you make the decision.
Picking a 27.5 vs 29″ mountain bike depends mostly on where and how you want to ride.
This article will explain the differences between the sizes, their pros and cons, and the type of riding where each of the MTB wheels performs best.
---
The Importance of Wheel Sizes & Bike Geometry
The importance of mountain bike geometry cannot be understated; geometry is arguably the most significant part of MTB design and changes based on how the bike is supposed to be ridden (XC, trail, enduro, downhill).
As mentioned above, wheel size also significantly influences how the bike feels and performs in different situations on the mountain. Therefore, finding the correct geometry and wheel for your discipline, height, riding style, and experience level will vastly improve your experience in terms of comfort, control, and efficiency.
What size bike wheel do I need?
Firstly, to determine which size wheel is best for you, ask: what type of riding you do most often, downhill, cross country, trail, or enduro?
In addition, your height is contributing factor (taller riders generally favor bigger wheels) and your experience level (more experienced riders can ride on smaller wheels more confidently).
Your answers, along with the description of each wheel diameter below, will act as a bike wheel size guide. However, there is no black and white answer.
As a general rule, the usage cases are:
26-inch – Pump track, dirt jump riding, kids' MTBs
27.5-inch – Experienced downhill riders and smaller riders (under 5'9″)
29-inch – Enduro, cross-country, trail riding, beginners, and taller riders 6'+
How does the wheel size affect mountain biking?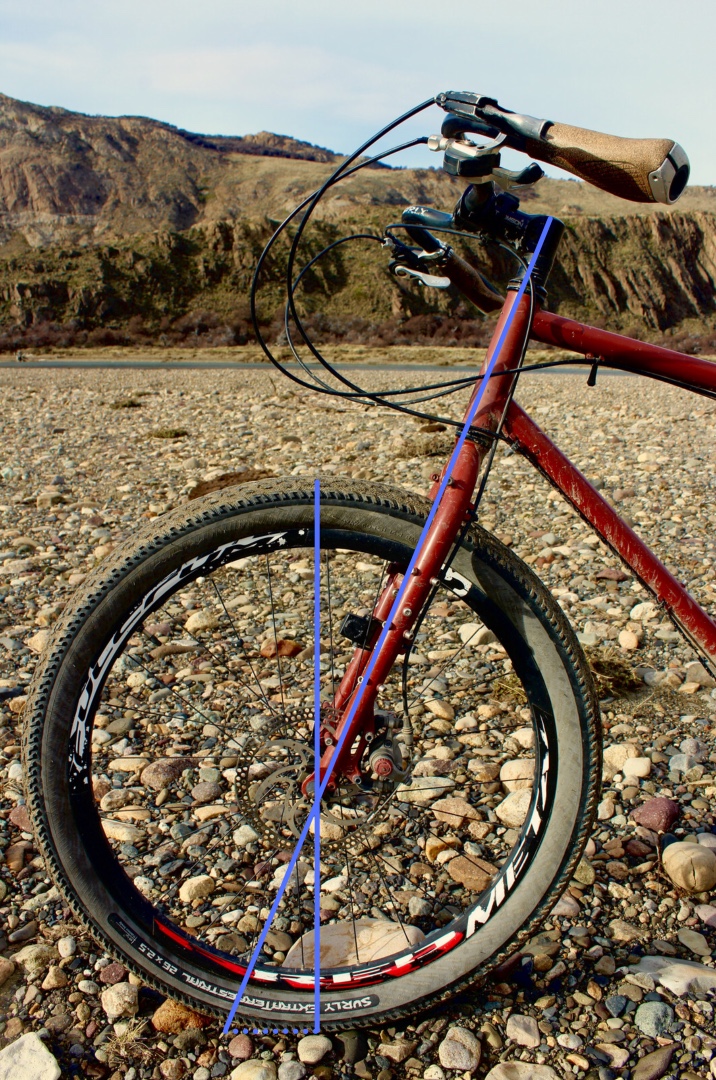 The main areas that wheel size impact include:
Weight: in general, the bigger the wheel, the heavier it is.
Rollover ability: how smoothly you can get over obstacles on the trail; bigger wheels have better rollover capability.
Maneuverability: smaller wheels are more agile.
Acceleration: smaller wheels are faster off the mark.
Traction: bigger wheels offer better traction (wider tires can make up for this).
Stability: a larger wheel is also more stable un higher speeds.
---
26″ Mountain Bikes
---
26″ mountain bikes were essentially the only size you could find for many years. This comes from their evolution from klunker bikes on the trails of southern California in the '60s and '70s.
The benefits of these wheels are they are lightweight, highly maneuverable, strong, and accelerate quickly on smooth terrain.
These characteristics make them perfect for extra-small or kids' mountain bikes, pump track/dirt jump bikes, and fat-tire mountain bikes (fat tires boost stability, traction, and rollover ability). Other typical attributes are:
Average width is around – 2.0″ – 2.2″
Old-school wheel size
The 26er's downsides include poor rollover and difficulty maintaining momentum on rough trails, meaning it requires more effort and stability to descend. In addition, they are not as fast for cross-country riding.
The PROS
Excellent acceleration on smooth surfaces, easy to maneuver around obstacles and corners, lightweight, and strong.
The CONS
Slower for XC riding, unstable, poor rollover on bumpy terrain makes it difficult to keep momentum, requiring more effort to descend. Also the overall weight (bottom bracket) is lower to the ground.
27.5″ Mountain Bikes (650b)
---
Following the development and popularization of 29ers, manufacturers developed the 27.5-inch mountain bike wheel to bridge the gap between 26″ and 29″ wheels.
The ride position that 27.5″ full-suspension mountain bikes or 27.5″ hardtail mountain bikes use feels the most natural of the three, translating to improved handling and comfort. Additionally, they are more agile and maneuverable, accelerate faster, and are lighter than 29ers.
Compared to 26″ wheels, the speed and rollover ability are the most noticeable differences, making them an excellent choice for downhill riding. Other features of these wheels include:
Average tire width 2.4″.
Can run plus-size tires (2.8″ up to 3″ wide).
Steeper head tube.
Best for small size bikes and shorter riders.
Less common than 29ers.
The PROS
Maneuvers perfectly on technical trails while offering good rollover ability, more comfortable and natural ride position, relatively lightweight, and fast out of corners.
The CONS
Slight rollover disadvantage on bumpy terrain, slower for XC riding.
29″ Mountain Bike Wheels
---
29-inch mountain bike wheels are the most common kind and thus benefit from a high level of investment and development from manufacturers.
The commitment to big wheel mountain bikes has helped reduce their inherent downsides, such as weight and acceleration. However, designing the appropriate geometry to suit larger wheels is more complex and results in some clunky 29ers.
29-inch wheels are the fastest kind. They can roll over big obstacles without losing momentum and maintain traction and stability thanks to the extra contact surface. These characteristics make them perfect for XC, enduro, and trail riding. Unfortunately, however, they don't get off the mark as quickly.
Average tire width: 2.1″ – 2.5″
Slacker headtube
Medium height riders and up
Most popular size
There are a couple of issues with 29″ mountain bike wheels. Firstly, they don't pair well with small frames and are harder to maneuver on technical trails, limiting their functionality for smaller riders. For these reasons, many manufacturers change the size of their wheels based on the frame size, like Trek's 'Smart Wheel Size.'
The PROS
Fastest size overall, most comfortable, high rollover ability allows riders to hold momentum, excellent for beginners, high degree of traction.
The CONS
Poor maneuverability and slow acceleration mean lower performance on tight, technical trails, hard to control for smaller riders.
Mullet Mountain Bikes
---

A modern Mullet MTB is a mixed-wheel bike with a 27.5″ rear wheel and a 29″ wheel on the front (sometimes 26″ and 27.5″). This mix of wheel sizes is relatively new to the downhill scene and is a creative solution to the dilemma; 27.5 vs. 29″ mountain bike.
Previous iterations of mullet mountain bikes include the 69er (26″ in the rear and 29″ front wheel), or before that, there was a 24″ mixed with 26″.
The theory is that by having both wheel sizes, riders can take advantage of the benefits of each, meaning the rollover ability of the front 29er and the agile cornering of the 27.5″ in the rear. This balance makes them most suitable for the gravity disciplines.
---