Gravel Bike vs Mountain Bike Comparison
The difference between a gravel bike and a mountain bike is indicated in the names. These styles look and feel very different but share some characteristics.
Gravel bikes are a more recent style than MTBs and they cleverly borrow some of the traits which make MTBs effective off-road.
This article will cover in detail the similarities and differences in design and component choice, hopefully giving you a better idea of which style is the best for your needs and preferences.
Are gravel bikes considered mountain bikes?
No. A gravel bike is an all-terrain bike. A mountain bike is different and performs much better on technical and rough mountain trails, whereas a gravel bike is much faster and comfortable for long-distance rides on light trails and the road.
Although, many mountain bike-specific brands have a gravel option among their range even though gravel bikes are closely related to road bikes, such as the drop handlebars and riding position.
Mountain Bike Specific brand with Gravel Bikes as their only alternative discipline:
Evil Bikes / Ibis Cycles / Juliana Bicycles / Niner Bikes / Orange Mountain Bikes / Pivot Cycles / Santa Cruz Bicycles
---
What is a Gravel Bike?
The primary function of a gravel bike could be described as an all-terrain road bike because gravel and road bikes are alike in their frame design and share many of the same or similar components.
The frame of a gravel bike is lightweight with strikingly similar geometry to an endurance road bike. However, to boost the off-road performance, gravel bike geometry has a few key differences that help bridge the gap between road and mountain. These include:
More relaxed, upright position than even the most comfort-optimized road bike
Short reach
A longer wheelbase, closer to MTB length than road
Slightly slacker geometry than a road frame
Although the handlebars are both drop-style, gravel bars are wider and are have flared-out drops. The extra width boosts control and handling on technical trails, while flared drops are also more comfortable than straight drops.
It's worth noting that all gravel bikes exist on a spectrum; some orient toward off-road riding; others are closer to endurance road bikes.
Some of the other commonalities between gravel bikes are:
26″, 650b or 700c wheels
Wide tires from 35mm to 2.2″
Medium tire tread
1x drivetrain with a wide cassette (a few high-end models have 2x)
Disc brakes
Accessory mounts
What is a Mountain Bike?
Mountain bikes are the ultimate off-road machines. When riding any singletrack routes or rough forest trails, your best bet is a MTB.
The geometry and suspension optimize the handling for technical, bumpy terrain. The powerful disc brakes and thick tires with high tread ensure excellent control in all conditions, and expansive gearing allows you to tackle the steepest gradients.
The geometry is the most significant difference between gravel and mountain. Although there are many variations of MTBs (hardtail, XC, enduro, downhill), there are plenty of similarities, including:
The long wheelbase and lengthy reach increase stability
Slack angles also help rider stability and balance by keeping the rider's weight back
Wide handlebars improve the rider's leverage over the bike
High travel suspension 100mm – 200mm boosts control and comfort
Let's look at the other components that allow mountain bikes to excel off-road:
Gravel vs. Mountain bike
---
When trying to decide if a gravel or mountain bike is suitable for you, it's essential to know about the similarities and differences.
Here's what gravel and mountain bike have in common:
Wide, knobby tires (although MTB tires are wider/have more tread)
1x drivetrains with wide cassettes (select models have 2x)
Powerful hydraulic disc brakes with large rotors
Stable geometry and a comfortable position compared to road bikes
Fitness-focused disciplines
Both can be used as 2in1 commuter and fitness bikes
Work great as electric gravel bikes or electric mountain bikes
Some high-end gravel bikes have light suspension like Cannondale's Topstone Lefty
Related Mountain Bike vs Gravel Bike Comparisons
---
Gravel vs Cyclocross
These two styles are tough to distinguish for the uninitiated, but the few differences become apparent when you look closely.
Cyclocross (CX) bikes are highly specialized race machines. They are built for speed, acceleration (stiff frames), carrying (meaning they have to be super lightweight), and sensitive handling to maximize performance over short CX races.
Additionally, 'Cross bikes are restricted to 33mm tires under UCI regulations, making them narrower than gravel tires which start around 35mm.
As we've described, Gravel bikes are great for comfort on long-distance rides over diverse terrain, meaning they have relaxed geometry, wider tires, steeper geometry, and mounts for accessories allowing you to go almost anywhere.
Gravel vs Cyclocross vs Touring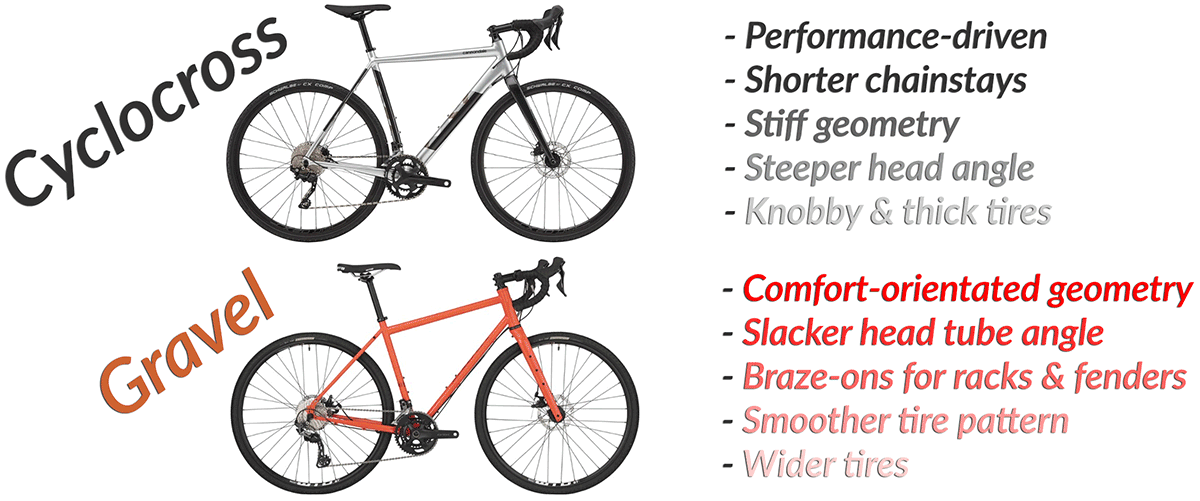 Gravel bike vs Road bike
We touched upon some of the differences between these two styles in an earlier section, but here's a list of the main differences:
Gravel bike drop handlebars are wider with flared drops to improve control riding off-road
Road bikes have shorter wheelbases
Almost all road bicycles have 2x drivetrains; most gravel have 1x
Rim brakes are more common on road bikes
Road bikes always have 700c wheels
Gravel bikes come with 650b (27.5″) and 700c wheels, rarely 26″ wheels (Surly Disc Tucker)
Gravel Bike or a Hybrid for Commuting?
Both gravel and hybrid bicycles make great commuters because of their versatility and ability to ride on all terrain. The two most important considerations when choosing between the two are speed and comfort.
If you favor speed (on or off-road), a gravel bike is the best. On the other hand, if you want a comfortable bike that can ride on light trails and the road, then a hybrid's comfortable riding position is better for you.
Here are some other key differences:
Gravel bikes are great for fast multi-terrain commuting for an intermediate rider
In general, gravel bikes are more expensive
Most gravel bikes are very lightweight
Hybrid bicycles are one of the best styles for beginners
More hybrid bikes come with front suspension
Hybrid bikes are not as fast
Hybrids are usually cheaper to buy and repair
Gravel vs XC Mountain Bike (Gravel vs Hardtail Mountain Bike)
An XC mountain bike is the closest to the gravel bike's intended use. The gravel bike is slightly more effective on the road, while an XC MTB is considerably better off-road than a standard rigid gravel bicycle.
XC fork travel ranges from 60 to 100mm compared to 40-50mm travel on a limited selection of gravel bikes
Flat handlebars are vastly better than drops in terms of control and maneuverability on any trails
Drop handlebars are more comfortable for road riding and light gravel
XC bikes usually have wider tires with a deeper tread that perform better off-road and last longer
Below is an interesting comparison of both styles by GCN. Their testing shows that the actual performance advantage for gravel on roads and light trails is minimal, while the off-road performance of an XC bike is considerable.
Gravel Bike vs Rigid Mountain bike
Rigid mountain bikes (like Klunkers or many surly bikes) comprise a small portion of the MTB market, as they are limited in their ability off-road compared to a hardtail or full-suspension MTB.
The primary appeal is lower prices and easier maintenance. In addition, compared to a rigid gravel bike, most perform better off-road as the geometry and handlebars make handling and control easier. Still, gravel bikes are much more comfortable on the road and over long distances.
Some other key differences include:
Slacker geometry on the rigid MTB
Rigid MTBs have better drivetrains for climbing. Gravel usually has less gearing
Rigid MTBs have wider, high-tread tires
Some rigid MTBs have smaller 26″ or 27.5″ wheels which make them great for pump track or skate park riding like the Surly Lowside
Flat handlebars are less comfortable over distance but provide much better leverage on trails
Conclusions – Gravel vs Mountain bike
---
By learning more about the strengths and weaknesses of gravel and mountain bikes, it's clear there are many more differences than similarities.
Each style will appeal to different riders, serving specific purposes. For example, the gravel bike is ideal for a roadie to dip their feet in the off-road world or for those who need to cover long distances over varied yet not too extreme terrain (such as for bicycle touring or commuting).
MTBs make off-road riding more enjoyable, more comfortable, and safer. Any modern mountain bike will outperform a gravel bike on surfaces bumpier or more technical than light to moderate gravel paths.
Additionally, hardtail MTBs perform closer to gravel bikes on the road or on light trails than you would expect. The one area where they suffer is regarding comfort over long distances.
We hope this article clarifies any questions you have when comparing gravel vs. mountain bikes and helps you decide when you're purchasing your next bicycle!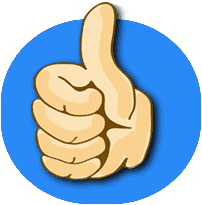 ---
Read next
Road vs Mountain Bike Comparison
What is anAll-Road bike & how to tell?