Best Electric Off-Road Bikes in 2022
An electric off-road bike is one that performs at its best on tough trails, varied surfaces, and in unfavorable conditions.
Manufacturers of off-road eBikes must carefully select each component for its functionality and durability on varied terrain. Because of this, these bikes are generally very powerful, versatile, but heavy.
Features of Electric Off-Road Bikes:
Wide or fat tires
Generally 26×4″
500W+ motors
Often 750W – 1,000W rear hub motors
Front fork suspension
Sometimes combined with rear suspension
Powerful disc brakes
200m rotors and 4-piston brakes
Durable aluminum frames
6061 often common
MTB drivetrains
SRAM / Shimano
With these components, riders can confidently take on soft terrain, poor weather conditions, and carry large cargo loads, tackle tough gradients, and maintain traction and control on slippery surfaces or technical trails. In addition, the bikes are often quite comfortable and enjoyable to ride on or off-road.
What Makes a Good Off-Road eBike?
The characteristics of a good off-road bike include:
Handle any type of surface
Ability to go up steep gradients
Descend and maneuver technical trails
Handles well in poor weather
Can carry large payloads of 300+ lbs
Has a good range & large batteries
Durable under heavy usage
---
Best Off-Road E-Bikes of 2021
---
1. Rambo Nomad
Mid-level hunting e-bike designed for extreme off-road adventures

Aluminum / 26×4″ / 11-Speed / Weight: 66 lbs / Range: Up to 25mi
MSRP: $4,499
Rambo Electric Bikes
The Nomad by Rambo Bikes is an e-bike built with the ability to tackle the most extreme terrain with ease.
This sleek hardtail e-bike packs 750W of power and 120Nm at peak performance) from a whisper-quiet mid-drive Bafang motor to give your hunting trips the best chance of success. A 672Wh Bafang battery and 11-speed gearing give the Nomad poor max ranges of up to 25 miles.
To ensure optimal handling and control on soft surfaces and rough trails this bike is equipped with premium Maxxis Minion 4″ fat tires, 4-piston Tektro hydraulic disc brakes, and high-travel GT Air fork suspension.
Finally, a camouflage finish and tidy integration of the electronics give this bike and great overall look.
1,000W (1,500W Peak) Bafang Ultra Mid-Drive Motor
Tektro 2-piston hydraulic disc brakes
Thumb throttle
26×4″ Maxxis Minion Tires
GT860 Air Suspension Fork
Weight capacity: 300lbs
---
2. QuietKat Jeep
Best fat tire electric bike for off-road riding
MSRP: $7,099
QuietKat
750W/1,000W Motor | 160Nm Torque | 48V 14.5Ah (696Wh) Battery | Range: 58mi | Removable Thumb Throttle
QuietKat's Jeep full-suspension fat tire electric bike is a high-end choice with tons of power and premium components in every area.
This state-of-the-art e-bike is the result of a partnership with the iconic off-road vehicle brand Jeep. When purchasing this bike, riders can choose between a 750W or 1,000W Ultra mid-drive motor.
At peak performance, this motor can produce 1500W/160Nm which is more than enough to tackle the most difficult terrain. In addition, the power output is incredibly smooth thanks to the various sensors.
The components that contribute to this bike's off-road performance include monstrous 203mm rotor Tektro hydraulic disc brakes, premium 4.8″ CST tires, and custom 150mm suspension in the front, and a 150mm RockShox Monarch rear shock.
Finally, the Jeep mid-drive fat tire electric bike offers up to 58 miles of range when used alongside the SRAM 9-speed drivetrain.
QuietKat Custom Inverted Air Suspension Fork, 150mm travel
RockShox Monarch RL Rear Suspension, 150mm travel
Poly 26×4.8″ Fat Tires (Optional 29×2.5″ Tires Sold Separately)
Tektro 4-Piston Hydraulic Brakes
9-speed SRAM
Weight: 70 lbs
Max Payload: 300 lbs
---
3. Rad Power Bikes RadRover 6 Plus
One of the best all-terrain electric bikes for $2,000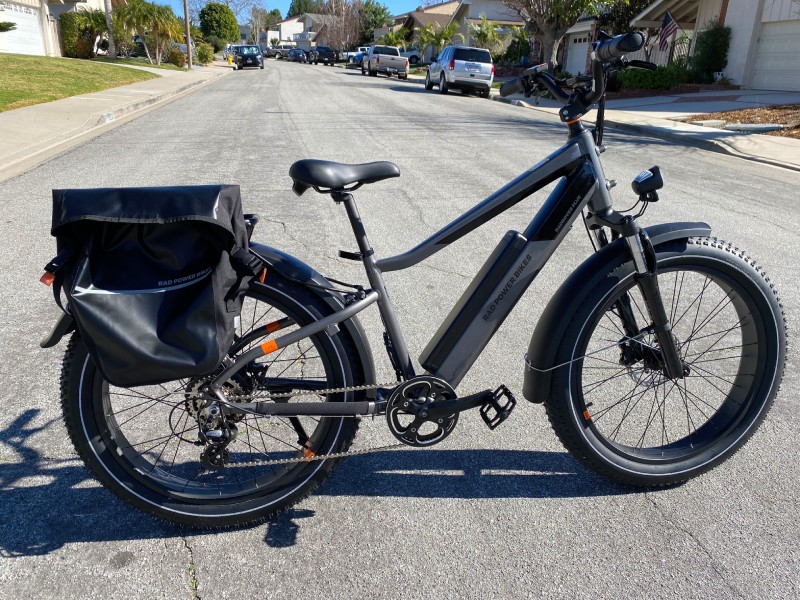 MSRP: $1,999
Rad Power Bikes
750W Brushless Geared Hub Motor | 80Nm Torque | 48V 14Ah (672Wh) Battery | Range: Up to 45mi | Half Twist Throttle
Rad Power Bikes' RadRover 6 Plus all-terrain electric bike is the company's flagship model and the recipient of many accolades.
At just $2,000, Rad Rover 6 Plus delivers a premium ride quality thanks to carefully designed fatigue-reducing geometry that improves climbing ability and powerful electronics that make off-road riding feel easy.
For electronics, you have a 750W motor with 80Nm of torque. In addition, a large 14Ah battery provides up to 45 miles of range when combined with the 7-Speed Shimano Altus drivetrain.
Other notable features of this e-bike include the sleek, semi-integrated battery design with a carrying handle, LED lights with auto-activation, and premium hydraulic disc brakes for precise, all-weather stopping power.
Lastly, wide 4″ Kenda Juggernaut fat tires and 60mm travel front fork suspension ensure excellent control, comfort, and handling on or off-road.
RST Spring Suspension Fork, 60mm Travel with Lockout and Preload Adjustment
26×4″ Kenda Juggernaut Tires
Tektro Hydraulic Brakes
1×7-Speed Shimano Altus
Weight: 73.4 lbs
Max Payload: 275 lbs
---
4. Juiced Bikes RipCurrent S
Estimated range – 70mi!
MSRP: $2,499
Juiced Bikes
1000W Rear Hub Motor | Top Speed: 28mph | 52V 19.2Ah (998Wh) Battery | Range: 70mi
TheRipCurrent S by Juiced Bikes is the company's best-selling and top-rated fat-tire utility bike which is comfortable, powerful, with enhanced safety features.
For power, this bike has a cadence and torque sensing 1000W (1300W peak power) motor supported by a large 998Ah battery which provides huge ranges up to 70 miles with top assisted speeds of 28mph. To get the most out of your electronics, utilize a 9-Speed drivetrain.
Comfort and control on and off-road are ensured by 4″ fat tires with puncture resistance, an air suspension fork, powerful hydraulic disc brakes, upright geometry, and ergonomic touchpoints.
Finally, the RipCurrent S has a water-resistant, "seeing" 1050-lumen headlight, a rear rack, fenders, and a bell to make city riding safe and convenient.
Air Suspension Fork
26×4″ Tires
Hydraulic Brakes
1×9-Speed drivetrain
Weight: 76 lbs
Max Payload: 275 lbs
---
5. Norco Fluid VLT A2
MSRP: $4,599
Jenson USA
Weight – 68lbs | Max capacity – 275lbs | Motor – 750W , 80Nm torque | Battery – 48V 14Ah 672Wh
The Fluid VLT A2 by Norco is an affordable Class 1 e-bike with lots of power, torque, and versatility for urban or off-road riding.
A Shimano STEPS EP8 mid-drive motor with several levels of pedal assistance, 900Wh, 720Wh, or 540Wh removable battery, and a 10-speed Shimano Deore drivetrain provide this electric bicycle with plenty of punch and enough range for a long day of riding.
Norco also equipped this bike with Goodyear Newton 29×2.4″ tires with dual-compound tread, 140 mm dual suspension, and Tektro hydraulic disc brakes to go off-road.
This bike is just as capable off-road as any other non-electric mountain bike, so feel free to get it if you want to hit descents hard and skip the shuttle on the way up.
Derailleur – 10 Speed Shimano Deore
Tires – 29×2.4″
Suspension – 140mm
Hydraulic disc brakes
Jenson USA
---
6. QuietKat Ranger
High-powered, affordable e-bike for hunting

MSRP: from $3,499
QuietKat.com
1000/750W Motor | 614Wh Battery | Range Up to 48mi
The Ranger fat tire electric bike by QuietKat is a hugely robust off-roader with the capability of a hunting bike.
This bike has the ability to carry enormous payloads of up to 325lbs thanks to the powerful electronics. In addition, it has a camouflage finish option which gives your hunting trips a better chance of success.
The motor and battery system consists of a 750W or 1000W motor and 614Wh battery combined to deliver 48+ miles of range. This setup works even better with the help of an SRAM 7-Speed drivetrain.
Mozo Coil suspension in the front, Tektro mechanical disc brakes, 4″ fat tires, and excellent weight distribution ensure high-level off-road performance.
Finally, this bike is equipped for any job with an integrated rear rack to allow the transport of cargo.
Features
Mozo coil suspension fork
4″ fat tires
Tektro mechanical disc brakes
1×7 SRAM drivetrain
Weight: 65 lbs
Max Capacity: 325 lbs
---
7. Haibike FullSeven 5
Mid-drive full-suspension e-MTB

MSRP: $4,650
Jenson USA
250W Motor | 70Nm Torque | 500Wh Battery | Range: N/A
Haibike's FullSeven 5 electric mountain bike is perfectly built for off-road adventuring and hard days of trail riding.
For power, you have Yamaha's PW-ST system with 250W of power and 70Nm of torque. Thanks to its torque sensors, this motor is one of the smoothest models on the market.
The large 500Wh battery will give you big ranges for long days on the trails. Additionally, a reliable 11-Speed Shimano Deore drivetrain helps to get the most out of your battery.
Top-quality RockShox Deluxe Select Plus Air rear suspension and a 150mm travel RockShox FS 35 Silver Coi Fork help ensure this bike handles like a dream on the most challenging trails. To add to that, the FullSeven 5 has Schwalbe Nobby Nic Evo SnakeSkin 27.5 x 2.8″ plus-sized tires and powerful Tektro M745 hydraulic disc brakes.
Features
RockShox FS 35 Silver 150mm
RockShox Deluxe Select Plus Air 150mm
27.5 x 2.8″ Schwalbe Nobby Nic Evo SnakeSkin tires
Tektro M745 Hydraulic Brakes
1×11-Speed Shimano Deore
---
8. Rocky Mountain Instinct Powerplay
Aluminum frame / 29×2.5″ / Shimano Deore 11-speed / Tubeless-Ready Rims
MSRP: $5,599
Jenson USA
Rocky Mountain Instinct Powerplay is an unusual off-road e-bike with a high-end price tag and unbeatable traction and stability which allows you to go where other bikes cannot.
The dual-suspension build improves descending ability as well as traction on soft surfaces. One important component in this equation is the hydraulic disc brakes that provide enough stopping power.
Rocky Mountain's Instinct comes equipped with a Shimano Deore 11-speed drivetrain offering a wide gear range for steep climbs, as well as a dropper seat post for hard descents.
Finally, the electronics used to power this off-road beast includes a smooth Dyname 4.0 Mountain Bike Drive 250W motor and a 720Wh battery. The Dualie also has wide Maxxis Minion DHF 2.5″/2.4″ tires and 150 mm of travel in its dual suspension, so you can really go wild with it.
Dyname 4.0 Mountain Bike Drive 250W Mid-Drive Motor
720 Wh battery
Shimano MT4120 4-Piston Hydraulic Disc
Maxxis Minion DHF 2.5/2.4 Tires
RockShox 150mm suspension
---
9. Rad Power Bikes – RadCity 5 Plus
Cheapest commuter/off-road eBike with powerful electronics
MSRP: $1,999
Rad Power Bikes
750W Geared Hub Motor | 40Nm Torque | 672Wh Battery | Range: Up to 50mi | Half Twist Throttle
Rad Power's RadCity 5 Plus is a stylish electric bike with lots of power and an affordable price tag given its versatility.
For power, you have a 750W/40Nm rear hub motor. This motor combines perfectly with a 672Wh battery and 7-Speed drivetrain for long ranges between 28 and 50 miles.
This electric off-road bike has a few components that allow it to perform great on rugged terrain. Large-tread 2″ puncture-resistant fat tires, lockable 50mm fork suspension, and hydraulic disc brakes help to ensure a good level of handling and control.
In addition, the RadCity is fully equipped with integrated lights, fenders, and a rear rack to take advantage of the 275lb payload capacity.
Features
50mm Front Suspension Fork w/ Lockout
27.5×2″ tires
Hydraulic disc brakes, 180mm Rotors
1×7-Speed
Weight: 65lbs
Max Capacity: 275 lbs
Rider Height: 5'4″ – 6'5″
---
10. Norco Charger
Premium mid-drive motor hardtail e-bike
MSRP: $3,999
Jenson USA
250W Motor | 60Nm Torque | 504Wh Integrated Battery | Range: N/A
Norco's Charger electric trail bike is an off-roading beast with premium electronics and all-mountain suspension.
This electric bike uses Shimano's STEPS mid-drive motor that provides a power output of 250W and 60Nm of torque. This motor is one of the best on the market and provides buttery smooth power in the perfect amount at all times. To support, you have a 9-speed Shimano Altus groupset and a 504Wh dowtube integrated battery.
2.25″ WTB Ranger Comp tires, a 120mm Suntour fork suspension, and Tektro hydraulic disc brakes allow this bike to handle technical descents and soft terrain with confident control making for a highly competitive mid-range e-bike.
Features
SR Suntour XCM32 DS, 120mm travel
29×2.25″ WTB Ranger tires
Tektro hydraulic brakes
1×9-Speed Shimano Altus
Tranz-X dropper post
---
11. Niner RLT E9 RDO
Premium electric gravel bike
MSRP: $5,695
Aventuron
85Nm Motor | Top Speed: 28mph | 500Wh Removable Battery | Range: 31mi average
The RLT E9 by Niner is an excellent gravel e-bike and a display of the company's premium technologies.
Versatility and performance are two of the most critical aspects of this e-bike. A carbon fiber frame and fork, large Schwalbe G-One 50mm tires, tubeless-ready rims, and endurance geometry give this bike a smooth and comfortable ride quality on varied terrain.
The RLT E9 comes with a premium Bosch Performance Line CX motor and a 500Wh high capacity integrated battery, making any hills and soft terrain a breeze to ride over. Additionally, you can expect an average range of 31 miles with support from a Shimano GRX drivetrain. Finally, this bike has tons of mounts to turn it into a long-range bikepacking machine.
Features
Carbon frame and fork
700x50mm Schwalbe Tires
Hydraulic Brakes
Shimano GRX
Weight: 39 lbs
---
12. Velowave Fat Tire eBike
Cheapest fat-tire off-road e-bike we've seen

750W Rear Hub Motor | 720Wh Battery | Range: 40mi+
Velowave fat-tire off-road e-bike is one of the cheapest on the market and provides a well-rounded ride quality.
This bike is considered a Class 2 e-bike as it has throttle and pedal assistance with a max assisted speed of 24mph and 35 miles of full-electric range. The motor is a 750W brushless rear motor combined with a removable 720Wh battery. In addition, you have a 7-speed drivetrain to help get even more from your battery.
4.0″ fat tires, hydraulic disc brakes, and trail geometry make for a controlled and enjoyable ride off-road. Finally, the last feature worth mentioning is that the bike comes with a high-power headlight for night riding in dark areas.
Features
Aluminum frame
Hydraulic suspension fork
26×4″ fat tires
Hydraulic disc brakes
1×7-speed drivetrain
Weight capacity: 300lbs
---
FAQs
Can eBikes go off-road?
Yes. E-bikes are some of the best bikes for off-road usage because they provide pedal assistance to help you tackle the steep gradients and rugged terrains that you encounter on trails or in the backcountry. It can be difficult to find the power to go over certain gradients or on soft surfaces.
Which eBike is best for off-road?
Generally, the best type of bike for off-road riding is a fat tire bike. More specifically, a bike with fat tires 3″+, front fork suspension or full suspension, and a higher power/torque motor make it easier to get over steep gradients or out of soft terrain.
What is the advantage of a fat tire electric bike?
Fat tire electric bikes provide traction and comfort on all types of terrain. These characteristics make fat bikes great for riders with diverse riding needs, who enjoy a smooth ride, and who appreciate a high level of control and handling no matter the weather or surface.