When you think about the word "bicycle," you probably imagine just one type. However, bikes have come a long way in the last 20-30 years, which has resulted in some entirely new bicycle types. Some of these are similar to other types; others are diametrically different.
If you are new to the cycling world and you're planning to purchase a bicycle, you might be intimidated by all the options out there. One of the most Googled questions regarding bikes is, "What type of bike should I buy?" We understand how this can be a problem for a novice rider, so we've decided to help.
In the next part of this article, you'll be able to read a short overview of all the most popular types of bikes and learn more about them. Let's begin!
---
So Many Different Bicycle Types
The table below shows all of the most popular types of bicycles, their subtypes, and what they are best used for.
Road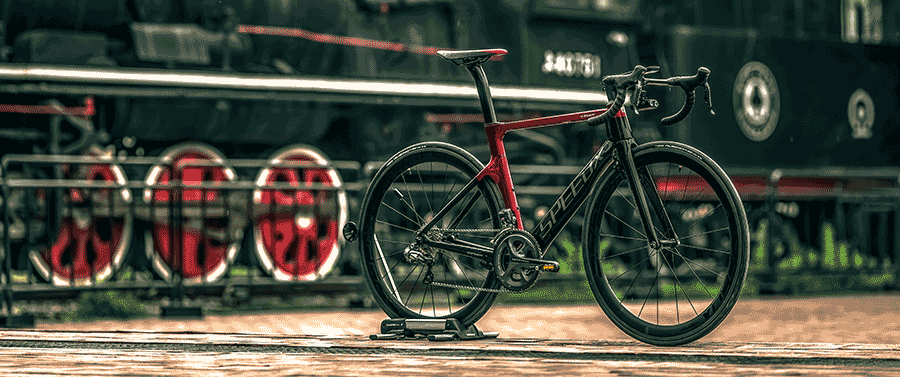 Also called: Racing bikes, Sports bikes, Racers, Speed bikes, etc.
What is it: Road bikes are designed to be as fast as possible and get you as far as your legs can bear it. They are designed to be ridden on the tarmac (as their name suggests), which is evident in the narrow (usually between 18-28mm wide) and often treadless tires. The wheel diameter is typically 700c.
Road bike frames are rigid, which means they have no suspension. Less expensive models are made of aluminum, while more expensive models are built using carbon fiber. The frame geometry is compact, with a flat or a slightly sloping top tube, and can be more or less aggressive, depending on the type.
Road bikes use dropped handlebars and are typically equipped with rim brakes, although disc brakes are becoming more popular nowadays. They are most often fitted with Shimano or SRAM components, designed specifically for road bikes.
Road bike sub-types: Sportive/Endurance, Racing, Aero, Time-trial, Recreational/Fitness, Flat Bar, Gravel, and Cyclocross.
Price range: Road bikes are generally more expensive than most other bike types. Some beginner models can be bought for less than $1,000, but you don't get a lot for your money. Road biking enthusiasts might need to spend between $2,000 – $4,000 to buy a suitable carbon model, while professionals sometimes ride road bikes costing more than $10,000.
Buy if: You should buy a road bike if most of your riding will be done on smooth tarmac roads. If your focus when it comes to cycling is to cover as much distance as possible and ride as fast as you can, then a road bike is the right type for you. See best road bike picks.
---
Mountain
Also called: All mountain bikes, Adventure bikes, Suspension bikes, MTBs, Off-road bikes, etc.
What is it: Mountain bikes are robust and versatile bicycles designed to be ridden off-road, on gravel, through mud, over rocks, through forests, and over roots, and so on. They typically have suspension, either only front or both front and rear suspension.
The ones with only front suspension are called "Hardtail," while those that have both front and rear suspension are referred to as "full suspension."
Mountain bikes usually have more robust wheels, with more spokes than road bikes and wider tires (2″ to 2.4″), which are knobby and provide lots of traction. Wheels usually come in three diameters: 26″, 27.5″, and 29″; each of which corresponds to a different type of mountain bikes.
Mountain bikes most often have powerful disc brakes, straight handlebars, and lower gear ratios than road bikes, which allows riders to climb steep hills.
Mountain bike sub-types: Hardtail, Full Suspension, Rigid, Cross Country, Trail, Enduro/All Mountain, and Downhill/Freeride.
Price range: Like road bike prices, mountain bike prices can be very different, depending on the model. The cheapest models can be found for less than $500, while pro models cost as much as $5,000 – $6,000.
A recreational rider could get by with a model costing between $800 – $1,200, whereas a more serious rider would need to spend around $2,000 – $3,000 to get a bike that meets their needs.
Buy if: Buy a mountain bike if you are planning to spend a lot of time in nature and ride off the road. Mountain bikes do not perform well on the tarmac because of their wide and knobby tires. They show their true potential when ridden on gravel, over rocks, and in the mud.
See Different Types Of Mountain Bikes

---
Hybrid
Also called: Trekking bikes, Touring bikes, Cross bikes, Commuter bikes, Comfort bikes, etc.
What is it: Hybrid bikes, as the name suggests, are a mix of road bike and mountain bike characteristics. They borrow flat handlebars and an upright, comfortable geometry from mountain bikes.
At the same time, they have thinner tires, which resemble those of road bikes, and are fast on the tarmac. The tire diameter is usually 700c, but there are 26″ and 650b diameters available as well.
Hybrid bikes can come with or without a suspended fork. Depending on that, they can be comfortably ridden both off and on the road. They are often equipped with accessories, such as mudguards, lights, racks, and so on.
Hybrid bikes usually use a lower gear ratio and a large number of gears (21 to 30), which allows riders to climb steeper hills easily. They are versatile bikes suitable for commuting, recreation, cycling workouts, and so on.
Hybrid bike sub-types: Trekking, Touring.
Price range: Hybrid bikes are more affordable than road bikes and high-end mountain bikes. Basic models cost around $500, whereas more expensive models cost around $2,000 – $3,000. They are rarely more expensive than that.
Buy if: You should consider buying a hybrid bike if you are planning to ride both on gravel and on the tarmac. Hybrid bikes are great for commuting and relaxed recreational rides. You can even do some intermediate training sessions on them.
---
City
City bikes are often mixed with hybrid bikes, but they are two different types. Hybrid bikes are meant for riding both off- and on the road, whereas city bikes are meant only for city rides.
Also called: Commuter bikes, Urban bikes, Comfort bikes, Utility bicycles, European city bike, etc
What is it: A city bike is a bicycle made for urban rides, on paved city roads. It's intended for moderately flat areas and relatively short rides. They focus on comfort and practicality, so they provide an upright riding position and lots of comforts.
The frame is usually made from aluminum or steel. The handlebar is often curved and positioned higher than the saddle, which is typically soft and cushiony.
City bikes often come with multiple accessories, such as fenders, racks, a basket, lights, a dynamo or a dynamo hub, a bell, hub gearing, and so on. They usually have a low number of gears or no gears at all.
Related: How to choose the right bicycle size
City bikes mostly have 26″ wheels, rim brakes, and smooth tires that are not too wide and provide an easy ride on the city asphalt.
City bike sub-types: Cruiser, Fixie
Price range: City bikes are usually not very expensive. The price depends on the frame material and the accessories you choose to go with. The most basic models cost as little as $200, while the most expensive ones usually don't cost more than $1,000.
Buy if: Buy a city bike if you are planning to cycle only around the city to commute to work, finish various errands, and cover short to moderate distances on each ride.
---
Electric
Also called: E-bike, Powerbike, Booster bike, 
What is it: Electric bicycles are bikes that use an electric motor to provide an additional boost while pedaling. They use two common types of propulsion: pedal-assist and throttle.
Pedal-assist motors turn on only when you're pedaling to aid you when necessary. Throttle motors can provide power whenever you require it, the same as when riding mopeds.
Electric bikes are equipped with rechargeable batteries and come in all shapes and sizes. The most popular models are city bikes and cruisers, but nowadays you can also buy electric road bikes and mountain bikes.
Most typically, the motor is mounted centrally, but sometimes it can also be located in the front or rear hub. You don't always have to use it; when you want, you can still ride just using the power of your legs.
E-bike sub-types: Electric road bikes, electric mountain bikes, electric city bikes, etc.
Price range: Due to the amount of high-tech solutions used, electric bikes are more expensive than other bike types. You can buy the most basic models for between $1,000 and $2,000, whereas most expensive models cost $5,000 to $6,000 and more.
Buy if: You can consider buying an electric bike if you are living in a hilly area but you still want to commute to work on your bike without getting too sweaty in the process. Electric bikes are also great for people who have knee injuries or any other aches but still want to enjoy a good ride now and then.
---
Specialty Bicycle Types: Cargo
Also called: Freight bikes, carrier cycles, box bikes, cycle tracks, transport bikes, etc.
What is it: Cargo bikes are bicycles used for transporting loads, typically ridden in cities. They usually have a cargo area that can but doesn't need to be enclosed, locater either in the front or in the back of the bike. This cargo area can be a box, a flat platform, a wire basket, and so on.
The frame is different from that of a typical bike and usually made of steel which is stronger than aluminum and can support more weight. These bikes have a comfortable geometry and allow an upright position when riding.
People typically use them to transport kids, pets, groceries, and even larger objects, such as furniture.
Sub-types: Cargo tricycles
Price range: Cargo bikes can be quite cheap, but they can also be very expensive. It depends on what you want to get. Basic models can be found for between $500 and $1,000, whereas more expensive and high-quality models can cost thousands of dollars.
Buy if: you need extra space to transport groceries, kids, or anything else. If you live in the city and you often do grocery shopping, then a cargo bike type is the perfect type for you.
---
Folding
Also called: Foldable bikes, folding bicycles, portable bicycles, etc.
What is it: Foldable bikes are bicycles which can be folded into a compact size and easily transported on trains, buses, and airplanes. This also allows riders to store them or carry them around easily. Foldable bikes use various folding mechanisms, some of which are better than others.
They usually have small 20″ wheels, but larger 650b and even 700c models can be found as well. They come in different shapes and sizes. There are both single-speed and multi-speed models, as well as rigid and suspended models.
Sub-types: Half-fold bike, vertical fold bike, etc.
Price range: Basic folding bikes can be found for as little as $200 to $300 on Amazon. They can also be quite expensive and reach prices of several thousand dollars. However, average models cost less or around $1,000.
Buy if: Buy if you do not have a lot of storage area in your apartment. Also, if you often travel on an airplane, bus, train, etc. a folding bike will make your life a lot easier.
---
BMX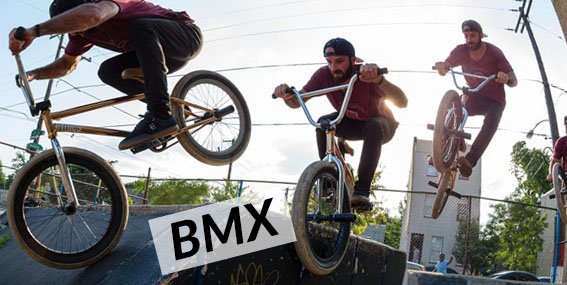 Also called: Bicycle motocross, Street bikes, Stunt bikes, Trick bikes, etc. 
What is it: BMX bicycles were first designed in the late sixties, taking inspiration from motocross motorcycles. They are usually based around 20″ wheels, but 24″ wheels can be found as well.
Real BMX bikes are always made with a single-speed cassette and a rigid frame. They also have high-rise handlebars which make maneuverability easier.
Two main types of BMX bicycles are racing and freestyle bikes. They are very similar, but there are some tiny differences between the two. Freestyle models often have rear and front stunt pegs, which makes doing tricks easier.
Sub-types: Freestyle, Flatland, Street, Vert, Park, Trail, Dirt jump, etc.
Price range: As always, prices vary differently from one shop to another and from one model to another. Entry-level models cost around $300, mid-range models usually cost less than $1,000, whereas pro models cost between $1,000 and $1,500.
Buy if: Buy if you're interested in BMX racing or you want to learn BMX stunts. If you want to have fun while riding a bicycle, BMX models are what you're looking for.
---
Recumbent
Also called: Bents (the US and Canada)
What is it: A recumbent bike is a bicycle that allows the rider to be in a laid-back position while cycling. This position allows for the weight of the rider to be better distributed, so it reduces low back pain and other problems.
Recumbent bikes come in a large number of different types and shapes, including rear-wheel and front-wheel drive, no-hand steering, under-seat steering, over-seat steering, different wheel sizes, and so on.
Recumbent bicycles are often seen in the form of trikes as well, with two wheels either on the back of on the front of the bike. They are usually considered much safer than regular bicycles.
Recumbent bicycle variations: Mountain bike recumbents, Lowracers, Highracers, Semi-recumbent and crank forward bicycles, Tandem recumbents, Recumbent tricycles, etc.
Price range: Recumbent bikes are generally more expensive than regular bikes because of the technology, time, and effort that goes into making them. Average models cost around $1,500, but some high-end models can cost upwards of $5,000.
Buy if: Buy a recumbent bike if you are experiencing back pain or knee pain when cycling. Also, if you just want a bike that is comfortable and provides a completely different experience, a recumbent bike can be a good choice.
---
Kids
What is it: Kids bikes are regular bicycles, just a lot smaller since they are built for children. They come in different shapes, sizes, and types. The smallest ones are called balance bikes; they have no drivetrain and are made for children who need to learn how to ride a bike.
"Big Kids Bikes" usually have 20″ or 24″ wheels and may or may not have gears and suspension. Kids bikes can be very basic, but there are also high-end kids bikes, which children can use to compete on as well. They resemble regular "big" bikes in every way, the only difference being that they are much smaller.
Subtypes: Road / MTB or by wheel sizes
Price range: Kids bikes can be very cheap, but they can be expensive as well, depending on the model. However, they are typically not as expensive as adults bikes. Prices start at around $100 to $200, but high-end models can cost thousands of dollars.
Buy if: Buy if you have a kid and you want to make them happy and give them a fantastic childhood. They are also suitable for very short people, so you can also consider them if that's the case.
---
Women's
What is it: Women's bikes are bicycles specifically built to suit the anatomy of a female body. They are almost the same with men's bikes, albeit for several small differences. Women's bikes differ from men's bikes in that they have a shorter top tube, a shorter stem, and a different saddle. Handlebars are often narrower on women's bikes because they have narrower shoulders than men.
However, these are very small differences, which means that most women can feel comfortable on men's bikes. Everything else, including wheel size, components, tires, etc. is the same.
Price range: Women's bikes cost just as much as men's bikes; it all depends on the type and the components. Low-end models can be bought for as little as $200, while high-end models cost thousands of dollars.
Consider if: If you are a woman, but you haven't been feeling comfortable on a men's bike, you can consider buying a female model.
Other Ways To Group Bicycles By Types
There are other ways in which people categorize bikes. For example wheel size, brake type, frame type, handlebar type, and more. We'll write more about these in the future.
Did we miss any type? Kindly let us know.
Resources:
Photos by Christin Hume on Unsplash; Pexels.com