Best Electric Bikes for Kids 2022
The best electric bike for kids is one that allows them to maximize fun and enjoyment while maintaining a safe and easy to control ride.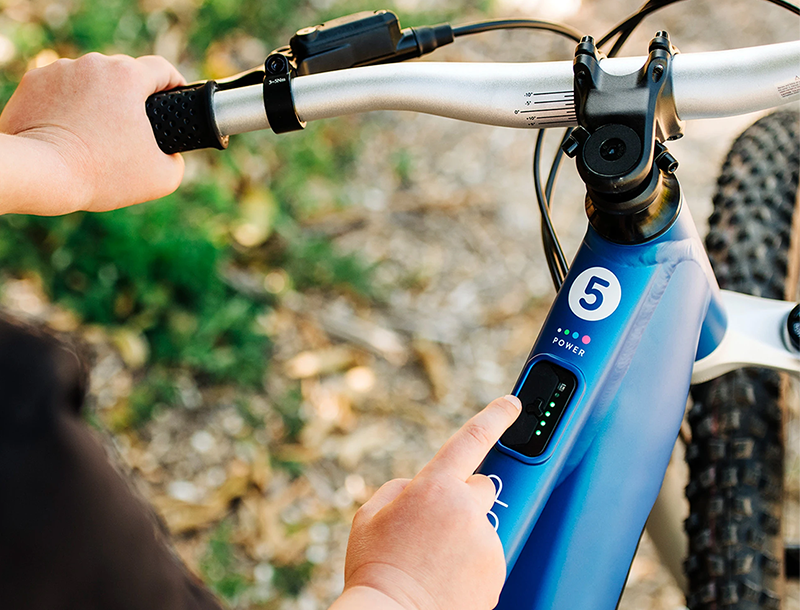 Many of us remember our first experience with a bike and for many kids, this can make or break developing a passion for cycling.
If you have a kid who would love to be able to take on difficult mountain climbs or keep up with you on long rides finding the right e-bike for them will surely make all of these activities much more enjoyable and give you both the ability to enjoy cycling together.
With that in mind, let's take a look at some models with the most important features to keep your kid safe and happy.
A Quick Guide to Kids' Electric Bikes
Why get an electric bike for kids?
For parents who cycle it can be difficult to find enough time to cycle with their kids and do their rides. To help solve this problem you can give your child the ability to do difficult rides, go for longer distances, and keep pace with you without overexerting themselves and having as much enjoyment as possible.
Additionally, if you live in an area with lots of hills or with great mountain biking nearby, having an e-bike will make it riding more accessible for your child.
Is it even legal for kids to ride an eBike on public roads?
Yes. There are only nine states with limitations on bikes for those under the age of 18. These restrictions mean children must wait till they are either 14, 16, or 18 to start riding. You can see this list of states at the end of the article.
Are e-bikes safe for kids?
In general, yes. E-bikes designed for children are fitted with lots of technology which helps to keep them safe while riding. This includes speed-limiting software, powerful braking systems, reflectors and lighting, and bells. As long as your child is confident on their bike and experienced enough to use a regular bike they should have no issue switching to a motor-powered bicycle with the correct speed limitations.
Best 24-Inch Electric Bikes for Kids
---
#1

woom UP 5

Best kids' electric mountain bike for ages 7-11
MSRP: $3,599
woom
The woom UP 5 24″ electric bike is a high-end and lightweight e-bike choice that would surely make cycling the most fun activity your child likes to do.
Starting with a lightweight 6061 aluminum frame which is durable and comfortable to ride this bike gets better and better. To make riding off-road comfortable, easy to handle, and smooth, this bike has hydraulic Air Suspension with 80mm Travel, grippy 2.35″ Schwalbe Rocket Ron tires, powerful hydraulic disc brakes, and a comfortable saddle.
The bike has a speed limit of 12mph which when reached automatically shuts off the motor. The motor itself provides smooth power transfer using torque and cadence sensors and provides a great kick that allows your kid to easily take on steep inclines.
Finally, woom developed this bike with ergonomic brake levers to make braking easy and ensure each touchpoint is tailored for the comfort and safety of children aged seven and above.
Specs & Features
6061 T6 Aluminum Frame
Hydraulic Air Suspension, 80mm Travel
Promax Hydraulic Disc Brakes
11-Speed SRAM NX drivetrain
24×2.35″ Schwalbe Rocket Ron Tires
Weight: 35.6 lbs
Max Payload: 160 lbs
Electronics
250W FAZUA Evation Rear-Hub Motor
Max Assisted Speed: 12mph
250Wh Battery
Recommended Rider Height:
Woom 5 (24″ wheels)
50″ – 57″ (4'1″ – 4'9″)
Woom 6 (26 wheels)
55″ – 65″ (4'6″ – 5'4″)
---
#2

Aostirmotor E-bike
MSRP: $1,499
Amazon
Aostirmotor's e-bike for kids is an excellent find in this price range with confidence-inspiring fat tires.
Most notably this bike has a large 500W geared hub motor which provides plenty of power to make hill climbing a breeze and pairs with a 48V 15Ah battery for long-range rides.

The rest of the components on this bike are chosen to make off-road riding and adventures the phone as possible. This includes a suspension fork, grippy 4″ Chaoyang tires, disc brakes, and a Shimano 7-speed drivetrain.
Specs & Features
Aluminum Frame
Fork suspension
Disc Brakes
7-Speed Shimano
20×4″ Chaoyang Tires
Max Payload: 300 lbs
Electronics
500W Brushless Geared Hub
48V 15Ah Lithium Battery
---
#3

Eclypse Astra
MSRP: $699
Amazon
The Eclypse Astra children's electric bike opens up opportunities for children to enjoy learning to ride.
Using an 18V 4Ah battery, your kid can expect to practice with power for between 45 and 75 minutes. Additionally, there are three power modes and a safe assisted max speed of 11mph. Additionally, a lightweight chassis ensures the bike is fun to use without the motor.
This electric bike for young kids uses a twist throttle, 16″ pneumatic tires, and a powerful rear drum brake to ensure a safe and fun time learning.
Specs & Features
Steel Frame
Drum Brake
16″ Pneumatic Tires
Weight: 21 lbs
Electronics
18V Brushless motor
Max Assisted Speed: 11mph
18V 4Ah Battery
---
#4

woom UP 6

2.4″ wide tire boys electric bike for slightly rougher trails
MSRP: $3,749
woom Bikes
The UP 6 by woom is a hardtail eBike for kids with great off-road ability and super smooth power transfer.
Give your kid the ability to keep up on the mountain trails with a premium 250W/55Nm Fazua Evation mid-drive motor. This motor combines with a 250Wh battery giving huge ranges with support from a precise-shifting 11-Speed SRAM NX drivetrain.
This bike is fitted with some key child-specific components including the frame geometry and hydraulic air suspension fork with 90 mm travel for smaller, lighter riders. Additionally, there are ergonomically adapted handlebars and brake levers, and an ergonomically designed saddle to fit children's biomechanics.
Finally, premium hydraulic disc brakes by Promax, wide 26 x 2.35″ Schwalbe Rocket Ron tires, and Superlight woom OFF DISCO TEC double-chamber aluminum rims ensure this bike handles perfectly on rough trails.
Specs & features
Aluminum Frame
Hydraulic air suspension fork 90mm
Promax Hydraulic Disc Brakes
11-Speed SRAM NX
26 x 2.35″ Schwalbe Rocket Ron tires
Weight: 37 lbs
Electronics
250W Fazua Evation motor
Torque: 55nm
250Wh Battery
---
#5

Mondraker F-Play 24
MSRP: $3,899
Mondraker
Kids' electric bikes don't get much better than Mondraker's F-Play 24 full-suspension e-bike designed for tackling wicked mountain trails.
A Mahle-Ebikemotion X-35 mid-drive motor takes the effort out of tackling steep inclines and gives kids the ability to go harder for longer. This motor pairs nicely with a 250Wh battery and a reliable 10-Speed Shimano Deore drivetrain.
Using forward geometry, the handling of this bike is made easier, boosted even further by a custom child-specific RockShox Judy fork with Zero Suspension giving 100mm travel on both ends.
Finally, hydraulic disc brakes, the wide 2.4″ Kenda Booster tires, and kids' touchpoints provide a great, versatile children's mountain bike.
Specs & Features
6061 Aluminum Frame
Zero Suspension,120mm Travel
Tektro Auriga HDM291 Hydraulic Disc Brakes
10-Speed Shimano Deore M5120 derailleur
24×2.4″ Kenda Booster Tires
Weight: 36 lbs
Electronics
Mahle-Ebikemotion X-35 Mid-Drive Motor
250Wh Battery
---
#6

Bulls Twenty4 E

A high-end kids' eBike
MSRP: $3,499
Bulls Bikes
Bulls Bikes Twenty4 E 24-inch electric bike for kids is an expensive model that easily earns its price tag with tons of features and quality.
This kids' electric bicycle allows your kids to join you on tough rides thanks to a premium ultra-smooth 250W Bosch Active Line Plus mid-drive motor. This motor makes each pedal stroke enjoyable no matter the gradient and limits your kid to a 15.5mph assisted speed for a whopping 134 miles on a single charge.
The components that make this bike easy to control and comfortable off-road include an, 80mm travel suspension fork, Tektro hydraulic disc brakes,high-tread 2.1″ Schwalbe Black Jack tires, and ergonomic touchpoints.
Additionally, the Twenty4 E is fitted with lights for safety along with internal cable routing for a stylish look.
Specs & Features
7005 Aluminum Frame
SR XCT-JR L 24" Suspension
80mm Travel
Tektro HD-M286 Hydraulic Disc Brakes
8-Speed Shimano Alivio derailleur
24×2.1″ Schwalbe Black Jack Tires
Weight: 45.3 lbs
Electronics
250W Bosch Active Line Plus Mid-Drive Motor
Max Assisted Speed: 15.5mph
500Wh Battery
Recommended rider height: 4'1″ to 4'9″
---
#7

Ben-E-Bike TWENTYFOUR-SIX E-Power

A mullet kids mountain bike – 26″ & 24″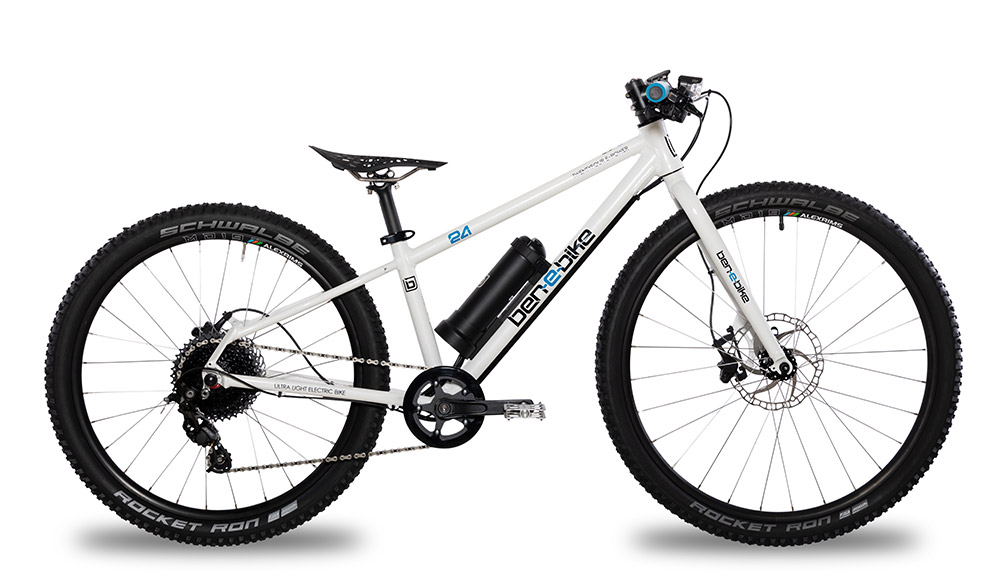 MSRP: €2,049
Ben-E-Bike
Ben-E-Bike's TWENTYFOUR-SIX E-Power youth electric bike is an affordable and durable choice optimized for kids' enjoyment.
This hybrid-style kids bike comes with a unique mixed wheel design (26″ and 24″) which boosts stability and rollover ability, while also making for more precise and maneuverable handling on trails. Additionally, a larger wheel upfront reduces the need for fork suspension making for a better value bike.
For the electronics, there is a 250Wh battery powering a 30Nm torque rear-hub motor supported by a 10-speed Shimano ZEE drivetrain. Finally, hydraulic disc brakes, road-smoothing Schwalbe Rocket Ron Addix tires, and a superlow 25lb base make this bike a joy to ride for any kid.
Specs & Features
6061 Aluminum Frame
Rigid Fork
BEB Hydraulic Disc Brakes
10-Speed Shimano ZEE
26×2.1″ (Front), 24×2.1″ (Rear) Schwalbe Rocket Ron Addix Tires
Weight: 25 lbs
Electronics
Brushless DC Rear-Hub Motor
Torque: 30nm
250Wh Battery
Recommended Sizes:
Rider Height: 46″ – 58″
Leg Inseam: From 23.6″
Best 20-Inch EBikes for Kids
---
#8

QuietKat Ripper

Kids' 4″ fat-tire hunting eBike

MSRP: $2,699
QuietKat
QuietKat's Ripper is a children's version of the company's popular hunting e-bike the Ranger featuring the same capability and compatibility.
This e-bike is designed with sleek integrated electronics including a built-in battery and super-smooth hub-drive motor system. The motor delivers 500W of power to ensure you can pull the 300lb payload capacity with ease and uses a 10.4Ah battery to give max ranges of over 40 miles.
This bike is perfect for any adventures into the backcountry, allowing kids to keep up and stay controlled with powerful Tektro mechanical disc brakes with 203mm rotors, 4″ Kenda Juggernaut fat tires for better stability and comfort, a 100mm travel fork, and a single-speed drivetrain.
Specs & Features
500W motor
Range: Up to 40miles
15″ frame fits riders up to 5'6″
20×4 Kenda Juggernaut tires
Mozo Coil Suspension Fork
Tektro Mechanical disc brakes
Weight: 47lbs
Single-speed drivetrain
Finally, this bike is designed with a small frame that is perfect for riders under 5′ 6″.
---
#9

Pedego Element

A fun bike to get around on mixed terrain
MSRP from $1,895
Pedego Electric Bikes
Ebike brand Pedego's Element is a boys' fat tire bike that easily outperforms its very affordable price.
For power, the Element has a high power 500W rear-hub motor with 45Nm of torque which provides max assisted speeds of up to 20 mph and 40 miles range. Additionally, you have a 7-Speed MicroShift drivetrain which helps you get the most from your motor and battery.
This bike uses comfortable upright geometry and versatile components including 4″ Kenda fat tires, a 6061 aluminum frame, and Shimano mechanical disc brakes, which give it a great ride quality. Unfortunately, this bike has a very high base weight of 58lbs which may make it harder to ride for smaller riders.
Specs & Features
6061 Aluminum Frame
Rigid Fork
Shimano BR-M375 Mechanical Disc Brakes
1×7-Speed MicroShift RD-M26S-7
20×4″ Kenda Black Wall Tires
Weight: 58 lbs
Electronics
500W Rear-Hub Motor
Torque: 45nm
Max Assisted Speed: 20mph
480Wh Battery
---
#10

Swagtron EB6

Kids' fat-tire eBike for soft surface exploring

MSRP: $1,000
Amazon
Swagtron's EB6 motorized bicycle for kids is the cheapest high-power choice with great off-road capability.
This bike has a 350W motor which provides max speeds of 18.6mph for distances of up to 20 miles on full electric mode and much higher ranges when you use the 7-speed Shimano SIS drivetrain.
The EB6 also has wide 4″ fat tires and dual disc brakes which allow it to perform great off-road or on city streets. Additionally, the battery is removable and replaced with a spare one for even greater ranges and has helpful USB charging functionality.
Specs & Features
Rigid Frame & Fork
Dual Disc Brakes
1×7-Speed Shimano SIS
20×4″ Fat Tires
Weight: 48.5 lbs
Electronics
350W Rear-Hub Motor
Torque: 45nm
Max Assisted Speed: 18.6mph
Lithium-Ion Removable Battery
Charge Time: 4-5 Hours
---
#11

Sailnovo 14″ Kids' Bike

Kids' folding electric bike
MSRP: $499
Amazon
The 14″ e-bike by Sailnovo is a great low-power entry-level folding bicycle for teens and kids to get the most out of cycling.
This Sailnovo bike has a child-safe 350W motor with three levels of power and a max speed of 18.5mph to keep your kid in control. This motor powers with a 36V 10.4Ah battery that lasts up to 37 miles.
This folding bike has comfortable touchpoints, upright riding geometry, a central shock absorber, double disc brakes, and LED lights.
Features
Central Suspension
Dual Disc Brakes
Folding
Electronics
350W Rear-Hub Motor
3 Power Levels (Small, Medium, Large Assist)
10.4Ah 36V Battery
Range: 37 Miles
Charge Time: 5-6 Hours
Best Electric Balance Bikes for Kids
---
#
12

Stacyc 12EDrive

#1 Kids electric balance bike for 3-5-year-olds
MSRP: $735
Jenson USA
The 12eDRIVE by Stacyc is a kid's electric balance bike designed for parents who want to give their kids an exhilarating first biking experience.
The 12eDRIVE fits kids with an inseam of between 14 and 20″. It has three power modes that allow learners to progressively advance their practice on the balance bike.
Firstly, kids learn to push the bike and balance while also using the brakes. The next step is to add some light power from the motor and progress through the power modes as confidence develops.
This battery bike for kids is made with an aluminum frame and has large pneumatic tires and a 2Ah battery with a one-hour charge time and 30 to 60 minutes of run time.
Features
Aluminum Frame
Rigid BMX-Style Fork
12″ Composite Wheels and Pneumatic Tires
Weight: 17 lbs
Seat Height: 13″
Electronics
Rear-Hub Motor with 3 Speed Modes
36Wh Lithium-Ion Removable Battery
30-60 Minutes Run-Time
Charge Time: 1 Hour
---
#
13

Hiboy BK1
MSRP: $320
Amazon
The Hiboy BK1 is an electric balance bike that gives kids the opportunity to learn cycling fundamentals with the added fun of motor support.
This toddler electric bike provides a comfortable riding experience for young children due to its ergonomic design including a low seat height and a comfortable saddle.
The 100W motor on the BK1 has two settings and a max speed of 9mph which allows enough speed to have fun while staying safe. The 30-50 minutes ride time leaves plenty of time to practice. Finally, the bike weighs just 17.6lbs.
Features
Aluminum Frame
12″ Wheels
Weight: 17.6 lbs
Max Payload: 88 lbs
Electronics
100W Motor
Max Speed: 9mph
Lithium-Ion Battery
Range: 6.2 Miles
Charge Time: 2-3 Hours
FAQs
---
Do bike companies make e-bikes for kids?
Yes, there are many manufacturers of kids' e-bikes. As seen in this article, there are various sizes and styles available for different age groups up to the age of 18. Anyone can benefit from riding an e-bike, including your kids, so cycling brands try to include models for all ages.
At what age can you ride an electric bike?
In the USA, there are 9 states (plus Washington D.C.), that limit the minimum age requirement for e-biking:
Hawaii – 18
Massachusetts – 16
North Carolina – 16
Oregon – 16
Pennsylvania – 16
Washington D.C. – 16
Minnesota – 15
New Mexico – 15
South Carolina – 15
Alaska – 14
The rest of the States have no legal minimum age requirement for riding an e-bike.
Can a 12-year-old ride an electric bike?
Mostly yes, but not in some states.
In 41 states, there are no age restrictions for e-bikes. See the list above to find out the States, where a 12-year-old kid CAN NOT ride an e-bike.
Should I get an electric bike for children?
The answer depends on whether or not you would like your child to join you on your rides.
For many cyclists, giving your kids the ability to keep up and go on longer rides without tiring provides extra opportunities for parent and child bonding. Additionally, it allows your children to enjoy all kinds of rides and experience everything cycling has to offer from a young age.
How to choose an electric bike for kids?
Choosing an e-bike for your kid involves three main questions:
What type of riding are you going to be doing?
What is your budget?
How old is your child?
When you figure this out you can choose the style of bike, the size, and level of components you can afford. When you're going to buy, look for something that is lightweight and has child-specific components that are easy to adjust. For the most part, an average battery and motor combination should work great.