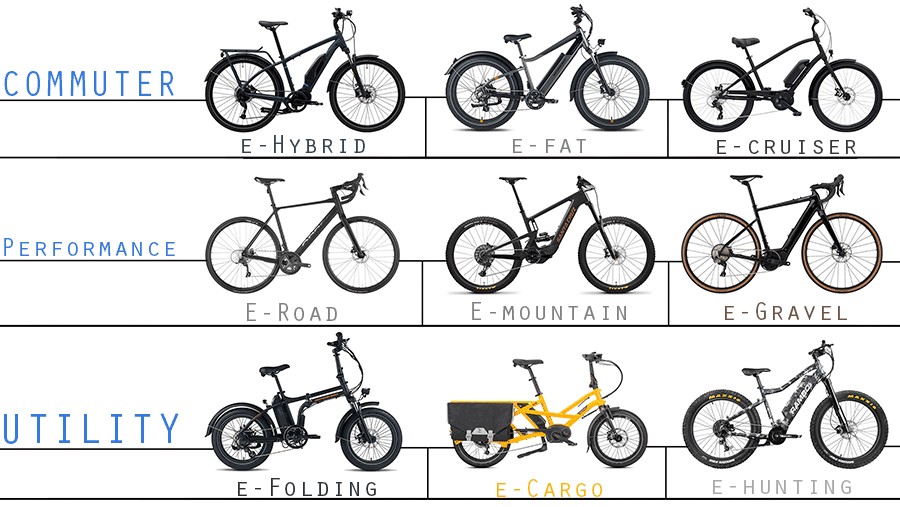 As time progresses, the number of different types of electric bikes increases with the demand. Although reliable e-bikes are still somewhat of a new thing (let's count in the past decade) there is still plenty of room for development, so let's keep our eyes open.
Down below we've listed a bunch of different types of electric bicycles to get a brief overview of what's out there. Check out our ebike guide down below to find answers to your questions.
---
Table of Contents
#1 E-Bike Motors
#2 E-Bike Drivetrains
#3 E-Bike Batteries
#4 The Different Types of E-Bikes 🏆
#5 E-Bike Classes
---
1

. Electric Bike Motors
---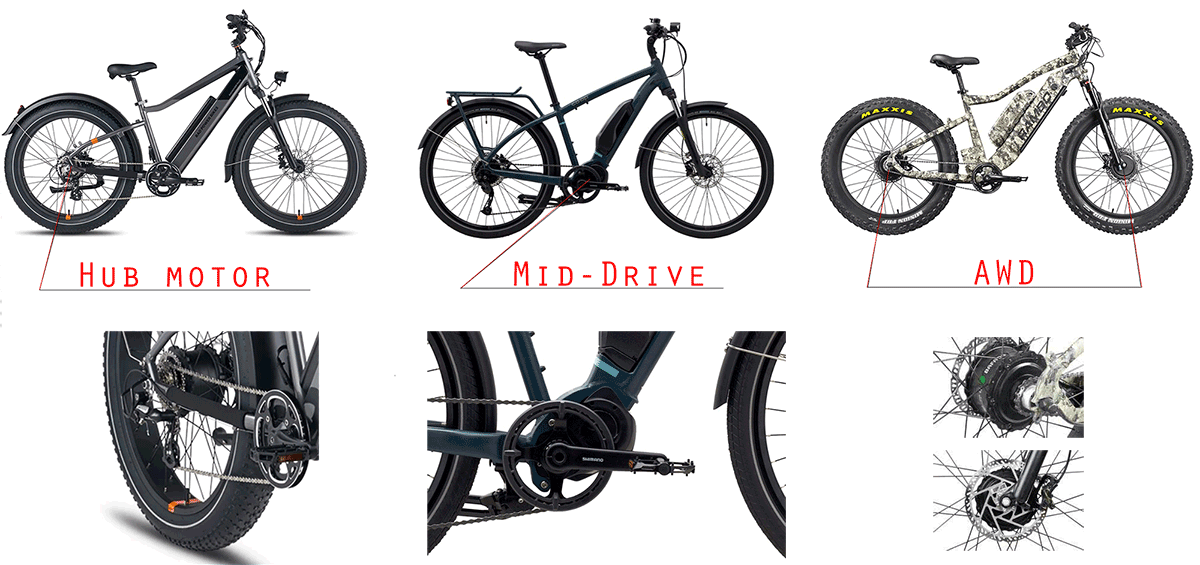 Motor Types – Mid-drive, Hub motor, 2WD, Brushed / Brushless
Motor Powers – 250W / 500W / 750W / 1,000W
Two main types of e-bikes come with either an e-bike motor placed in the bottom bracket (mid-drive) or in the rear wheel hub (hub motor).
On rare occasions, you'll see e-bikes with a front-wheel drive, or two-wheel drive, also known as AWD e-bikes.
Hub drive e-Bike motors
Also known as the hub motor
Wide-spread among affordable eBikes
*Except hunting eBikes, and some eRoad bikes that are equipped with a hub motor
Better direct torque levels due to more weight on the rear wheel
Throttle option available (Which is great in case you'd snap a chain)
Mid-drive e-Bike motors
Also known as the direct-drive motor
More economical
Used on mid to high-end ebikes
More natural ride feel due to better weight distribution
Mainly pedal-assist
Expensive
Related – Hub vs Mid-drive eBikes
2WD / All Wheel Drive e-Bike motors
Motor on the front and rear hub for maximum traction
Expensive all-terrain fat tire electric bikes
Important E-Bike Terminology
---
W = Watts. Motor power.
Average range:
Mid-Drive: 250W
Hub Motor: 750W
2WD: 1,000W+
Nm = Torque in Newton meters.
Average range: 40Nm – 100Nm
40Nm – City commuters, Single-speed eBikes.
Hub motor & mid-drive
80Nm – Hub motor commuter bikes, mid-drive electric mountain bikes
Hub & Mid-drive
100Nm – 160Nm – Rambo rear hub fat tire eBikes
Hub motor
Higher torque = More power and a noticeable 'kick' = Fast acceleration = Great for steep hills and on heavy fat tire ebikes.
2

. Electric Bike Drivetrains
---
Almost all electric bicycles are equipped with a single front chainring.
Most electric bikes are equipped with a derailleur & shifters
Belt-drive e-bikes are great yet niché alternative to chain & sprocket drivetrain due to their quiet, clean, and maintenance-free characteristics
Internally geared eBike motors are popular among belt-drive eBikes' motors (Rambo Megaton, Priority Current)
3

. Electric Bike Batteries
---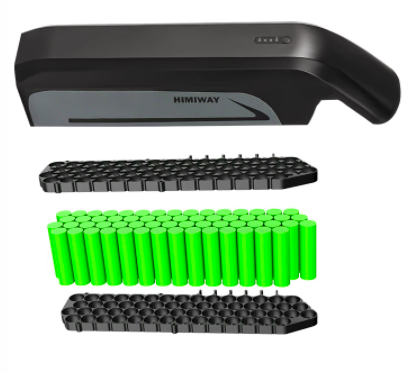 Electric bike batteries play one of the most important roles besides the bikes' motor itself. What most electric bike brands are striving for – is the latest battery technology available. In most cases, what people are looking for the most in an e-bike is the range one can reach on a single ride.
Ah = Amp hour
Determines the capacity of the battery. More Ah = better battery life and range.
Average e-Bike battery range: 8-12ah
6.9V – 17Ah on a larger scale
V = Volt
Determines the force of the electric flow from the battery to the motor. More volts = more power to run from the battery to the. More voltage = more torque = not as economical.
Average e-Bike battery voltage: 36V – 48V
*30V to 52V on a larger scale
Wh = Watt-hour (Ah x V = Wh)
Battery capacity
Average range: 250Wh – 750Wh
*A popular e-bike brand Rad Pad Power Bikes have a 750W motor, and a 672Wh battery – estimated range between 20-45miles, depending on which mode has been used.
4

. Different Types of Electric Bikes
---
Almost every single bike type has an electric version as well, but the three main eBike types are:
1. Commuter Bikes
2. Performance Bikes
3. Utility Bikes
1. E-bikes for commuting
EBikes to get you from A to B in comfort.
Hybrid – Comfortable & upright riding position, great for paved and light gravel roads.
Fat – 3″ to 5″ wide eBikes that have become popular due to their multifunctional field of use.
Cruiser – One of the most comfortable and laid-back bikes around.
City – Electric city bikes are the most basic to get around town.
2. Performance e-bikes
for training purposes
Electric Road Bikes – Generally Class 1 eBikes with max. assisted speed of 20mph. Great for going longer routes or hilly terrains.
Electric Mountain Bikes – Hardtail and full-suspensions with an extra oomph and suspension.
Electric Gravel Bikes – Fastest on/off road commuters.
3. Utility E-bikes
for hauling heavy loads, off-road riding, or multi-purpose bikes
Folding – Foldable eBikes must be one of the best-selling e-bike types on the market. What's there not to like about a 20″ bike that fits a wide array of riders, and it can be folded compact
Cargo – Electric cargo bikes are bicycles that can be used fork work, to haul pets and kids. E-Assisted motor on a e-cargo bike is
Hunting – Mountain/Fat tire bike inspired eBikes that are also great for fishing
5

. Electric Bike Classes
---

Class 1 eBike – Pedal-assisted electric bike.
Speed limited to 20mph.
Motor power limited to 750W.
Also known as a pedelec
Class 2 eBike – Throttle ebike with an optional pedal-assist
Speed limited to 20mph
Motor power limited to 750W
Class 3 eBike – Pedal-assist & optional throttle.
Speed limited to 28mph
Motor power limited to 750W
Class 4 eBike – Unlimited power & speed electric bikes with pedals.
Any eBike which has a higher assisted speed of 28mph, or power power over 750W is considered as a class 4 eBike.
Read More:
Electric Bike Rules & Regulations in the US
A Guide to Electric Bike Classes: Class 1, 2 & 3 Explained