Best Kids Mountain Bikes — Top Choices for Casual Riders and Young Pros
Mountain biking is one of the most exciting and rewarding sports you can do as a child, and learning from a young age will make riding as an adult safer and more enjoyable.
The best kids' mountain bikes make off-road riding fun, safe, and comfortable. In addition, these bikes should be able to take a beating and keep going.
There are three styles in our list of the best mountain bikes for kids, each with pros and cons. These styles include rigid mountain bikes, hardtails (front suspension), and full-suspension MTBs.
This article will outline how to choose the perfect mountain bike for your child, followed by a selection of bikes with varying designs and prices to suit a wide range of riders.
Best Kids' Mountain Bikes
---
Co-op Cycles REV 20 Plus 6-Speed Kids' Bike
Price: $399
Wheel Size: 20″
Weight: 24lbs
Gears: 6
Recommended for: Kids aged 6-8
Co-op Cycles' REV Plus 20″ is the best beginner mountain bike for kids who want to learn to ride off-road on easy trails.
Some of the highlights of this bike include the wide 2.6″ Slant Six Sport tires which provide excellent traction, the mechanical disc brakes for reliable stopping power, and the comfortable and stable trail geometry.
Other notable features are the adjustable Revo twist shifter and simple 1×6-speed drivetrain that make shifting quick and straightforward.
Unfortunately, the REV Plus 20″ isn't capable of anything more than light trails as it is pretty heavy (24lbs), and the derailleur hangs relatively low, increasing the risk of striking obstacles.
For just $400, this is definitely one of the best kids' mountain bikes worth considering for any child aged six to eight years who wants to try out light off-road riding.
---
Norco Storm 4.3 24″ Kids' Bike
Price: $579
Wheel Size: 24″
Weight: N/A
Gears: 7
Recommended for: Kids 4'1″ – 4'8″
The Norco Storm 24″ model is a rigid mountain bike for kids that would make a great neighborhood cruiser or introductory trail bike.
One benefit of this bike is the child-specific componentry, including the handlebar, saddle, grips, and stem. These features provide a more comfortable, controlled, and enjoyable ride quality for young kids.
The lightweight, responsive aluminum frame is easy to handle and fast when riding uphill. Unfortunately, the Tektro rim brakes limit the Storm's capabilities to light trails.
The 1.75″ tires are fast on pavement and provide sufficient traction on light off-road terrains. In addition, a 7-speed Shimano Tourney drivetrain simplifies gearing but ensures enough range to tackle moderate hills.
In summary, the stylish Norco Storm would make a fun and long-lasting bike for any child who wants versatility and comfort.
---
woom OFF 4, 5, and 6
Price: $799 – $899
Wheel Size: 20″, 24″, 26″
Weight: 17.2, 18.9, 20.5lbs
Gears: 9
Recommended for: Kids aged 6-8, 7-11, 10-14 years
Woom's OFF series is up there with the best kids' mountain bikes you can buy in terms of price, versatility, and quality.
Each component on woom bikes is specifically designed for children to provide the most comfortable, safe, and tailored ride experience.
The ergonomic, child-specific components include the saddle, handlebars, grips, brake levers, cranks, and bottom bracket. The only downside of these components is that they are hard to replace.
The OFF bikes are impressively lightweight, weighing 17.2, 18.9, and 20.5lbs. Their low weight and shock-absorbing carbon fiber forks make them the perfect entry-level trail bike. However, the lack of suspension means serious trail riders should upgrade to the OFF Air to advance their off-road riding.
Other notable features of the OFF bikes include the powerful Promax hydraulic disc brakes, wide Schwalbe Rocket Ron tires that provide exceptional traction and comfort, and the broad 9-speed trigger-shift drivetrain.
It's also worth noting that the OFF Air is available to select from the same page. The Air is a hardtail mountain bike option of the regular woom OFF bikes and the perfect upgrade for any ambitious mountain bikers.
All in all, if you want to buy the ultimate kids' bike for your child to fall in love with off-road riding, look no further than the woom's OFF.
---
Prevelo Zulu Three
Price: $969
Wheel Size: 20″
Weight: 23lbs
Gears: 10
Recommended for: Kids aged 5.5 – 9 years / Inseam 21″ – 26″
The Prevelo Zulu Three is the first hardtail on this list and is a strong option for kids who want the confidence and performance to ride on more difficult mountain trails.
The Zulu Three is versatile enough to be a comfy neighborhood cruiser or singletrack shredder. It has a lightweight, durable triple-butted aluminum frame, slack geometry, a low bottom bracket for improved stability and control, and a child-specific HEIR 80mm travel air fork.
Other features that increase off-road performance include the tubeless-ready wheelset, Stealth dropper post compatibility for improved descending, Kenda Small Block 2.1″ tires, and powerful hydraulic disc brakes.
Prevelo paid attention to every detail of this bike, making essential modifications such as using a short derailleur to avoid rock strikes and tailored crank sizes to ensure the perfect fit for each bike size.
The Prevelo Zulu Three comes at a high price for a kids' MTB, but it over-delivers on performance and versatility, making it one of the best kids' mountain bikes for aspiring mountain bikers who want to test their limits.
---
Co-op Cycles REV DRT Kids' Bike
Price: $529
Wheel Size: 24″
Weight: 31lbs
Gears: 8
Recommended for: Kids aged 8-12
Co-op Cycles' REV DRT kids bike is an affordable off-roader with reliable components and a durable build.
The standout features of this boy's mountain bike are the powerful Tektro hydraulic disc brakes, 80mm SR Suntour XCT fork suspension, and extra-wide 2.6″ Slant Six Sport tires. This combination ensures good trail performance, but the fork is very heavy and may not perform well for light riders.
While the REV DRT does have great off-road features and a broad 8-speed Shimano Tourney drivetrain, the heavy weight of 31lbs makes it cumbersome for climbing and tricky to maneuver for smaller kids. In addition, the derailleur hangs low to the ground, which increases the chance of damage.
Choose the REV DRT as a reliable workhorse for older kids who want more from their mountain bike; however, be aware of the high weight.
---
Marin Rift Zone Jr. 24″ Bike
Price: $1,899
Wheel Size: 24″
Weight: N/A
Gears: 11
Recommended for: Kids 4'1″ – 4'10"
The Marin Rift Zone Jr. 24″ is the first kids' full suspension mountain bike on this list. It is a stylish and capable bike that will allow any child to take their mountain biking skills to the next level.
The Rift Zone Jr. is all about performance off-road. As such, it's built upon a lightweight aluminum frame with Marin's Multi-Trac suspension platform, combining a 120mm X-Fusion Velvet RLC fork with a 120mm O2 Pro R rear shock.
The high-travel suspension, 2.4″ Vee Tire Flow Snap tires, Shimano hydraulic disc brakes, and dropper post compatibility ensure excellent control, speed, and performance even on advanced singletrack trails.
The drivetrain chosen by Marin combines a smooth-shifting Deore 1×11-speed derailleur with a SunRace 11-46t cassette and MicroSHIFT shifters. Although these are all respected component brands, the drivetrain is slightly disappointing for the price of this bike.
If you want to give your child a confidence-inspiring ride that will allow them to grow and develop as a mountain biker, look no further than Marin's Rift Zone Jr. 24″.
Buy from Jenson USA Buy on GovVelo.com
---
Rocky Mountain Vertex Jr 20″
Price: $859
Wheel Size: 20″
Weight: N/A
Gears: 9
Recommended for: Inseam 17 – 24″
The Rocky Mountain Vertex Jr is another hardtail mountain bike with unique component choices, comfortable geometry, and a versatile design.
This bike is built on a lightweight aluminum frame with a Suntour XCM JR Air 80mm fork that helps you stay in control and absorbs trail vibrations. The child-specific Pivotal Jr saddle and kids grips are ideally suited to young riders and boost the comfort of the Vertex Jr.
The highlight of this bike is the powerful Shimano MT4100 hydraulic disc brakes that allow you to stop on a dime. Other notable components include the grippy 2.4″ Kenda tires, Rocky Mountain JR25 Tubeless-ready wheels, and SunRace 9-speed drivetrain.
Rocky Mountain has thought of everything with this hardtail MTB. You won't be able to tackle advanced trails, but it would make a great beginner trail bike for kids, and it won't break the bank.
---
Schwinn High Timber 24″
Price: Check on Amazon
Wheel Size: 24″
Weight: 30lbs
Gears: 21
Recommended for: Kids size 56″+
Schwinn's High Timber 24″ is a cheap kids' mountain bike with front suspension and lots of gearing.
Schwinn chose a 3×7-speed drivetrain to ensure riders can tackle steep gradients without issue. The downside of this setup is the added complexity for shifting and the increased maintenance and repair requirements.
The High Timber comes with wide, knobbly tires that provide traction and control on loose off-road surfaces and in wet weather. In addition, the upright geometry ensures a high degree of comfort when cruising around the neighborhood.
Unfortunately, many reviewers highlight the difficulty in assembling the bike and that the brake levers aren't ideal for smaller hands. Nonetheless, the step-through frame is perfect for a girls' mountain bike.
We think the High Timber is one of the best kids' mountain bikes in the sub-$400 category but doesn't quite live up to some of the other similarly-priced models on this list.
---
Marin Bayview Trail 24″
Price: $494
Wheel Size: 24″
Weight: N/A
Gears: 7
Recommended for: Kids 3'8″ – 4'5″
The Marin Bayview Trail is the best kids 24 mountain bike, thanks to its affordability, versatility, and fun, confidence-inspiring ride quality.
Marin's mountain bike design expertise is evident in the lightweight aluminum frame with a modern trail geometry that delivers a stable and comfortable feel on rough trails.
The Marin San Quentin is a 27.5" trail/cross-country hardtail designed with the help of professional mountain biker ...
To complement the geometry, you have a combination of 50mm SR Suntour XCT Jr fork suspension, Vee Tire Crown Gem 2.2″ tires, and Power CX7 mechanical disc brakes with child-specific levers. Unfortunately, the suspension and tires add a lot of extra weight.
The drivetrain chosen is Shimano Altus, with a 12-32t cassette. This drivetrain makes shifting simple and quick, but the downside is that there is limited gearing for climbing hills.
All things considered, the Bayview Trail is among the best kids' mountain bikes as it delivers a balance between off-road performance and urban comfort that would allow any child to fall in love with trail riding and cycling in general (without the huge price tag).
---
Norco Fluid 4.1 FS 24″
Price: $2,799
Wheel Size: 24″
Weight: ~29 lbs
Gears: 11
Recommended for: Kids aged 9-12
The Fluid 4.1 FS 24″ kids' bike is a high-performance option from off-road experts Norco.
This kids' hardtail mountain bike is an excellent choice for ages nine to twelve who want to rip up their local trails. Just be aware of the heavier design for smaller kids.
The suspension used is a Manitou J-Unit Expert air 145mm travel fork and Fox Performance Float 120mm rear shock. This setup combines with low, slack geometry to ensure control and comfort on difficult trails. In addition, Norco included powerful Shimano MT500 hydraulic disc brakes and Maxxis Minion DHF 2.4″ and DHR II 2.3″ tires with an EXO protective layer.
The drivetrain on the Fluid 4.1 FS is a reliable SRAM NX Eagle 12-speed setup with a 11-42t cassette designed for crushing moderately steep gradients.
This Norco kids' mountain bike is expensive, but it's a solid option if you want to nurture your young aspiring mountain biker.
---
Radio Bike Co. Zuma 16″ Kids Bike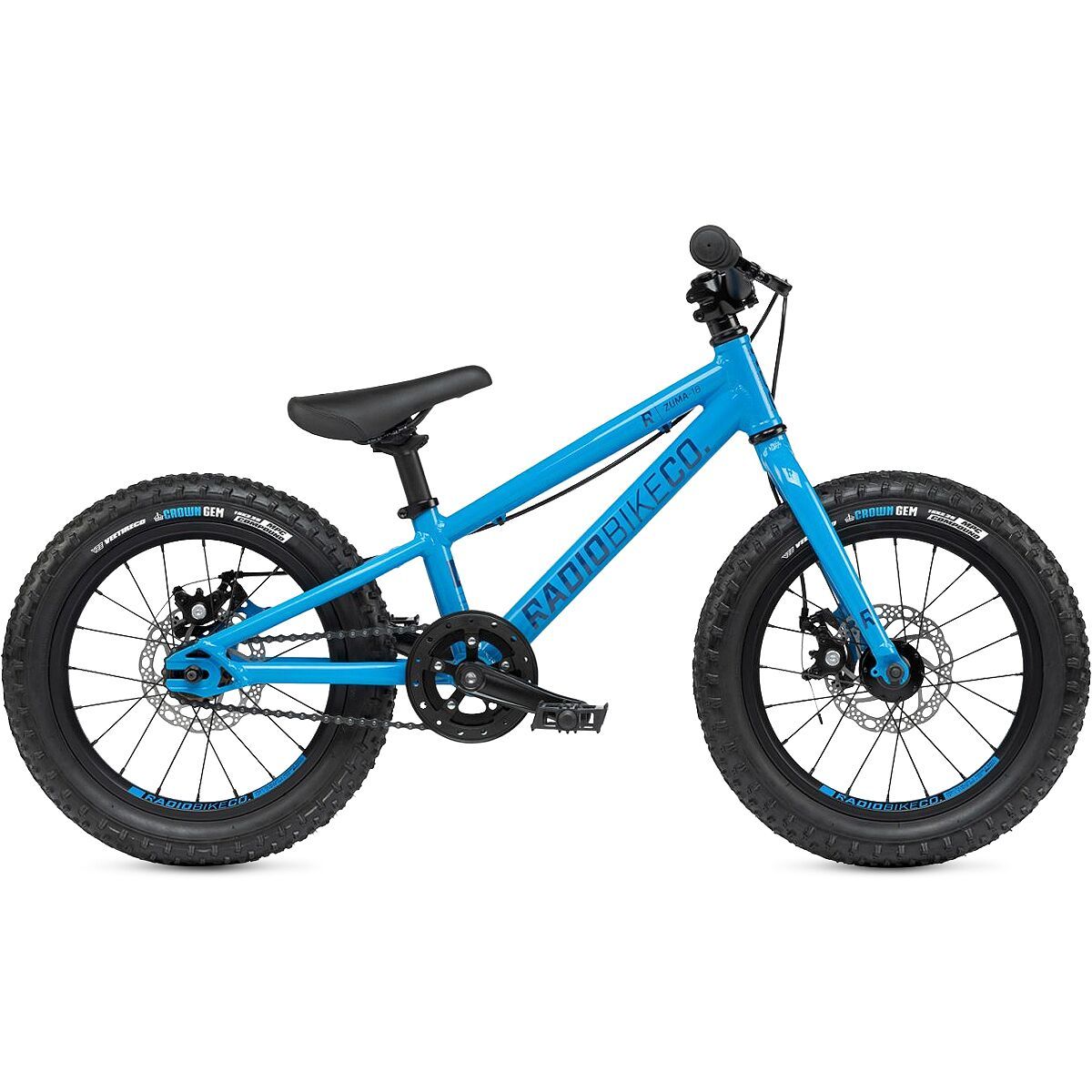 Price: $570
Wheel Size: 16″
Weight: 17.24lbs
Gears: 1
Recommended for: Kids aged 4-6
The Radio Bikes Co. Zuma is a 16″ bike designed to give children an introduction to tackling mountain trails at a very young age.
Children switching from a balance bike or training wheels for the first time will love the Zuma as it is optimized for control and stability.
The 2.25″ Vee Tire Crown Gem tires provide incredible traction off-road and in wet weather, and Promax mechanical disc brakes ensure safe stopping no matter the conditions.
Each of the components used is made by Radio Bikes Co. and designed to be ergonomic and comfortable for young kids, helping to foster their love for riding trails. The downside of this bike is that it is pretty heavy for children aged four to six, weighing over 17lbs.
Although this bike is expensive, if it fits your budget, it would make a great introductory mountain bike for your child so that they can fall in love with mountain biking.
---
Diamondback El Oso Nino 20
Price: $675
Wheel Size: 20″
Weight: 30lbs
Gears: 7
Recommended for: Kids aged 4-9 / 44-54″ tall
The Diamondback El Oso Nino 20″ is a fat tire mountain bike for young kids who are ready to hit the trails.
The El Oso Nino has a durable steel frame and fork. The benefit of this steel fork is it adds extra shock absorption, making trail riding less fatiguing. However, it means this bike weighs more, coming in at 30 lbs, far too much for a young child.
Diamondback chose 7-speed gearing with a 14-28t cassette and 40t crank, sufficient for climbing light hills. The twist shifters also make shifting simple.
Chaoyang 4″ tires are huge a knobbly to provide confidence and stability on any terrain you encounter. Other helpful features include the mechanical disc brakes and child-specific touchpoints.
All in all, choose the El Oso Nino 20 is an affordable fat tire choice to help your child fall in love with hitting the trails and last a long time.
---
Cannondale Cujo 24+ Kids' Bike
Price: $580
Wheel Size: 24″
Weight: 24.5lbs
Gears: 8
Recommended for: Kids aged 7-12
The Cannondale Cujo 24+ is one of the best kids' mountain bikes you'll find. It's an affordable rigid mountain bike with excellent off-road capabilities thanks to smart component choice and frame design.
Cannondale's SmartForm C3 frame is lightweight and responsive, and it is designed with slack geometry to ensure a high degree of stability off-road. This stability is boosted further by the wide 2.6″ Kenda Slant Six tires.
The 8-speed Shimano drivetrain comes with a Tourney derailleur and Revo twist shifters. Additionally, an 11-34t cassette and 30T crank provide enough gearing for climbing steep sections on the trail. The one downside is that it's a little heavy for hill climbing.
Tektro mechanical disc brakes complete the groupset, delivering enough power for most kids and providing reliable stopping no matter the conditions. Additionally, kid-specific levers make it easy to reach and modulate the brakes.
There's no doubt that Cannondale bikes are high quality, so be sure to consider the Cujo 24+ if you're looking for a long-lasting rigid mountain bike for your seven to twelve-year-old.
---
Prevelo Alpha Four
Price: $449
Wheel Size: 24″
Weight: 21.1lbs
Gears: 9
Recommended for: Kids 7-11 years old / Inseam 23″ – 28″
The Prevelo Alpha Four is an exceptionally versatile and fun rigid mountain bike for children. Its lightweight design and child-specific components make riding a joy.
Prevelo chose a low and stable rider position for this bike to ensure control and confidence when riding off-road. The narrow Q-factor also makes each pedal stroke comfortable and efficient.
The tires used are Kenda Small Block Eight Pro 1.5″ all-terrain models, which balance fast rolling speeds on pavement with durability and traction when venturing onto light trails.
The drivetrain is a MicroSHIFT 9-speed that pairs with precise trigger shifters and an 11-36t cassette. Another benefit of this drivetrain is the short hangar and derailleur cage, providing more ground clearance.
The one weak point of this bike is the rim brakes. These aren't as safe in wet weather, but all in all, this is an impressive bike by Prevelo with an affordable price tag, perfect for kids who enjoy riding on a wide range of terrains.
---
Mondraker Factor 24″ Kids' Bike
Price: $2,899
Wheel Size: 24″
Weight: 27.2lbs
Gears: 12
Recommended for: Kids 4'2″ – 4'11" tall
The Mondraker Factor 24 is the best full suspension mountain bike for kids, with tons of capability but an eye-watering price to match.
100mm travel X-Fusion suspension on the front and rear make riding on aggressive trails safe, controlled, and fun. In addition, Mondraker's Zero Suspension Design makes pedaling more efficient. However, one questionable design feature is the long 155mm crank arms which are uncomfortable for smaller riders.
Kenda Booster 24 x 2.4″ tires with deep tread provide tons of traction and durability on rough trails, and they are tubeless-ready for when you want to boost capabilities further.
The groupset is by SRAM, with a slightly underwhelming SX Eagle 12-speed drivetrain given the price of this bike. Nonetheless, the 11-50t cassette provides plenty of range for tackling steep gradients, and powerful SRAM Level hydraulic disc brakes ensure reliable and powerful stopping.
Overall, this bike is slightly overpriced, especially given the $1,899-priced Marin Rift Zone Jr. described above. However, it's still one of the best kids' mountain bikes, so pick the Factor 24 if you've got an ambitious young mountain biker at home and it fits your budget.
---
Buyer's Guide for Best Kids' Mountain Bikes
---
Sizing
Sizing is the most important consideration when choosing a kids' bike; the best kids' mountain bike is the one that fits perfectly. A good fit means more comfort and control and, as a result, safety and fun. Conversely, riding a bike that's too big or small makes pedaling difficult and could lead to crashes or injuries.
When it comes to finding the perfect bike for your kid, understanding kids' bike sizes can feel like a whole new ...
Before choosing a bike, measure your child's inseam length and height, and, where possible, use these to find the appropriate size. The manufacturer's recommended age range is a good starting point, but it is inaccurate. A child should:
Be able to touch the ground with the balls of their feet while sitting on the saddle.
Stand over the top tube with an inch of clearance.
Reach the handlebars comfortably.
Price
Kids' bikes should be cheaper than equivalent adult bikes as children grow out of them after two to four years. For this reason, it's best to purchase an entry to mid-level bicycle, but the more you spend, the longer it is likely to last and the higher the resale value.
The price of mountain bikes varies primarily based on the style (rigid, hardtail, full-suspension), as suspension components are costly. Therefore, hardtails are more expensive than rigid MTBs, and full-suspension bikes cost the most.
You can find a mix of excellent rigid MTBs and hardtails for kids from $300 to $1,000. In general, full-suspension models will cost over $1,500. By choosing a reliable manufacturer and maximizing your budget to get one of the best kids' mountain bikes for the money, you'll save yourself future headaches.
Weight
Parents often overlook bike weight, but it contributes hugely to whether or not your child will enjoy riding it.
Weight is particularly significant for mountain bikes as maneuvering the bike over obstacles and riding up steep gradients are much harder with a heavier bike.
Most kids' mountain bikes weigh 16 to 28lbs, but cheap off-brand bikes can weigh even more. So try to get the lightest bike possible; your kid will thank you!
Brakes and Brake Levers
Mountain biking requires frequent, hard braking on different surfaces and in varied weather conditions, so good brakes are essential for staying safe and in control.
Rim brakes are adequate for most riding styles, but their performance degrades significantly in wet weather, and they don't offer the same power as disc brakes. So to maximize safety and confidence for your child, try to choose a bike with disc brakes (hydraulic discs being the most powerful and consistent).
Since their popularization in mountain biking, disc brakes have slowly edged into the other disciplines. Mechanical ...
Additionally, consider the design of the brake levers. Most of the best kids' mountain bikes come with child-specific brake levers that have shorter reach and are adjustable to fit smaller hands. This design helps ensure your child can brake safely and comfortably at all times.
Gearing
The best mountain bike for kids should have simple, easy-to-use gearing. Single chainring (1x) drivetrains minimize the complexity of changing gears, and they impart the added benefit of being more durable and easier to maintain.
Look for a bike with six to nine gears, as this is plenty for tackling a variety of gradients and maintaining speed on flats.
Learning how to shift gears effectively will increase the enjoyment of your rides and help boost your ...
The other consideration is shifting. Trigger shifters are smoother, more precise, and easier to use after some practice. However, their downside is higher cost, so manufacturers are reluctant to use them on cheaper bikes. In contrast, twist shifters cost less and are easier to use but are imprecise.
Suspension
Adding suspension is usually better for adult MTBs but choosing a kids' mountain bike with suspension isn't always better. Cheap suspension components for kids' bikes add unnecessary weight and maintenance requirements without much benefit.
Children typically don't ride very rough or advanced trails, and they often aren't heavy enough to compress the suspension.
Rigid mountain bikes are adequate for most riders, and they benefit from the lower weight and durability. However, if your child wants to ride more demanding trails or try downhill mountain biking, choose a bike with lightweight suspension components such as the Prevelo Zulu Three or the full-suspension like Marin's Rift Zone Jr.
Wheels and Tires
Finally, wheels and tires can make or break the experience of riding a mountain bike. Heavy, cumbersome wheels can make a bike feel sluggish. Look out for lightweight alloy wheels to improve the ride quality of a kids' bike. Durability shouldn't be too much of an issue as kids are lighter and are unlikely to be tackling big jumps.
29" vs 700c | 736mm vs 622mm diameter Wheel size plays a massive role in how a bike feels and handles when riding ...
Likewise, tires heavily impact the way a bike feels. For small diameter wheels, anything around 2″ is wide enough and will benefit by being lighter. Unfortunately, many kids' bike manufacturers have recently chosen plus-sized tires, which can be pretty heavy without much benefit.
If your child plans to ride a lot on the pavement and trails, choose one of the best kids' mountain bikes with a narrower tire below so they can keep up with their friends.
Want to join your kids on a bike ride? Check out these mountain bike guides for adults!
---
Parents Also Ask
---
How do I choose a mountain bike for my child?
When choosing a mountain bike for a child, the most important considerations are fit, weight, child-specific components and geometry, and price. Test ride as many bikes as possible at your local bike shops. This is the best way to ensure a bike fits and is comfortable to ride.
What age is a mountain bike for?
Mountain bikes are for any age; once kids can ride independently, they can begin using a mountain bike. The benefit of using one as a child is that they are comfortable, stable, and durable. Additionally, kids can master off-road skills from a young age.
Are mountain bikes better for beginners?
Yes, mountain bikes are excellent for beginners. They allow riders to tackle a variety of terrains, and they offer improved control and stability compared to a standard hybrid. In addition, the relaxed, upright position and wide tires create a comfortable ride quality.
Which type of bicycle is best for kids?
The best type of bicycle for kids depends on the terrain and style of riding they plan on doing. For kids with versatile requirements such as off-road riding, neighborhood riding, and commuting for school, choosing a rigid mountain bike will meet all their needs.
Title
A 24-inch bike is typically for riders ages 8-10. However, children and bicycle models vary in size and shape, meaning some 24-inch bikes may be too big or small. For this reason, it is essential to test-ride a mix of bikes to see which ones fit best.
Which bicycle is best for a 10-year-old?
In general, the best bicycle for a 10-year-old is a 24-inch bike. However, depending on the height of the specific child, they may feel more comfortable riding a size smaller or larger. Measure your child's height and inseam length to determine fit more accurately.