Best Women's Bikes You Can Get in 2023
Cycling has always been a growing trend for a good reason – It's easy and enjoyable while clearing your mind and getting you in shape like nothing else out there.
We are fortunate to live in a time when bicycle manufacturers are pushing their limits to provide the best quality bikes at more affordable rates than ever before! Buying a bike is a significant investment, and luckily there are plenty of models to choose from for each occasion.
This article guides you through the world of the best women's bikes available online. We have gathered the most popular and best-selling bikes according to each bike type and price range. Enjoy!
---
Best Women's Bicycles in 2023
HYBRID
1. TREK – FX Sport 5 – $1,889
2. CANNONDALE – Quick Disc 2 Women's – $1,000
3. CO-OP CYCLES – CTY 1.1 Women's – $549
ROAD
4. TREK – Domane AL 3 Women's – $1,099
5. CANNONDALE – Synapse Disc 105 Women's – $1,800
6. ALL CITY – Zig Zag 105 – $2,699
MOUNTAIN
7. CANNONDALE – Trail 5 Women's – $950
8. DEVINCI – Riff Deore – $999
9. CO-OP CYCLES – DRT 2.1 – $1,299
GRAVEL
10. CO-OP CYCLES – ADV 2.1 – $1,099
11. SALSA – Journeyman Claris 650 – $849
12. CANNONDALE – Topstone Women's 105 – $1,750
ELECTRIC
13. ELECTRA – Vale Go! 9D EQ – $3,300
14. TREK – Powerfly 5 Women's – $4,199
15. RAD POWER BIKES – RadRunner 1 – $1,199
---
Best Hybrid Bikes For Women
Hybrid bikes are popular among female cyclists due to their versatility and ease of use. The concept of a hybrid bike has been engineered for a comfortable and fuzz-free commuting experience. A hybrid is what you get when mixing mountain and road bikes.
There are a lot of hybrid/city bikes with forks, borrowed from mountain bikes; and narrow wheels & tires borrowed from road bikes. Many cyclists prefer the hybrid due to its upright riding position.
Hybrid Bikes Q & A
What Is The Best Women's Hybrid Bike?

Depending on your budget, and how often and where you mainly ride, I'd say each of the bikes listed here are the best in their price range.

What Is The Most Affordable Hybrid Bike For Women

?

Co-op Cycles CTY series has been a trending choice among female cyclists, and their bikes sell out quickly!

How Much Should I Spend On A Hybrid Bike

? I'd say the bikes that get used once/twice a week by recreational cyclists start from $500. If you are serious about cycling, going for a spin regularly, the $800-$1,000 budget will definitely get you a great bike, which can be upgraded if needed for final preferences.

Are Hybrid Bikes Good For Long Distance

? As women's hybrid bikes generally have flat handlebars and 700c sized road bike wheels and tires, they are excellent for 10-40 mile distances. If you are planning to cycle more often on paved roads for longer distances, a road bike offers a better, more performance-driven option for you. It builds up speed effortlessly.

Mudguard & rack Compatibility

? Check out each bikes' features for compatibility.
1

. TREK – FX Sport 5
---
Fastest, most high-tech women's hybrid bike
MSRP: $1,889
Don't let the sleek crystal white finish on this bike give you the idea that it's merely just the most beautiful-looking hybrid bike you've seen so far! FX Sport 5 is the latest and greatest women's hybrid bike.
It is placed as number one in this article for a good reason – there's simply nothing to add or remove to make it perfect! Trek had set the bar when they were designing this higher-end city bike for female cyclists. It's a strong choice among commuters who expect only the best in their bike rides.
Sure, nearly $2,000 is a lot of money, but this Trek hybrid women's bike is worth it when you seriously value your time commuting. The only thing to keep an eye on with this bike in the long run, besides regular maintenance, is the carbon frame.
The best feature of lightweight carbon fiber is also its weakest. This means you have to be careful not to drop it, or excessively stress the frame.
2

. CO-OP CYCLES – CTY 1.1 Women's Step-Through
---
Best-selling commuter bike for women by Co-op bikes!

MSRP: $549
The CTY 1.1 women's hybrid bike has the best value for money on this list. It's no surprise it has the most ratings and feedback on REI.com. When cycling is not (yet) your primary hobby, but you still want to get the best bang for your buck – this all-around hybrid is THE choice for you.
It's got all the basics that an occasional cyclist expects. It's the best women's hybrid bike due to its ease of use and affordability. The only thing to consider is that it's got road bike wheels and Presta valves, which differ from widely used Schnaider valves (the ones used on cars as well). That means you have to get a decent floor pump.
3

. CANNONDALE – Quick Disc 2 Women's Bike – 2020
---
For someone who enjoys a workout and relaxed cruising
Best for recreational cycling
MSRP: $1,000
This lightweight yet ultra-durable women's Quick Disc 2 by Cannondale is the best women's hybrid bike in its mid-range price category! There are plenty of gears, stopping power, and many more features that a recreational cyclist could ask for.
Cannondale women's hybrid bikes have always been a popular choice among well-known bike stores because they look good and over-perform their value!
The wide variety of gears allows you to choose your ideal pace. Rack and fender mounts offer versatility and add a lot of value to the bike. The full carbon fork makes the steering light and your ride more sporty.
I strongly recommend this bike if you value excellent engineering, and expect your bike to perform like a $1,000 hybrid bike should.
---
Best Women's Road Bikes
Road bikes are for those who have the ultimate performance, speed, and training in mind. Also, they're the quickest way to take your bike rides to a different level on paved roads.
Women's Road Bike Q & A
What is the best women's road bike for a beginner?
The Co-op Cycles ADV series bikes have a wide variety of models and great set-ups from beginner and intermediate riders!
Are road bikes difficult for beginners?
If you have some cycling experience, road biking can be a little difficult to learn in the beginning, but once you get used to it, there's no turning back!
What are the best women's road bikes?
Trek, Giant, Co-Op Cycles, and many more. If you have a certain brand in your mind, go check out our

Best bike brands

article to find out more about it.
4

. TREK – Domane AL 3 Women's
---
Best women's bike for beginners
Best for training purposes
MSRP: $1,099
The Domane AL 3 women's road bike is an excellent entry-level road bike with more than a decent set of components. Bontrager; rims, tires, stem, handlebar and saddle post, Domane carbon fork, and much more give you a glimpse into the world of road-biking.
Plus, this bike comes all equipped, ready to ride – you don't need to get another pair of cycling shoes and clip pedals. The bike itself weighs under 10kgs/22 lbs which is something to look for in a decent, aluminum frame road bike!
As you can also see from the main features, there are plenty of extras that can be added to the bike to make it more versatile. It's an awesome entry-level bike road bike for beginner to intermediate women cyclists!
5

. CANNONDALE – Synapse Disc 105 Women's
---
Stiff build with plenty of comfort for fast rides!
MSRP: $1,800

Do you have enough experience as a cyclist to tell the difference between bikes that perform well according to your input, but still haven't found the best set-up for yourself? Well, have you ever tried the combination of Cannondale and Shimano 105?
It's a legendary combination in the road bike industry that's hard to compete with. We strongly recommend considering this as your next road bike if you value the tradition and you're looking for a bike that's got more torque than you can ask for.
6

. ALL CITY – Zig Zag 105
---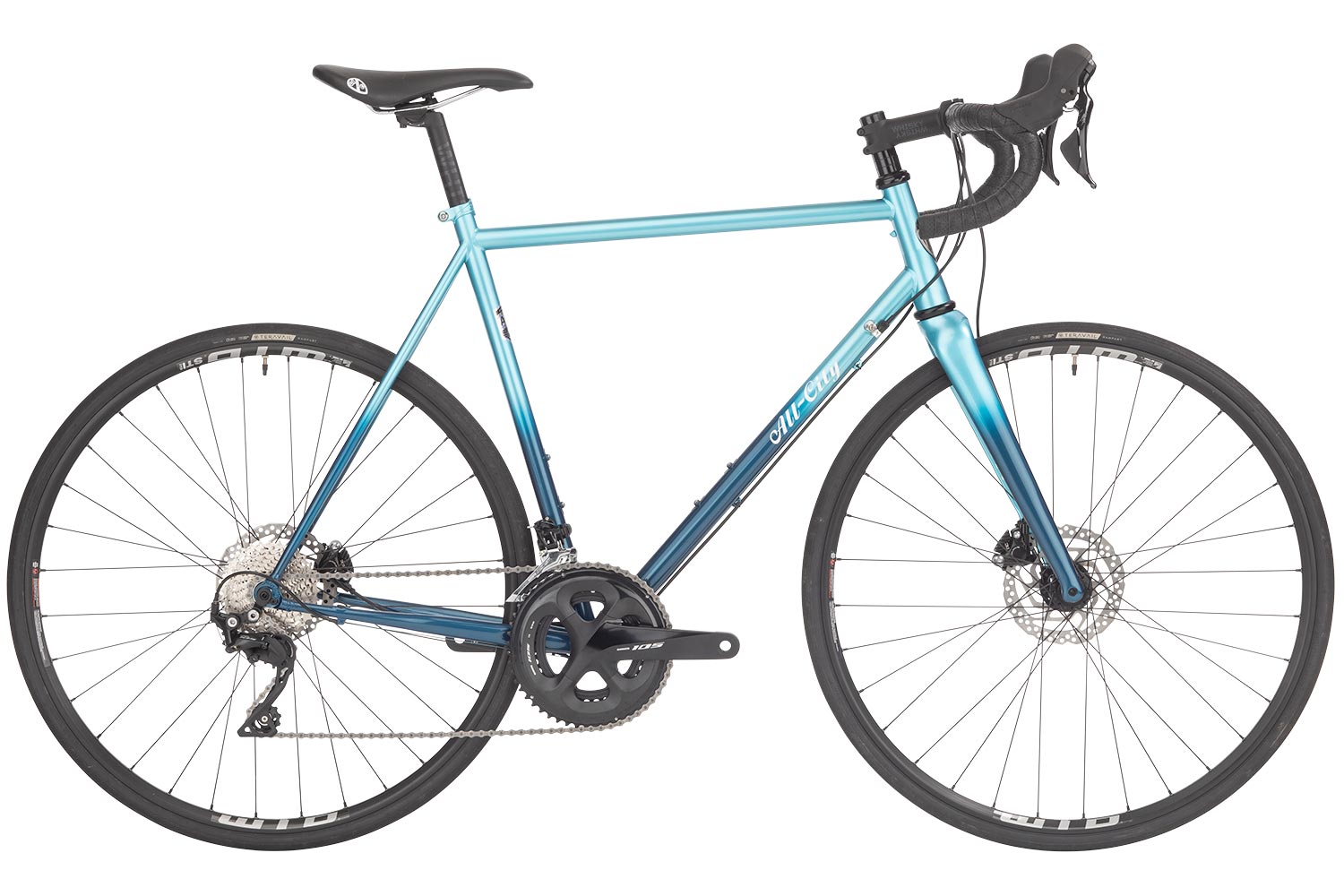 MSRP: $2,699
A great alternative to other leading brands out there. The Zig Zag by All-City bikes has all you need to start competing or for taking your performance to the next level. It is super lightweight and durable, which makes it perfect for steep climbs and long descents.
The more great news is that the Zig Zag bike will be shipped to your door for free, and ready to ride – there's no installation needed, and pedals are included too! The brand All-City might not have come across your eyes or ears so far, but this one is a super solid build with a good mid-range set-up.
Whether you like riding a road bike solely for training purposes, or you're thinking of competing sometime soon, the Zig Zag 105 is built for both.
---
Best Women's Mountain Bikes
MOUNTAIN BIKE (MTB) – A bicycle that's built to go places, widely used as a comfortable allrounder from city streets to narrow trails. The larger tire/wheel size and fork travel make riding on unpaved roads super smooth and enjoyable.
There's plenty of traction provided by large and knobby tires, and the overall durability of the frame and components are something you won't need to worry about.
7

. CANNONDALE – Trail 5 Women's
---
Best beginners mountain bike for women
MSRP: $950
1×10 microSHIFT Advent X drivetrain
Tektro M275 Hydraulic disc brakes
Weight: 32 lbs
This Cannondale women's mountain bike is a great mid-entry choice for beginners, made by a brand that sure knows how to build bikes – 50 years and counting! The Trail 5 has all the essentials you could ask for at that price range.
It's got a lockable suspension, which is great when riding on flat paved roads. Either 27.5″ or 29″ wheels are used to tackle larger obstacles effortlessly, and the hydraulic disc brakes that offer plenty of stopping power!
It's by far the best in its price range. By the way, Cannondale women's mountain bikes are currently among the best-selling bikes online next to Co-op bikes.
8

. DEVINCI – Riff Deore 10S
---
MSRP: $999
10-speed Shimano Deore
SR Suntour XCR Air, 100mm
Aluminum Optimum G02 frame
Best for cross-country and light trails – The Riff 10S Deore is one of the best bikes to get at this price range. Devinci knows how create mountain bikes, and here is their mid-entry level mountain bike in nice glossy white color.
Why did we mention that? It is because white bikes are not as common to come by, and it definitely catches an eye where mountain bikes for recreational cyclists are scarce during this pandemic.
The level of components is best-suited for a recreational cyclist who wishes to explore gravel, urban and hilly terrains. Is it a good first mountain bike? Yes, even more than that.
MT200 hydro disc brakes and V2 Comp wheels make you feel safe and secure, and the 29×2.4″ tires work wonders cycling on uneven trails. There's nothing to add or remove about the bike, and price is matched well above its price tag!
9

. CO-OP CYCLES – DRT 2.1
---
Most advanced on the DRT range!
Best for trail mountain biking
MSRP: $1,299
If that list of features didn't light a spark under your adventurous side – I recommend rechecking the price tag! The DRT 2.1 is a mid-range hardtail mountain bike that feels more at home on rougher terrains than you could probably imagine.
The frame and the bike are super durable while giving you all the possibilities of making your ride smoother and more comfortable on technical sections. A must-consider women's mountain bike when you haven't found one yet. Co-op bicycles are a rising trend, and many of their bikes sell out quickly!
---
Best Women's Gravel Bikes
GRAVEL BIKE – A new type of bike that's been trending for a good reason. Its best field of use is 70% on the road and 30% off the road, which makes it the most versatile bicycle type on this list! These bikes provide excellent comfort and durability on less-traveled roads.
And, they do it with proper speed! Check out the three best-selling women's gravel bikes below to find yourself the most suitable one!
10

. CO-OP CYCLES – ADV 2.1
---
Best Women's Gravel Bike!
Best for gravel and bikepacking
MSRP: $1,099
Our favorite on the list, the newcomer Co-op Cycles ADV 2.1 women's gravel bike features the best components in its price range. Whenever increasing your budget over the 1000-dollar line, you can rest assured of its reliability.
This is especially so when it comes to Co-op bicycles, which stand out for their top value. This bike has enough to satisfy the needs of beginner to intermediate cyclists who want the best bang for their buck.
11

. SALSA – Journeyman Claris 650 Bike
---
The cheapest women's gravel bike with the flashiest of designs on the list!
MSRP: $849
The Journeyman Claris 650 has combined a wide range of uses into a single women's gravel bike under the 1000 dollar mark! It's equipped with the essential components for recreational cycling.
If you've been looking for a bike that has the speed of a road bike while being able to tackle lighter trails, this Salsa Women's gravel bike gives you all of that, at the best possible price! The only con about this bike is that it doesn't come with a pair of pedals.
It's up to your personal preferences whether you go for the standard platform pedals or use your existing clip-on ones.
12

. CANNONDALE – Topstone Women's 105
---
Light and lively – yet smooth and snappy
MSRP: $1,750
A higher-end women's gravel bike that's best for going fast on less-traveled roads.
It's tough enough to build up speed on the roads while being perfectly capable of taking a beating on unpredictable trails. The price to quality ratio is well matched, and you can trust your money with Cannondale's engineering.
It's the best women's gravel bike on this list for a good reason – the 105 groupsets with tubeless wheels & tires are a must-have in the gravel bike category! Besides the performance aspect, the bike is perfect for bike-touring due to its multiple bottle-cage, rack, and fender mounts!
---
Best Women's Electric Bikes (E-Bikes)
Electric bikes don't need any introduction or reason to bike – they are simply the next level of commuting possibilities. They save you from sweating while speeding up your time spent commuting. Many cyclists choose to get an E-bike because of a previous injury, or they live in a hilly area.
What to look for when choosing an electric bike? The main difference that builds up the price is the size and quality of the battery. All of the bikes below come with a removable battery, making it easy for charging and a great option from a safety perspective as well.
Pricier electric bikes

have stronger components such as SRAM, Bontrager, Bosch, Hydraulic disc brakes, large and powerful batteries with a long-range and shorter charging time.

Cheaper electric bikes

have no suspension, longer charging time, and a basic, simple set-up.
13

. ELECTRA – Vale Go! 9D EQ
---
Comfortable and versatile women's E-bike for light cruising or fast commuting in the city!
MSRP: $3,300
Charge Time: 3.25hours / Range: 60mi (96,5km) / Top Speed: 20mp/h-32km/h with pedal assist (PAS)
Fully integrated motor in a step-through frame, Bosch Kiox screen displays Bluetooth connectivity, speed-, performance-, battery rating, and much more. An integrated rack carrier frame makes it a perfect women's city e-bike where you can also load the racks.
Electric bikes are the future. If you haven't considered getting one just yet, consider that its geometry is designed for cruising and commuting. It's for cyclists who use their bikes recreationally and want their bikes to last and perform well. By the way, Electra's women's electric bikes start as low as $1,500, so check out their website for more affordable options!
Best for: Streets to light trails

Main Features: 6061-T6 Aluminium Frame / BOSCH Active Line Plus Motor (Lockable&removable) / BOSCH Kiox Display / TEKTRO hydraulic disc brakes / SHIMANO Alivio 9-speed Derailleur / SCHWALBE Super Moto X-Tires with puncture-resistant Kevlar, suspension seat post.
Main Specs: E-Bike Classification: Class 1: pedal assist / Weight: 54 pounds-25kg
14

. TREK – Powerfly 5 Women's
---
Highly capable and durable women's electric mountain bike
MSRP: $4,199
This is THE bike if you are looking for an ultra-durable women's electric mountain bike for trail riding. The Powerfly 5 comes in three sizes. The XS/S model comes with 27,5″ wheels and 100mm fork travel, while the Medium size bike comes with 29″ wheels on RockShox Recol 120mm travel forks.
The bike weighs about 48lbs (22kgs), but it's built for rough terrains and can hold up a 300 pound/136kg rider! Now that's something you can rely on. The bike is made by Trek, and this model is equipped with the latest and greatest you can ask for in a women's electric bike.
You can easily push this bike through rugged terrain, up and down hills, and not worry about anything falling apart.
15

. RAD POWER BIKES – RadRunner 1
---
The cheapest women's electric bike on this list!
MSRP: $1,199
By far the best entry-level women's E-bike by a known brand that specializes in making electric bikes only! The RadRunner 1 is your perfect companion for light rides to longer commutes. It's got a lot to offer when it comes to versatility, ease of use, and comfort!
No need to look any further when you don't want to go over your budget, but you still want a beautiful-looking and high-performing e-bike!
---
Women's Bikes Buying Guide
---
Getting a new bike is a process that can be either fun or frustrating. If the last time you rode a bike was a few odd years ago, you have probably noticed that a lot has changed during that time. New bikes are more affordable, comfortable, and durable than ever before. And let's not forget that women's bicycles have become very nice looking too!
Second-Hand Bike vs New Bike

Buying a second-hand bike off Facebook Marketplace or Craigslist solely based on its look is a risky option when you don't know too much about what to look for in a bike. It's far too easy to overpay for a bike that's not safe to ride, unmaintained has the wrong frame size, or the bike is designed for an entirely different purpose than what you are looking for.
Of course, low-hanging fruit is available as well, and you might get lucky!
I strongly recommend buying a bike that is made by a known brand. New bikes come with a warranty, and you also save a fair amount of money when ordering online! Plus, the choice is far more comprehensive on the web than at your local store.
Follow the guidelines below to get yourself the best match available!
---
How Much to Spend?
Since the biking industry is uber-competitive and the bikes listed here are amongst the popular ones – you don't need to worry about getting ripped off. Below you'll get a brief overview of what to expect within a specific price range:
How much to pay for a women's bicycle in 2023?
ENTRY

$400-$600 –

Gets you a nice all-rounder hybrid bike. They are generally equipped with essential components that are suitable for beginner cyclists.

MID

/Entry $600-$1,000 –

Decent hybrid bikes, great MTB's come into play. Cheaper road bikes are available in this price range!

MID

-Range $1,000-$1,500 –

Can get you a proper hybrid, MTB or a road bike. Entry-level electric bikes become an option.

TOP

-Range – $1,500+

Gets you a great road-, mountain-, gravel- or hybrid bike. This is also where the mid-range electric bikes come along.
---
FAQ
1. Men's vs Women's Bikes
The main difference is that a women's bike has a "step-through" frame shape, while men's bikes have quite a horizontal top tube. Depending on the frame size and bike type, the size of wheels can differ as well from the men's 29″ wheels to 26″ and 27,5″ on women's bikes.
There are plenty of unisex bikes available, and one which comes to my mind FIRST is Co-op Cycles, who have mastered the art of making these bikes.
2. What Is The Best Bike For A Woman?
For recreational cyclists, the classical step-through design is widely preferred for comfort. However, women can certainly ride all step-over bikes as well. Most manufacturers are now only making unisex models, so women shouldn't feel limited to women-specific bikes only when looking for a new bicycle.
3. Do I Need A Helmet?
Sorry for being blunt, but I find it reasonable that riding without a helmet is fined in Australia ($150AUD), no questions asked. I used to ride without one until my mid 20's, which didn't bother me much. But once I started wearing one and realized the importance and safety of that little piece of plastic – it's simply priceless. ALWAYS wear a helmet, and do it correctly!
By wearing a helmet, you are a role model for those who haven't realized the importance yet!
4. What Cycling Gear Do I Need?
If you get your bike regularly maintained in a bike shop, which is not a bad idea, you just need a bicycle pump, a helmet, and comfortable clothing. In addition to that, you can also consider getting a spare tube, a multi-tool, cycling gloves, and a set of front and rear lights.
5. What are the basics I need to know?
Keep your bike maintained

Check your tire pressures before heading out

Bring water with you to keep hydrated
6. What tire pressure to use?
The recommended tire pressure is written on the sidewall of your tires. Finding the perfect tire pressure takes some trial and error because it is also influenced by your weight and your style of riding. If you want more comfort, deflate your tires slightly, or inflate them more if you aim for more speed.
7. What are the basics that beginner cyclists fail at?
Number one: Not keeping your tires inflated to the recommended pressure. Number Two: Beginners leave their bike unattended/unlocked, which can get your bike stolen. So, invest in a proper lock!
8. Is cycling dangerous?
Depending on your skill level and where you'll be riding the most – a bike ride is as safe as you make it. As a beginner cyclist, you'll want to avoid busy roads and difficult trails at first.
9. Can I cycle during the rain?
With proper clothing and mudguards – Cycling through mild rain can be an awesome experience. Although, it is best to keep the chain lubricated so that the water won't start to rust the metal.
10. What are the differences between cheap and expensive bikes?
FRAME

: Carbon vs alloy vs steel. Carbon has better shock-absorption qualities and weighs a lot less than steel/alloy frames. Alloy frames are cheaper to make and repair if needed, while carbon is mostly unrepairable. Carbon used on newer bikes is way stronger than it used to be 5-10 years ago!

BRAKES

: Hydraulic vs Mechanical brakes. Most cheaper bikes are equipped with "old-school" brakes, where the linkage between the brake pads and the brake lever is connected via cable. More advanced bikes have hydraulic brakes, which use mineral oil for more accurate and smoother braking.

COMPONENTS

: The quality of the rims, cogs, derailleurs, shifters, forks, and hubs make a big difference when it comes to overall quality.
11. Why Order A Bike Online?
Easy, more options, cheaper, plenty of time to make up your mind.
All bicycles sold at REI include a free tune-up. New bikes go through a standard break-in period, after which readjustment is essential for longevity and performance. Bring your new bike into your local REI for its free tune-up within 20 hours of use or six months from purchase, whichever comes first.
Note: Bikes shipped to your home require some assembly upon delivery. Instructions and tools are included.
12. What is the selection based on?
We took a compromised selection between affordability and popularity when choosing those bikes to the list.