Best Single-Speed / Fixie Bikes of 2020
Single-speed and fixed gear bikes have a long history going back to the early 19th century and for a long time were the only bikes of choice before they invented derailleurs in the late 1800s. Even the Tour de France allowed only fixed gear bikes until 1906 when it opened up the race to single speed bikes with a freewheel hub. This meant cyclists could stop pedaling and rest their legs on long, downhill sections.
Low Maintenance
Many cyclists choose a single speed or fixed gear bike because they are almost entirely maintenance-free. The lack of gears means there are hardly any moving parts that need constant cleaning and tuning. With no slack in the chain, they don't stretch easily and need not be replaced as often.
Characteristics
Single-speed bicycles have a different feel to the whole ride which makes them favored by many. As there's only one gear available, a cyclist must plan their pedal-efficiency according to the whole ride. This kind of gives the bike its own character as you'd have to get to know the bikes capabilities on different terrain, and ride with the right flow.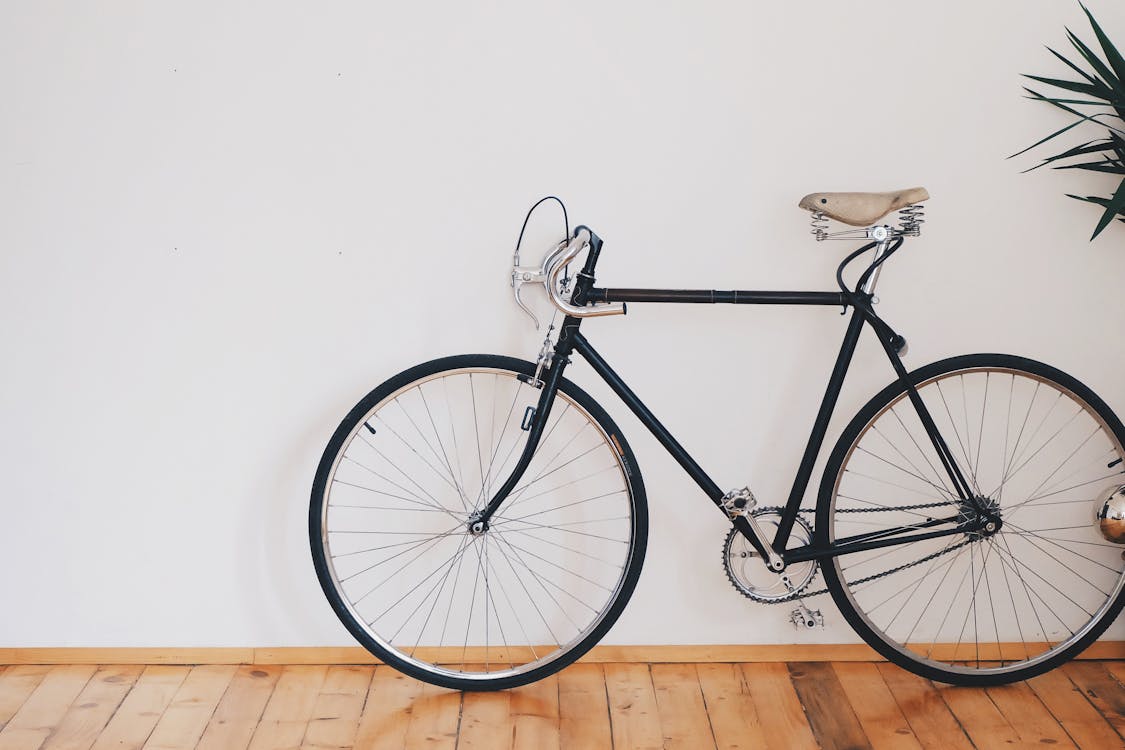 ---
MENU
1×1 bikes 101
15 Best Fixie Bikes
6 Best Single-Speed Bikes
How To Choose / FAQ
🏆
---
Single-speed bike – A bicycle with one gear only. A bike without shifters and derailleurs.
Fixie, Fixed gear bike – Single-speed bike with no flywheel. The drivetrain is directly connected to the rear wheel.
Track bike – A bicycle that's originally used in velodrome races. An agile looking fixed gear bike, although most 'track style' bikes come with a flip-flop hub.
Single-speed track bike – A track bike with a flywheel.
Flip-flop hub – Rear hub that has two sprockets on each side. The flip flop hub allows the cyclist to use the bicycle as a fixie, or a (free-wheel) single-speed bike.
A fixed-gear bike or fixie has a solid rear hub and sprocket so the pedals never stop rotating as long as the rear wheel is moving. This means you can also use the pedals as brakes by pushing backward, negating the need for traditional handlebar brakes.
These days, fixies are commonly used in competitive velodrome racing but have also gained a cult following amongst modern urban hipsters and bicycle messengers. Some modern fixies have a flip-flop hub which includes a freewheel sprocket on one side of the wheel so a rider can change between the two styles.
Read more from the FAQ down below!
---
Brakes
FIXIE
The real fixie bike usually comes with a coaster brake only, while most track-style bikes are equipped with either front and/or rear brakes.
SINGLE-SPEED
Coaster brake – Back-pedal apply to stop. Cheap and simple solution, no need to worry about maintenance.
How do you stop a fixie bike?
A pure fixed-gear bike will stop as soon as you stop the pedals from moving. However, the faster you are going the harder it is to do this so it can be dangerous if you haven't had practice. Most road-legal fixies come with one or two caliper brakes to make them safer for city cycling.
---
Why is the single-speed the best bicycle to get?
Character – You get to know the bikes' and your own limits due to its only gear ratio.
Pace training – Riding a single-speed bike teaches a lot about the pace – How to preserve energy while being ready to attack the upcoming hills and demanding sections.
Ease of maintenance – All you simply have to do in terms of maintenance is too lubricate and tension the chain every now and then.
Simplicity – A single-speed bike is among the least-complicated bikes to take for a ride. You'll realize the idea at some point, sooner or later.
No chain slack – No gears = no derailleurs mean there's no slack in the chain. Nothing to bounce around equals a quiet ride.
---
Best Fixie Bikes
---
6KU – Fixie Bike
The cheapest flat-bar 700c track bike
Steel / Black or White / Flip-flop hub
MSRP $219
Availability – 6KU
The 6KU is the ideal cheap fixie bike for entry-level riders looking to get around town. It has a robust steel frame and a flip-flop hub so you can choose between freewheel or fixed. It includes both front and rear brakes to make it road legal in all jurisdictions and arrives with all necessary tools for simple assembly.
The gear ratio is 46/16 with Deep V double-wall rims and Kenda 700 x 28c Presta valve tires. Budding cyclists will find this introductory black fixie bike the perfect vehicle for fun and exciting city commutes.
---
Golden Cycles – Vader
Steel / 700 x 25c
MSRP $249
Availability – Golden Cycle
Golden Cycles' Vader fixie bike has a high tensile steel frame with a 1-1/8″ steel fork and Neco headset. The alloy 46T chainring drives a flip-flop hub so you can easily ride it as a fixed gear or single speed bike.
It includes both front and rear brakes for added safety and has a custom riser bar to adjust your position for comfort or speed. On the 45mm deep alloy wheels, you'll find thin Kenda 700c x 25 tires for fast, smooth-riding.
---
6KU – Urban Track
Under $300 flat-bar fixie bike
Aluminum / 4 designs / 30mm deep-V rims / Flip-flop hub
MSRP $299
Availability – 6KU
This attractive white fixie bike from 6KU has a lightweight 6061 aluminum frame and fork that's perfect for town or track riding. It includes a Novatec flip flop hub for fixed or freewheel cycling and retails at an affordable price that won't break the bank.
The package is delivered with all necessary tools for assembly and includes front and back brakes to make it road legal wherever you are. The gear ratio is 46/16 and it runs on 700x 25c Kenda tires with clearance for up to 28c tires.
---
🏆
State Bicycles Co – Wulf Core Line
Steel / 700x25c / Flip-flop rear hub
MSRP $299
Availability – State Bicycles Co
For $300, the Core Line Wulf, is State Bicycle's entry-level fixie bike. The brand has been specializing in making single-speed bikes only, and they've got a bunch of aggressive-looking and well-performing bikes on their arsenal. On the cheaper spectrum, you'll find the full-steel frame bikes that are quite a beast of a bike for the money. On the higher price range, you'll find aluminum frames with carbon forks.
16/44t
VANS Grips
40mm Deep V Rims
Agile looks
Superb saddle
Good quality rims and bearings
Weight: 25lbs
Wulf Core is a tested bike that has proven to offer the utmost fun and ageless looks that won't age in decades! It's hard to go wrong with full black color on a bike, especially when it's matte black with a slight gloss. The bike comes at your door at a super cheap bike, while you might want to change out the pedals and brakes as soon as possible. Other than that, about 2000 miles later – the bike has been keeping up rather well. Just make sure to re-tighten the spokes after the break-in period.
---
Pure Cycles – Coaster
Steel / 700 x 32c / Coaster brake
MSRP $279
Availability – REI
Weighing in at just 26lbs, the 'Coaster' offers a hustle free ride for a relaxed commuting experience. Simple set-up includes the flip-flop hub, coaster brake, and a cruisy 'Moustache Bar' type handlebar. Rims – what are most cases among the most important factors on a single-speed bike are 32-hole, 25mm deep rims. 16T – 42T chainring is quite average to cruise comfortably up to around 15 miles per hour
---
Kent – 700c Thruster
Steel / Chain Guard
MSRP $329
Availability – Amazon
This steel-framed Kent Thruster men's fixie bike is a sleek-looking piece of kit that will undoubtedly turn heads. The perfect lightweight, affordable fixie for riders between 5″ and 6″ tall.
The low maintenance design includes a flip-flop hub for riding both fixed or freewheel and includes front and back brakes for added safety. It has an adjustable riser stem for either a comfortable or aerodynamic position and comes with all tools for simple assembly
---
Pure Cycles – Original
Steel / 700x28c / Deep Rims / Slick tires / Flip-Flop Hub
MSRP $399
Availability – REI
This quality single speed fixie bike from Pure Cycles is both as stylish as it is functional. With a lightweight steel frame and WTB Thickslick tires, you can happily hit the streets with speed and confidence.
16x44t (Single), 15x44t (Fixed)
The Pure Cycles Original comes with 40mm deep-dish wheel, front and rear brakes, and fender mounts for wet weather. What's more, riders can conveniently swap from fixed to freewheel cycling with the simple flip-flop rear hub. Comes in six sizes for riders from 5.2″ to 6.2″ tall.
---
Sole – The Admiral II
Steel / Flip-flop hub / 700x28C / Weight: 26lb
MSRP $429
Availability – Sole Fixed Bikes
Sole bicycles make eye-catching custom built fixies designed in Venice Beach, California. The Admiral 2 is a true beauty, featuring a white steel frame with navy rims and a striking gold drivetrain. The saddle, handlebars, and grips are all Sole Signature series parts.
The gear ratio is 46:16 with a 170mm alloy crankset and 16T sealed bearing flip-flop hub. For the wheels, they've chosen 45mm Deep Dish rims running durable 700x28c Presta valve tires. All bikes come semi-assembled in four sizes to fit 5″ to 6.2″ riders.
---
Kilo TT – Mercier Reynolds 520
Drop-bar single-speed fixi' bike
Steel / Flip-flop hub / Cage pedals / Coaster brake
MSRP $474
Availability – Amazon
This old-school drop-bar racer bike has got an authentic road bike design from the '90s. Although it looks like a classic – there are braze-ons for brakes, racks, and fenders when you are thinking of converting the bike for street use for everyday commutes. We like the old-school hi-tensile steel road bike fork in the front which is quite unusual these days. So far, the bike has got a positive score of 4.5 / 5 out of 7 ratings which seems to be a decent deal!
---
Throne Cycles –
TRKLRD (Track lord)
Alloy frame & Carbon fork / 4 different designs / 700x23c
MSRP $649
Availability – Amazon
The Track Lord Throne fixie bike features a TT-style alloy frame with a carbon fork and indented downtube for reduced wheelbase length. On the wheels are Novatec bladed-spoke rims with Novatec fixed hubs and ultra-thin Kenda 700x23c tires.
Carbon custom seat post

More models from Throne Cycles

: Phantom, Terra, The Goon
Throne bikes clearly built this machine with the intention of velodrome track racing but have also included a front brake to make it road legal. It's the perfect bike for speed freaks who want a lightweight but affordable track bike.
---
Wabi Cycles – Classic, Summer 2020
Steel / Weighs: 19 lb / Flip-flop hubs
MSRP $895
Availability – Wabi Bikes
A stunningly simple yet beautiful bike, the Wabi cycles Classic is a traditional racer with thin Reynolds 725 steel tubing available in various shades of blue or green. It has a 46/18 gear ratio and comes with a flip-flop hub for both freewheel or fixed riding.
46/18t
700x28c (Clearance for up to 32mm)
Buyers can choose from drop, riser, bullhorn, or straight bars with a 'racing' or 'relaxed' saddle. At only 19 lbs (8.6kg), it's one of the lightest steel frame fixies available but benefits from heat-treated and double-butted tubing for strength and durability. Includes 28mm Kenda tires and Tektro caliper disc brakes.
---
All-City Cycles – Big Block
Steel / 700x28c / Flip-flop hub
MSRP $999
Availability – Aventuron
Minnesota-based All-City Cycles are famous for their beautifully designed A.C.E steel fixie bikes, and the Big Block is no exception. It's a classic fixie track bike enhanced for urban cycling with front and rear brakes, straight handlebars, and fender mounts.
17/46t
Tire clearance for 25mm to 32mm
The Big Block benefits from Velodrome legal track geometry with a convenient flip-flop hub, making it ideal for track or street riding. It also features stainless steel Hennepin Bridge track dropouts with a built-in chain tensioner. The standard build comes with 700x28c Vittoria Zaffiro tires on Sun CR-18 rims.
---
State Bicycles Co – Undefeated II Black Prism Edition
Aluminum frame & carbon fork / ESSOR USA Aerodash 170mm Crank
MSRP $999
Availability – State Bicycles
This undeniably impressive piece of machinery from State Bicycle Co is a top-class fixie road bike designed for racing fixed gear crits. The super-light 7005 aluminum frame is complemented by a full carbon fork for excellent response and stiffness.
Michelin Dynamic Sport Tires
Flip-flop hub
16/48t
Weight: 16 lb 6 oz
The Essor USA wheelset has a cutout flange design on the hubs making them light but strong enough for the rigors of competitive crit racing. The gear ratio is 48:16, using a sealed flip-flop hub and Essor USA Aerodash crank.
---
All-City Cycles – Super Professional Singlespeed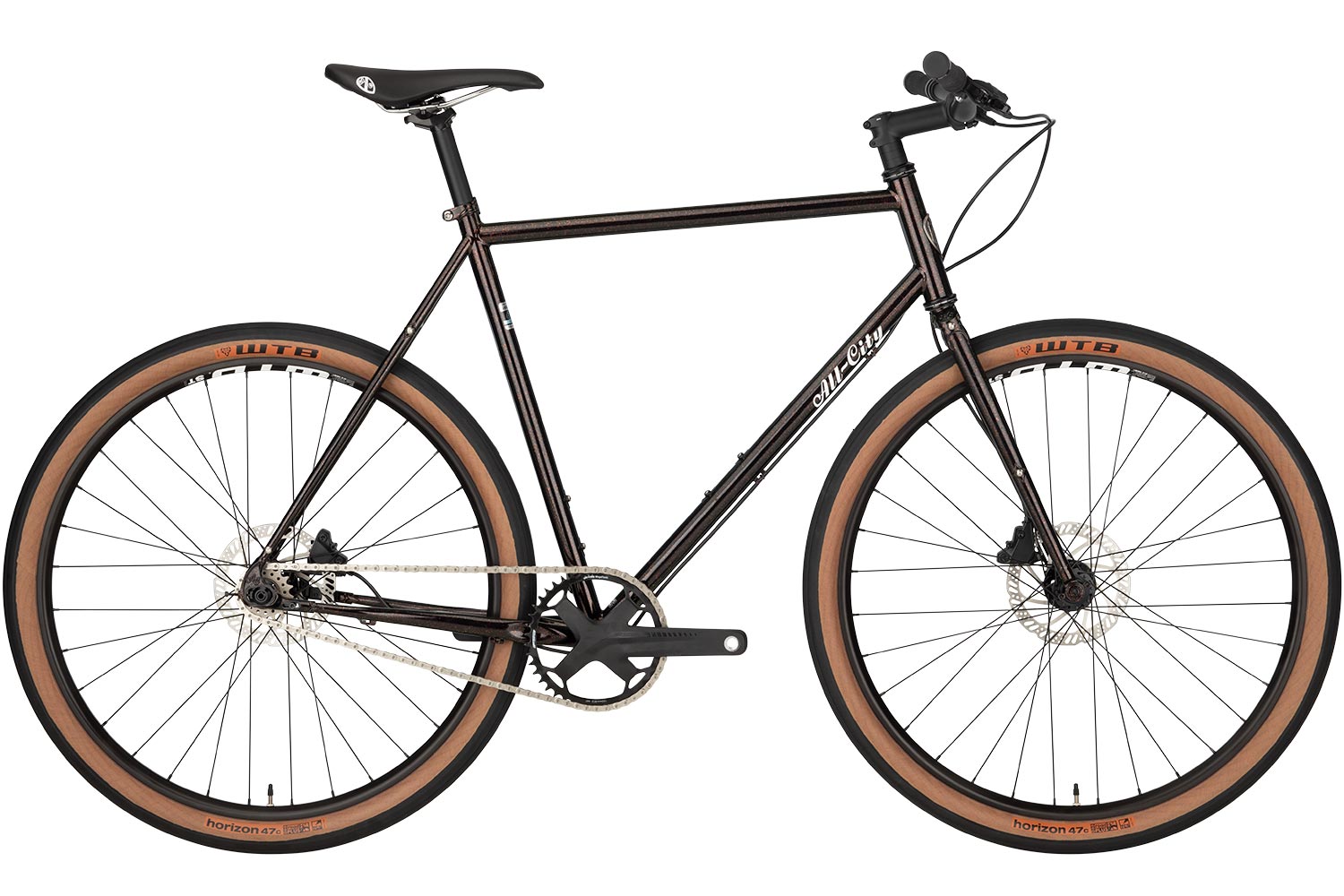 Steel / Tektro Hydraulic disc brakes
MSRP $1,299
Availability – All-City Cycles
The Super Professional is one of the best fixed gear bikes you'll find on the market today. Built to handle mixed terrain, it can accommodate up to 47mm tires and features All-City's Master Dropout so riders can easily swap between geared and single-speed.
18/44t
Optimized for 700x 25 – 45 mm / 650b x 40 – 47mm
The frame is packed with rack, bottle, and fender mounts for those looking to head out into the wild for some adventure, and for better stopping power in wet weather, the Super Professional has flat mount disc brakes. Standard builds come with WTB STi23 rims and WTB Horizon 650x47c tan sidewall tires.
---
All-City Cycles – Thunderdome
Aluminum frame & carbon fork / 700x25c
MSRP $1,599
Availability – Aventuron
Crafted from 7000 Series aluminum, this UCI-certified single gear bike from All-City has a proven history of success on the track. It features All-City's signature seat clamp with replaceable stainless-steel axle pads and a Whiskey No.7 carbon fork.
17/49t
Tire size range: 700x 19-25mmm
The extra-large 49T crank drives a 17T flip-flop hub on Alex rims with Donnelly Strada 700x25c tires. The front and back brakes are polished silver Tektro calipers. Overall, the Thunderdome is a serious track bike with a penchant for speed.
---
Best Single Speed Bikes
Gravel / Hybrid / Mountain / Cruiser
---
All-City Cycles – Nature Cross
By far the best single speed cyclocross bike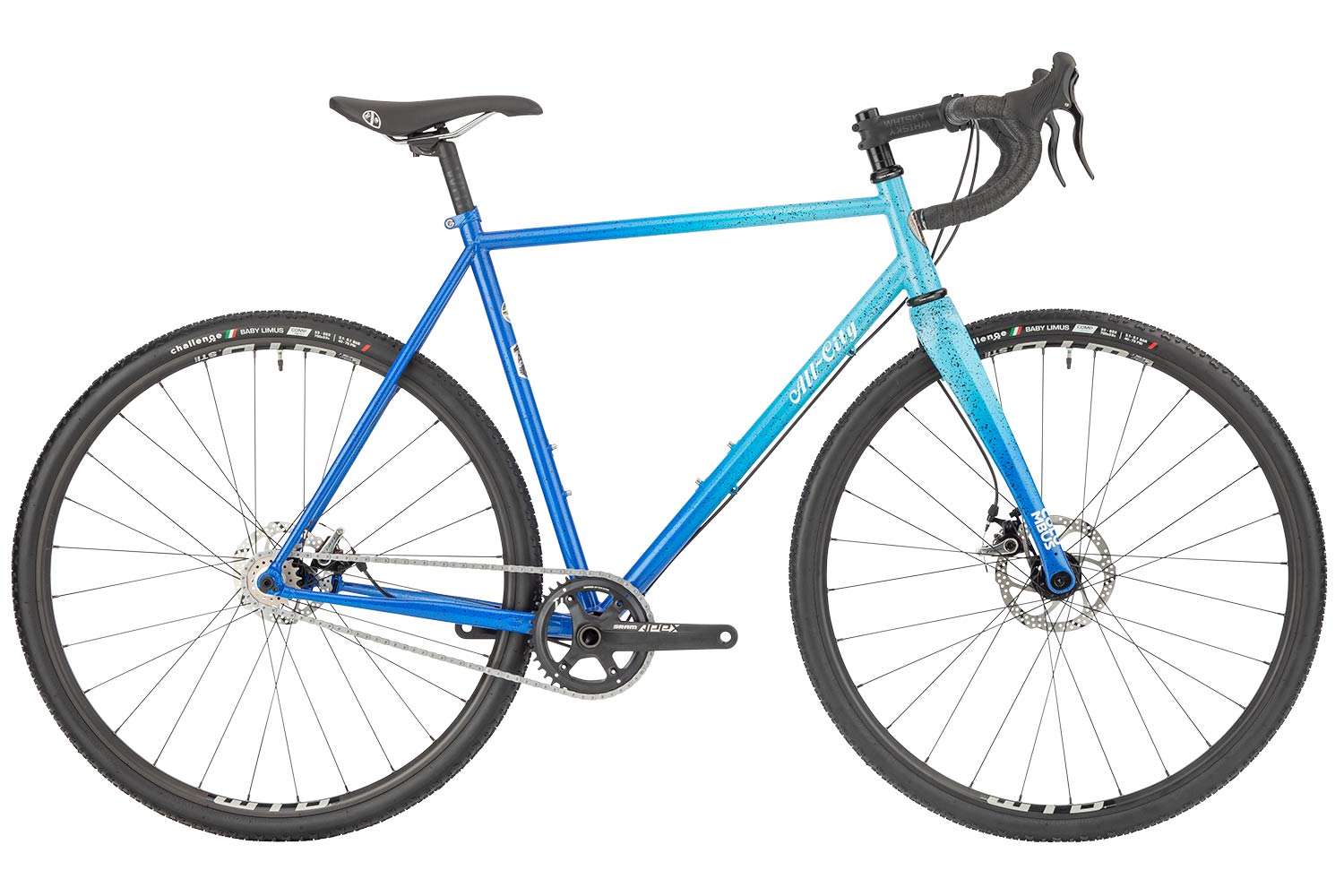 Steel frame & carbon fork / Mechanical disc brakes / 700x33c TLR
MSRP $1,999
Availability – All-City Cycles
Yes, you can ride cyclocross at a single speed! This impressive single-speed CX bike from All-City combines gravel riding capabilities with sleek, inner-city style. Built from All City's proprietary A.C.E steel, it's a stiff and durable all-terrain bike that requires minimal maintenance.
Tire size range: 700c  x 30-42mm
18/40t
To lighten the load, All-City has included a Columbus Futura Cross carbon fork that provides clearance for up to 42mm tires. The gear ratio is 40:18, running off an SRAM Apex crank and freewheel cog with spacer kit. The Nature Cross comes standard with Challenge Baby Litmus 700x33c tires on WTB ST Light i23 rims.
---
Salsa Cycles – Stormchaser
Best singe-speed gravel bike
Aluminum frame & carbon fork / Race Face Ride Crankset
MSRP $1,499
Availability – SalsaCycles
The Salsa Stormchaser is a single speed gravel bike built to handle whatever nature can throw at it. A carbon fork complements the aluminum frame for a strong but lightweight bike packed full of features. For a smoother, more comfortable ride, Salsa has coupled their trademark Vibration Reduction System (VRS) with 700x42c Teravail Rutland tires.
700 x 42C (max x 47mm)
Multiple water-bottle mounts
Rack & fender ready
38t x 17t/18t
TRP Spyre-C Flat Mount mechanical disc brakes
The 38T Race Face crank drives your choice of a 17T or 18T cog with a spacer kit, providing a sufficient gear ratio for gravel and hilly terrain. For more mountainous conditions, convert the Stormchaser into a 1x setup using the new Alternator Flat Mount dropouts. It's the ideal bike for hassle-free adventures in the great outdoors.
---
Surly Bikes – Lowside
Best single-speed mountain bike
Steel / Hydraulic disc brakes / SRAM NX Eagle crank
MSRP $1,200
Availability – Surly Bikes
A fixie mountain bike is something of a unique offering in the cycling world, which is why it's no surprise that niche cycling brand Surly came up with this offering. Featuring extra-large 3″ tires and hydraulic disc brakes, it's rough and ready to hit the mountain trails.
26 x 3″ – 60 TPI tires
Alex MD40 rims
Novatech 32h thru-axle hubs
32/17t
The drivetrain has an SRAM NX 32T crank running a 17T Novatec freewheel hub. The 4130 Chromoly steel frame features modern trail bike characteristics like dropper post compatibility, 44mm headtube, and Gnot-Boost rear spacing with thru-axles.
---
State Bicycles Co – Elliston Deluxe
Best single-speed hybrid bike with panniers
Steel frame / Mustache Handlebar / Coaster brake
MSRP $470
Availability – State Bicycles
This stylish single-speed city hybrid bike from State Bicycle Co. is a true classic with added functionality. With both front and rear racks, the Ellison Deluxe makes an ideal utility bike for collecting groceries, visiting friends, or commuting to work.
Frame-mounted bottle-opener
Rear and front pannier racks
Chainguard
Bell
It features a classy brown leather seat and grips, a bell and bottle opener, and timeless chrome finishings. The Nexus internal freewheel hub includes a simple coaster brake for easy stopping and you get a chainguard and fenders to keep everything clean and tidy.
---
Electra Bikes – Cruiser 1
Cheapest single-speed cruiser bike
Steel / 26″ wheels / Coaster brake / Chainguard
MSRP $320
Availability – REI
The Electra 1 is a laid back, single-speed cruiser in a stylish matte black finish. The unisex steel frame comes in a one-size-fits-all model and has a very relaxed geometry with wide bullhorn bars. 
26 x 2.15″ Classic Knobby tires
Moustache bar handlebar
Weight 36 lb

Women's Step-Through frames are available!
It's the perfect bike for lazy days spent rolling down the boardwalk with friends, enjoying the sun, and feeling the breeze. The extra-wide 2.125″ tires make for a smooth and comfortable ride, while the low gear ratio and coaster brake make riding the Electra 1 effortless.
---
sixthreezero – Around The Block Men's
Score: 4.4/5 out of 822+ ratings on Amazon
Steel / 26 x 2.15″ / Coaster brake
MSRP $230
Availability – Amazon
California-based sixthreezero is a premier producer of beach cruisers and hybrid single speed bikes. Around-the-Block cruiser is the perfect example of a simple, 26″ beach cruiser in stylish matte black or grey with white detailing.
Chainguard
Rear rack
Schneider valve
Moustache handlebar
The wide bullhorn handlebars and relaxed frame geometry provide a tension-free, ergonomic seating position. Add large waffle-tread tires and a dual spring cushioned saddle and you have a super-smooth and comfortable ride. Includes a pannier rack and freewheel hub with a back-pedal coaster brake for easy stopping.
---
How To Choose
You should choose a fixie based on how you intend to use the bike most frequently. For dedicated velodrome racing, you can get a fixed hub with no brakes to reduce weight and increase speed. However, many cities don't allow cycling on the street without brakes, so take this into account.
Fixed-gear cycling can take some getting used to, so if you are new to it, rather get a flip-flop hub to help you transition into fixie riding.
Single-speed vs fixed
Technically, all fixed gear bikes are single speed bikes, but cyclists commonly use the term single speed to describe a bike with a freewheel rather than a fixed hub. Many single-speed bikes have a 'flip-flop hub' with both a freewheel and fixed sprocket so you can change between the two.
---
Flip-flop hub w/ Freewheel
Flip flop hub allows changing the direction of the rear wheel by
---
Handlebar types
Flat bar
Flat riser bar
Drop bar
Moustache
---
FAQ
What is a fixie bike?
Fixies bikes have a single static rear sprocket, so the pedals keep rotating whenever the rear wheel is moving. Since there's no freewheel hub, you can also brake by pushing backward on the pedals.
These days, fixies are commonly used in competitive velodrome racing but have also gained a cult following amongst modern urban hipsters and bicycle messengers. Some modern fixies have a 'flip-flop hub' which includes a freewheel sprocket on one side of the wheel so a rider can change between the two styles.
Fixed/single-speed bike chain tension?
Single-speed bikes use a simple sliding of the rear wheel axle on the dropouts to tension the chain. You should always tension the chain as tight as possible but be careful to ensure the rear wheel remains aligned.
What size fixie bike to get?
Although most fixie bikes geometry is closely related to road bikes, most brands have a size selection from XS-XL. Please refer to each bike brand's own size chart to get the best fit for you! It is important to get the right size bike.
Best Fixie Bike Brands
State Bicycles, Throne Cycles, All-City Cycles, Pure Cycles, 6KU,
Custom Fixie Bikes
Fixie bike frames can be found at our Best Bike Frame review.
Which are the best fixie bike wheels?
700c is the #1 wheel size used among fixie bikes.
Best Fixie Bike Tires
Slicks or simple road bike tires?
Check out those slick tires – REI
---
UPON ARRIVAL
Know-how for cheaper bikes (Under $300)
Brakes – You might want to swap out the entire brake system if you'd like to have better control over the bike at higher speeds. Breaks on cheaper bikes are generally rubbish.
Pedals – Under $300 bikes are generally equipped with the cheapest pedals available so we'd advise you to swap those out at some point or another.
Break-in period – Make sure to re-tighten some of the points after the break-in period.

Handlebar

,

crank

,

wheels

,

spokes

.
---
Related content
Best Bike Frames
Best Hybrid Bikes
Black Bicycles Only
Best Cargo Bikes