Full-suspension mountain bikes are the go-to for mountain bikers who want the ability to handle anything the trail has to offer.
Finding the best full-suspension mountain bike is a highly personal endeavor, as riders have individual preferences, body shapes, technical abilities, and trails they use.
As a result, a bike perfectly suited to one individual may be inappropriate for the next. So, to help you find the right bike as a new rider, consult a more experienced rider or the buying guide at the end of this article.
This article will review 15 of the best full-suspension mountain bikes for 2023 and finish with a brief guide on choosing the perfect dual-suspension MTB.
---
1. Pivot Mach 4 SL Ride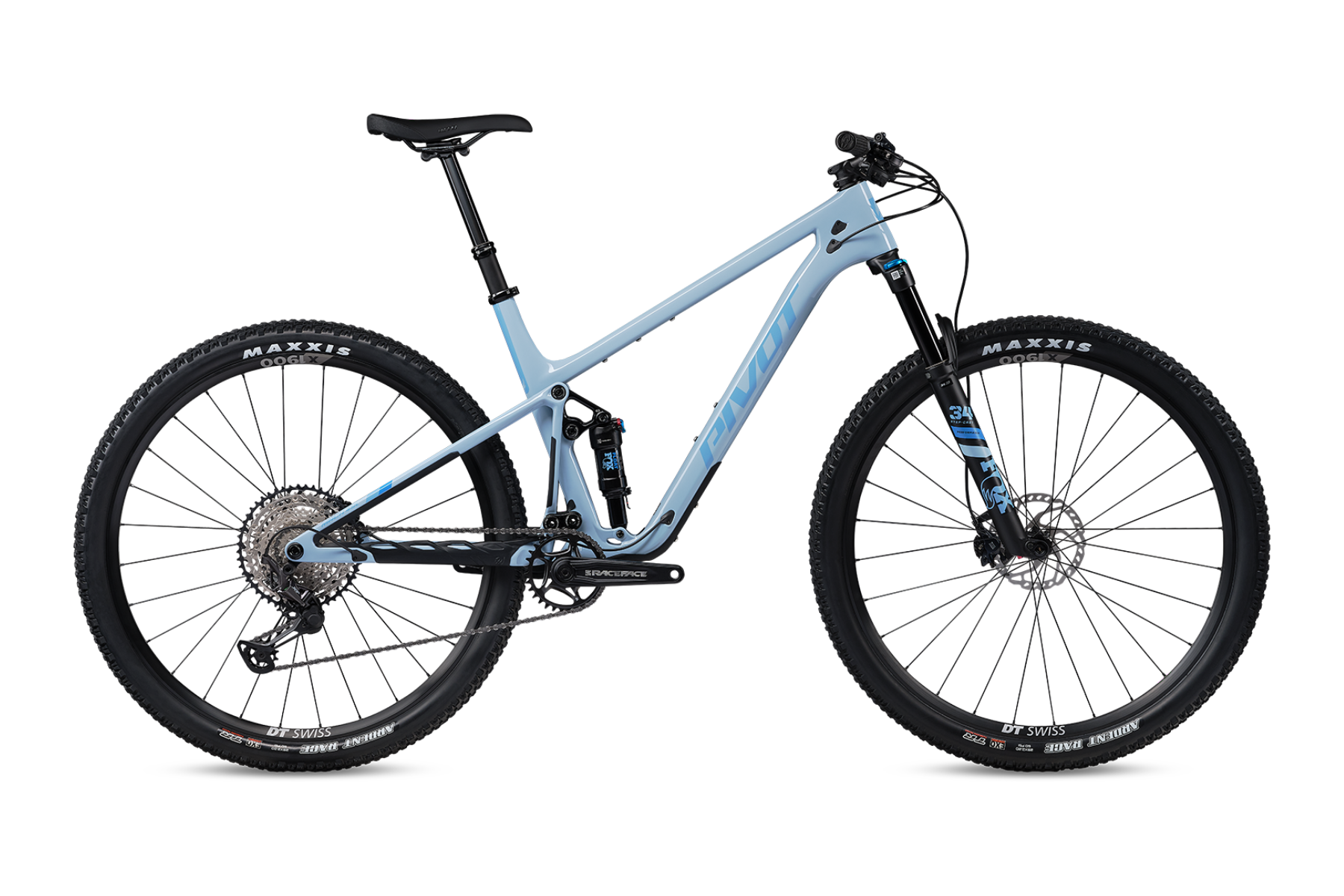 MSRP: $6,200
Frame: Carbon
Travel: 120mm (f) 100mm (r)
Tire Size: 29 x 2.2″
Reasons to buy:
Full carbon frame
Fast XC tires
DW-Link suspension platform
Reasons to avoid:
Slightly heavier than the competition
Pivot is a MTB-specific brand with a range of high-value-for-money models. The Mach 4 SL Ride is their race-ready XC model.
This 29er trail bike has 120mm of travel front and 100mm rear from a Fox Float 34 Performance Step-cast fork and a Performance Float DPS shock. These impressive suspension parts offer plenty of support for riders tackling cross-country races or fast, flowy trail rides.
The groupset comprises a set of Shimano SLX M7100 hydraulic disc brakes with tons of stopping power and an XT/SLX 12-speed drivetrain with a standard 10-51t MTB cassette for climbing steep hills more easily.
The other notable features of this bike are a Fox Transfer Elite dropper seatpost for enhanced descending capability and rapid Maxxis Ardent Race EXO 2.2″ tires that maximize rolling speed for XC riding.
Overall, this bike will suit intermediate and experienced cross-country/trail riders who want to take their rides to the next level.
---
2. Ibis Ripmo XT 2023
Best all-rounder trail bike for fast, gnarly trails
MSRP: $7,299
Frame: Carbon
Travel: 160mm (f)147mm (r)
Tire Size: 2.5″
Reasons to buy:
Capable of enduro riding and days with lots of elevation
Premium DW-Link suspension platform
Very fast
Tons of grip
Playful for a 29er
Reasons to avoid:
Too much bike for light trails
Expensive
The Ibis Ripmo XT is one of the industry's best high-travel trail mountain bikes. Ibis are masters in designing top-level MTBs, and the Ripmo is a perfect example of their expertise in action, starting from the original version.
The Ripmo uses a Fox Float X2 147mm rear shock paired with a 160mm 38 Factory fork. These parts link with Ibis' DW-Link suspension platform that simultaneously enhances climbing efficiency and downhill performance.
This bike handles like a dream at high speeds on rough terrain. However, it maintains a playful edge that helps lend to the do-it-all persona. Ibis chose a high-performance Shimano XT M8100 drivetrain for this build, paired with 10-51t cassette and XT M8120 4-Piston hydraulic discs.
The wheelset includes underwhelming Ibis S35 aluminum alloy rims and hubs wrapped in Maxxis Assegai 29 x 2.5″ tires on the front and back. The premium carbon frame also has space to run 2.6″ tires should you want to beef up the grip and comfort.
Other design features that make this bike stand out include the modern progressive geometry that balances stability with an efficient climbing position and the coil shock compatibility for a more supple suspension feel.
Don't miss out on the Rimpo XT if you have a big budget and want a fast and fun trail bike with impressive capability all over the mountain.
---
3. Co-op Cycles DRT 3.3
The best affordable choice for light trails and XC riding
MSRP: $3,399
Frame: Aluminum
Travel: 140 mm
Tire Size: 27.5×2.4″ (XS, S) or 29 x 2.4″ (M-XL)
Reasons to buy:
Progressive sizing
Affordable price
Powerful 4-piston brakes
Light for the price (33.5lb – M)
Reasons to avoid:
Not enough room for a bottle
REI's Co-op Cycles is known for its affordable and reliable bicycles across all disciplines. The DRT is their range of MTBs, and the 3.3 is the highest-spec model of the bunch and the best full-suspension mountain bike for beginners.
The DRT 3.3 has a lightweight 6061 aluminum alloy frame with 140 mm of travel on the front and rear. The suspension includes a RockShox Deluxe Select+ shock and a
RockShox 35 Gold RL Debonair fork. This combination performs well for the price range.
The groupset is all Shimano SLX/Deore, consisting of powerful four-piston Deore hydraulic disc brakes and a reliable SLX 12-speed drivetrain with a 10-51t cassette.
All models of the DRT 3.3 use Co-op's aluminum double-wall wheels. However, the XS and S models use Maxxis Recon 2.4″ tires on the 27.5″ rims, and the three larger ones use Maxxis Recon 2.4″ tires with 29″ wheels. These are relatively fast-rolling tires with a solid cornering grip.
The spec of this bike is suited to light to moderate trail riding, perfect for beginners and riders switching from a hardtail. Add the DRT 3.3 to your shortlist if you want a solid performer and you value reliability at a reasonable price.
---
4. Devinci Django A29 SX
Best low-travel trail bike for fast climbing and moderate downhills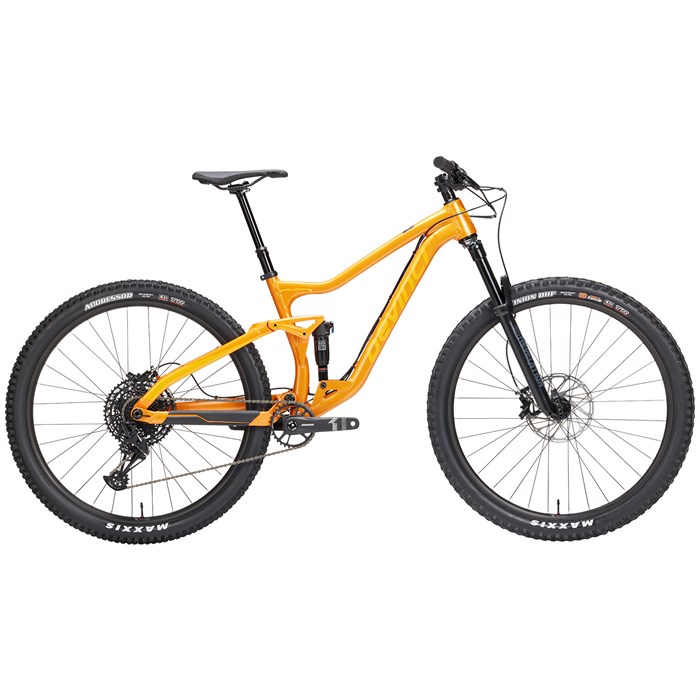 MSRP: $2,999
Frame: Aluminum
Travel: 140mm (f) 120mm (r)
Tire Size: 29″ x 2.5″
Reasons to buy:
Split Pivot suspension
Flip chip
Powerful brakes
Lifetime frame warranty
Canadian brand Devinci is an expert in mountain bike design, and the Django A 29 is the premium aluminum build on the Django lineup.
This short-travel bike is suited to riders who want a fast machine to thunder over bumpy trails and up climbs. The frame is an Optimum G04 aluminum alloy with impressive stiffness-to-weight characteristics, 2.6″ tire clearance, lots of frame protection, and internal cable routing.
The bike's suspension includes a 140mm Rockshox Revelation RC fork and a 120mm Deluxe Select+ shock. The Split Pivot suspension linkage enhances these parts by isolating acceleration from braking forces to increase grip and pedaling efficiency.
The Django has modern trail bike geometry that balances stability on technical routes with a natural and balanced climbing position. Additionally, you have a geometry flip chip for on-the-trail adjustments.
Other notable features include the SRAM SX Eagle 12-speed drivetrain with a 11-50t cassette and SRAM Guide T brakes with 200 mm rotors, and Maxxis Minion DHF/Aggressor 2.5″ tires.
Consider this premium aluminum trail bike if you want high-end performance at a reasonable price.
---
5. Cannondale Jekyll 1
Best for aggressive enduro riding
MSRP: $6,100
Frame: Carbon
Travel: 170mm (f) 165mm (r)
Tire Size: 29 x 2.5″ + 2.4″
Reasons to buy:
Stable and balanced geometry
Fast on rough terrain
Proportional Response design
Guider pulley stops pedal kickback
Reasons to avoid:
Slightly pricey for the spec
The Cannondale Jekyll 1 is an impressive race-ready enduro bike designed for stability on chunky descents at high speeds.
The Jekyll 1 is one of the best mountain bikes with front and rear suspension you'll find at this price thanks to the innovative design features.
Cannondale pulled no punches with the Jekyll, incorporating all their top-end frame technologies to deliver a luxurious ride quality. Their Proportional Response design means the suspension is tuned specifically for each size, and the geometry of the bike changes to accommodate different size riders.
Cannondale has come out with another supreme enduro bicycle for this season, with some great improvements. The ...
Next, the four-bar suspension linkage isolates braking forces from suspension, improving pedaling efficiency and enhancing grip when you need it most. This system means your Fox Float Factory 38 170mm fork and Float Factory X2 165mm shock can perform better than they would individually.
Another great feature of this bike is the Ai Offset drivetrain which delivers more tire and mud clearance while allowing for a stronger rear wheel.
For the groupset, you have a SRAM NX Eagle with a wide-range 12-speed 10-52t cassette, an X1 crankset, and SRAM Code RSC hydraulic disc brakes with 220/200mm rotors.
Overall, this is an excellent bike, but it isn't cheap. Consider the Jekyll 1 if you want a high-performance enduro bike from a big-name brand like Cannondale.
---
6. Diamondback Release 29 3
Best for trail rides with lots of climbing and flowing descents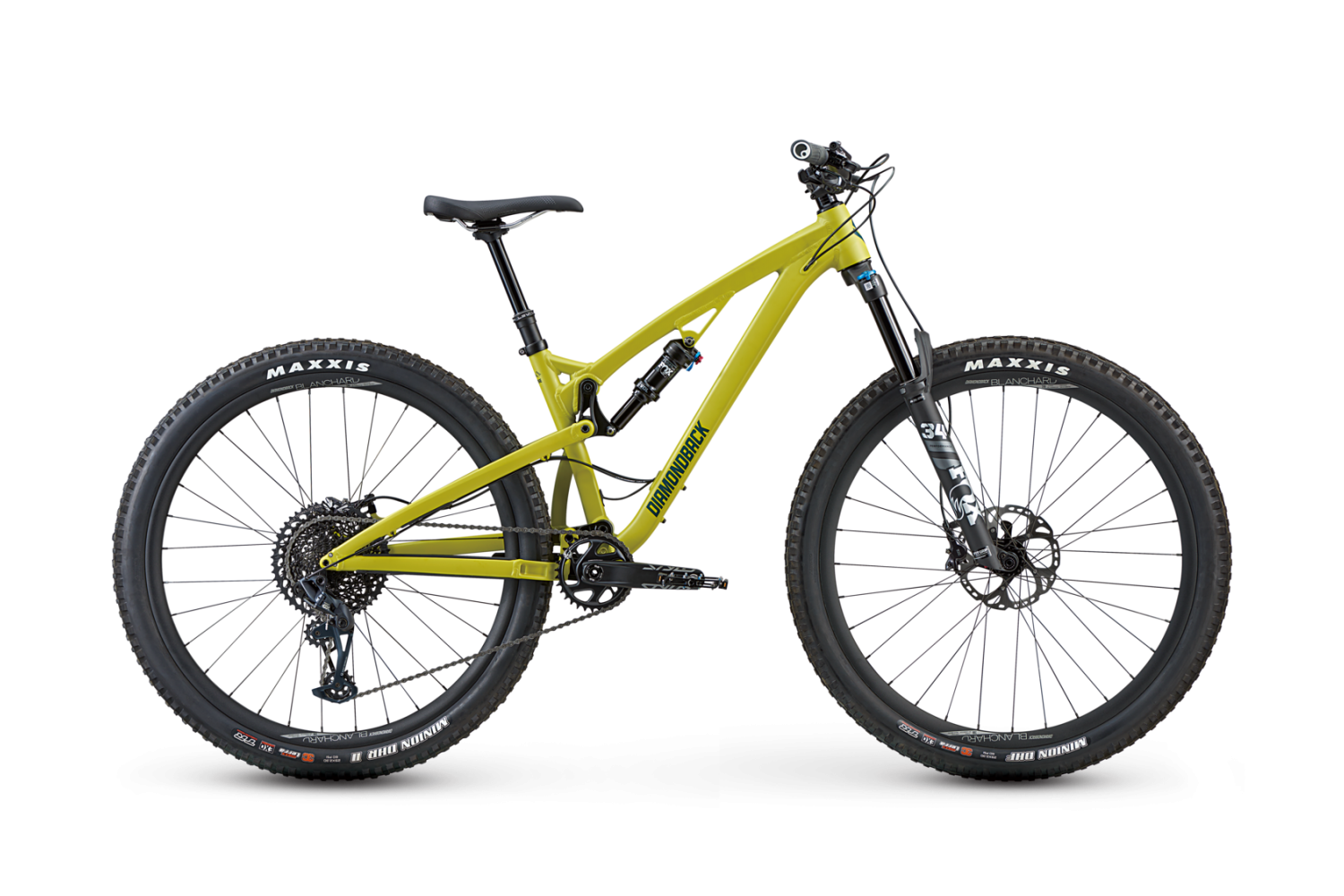 MSRP: $4,550
Frame: Aluminum
Travel: 140mm (f) 130mm (r)
Tire Size: 29 x 2.3″
Reasons to buy:
Fast climber
SRAM GX Eagle groupset
Level Link suspension platform enhances performance
Reasons to avoid:
Cables not fully internally routed
The Diamondback Release 3 29er is a mid-travel trail bike with excellent all-rounder characteristics and high-level features.
Due to the aluminum frame material, Diamondback could choose higher-end components, including a full SRAM GX Eagle groupset with a 12-speed derailleur, 10-50t cassette, and Shimano XT hydraulic discs.
The suspension system is the most impressive part of this bike. It includes a Fox 34 Performance Float 140mm fork and a Performance Elite Float DPS 130mm shock. These components benefit from Diamondback's Level Link, which enhances pedaling efficiency, traction, and overall ride quality, making 130mm feel like 140mm.
The wheels are a slight disappointment for a $4,500 bike. These include proprietary Blanchard alloy 28R rims and hubs wrapped in Minion DHF and DHR 29 x 2.3″ tires. These balanced tires help keep speeds high without sacrificing too much grip.
All things considered, this is a fast and capable trail bike that suits riders who tackle long days in the saddle with plenty of elevation gain and a variety of trails.
---
7. Pivot Switchblade
Best premium do-it-all trail/enduro bike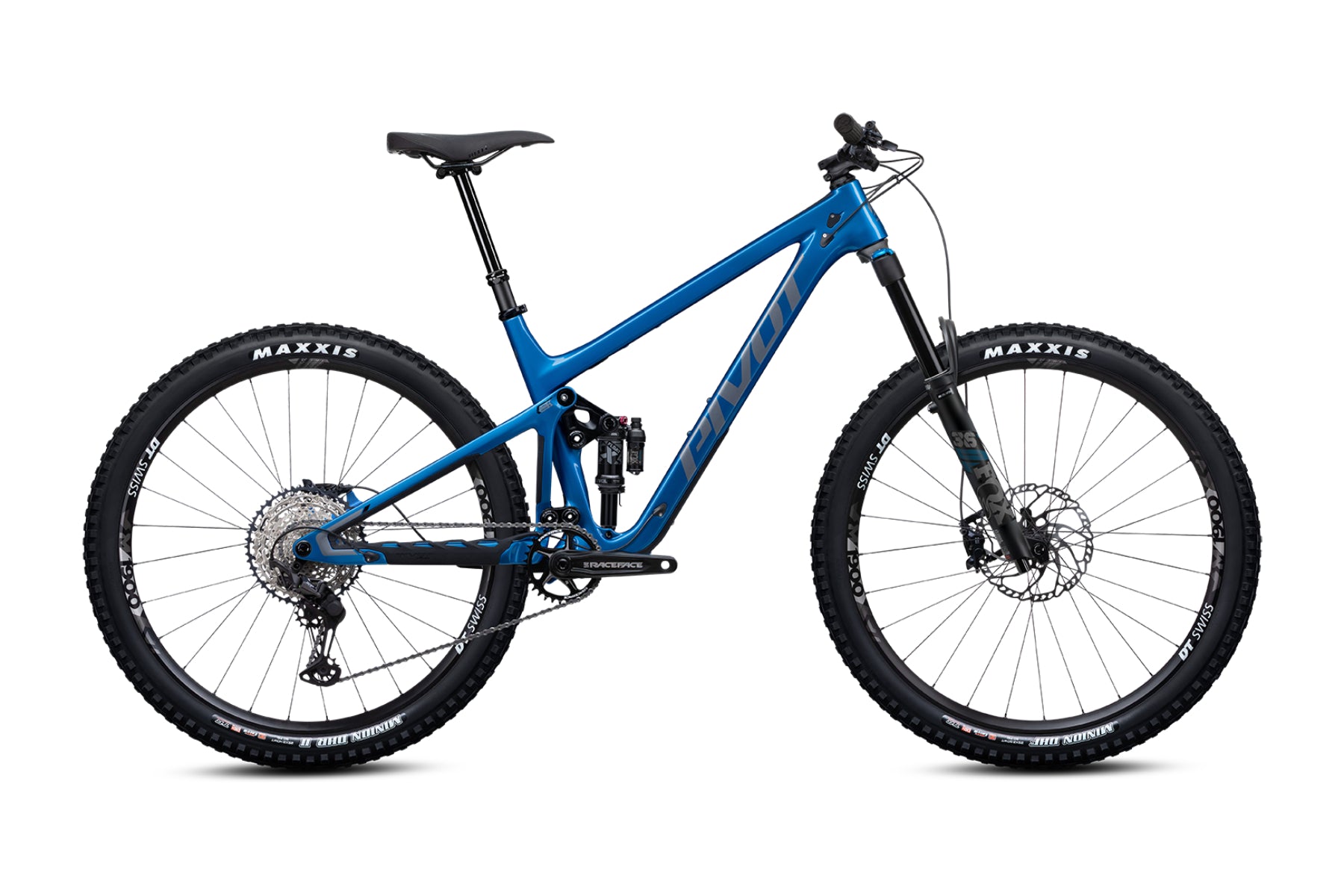 MSRP: $6,400
Frame: Carbon
Travel: 160mm (f) 142mm (r)
Tire Size: 29 x 2.5″ + 2.4″
Reasons to buy:
Shimano XT derailleur
Bottomless feel
Powerful Shimano SLX 4-piston brakes
Super efficient climber
The Pivot Switchblade XT/SLX is one of the most versatile longer travel trail bikes you'll find, capable of tackling light enduro riding while maintaining smooth and efficient climbing ability.
Pivot chose a 142 mm Fox Factory Float X shock paired with a 160mm Performance 36 GRIP fork for this build. The DW-Link suspension linkage enhances these components by boosting climbing efficiency and descending performance.
The Shimano groupset combines premium XT and mid-tier SLX components with SLX four-piston hydraulic disc brakes. The cassette is Shimano's widest 10-51t 12-speed, providing a massive range for climbing the steepest grades.
One impressive thing about this bike is the compatibility with 29″, 27.5″, and mixed-wheel setup, giving riders several possibilities based on their favored terrain or the trail conditions. The stock tires are Minion DHF 2.5″ and DHR II EXO+ 2.4″ on DT Swiss M1900 wheels.
If you have a high budget and you're looking for an exceptionally versatile trail/enduro bike to crush almost anything that comes your way, the Switchblade could be the bike for you.
---
8. Alchemy Bikes Arktos 135
Best Top-Tier Build
MSRP: from $5,199
Frame: Carbon
Travel: 150mm (f) 135mm (r)
Tire Size: 29 x 2.5″ + 2.4″
Reasons to buy:
Consistent geometry across sizing
27.5″ or 29″ wheel compatibility
Lots of frame protection
High-quality alloy frame
Reasons to avoid:
Heavy
SRAM SX isn't very durable
The Alchemy Arktos 135 is a premium trail bike with an award-winning frame and various customization choices available.
This bike utilizes Alchemy's Sine Suspension design which is a dual-linkage platform designed to enhance pedaling efficiency as well as traction and control on gnarly descents. The suspension includes a Fox 36 29 Factory Kashima 150mm fork and 135mm DPX2 Factory Kashima shock.
The frame is Alchemy's most advanced carbon fiber layup. The incredibly stiff frame has a triangulated rear swingarm, oversized suspension linkages, and compact design to enhance durability and improve suspension kinematics.
Like most of their bikes, the Arktos has an impressive build kit for the price, including Industry Nine 29 Enduro-S Hydra rims, a Fox Factory Transfer 175mm dropper, and Maxxis Assegai 2.5″ EXO and Minion DHR 2.4″ EXO tires. Choose between SRAM GX, X01, or Shimano XT 12-speed drivetrains at checkout.
Overall, the Alchemy Bikes Arktos is a well-balanced trail option that performs well wherever you go thanks to the impressive design and componentry.
---
9. Yeti SB140 27.5 LRC 1
Best value dual suspension mountain bike for racing
MSRP: $6,600
Frame: Carbon
Travel: 160mm (f) 140mm (r)
Tire Size: 27.5 x 2.5″ + 2.4″
Reasons to buy:
Wicked fast
Lightweight carbon frame
Switch Infinity improves suspension efficiency and support
Race-ready
Reasons to avoid:
Struggles on steep descents
Expensive
The Yeti SB140 is the brand's medium-travel trail/cross-country bike designed for racing and huge days on the trails with lots of climbing.
Yeti chose a 160mm Fox Performance 36 fork paired with a Performance Float X shock and linked by their patented Switch Infinity platform. This system allows Yeti to custom tune the suspension to match the bike's intended characteristics; speed and agility.
The premium carbon fiber frame has an integrated hanger and axle, Boost dropouts, internal cable routing, and a press fit bottom bracket. Additionally, the geometry is stable and comfortable, thanks to a medium reach, a forward-biased posture, and a low bottom bracket.
This build kit includes an Shimano SLX 12-speed rear derailleur with a 10-51t cassette, a OneUp dropper seatpost (150-210 mm), Shimano SLX four-piston brakes, DT Swiss E1900 rims, and Maxxis Minion DHR 2.4″ and Assegai 2.5″ tires.
Don't look past Yeti's SB140 if you have high ambitions and want a premium bike to help you fulfill them.
---
10. Orbea Occam H20 LT
Best full suspension mountain bike 2023
MSRP: $3,999
Frame: Aluminum
Travel: 150 mm
Tire Size: 29 x 2.5″/2.4″
Reasons to buy:
Efficient climber
Lightweight
Comfortable
Balanced and predictable on most trails
Top-level components
The Orbea Occam H20 LT is the series's best-selling build, with an eye-watering price matched by the exceptional design and specs. Agile geometry, progressive suspension, and 29er wheels mean this bike can handle all but the gnarliest downhill terrain.
The two-part linkage used on this bike enhances the performance of the individual components as Orbea tuned it to improve control under successive big impacts, making this bike capable of light enduro riding.
The suspension is 140 mm front and rear, with a Fox Float X Performance 2-Position shock and a Fox 36 Float Performance fork. And you also get a OC MC20 Mountain Control Dropper post.
Orbea chose a full Shimano SLX groupset for buttery-smooth shifting. This setup includes a Shadow Plus derailleur, 10-51t 12-speed cassette, and a Race Face Aeffect 32T crankset.
Other notable features of this trail beast include the elite-level Maxxis Dissector and Minion 2.5″/2.4″ tires, Fizik Taiga S-Alloy Rail saddle, and Race Face AR 30c TLR rims.
All things considered, this is a world-class trail bike with the price tag to match; consider it if you've got a high budget and want the best of the best.
---
11. Santa Cruz Tallboy 5 C R
Best low-travel trail bike for downhill riding
MSRP: $4,799
Frame: Aluminum
Travel: 130mm (f) 120mm (r)
Tire Size: 29 x 2.4″
Reasons to buy:
Fast
Suspension overperforms its rated travel
Lifetime frame warranty
Stable and predictable on descents
The Santa Cruz Tallboy 5 C R is a low-suspension travel trail 29er and the more expensive of the two aluminum models on the Tallboy lineup.
This bike is one of the most capable bikes in this category for downhill riding. Santa Cruz tunes the lower-link VPP suspension to deliver maximum support on chunky terrain, which is seen on its other models as well, such as the Blur.
For a low-travel XC/trail bike, the Tallboy doesn't ascend as well on technical terrain but can thunder up smoother climbs with relative ease. The suspension components include a 120mm Fox Float Performance DPS rear shock and a 130mm RockShox Pike Base fork.
The groupset is SRAM NX Eagle with Guide T four-piston hydraulic disc brakes, which is typical for this price range, providing reliable performance. Additionally, Santa Cruz chose a Maxxis Dissector and Rekon 2.4″ for tires. However, the bike has clearance for 2.6″ tires.
If you want the general characteristics of a low-travel aluminum trail bike that can ride on rougher downhill terrain from time to time, then look no further than the Santa Cruz Tallboy 5 C R.
---
12. Niner WFO RDO 2-Star
Best for aggressive trail riding and XC racing
MSRP: $5,449
Frame: Carbon
Travel: 180mm (f) 170mm (r)
Tire Size: 29 x 2.6″
Reasons to buy:
Carbon fiber frameset
Highly capable descender
Balanced geometry
Reasons to avoid:
Slightly underwhelming wheelset
The Niner WFO RDO 2-Star is an enduro 29er that handles aggressive riding and is surprisingly steady on rough downhill terrain.
This trail bike comes at a premium price but easily justifies it with high-end components and innovative engineering.
The groupset is a full SRAM SX Eagle setup with SRAM G2 R Hydraulic Disc brakes, an 11-50t cassette, and a 32T crankset. In addition, the WFO RDO 2-Star impresses with a KS Lev Si Dropper Post that is always a welcome sight on enduro bikes.
The combination of a Fox 38 Float Performance GRIP EVOL fork and Fox Float X2 Performance EVOL shock is enhanced by Niner's CVA (Constant Varying Arc) linkage. This system is stable and efficient while pedaling and highly supportive when tackling chunky terrain, making long days on the trail feel well within reach.
The wheelset chosen includes Niner Alloy 30mm wheels and Schwalbe Magic Mary/Hans Dampf 2.6″ tires. Unfortunately, this wheelset is a little disappointing for an almost $6,000 bike.
Niner chose predictable trail geometry with a longer, lower, and slacker setup that inspires confidence on descents without sacrificing comfort on climbs.
This is a solid choice for trail riders who lean toward more aggressive riding. Add the WFO RDO 2-Star to your shortlist if you have a big budget.
---
13. Marin Rift Zone Series
Best entry-level full suspension mountain bike
MSRP: $1,899 – $4,859
Frame: Aluminum or Carbon/Aluminum mix
Travel: 130mm (f) 125mm (r)
Tire Size: 27.5 x 2.35″ or 29 x 2.5″
Reasons to buy:
Excellent value
Tubeless-ready
Fast going uphill
Efficient bike for long rides
Reasons to avoid:
Off-brand crankset
Minimal frame protection
The Marin Rift Zone is the brand's flagship full-suspension mountain bike. It falls neatly into the low-travel trail category, optimized for speed on climbs and flowy descents. This series includes the best full suspension mountain bike under $2000.
The low rear travel means the Rift Zone is efficient going uphill, at the loss of a bit of traction when tackling rough climbs. The slightly less forgiving suspension encourages fast, standing efforts up steep sections to stay as stable as possible.
While descending, the Rift Zone is perfectly comfortable on light to moderate trails. As a trail and cross-country mix, this bike will be twitchy and lose traction on heavy, chunky downhill sections. However, it holds speed excellently on XC trails.
Marin offers a 27.5-inch and 29er version of the Rift Zone, meaning you can select for maneuverability and acceleration or speed and roll-over ability from your wheel choice.
If you're a rider who loves flowy trail days with plenty of ups and downs, this efficient XC bike pedals like a dream. In addition, the range of affordable builds means you can choose the Rift Zone as your first full-suspension mountain bike.
---
14. Juliana Wilder C R TR
Best women's XC bike with trail capability
MSRP: $4,899
Frame: Carbon
Travel: 120mm (f) 115mm (r)
Tire Size: 29 x 2.4″
Reasons to buy:
Lifetime frame warranty
Space for two bottles
Women-specific build kit
Lightweight and stiff build (28lbs)
Reasons to avoid:
Rekon tires don't offer enough grip
The Juliana Wilder C R TR is the more capable big sister to the regular model, featuring extra travel and a more robust build. It's our pick for the best full-suspension mountain bike for the money.
Juliana designed the Wilder to be a featherweight ripper, balancing the capability for fast cross-country riding and mixed trail riding. The frame is Santa Cruz's Carbon C with excellent stiffness-to-weight characteristics, complementing this bike's character. In addition, it has slack and long geometry for an XC bike, improving stability and handling on rougher trails.
The Wilder C R TR build suspension components include a RockShox SID RL 120mm fork and a 115mm Float Performance DPS shock. These join by a single pivot Superlight platform that enhances rear-wheel traction and sensitivity on climbs and descents while improving overall pedaling efficiency.
Other notable features include the proportional chainstay geometry for consistent qualities across disciplines, Maxxis Rekon 2.4″ tires, and an SRAM NX Eagle drivetrain with an 11-50t cassette.
Consider Juliana's Wilder if you're a woman who loves fast XC riding and tackling flowy trail days with plenty of climbing.
---
15. Santa Cruz Bullit
Best full suspension electric mountain bike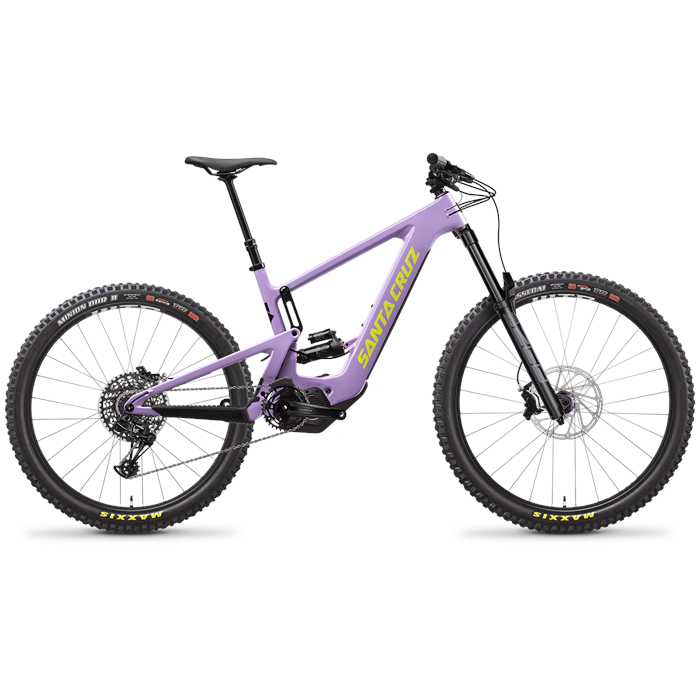 MSRP: $9,049
Frame: Carbon
Travel: 170mm
Tire Size: 29 x 2.5″ + 27.5″ x 2.4″ (mullet)
Reasons to buy:
Plush and supportive suspension in any situation
Relatively lightweight for an enduro e-bike
Lifetime frame warranty
Sleek integrated cabling and electronics
Powerful motor
Reasons to avoid:
Limited range
Battery level reads in 20% blocks
Expensive
The Santa Cruz Bullit is a mixed-wheel enduro electric mountain bike with almost unlimited capability but an eye-watering price to match.
The 170mm of front and rear travel comes from a RockShox Super Deluxe Select shock and a ZEB fork. To enhance the monstrous ability of this bike, you have DoubleDown tire reinforcement on a 2.5″ Assegai front tire and a 2.4″ Minion DHR II rear tire. The wheelset comprises WTB ST i30 TCS 2.0 rims with SRAM MTH hubs to handle repeated jumps on an almost 50lb bike.
SRAM provides an NX Eagle drivetrain with an 11-50t cassette and Guide RE brakes. These brakes come with appropriately massive 220/200mm rotors to help keep you safe on the trail, which is especially important with electric mountain bikes.
The electronics are Shimano's high-end STEPS EP8 mid-drive motor with 85Nm of torque and 400% assistance from four modes. The battery is a 630Wh unit that provides a modest amount of juice.
Overall, this is the best electric mountain bike for the money that would be a joy for any enduro rider who wants the thrills of rough descents without the strain of uphills.
---
All You Need to Know About the Best Full Suspension Mountain Bikes
---
As we stated in the introduction, choosing the best full-suspension mountain bike isn't as simple as picking the best components. Mountain biking trails and dual-suspension bikes vary so greatly that it's essential to know what you're looking for before starting to search.
The following section will cover some of the most important things to consider when choosing. Remember, you can purchase a bike that almost fits your requirements and make changes to the build kit to enhance or modify performance.
The Type of Riding You Do and Your Technical Abilities
The type of trails and terrain you intend on riding is the most important consideration when choosing a full-suspension mountain bike. Selecting a model that doesn't leave you feeling under or over-biked is crucial.
Dual-suspension bikes fall into five broad categories that match the difficulty and characteristics of the trails. Of course, your technical mountain biking skills should also influence your decision. For example, if you're a beginner to intermediate rider, you may want a slightly higher travel bike that will be more forgiving and make challenging trails feel easier.
Cross-country (XC): 100-120mm travel
Cross-country bikes are built for efficiency and speed on long rides. XC racing demands efficient and lightweight climbers with enough capability to handle moderately bumpy trails.
Beginners should avoid XC bikes as they aren't very forgiving and require a high level of proficiency. Juliana's Wilder is an example of a wicked fast and lightweight XC bike.
Trail/Cross-country: 120-140mm travel
Low to mid-travel trail/XC bikes are more capable and stable on chunky, technical trails while maintaining excellent pedaling efficiency for long rides with lots of elevation gain.
These bikes have less of a focus on keeping the weight low, instead favoring comfort, stability, and traction. The Orbea Occam typifies an all-rounder trail mid-travel trail bike.
High-Travel Trail/Light Enduro: 140-160mm travel
The high travel trail category is a popular bike as it hits the sweet spot of efficiency and descending capability for many riders. These bikes open up most trails without completely swallowing climbing ability.
High-travel trail bikes are capable on all but the most extreme terrain but require technical proficiency when venturing onto gravity trails. The Pivot Switchblade is an excellent example of this style.
Enduro bikes are the most downhill-capable bikes that you also use for riding uphill. The category arose from enduro-style racing, which records rider times on descents and not on the uphill sections.
This means manufacturers can maximize descending capability without worrying about pedaling efficiency and weight for climbing. These bikes can handle the roughest terrain but are overkill for someone who mostly rides light trails. Cannondale's Jekyll is a solid enduro choice.
Downhill: 180-200mm travel
Downhill bikes are built for one purpose; descending. These heavy-duty bikes are ultra-capable on the world's gnarliest trails and bike parks. However, you better not plan to ride uphill on a DH bike. Instead, count on taking a shuttle or a lift back to the top. This article doesn't include any DH-specific bikes, but the Santa Cruz V10 is a prime example.
Which Wheels Should I Choose?
Wheels have a massive impact on how a MTB rides. Variable like wheel size, material, and design influence the ride feel. For example, you can choose a bike with 26″, 27.5″, or 29″ wheels, each of which has different characteristics.
The bigger a wheel is, the more speed it can gain and maintain. In addition, you get more traction and stability on larger wheels. In contrast, smaller wheels accelerate faster, are more maneuverable, and are lighter.
Steel, aluminum, and carbon wheels also have different properties, carbon being the lightest and stiffest but also the most expensive. On the other hand, aluminum wheels are cheaper but aren't as light or stiff.
Finally, rim width is another consideration. Wider rims allow you to run wider tires or get more traction from your current tires.
Which Tires Should I Choose?
Tires are the most influential component that you can change quickly and easily. Riders can choose different widths, tread depths and patterns, material thicknesses and characteristics, and between tubeless and tubed tires (if the wheels are tubeless-ready).
Tubeless tires are more puncture-resistant, can run lower PSIs for more traction and comfort, and are self-repairing. We also have a detailed tubeless tires guide you can read.
Lightweight tires are more susceptible to punctures but provide better ride characteristics and reduce weight. In contrast, heavier tires are more durable.
You can also choose tires that roll faster but offer less grip or super grippy tires that create more rolling resistance. However, too little traction will require you to ride slower to stay upright, so finding the sweet spot is essential.
Finally, the width of a tire changes the level of traction, comfort, and rolling speed. Narrower tires are lighter and faster but offer less traction and aren't as comfortable.
Frame Materials Explained
Almost all full-suspension mountain bicycles are carbon fiber or aluminum. Carbon is undoubtedly the best frame material if the price isn't an issue. Well-manufactured carbon is super light, stiff, and strong, offering unbeatable ride characteristics. On the other hand, aluminum is much cheaper and reasonably light, strong, and stiff.
There is also a limited number of steel and titanium bikes on the market. Steel is cheap, strong, durable, and compliant but is very heavy. Titanium packs similar characteristics and is lighter, but it costs more.
It's worth noting that a high-end aluminum frame with excellent components (like the Diamondback Release 3) will likely be cheaper and ride better than a decent carbon frame with low to mid-level parts.
Sizing and Geometry
When searching for a full-suspension mountain bike, we recommend trying out a range of bikes in your size at a bike shop to find one that suits your body and riding style. As with any bike, the geometry is highly individual and will impact how you feel when riding in terms of comfort and stability.
Once you become familiar with a bike you like, you can use its geometry to compare it when shopping for a new one. Additionally, you can change stem length, saddle position and height, and handlebar width and rise to personalize a bike's geometry to your body.
Some bikes even have flip chips and adjustable geometry that lets you change the handling and overall performance on the go.
FAQs
---
What is the best type of full-suspension mountain bike?
The best type of dual-suspension mountain bike depends on the trails you like to ride and your riding style. For example, an enduro bike is best for fast and chunky downhill tracks with lots of jumps, whereas an XC bike is best for flowy trails with lots of climbing.
Do I really need a full-suspension mountain bike?
You only really need a front and rear suspension mountain bike for gravity-style riding. Hardtails can ride on most other mountain trails. However, they are hard to control, uncomfortable, and unforgiving on rough trails, making full suspension favorable. Experts recommend learning to mountain bike on a hardtail.
What is the lightest full-suspension mountain bike?
The lightest full-suspension mountain bike is currently the Orbea Oiz M LTD XC version, at just 19.5lbs. Low-travel cross-country mountain bikes are the lightest dual-suspension models as they are optimized for racing, where low weight is a critical factor for success.
What is the most popular MTB bike brand?
The most popular MTB bike brand is hard to identify with certainty. However, Specialized, Cannondale, Trek, Giant, Santa Cruz, Ibis, and Yeti are some of the biggest names on the trail. Giant is the world's largest bicycle manufacturer and builds bike frames for many smaller brands.
What mountain bike has the best suspension?
The mountain bike with the best suspension depends on the type of riding you plan on doing. For example, you don't want a high-travel suspension setup for smooth cross-country trails. Likewise, a low-travel shock and fork will not suffice for downhill riding.
Is a mountain bike better with full suspension?
Yes, a mountain bike is better with dual suspension if you only ride on trails. However, a hardtail mountain bike will provide enough comfort, traction, and control if you like to ride on a mix of roads, gravel, and light trails.
Is it worth getting a full suspension bike?
Yes, it's worth getting a front and rear suspension bike if you enjoy mountain biking and want to try out a variety of trails without worrying about your bike's ability to handle the obstacles. Hardtails are also great for mountain biking but are unforgiving on rough, chunky trails.
What is the average price of a full suspension mountain bike?
The average price of a full suspension mountain bike is $4,000 to $5,000. In general, dual suspension bikes worth buying will start at $1,500 and go all the way up to $15,000 for the most advanced race-ready models.
How much should I spend on my first full suspension mountain bike?
The average price of a dual suspension mountain bike is $4,000 to $5,000. In general, bikes with front and rear suspension that are worth buying will start at just over $1,500 and go up to $15,000 for the most advanced race-ready models. If you're a beginner with a sub-$1,500 budget, consider a hardtail.
Are full-suspension bikes more comfortable?
Yes, dual-suspension bikes are more comfortable. This is because the suspension in the rear absorbs the impact experienced when riding over rocks, roots, and bumps. This shock absorption helps you maintain traction and control while simultaneously enhancing overall ride comfort.